No-heat lunch ideas are the perfect solution for those who want to enjoy a delicious, healthy meal without having to use a stove or microwave. With the rise of remote work and online schooling, many of us find ourselves working from home or studying in our dorm rooms during lunchtime. This is where no-heat lunch ideas come in handy.
The form can be filled in the actual
website url
.
If you're looking for something quick to pack on a busy lunch or want to switch up your at-home workday routine, these recipes will give you plenty of options. From tasty wraps to refreshing salads, our suggestions are perfect for those who want a healthy and satisfying meal without the fuss of cooking.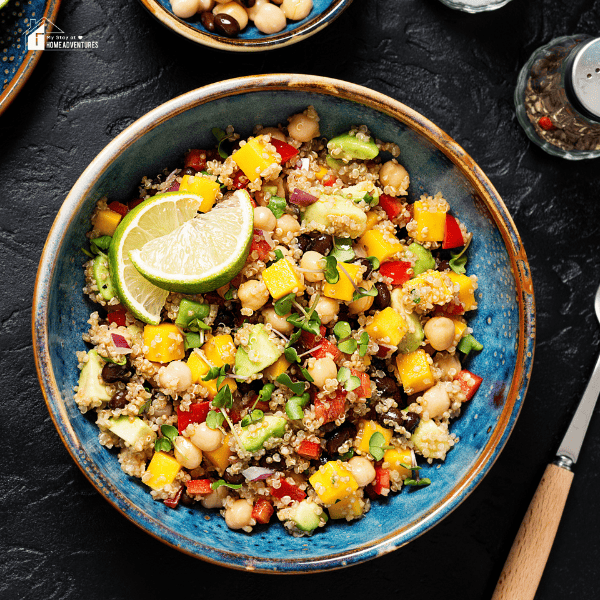 What is a great no-heat lunch?
Salads are a classic no-heat lunch option that can be tailored to fit your preferences. You can create a simple salad with fresh greens, veggies, and protein for a quick and healthy meal. Or, you can elevate your salad game by adding in unique toppings like roasted nuts, dried fruit, or flavorful dressings.
Wraps are a popular no-heat lunch option that can be filled with any desired ingredients. The possibilities are endless, from turkey and avocado to hummus and roasted vegetables. Simply wrap your ingredients in a tortilla or lettuce leaf, and you're good to go.
Sandwiches are another classic no-heat lunch option that can be a little more exciting than your typical PB&J. Try experimenting with different loaves of bread, spreads, and fillings to create a satisfying and delicious sandwich.
If you want something a little heartier, try making a cold noodle salad or a quinoa bowl. These dishes are packed with protein and fiber and can be customized to fit your dietary needs.
What are the benefits of no-heat lunches?
One of the biggest benefits of no-heat lunches is that they are versatile and customizable. Whether you have dietary restrictions or prefer certain ingredients over others, there are endless possibilities when it comes to creating a satisfying no-heat lunch. 
Check out these easy and simple no-heat lunch ideas that you can make in no time:
Mediterranean Quinoa Bowl
Looking for a lunch that's both delicious and nutritious? Mediterranean quinoa bowl got you! Packed with protein, veggies, and the bold flavors of the Mediterranean, this bowl will satisfy your hunger and taste buds.
With fluffy quinoa, juicy cherry tomatoes, tangy olives, and creamy feta cheese, all topped off with a zesty lemon vinaigrette; this bowl is a nutritional powerhouse that will transport your taste buds straight to the sun-soaked shores of Greece.
Hummus and Veggie Wrap
Get ready to wrap your taste buds in a flavor explosion with this hummus and veggie wrap! Bursting with vibrant colors and fresh, healthy ingredients, this wrap is perfect for anyone looking for a quick, easy, filling, and satisfying meal.
The creamy hummus pairs perfectly with crisp bell peppers, crunchy carrots, and refreshing cucumbers wrapped up in a soft tortilla. It's so easy to make. You'll wonder why you haven't been making it all along!
Classic Caprese Salad with Balsamic Glaze
Savor the taste of summer with this classic Caprese salad featuring a balsamic glaze that will rock your taste buds! This salad is a beautiful work of art, with juicy ripe tomatoes, fresh mozzarella, and fragrant basil leaves coming together in a colorful array.
Drizzled with a sweet and tangy balsamic glaze, every bite brings a flavor that will make you crave more. It's simple yet sophisticated, making it a perfect choice for any meal or occasion.
Greek Salad with Feta Cheese
Get ready to take your taste buds with this delicious Greek salad topped with crumbled feta cheese! It's a colorful, nutrient-packed combination of fresh cucumbers, juicy tomatoes, and crunchy bell peppers, all tossed with a zesty lemon vinaigrette that will awaken your senses.
The tangy feta cheese provides the perfect salty balance to this refreshing salad. It's an easy and healthy way to enjoy the flavors of Greece right in your own kitchen!
Caesar Salad with Grilled Chicken and Croutons
This Caesar salad with grilled chicken and croutons is a fun, flavorful twist on the classic salad. With tender grilled chicken, crispy garlic croutons, and fresh romaine lettuce, every bite celebrates flavor and texture.
The creamy Caesar dressing is the life of the party with its tangy kick, while the Parmesan cheese shavings add a salty punch. It's a perfect party food for lunch that will have you dancing with joy and coming back for more!
BLT Sandwich with Creamy Avocado Spread
The BLT sandwich with creamy avocado spread is a fresh take on a classic sandwich that will impress. The crispy bacon, juicy tomatoes, and crunchy lettuce combine the perfect balance of flavors and textures, while the creamy avocado spread adds an extra level of deliciousness.
It's the perfect sandwich for anyone looking to elevate their lunch game and impress their taste buds. This sandwich is so cool. Even the other sandwiches in your lunchbox will be jealous!
Pesto Pasta Salad with Cherry Tomatoes and Mozzarella
Prepare to toss your taste buds into a flavor party with this delicious pesto pasta salad featuring juicy cherry tomatoes and creamy mozzarella! The al dente pasta, coated in a flavorful homemade pesto sauce, brings together the perfect balance of fresh herbs and savory Parmesan cheese.
Topped with sweet cherry tomatoes and soft, melt-in-your-mouth mozzarella, every bite is a burst of flavor and texture that will leave you craving more.
Whether served as a side dish or main course, this pasta salad is a guaranteed crowd-pleaser that will have everyone asking for seconds!
Chickpea Salad with Diced Cucumber
Brace yourselves, salad lovers – this chickpea salad with diced cucumber, tomato, and red onion is about to rock your world! The crunchy chickpeas provide the perfect plant-based protein source, while the juicy tomatoes, crisp cucumbers, and tangy red onions make every bite a fresh and exciting adventure. And let's not forget about that zesty dressing!
Packed with unique flavors and a little bit of sass, it's the secret ingredient that ties everything together. Whether you're a die-hard salad fan or just looking for a healthy lunch option, this chickpea salad is sure to become your new go-to!
Turkey and Cheese Roll-Ups
Get ready for an explosion of flavor with these turkey and cheese roll-ups! Perfect for a quick snack or an easy lunch, these roll-ups are packed with savory turkey, creamy cheese, and just the right amount of crunch. The thinly sliced turkey is wrapped around a delectable layer of cheese, creating a perfectly balanced flavor combination that will leave your taste buds dancing with joy.
And the best? These roll-ups are easy to make and perfect for on-the-go snacking! So whether you are looking for a satisfying mid-day treat or a fun party appetizer, these turkey and cheese roll-ups will surely be a hit!
Roasted Sweet Potato Salad
Hold onto your taste buds because they're about to get a flavor-plosion with this roasted sweet potato salad! This isn't your typical boring salad – it's packed with big, bold flavors that will leave you craving more. The sweet potatoes are roasted to perfection, caramelizing beautifully and adding a subtle sweetness to the dish.
Tossed with a zesty dressing with a little kick, this salad is a party for your taste buds. And let's not forget the other star players in this salad – from the tangy goat cheese to the crunchy pecans, every ingredient brings its own unique texture and flavor to the mix.
So if you're looking for a salad that's anything but ordinary, this roasted sweet potato salad is sure to impress!
Avocado and Tomato Sandwich
Get ready to meet your new lunchtime obsession – the avocado and tomato sandwich! This sandwich perfectly balances creamy avocado and juicy tomato, packed between two slices of perfectly toasted bread.
The avocado brings a silky smooth texture and a healthy dose of good-for-you fats, while the tomatoes bring an explosion of sweet and tangy flavor. And let's not forget about the crunch of the bread! It's the perfect vehicle for all of those delicious flavors to come together.
Whether you're looking for a quick lunch or a satisfying snack, this avocado and tomato sandwich will surely hit the spot.
So take a bite, and let your taste buds do the happy dance!
Egg Salad
Prepare to fall in love with egg salad all over again! This classic dish is the ultimate comfort food, perfect for those days when you need something satisfying and delicious. The creamy egg yolks are blended with tangy mayo and a hint of mustard, creating a flavor explosion that'll send your taste buds into overdrive.
The chopped celery adds a perfect crunch, and the fresh green onions add a burst of zesty flavor. Whether served as a sandwich, on crackers, or straight from the bowl, egg salad is a versatile dish that never fails to impress. So grab a spoon, take a bite, and let the magic begin!
Cobb Salad 
If you're looking for a salad that's packed with protein, look no further than the Cobb salad! This classic dish has been around for decades, and for good reason. The combination of hard-boiled eggs, juicy tomatoes, creamy avocado, crispy bacon, and tangy blue cheese creates a flavor explosion that'll make your taste buds sing.
And let's not forget about that zesty dressing – the perfect finishing touch that brings all those delicious ingredients together.
The Cobb salad is always a crowd-pleaser whether you're looking for a hearty lunch or a filling dinner. So grab a fork, dig in, and get ready to fall in love with this timeless dish all over again!
Quinoa and Black Bean Salad
Say goodbye to boring salads and hello to the quinoa and black bean salad – the dish that's about to take your taste buds on a wild ride! This salad is all about big, bold flavors and textures. The quinoa is fluffy and nutty, while the black beans are hearty and filling.
The sweet corn adds a pop of sweetness, the red pepper adds a crisp crunch, and the cilantro adds a zesty kick. And let's not forget about that tangy dressing – it's the perfect finishing touch that brings everything together.
Greek Salmon Salad Bowls
Get ready to transport your taste buds with these Greek salmon salad bowls! These flavor-packed bowls are loaded with juicy tomatoes, crisp cucumbers, tangy feta cheese, and perfectly cooked salmon.
Drizzled with a zesty lemon-dill dressing, every bite is a burst of fresh and satisfying flavors that'll make you feel like you're lounging on a Greek island. So if you're ready to take your taste buds on a vacation to remember, be sure to try our Greek salmon salad bowls!
Chicken Curry Salad Lettuce Cups
Spice up your lunch game with our mouth-watering chicken curry salad in lettuce cups! These cups pack a punch with savory spices, tender chicken, and crispy veggies, all wrapped up in cool lettuce cups. The aromatic curry tantalizes your taste buds, while the fresh cilantro and crunchy cashews complement perfectly.
Tuna Stuffed Avocado
Experience a flavor sensation like no other with this delectable tuna stuffed avocado! This dish is as delicious as it is beautiful, with tender tuna salad nestled perfectly inside creamy avocado halves. The tuna salad is packed with fresh herbs, tangy lemon juice, and just the right amount of mayo to create a creamy texture that's out of this world.
And the avocado? It's the perfect vessel for all that flavor, adding a cool and creamy component that perfectly balances the zesty tuna salad.
Spinach Salad with Chicken
This spinach salad with chicken is the perfect dish for those who want to indulge in something nutritious but still crave something mouth-watering. Every bite of this salad is like a burst of sunshine on your tongue. The spinach's vibrant green, paired with the cherry tomatoes' bright red, creates a stunning visual feast for the eyes.
And the combination of flavors and textures is simply irresistible. The salad bursts with various textures and flavors, from crunchy almonds to creamy and tangy goat cheese.
The cherry tomatoes provide a pop of sweetness, while the thinly sliced red onions add a hint of spice. And finally, our homemade honey mustard dressing ties everything together with its perfect balance of sweet and tangy notes.
Low-Carb Taco Salad
Get ready to fiesta with our perfect low-carb taco salad! This dish is a party in your mouth, with all the flavors of your favorite taco but without any of the guilt. The dish is jam-packed with savory ground beef, crisp lettuce, juicy tomatoes, and decadent avocado sprinkled with zesty taco seasoning.
And let's not forget about the crispy strips of tortilla chips that add just the right amount of crunch.
This salad is the perfect option for those who want to enjoy the deliciousness of tacos without any of the carbs. Every bite is a journey through a fiesta of flavor, with the spices and fresh ingredients coming together in perfect harmony.
And the best part? You can indulge in this dish guilt-free, knowing that you're fueling your body with healthy and nutritious ingredients.
Tortilla Pinwheels
These tortilla pinwheels are the epitome of flavor explosion, with the perfect blend of savory, tangy, and creamy goodness. These bite-sized beauties are so delicious, they're sure to become your go-to snack any time of day, whether you need a quick lunch or a satisfying midday treat.
So why settle for boring snacks when you can indulge in our delectable tortilla pinwheels? Get ready for a party in your mouth that will captivate your senses and leave you wanting more. Try them out today and see what all the fuss is about!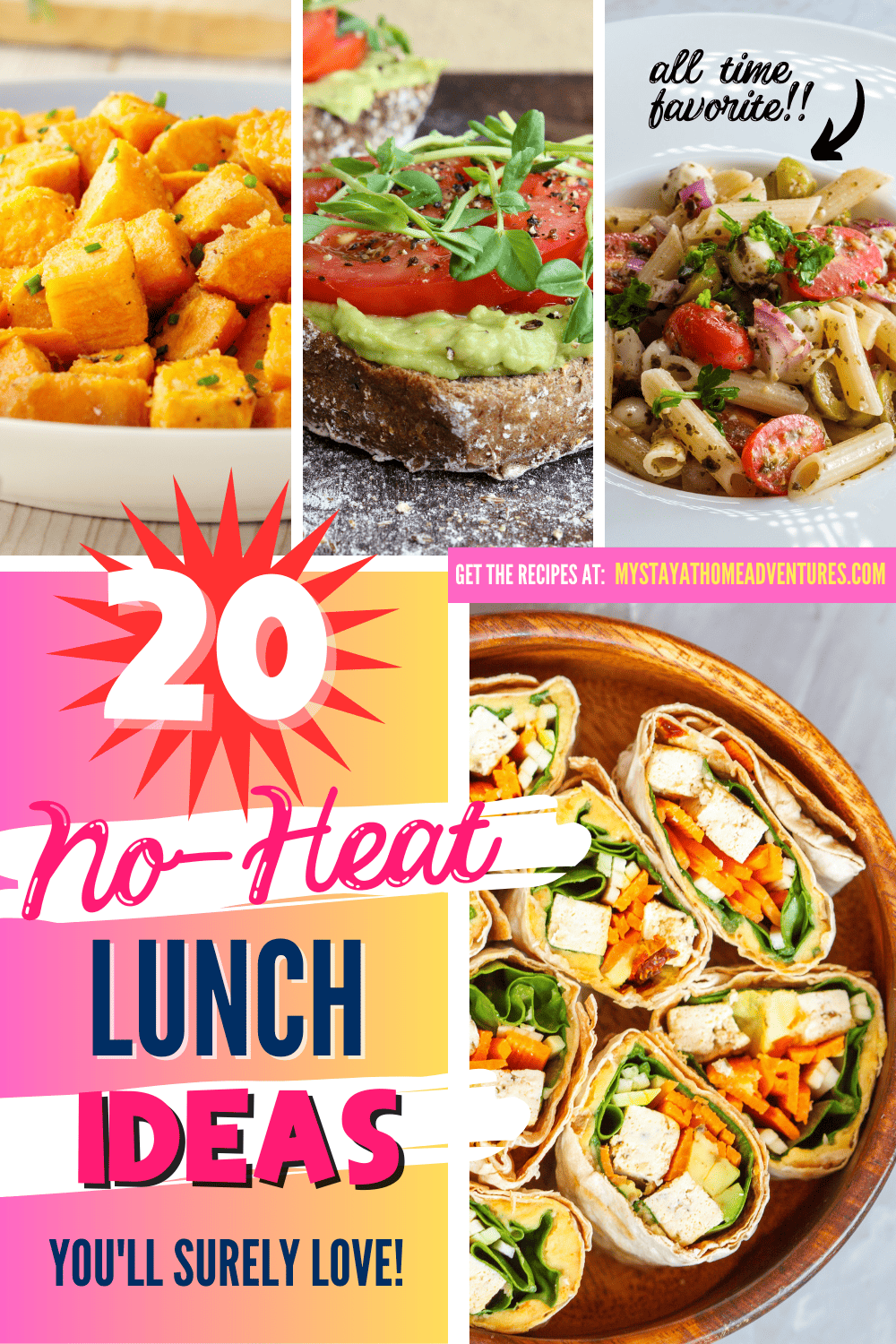 These simple and easy-to-make no-heat lunch ideas are perfect for those who are short on time but still want a delicious and nutritious meal. They are also great for meal prepping and can be made ahead of time and stored in the fridge until ready to eat.
The post 20+ Of The Best No-Heat Lunch Ideas appeared first on My Stay At Home Adventures.