It will come as a surprise to absolutely no one that our editors are pretty obsessed with Trader Joe's (OK, but who isn't?). Thanks to their affordable prices, wide variety of unique items, and close proximity to where we all live, TJ's is easily our grocery store of choice. We'll try basically anything Trader Joe's comes out with, but over the years, we've all discovered some tried-and-true favorites that we simply can't live without.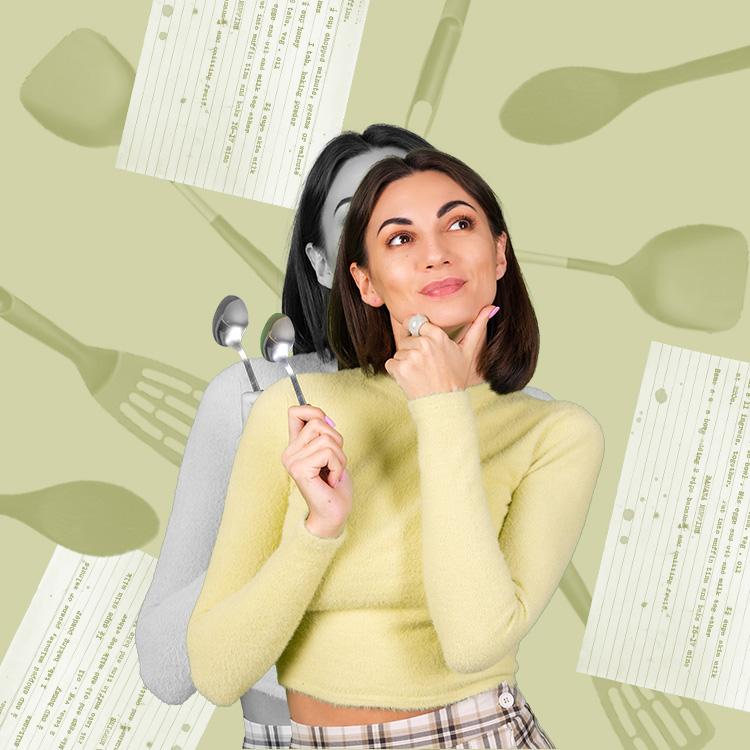 high in protein, good for gut health, and anti-inflammatory? yes, please!
From dips to desserts to frozen foods that have become lifelines on busy weeknights, we all have at least one item that we pick up every single time we walk into the store. Because we haven't already said it enough, these are the Trader Joe's products our editors swear by that we think you need to try immediately:
1. Spinach & Kale Greek Yogurt Dip
I don't want to live in a world where this dip doesn't exist. Is that dramatic? Absolutely. Do I mean it with every fiber of my being? I sure do. I usually turn to this dip when I am feeling a little snacky between lunch and dinner with some veggies or crackers. But I once bought it, put it in a different bowl as if I made it myself, and served it as an appetizer when I had company over. Let's just say that it was gone before I could go back for seconds. —Hailey Bouche, Assistant Editor
2. Organic Cacio e Pepe Puffs
OK, hear me out: Trader Joe's Cacio e Pepe Puffs are one of my favorite impulse purchases of all time. I will admit that I was hesitant to try these, especially since I absolutely love Cacio e Pepe pasta and didn't want them to ruin the flavor for me. But their light, airy, and crunchy goodness has completely won me over! Each puff strikes the perfect balance between cheesy and peppery and ends with the most satisfying crunch. —Christina Herbst, Branded Content Editor
3. Dark Chocolate Peanut Butter Cups
One thing about me? I'm gonna end every meal with something sweet, and if I'm at home, it's always one of these Dark Chocolate Peanut Butter Cups from Trader Joe's. Trust me, I've tried other dark chocolate PB cups in my day, but Trader Joe's has the best chocolate-to-peanut-butter ratio in the game. Put them in the fridge for an added bit of crunch and thank me later. —Ashley Selleke, Brand Partnerships Manager
4. Cheese Pizza with a Cauliflower Crust
If you were to look at the contents of my freezer, you may find a variety of plant-based ice creams, random frozen appetizers or entrees my boyfriend insists on buying, or leftovers I didn't want to waste but will likely throw away in a year after I forget about them. But one thing you will always find, without a doubt, is a cauliflower pizza from Trader Joe's. The cauliflower pizza crust revolutionizes fast food—and drunk food—by replacing greasy crusts with nutrient-dense cauliflower and gluten-free cornflour. I always have a plain crust in my freezer for when I want to get creative (I make a mean pizza with smashed black beans, cheese, lettuce, and vegan ranch), but we also keep a few of the cheese pizzas for the nights when I only have time to pop something in the oven. —Josie Santi, Wellness Editor & Podcast Host
5. Everything and the Elote Greek Style Yogurt Dip
Since trying this dip last summer, I've tried countless times to re-create its creamy, smoky, bold flavor with an at-home recipe, and I just can't do it justice. Trader Joe's truly nailed it with this one. I have to limit myself on how often I buy this because I know if I have it in my fridge, it'll be gone in a matter of days. Tortilla chips are my scooping vehicle of choice, but I'm sure this dip would be equally great with sliced bell peppers, baby carrots, or even french fries. I also love that it's made with Greek yogurt, which makes it a little lighter and more nutritious than your typical sour cream or mayo-based dip. —Jessica Friedhoff, Lifestyle Editor
6. Gone Bananas! Dark Chocolate Covered Banana Slices
I am a firm "I'm ready for something sweet girly" at various points of the day, and these frozen dark chocolate-covered banana slices are perfect to snack on no matter the time. The bitter dark chocolate pairs perfectly with the sweet banana, and the coin-sized shape makes it easy to have a little—or a lot. I also love to bring them out to share with friends as they're a reliable treat that everyone can enjoy. No matter what, you can guarantee I always have a box of these in my freezer. —Bella Gil, Editorial Fashion Assistant
7. Vegan Tzatziki Dip
I'm always on the hunt for tasty dairy-free products, and when I saw this Vegan Tzatziki Dip at Trader Joe's, I added it to my cart with fingers crossed it would be good. And let me tell you, it's better than good. To my amazement, it's creamy, fresh, and pretty close to the real thing! I add a dollop to the Greek bowls I make for dinner and also eat it as a snack with veggies, pita, and olives. Definitely a new staple! —Caitlin Schneider, Graphic Designer
8. Wildberry Cheesecake Ice Cream
One thing about me is that I will always have ice cream on hand. I would argue it's my favorite sweet, and blueberries are my favorite fruit. So when I saw this wildberry cheesecake ice cream, I knew I had to get it. I can now confidently confirm it is my absolute favorite ice cream ever! It is the perfect balance of sweet and savory, and the texture rivals a fancy creamery. I think it's safe to say I will be reaching for this wildberry cheesecake ice cream all summer long. —Kirra Wallace, Senior Graphic Designer
9. Breaded Chicken Tenderloin Breasts
These things have saved me time and time again on those days when I would rather do anything than cook. I just pop one to two breasts in the air fryer for nine minutes and then use them for salads, wraps, or on their own. While they might not be the healthiest option in the game, they're definitely better for my wellness and wallet than if I were to order McDonald's instead. —Ashley Selleke, Brand Partnerships Manager
10. Organic Sriracha & Roasted Garlic BBQ Sauce
If you're like me and have a hard time deciding between sauces and just end up with them all, you should pick this up on your next trip. It's the perfect combination of sriracha and barbeque sauce, and what could be better than that? It goes so well so many different meals and is usually the first dipping sauce I reach for now. —Keely Geist, Senior Social Media Editor
11. Everything But The Bagel Dip
This is, in my humble opinion, the most underrated product of all time. Like, I truly have never seen anyone other than my friends and I ever talk about it. Well, I randomly decided to pick this up about two years ago, and I have never left a TJ's without it since. It's technically just a Greek yogurt dip, but I literally have never tasted anything like it in my life. I personally like to eat it with a kettle-cooked potato chip or the Chili & Lime Flavored Rolled Corn Tortilla Chips, but you could probably eat it with cardboard and it would still be a 10/10. If you're looking for a different kind of dip outside of hummus or tzatziki, look no further. —McKenna Pringle, Editorial Intern
12. Thai Sweet Chili Sauce
At this point, it's safe to say my body is at least 70% made up of this Thai Sweet Chili Sauce. There was a brief period when it disappeared, and as soon as it came back, I literally bought ten bottles. It is the perfect compliment to anything, but I love pairing it with the Chicken Cilantro Mini Wontons, putting it on TJ's shrimp burgers, or topping off some fish tacos. —Abi Moseman, Social Media Assistant
13. Slightly Coated Dark Chocolate Almonds
Let's be real: Everything tastes better dipped in chocolate, and almonds are definitely no exception. This healthier treat deserves *chef's kiss* status with its sweet and salty notes, not to mention its nutrient-dense profile, thanks to the antioxidants, protein, fiber, and healthy fats it serves up. —Katherine Chang, Wellness Staff Writer
14. Chocolate Raspberry Swirl Ice Cream
This is a very recent obsession of mine and will 100% be my No. 1 sweet treat of the summer. I can't really explain it, but it is so much more than just some raspberry sorbet and chocolate ice cream thrown into a pint together. It is the perfect balance of both flavors, gives an even amount of tart and creamy, and isn't artificial tasting or overly sugary in the slightest. Whoever came up with this product deserves a raise. No notes. —McKenna Pringle, Editorial Intern
15. Thai Wheat Noodles
I saw these on TikTok and immediately ran to my nearest Trader Joe's to pick them up. My husband and I love a good stir fry or homemade ramen, and these noodles are the perfect upgrade from our standard options. We usually fry up some veggies and the Trader Joe's pre-cooked pork belly (which is another fave) to go along with these noodles and the result is truly *chef's kiss*. —Garri Chaverst, Senior Managing Editor
16. Seltzer Water Flavored with Lemon and Ginger Juice
When I've maxed out caffeine for the day and I need an afternoon treat, I crack open one of these ginger lemon seltzer waters to add a bit of zest to my water intake. I go through these drinks fast because they are refreshing and bubbly while having zero sugar. Add a slice of lemon or lime and pour into a fun glass for fancy vibes. —Cassie McCook, Social Editor
17. Dark Chocolate Covered Cherries
I once received these as part of a gift basket and it unleashed a dangerous obsession. These delightful Dark Chocolate Covered Cherries are always in my cart because they are the perfect little treat. I have a few after lunch every day, and they satisfy my sweet tooth and are something I always look forward to. —Keely Geist, Senior Social Media Editor
18. Cauliflower Gnocchi
I really can't get enough of the Cauliflower Gnocchi. On busy nights when I don't have time to cook or days when I simply don't feel like it, I toss a bag into the air fryer and pair the gnocchi with some chicken and my favorite dairy-free alfredo sauce. It's a simple, delicious dinner and one I turn to all the time. —Garri Chaverst, Senior Managing Editor
19. Speculoos Cookie Butter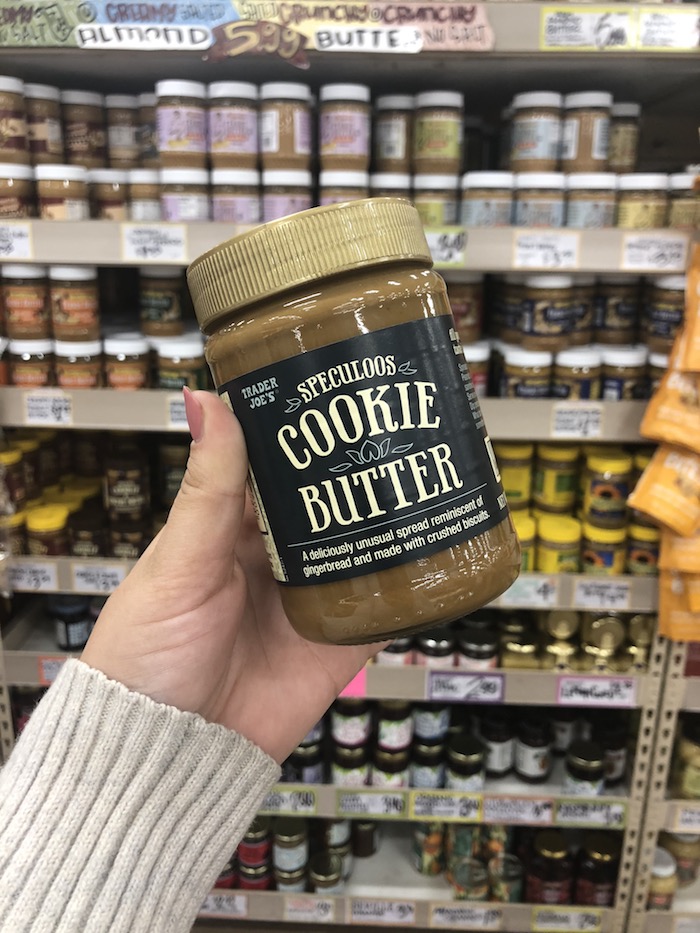 I'm not much of a peanut butter gal, so my go-to is always cookie butter! It pairs well with any food from fruits to toast, so you really can't go wrong. For all you sweets lovers, this should be at the top of your list! —Aryana Johnson, Graphic Designer
20. Vegan Kale Cashew & Basil Pesto
When I say that I put this pesto on everything, I actually mean everything: my eggs, wraps, chicken, you name it. It's eons better than any other pesto I've had. —Madeline Galassi, Fashion Editor
21. Hash Brown Patties
I seriously cannot get enough of these hash browns. I buy them every single time I make a trip to Trader Joe's, and I always end up running out before my next grocery run. They're like McDonald's hash browns but better and with less grease. I like to make them as a side to any breakfast I'm having or use them as the "toast" in avocado toast. —Jess Welsh, Associate Commerce Editor
22. Riced Cauliflower Stir Fry
If you're ever wondering who is buying out the entire stock of this item, it's me. I love having this in my freezer for nights when I am either too busy or not in the mood to make a full-on dinner. My favorite way to eat this is as a base with some protein on top. I simply rip open the bag, warm it up in a pan, throw it in a bowl, and enjoy. It's truly a fool-proof meal. —Hailey Bouche, Assistant Editor
23. Mini Hold the Cone Ice Cream Cones
When you're in the mood for a little treat, these are the perfect size to satisfy your craving without overdoing it. They come in tasty flavors like chocolate and coffee bean, and I'm keeping my eye out for their seasonal flavors like pumpkin ginger and peppermint. These are always in my freezer! —Keely Geist, Senior Social Media Editor
24. Frozen Organic Jasmine Rice 
Cooking rice is the only task I refuse to do. No matter how easy it is, I know there's an easier solution out there. That being said, when I found this easy microwavable rice in the frozen section, I knew I needed to give it a chance. It is my pleasure to introduce you to the famous organic jasmine rice. This white rice cooks in three minutes and unlike other microwave rices on the market, this one is fluffy and cooks perfectly. I can honestly say it's a staple in my house and a necessary ingredient for so many dishes. —Kirra Wallace, Senior Graphic Designer
25. Caramelized Onion Dip 
I once tried over a dozen dips from Trader Joe's, and this one was my absolute favorite. It has a light and fluffy whipped texture that pairs perfectly with a kettle-cooked or ridged potato chip. I could easily eat the entire tub in one sitting. —Ashley Selleke, Brand Partnerships Manager
26. Oven-Baked Cheese Bites with Summer Black Truffle
Whenever I buy these, I immediately eat them within a few days and then get sad that they're gone. There are a few different flavors of dried cheese bites at TJ's, but the truffle option stands far ahead of the rest. Not only are they extremely delicious and flavorful, but they're also a low-carb snack option for when you just want something light. —Jess Welsh, Associate Commerce Editor
The post 26 Trader Joe's Products Our Editors Can't Live Without appeared first on The Everygirl.