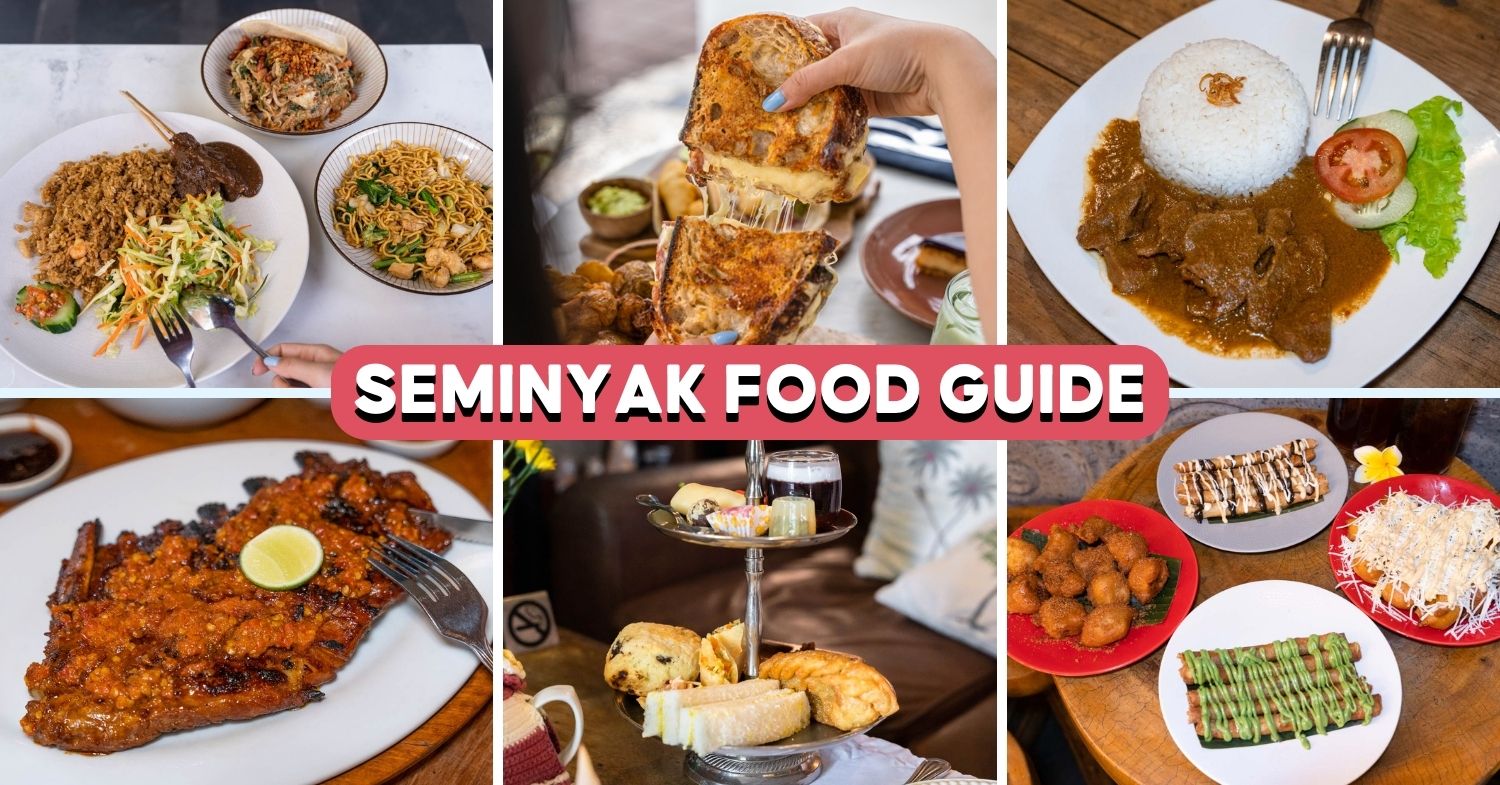 ---
Bali Seminyak food guide
---
The bustling beach town of Seminyak is a good place to explore if you're visiting Bali for the first time. Besides being one of the nearer neighbourhoods to Ngurah Rai Airport in Denpasar, it's also chock full of famous restaurants, cafes, and warungs. While a short one week was definitely not enough for us to savour everything this place has to offer, we've shortlisted nine best food places in Seminyak you should visit for a start.
---
1. Made's Warung
---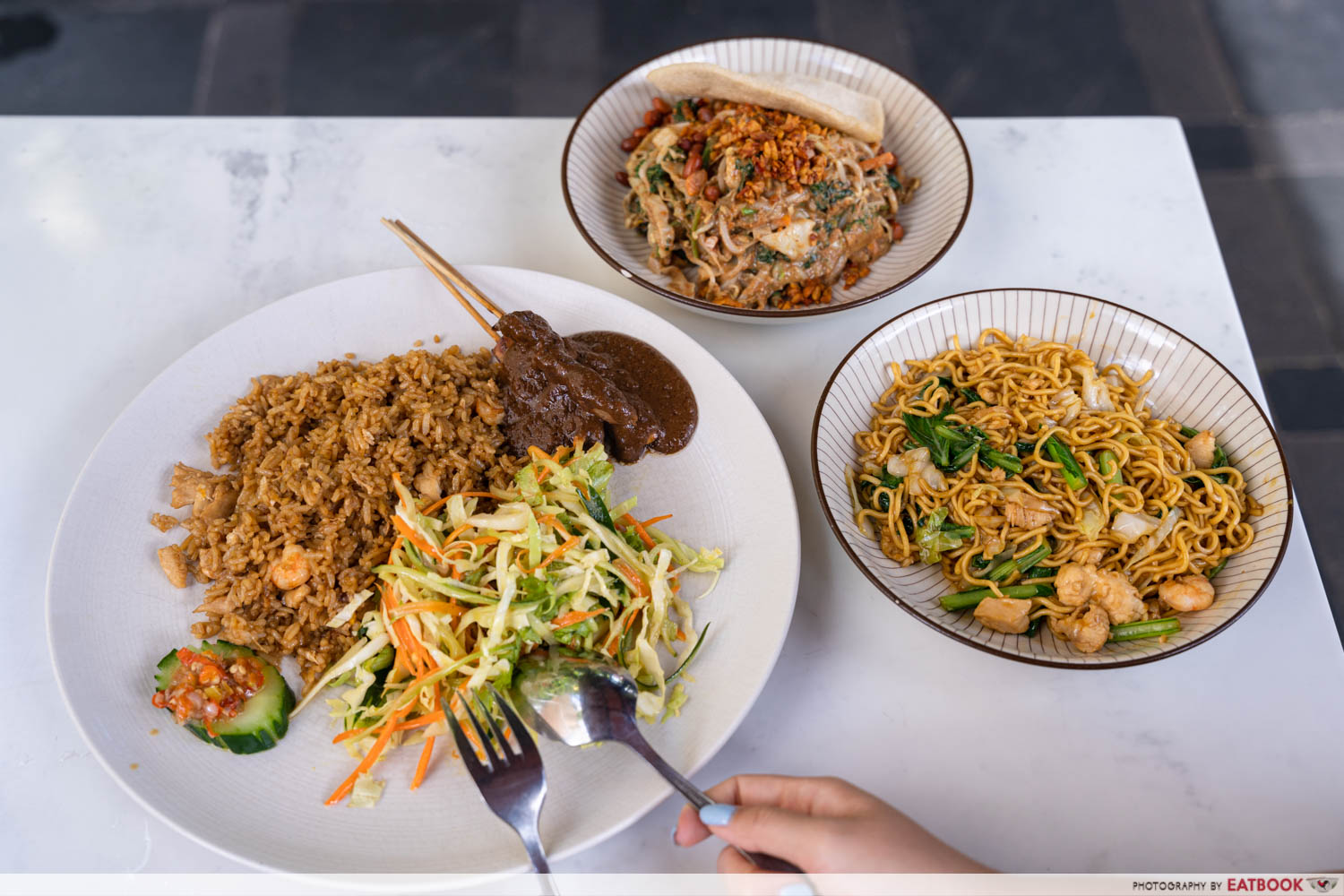 Made's Warung is my favourite Indonesian restaurant in Seminyak for good reason—their fried rice is super delicious, and their gado gado (Indonesian peanut salad) is, in my opinion, one of the best in Bali.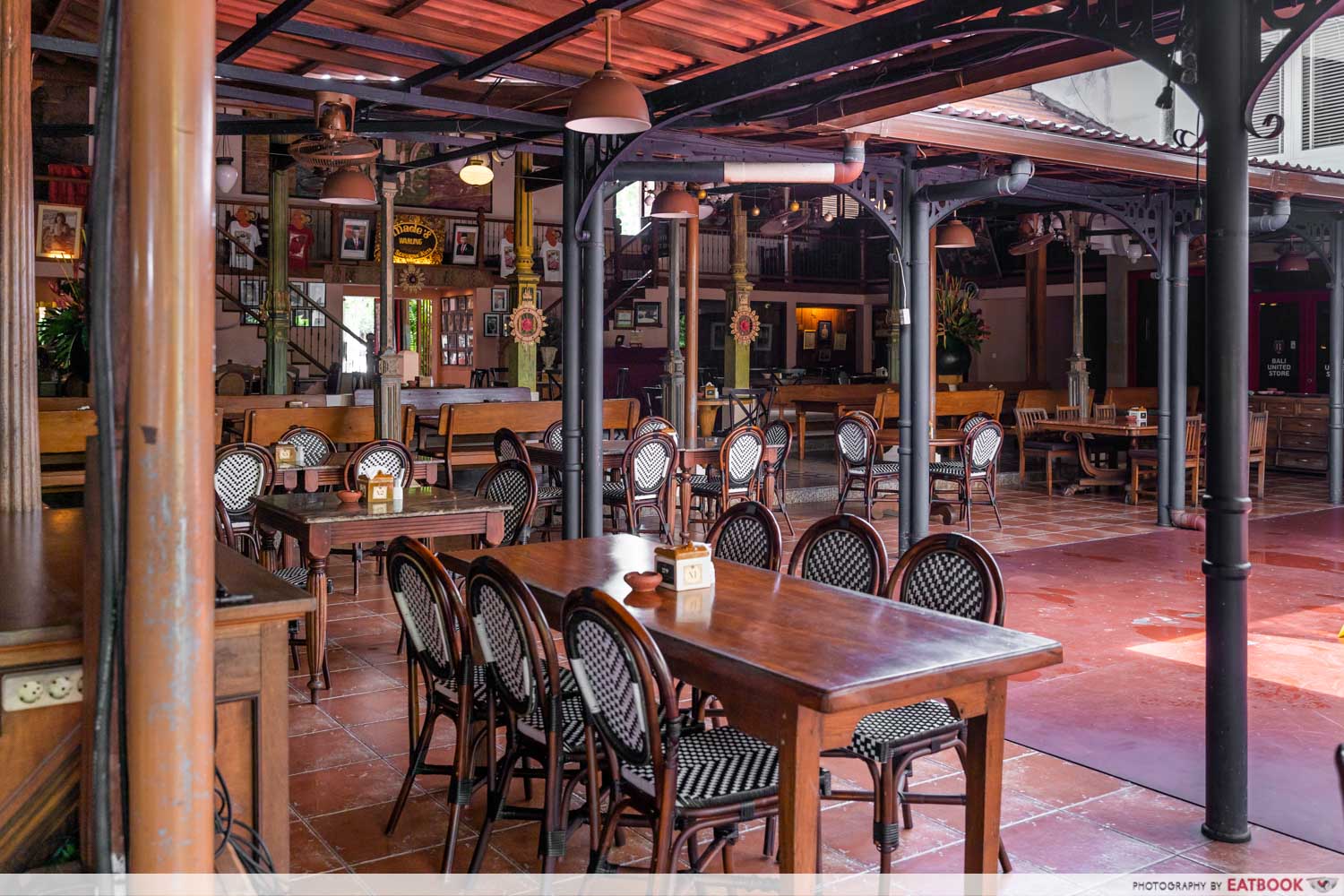 Their Seminyak outlet is my go-to as it's huge, complete with a spacious alfresco area that comes alive at night with cultural dances. If you visit on weekend evenings, you may even get to catch a couple of cha cha cha performances.
The Gado-Gado (IDR40K++/~S$3.65++) here is an amalgamation of sweet, spicy, and savoury flavours, and is drenched in a creamy sauce made using ground peanuts, spices, herbs, sweet soya sauce, and coconut milk. Don't skip the Nasi Goreng Special (IDR75K++/~S$6.84++) too—we immediately fell in love with the fragrant fried rice and tender pork satay. Plus, we loved how the sambal paste elevated the dish with its piquant flavour.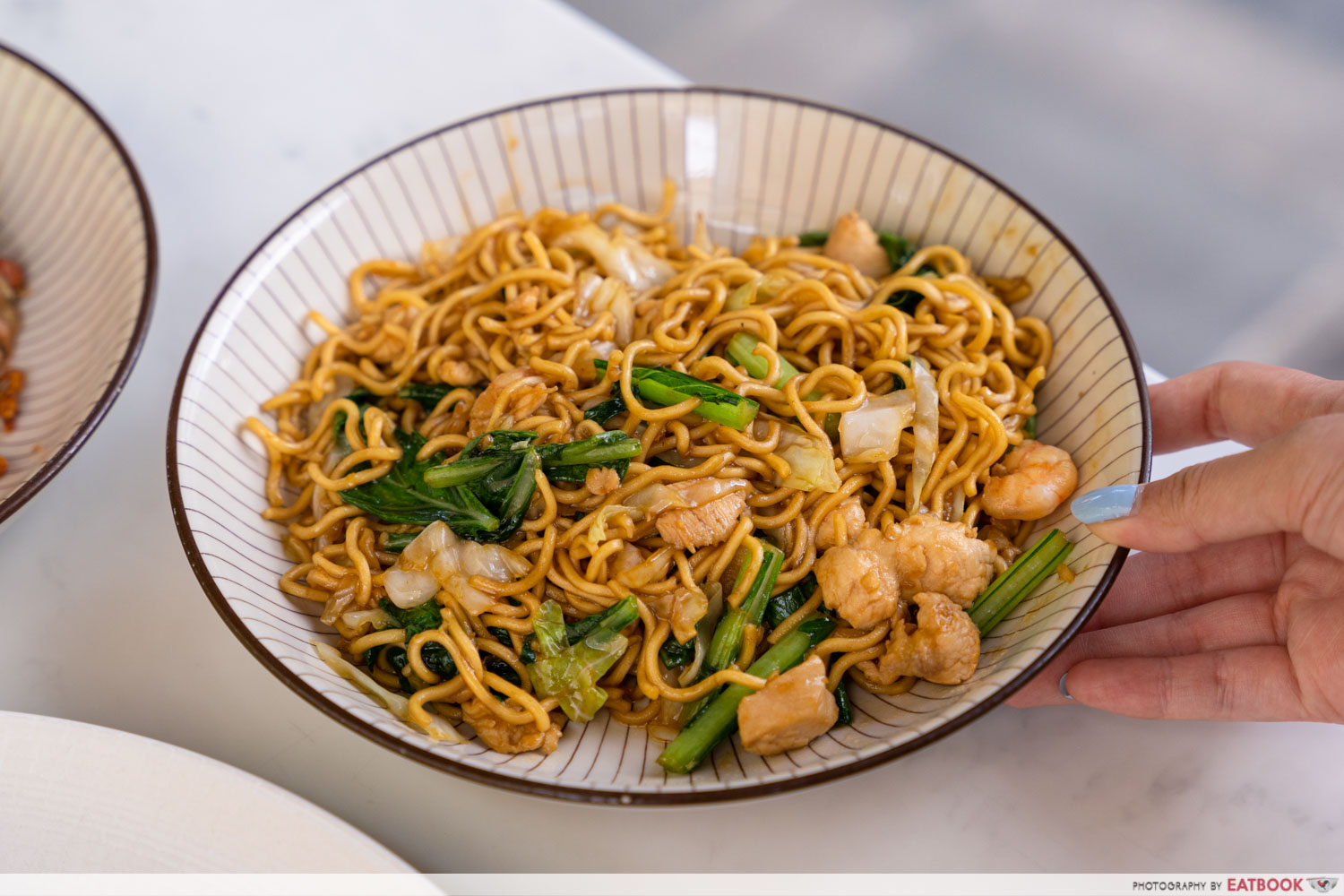 Their Mie Goreng (IDR50K++/~S$4.56++), featuring springy noodles coated in a light, sweet sauce, is also worth a try. If anything, the only ingredient missing here was a fried egg.
Address: Jalan Raya Seminyak Nombor 7, Kecamatan Kuta, Kabupaten Badung, Bali 80361
Opening hours: Sun-Thurs 10am to 11pm, Fri-Sat 10am to 11:30pm
Tel: ​​+62 361 732130
Website
Made's Warung is not a halal-certified eatery.
---
2. Kynd
---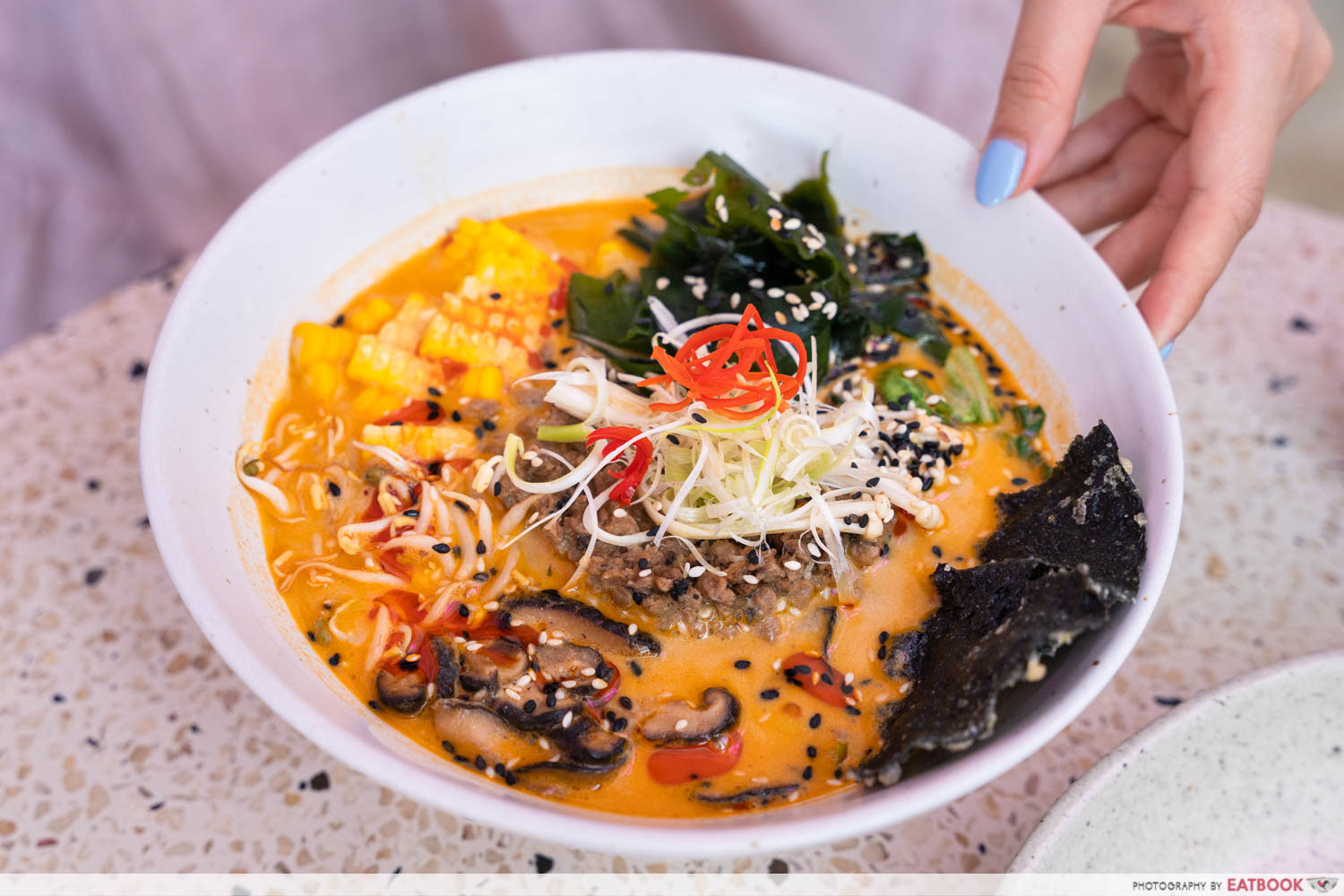 Kynd may look like just another pretty cafe, but I believe they're one of the best places to have Western fusion food in Seminyak, done vegetarian-style. My favourite dish is their Creamy Tan Tan Ramen (IDR90K++/~S$8.21++), comprising ramen noodles, bok choy, wakame, bean sprouts, enoki, and mock minced pork. The broth was heady and had a tinge of spiciness. While the mock meat didn't taste like real meat, it was tasty and soaked up the creamy broth well.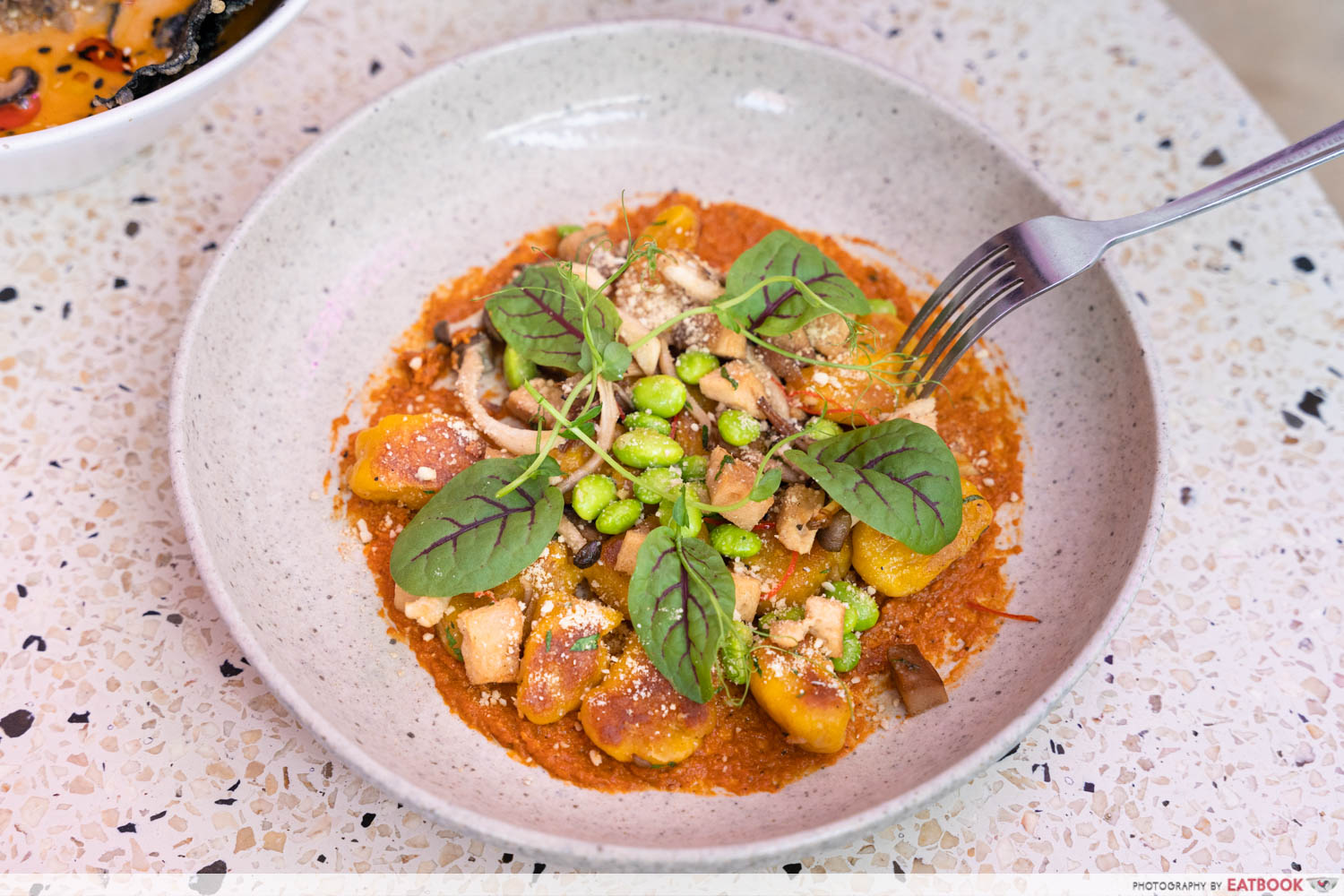 There's also the crowd-favourite Smoked Bacon Gnocchi (IDR95K++/~S$8.66++), consisting of lightly charred gnocchi mixed with potato chunks and pumpkin, alongside mushrooms and mock bacon.
In the drinks department, there's a selection of coffee and tea from IDR32K++ (~S$2.90++), as well as smoothies with the likes of Choco Loco (IDR65K++/~S$5.93++) and Bulletproof (IDR65K++/~S$5.93++): banana, espresso, dates, and coconut milk.
Address: Jalan Petitenget Nombor 12, Kerobokan Kelod, Seminyak, Kuta Utara, Badung Regency, Bali 80361
Opening hours: Daily 7:30am to 10pm
Tel: +62 859 3112 0209
Website
Kynd is not a halal-certified eatery but serves no pork or lard.
---
3. Warung Nia
---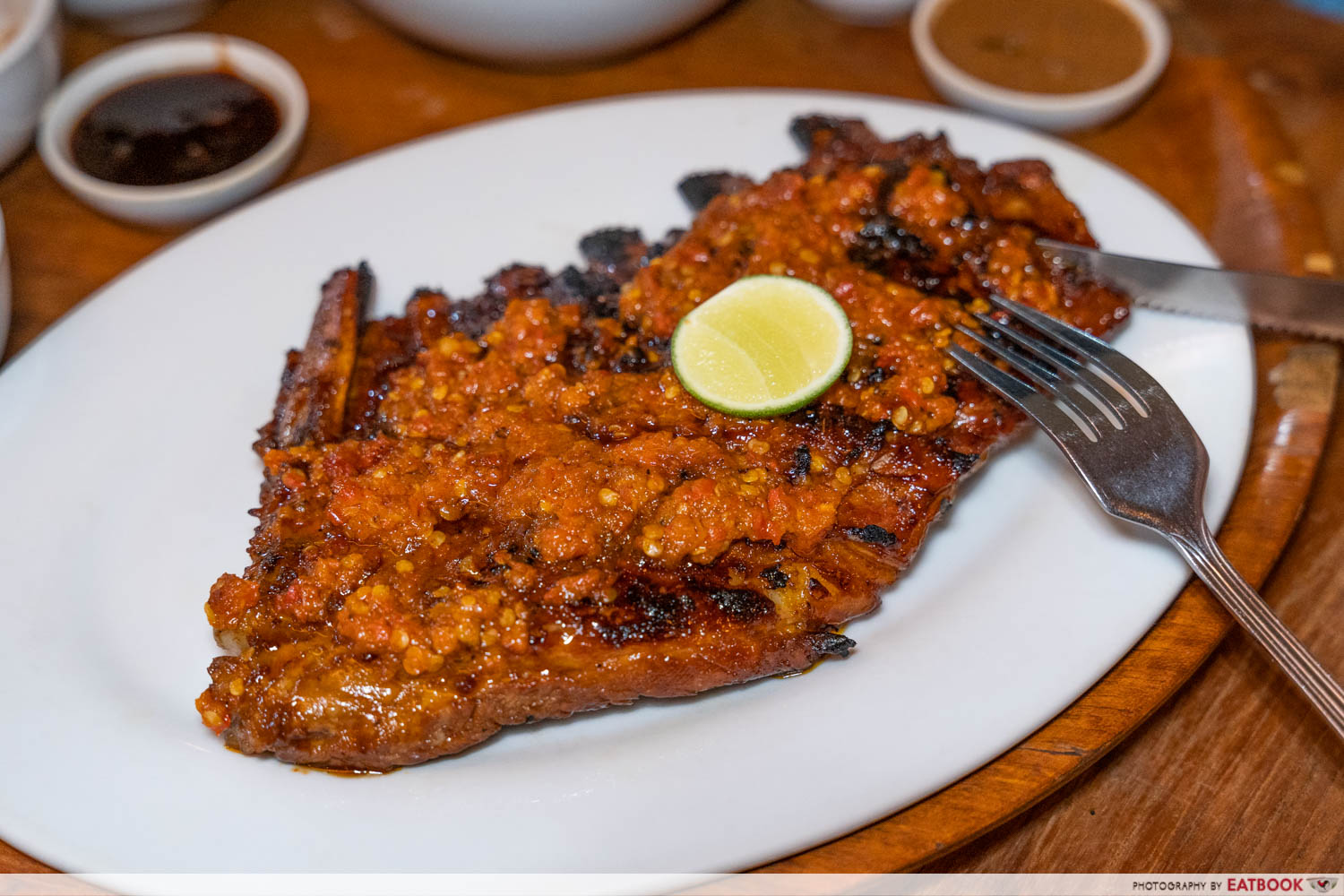 Warung Nia is said to have the best spicy pork ribs in town, which is why we had to check them out. Here, you can choose your preferred spice levels from 1 to 10, and have your pork ribs ala carte or with a set for a more complete meal.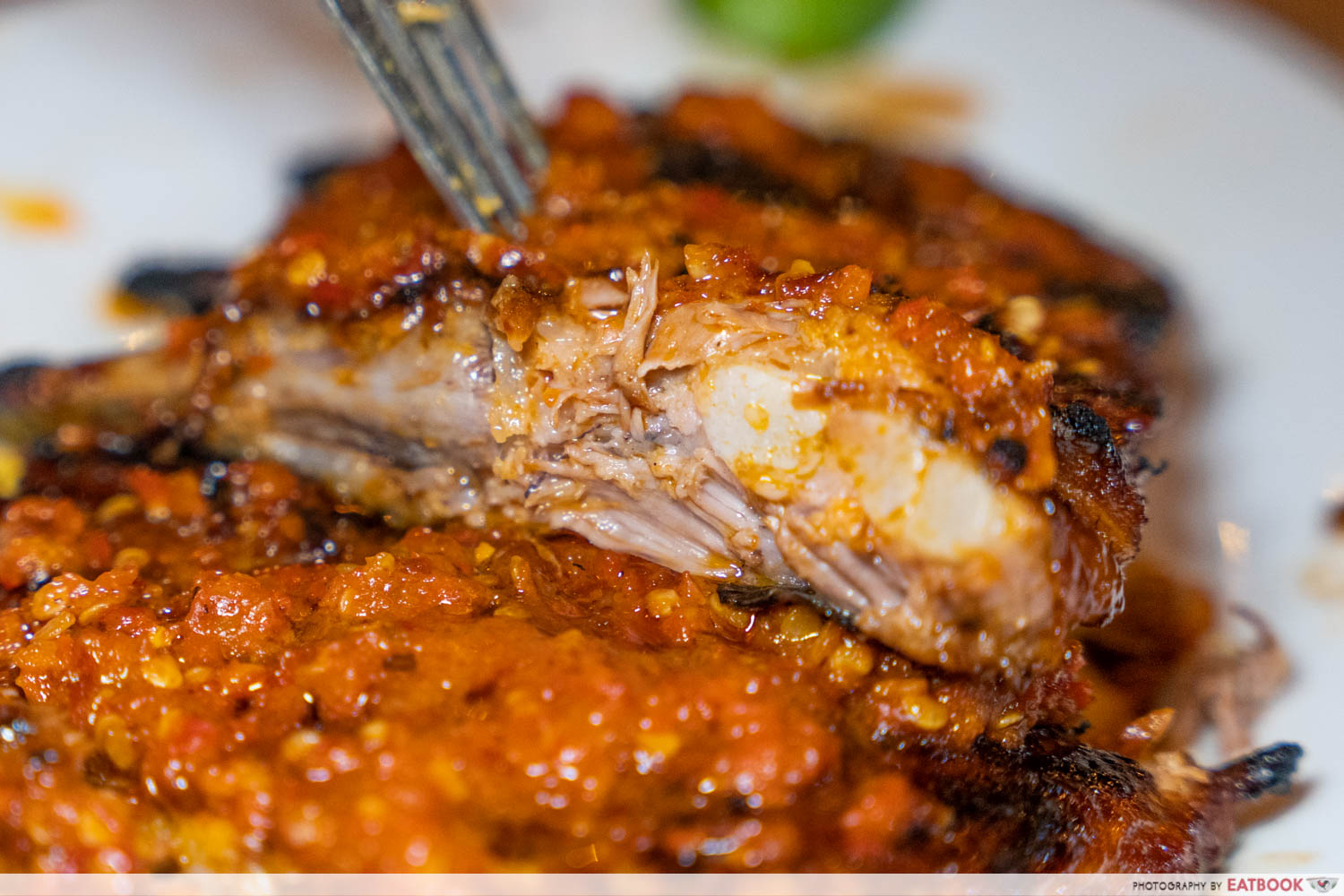 We went for the Grill Pork Ribs (IDR215K++/~S$19.61++), which comes with 400g of pork ribs in Level 3 spice, fried rice, satay, peanut sauce, salad, and BBQ sauce served on the side. The pork ribs were superbly tender and fell off the bone easily. Flavour-wise, the meat was savoury-sweet and addictive––we couldn't help digging in despite it being incredibly spicy. It definitely made us break a sweat.
Warung Nia also offers healthy drinks including the Mango Crush (IDR60K++/~S$5.47++) for a boost of Vitamin C, and the Virgin Colada  (IDR60K++/~S$5.47++), a refreshing concoction that supposedly aids in blood circulation.
Aspiring chefs can also try their hand at one of Warung Nia's half-day cooking classes, where you'll learn how to cook around 10 different Balinese dishes, including satay and Indonesian steamed chicken.
Address: Kayu Aya Square, Nombor 19-21, Jalan Kayu Aya Seminyak, Kecamatan Kuta Utara, Bali 80361
Opening hours: Mon-Sat 11am to 10pm, Sun 10am to 10pm
Tel: +62 877 6155 6688
Website
Warung Nia is not a halal-certified eatery.
---
4. Kim Soo
---
Kim Soo is not just a furniture shop—it's also a stylish cafe with delicious brunch fare. We had the cheesy Triple Cheese Toastie (IDR75K/~S$6.81): thick toasted sourdough layered with cheddar, mozzarella, Swiss cheese, and a drizzle of truffle cream sauce. While this item was substantial enough to fill my stomach, I couldn't resist trying the Baja Fish Tacos (IDR85K/~S$7.72), featuring tempura barramundi nestled within grilled flour tortillas, topped with chipotle mayonnaise, guacamole, and pickled jalapeno salsa.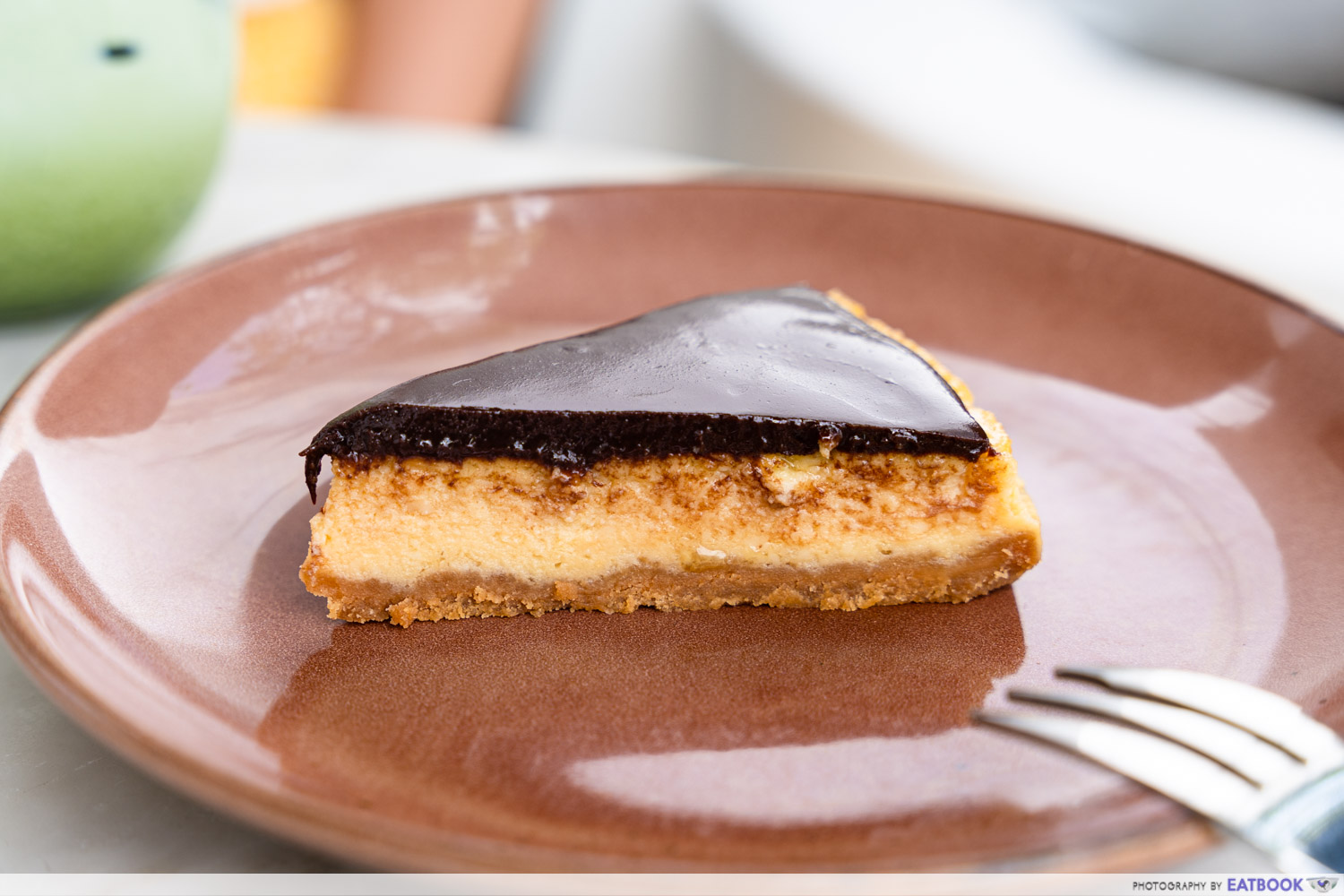 We also tried one of Kim Soo's house-made cakes, the Dulce de Leche Cheesecake (IDR40K/~S$3.63). The indulgent treat had a butterscotch-like flavour, with a mellow hint of toffee that wasn't too cloying.
Address: Jalan Kayu Aya No.21, Kerobokan Kelod, Kecamatan Kuta Utara, Kabupaten Badung, Bali 80361
Opening hours: Daily 8am to 5:30pm
Website
Kim Soo is not a halal-certified eatery.
---
5. Biku
---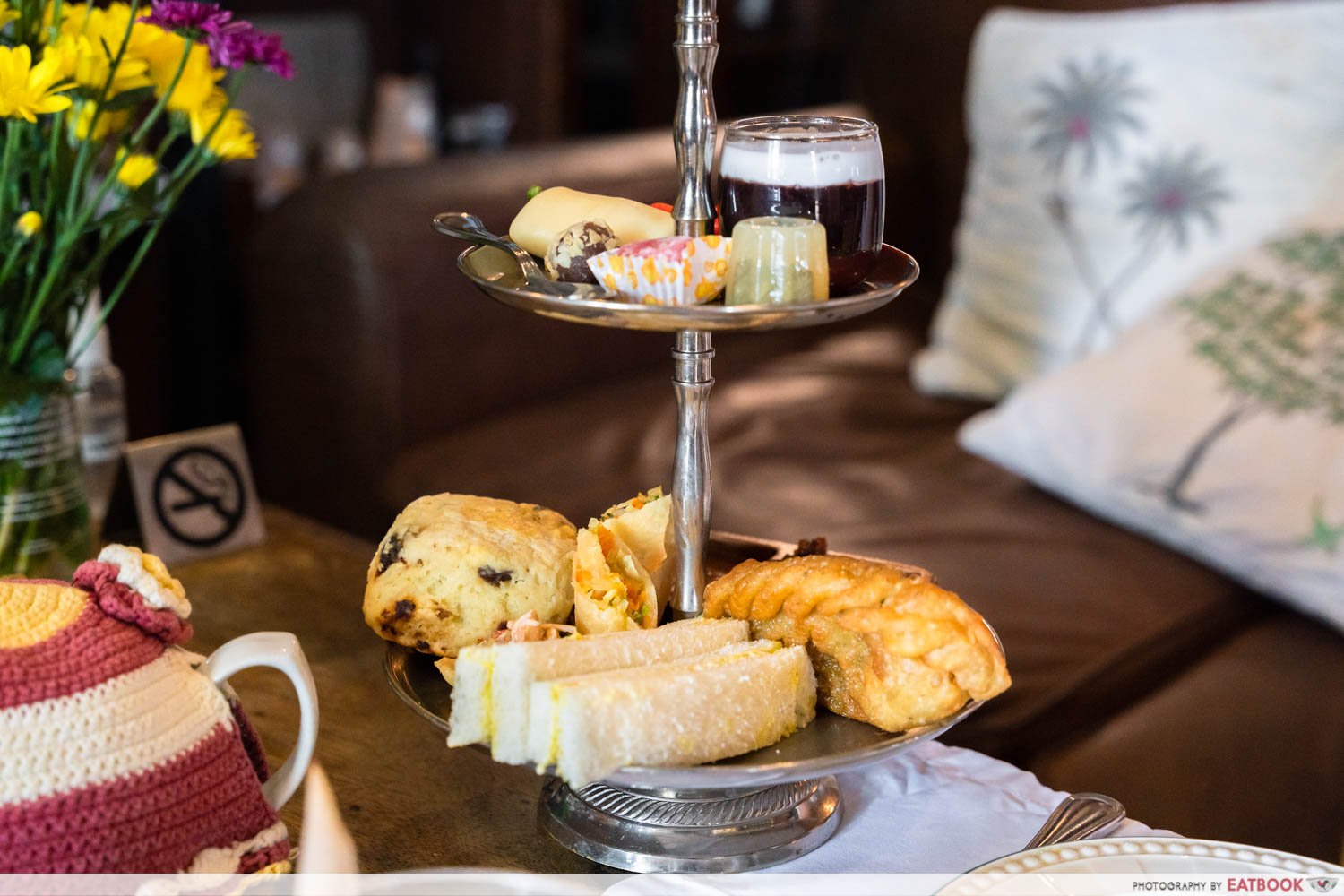 If you're feeling a lil' fancy, check out Biku, a popular Balinese restaurant known for their Asian-inspired high tea sets.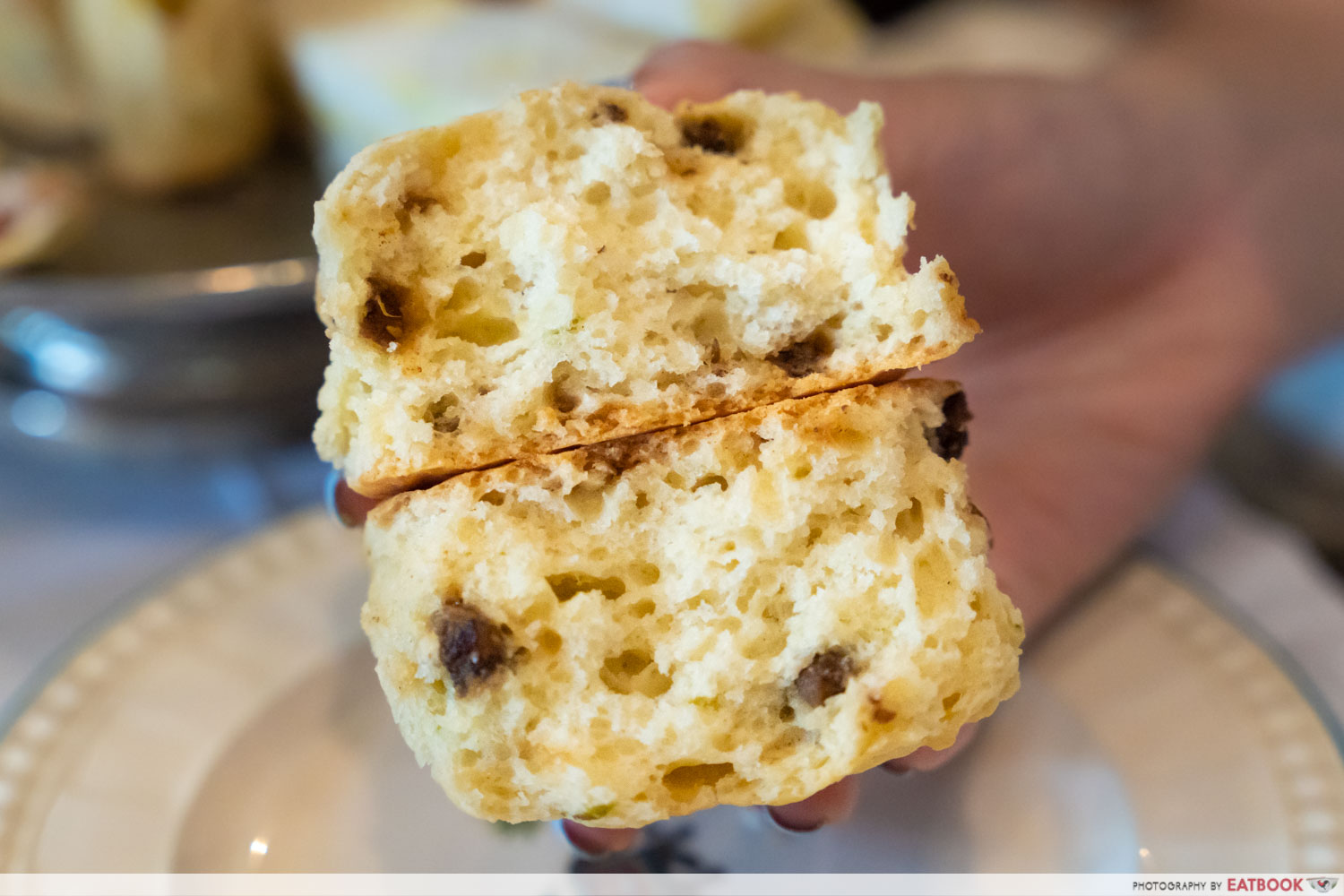 We went for the Asian High Tea (IDR160K/~S$14.53), which allows you to sample Indonesian-inspired treats, including Samosa with Chutney, Date Scones with Mango Jam, and Curry Egg Sandwiches. This is accompanied by a selection of fine teas, including in-house brews. We recommend the Java 'Agung' Black, an aromatic orange tea with a medium-bodied finish, or something smoky and robust such as the Java 'Telaga' Green.
If you're bringing along a little one, get the Children's Tea Time (IDR50K/~S$4.54), featuring finger sandwiches, traditional scones with jam and cream, cupcakes, and fruit tea or juice.
Address: Jalan Petitenget Nombor 888, Kerobokan Kelod, Kecamatan Kuta Utara, Kabupaten Badung, Bali 80361
Opening hours: Daily 8am to 11pm
Website
Biku is not a halal-certified eatery.
---
6. Warung Leka-Leka
---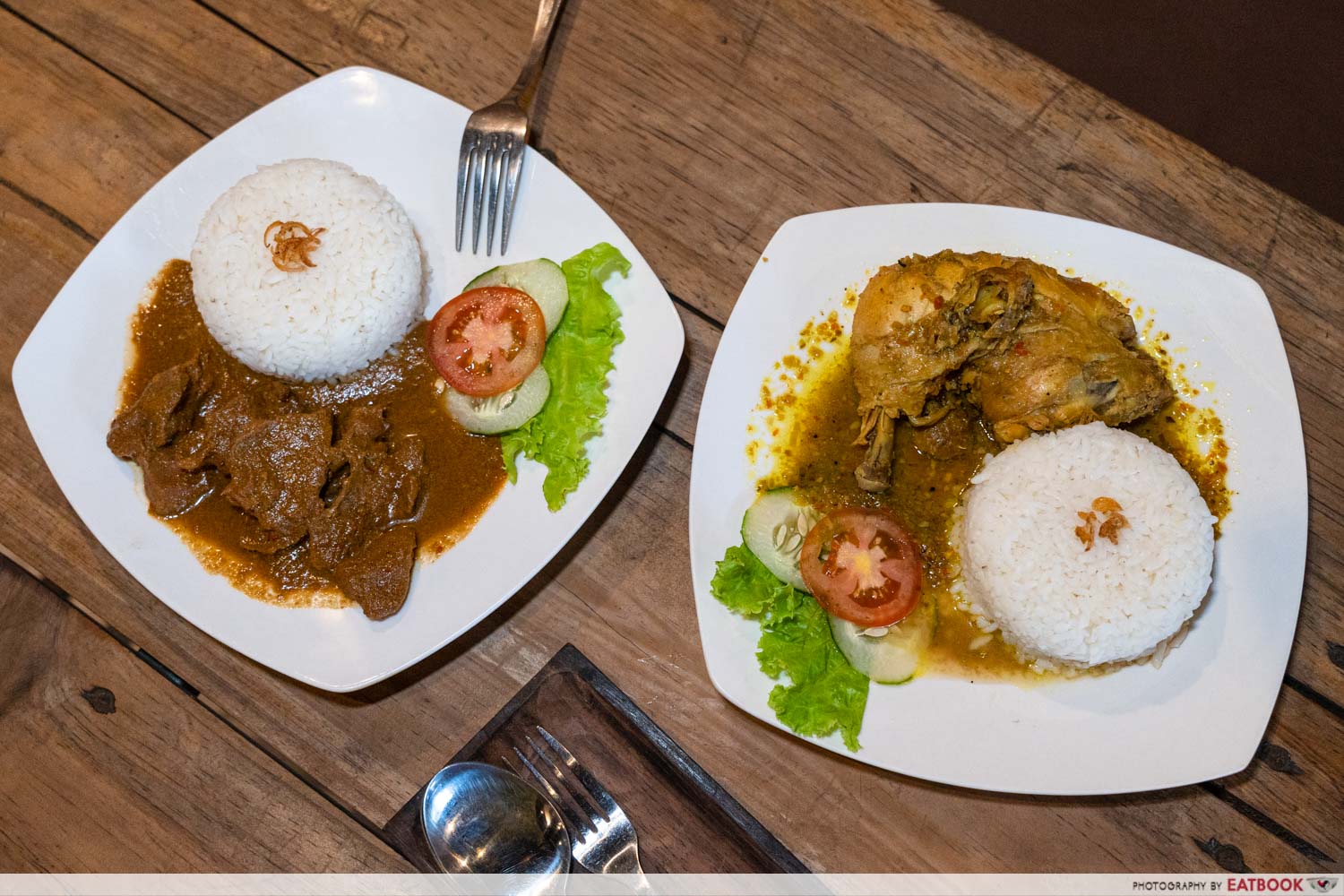 If you're looking for super affordable Indonesian food in Seminyak, pay Warung Leka-Leka a visit. Here, a main dish costs around IDR45K (~S$4.10), and all prices are nett. This relatively peaceful hidden gem is not as touristy as the rest, and also has free WiFi, making it a suitable spot for digital nomads.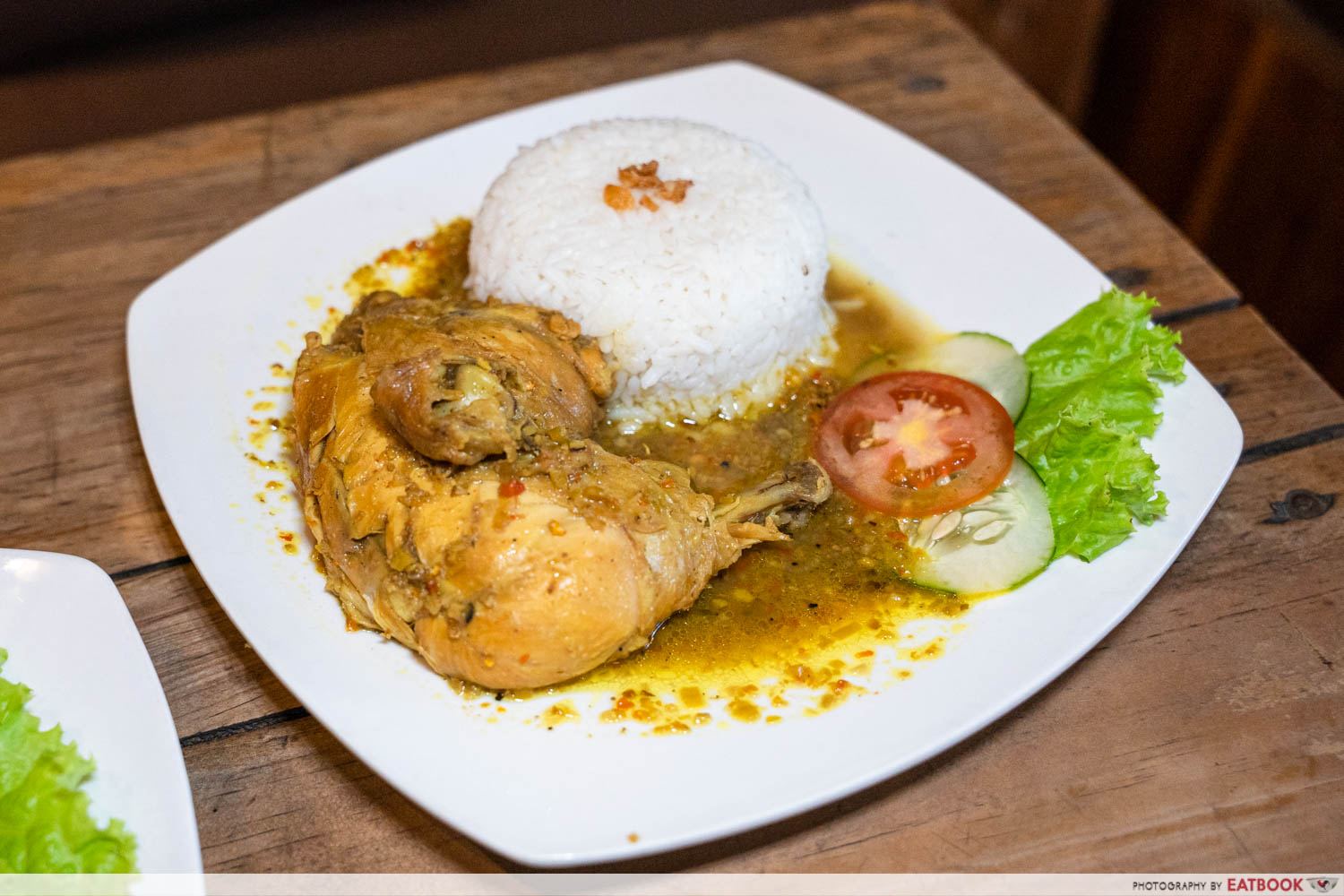 During our visit, we tried the Ayam Betutu (IDR45K/~S$4.10), which is a local dish comprising a quarter chicken spiced in bumbu betutu (Balinese spice mix) and served with rice. The betutu was not too spicy and was packed with aromatic spices and vegetables such as cassava and kaffir lime leaves.
The Beef Rendang (IDR45K/~S$4.10) was another impressive dish. The slow-cooked beef is simmered and cooked in coconut milk and spices, before being sliced into bite-sized chunks, and served with rice alongside chicken satay. The rendang itself isn't too spicy and is suitable for those with a lower tolerance for spicy food.
Address: Jalan Drupadi Nombor 9-80, Seminyak, Kecematan Kuta, Kabupaten Badung, Bali 80361
Opening hours: Daily 7am to 11pm
Tel: +62 819 0553 6939
Website
Warung Leka-Leka is not a halal-certified eatery.
---
7. Pisang Goreng Gendut
---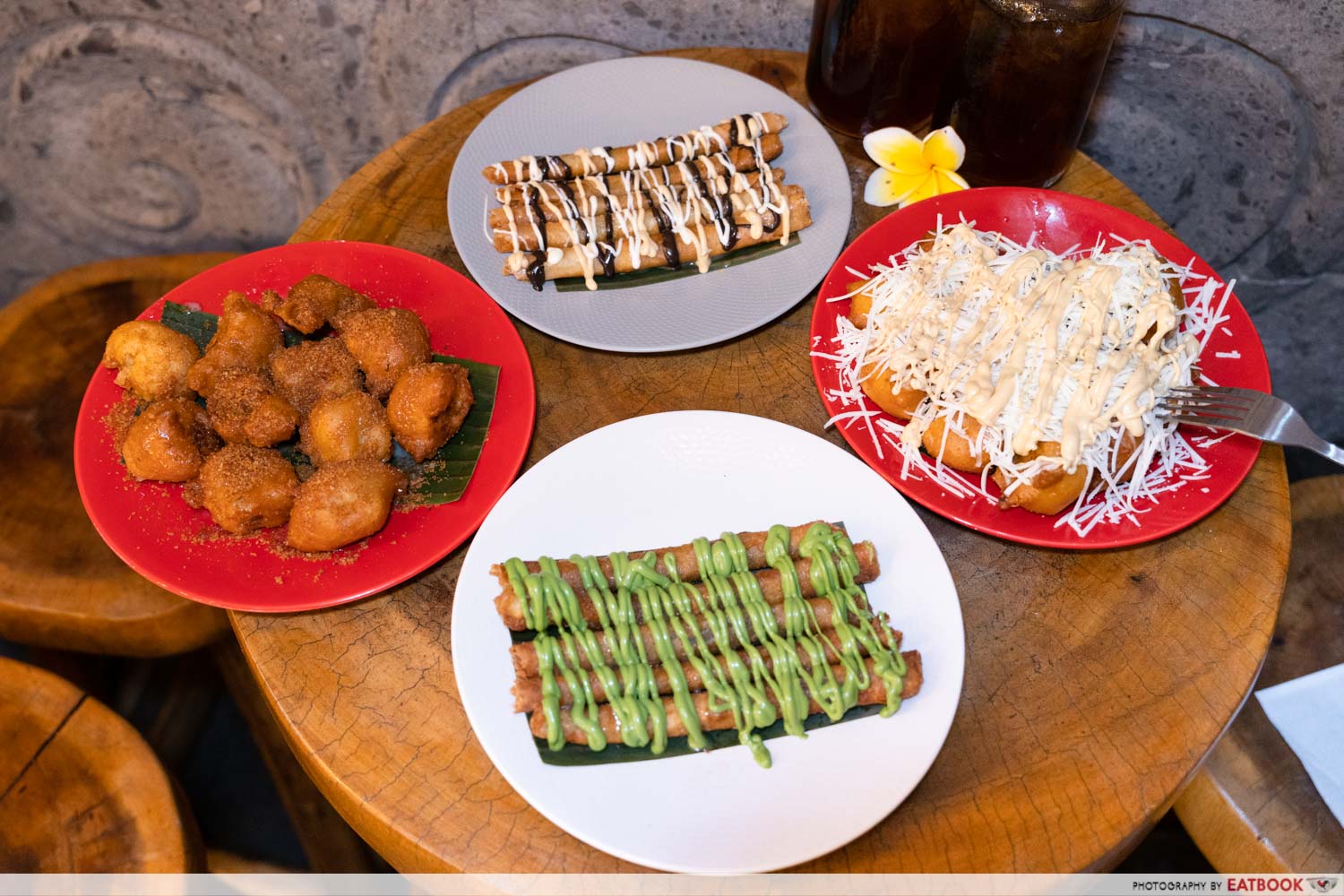 My colleague and I were browsing through GrabFood one night when we came across Pisang Goreng Gendut. We decided to give them a try, and after trying their banana fritters, we knew we had to go down and try their delicious snacks on the spot.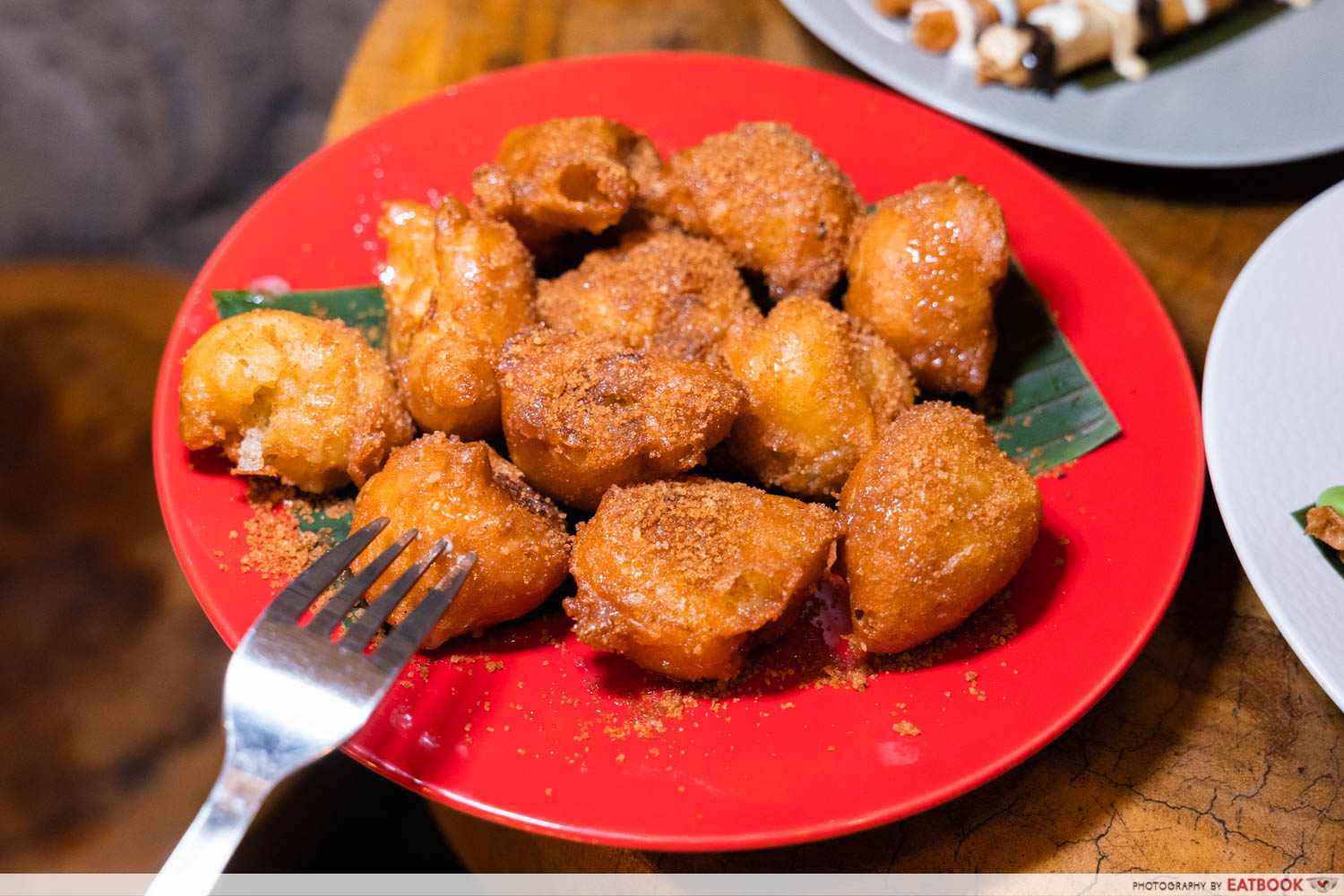 We couldn't get enough of the Pisang Goreng Original (IDR18K/~S$1.63), comprising fried balls filled with mashed-up, overripe bananas. While the pisang goreng are sweet enough on their own, those with an extra sweet tooth can also have them drizzled with their choice of syrup, including Tiramisu (IDR20K/~S$1.81) and Cappucino (IDR20K/~S$1.81).
The menu also has pisang penyet, which directly translates to "smashed banana". We got the Pisang Penyet Double Glaze (IDR20K/~S$1.82), layered generously with sweet chocolate syrup. My favourite, however, was the unique banana roll. I got mine drenched in Green Tea (IDR15K/~S$1.36) syrup, which boasted a crispy thin batter that let out a soft crunch with every bite, soaked in a fragrant tea-infused sauce
Address: Jalan Dewi Sri Nombor 9, Legian, Kecamatan Kuta, Kabupaten Badung, Bali 80361
Opening hours: Mon-Thurs 11am to 11pm, Fri-Sun 11am to 12am
Website
Pisang Goreng Gendut is a Muslim-owned eatery.
---
8. Mano Beach House
---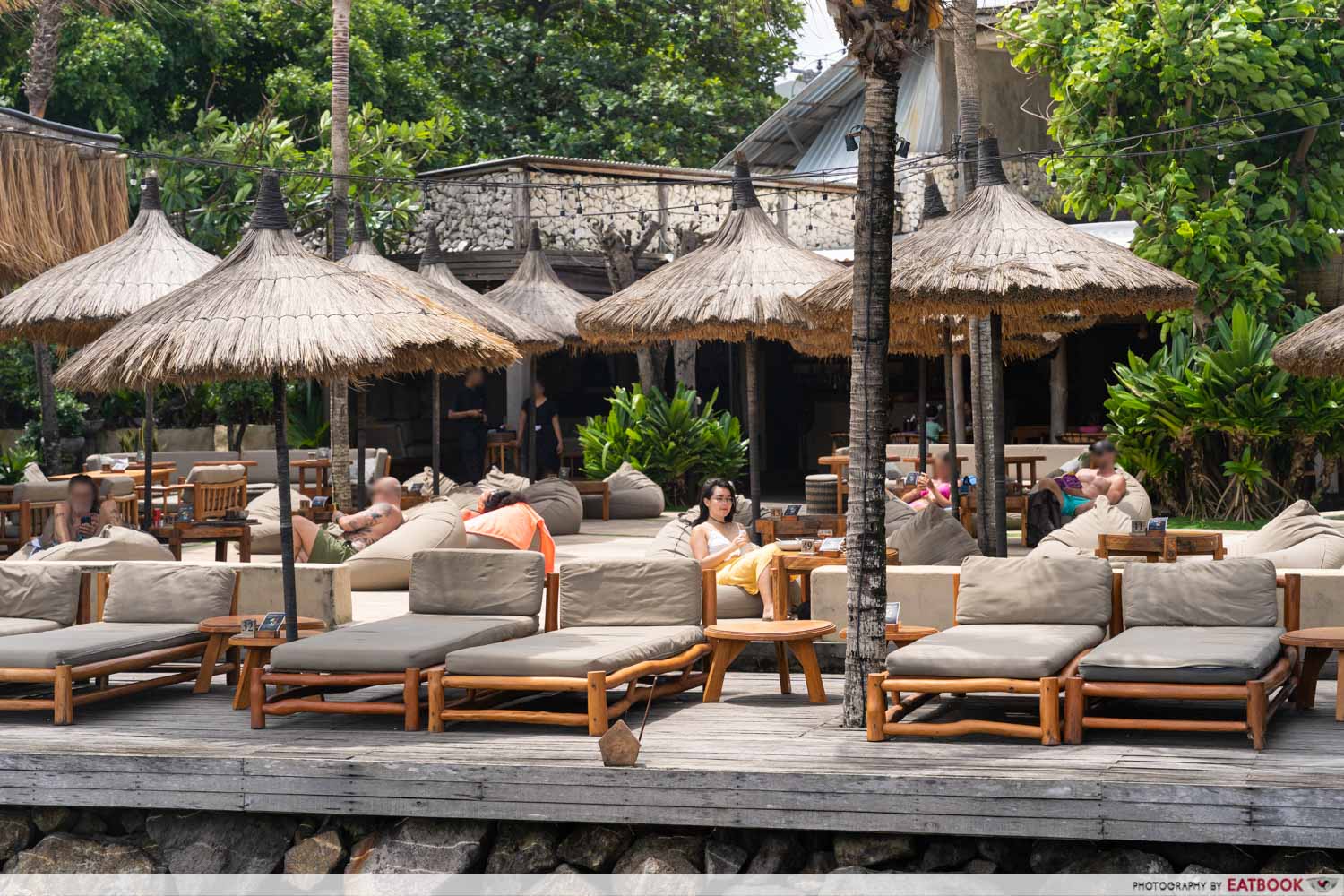 Your Bali vacation isn't complete without visiting a few of their vibey beach clubs. Mano Beach House is one of my go-tos as it's not as crowded as Finns or Potato Head, but still has a sea view that's just as gorgeous. The food here is delicious, plus there's no minimum spend required to book any of their outdoor bean bags.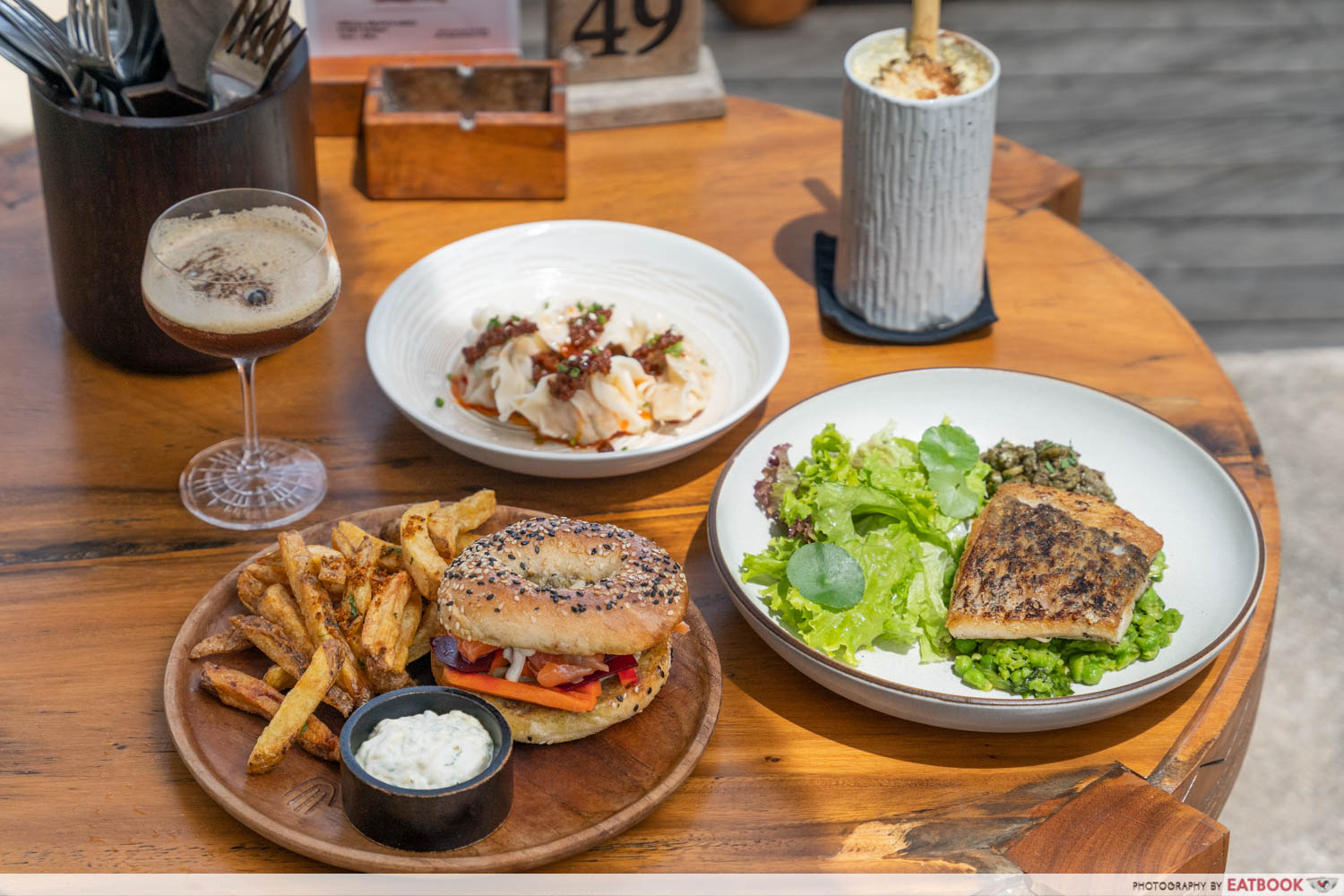 As it was brunch time, we tried the Norwegian Smoked Salmon Bagel (IDR130K++/~S$11.82++), featuring smoked salmon, pickles, capers, hummus, and yoghurt cream sandwiched in between two fluffy bagel buns. My colleague was a big fan of the Prawn-Bacon Dumpling (IDR80K++/~S$7.27++)—four juicy dumplings filled with minced prawn and bacon, topped with a plop of XO sauce and sprinkled with spring onions.
Seafood lovers can also try the Seared Barramundi (IDR140K++/~S$12.73++), which sees the pan-seared protein slathered with brown butter, served with green peas, wild herbs, and capers.
Address: Jalan Pantai Pura Petitenget Kerobokan Kelod, Seminyak, Kecematan Kuta Utara, Kabupaten Badung, Bali 80361
Opening hours: Daily 11am to 11pm
Website
Mano Beach House is not a halal-certified eatery.
---
9. Mari Beach Club
---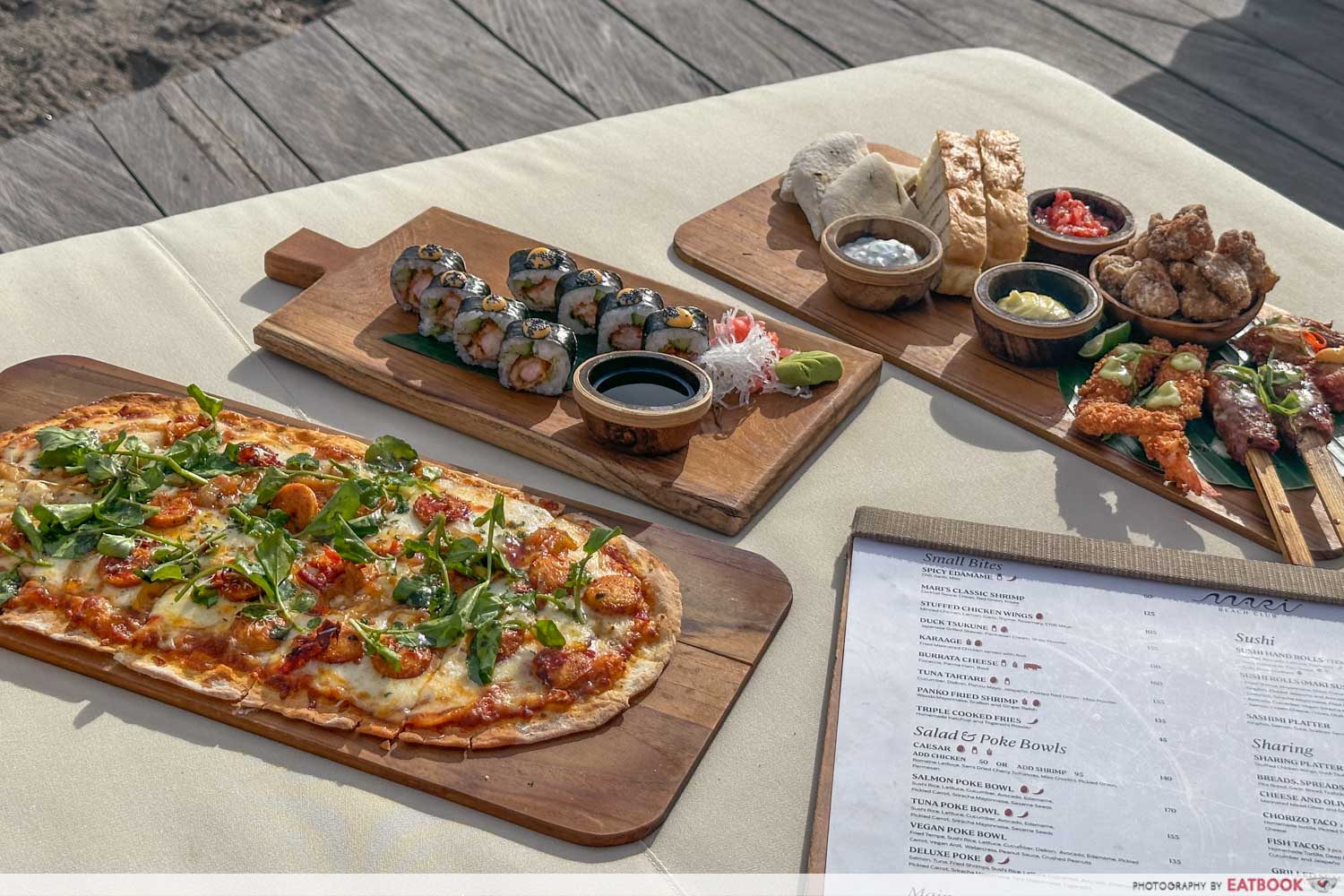 My colleague and I spent one whole day at Mari Beach Club, and we both agreed that it was our favourite beach club in Seminyak. Having been here a few times, I have high praise for their Tuna Poke Bowl (IDR155K++/~S$14.07++), comprising a generous bowl of tuna sashimi, avocado, pickled carrots, cucumber, edamame, and sushi rice. This poke bowl is the definition of umami, and I love how the tuna here always tastes fresh.
We also got a couple of items to share, including the Fried Shrimp Maki Sushi (IDR145K++/~S$13.16++) and Sausage And Caramelized Onion Flatbread (IDR210K++/~S$19.07++). The former consists of sushi rolls packed with fried shrimp and drizzled with mayonnaise, while the latter stars "fingerprint flatbread" topped with pork sausage, caramelised onions, fermented chilli, watercress, and tomato sauce.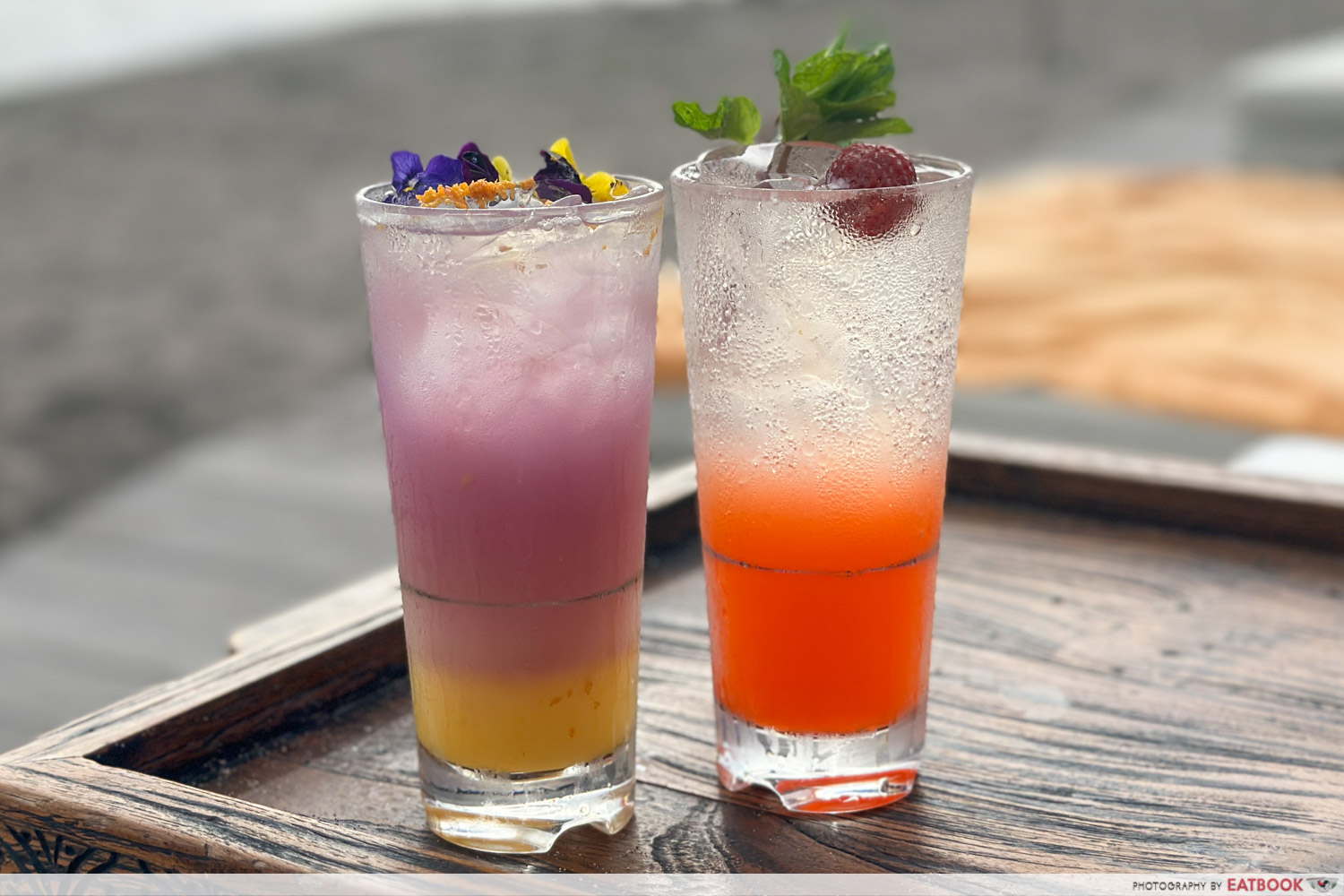 Wash it all down with the tantalising Purple-Pea Fizz (IDR130++/~S$11.80++), featuring butterfly pea-infused gin with house-made ginger beer served over ice, as well as the Berry Sunshine (IDR130++/~S$11.80++)—gin, house-made lime liqueur, and strawberries, mixed with sparkling wine.
Address: Jalan Batu Belig Nombor 66, Kerobokan Kelod, Kecematan Kuta Utara, Bali 80361
Opening hours: Mon-Thurs 12pm to 10pm, Fri-Sun 12pm to 11pm
Tel: +62 361 9347766
Website
Mari Beach Club is not a halal-certified eatery.
---
Where to eat in Seminyak Bali
---
If you just want to linger around Seminyak during your trip to Bali, be sure to give these nine food options a try. On the occasion that you'd like to venture out to further neighbourhoods, check out our Canggu food guide and Ubud food guide for the best warungs, cafes, and restaurants in the area!
12 Bali Canggu Food Places For $0.20 Pork Satay, Cheap All-Day Brunch And More
Photos taken by Yi En Chew and edited by Melvin Mak.
The post 9 Seminyak Food Places For Matcha Goreng Pisang, $14 Indonesian High Tea And More appeared first on EatBook.sg - Local Singapore Food Guide And Review Site.