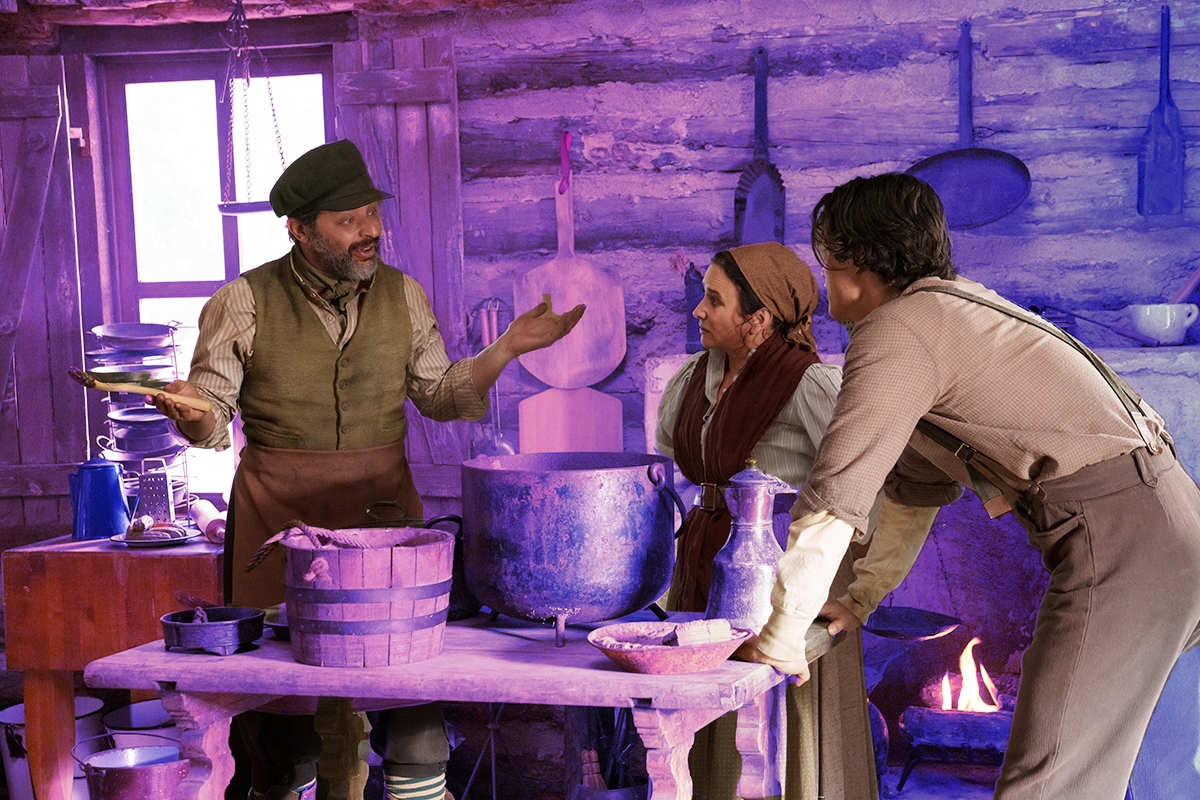 It doesn't feel like a coincidence that the sequel to Mel Brooks' cult classic "History of the World: Part I" premiered on Hulu on the evening of Purim. The holiday, much like the over-the-top extravaganza of the new series, is all about retelling our own ancient history — while donning costumes — in funny and poignant ways.
And like many Purim spiels across the world, "A History of the World, Part II" is a triumph of Jewish comedy. It's been 42 years since the original movie premiered, and I'm happy to report that this installment is just as fun and subversive as its source of origin.
This time around, veteran Jewish comic Brooks recruited some fresh (or at least, fresher) voices in comedy — from executive producers Ike Barinholtz, Nick Kroll and Wanda Sykes, to the funny comedians in the writers' room including Ana Fabrega, Guy Branum and more. And Brooks' voice, which is a part of every episode, has such a familiar comfort.
Unlike the original, which was contained in a 90-minute movie, this sequel is an almost-three-hour-long spectacle split over eight episodes, each running a little over 20 minutes. It might have benefited from some tightening, but when it shines, boy does it shine.
And boy, is it Jewish. The first Jewish reference in the show can be found in the very first sketch — a joke about Passover in a bit about the American Civil War. And the Jewish jokes keep coming from there.
If we had only gotten a sketch about a character from the Torah? Dayenu! If we had only gotten that and a funny "Fiddler" parody that extends over several episodes? Dayenu! If we had only had those and the much-anticipated "Hitler on Ice" that was promised in the ending credits of Part I? Dayenu! But we have so, so much more.
There are jokes about kashrut, antisemitism, an onslaught of Yiddishisms, and mentions of every Jewish food staple from lox to celery soda.
While there are brilliantly funny moments that don't involve Jewish history — like Graham Bell experiencing the first ever prank call, Kumail Nanjiani as the writer of the "Kama Sutra," who originally pitched it as a book about sexual positions and soup, and Andy Cohen (love!) trying to rein in the "Real Concubines of Kublai Khan," some of the funniest sketches feature Jewish celebrities in very Jewish moments of time.
Seth Rogen plays a dog-loving Noah who can't stop bringing pairs of dogs onto the ark (the sketch features super Jewish jokes about his son's name Ham). Taika Waititi is perfectly cast as a whimsical cocaine-loving Sigmund Freud who, while promoting his Master Class, can't stop making Freudian slips, or as he calls them, Sigmund slips.
The show goes back to Jesus' times on most episodes, rehashing his story through different vehicles, including one called "Curb Your Judaism" in which Kroll plays a kvetchy Judah (and JB Smoove plays Luke!), who accidentally ends up telling on Jesus to the Romans in a Larry David-esque blunder.
Later, the retelling of Jesus' life turns into a parody of the "Let It Be Sessions" where the apostles and Jesus record their final album in the "Apple & Honey" studios and perform a concert on top of a falafel shop.
But perhaps the most biting moment is the way the story of Jesus actually gets wrapped up — in a room full of white Christian clergy that turn his story into an action film starring buff, longhaired model Brock O'Hurn (who also plays Brooks in the show), changing up details to "sell" it to the masses. When choosing the villains of the story, they decide to swap out the Romans for the Jews — because they "run everything" — and not the room of bishops spinning this tale.
There's also Jewish actress Michaela Watkins as the ambassador of Israel in a bit about the Oslo Accords that turns into a fight about the origin on hummus (that particular one definitely hit close to home for this Israeli expat!) and Jason Alexander playing a mohel who accidentally ends up in the wrong place during the Civil War.
Perhaps my favorite character in the series is Pamela Adlon as enterprising activist Jewish mom Fanny Mudman in the parts of the show that revisit the Russian Revolution and that feature incredibly silly songs full of Jewish puns. She's married to Nick Kroll's Schmuck Mudman, a seller of mudpies "filled with the abject suffering and eczema of the Jewish diaspora." Adlon is an absolute star with her raspy voice as she sings about moving away from the shtetl to the city to be part of the revolution and then joins the menscheviks — as Schmuck becomes a Putz Mates (yes!) delivery man for the Russian leadership.
There are so many more Jewish stars who are a delight to watch. Jack Black plays a singing Stalin — who, let's be honest, I'd watch in an entire musical about. Emily Ratajowski plays an idealized version of Mary Magdalene that's so perfect for the Jewish model and writer. Josh Gad plays an asshat-y plagiarizing Shakespeare, and Hannah Einbinder is delightful as a queer Amelia Earhart.
The final sketch of the show, which I won't spoil, is a slew of Jewish jokes, one that feels a little too full of stereotypes, but that will leave those filled with nostalgia about the original movie with a pleasant taste in their mouth.
What does it mean to have something so laugh-out-loud funny, and so comfortably Jewish, in a year like this?
There is nothing more Jewish American than humor. We have been part of a tradition of comedy in this country for as long as we could take the stage — from Groucho Marx to Joan Rivers to Eric Andre. And "History of the World: Part II," aside from being a Mel Brooks original, pays tribute to so many of those American Jewish comics — from Gene Wilder to Larry David — and features some of the greatest Jewish comic actors of all time.
If the gist of Jewish holidays like Purim is, "They tried to kill us, we survived, let's eat," then the gist of Jewish American resilience just may be this, "They tried to kill us, we survived, let's laugh!"
Surely, even the most cynical viewer will find, in these eight somewhat miraculous episodes, a way to laugh at a time when that laughter is much needed.
The post 'A History of the World, Part II' Is a Triumph of Jewish Comedy appeared first on Kveller.