Your snacking game is about to reach a whole new level of crunchy and crispy. These air fryer pita chips are so easy to make and you can make these plain or any flavor imaginable. Say goodbye to store-bought and hello to these crispy homemade chips!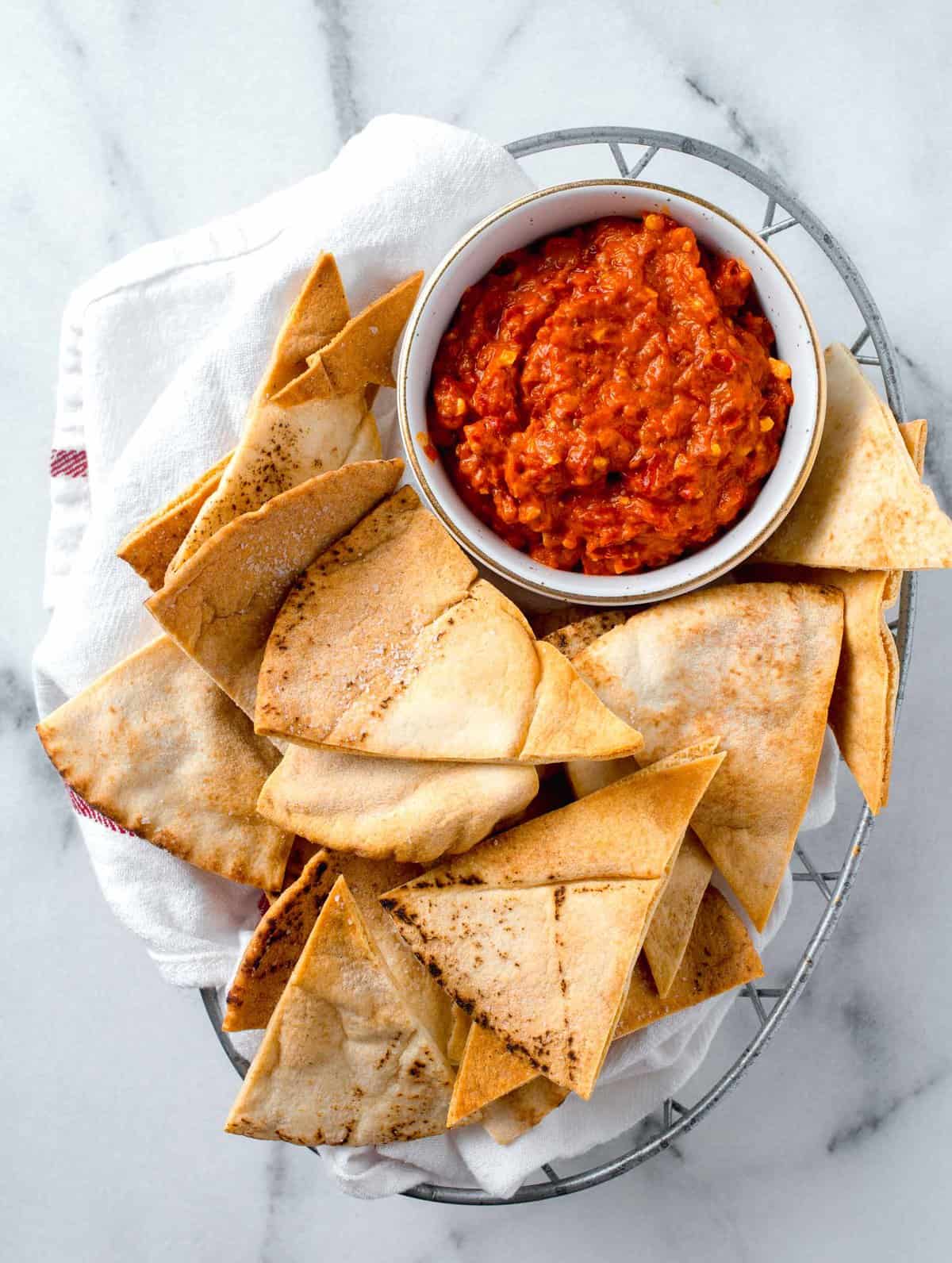 Often times, we buy fresh pita from the local Mediterranean bakery up the street. There's simply nothing better than fresh pita. Seriously, when I grab it off the racks, it is still warm to the touch and oh-so-fluffy. There have been multiple times where I've gotten in the car and very tempted to open the bag to rip off a piece.
Tragically, we don't get the chance to finish all of the pita before it starts to get a little stale or hard. This is where I transform the ordinary pita bread into pita chips by using my air fryer. Air fryer pita chips are on another level of crispy and crunchy. Since air is circulated so well in an air fryer, the pita chips are all cooked evenly and have the same level of crunch — which is very important when it comes to chips. You can't be a slightly crunchy chip.
Why You'll Love This
Let's explore the compelling reasons why you absolutely need to try making these air fryer pita chips:
Healthier alternative: Say goodbye to greasy potato chips! Air fryer pita chips require minimal oil, resulting in a lighter and healthier snack option without compromising on taste and crunch.
Quick and easy: With just a few simple steps, you can whip up a batch of these chips in no time. They make for a fuss-free, homemade snack that will impress both yourself and your guests. They can also save stale pita bread from going into the trash!
Endless flavor possibilities: Whether you're a fan of savory or sweet, the seasoning possibilities for air fryer pita chips are endless. From classic sea salt and herbs to bold spices or even a touch of cinnamon and sugar, you can customize the flavors to suit your cravings and create a snack that is truly your own. More ideas are below!
Ingredients You'll Need
Literally one ingredient to make this recipe and we like that, don't we?!
Pita bread – this can be fresh or some that have been sitting on the counter and are close to the expiration date.
How To Make Air Fryer Pita Chips
Here is a general overview of the steps involved to make pita chips in the air fryer. Be sure to scroll to the bottom of this post for the full recipe.
Slice the pita bread. Take the pita bread and slice it into 8 triangles.
Air fry! Place the sliced pita bread into the basket of the air fryer and lightly spray with cooking spray. Add seasonings if you are using any. Air fry at 325 degrees F for 10 minutes, shaking halfway through.
Recipe Tips and Tricks
Don't overcrowd or stack too much into the air fryer basket. If the pita bread is slightly stacked on top of each other, it's okay, but you don't want to pile all the pita bread into the basket at once. You'll have to air fry in batches.
Slice it equally. To achieve uniformity and optimal crispness, make sure to slice the pita bread into equally sized triangles. This will ensure even cooking and prevent some chips from turning out overly crispy while others remain soft.
Keep an eye out. It's easy to set this and forget it but every air fryer is different, so you'll want to keep a close eye on the cooking process. Remember, pita chips can go from golden to burnt real fast, so stay alert!
Flip and shake. To ensure even browning and crispness, most air fryers have the "shake" function you can press when cooking. It alerts you on when you 'shake' or 'flip' whatever is cooking the pita chips halfway through the cooking time. If you have this feature, definitely utilize it!
Make fun shapes! Traditionally, pita chips are just triangles. Why not go out of the box and have some fun? Use cookie cutters to make fun shapes out of the pita bread! Your family and guests will love them!
Flavor Variations and Substitutions
These crunchy bites are incredibly versatile and can be seasoned with a variety of flavors to suit your taste preferences.
Love a good classic. Classic sea salt flavor is what this recipe is and there is no shame in that! Some days you like the good ole classic because then you can dip it into whatever you want with no flavor contamination or weird flavor combos.
Herbs and spices. Add a generous sprinkle of dried herbs like oregano, thyme, or rosemary your pita chips before air frying.The aromatic herbs will infuse the chips as they cook and make it smell so good!
Cheesy goodness. After the initial round of air frying and when they're ready to be tossed or shaken, sprinkle grated Parmesan or cheddar cheese over the pita chips. Return them to the air fryer to finish crisping up and until the cheese melts, giving your chips a satisfyingly cheesy finish.
Sweet tooth. Pita chips can absolutely be dessert or to curb that sweet tooth. Sprinkling cinnamon and sugar on top of the pita chips after they come out of the air fryer is a great way to get that sweet snack! It's like a churro.
Spicy kick. For those who enjoy a bit of heat, try incorporating some cayenne pepper or chili powder on top. The spices will add a fiery kick and transform your pita chips into a zesty snack with a hint of boldness.
Gluten-free or whole wheat? If you follow a gluten-free diet, swap the regular pita bread for gluten-free pita. If you prefer whole wheat pita bread, you may swap for that as well. All the instructions remain the same.
Storage and Reheating Instructions
You'll want to eat these as fast as you can and I don't really think you'll have much of a problem with doing that! Haha, they are pretty addicting.
However, if you do have leftovers, just like any chips, store in a plastic bag and seal with a chip clip for up to four days.
What to Serve with Air Fryer Pita Chips
Do I have some dip recipes for you to dip into with these pita chips!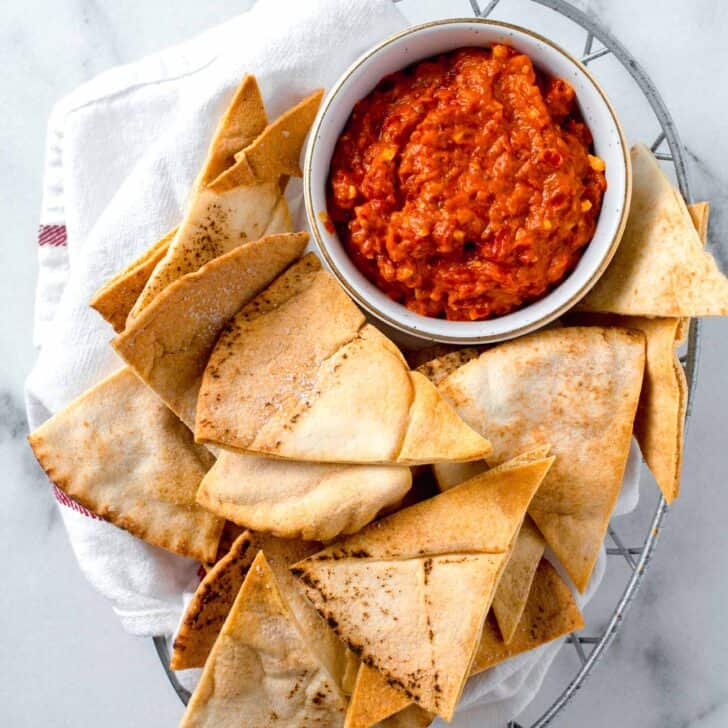 Print
Air Fryer Pita Chips
These air fryer pita chips are so easy to make and you can make these plain or any flavor imaginable!
Keyword
air fryer recipes, pita chip recipe, snack ideas
Ingredients
4

pita rounds

Cooking spray

Salt or seasonings
Instructions
Preheat air fryer for 5 minutes on

325

°F

.

Slice pita rounds into 8 wedges.

Add pita wedges to the basket of the air fryer; you don't want to overstack or overcrowd. You'll likely have to do it in two batches.

Spray the tops of the wedges lightly with cooking spray and season with salt or whatever seasoning you are using then air fry at

325

°F

for 10 minutes, shaking halfway through.

Carefully remove and repeat for the second batch.
Notes
My air fryer has temperature increments of 10 degrees so I did 330 degrees instead of 325 degrees. I wanted to mention this in case yours is the same.
Nutrition
Serving:
1
pita chip
|
Calories:
19
kcal
|
Carbohydrates:
4
g
|
Protein:
1
g
|
Fat:
0.1
g
|
Saturated Fat:
0.01
g
|
Polyunsaturated Fat:
0.04
g
|
Monounsaturated Fat:
0.01
g
|
Sodium:
38
mg
|
Potassium:
8
mg
|
Fiber:
0.2
g