At this point, Mystery Ranch is a brand that needs no introduction in the pack community. Developing and crafting purpose-driven packs from military ops to Appalachian treks, the company knows a thing or two about making quality gear. One of the pillars that the company's packs are known for is their ability to carry heavy loads comfortably via their yoke systems. The Bridger series is Mystery Ranch's brand new backpacking line that currently comes in 55- and 65-liter offerings that are designed for long overnight trips on the trail, but this time there is a twist. So, in this review today we take a look at the Mystery Ranch Bridger 55.
Mystery Ranch Provided the Bridger 55 for this review and while I am allowed to keep the product indefinitely, this will not change my opinion on this product or any of its current or future offerings.  
The Bridger was tested over the course of eight weeks and was taken on five separate outings to locations such as the Alps of Switzerland and the winding trails of the German Black Forest region. Typically the pack was run light but on several occasions, it was loaded up to the brim with 50 pounds of gear.  
Mystery Ranch Bridger 55 – Quality and Comfort 
The Bridger 55 is designed to be a hyper-technical pack and it certainly gives off that appearance. With that being said it's still a handsome pack in my opinion. The new endurance yoke took a while for me to warm up aesthetically, but after using the pack on multiple outings I think it looks good. The sample I was provided came in "Del Mar" blue and I love how the gray yoke compliments the cool colors of the Bridger. This colorway definitely fits into the outdoor scene very well while not being too bright or dark. The bag is also offered in a "Hummus" colorway consisting of light tan, gray, and hints of orange. 
Upon picking up the Bridger for the first time I had two big takeaways, it's heavier than it looks and it feels solid. The internal frame and hip-belt of the pack add weight but in all the right ways. The Hip-belt is incredibly flexible while staying comfortable and the frame is solid enough where under heavier loads it won't make creaking noises. Some of my old military ruck frames used to creak and moan when fully loaded but it's nice to see that's not an issue here. 
The primary material used is a 100d nylon rip-stop which has the benefits of being light and quite strong. There is also a small amount of stretch to the fabric making the bag easier to cram extra gear inside. The ripstop weave also means that if a small tear begins on any part of the pack, it won't exceed the rip-stop square it began in. The bottom is a 330d Robic nylon for increased abrasion resistance. The frame is constructed from spring steel wire and the buckles are all plastic. All of the zippers are #8 YKK with DWR finish for additional water protection. 
By far the best feature on this pack is also its newest. The Endurance Yoke is a marriage between a trail running and backpack harness in all the right ways. The yoke features a specialized foam that provides increased air flow over traditional yokes while also being moisture wicking. The Back of the Yoke has more of that magic foam and a large air channel to help keep your back as dry as possible. The front of the harness borrows heavily from trail running bags with its integrated stretch, mesh pockets designed for small water bottles but also great for holding snacks, sunglasses and sunscreen. The hip belt has two zippered mesh pockets. The Yoke is also customizable to fit the size of whoever is using it. 
What does all this mean? It means that the Bridger is one of, if not the most comfortable packs I have ever worn. After multiple excursions into the woods with 40 plus pounds of gear I never felt any hotspots from the harness, shoulder straps or waist belt. In one of my tests I walked around for 12 plus miles with no fatigue aside from my legs. The Endurance Yoke is honestly a game changer in my opinion and I could see many other companies being influenced by Mystery Ranch's design in the coming years. 
There is one drawback to the Endurance yoke though and that unless you have the sternum straps buckled, the harness will dig into the outside of your soldiers. Now this is a very minor issue as I imagine most people will use the straps while wearing this pack but it is worth mentioning. Also one of Mystery Ranches mantras is their pack's ability to last the test of time and while I only had my sample of the Bridger for 8 weeks. I would be interested to see how the breathable fabrics on the yoke hold up over time as they feel like the most fragile part of the pack.  
Mystery Ranch Bridger 55 – Organization 
While most of the images I provided for this show the pack loaded very lightly, don't let that fool you, because the Bridger can haul a serious amount of gear. With 55 Liters or 333.97 CUIs of space inside the pack you can fit everything you will need for an extended overnight stay in the mountains. Mystery Ranch made getting into the bag a breeze too by incorporating two full length zippers that run down the entire bag. Mystery Ranch is well known for their Tri-Zip design but in my opinion this system works much better. Even if the lid and drawstring on the top of the pack are cinched down tight, you can still use these zippers to access gear on either side of the bag without undoing all the buckles. To me this is a huge feature and increases the usability of the pack by a large margin. 
There is a lot to cover here so bear with me. The Bridger is packed with features to increase organization and keep all your gear in its place. The harness has four mesh pockets integrated into it for your smaller, but high use items. Great for sunglasses, phones and smaller water bottles. On both sides of the pack are ​​large stretch-woven water bottle pockets with enough give to fit a 48 oz ​​Nalgene or Hydro Flask with ease. These pockets also work great for securing the bottom of a tripod, camera slider track, or 2X4. The back of the pack has the same stretch-woven material in the form of a tall stash pocket. 
On both sides of the stash pocket is daisy chain webbing with integrated tool attachment points. I found these worked good for trekking poles but not much else. The webbing is a great place to secure ropes or other dangly type items. They also look cool and add to the technical look of the pack. The bottom has a ​​Speed Zip

sleeping bag compartment with a removable divider giving you easy access to larger, less frequently used items like sleeping bags, fresh shoes and jackets. I personally found this to be a great spot to hide my crampons away. There is a removable divider so you can keep this compartment separate or take it out and increase the overall vertical packing space. 
The lid has a generous amount of space with a mesh pocket and tucked away key lash inside. The lid is also removable and can be used as its own pack similar to some of Mystery Ranch's other large military packs. I think this is a really smart feature and allows for backpackers to set down their campsite but still have a small bag to do smaller exploring with. The top access point of the bag has a drawstring closure to help keep everything tight. Inside the pack are two large mesh pockets for holding items like gloves or hats. There is a water bladder sleeve with an attachment point for the bladder so it stays positioned correctly. I'm happy to see not too many pockets or sleeves on the inside of the pack as the clean design makes packing and unpacking easy. 
Mystery Ranch Bridger 55 – Competitive Options 
Mystery Ranch Spinx 60 ($250)

Kelty Asher 55 ($140)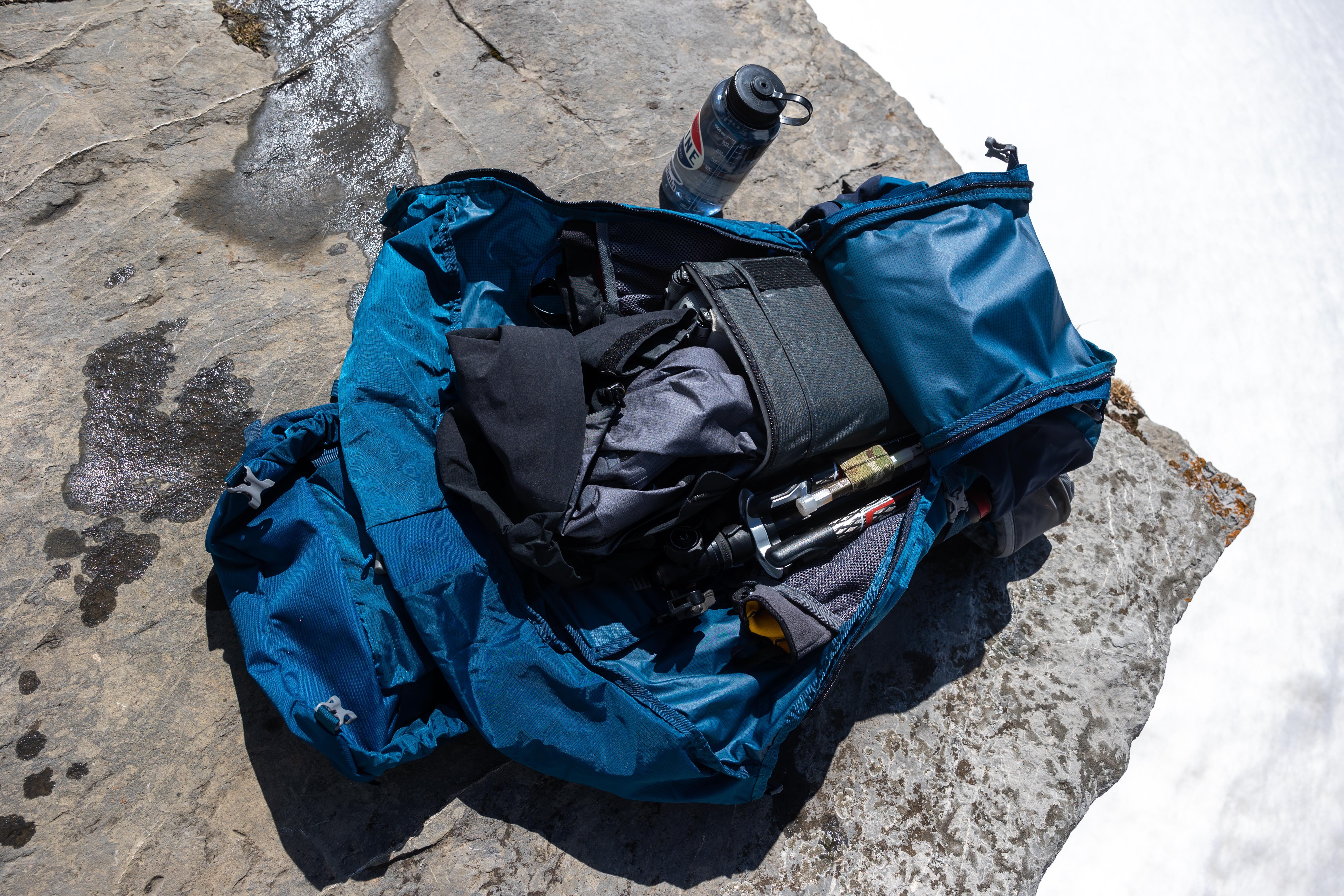 Likes
Incredibly Comfortable due to customizable Endurance Yoke design 

Easy to pack and cinch down when not fully loaded 

Price is very competitive where it sits in the market

Constructed with top notch materials and built to last

Removable Lid cover for smaller adventures 
Dislikes
Only available in two colors at the time of review 

Top grab handle is thin and does not feel great in the hands when the pack is weighed down

On the heavy side
Mystery Ranch Bridger 55 – Conclusion
When I first saw the Bridger 55 and its unconventional yoke design I was cautiously optimistic. I thought it looked a bit funny and wasn't sure if a running-style harness could work for hauling heavier loads. I'm happy to admit my preconceived notions were wrong and the endurance yoke is the most comfortable harness system I have ever used. It certainly beats the MOLLE II I was issued when I first joined the United States Army. The Materials used while not being the lightest certainly make up for it in their durability and overall comfort. The Bridger 55 gets so many things right and while I think the term "game changer" is overused these days, it certainly applies here.
The post AllOutdoor Review: Mystery Ranch Bridger 55 – Actual Innovation appeared first on AllOutdoor.com.