Best Bites from Portland Chefs and Restaurants in 2022 – Portland Mercury
It's the end of the year and a start of a new era for me and the Portland Mercury.
I served as this fine publication's food critic from 2014 to 2020, when the pandemic made us all step back a bit from writing about food consumed mostly in indoor public spaces. Everything is different now: Challenges to the restaurant industry are more harsh than ever thanks to inflation, staffing shortages, and ongoing effects of COVID-19. 
But through it all, Portland's chefs continue to produce some of the world's finest food, and to draw attention from media all over. We've still got a lot of mojo, and I'm excited to say that I'll be back at the Merc once a month to write about the latest, greatest, and perhaps overrated openings and favorites. 
Before we go forward in 2023, I thought it would be best to recap the dishes, meals, and desserts I can't stop thinking about from this year. Some were from seasonal menus or pop-up events, but I included them because they. deserve praise and to encourage you to check on the chefs who made them and see what else is good.
---
Berry and tomato salad at Kaan
Chef Gregory Gourdet opened Kaan this summer in a blaze of glory. Since then, he's made national and local "Best Of" lists, a near critical clean sweep. Reservations are tough to get, but totally worth setting an alarm for their noon release for the next month's spots. All of Gourdet's takes on his Haitian heritage are good, from diri ak djon djon—an earthy Haitian black mushroom rice with lima beans—to duck glazed with cane syrup pineapple and tamarind for a satisfying sweet, crispy bite. 
But the best of all was the pop of color and flavor in Kann's summer special tomato and berry salad. It's a signature Gourdet dish, a version is in his cookbook Everyone's Table, but it's worth getting it straight from the source. Cherry tomatoes, raspberries, and stone fruit are tossed with coconut milk dressing and hearty scoops of soft, young coconut flesh, then set off with coconut vinegar for tang, and ample mint and herbs. I could eat it every day.
Kann, 831 SE Salmon, kannrestaurant.com
---
All 12 courses of a collab dinner at Cafe Rowan
This summer, Chef / Owner Spencer Ivankoe threw open the doors of his (mostly) brunch spot Cafe Rowan to an incredible evening featuring 12 courses from some of the city's best cooks. In collaboration with former Trailblazer Channing Frye and his Chosen Wines label, Chef Luna Contreras made an unforgettable duck confit tamale with a rich mole. Chef Colin Yosh—best known as the muscle behind the stoves at Eem—unleashed his secret, perfect tsukemen with truffle tsuyu for dipping. The parade of foods marched on for several hours, featuring dishes from Patrick McKee of Dame, Carlo Lamagna of Magna, and so many other heavy-hitters. I don't have the word count to name them all. Oh, and NBD, but Damian Lillard was there too. This was a one-off, but Cafe Rowan hosts wine collaboration dinners on the regular, so head to their site to see what else is coming up.
Cafe Rowan, 4437 SE Cesar E. Chavez, caferowan.com
---
BLT from Piccone's Corner
Piccone's Corner is the retail and restaurant branch of Wallow & Root Pasture Farm in Sandy, OR. And there's just no going wrong with ordering the pork. This summer, I wrote about BLTs, and they were kind enough to invite me in to try theirs. My article had already gone to press, but if I could reverse time, I'd certainly have included Piccone's take: Made with thick slices of their locally-raised bacon, a swoony pesto herb aioli, and honking summer beefsteak tomatoes, then served on Dos Hermanos toasted artisanal sourdough. I'll be marking the days 'til this sandwich returns in summer.
Piccone's Corner, 3434 NE Sandy, picconescorner.com
---
Lan Roc pork chop at Phuket Cafe
OK, we get it. Earl Ninsom only opens bangers. This year's debut of Phuket Cafe on Northwest 23rd Place was no exception, and among the standout plates was an 18 oz Lan Roc pork chop, grilled and sliced, served with the bone, on a platter with a grilled tomato relish containing fish sauce, garlic, and shallot. Take a slice of pork, dip it in the sauce, sprinkle on toasted ground rice, and consume with the shallot, green onion, herbs, and lime. It hits all areas of your taste buds in the best way.
Phuket Cafe, 1818 NW 23rd Pl., phuketcafepdx.com
---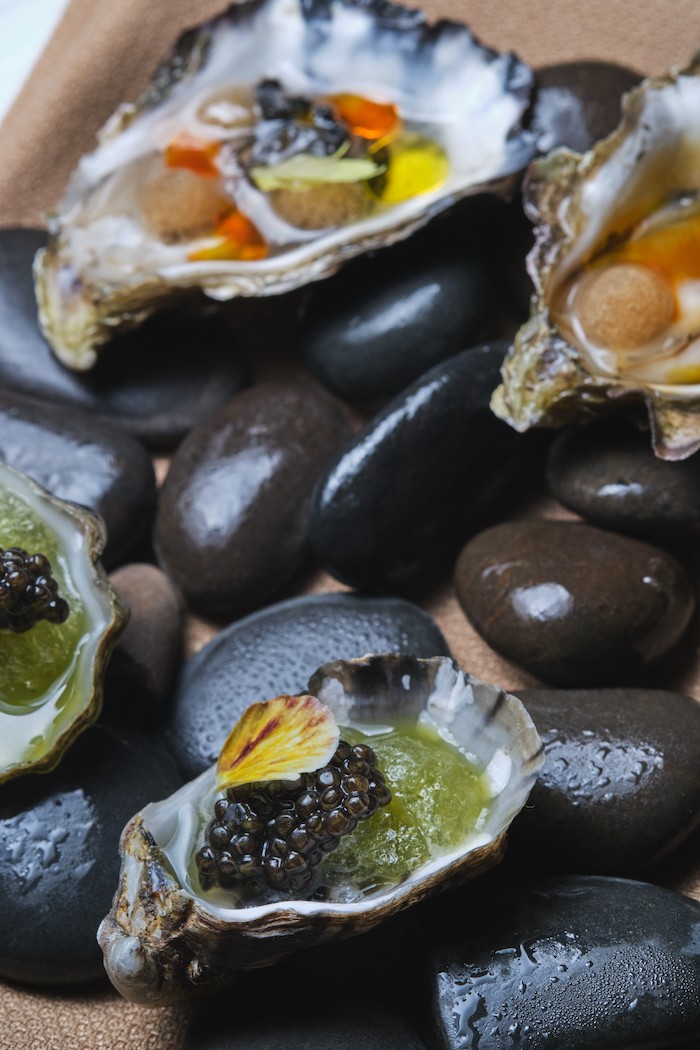 Oyster with cucumber granita at Tercet 
This little downtown prix fixe, staffed by just three people, punches so far above its weight that it's ridiculous there isn't a monthslong waitlist to get in. Every course is a true delight and truly seasonal—from the spring Chinook paired with a viridian sauce of English peas to a pine nut ice cream with pine cone syrup that was a walk in the woods for just my mouth. I could have picked almost any course, but something about the simple raw oyster on the halfshell, topped with a teaspoon or so of slushy, icy cucumber granita and salty pops of caviar that set the whole journey off so nicely. It's the first thing I think of when I remember that meal. Got a milestone to celebrate? This is your pick.
Tercet, 515 SW Broadway, tercetpdx.com
---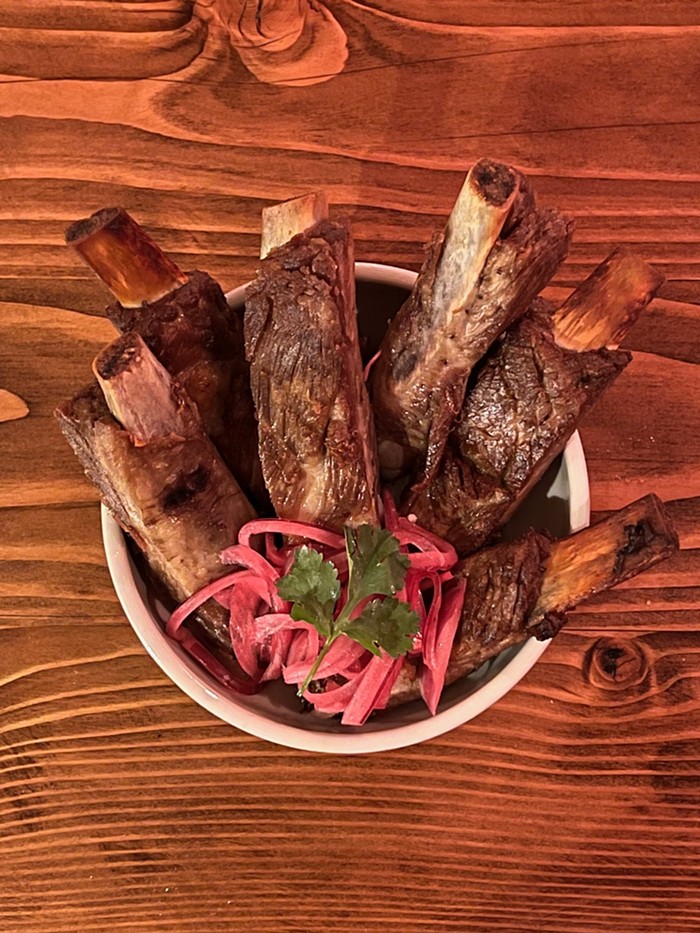 Carnitas de Costilla at Todo
Upon entering Todo for the first time, I saw two men with nothing but a basket of ribs on their table, tearing into them without words. I had to know what that was all about. They're Todo's Michoacan-style San Luis pork ribs, served on the bone. The outside of the rib is oh-so-crispy like a good carnitas demands, while the inside stays real juicy. I'd take them over most barbecue joint attempts.
Todo, 1935 SE Hawthorne, todotaco.square.site
---
Hummus at Bluto's
Get either the traditional, whipped simply with shug spices, or the version with braised bites of spiced beef and golden raisins on top. Either way, the hummus at Bluto's is some of the creamiest, fluffiest versions of the chickpea and olive oil staple that I've had the pleasure of consuming. Add a $5 ouzo shot and an extra $3 pita bread, and you've got yourself a date.
Bluto's, 2838 SE Belmont, www.blutospdx.com
---
Baked Alaska at The Woodsman Tavern
Overall, this reopening of a Portland standard was not my favorite, but I'd go back anytime for a cocktail and the baked Alaska: a burning ball of meringue, within which is coffee bean ice cream surrounded by a layer of almond magic shell. It's a classic for a reason.
The Woodsman Tavern, 4537 SE Division, thewoodsmantavern.com
Foodrecipes
via "restaurants" – Google News https://ift.tt/IGmh9T0
December 27, 2022 at 06:06PM