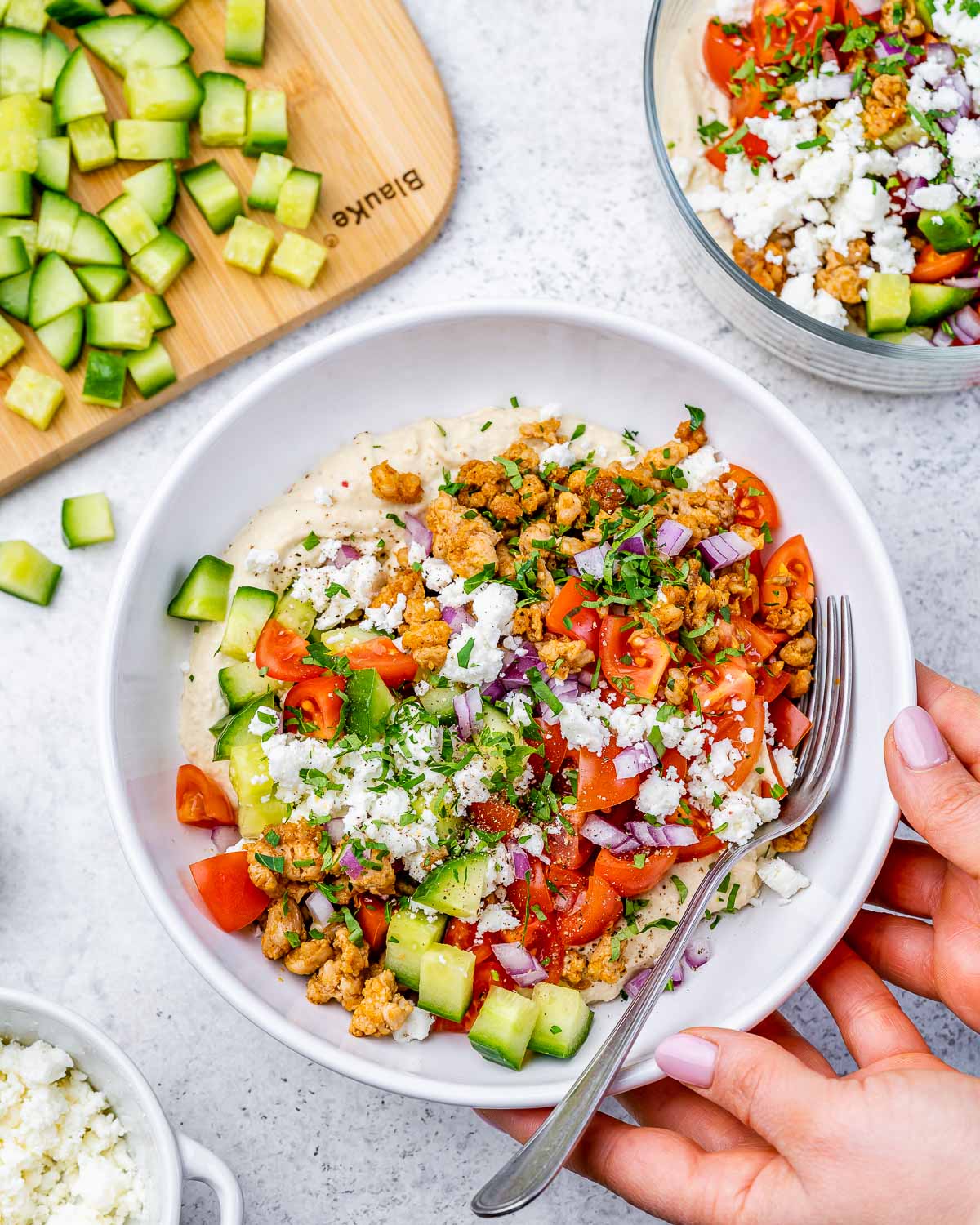 Chicken Hummus Bowls
I've recently become obsessed with hummus. Not sure why exactly, I just crave it OFTEN! I was enjoying my dollop of garlicky hummus one day for my snack with crisp veggies when I decided to also turn it into a quick dinner idea.
OH MY GOSH! This is so dang good!!
The perfect quick/light meal to serve all summer long!
I enjoy the seasonings/garlic/lemon combo SO MUCH! Hits many of my personal favorite flavor notes, so I really hope you enjoy this too.
Phenomenal meal to create and serve once our summer garden splendor of bright juicy tomatoes and crisp garden cucumbers are overflowing everywhere.
Rachel's tips:
Since there are only a few simple ingredients used here, I really recommend using the absolute freshest, highest quality ingredients you can get your hands on…it makes all the difference.
Feta is Greece's most famous cheese (and my favorite!) Many say it's also the healthiest.
Usually made from sheep or goat milk (or a combo), Feta cheese is nutrient-rich. Feta is said to be easier to digest and less allergenic and inflammatory than cheeses made from cow's milk, which makes it a good option.
I used this recipe to make my hummus.
Store-bought hummus works great too, just check the ingredients to make sure it's made with olive oil.
4 servings
Ingredients:
1 Tbsp olive oil or avocado oil
1 1/2 lbs ground chicken
3 tsps ground cumin
3 tsps smoked paprika
sea salt and ground black pepper, to taste
2 or 3 fresh garlic cloves, minced
juice and zest of 1 small lemon
2 cups homemade hummus
2 cups cherry tomatoes, diced
1 English cucumber, small diced
1 medium red onion, diced
1/2 cup crumbled feta cheese
a bunch of fresh parsley, chopped
Instructions:
Heat the oil in a large skillet and add your ground chicken. Cook, mincing the meat with a wooden spoon. Once the meat is no longer pink, stir in the seasonings and garlic. Cook until it begins to get nicely golden-brown. Add in the lemon zest and juice, and set aside.
Divide your hummus equally among 4 meal prep bowls or plates. Top each serving equally with the cooked ground chicken, tomatoes, cucumber, onion, feta cheese, and parsley.
Enjoy immediately or seal and store in the fridge for up to 3 days!
Rachel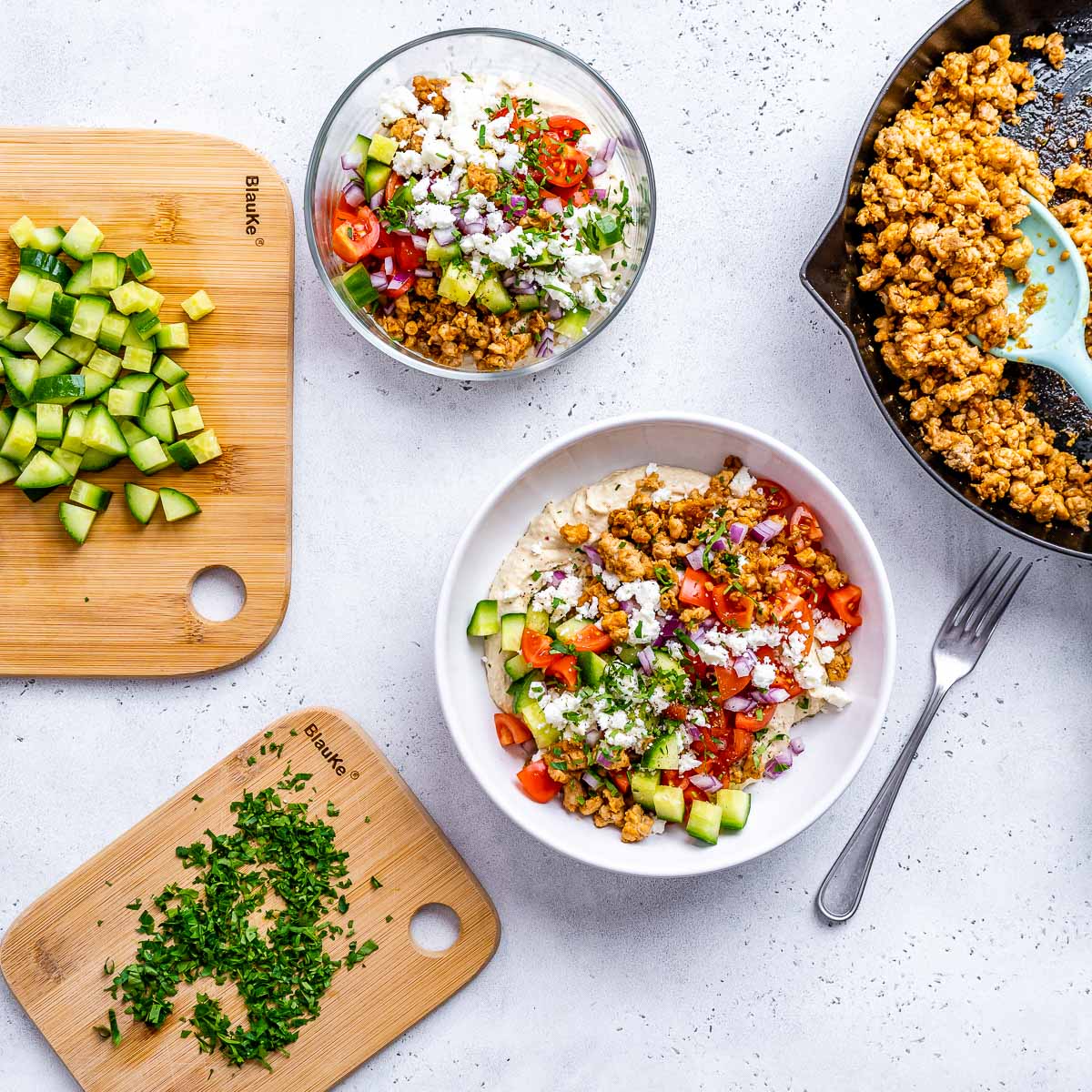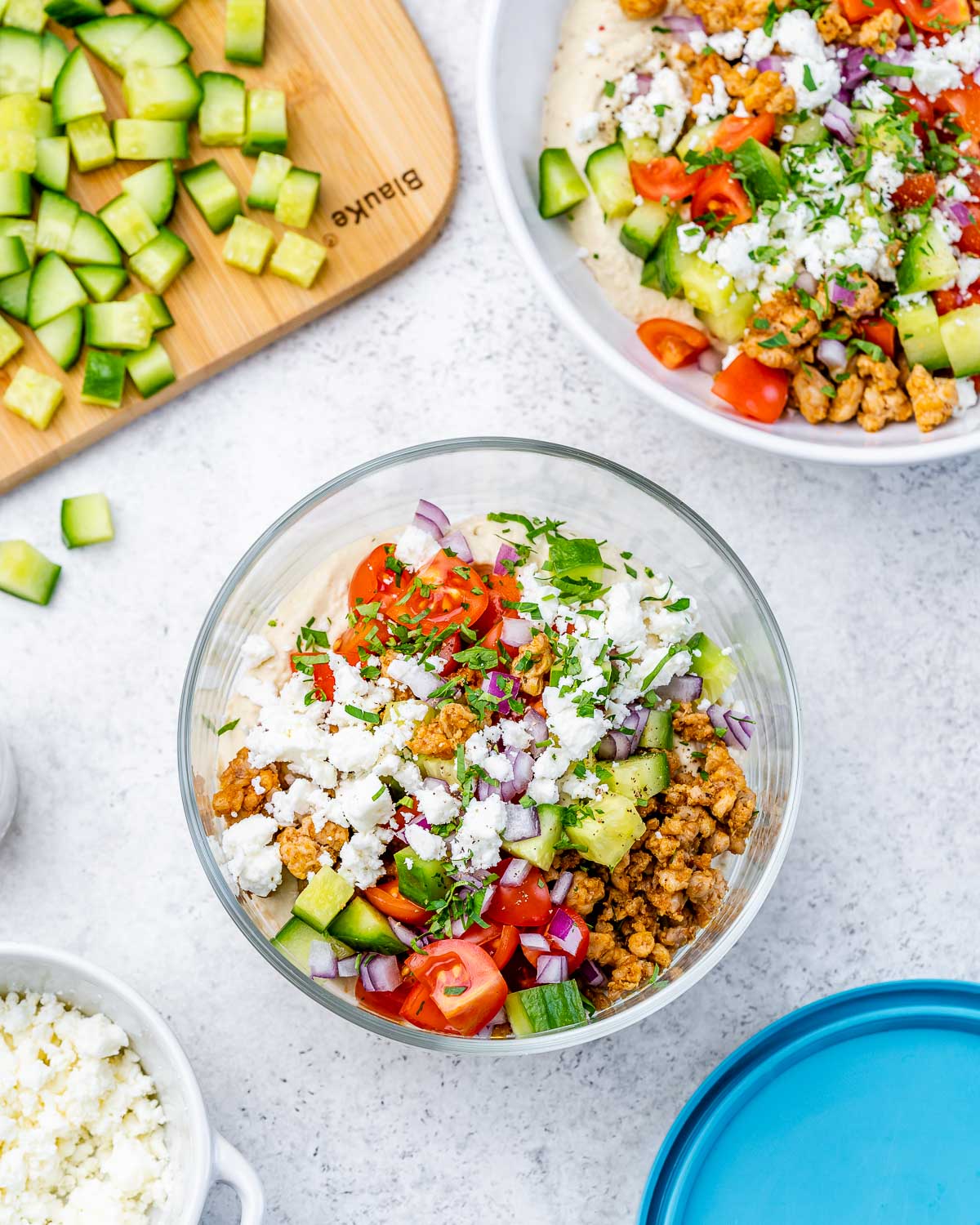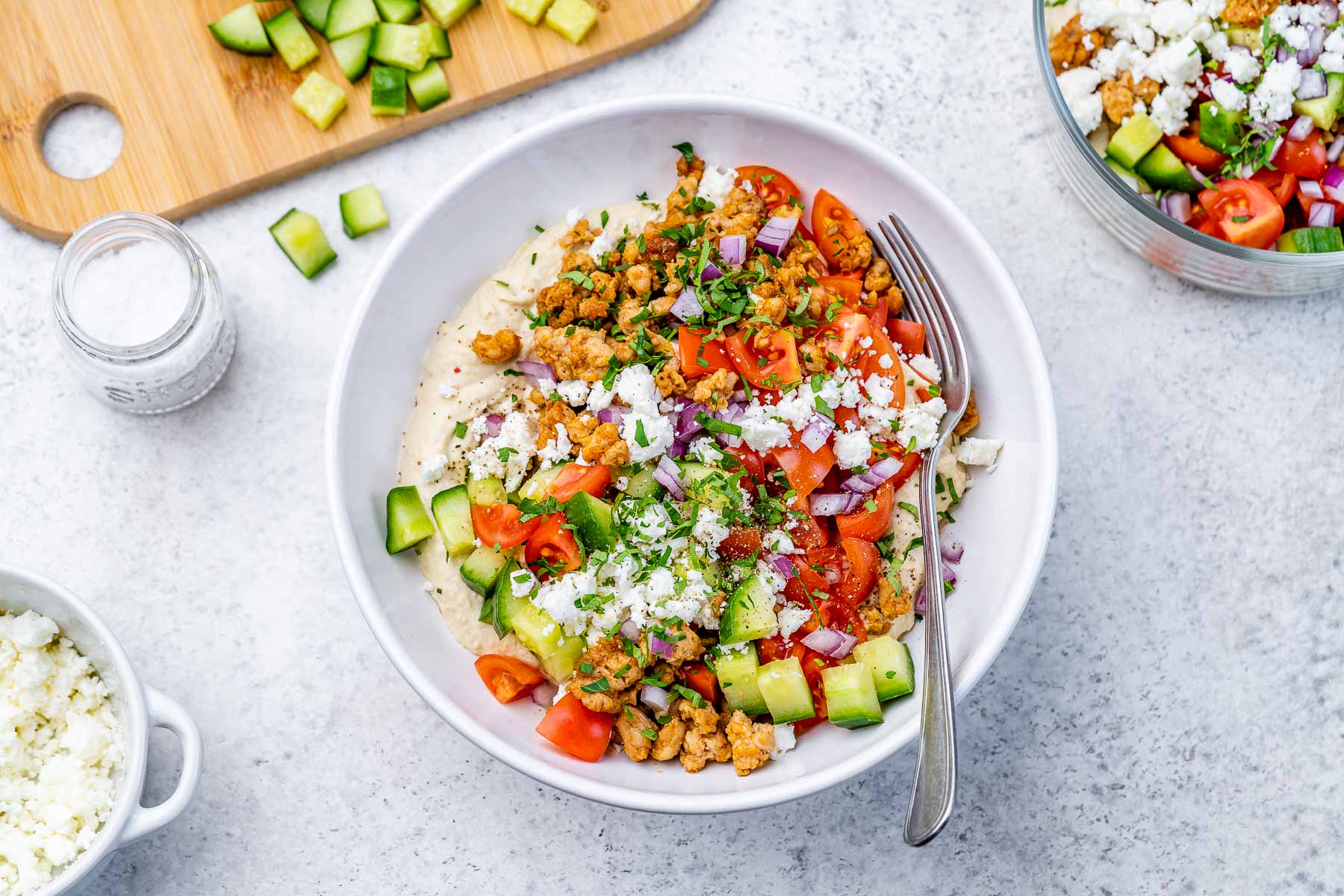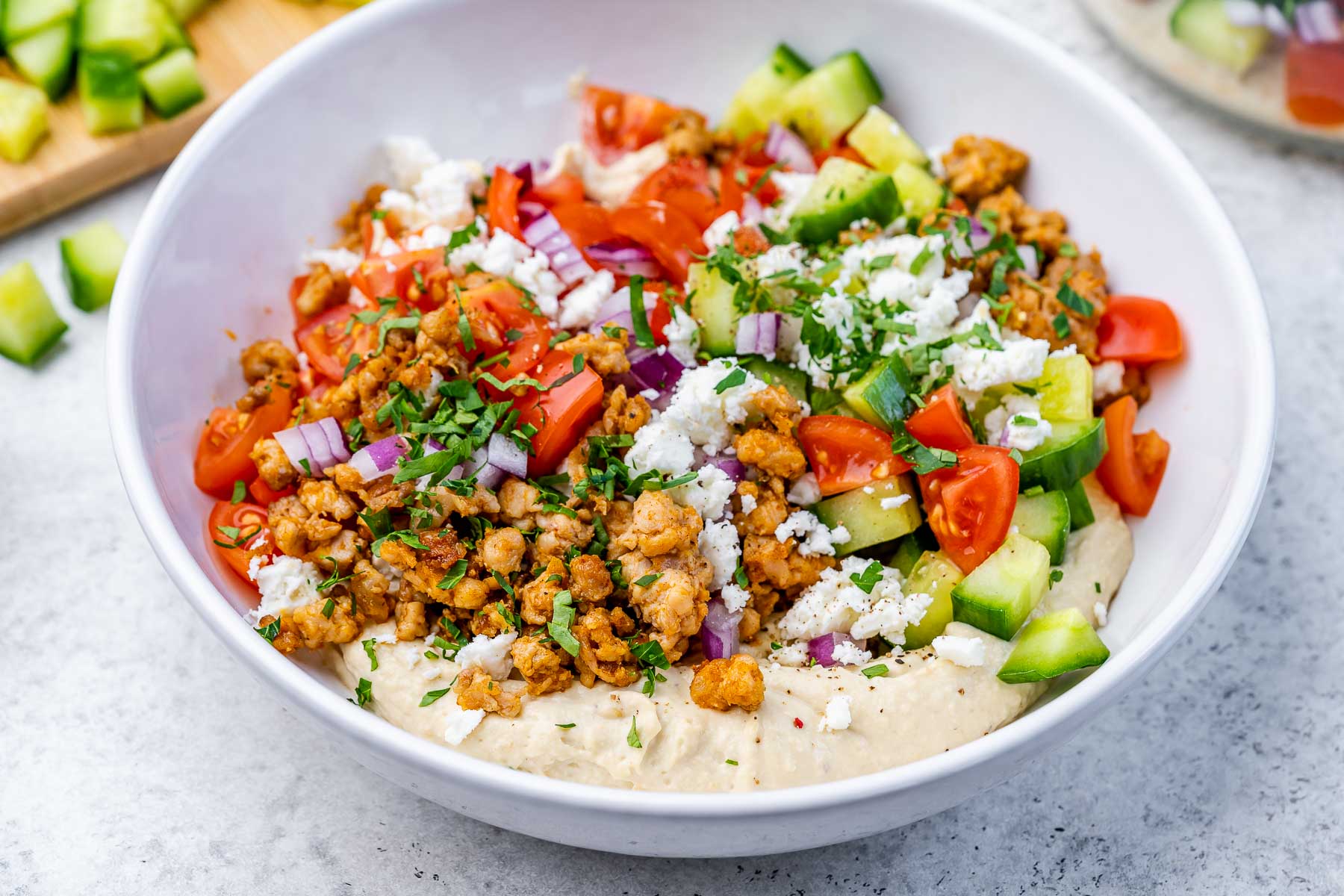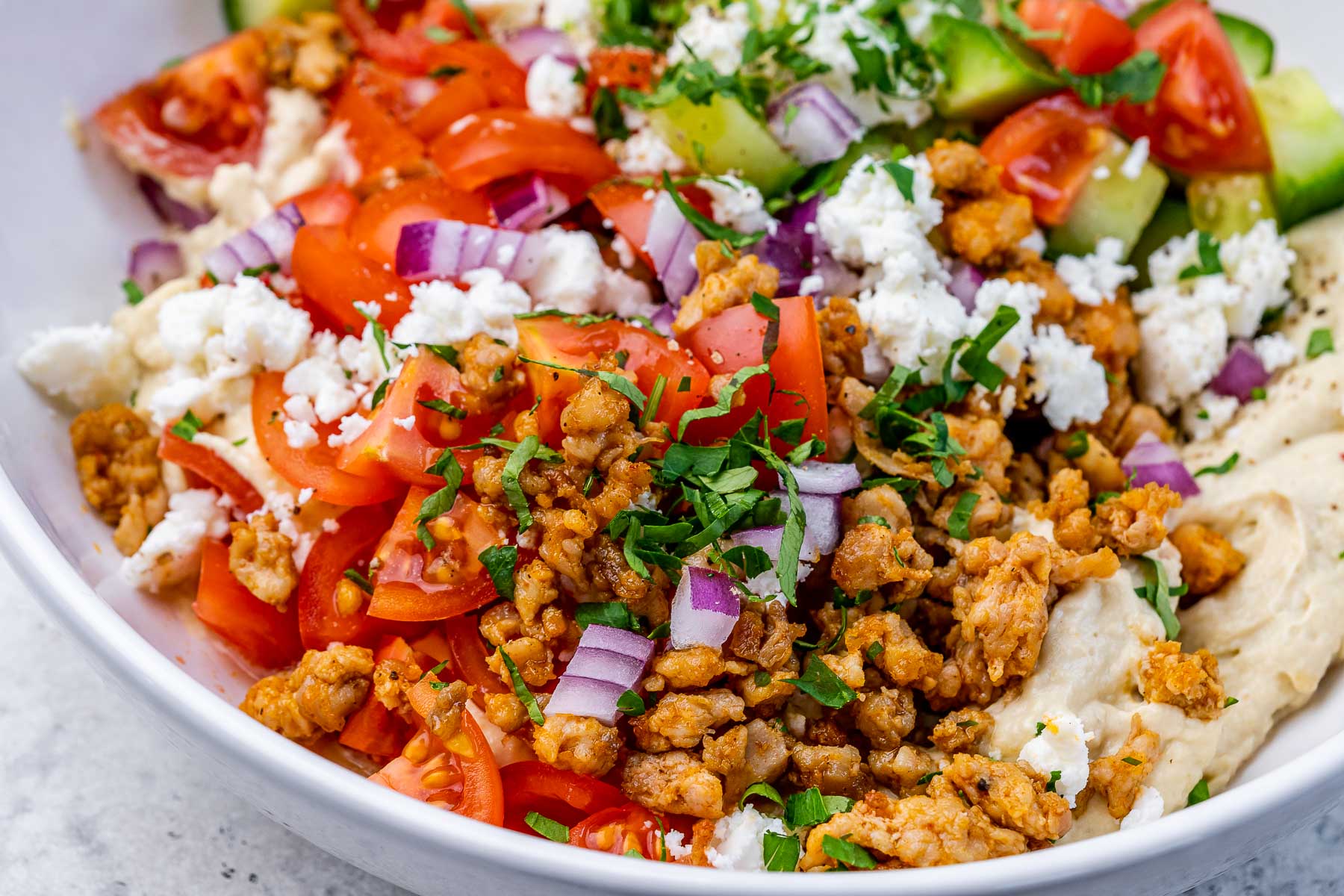 The post Chicken Hummus Bowls first appeared on Clean Food Crush.