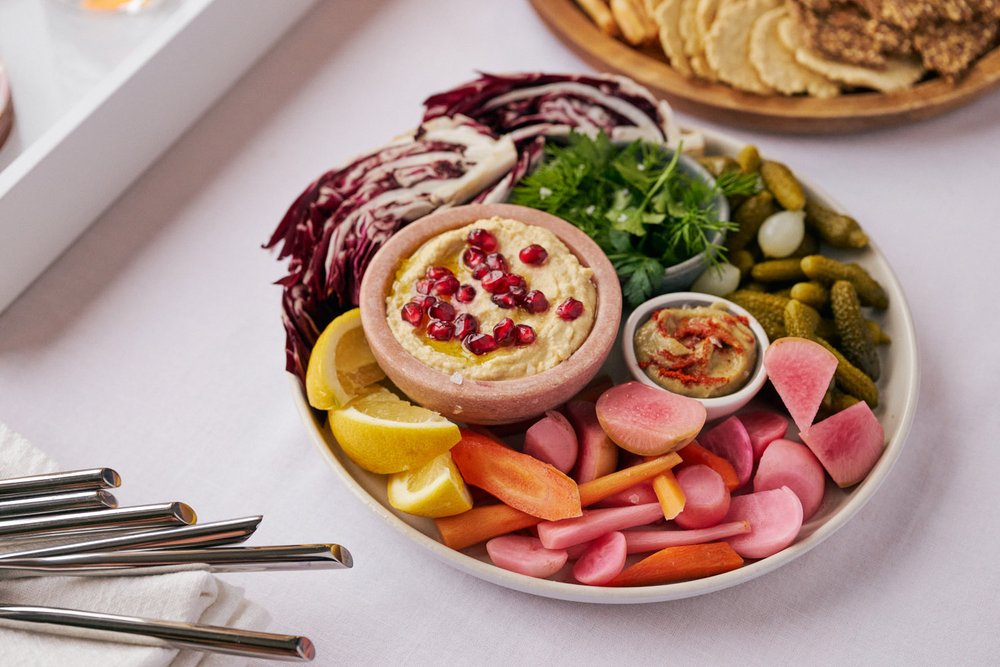 I have always loved the idea of jazzing up classics or things you can buy at the grocery store and turning them into something extra delicious and with loads of Insta-cute appeal. My new dip recipe is perfect for that, and I think finger foods can sometimes be the best kind of dinner.
For this dip, I mixed up store-bought hummus (I love getting Mediterranean Hummus from Trader Joe's) with roasted eggplants. It's a baba ghanoush-hummus mash-up of sorts that's super creamy and tasty. I like eggplant dip, but sometimes find it a bit too goopy, so mixing it with hummus makes it creamy without having to work extra hard in the kitchen. Add a sprinkle of pomegranate seeds or pine nuts in a little tablespoon pool of olive oil to garnish (my go-to way to make things feel fancier than they are) and you're done.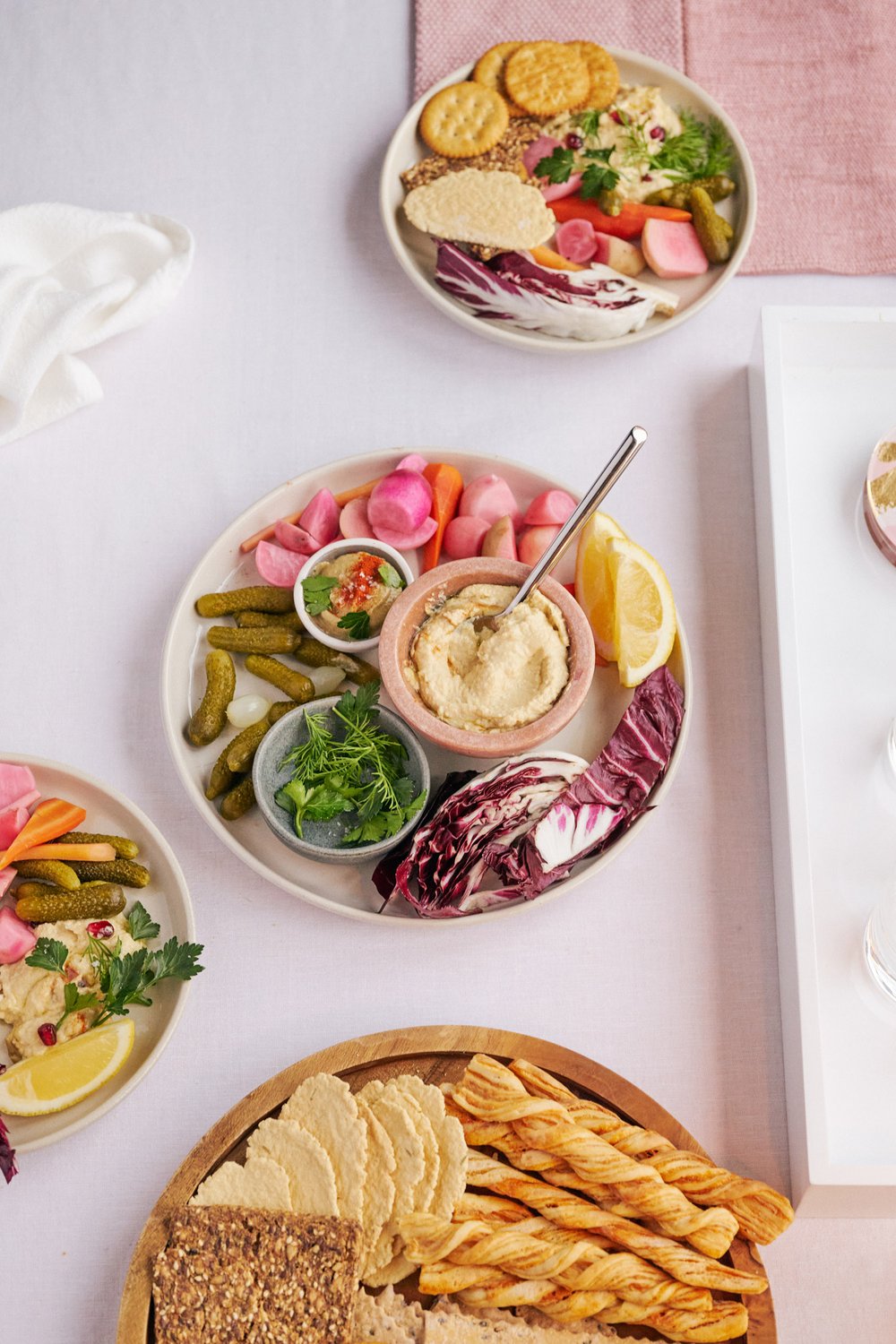 The key here is to serve this with nice specialty crackers, mixed with a sprinkle of the classics. And of course, you can't forget the veggies–a nice melange of crunchy veggies, either quick-pickled or raw. Trader Joe's has this cute pack of colored carrots that make everything even more adorable.
Serve this dip and trimmings in a bar station setup, and you're done!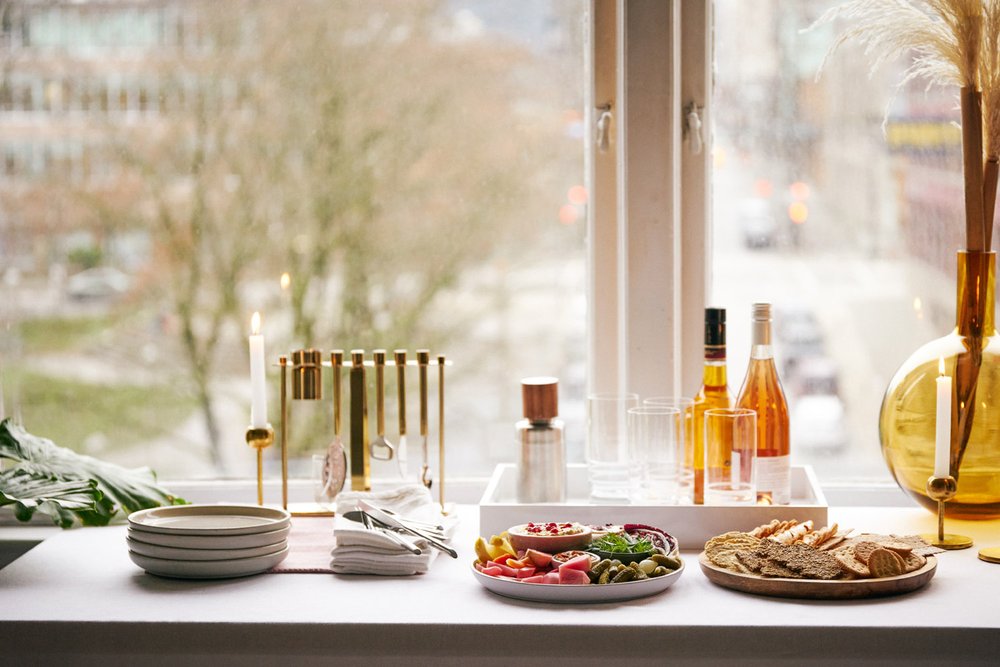 Easy & Elegant Eggplant-Hummus Dip
Serves 2
You'll need:
– 2 small eggplants
– 1 cup hummus
– 2 tbsp fresh lemon juice
– ¼ tsp garlic powder
– 2 tsp paprika
– Olive oil
– Pomegranate seeds to garnish
– Fresh herbs
– Crunchy veggies of your choice (I used pickled veggies I had in my fridge)
– A selection of tasty crackers
Instructions:
1. Preheat your oven to 400F. Prepare a baking sheet with parchment paper or aluminum foil.
2. Grab your eggplants, cut them in half, rub them with olive oil, sprinkle with salt and pepper and place them on the baking sheet halved sides down. Roast in the oven for about 25-30 minutes or until eggplant is tender.
3. Set aside to cool for a few minutes, then scoop out the cooked eggplant (discard the skin). Press the scooped eggplant through a fine mesh or strainer to puree it and set aside.
4. In a separate bowl, combine hummus, lemon juice, garlic powder and paprika. Little by little, add the eggplant puree as you mix. Taste for seasoning and adjust. Note: I didn't want mine to change color, so I added about ¾ of the eggplant puree, and saved the rest for later (or you can serve it in a smaller ramekin as a little side dip – just add seasoning and serve!).
5. Place dip in a bowl, garnish with pomegranate seeds, and drizzle with olive oil. Serve with veggies, crackers, and sprinkle extra paprika on the dip if you feel adventurous.
Enjoy!