A mulberry bramble is a fruity gin-based spring cocktail made with gin, lemon juice and mulberry liqueur. But when you have access to fresh mulberries, why not make it with that big juicy gorgeous fruit?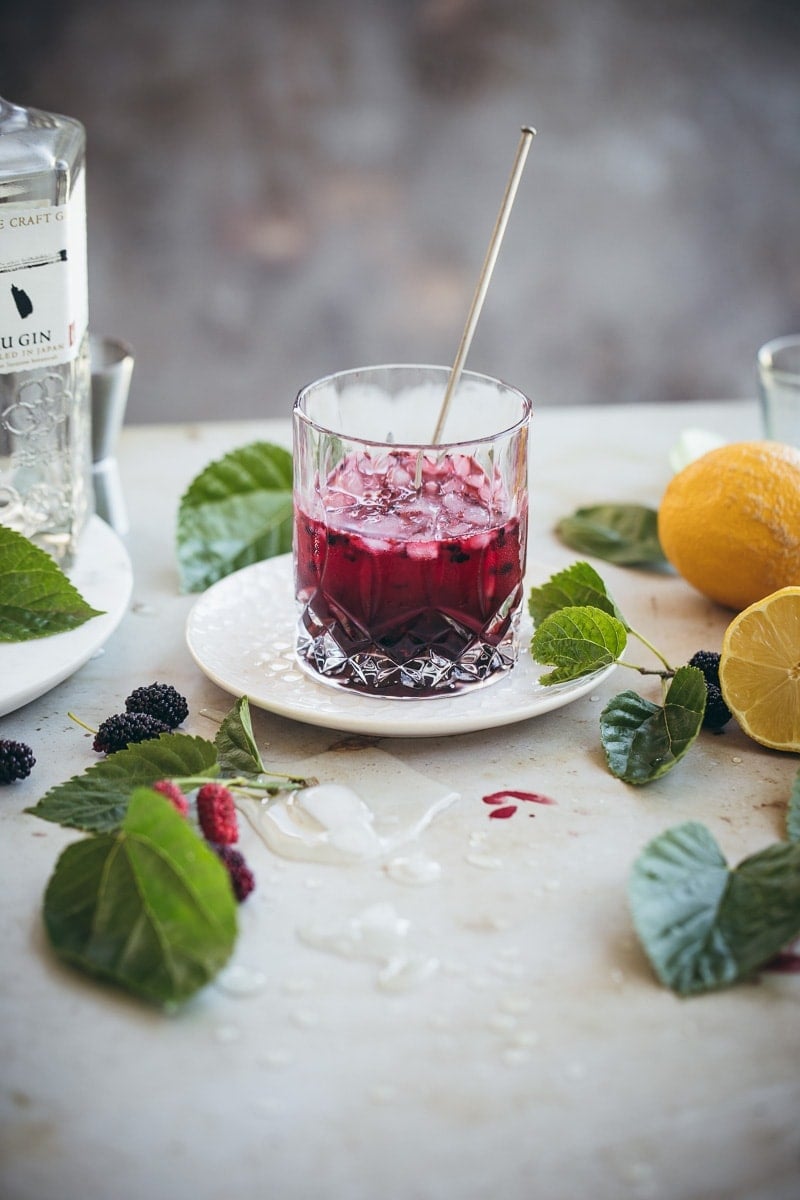 When I was a little girl, we had two big mulberry shrubs that trailed up a wrought iron garden arch. I have very fond memories of spending hot summer days under that arch, fingers and mouth stained bright red from picking and eating all the fruit at my level. I missed having mulberries for decades when I moved away. Then two years ago we picked the sunniest spot in our front yard and planted two black mulberry (Morus Nigra) trees. To our surprise, they have grown almost 3-4 meters tall with tall willowy branches that heave with big juicy black mulberries, come October. 
What I have realized is that black mulberry trees are one of the easiest things you can grow in your yard, especially here in Sydney with its crappy dry soil and lack of rain. Somehow, the weather here is perfect for the mulberry trees to thrive without much care and watering. Since mulberries are a very delicate fruit and not available in the market due to their low shelf life, growing them at home is the best thing you can do! Yes, I have made mulberry jams and mulberry cakes with store-bought mulberries because they are too valuable to just eat. But when they explode and grow like wildfire on your trees, you can't help but stuff your face with them in glee. So that is what we have been doing for the past month!
And when I have had enough of just eating them straight off the tree, I love to make a fresh spring-time cocktail with them. Oh, have you ever tried a mulberry cocktail? It is honestly the most delicious thing ever. Rich ruby red, sweet and sour and tangy with beautiful floral notes of the gin.
A mulberry bramble! It sounds very British. Probably because it is. Created by a bartender in London with gin as a base and lemon juice and mulberry liqueur. 
With a classic mulberry bramble recipe as my muse, I have created a lighter version with fresh mulberries. And it is absolutely yummy. It only takes me a few minutes to put together. So if friends drop in and you have fresh mulberries on hand, you know what to do! If you don't have mulberries, try this with fresh cherries or blackberries. They work really well too!
Just be careful while handling mulberries. They stain! A lot! Washing your hands a few times will reduce the staining and eventually in a day your stained fingers will be clean again. But if you manage to get some mulberry juice on your white top or apron, that is bad news! As I learned the hard way after this shoot where I was wearing a lovely white lace top. Just wear black guys!
And if you make this lovely mulberry bramble, be sure to tag me on Instagram @cookrepublic with #cookrepublic. Here is hoping to twice as many mulberries next year, so I can share more delightful mulberry recipes with you. xx
Print
FRESH MULBERRY BRAMBLE
---
Author:

Sneh

Prep Time:

5 minutes

Total Time:

5 minutes

Yield:

1

Category:

Cocktail

Cuisine:

Vegan, Gluten Free, Christmas
Print Recipe
Description
A spring cocktail created with gin, fresh muddled fruit and lemon juice. A mulberry bramble perfect for those slightly warm nights as you head into summer.
---
Ingredients
6

fresh mulberries

1 tablespoon

maple syrup

1/2 cup

crushed ice

30

ml (1 oz) lemon juice

45

ml (1.5 oz) gin
---
Instructions
Place mulberries in an old fashioned glass (short tumbler). Crush them gently with a muddler. Add maple syrup.
Top with crushed ice. Pour lemon juice and gin. Stir to mix well. Serve with a cocktail spoon.
---
In Previous Years
ONE YEAR AGO – STRAWBERRY GIN FIZZ
TWO YEAR AGO – KIWIFRUIT MINT AND CARDAMOM LASSI
THREE YEAR AGO – CHAI LATTE TIRAMISU
FOUR YEARS AGO – MAPLE ROASTED DUTCH CARROTS WITH CARROT TOP HUMMUS
FIVE YEARS AGO – COCONUT YOGHURT DOSA WITH SPICY CHICKPEA CHUTNEY
SEVEN YEARS AGO – FRUIT BRIOCHE WITH BROWN SUGAR LABNE
EIGHT YEARS AGO – TOMATO AND MUSTARD CHUTNEY
The post Fresh Mulberry Bramble appeared first on Cook Republic.