Hi, there!
Happy New Year!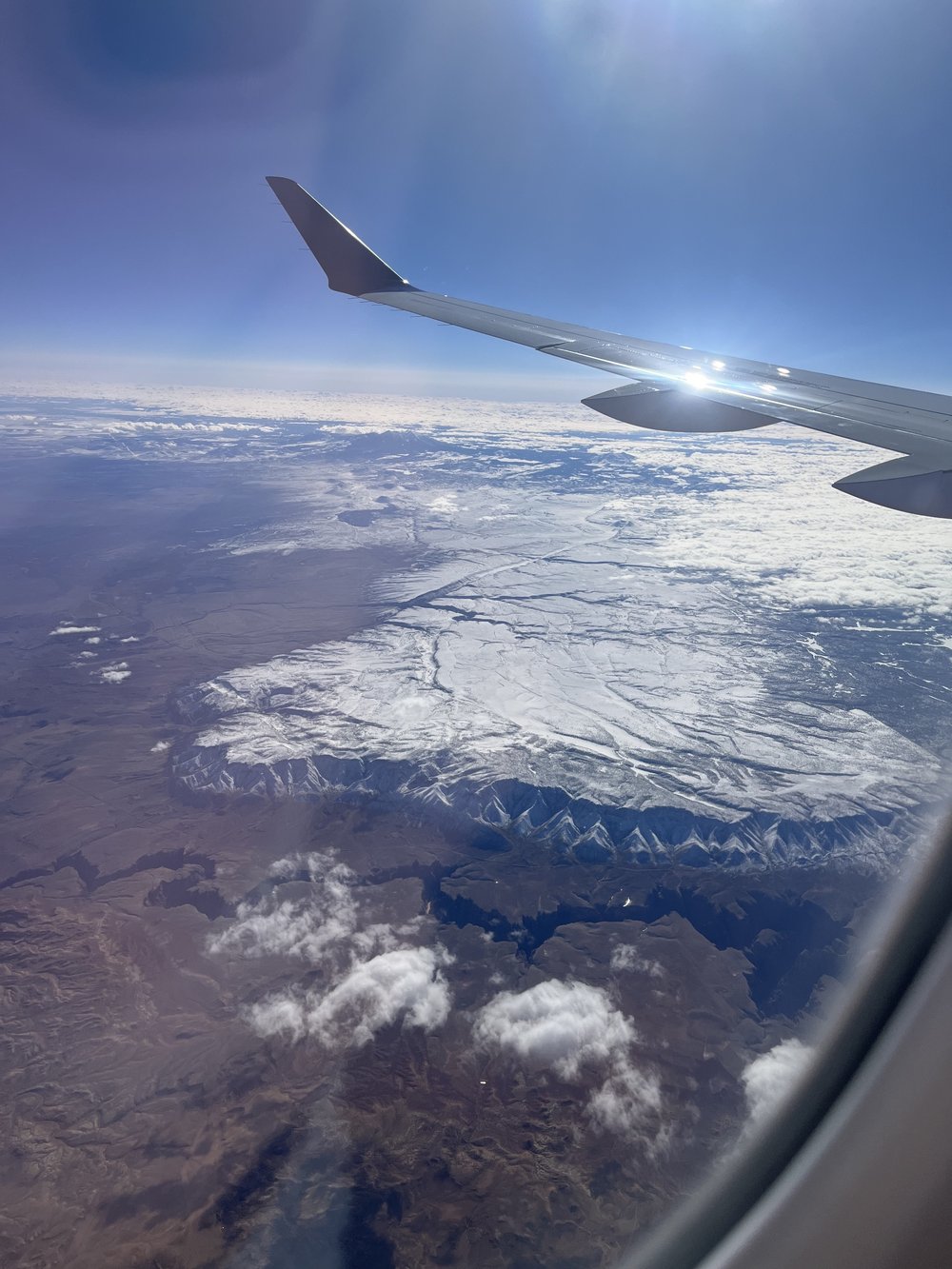 I am currently on a plane heading west to Las Vegas. My husband and I are going out to visit our son, who moved there a couple months ago. It's a big trip that has been much anticipated. In 2019 and early 2020, Mike worked out in Vegas supervising the building of the ESPN studio where Christian is employed today. He commuted from our home in Virginia to Vegas weekly, and every week he told me how gracious the people were out there and how they'd all said repeatedly that he should bring his wife on one of those trips and they would take good care of us. Then, the world sort of stopped spinning and we moved to Connecticut, and he started a new job. Nearly three years later, we're on our way to Vegas to take the long-postponed trip.
It's been a fruitful new year so far. Last fall, I made some significant decisions towards my health and towards future ministry. First, I committed to an in-depth life coaching course at the Institute for Integrative Nutrition. After some big health events in summer 2022, it was time to coach myself into a better way of being and to learn a little about coaching others along the way. It's a year-long course, and I'm so glad I took the plunge.
Because I'm a voracious learner, and I need to constantly feed my brain, I also decided to enroll in a professional chef certification course. I have no desire whatsoever to work in a restaurant or to be a caterer. But I want to know what they know. And boy, howdy, is this one teaching me some things! I'm hoping to invite folks into my kitchen, both literally and virtually, and share the love of good food and conversation.
I'm so glad to be studying. I love listening to lectures. School just makes me happy. I think I was a little stuck, a little unsure where the arc of my story was headed. Then, one day last fall, sitting in the dentist office waiting for a teen to finish up, something just clicked into place. I'm writing my story. I get to decide where the arc is headed. I get to make the story as interesting or repetitive as I want. I get frame to the details. I don't have control of a lot things in the story, of course, but I know the protagonist. She is me. And I want her to respond the way all good heroes do in stories. I want her to be kind and brave and smart and good. (And my little side hustle would whisper: make her beautiful, too.)
A lot of significant things have happened in the last three years; many of them over which I had little control. Some of those things were terrible by any metric, and it was easy to fall into the role of the victim instead of the heroine. But I did and I do have control over how I respond to those things. I've mourned and brooded and thrown a few pity parties. I've also prayed and given thanks and resolved to get up and try again. I want to do more of what the heroine does and less of what the victim does. Seems like if we are the ones who write our stories, we should be bold with the character development of the person we know best. Ourselves.
All these classes have yielded a very observable result in our family. We're eating way more plants. The more I know about the gut microbiome (I took a course on that, too), the more persuaded I am that that is where the magic of good health is found. We know that the more diverse the microbiome is, the healthier it is. The key to that diversity is an abundance of the plant foods that feed the beneficial biota. Towards the goal of a healthy gut (and a resulting happier, healthier us), we have resolved as a family to try to eat at least 30 different plants a week. That's far more than 30 servings of fruits and vegetables. It's at least one serving of 30 unique plants. We've been hitting the mark pretty consistently, each of us in our own bio-individual way.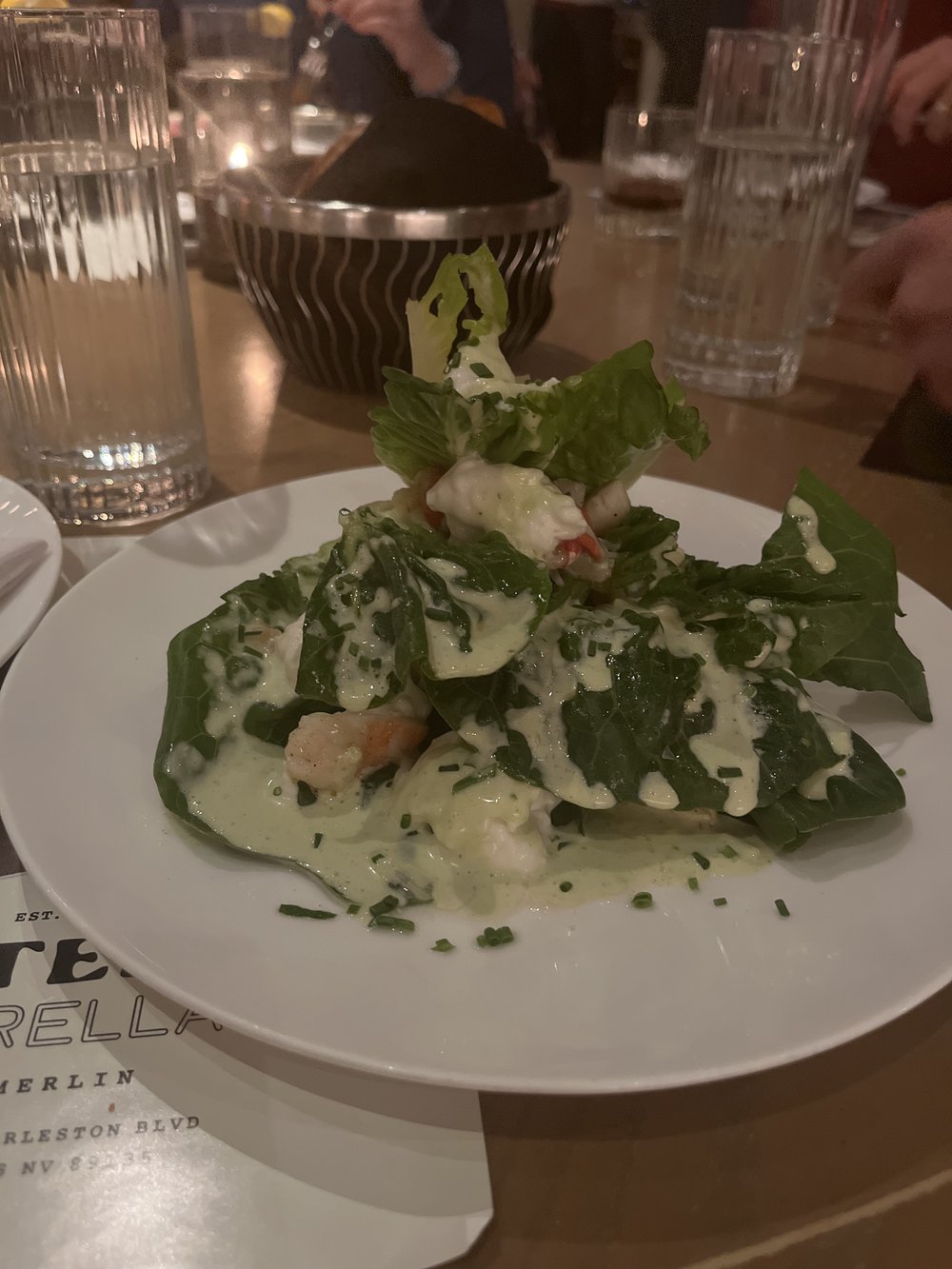 The other ruling principle in the kitchen is that I plan for at least one serving of beans in everyone's meal line up every day. Keeping variety in mind, I do mix it up from day to day. Some days we're dipping into hummus; some days I'm packing pesto chickpeas in Mike's lunchbox. But every week, on Taco Tuesday, I make one big pot of beans. Sometimes, they're red beans, sometimes they're pinto beans, sometimes, they're black beans. Then, those beans find their way into all sorts of things, all week long. As the price of eggs creeps higher and cheese and meat aren't too far behind, I'm wondering at the timing of the allergy diagnoses that pushed me into cooking without eggs or dairy or wheat. My $3.00 bag of organic beans is looking like a lottery win! Hang with me until the end. I've shared a recipe.
About that *beautiful* heroine part.
Your support of my Beautycounter business has allowed the ministry of Take Up & Read to make plans for some stretching and growing in the next year. I'm really excited about that! I never imagined being a Beautycounter consultant (or any consultant, for that matter). But God's provision does tickle me. It's such a joy to talk to people about good-for-them products that make them feel beautiful.
For this trip to Vegas, because I have no idea what to expect, I way over-packed my "beauty bag." I know I'll have some downtime in the hotel, and I packed all the things that would make for a nice spa facial.
I have a little jar of Reflect Effect AHA mask from one of the holiday sets. That's the perfect place to start. This mask is a wonder to me. Ten minutes and my face feels noticeably softer and smoother. There's something about it that just feels nurturing. I'll only use it once while we're there. I've given you a link to the full-sized jar. It lasts forever as long as you remember to screw the lid on;-). I also packed some bamboo polish from a Christmas set. There's no link for that because they're all sold out, but a little birdie told me we'll be talking about this wonder-product again in February;-)
On the regular, I'll use my Countertime regimen with a few other friends thrown in. I packed the Countertime carry-on set. The bottles are plastic, lightweight, and refillable. If you've ever wondered what all the Beautycounter fuss was about. This is the way to find out.
I also packed All Bright C Serum for every day brightness, and some priming serum. I really don't know what's in store, but I sense the days will be long; priming serum means that makeup goes on smoothly and it stays put. Truth be told, when I left the house this morning, after washing my face, I used All Bright C Serum, followed by priming serum. Then, I put one of our beautiful new lip balms on my lips (Plush was the color, I think), and I swiped a little of it on my cheeks, too. All set. That's probably enough for any day, but I packed the whole makeup shebang.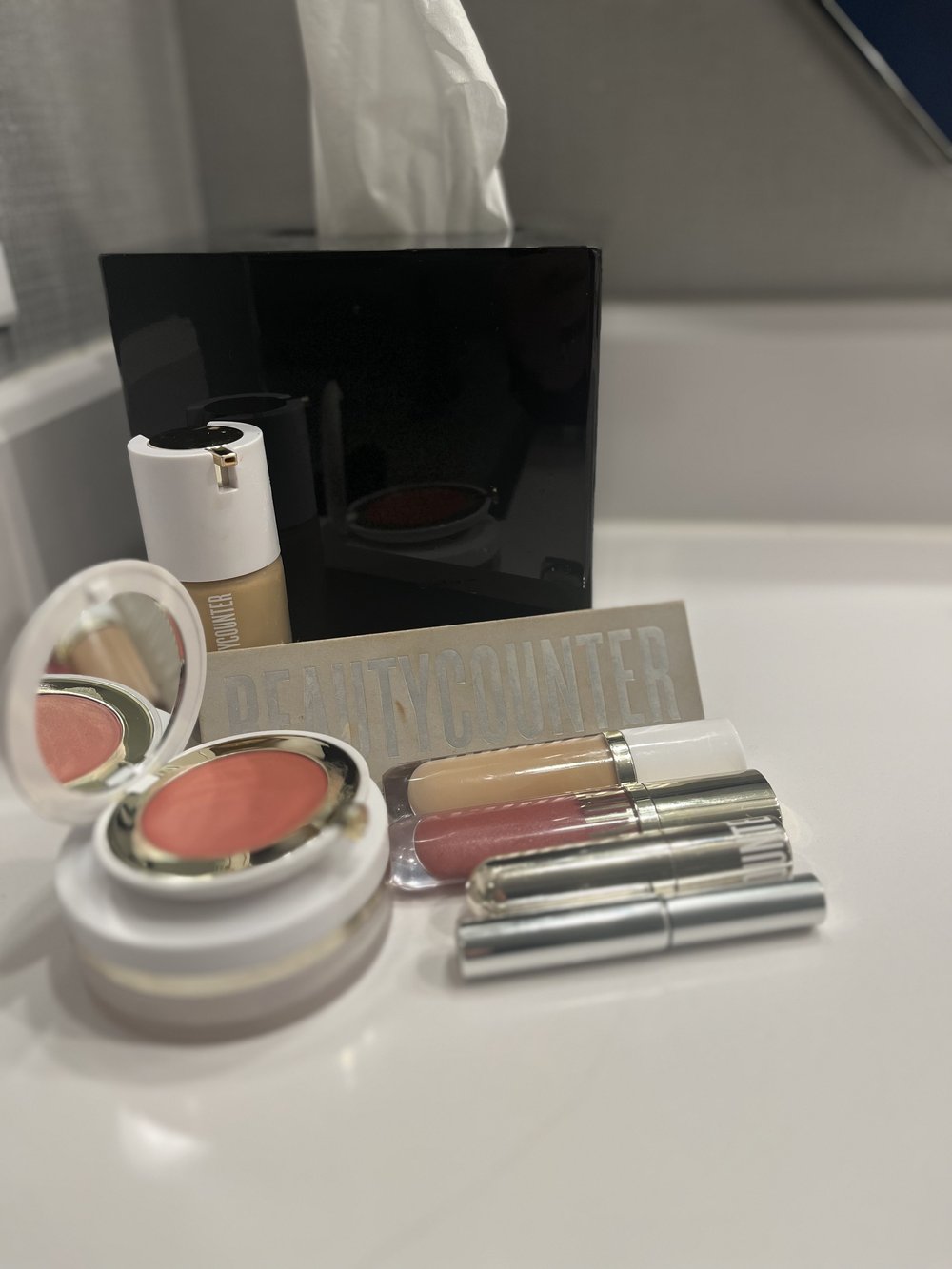 Usually, I just leave that Countertime travel set, some C serum, and a Flawless in Five in my travel bag. Then I don't really have to pack at all. It's there, ready and waiting. My kids are scattered all over. My mother is in Florida, and can't come to me. We seem to be traveling a lot. It's nice to just leave it packed. This time, though, I added the eyeshadow palette from the holiday sets and a couple lipsticks and some mattifying powder and a whole bunch of brushes.
I also probably packed way too many clothes. We shall see. I'll let you know when I know what all we're doing out there!
I'll be back with another newsletter before the Super Bowl. I've got some ideas for party foods. In the meantime, here's my favorite black bean recipe. I had no idea that the Instant Pot means that you don't have to soak the beans in advance. Game changer!
·       1 lb dry black beans rinsed
·       6 cups water
·       1/4 cup dry white wine
·       1/2 cup tomato sauce
·       1 sweet yellow onion finely diced
·       5 garlic cloves finely minced
·       1 or 2 chipotle peppers in adobe sauce, finely minced
·       1 green green bell pepper
·       2 tsp cumin
·       2 tsp oregano
·       1 TBS maple syrup (optional)
·       salt and pepper to taste
INSTRUCTIONS
1.         Add the black beans to the instant pot along with the water and green bell pepper. 
2.         Press the "pressure cook" function on your instant pot and select 25 minutes. 
3.         When the 25 minutes are up, do a natural release. When the pin in the lid drops down, safely open the lid. Press the "saute" function and let the beans cook uncovered while you prepare the veggies.
4.         Add some oil to a small skillet on the stovetop and let it heat over medium-high heat.
5.         Add the onions and cook for 3-4 minutes or until translucent. Then stir in the garlic and cook for an additional 20 seconds. Add the tomato sauce and chipotle peppers and cook for an additional minute.  Add the onion, garlic, and tomato mixture to the instant pot along with the wine, oregano, cumin, salt, pepper, and maple syrup. 
6.         Continue cooking while stirring occasionally until the beans are nice and thick, about 20 minutes.
Enjoy! These keep well, covered tightly in the refrigerator, for up to a week.