GloFoods Eatery in Portage, Michigan offers a complete 100% gluten free and vegan dining experience. They feature toast, sandwiches, salads, soup and delicious gluten free baked goods.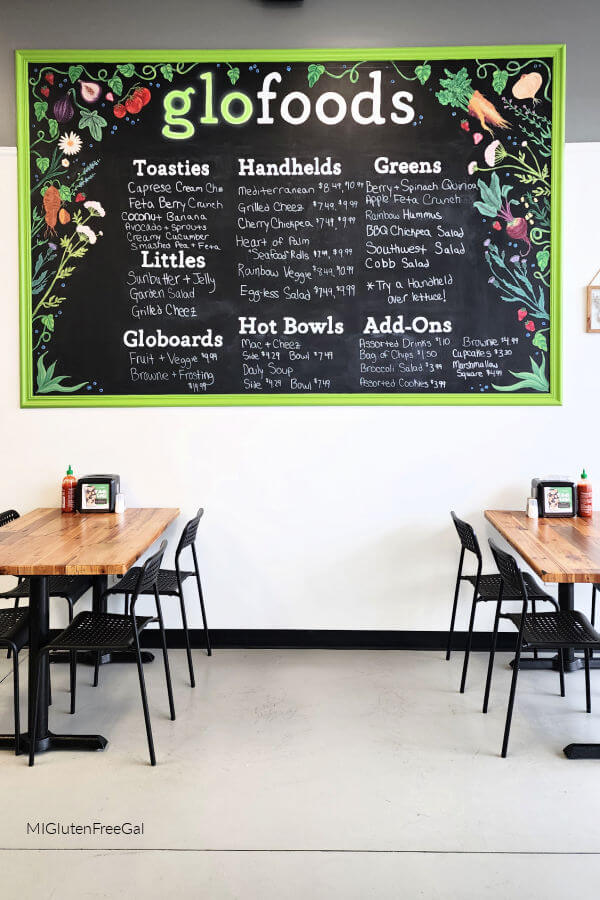 Where is GloFoods Eatery?
GloFoods Eatery is located in Portage, MI, which is a suburb of Kalamazoo. From I-94, you would exit onto Westnedge Ave and head south. This dedicated gluten free and vegan eatery is in the same plaza as Sam's Club. Despite the Westnedge Ave address, I recommend turning at the light, on Romence Rd, and driving thru the parking lot. 
What Gluten Free Options Do They Offer? 
Everything at GloFoods is gluten free! Sarah Scott, former owner of Sweet Bee's GF Bakery in Paw Paw, decided to close her bakery and open a full cafe. In addition to being able to buy cookies and brownies, now you can also order soup, sandwiches, salads and more. They even offer gluten free and vegan macaroni and cheez!
What Additional Food Allergens Do They Accommodate?
As GloFoods is a vegan restaurant, there is no dairy, egg, fish or shellfish on premises. They also maintains a peanut free kitchen. Soy is used sparingly in their kitchen, and mainly in their chicken subsitute, and the Schar bread they use for sandwiches.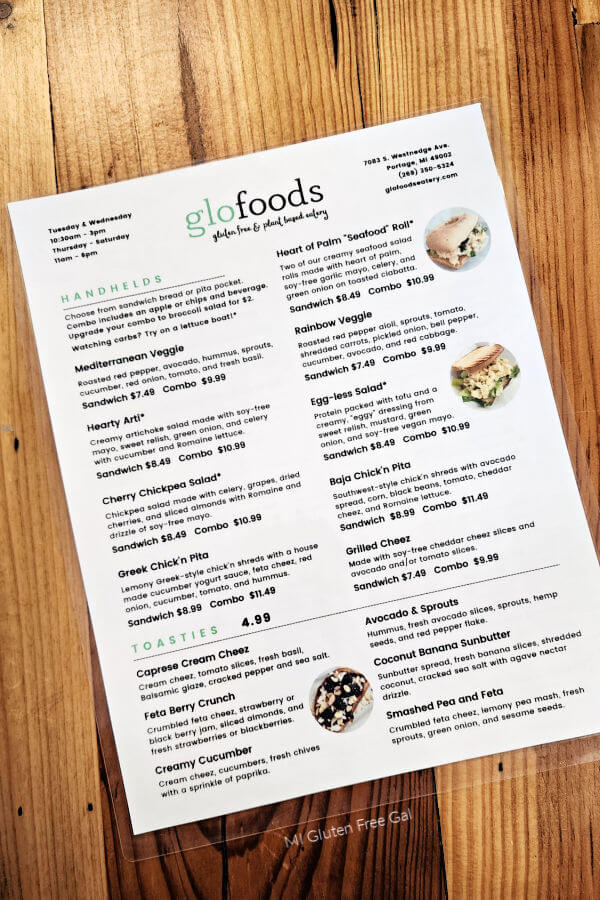 What Bread Do They Use for Sandwiches? 
GloFoods uses three brands of bread, depending on what you order. They carry Schar bagels, ciabatta (for their "seafood" roll), deli style bread (for toasties), and baguettes as a side for a large soup. BFree pita is used for pita sandwiches, and Aldi bread is used for all other sandwiches on the menu. Schar contains soy, whereas the BFree pita and Aldi bread do not. 
What Dairy Free Cheese Does GloFoods Use?
They use Follow Your Heart and Good Planet plant based cheese products for their sandwiches and macaroni and cheez.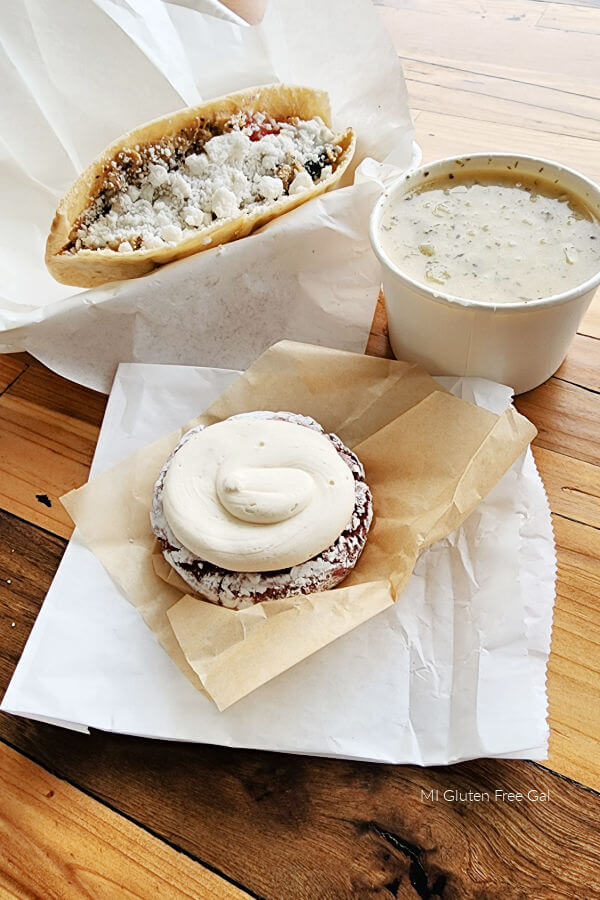 What Did You Order?
This is actually the second time I've stopped at GloFoods. This time I ordered their new "Greek Chick'n Pita," which is made with lemony greek style chick'n shreds (made from soy) with a house made cucumber yogurt sauce, feta cheez, cucumber, tomato and hummus. I gotta say, it was AMAZING. Even the dairy free feta tasted like feta! I also ordered a cup of soup, and a Red Velvet cookie. The cookie was STELLAR.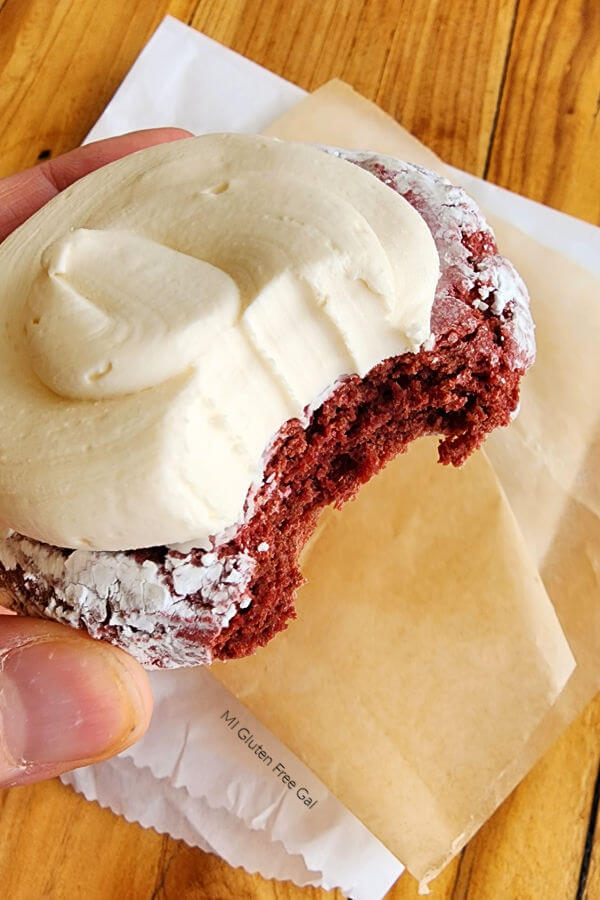 Can You Place Custom Dessert Orders from GloFoods? 
Yes! They take custom orders for cookies, cakes, and cupcakes. In addition, they use no artificial colors. In addition to finding their baked goods at their cafe, you can also find them at Sawall's, Chocolatea, MI Boba, and The Modern Well. 
GloFoods
7083 S. Westnedge Ave.
Portage, MI 49002
269-350-5324
(To get to GloFoods from Westnedge Ave, I recommend turning on Romence Rd. at the stoplight, and going thru the Sam's Club parking lot.)
Hours – Tues & Wed 10:30 – 3 pm, Thurs – Sat 11 am – 6 pm CLOSED SUNDAY & MONDAY
Website | Facebook | Instagram | Email
GloFoods is one of many Michigan eateries I've visited. You can find a list of them on my  Michigan gluten free dining post. Please remember to always ask any restaurant about their food preparation practices, before dining.
The post GloFoods- 100% Gluten Free and Vegan appeared first on MI Gluten Free Gal.