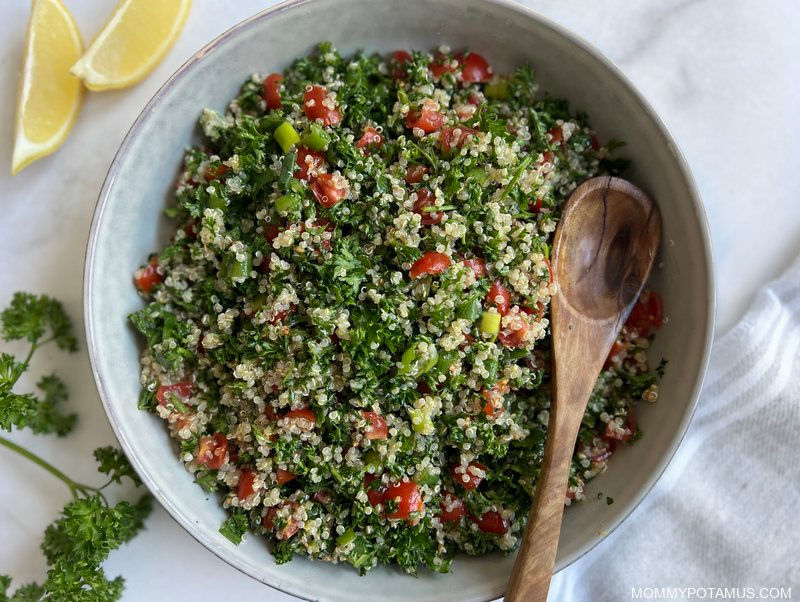 I can't get enough of my favorite Mediterranean recipes lately – falafel, herb-roasted olives, Greek salad, hummus, and this light and refreshing tabbouleh. It's been on repeat in my kitchen for weeks now, and there's no end in sight.
Traditional tabbouleh is made with bulgar wheat, but we're a gluten-free family so I use quinoa instead. The rest of the ingredients are traditional, though – fresh parsley, diced tomatoes, minced green onion and fresh mint, all dressed simply with olive oil and lemon. The texture is light and fluffy, and the mild flavor of quinoa really lets the herbaceous, lemony flavors of the salad shine.
My kids say it tastes even better the next day, so it's a great make-ahead option for easy weeknight meal prep.
Also for special occasions, it makes a great centerpiece for a mezze platter, which is basically a charcuterie board featuring Mediterranean food. Other great options to include are hummus, tzatziki or tahini sauce, gluten-free flatbread, fresh veggies, roasted or marinated olives, feta cheese, and fresh figs. I hope you love it as much as we do!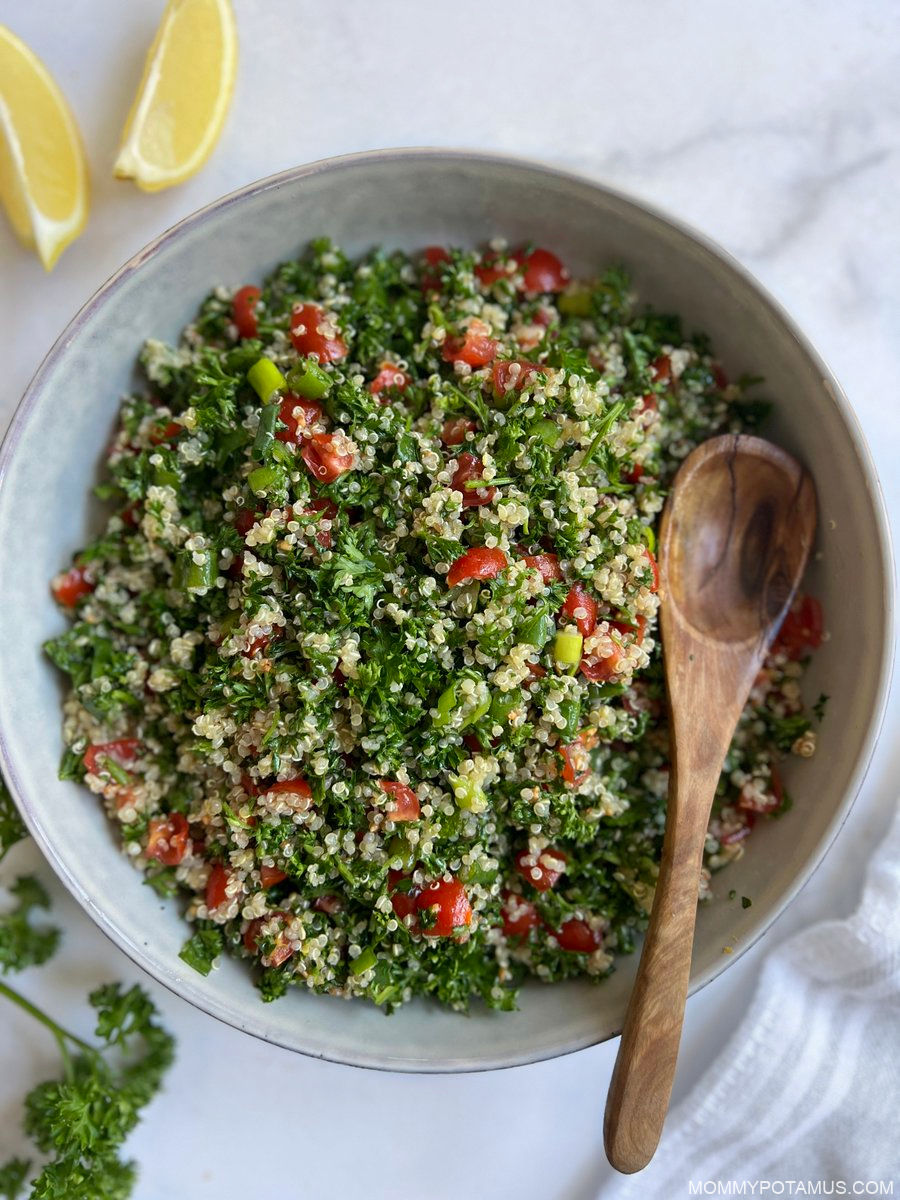 Print
Gluten-Free Quinoa Tabbouleh Recipe
This light and refreshing salad has been on repeat in my kitchen for weeks now, and there's no end in sight.
It's made with fresh parsley, fluffy quinoa, diced tomatoes, minced green onion and the optional addition of fresh mint, all dressed simply with olive oil, lemon and a little salt and pepper.
Makes approximately 4 cups. Serving size is 1/3 cup.
Keyword
Gluten-Free, Dairy-Free, Side Dish
Ingredients
1½

cups

quinoa, cooked and cooled

(1/2 dried quinoa makes the right amount)

1

cup

finely diced cherry tomatoes

⅓

cup

green onion, finely chopped

1

bunch

fresh parsley

(Or more if needed to yield 2 cups finely chopped. I prefer curly because it makes the salad more fluffy)

zest of one lemon

3

tbsp

lemon juice

¼

cup

extra-virgin olive oil

1

tsp

sea salt

(divided in half)

⅛

tsp

ground black pepper

¼

cup

minced fresh mint

(optional)
Instructions
Cook the quinoa according to the package instructions. Drain off any excess water and refrigerate until cool.

Dice the tomatoes and place them in a mesh strainer that is resting over a bowl. Sprinkle them with 1/2 teaspoon salt and mix to combine. The salt prevents sogginess by releasing water from the tomatoes into the bowl.

Finely chop the green onion and set aside.

Trim the thick stems off the parsley, then place about 1/2 of the bunch in your food processor. Process until very finely chopped. Measure out 2 cups and place it in a serving bowl.

Add the cooled quinoa, parsley, green onion, and mint (if using) to the bowl. Grab the mesh strainer with the tomatoes and give it a little shake over the bowl to release excess water, then add them to the serving bowl.

In a small bowl, whisk together the olive oil, lemon juice, lemon zest, 1/2 teaspoon salt and black pepper. Pour it in the serving bowl and toss well to combine.

Taste and add an extra squeeze of lemon juice or more salt if needed. Let the flavors meld for 10-20 minutes if you can force yourself to wait, serve immediately. Store any leftovers in an airtight container in the fridge.
Notes
* Prep time does not include cooking and cooling the quinoa. 
* If you're like me and want the tabbouleh to be ready asap, you can place the cooked quinoa in the freezer for about 30 minutes to speed up the cooling process.I put mine in a wide-bottom stainless steel bowl so that it cools quickly and evenly.
 
* If I'm planning for future meals I usually order sprouted quinoa to use in this recipe. Sprouting seeds before cooking them improves digestibility and nutrient absorption. However, if a craving hits and I haven't planned in advance I just use the regular unsprouted quinoa sold at my local health food store. Both work well.
Nutrition
Serving:
0.33
cup
|
Calories:
74
kcal
|
Carbohydrates:
6
g
|
Protein:
1
g
|
Fat:
5
g
|
Saturated Fat:
1
g
|
Polyunsaturated Fat:
1
g
|
Monounsaturated Fat:
3
g
|
Sodium:
200
mg
|
Potassium:
110
mg
|
Fiber:
1
g
|
Sugar:
1
g
|
Vitamin A:
530
IU
|
Vitamin C:
11
mg
|
Calcium:
17
mg
|
Iron:
1
mg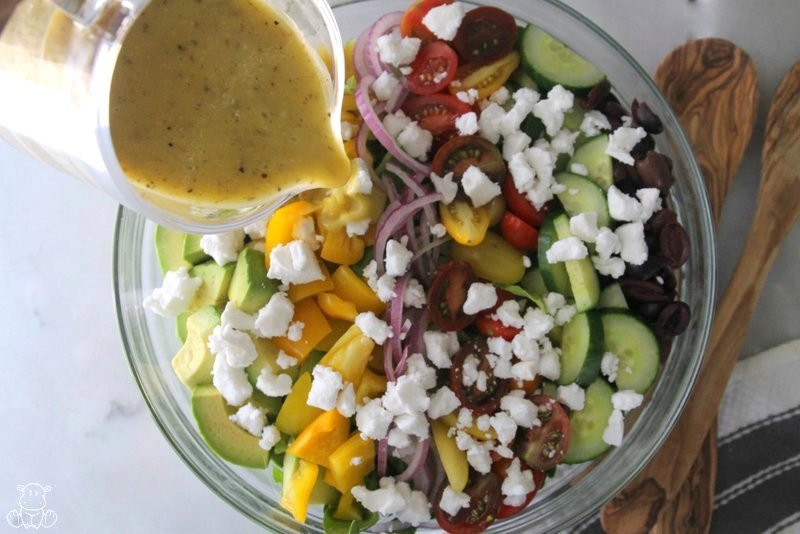 More Salad Recipes To Try
Easy Greek Salad – Bursting with crisp cucumbers, plump tomatoes, creamy avocado, crunchy bell pepper and the all important flavors of feta and kalamata olives, this salad tossed in a super yummy vinaigrette that will wake up your tastebuds for sure.
Mexican-Style Chopped Salad – This recipe pairs creamy avocado with crisp veggies and the earthy flavors of cumin, cilantro and lime. Even salad skeptics love it.
Kale Salad With Apples & Bleu Cheese – This recipe has it all: Crisp sweet apples, savory bleu cheese and antioxidant-rich kale tossed in a light vinaigrette. It only takes a few minutes to make, too!
Broccoli Salad – Made with bacon, sunflower seeds and cheddar cheese, this is a family favorite.
Creamy Massaged Kale Salad With Lemon – Light and lemony, this kale salad is a surprisingly delicious way to enjoy one of the most nutrient-dense veggies available. Pinky swear and everything.
Continue reading Gluten-Free Tabbouleh Recipe With Quinoa...