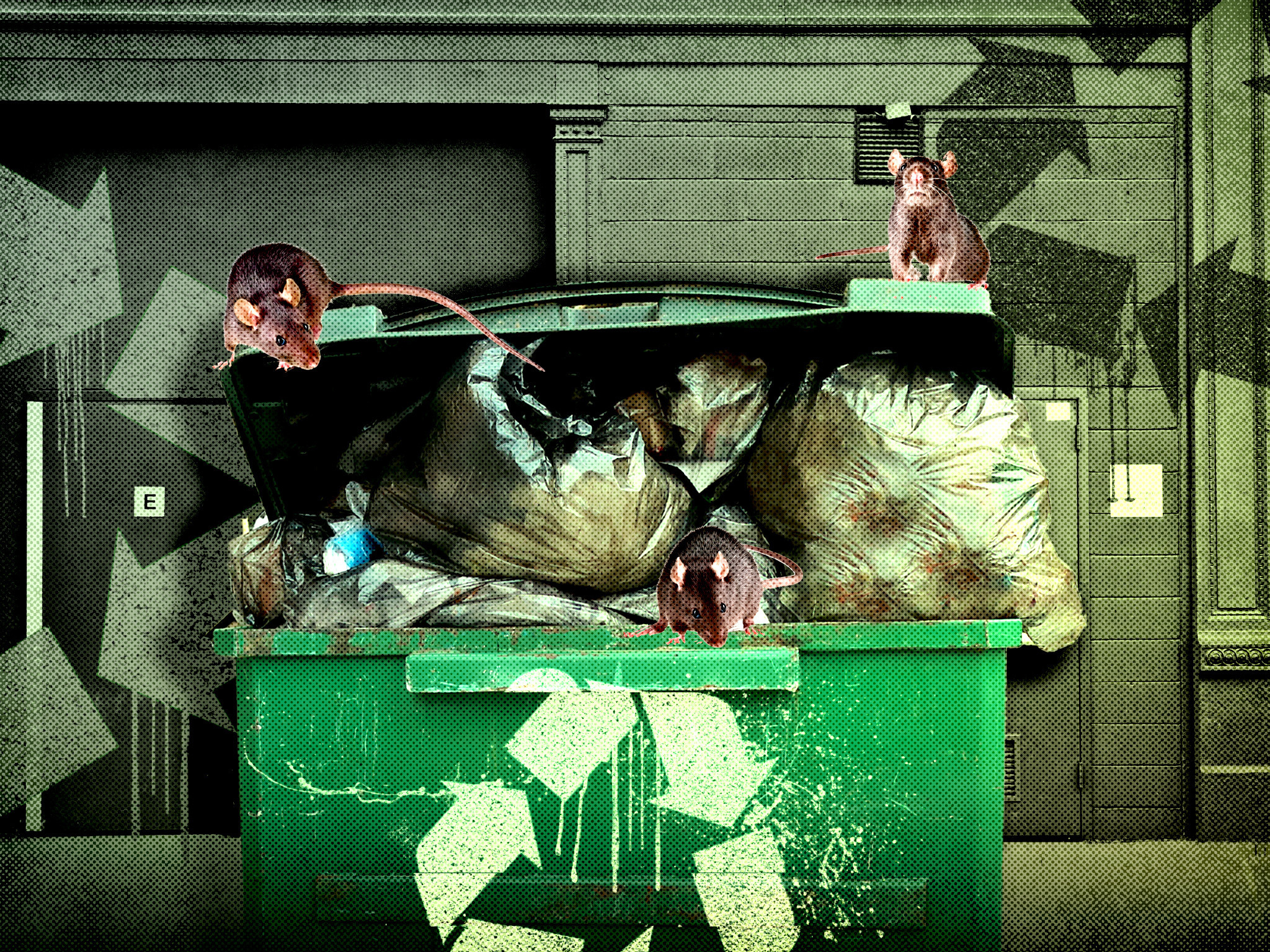 In a city of 8.5 million, New York City sure has a ton of trash. Actually, it has tons of trash every year.
According to the Mayor's office, NYC produces more than 14 million tons of trash annually.
You see it on the sidewalks waiting to be picked up in mountains of faux mint-scented garbage bags or flattened and scattered like coffee cups, cigarette butts and paper plates from dollar slice* spots, trampled on by thousands of feet. Sometimes it's worn-out furniture with questionable stains or possible bed bugs sitting at the curb.
Whether we like it or not, garbage is so much a part of NYC living. It's just part of the makeup of the city like pigeons or mystery puddles.
It's so prevalent that some artists have even used it to create sculptures!
Recently though, the filth hit a new level. NYC was tagged as the second dirtiest city behind Rome, Italy in our latest Time Out Index—a poll of 27,000 city-dwellers from Melbourne to Madrid, Chicago to Copenhagen and Tel Aviv to Tokyo.
The past year has been full of headlines marking the numerous ways the city's leaders are attacking the trash problem head-on, from a new garbage bin program and a newly reinstated Alternate Side Parking schedule for sweeping to a new bill that would require city agencies to identify where they could place public restrooms in each of NYC's zip codes to help cut down on public urination and the like. One of the biggest pushes this year has been the introduction of curbside compost pick-up.
It's clear that NYC officials know they have a garbage problem on their hands but a lot of the pick-up needs to fall to New Yorkers in how they get rid of their stuff. It turns out that 68% of what we throw away actually belongs in a curbside recycling or organics bin, according to a Department of Sanitation Waste Characterization Study from 2017. That's a lot of trash we could be keeping out of landfills!
"We urge New Yorkers to reduce, reuse and recycle, in that order," said Department of Sanitation Press Secretary Vincent Gragnani. "We encourage residents to first reduce what they use, if possible. Next, reuse should be the following step." 
We're taking a cue from the DSNY this month by putting together a guide to recycling, composting and other ways to get rid of junk here in NYC. Below, you'll find answers to the most common questions about waste removal.
Recycling
New Yorkers are most familiar with recycling—after all, it's required if you use DSNY services. Recycling's been mandatory in NYC since 1989 so naturally, we have adjusted. The city collects about 2,000 tons of recycling each day, the majority being cardboard.
It can be a hassle though. The rules can get confusing, especially if you try to go by the numbers stamped on certain plastics. Numbers 1 and 2 are commonly recyclable in the United States but numbers 3-7 are sometimes, rarely or never recycled here, according to The New York Times.
Below, we've outlined what the DSNY says to recycle and what can't be recycled to help you correctly and easily reduce your waste.
What to recycle in NYC
Metal
metal cans (soup, pet food, empty aerosol cans, empty paint cans, etc.)
aluminum foil and foil products (wrap and trays)
metal caps and lids
household metal items (wire hangers, pots, tools, curtain rods, small appliances that are mostly metal, certain vehicle license plates, etc.)
bulky metal items (large metal items, such as furniture, cabinets, large mostly metal appliance
Glass
glass bottles and jars only
Rigid plastics
Rigid plastic is any item that is mostly plastic resin—it is relatively inflexible and maintains its shape or form when bent.
plastic bottles, jugs, and jars
rigid plastic caps and lids
rigid plastic food containers (yogurt, deli, hummus, dairy tubs, cookie tray inserts, "clamshell" containers, other rigid plastic take-out containers)
rigid plastic non-food containers (such as "blister-pack" and "clamshell" consumer packaging, acetate boxes)
rigid plastic housewares (flower pots, mixing bowls, plastic appliances, etc.)
bulk rigid plastic (crates, buckets, pails, furniture, large toys, large appliances, etc.)
Cartons
Food and beverage cartons
Drink boxes
Aseptic packaging (holds beverages and food: juice, milk and non-dairy milk products, soup, etc.)
Paper
newspapers, magazines, catalogs, phone books, mixed paper, white and colored paper (lined, copier, computer; staples are OK)
mail and envelopes (any color; window envelopes are OK)
receipts
paper bags
wrapping paper
soft-cover books (phone books, paperbacks, comics, etc.; no spiral bindings) (schools should follow their school book recycling procedures)
Cardboard
cardboard egg cartons
cardboard trays
smooth cardboard (food and shoe boxes, gift boxes, tubes, file folders, cardboard from product packaging)
pizza boxes (remove and discard soiled liner; recycle little plastic supporter with rigid plastics)
paper cups (waxy lining ok if cups are empty and clean; recycle plastic lids with rigid plastics)
corrugated cardboard boxes (flattened and tied together with sturdy twine)
How to recycle in NYC
First, you'll want to empty and rinse your metal, glass, plastic and cartons with food before you put them in the recycling.
Then, put metal, glass, plastic and cartons together in a blue bin or bag.
Mixed paper and cardboard can go together in a green bin (or green or white bag), but you'll need to break cardboard into small pieces before putting it into bags and flatten corrugated cardboard boxes into bundles. If you aren't living in an apartment building, you'll want to tie these with strong twine or string.
It shouldn't be put on the sidewalk until 8pm (but before midnight) on the night before your scheduled recycling day, which you can find here.
Which items can't be recycled?
Batteries
"Tanglers" (such as cables, wires, cords, and hoses)
Electronic devices banned from disposal
Paper with a heavy wax or plastic coating (candy wrappers, take-out and freezer containers, etc.)
Soiled or soft paper (napkins, paper towels, tissues)
Hardcover books (schools should follow their school book recycling procedures)
Printer cartridges
Glass items other than glass bottles and jars (such as mirrors, light bulbs, ceramics, and glassware)
Window blinds
Foam plastic items (such as foam food service containers, cups and trays, foam protective packing blocks, and, and foam packing peanuts)
Flexible plastic items (such as single-serve food and drink squeezable pouches and tubes such as toothpaste, lotion, cosmetics, or sports balls such as basketballs, bowling balls, soccer balls, footballs, yoga balls)
Film plastic (such as plastic shopping bags, wrappers and bubble wrap). Bring plastic bags and film to participating stores for recycling
Cigarette lighters and butane gas lighters
Cassette and VHS tapes
CDs and DVDs
Pens and markers
Rigid plastic containers containing medical "sharps" or disposable razors
Containers that held dangerous or corrosive chemicals
Where to recycle clothes in NYC?
You, unfortunately, can't recycle your clothes by putting them on the curb. You'll need to donate them or sell them. You can use NYC's map to find a textile drop-off or sign your building up for a refashionNYC clothing donation bin. Otherwise, you'll need to discard clothes as garbage on regular collection days.
Does recycling actually work in NYC?
The DSNY says it doesn't have hard data on commercial recycling rates since businesses hire private carters to dispose of their waste and recycling. The New York Times says NYC only recycles a fifth of its garbage and that if everything recyclable were sorted and recycled, about 68 percent of residential trash and 75 percent of commercial trash could be kept out of landfills.
"Sending recyclable materials to landfills adds significantly to our carbon footprint," DSNY Press Secretary Gragnani said. "It not only wastes all the energy used to produce the item, but we expend additional energy transporting the material to a landfill, where it may sit for thousands of years without breaking down. Recycling gives a second life to these materials, saving a tremendous amount of energy and space in landfills."
That being said, recycling alone cannot fix the waste problem, especially as companies produce more and more waste.
The DSNY has urged the state to pass "Extended Producer Responsibility," which would "ensure that the producers of packaging materials play a significant role in reducing the carbon footprint of their products and reducing the overall amount of material produced," according to Gragnani. "Everyone has a part to play in protecting the planet."
Reducing the amount of plastic, which can now be easily found on beaches in the ocean, is key and NYC has luckily banned plastic bags for that reason. But single-use plastics are still a problem. Individually though, we can reduce how much waste we produce and recycle as much as possible. 
And then there's composting… — Shaye Weaver
---
Composting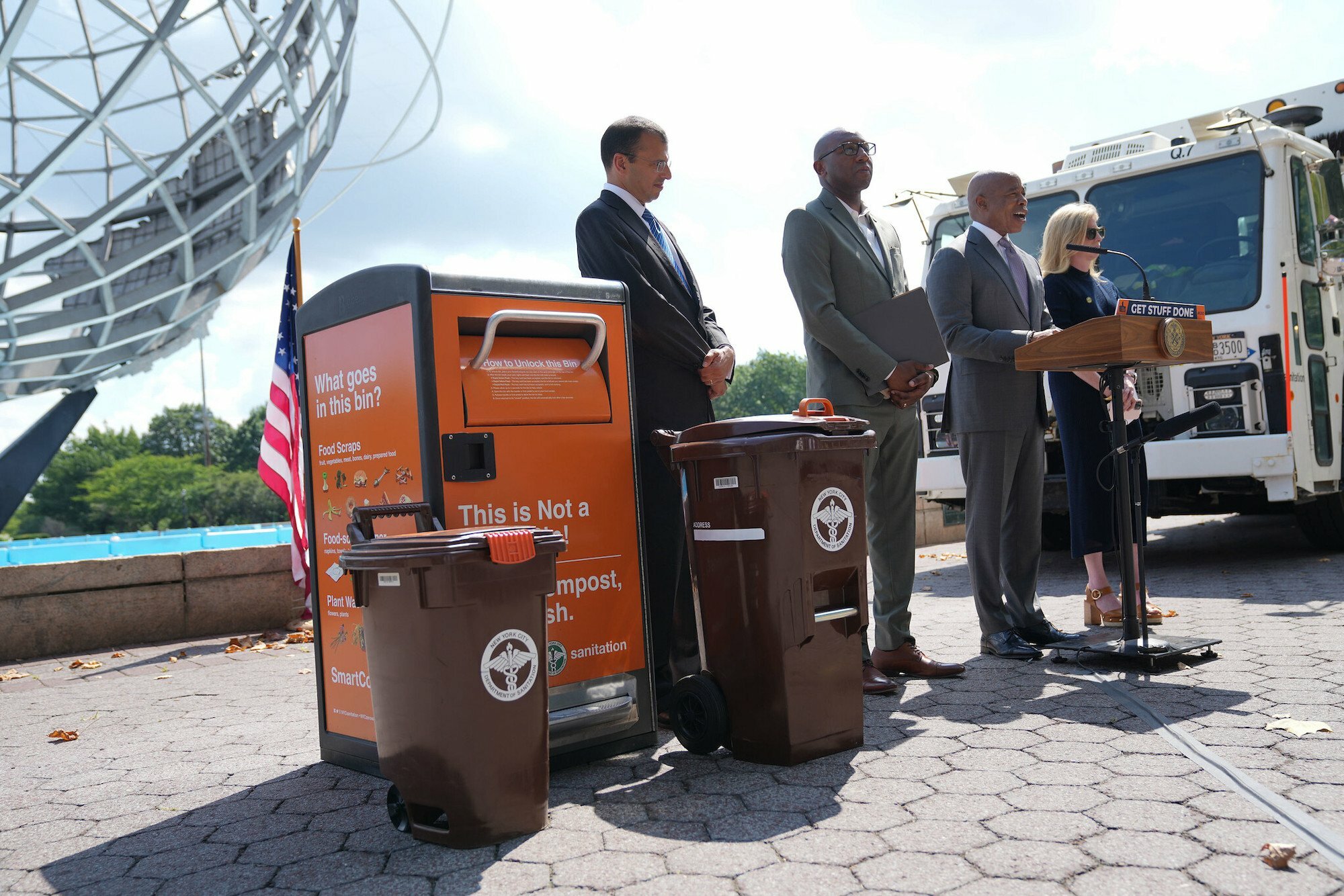 Although the majority of New Yorkers are fairly familiar with the city's recycling programs, donation efforts and trash collection guidelines, matters of composting tend to be a bit more complicated.
On the one hand, locals seem to be a bit confused about what composting actually is. On the other hand, officials haven't made the process too easy or enticing enough to catalyze citizens into action.
That's, hopefully, all about to change as Mayor Eric Adams has just proposed the first composting mandate in New York City, which would require most to actually separate waste from trash—but more on that later.
Let's start with the basics:
What is composting?
To put it simply, composting is a process that converts organic materials into nutrient-rich mulch that is then used as fertilizer. Think of it as recycling of food and plant waste (and some other things) that was going to go straight into landfill but can now be used much more efficiently.
"About one-third of everything New York City residents throw away is compostable, meaning that it is food waste, yard waste or food-soiled paper that can be broken down naturally and turned into compost to nourish parks and gardens," explains Jessica Tisch, the commissioner of the New York City Department of Sanitation. "When this material is sent to landfill, as much of it currently is, it emits methane, a greenhouse gas far more damaging than carbon dioxide. And when it sits on our curbs mixed in with trash, it attracts rats."
What sorts of things can New Yorkers compost?
As a general statement, you can compost most fruit and vegetable scraps, plus crushed eggshells, coffee grounds and paper filters and paper tea bags (just make sure the staples are removed). You can also compost meat and dairy products, bones and smelly foods-basically anything from the kitchen or garden  
Sticking to that list of compostable items is a great place to start to get into and understand the process better.
View this post on Instagram
How do I actually compost? 
You can either learn how to compost at home and then use the mulch to fertilize your own yard, for example, or use the city's various resources to partake in the practice.
If you choose the former option, you might want to try your hand at worm composting and secure yourself a starting kit. There are a ton of online resources that you can make use of, just do some research.
If you're a beginner and don't really know your way around composting just yet, though, we suggest sticking to what the city has to offer—especially in light of mayor Adams' latest proposal.
The easiest way to compost your scraps at the moment is to bring them all to smart composting bins that are located all throughout the city. These are emptied regularly by officials and then used as fertilizer across town. 
You can use this app right here to easily find a composting bin in your area.
How is Mayor Adams' new proposal going to change things?
If the new guidelines are put into place, New Yorkers with yards will be required by law to separate their grass, leaves, twigs and flower clippings for compost. Scheduling-wise, Queens will likely be the first location where the new mandate will be implemented starting in June.
According to the New York Times, there will "be a three-month warning period before the Sanitation Department starts issuing tickets for noncompliance with the yard-waste rules. After that, residents could receive a citation for putting yard waste out as trash, just as they can receive a ticket now for putting cans or bottles in the trash, instead of recycling them."
In addition to that, a tried-and-effective voluntary curbside composting program will be brought back to Queens in April. It will then expand to Brooklyn on October 2, Staten Island and the Bronx on March 27, 2024 and Manhattan on October 7, 2024. On that same timeline, each borough will also start carrying out the yard-waste mandate.
What does the curbside composting program entail?
The popular curbside composting program is pretty straightforward: you don't have to sign up for anything and you can expect the Sanitation Department to collect the compost left out on the same day as recycling each week. 
"When we rolled this program out in Queens last fall, it was simple, universal and easy—and that approach worked, with 12.7 million pounds of material kept out of landfills in only 12 weeks," says Tisch. "That is the model we are now scaling up citywide. As we roll out curbside composting across the city, we will visit every residence on their recycling day, and pick up whatever food and yard waste is set out in a sealed bin. We will then turn that material into compost, or into renewable energy and fertilizer."
You can check out this website to figure out how, exactly, to follow due process within your borough, but, generally speaking, you'll have to use a labeled bin with a secure lid or a Department of Sanitation brown compost bin to gather all your scraps. Make sure it's all sealed properly and leave it by the curb. Click here to order a free composting bin decal.
"Getting food waste out of the black bags and into sealed containers is one more way we are sending rats packing," explains Tisch. "If all New Yorkers put their food waste into a bin, we will cut off the all-you-can-eat buffet for rats. And if they can't feed, they can't breed." — Anna Rahmanan
---
Getting rid of junk
View this post on Instagram
What about those items that are harder to get rid of, like books, furniture and bedding? Before you jam this junk down the trash chute or into the garbage bin, think creatively about how it could be reused or repurposed.
As DSNY Press Secretary Vincent Gragnani puts it: "Lots of items we may want to get rid of actually have lots of life left."
Here are a few places to start.
Buy Nothing Groups
How does a Buy Nothing group work?
If you're new to Buy Nothing, here's how it works: There's likely a Buy Nothing Facebook group for your neighborhood. Once you join, you'll be united with a community of your neighbors who post their unwanted items totally for free. When someone wants the item, they'll comment on the post, then make a plan to arrange pick-up.
You can give away all kinds of stuff. In my local Buy Nothing group, neighbors have recently given away crystals, turtle supplies, a wire rack, a puzzle called (no joke) "101 Pooping Puppies," a holiday songbook, baby clothes, lotions, a martini kit, a backpack, shoes, throw pillows and much more.
While donating these things to a charity shop fulfills the same general purpose, it's nice to know that an item is going directly to someone who can use it. Plus, you get a chance to meet a neighbor and the satisfaction of knowing these items will stay out of the landfill for at least a little bit longer.
How do I find a Buy Nothing group in my area?
Buy Nothing groups proliferate on Facebook, so start by logging into your Facebook account. In the search bar, type "Buy Nothing" and your neighborhood, like "Buy Nothing Astoria" or "Buy Nothing Bed-Stuy." Click to join the appropriate group, be sure to answer any questions from the admins, then play by the rules.
You can also search for your neighborhood on this website from the Buy Nothing Project.
How can I be a good Buy Nothing member?
The whole philosophy of Buy Nothing is "give where you live," meaning you should be in the group that corresponds with your neighborhood.
When you post an item, be sure to include a clear photo and description, noting any bumps or bruises on the items. For example, indicate if a picture frame is scratched or a chair leg is wobbly. A handy neighbor may be interested in taking and fixing these items.
In addition to gifting unwanted things, you can also look for items. Let's say you're looking for a set of hand weights, for example. You'd post something like this: "ISO (that means 'in search of') hand weights around 5-10 pounds. I'm located at 43rd and 3rd. Thank you!" If anybody's got a set to give, they'll comment on your post to let you know. 
View this post on Instagram
Donating
How do I donate unwanted stuff in NYC?
Huge shout-out to DSNY for making this process easier for New Yorkers. Check out the Donate NYC website where you can select different categories of what you'd like to give, like appliances, automotive items, camping equipment, electronics, etc. Add your address to find places close to you. You can even filter for organizations that will pick up your items.
"Our donateNYC site helps residents donate what they no longer need, and find places that sell second-hand items. Buying second-hand is good for the environment, and can save the consumer some money, too," Gragnani said.
Speaking of second-hand shops, Housing Works, with locations in Brooklyn and Manhattan, is a great one. They'll even pick up furniture, apparel, lighting, housewares and more.
If you've got art supplies (like fabric, craft items, jewelry, art books, paint, and more), you can donate those to Friends of Materials for the Arts. The organization works to collect materials, keep them out of the landfill and give them to thousands of nonprofit organizations and public schools for creative reuse projects.
Swapping
How can I swap my unwanted items for other stuff?
Let's say you want to give some stuff but get some stuff in return. Check out Grow NYC's Stop 'N' Swap events held throughout the city. At these free community events, you can bring clean, reusable items such as clothing, housewares, games, books, and toys that you no longer need, then take home something new-to-you. You don't have to bring something to take something.
Just keep in mind that everything should be portable, so don't bring anything like furniture, large items or tube televisions. Also don't bring expired or open food, unsealed personal care products, medicine, dirty or ripped clothing, fabric scraps, incomplete toys and games, non-working electronics, magazines or sharp objects.
There are upcoming Stop 'N' Swap events in the Flatiron District, Greenwich Village, Forest Hills, Prospect Park and more. The April 15 event at Madison Square Park is going to be a really special one because it combines a traditional Stop 'N' Swap with a Waste Expo where experts will explain how to get closer to zero-waste goals. 
Safe disposal events
How do I get rid of hard-to-dispose of items?
For really tricky items, the sanitation department hosts SAFE (Solvents, Automotive, Flammables, and Electronics) Disposal events every spring and fall. You can get rid of the following:
Automotive products (like motor oil, transmission fluid, and car batteries)
Personal care items (like nail polish) and unwanted or expired medication
Syringes
Thermometers
Hazardous household products (like cleaners, pesticides, paint, and compact fluorescent light bulbs)
Electronics (with computer chips or rechargeable batteries) — No plug-in appliances (like microwaves or fans) or ones containing CFCs
Events are held in all five boroughs. Just be sure to follow all the rules listed here.
— Rossilynne Skena Culgan 
__
* The dollar slice pretty much doesn't exist anymore.