There is more to Monterey on than scenery, with unique restaurants and wineries, you'll find some of the best food and wine in California.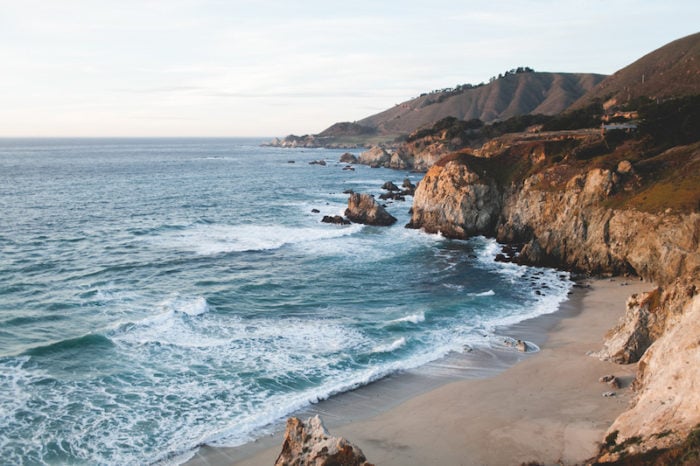 It's no secret that Monterey County is blessed with beautiful beach cities with breathtaking views of waves crashing against the majestic Big Sur coastal cliffs.  There is almost nowhere in the County that doesn't serve up a heaping plate of beauty, like the scenic 17 Mile Drive. It wraps around the Monterey Peninsula, where the ocean views paint a perfect backdrop for the beautiful homes and top-of-the-line golf resorts. But there is more to gorge on than scenery, and if you continue to Carmel-By-The-Sea or Monterey— two charming towns with unique restaurants and wineries, you'll find some of the best food and wine in California.
We have compiled a list that will make your next visit to this gorgeous region as delicious as it is gorgeous.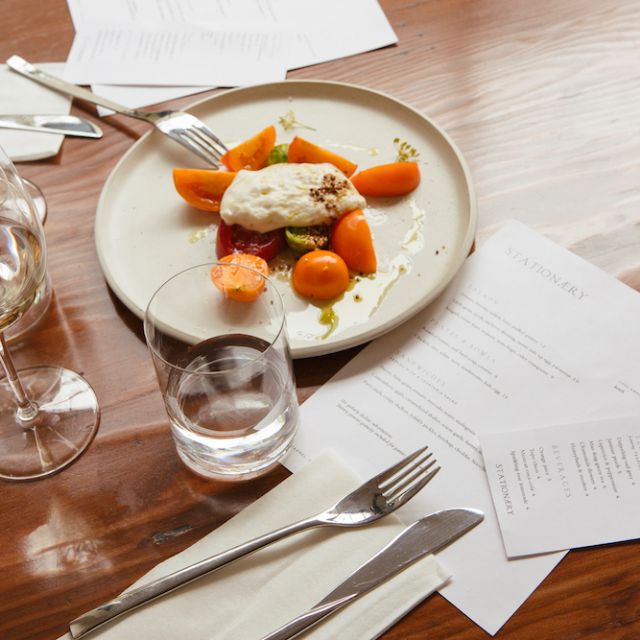 Off the beaten path, in the charming little town of Carmel-By-The-Sea, you'll find a hidden gem, Stationæry. This is a killer breakfast spot known to locals. Its quaint ambiance and the bustle of breakfast service is reminiscent of a Los Angeles trendy haunt, but the atmosphere is much more inviting. Start with a specialty coffee, like their aromatic lavender latte, or a spiked San Carlos Spritzer with Prosecco, hibiscus, Meyer lemon, and bitters. The food focuses on seasonal ingredients from local farms. You'll see plenty of dishes on each table, like the shakshuka with saffron tomatoes, harissa, chickpeas, halloumi cheese, poached eggs, sourdough, or sweeter items like the french toast with sheep's milk cheese, cinnamon apples, brown butter, maple syrup, `and milk bread. Afterward, go for a walk around town, where you'll find various boutiques featuring local artists' work.
Pacific Grove is like a coastal doll's house — a tiny little town with tiny, charming houses but ample dining opportunities. Rent a bike and take in the sights, and then head for PassionFish, a 25-year-old restaurant offering sustainably sourced wines at reasonable prices. Peruse the menu of delicious dishes like the smoked trout ceviche tostaditas and crispy duck confit with a honey reduction, or try the sea scallops in tomato-truffle butter. And finally, It would dishonor the evening by not trying a dessert like a maple banana bread pudding with bourbon caramel sauce and banana ice cream.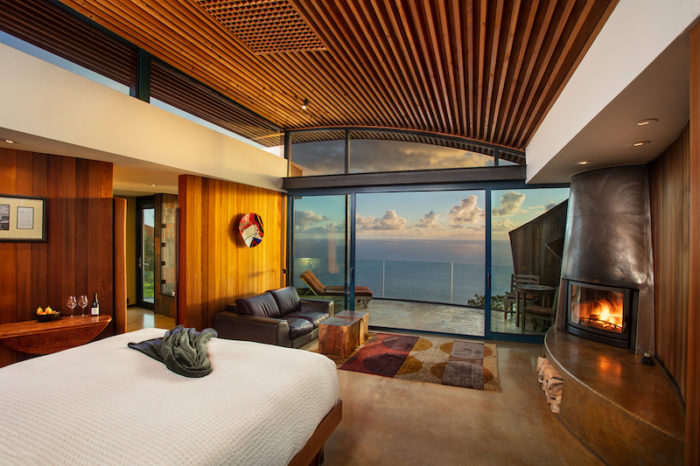 For a luxurious, unforgettable experience, drive to Post Ranch Inn, nestled in the cliffs of Big Sur. To stay at Post Ranch Inn may be a substantial investment, but its payoff is ultra-comfort, where you can unplug in spacious rooms that look like glamorous adult treehouses. To ensure tranquility, there are no phones, televisions, or alarm clocks in the rooms, providing an opportunity to escape the bustle of everyday life and reconnect with nature. If an overnight stay is too pricey, make a reservation at the resort's Sierra Mar restaurant, which is 1,200 feet above the Pacific Ocean. The menu changes often, but ingredients come from their on-site Chef's Garden, confirming that Post Ranch is at the forefront of sustainability as a green resort.  Pair your meal with award-winning wine, and although the menu is rarely the same, cross your fingers and hope for an iteration of the Chef's Garden Harvest crisp crudité, chickpea hummus, piquillo pepper puree, and other dips that are so fresh, an excellent opener to the rest of your culinary journey.
South of Monterey Bay in Soledad, you'll find Cru Winery. It may be an hour's drive from Carmel, but the beautiful Santa Lucia Mountains and farms make it a picturesque drive. The quiet surroundings of the winery make it an excellent place to kick back and enjoy the bright, oaky Chardonnays with citrus acidity and vibrant, light-bodied Pinot Noirs. The wines are nicely paired with unique cheeses, like the creaminess of a coconut cream cheese amplifying the tropical flavor of the Chardonnay.
After you taste at Cru Winery, drive to Wrath Winery, a short distance away. A creepy old house along the road signals you're a minute away. Fittingly, the wine label features the creepy old house, but the tasting room offers a spacious area where you can take in beautiful views of the Santa Lucia Mountains while you sip. Here, you can taste various wines, like the Winemaker Series, Single Vineyard series, or EX. EX means "out of" in Latin and "speaks to our focus on expressing the personality and characteristics of our Certified Sustainable (SIP) estate vineyard." If you enjoy a crisp and tropical sauvignon blanc or a rich and unoaked chardonnay, then Wrath's EX wines are for you.
Scratch Winery is owned and operated by Sabrine M. Rodems, who is also the winemaker at Wrath Winery. She decided to enter a little populated world of women-owned wineries because, as she said," I wanted to do something that combined art and science." Scratch Winery at the Carmel tasting room is elegant yet comfortable, with bright-colored couches, gold accents, and delicious wines. The winery features wines made with grapes grown in Monterey and offers award-winning wines like the tropical fruit-forward Scratch 2017 San Saba Vineyard Blanc de Blanc Sparkling from Monterey and the Scratch 2017 Kristy's Vineyard Riesling with its yellow peach and poached pear aromas.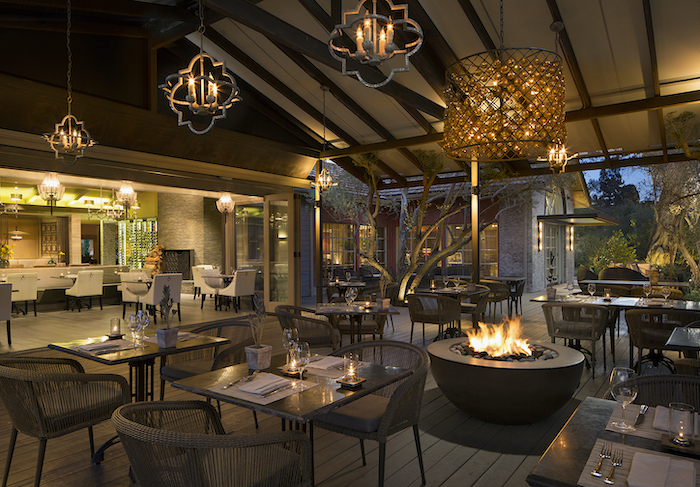 Lucia at Bernardus Lodge & Spa
For another luxurious experience, head to Bernardus Lodge & Spa in Carmel Valley. Receiving a Forbes star in 2021, Bernardus Lodge & Spa is truly a spectacular resort along the California coastline. Whether you're staying at the hotel or not, make a reservation at Lucia Restaurant and Bar. Executive Chef Christian Ojeda takes the dining experience to the next level with his fresh take on classics and the integration of local influences. Start with the heirloom tomato carpaccio with local strawberries and mozzarella cream. For mains, look forward to king salmon with heirloom bean ragout, or go for a juicy 8 oz filet mignon with salt-cured potatoes, roasted carrots, and garlic broccolini. The vegetables are crisp and fresh and come from Bernardus's garden around the corner. In addition, Bernardus' award-winning wines will seal the deal. If you're unsure of what to order, the sommelier will guide you each step of the way with a Monterey County wine pairing.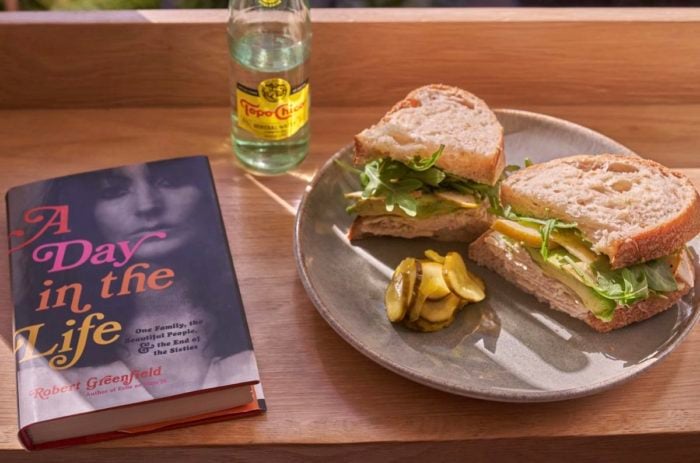 Rise + Roam should be at the top of your breakfast list. Once you walk in, the bright, airy bakery in Carmel-By-The-Sea is overwhelming with all the mouth-watering options. Do you want a handmade morning bun or a seasonal bear claw? Maybe a huge cinnamon roll slathered in icing the size of your hand? Prefer savory? No problem. Rise + Roam offers homemade, flakey croissants, egg and cheese danishes, and even handmade pizzas in the evenings. If you head there in the morning, you can also look forward to delicious small-batch coffee, the perfect vessel to dunk your buttery croissant inside.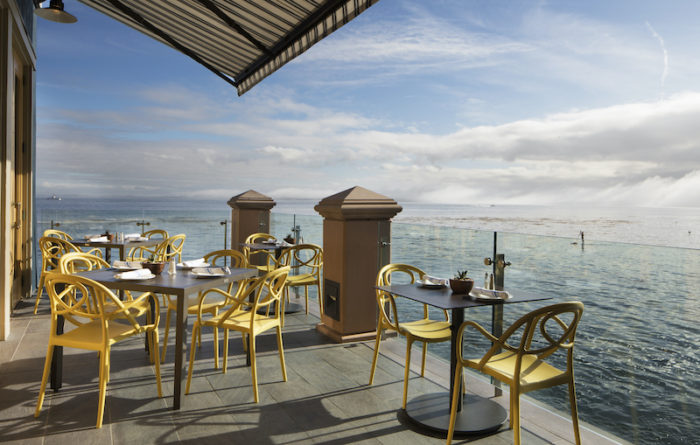 There's nothing better than sitting oceanside at a restaurant enjoying the best seafood Monterey offers. After a long day of exploring, Schooners, located in the Monterey Plaza Hotel, is a beautiful place to sit, have a great meal and watch sea otters swim in the bay. If you arrive for lunch, you'll need to order the showstopper Supreme Plaza Mary with garnishes like bacon, grilled prawn, blue cheese olives, and a pickle spear. For a little bit of everything, consider the seafood tower, which features raw items like local ceviche, west coast oysters, and black tiger prawns. A must-order is the Monterey Cioppino Pot, where each spoonful is filled with shrimp, clams, mussels, calamari, and seasonal fish in a beautiful saffron-Dungeness crab broth.
You'll need to make time before your flight back for a shockingly good restaurant at no place other than the Monterey airport. Woody's is owned by well-known Chef Tim Wood, previously of Carmel Valley inn. He decided to take over the old Golden Tee, a Monterey institution. The quaint, unpretentious restaurant's chalkboard sign states: "soup of the day: whiskey with ice croutons," and is precisely the kind of place to have a couple of drinks before your flight. Surprisingly, what you may not expect is one of the best ribeyes of your life. It may be because you've had a couple of drinks or because of a fine-dining chef who created an exceptional menu. Either way, head to the airport early and check it out yourself.
The post How to Spend The Perfect Culinary Weekend in Monterey County appeared first on Honest Cooking.