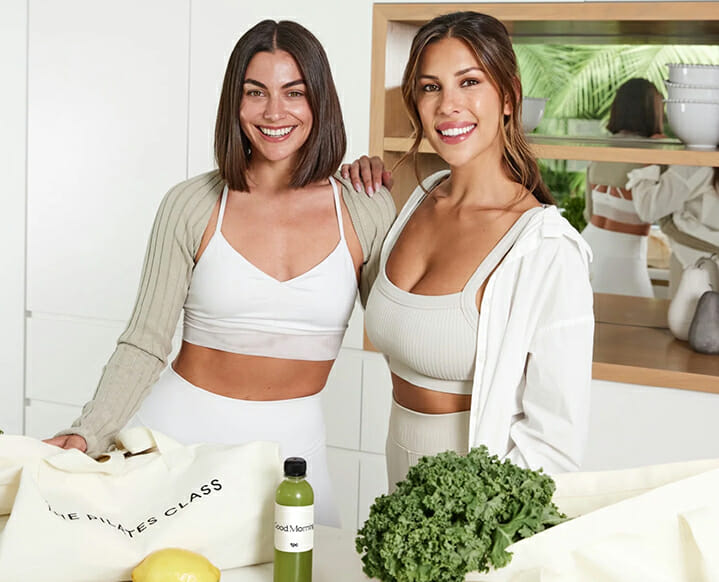 We're in the kitchen with The Pilates Class co-founder, Jacqui Kingswell, and Monday Swim's Devin Brugman. The two friends recently joined forces to create a 30-recipe downloadable e-book filled with everything we want to eat.
Cooking and Pilates are two of Devin and Jacqui's fondest hobbies and it felt like the perfect time to partner on this recipe book of feel-good recipes that are fun to cook, delicious to eat and perfect for sharing. The guide also contains Jacqui and Devin's tips on hosting, cooking their recipes and feeding your mind, body and soul.
To celebrate, we asked the girls to participate in our series, In My Fridge and they did not disappoint!
In The Kitchen With Jacqui Kingswell + Devin Brugman
Names: Jacqui Kingswell of The Pilates Class + Devin Brugman of Monday Swimwear
Cookbook: Replenish Me
Food philosophy in short: Jacqui - Our bodies are made entirely from vitamins, minerals and other nutrients from food that we eat, so feed it well for optimal health and vitality. Devin - Listen to your body and give it what it needs. Balance is key!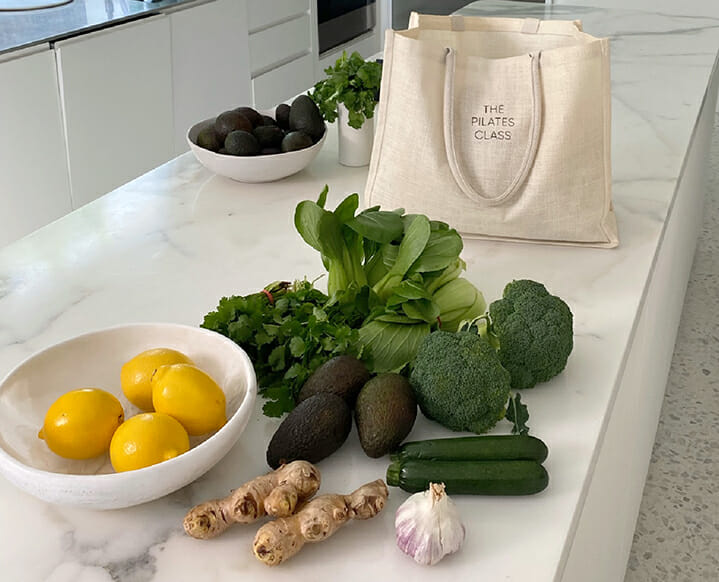 What's always in my fridge: Jacqui - Fresh greens, bone broth, greek yogurt, oat milk, and dark chocolate! Devin - Persian cucumbers, cherry tomatoes, almond milk, Gala apples, natural wine.
What's never in my fridge: Jacqui - Foods packed with refined sugar. It never serves my body the way it needs to and always makes me feel depleted instead of energized! Devin - I'm pretty open-minded when it comes to food, but I generally try to stay away from anything over-processed. I like to keep whole foods on hand.
Meal I make in a pinch: Jacqui - A quick Mediterranean salad bowl! Just chop up some fresh herbs, cucumber and avocado, and combine in a bowl with chickpeas, lentils, capers, and nuts for some crunch. Add in some marinated tofu, chicken or salmon for extra protein, finish with lemon yogurt dressing. Devin - A quick air fryer salmon with avocado, spinach, cucumber, and some teriyaki sauce.
Comfort food I make for nostalgia: Jacqui - Sunday roasts are always good for the soul! They take both my husband and I back to our younger days and the festive season with our families, and are just so warm and comforting. Devin - Chicken adobo. My dad is Filipino and made this for us growing up. It was one of the only things he could cook so it was a fun thing when he would make it!
Go-to proteins: Jacqui - Tofu, eggs and chicken are my absolute favorite sources of protein. Devin - Wild caught salmon, organic chicken, and grass-fed collagen protein powder for smoothies!
Favorite veggies lately: Jacqui - I'm currently obsessed with mushrooms, cucumber and kale. Devin - Broccolini, green beans, asparagus, cucumbers.
Must have munchies: Jacqui - I love my Healthy Twix Bar recipe if I have a little bit of time to make it, but if not, 90% dark chocolate is my go-to. Devin - Pretzel crisps (IYKYK), parmesan crisps, baby carrots, Hawaiian gummy candy.
5 staples always on hand: Jacqui - Bananas, salty crackers with hummus, herbal tea, nuts, and some sort of protein like beef, tofu, chicken, or protein powder. Devin - Baroncini olive oil, Everything-But-The-Bagel seasoning, Right Rice, peanut butter and chia seeds.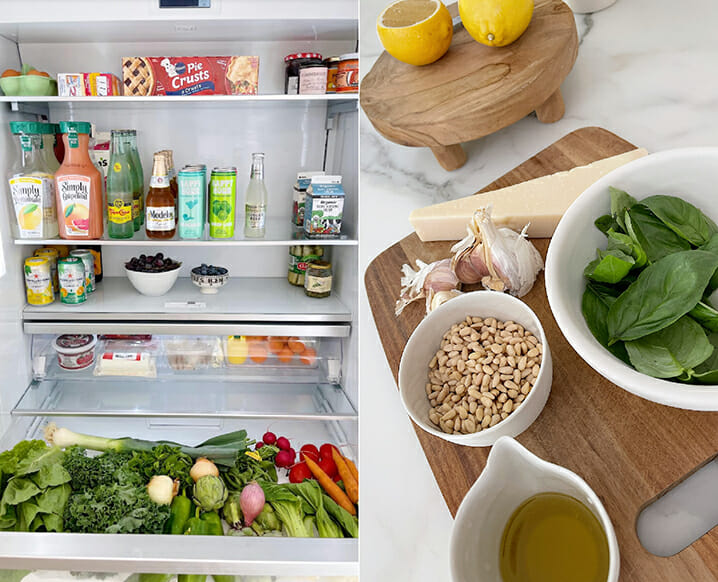 Go-to post-workout snack or meal: Jacqui - I usually workout in the morning so I rebuild my energy for the day with a protein smoothie packed with antioxidants or overnight oats. Devin - I love a post-workout turkey wrap which has avocado, bacon, turkey, spinach, tomato, and mayo. I pour some hot sauce on each bite!
Favorite condiments: Jacqui - I love Asian cuisine and flavors, so my favorites would have to be soy sauce, sesame oil and oyster sauce. Devin - Soy sauce, sriracha, Kewpie mayo, dijon mustard, and ranch.
Ingredient that makes everything better: Jacqui - Lemon! Adding a dash of lemon to your meals completely elevates them and adds an unexpected twist. Devin - Definitely minced garlic.
Best bargain shopping tip: Jacqui - Base your meals around what you've currently got in your fridge, so instead of purchasing a full ingredients list, you only have to buy a few things to complete the recipe. Devin - I like to buy things that I can put into multiple meals. For example, if I buy a 2-pack of salmon, I'll make salmon twice that week and eat it in two different ways.
Best label reading tip: Jacqui - Read the ingredients list! If you can't pronounce it, it probably isn't good for you. Devin - Typically, the less ingredients the better.
Weirdest thing I often buy: Jacqui - For everyone outside of Australia, the answer to this is probably Vegemite, haha! Devin - Frozen chicken nuggets, but they're organic!
Favorite splurge: Jacqui - A good quality olive oil is always a great investment. It can be used to cook your food and also as a salad dressing. Devin - I like to splurge on high quality, nice cuts of meat. Like Wagyu beef for example.
For last minute entertaining: Jacqui - I always whip up my tzatziki from Replenish Me and pair it with some salty crackers or veggie sticks. Super easy and always a crowd pleaser! Devin - When I have family over, I find that roasted chicken is easy to make, it's comforting and feeds a ton of people.
The post In the Kitchen With Friends Jacqui Kingswell + Devin Brugman appeared first on The Chalkboard.