Y'all, I am very pleased to be able to share with you this loaded-up jalapeno cheddar cornbread recipe.

This is definitely not a side-dish cornbread. It's one that sits up and makes you take notice. Full of flavor and different textures, it's meant to be the star rather than "just a bit of bread."

Baked in a skillet in bubbling bacon fat (or butter) so you get a nice crispy crust, the interior is moist and filled with bits of chipotle, chunks of cheddar, and slivers of pickled jalapeno. All this in a 100% cornmeal (gluten-free) batter kept tender and a bit tangy with Greek yogurt.

Sound good? Yeah, I thought so!

Cornbread is technically a quickbread, and you can find all my muffin and quickbread recipes in one place. Thanks for being here. Let's get to it!
Watch my best jalapeno cornbread recipe web story here.
This Cornbread is for You If
Do you ever see a recipe title and think, "Well, this could go either way. It could be awesome or completely different than what I am thinking?"
If so, this section is for you.
You'll like my version of loaded jalapeno cheddar cornbread if:
you like a moist cornbread
you like the crisp crust you get from baking in a skillet
you enjoy the tang of cultured dairy (in this case, Greek yogurt)
you're looking for a gluten-free cornbread made with 100% cornmeal
you like a bit of spice
you're a fan of sharp cheese
you don't mind a little sweetness in your cornbread
you want a cornbread loaded up with goodies
you like to experience a lot of textures in your food: chewy, crispy, tender
You might also consider my skillet-baked hummus cornbread.
If this one checks all your boxes and you don't need any more convincing, feel free to jump straight to the recipe.
When you do make this recipe, it will help me and other readers if you:
✅Rate the recipes using the stars in the recipe card
✅Leave a review when prompted in the recipe card
✅Leave a comment on the post
Thank you! ❤️
Mixing Method
Cornbread is a quickbread, which is made using the muffin method.
In short, this is the method where you
whisk all the dry ingredients together
whisk all the wet ingredients together
gently fold the wet into the dry
bake
Read on for ingredients and substitutions as well as how to vary it, where the recipe inspiration came from, equipment and ingredient recommendations and more.
Ingredients and Substitutions
Here's what you'll need:
This recipe looks like it has a lot of ingredients. And it does. Because it's "loaded."
Let me break it down into parts:
Basic Cornbread Recipe
Greek yogurt: This provides the "liquid" for the recipe. In this case, it's very thick and tangy and helps to bind the ingredients as well as hydrate the cornmeal. You can also use buttermilk or sour cream. Buttermilk will yield a slightly thinner batter. Make sure whatever you use, yogurt or otherwise, is at room temperature
butter: Melted, especially since the yogurt is so thick. Carries flavor and adds to the tenderness. You'll also use butter or bacon fat to add to the hot skillet before you bake. Either will help make the crust nice and crispy as well as add lots of flavor to your finished cornbread
eggs: Binds and assists with the rise. Make sure they're at room temperature
cornmeal: This is the only "flour" in this recipe. Do not use cornstarch. You want fine cornmeal, preferably stone-ground. Do not substitute polenta or grits. The grains are too large and your bread will be unpleasantly crunchy
baking powder: provides rise while leaving the acidic tang of the Greek yogurt alone. If you'd like to neutralize some of that tang, you can either substitute whole milk for the yogurt OR add 1/4 teaspoon of baking soda to neutralize the acid in the yogurt
salt: Brings all the flavors into focus
dark brown sugar: Adds a touch of sweetness without the recipe reading as "sweet." It also assists with browning and helps retain some moisture. You can substitute light brown sugar or even something like Sugar in the Raw or other less-refined sugar. Or use regular granulated
Spices and Flavoring
chipotle in adobo: Adds a bit of a smoky undertone with a little heat. Double it if you want a bit more heat and smoke
cumin: Earthy cumin and mellow corn are a match made in heaven. 1 1/2 teaspoons gently perfumes the batter. If you don't like cumin, leave it out, or add a touch more or even use chili powder
The "Loaded" Part
diced cheddar: You could also use shredded cheese. I just like the way the chunks of cheddar melt and leave little pockets of cheesy goodness in the finished bread. Substitute pepper jack or habanero jack for more spice
pickled jalapenos: Minced in the batter with more whole rings on top. You could also use fresh jalapenos if you have them on hand and/or like a more "vegetal" rather than pickled flavor. Feel free to add more or less according to your preference
corn: Press about a cup of corn kernels into the batter rather than mixing them in. They end up chewy and almost candied and provide a really nice textural contrast to the rest of the bread. You can also add some corn into the batter and put additional on top. Your call!
Gilding the Lily
I call this part gilding the lily because, while not strictly necessary, this step adds another layer of flavor, texture, and heat.
hot honey: or regular honey, sorghum syrup, or maple syrup
Trader Joe's Jalapeno Lime Chili Crisp: Or lime juice and cilantro or your favorite chili crisp
Mixing the two together yields the perfect sweet-hot-tangy topping.
Drizzle it on top of the bread with about 10 minutes left in the baking time so it has a chance to concentrate and get sticky.
Serve with more drizzled over at the table.
How to Make This Cornbread
Despite all the mixins and whatnot, at its heart, this is a quickbread recipe, and you make it with the muffin method.
First, preheat your oven to 425F and put your well-seasoned cast iron skillet in on the middle rack. You want the pan to be screaming hot.
Get everything all measured out and ready to go.
In one bowl, combine:
cornmeal
cumin
salt
baking powder
brown sugar
Jenni Says: You may need to sift the brown sugar if it has lumps. Then, whisk everything together so the ingredients are evenly combined.
In another bowl, combine:
melted butter
Greek yogurt
eggs
chipotles in adobo
Tip: So the butter doesn't solidify again, make sure both your eggs and the Greek yogurt are at room temperature before mixing all the wet ingredients together.
Make a well in the dry ingredients and add the
diced cheese
diced pickled peppers
Scrape the wet ingredients on top of all of that and then fold everything together until all the dry ingredients are moistened.
Batter will be thick.
Add a couple of tablespoons of butter or bacon fat to the skillet in the oven and let it melt and brown a little.
Spread in the batter, top with
Bake.
Add the chili crisp/hot honey drizzle, if using, during the last 10 minutes of baking.
Tasting Notes
Texture: Tight, tender crumb. Slightly crumbly. Moist inside with crispy crust. The top is chewy with corn kernels and slightly sticky from the hot honey drizzle
Flavor: The batter itself is tangy with Greek yogurt, and that comes through after baking. There are pockets of sharp cheddar, tangy-hot bits of pickled jalapeno, and smoky-hot bits of chipotle peppers. The top is a bit sweet from both the corn and the honey and there's a lovely lime-y pop from the chili crisp
Variations
The original recipe, cited below, had more of an Indian-fusion flavor profile with fresh ginger, green onion, lime zest, curry powder, and maple syrup in the batter. It also started with browned butter. Solid choice!
If gluten is not an issue for you or you like cornbread that is less "corny" with a more cake-like texture, substitute all-purpose flour for some of the cornmeal.
Feel free to substitute browned butter for regular melted butter. Start with 1 1/4 sticks (5 oz) to end up with about 4 oz of browned butter.
If you love cilantro (I do–I just didn't have any) mince up a good fistful and add that to the batter.
Ingredient and Equipment Recommendations
You can find the chili crisp at Trader Joe's. Of course, you can also use a "regular" chili crisp.
And I found a Jalapeno Chili Crisp on Amazon you may want to try.
Hot honey is available at many grocery stores. I believe the original is Mike's Hot Honey.
For baking the cornbread, I used my Lodge 10″ skillet that has sloped sides. It makes it really easy to get slices out of the pan.
Jenni's Pick
This is an affiliate link which means I earn from qualifying purchases. Your price is unaffected.
The most accurate way to check for doneness is to use an instant-read thermometer to take the temperature of the cornbread near the center.
This is the one I recommend:
Jenni's Pick
This is an affiliate link which means I earn from qualifying purchases. Your price is unaffected.
If you are feeling shoppy, you can find all my kitchen shopping recommendations in one place.
If You Don't Have a Cast Iron Skillet
Bake in a 9″ cake pan or springform pan.
In that case, just line the bottom of the pan with parchment and spray the sides lightly with pan spray.
You can skip the step of heating the pan and melting fat into it, too.
Baking time may differ slightly, so keep an eye on it to judge when to add the drizzle.
Jalapeno Cheddar Cornbread Q & A
Is this cornbread gluten-free?
As written, yes it is. It does not contain any wheat. Check all your packaging to guard against cross-contamination, and you should be good to go.
How long does it keep?
Keep tightly covered at room temperature for 2-3 days. Refrigerate for up to a week. Reheat slices in the toaster oven or in your oven, wrapped in foil, until warm.
Can I store it right in my cast iron pan.
No. Extended contact with moisture will make even a well-seasoned pan rust. Once the bread is cool, slice in pieces and remove to a container or plate to store. Wipe out your cast iron pan well–nothing should have stuck to it–and give it a very light coat of oil.
Just in case you missed it, this bears repeating:
To preserve the seasoning on your cast iron pan, once the cornbread has cooled completely, remove it to a covered plate or sealed container.
Credit Where Credit Is Due
The original recipe, as described above, is from Ixta Belfrage's cookbook, Mezcla: Recipes to Excite.
I must admit, I'm not a fan of the book in general, but man did her cornbread deliver!
So, thank you Ixta for your cornbread recipe. I hope you'll love my version as much as we loved yours.
Serving Suggestions
Since this is kind of a showy cornbread, serve it with some side dishes as opposed to a big main event meal.
Cowboy beans would be a fantastic accompaniment with their smoky/spicy/silky/meaty goodness.
A wedge of loaded cornbread would also pair nicely with my spicy succotash.
You could also pair some with any simple taco or taco casserole.
Or, hey! It'd be great with some posole/pozole, which is one of my favorite Mexican soups, too.
Questions?
If you have any questions about this or any other recipe or post on the site, there are a few ways to get in touch.
You can leave a comment on the post, and I'll be back in touch within 24 hours.
If your question is more pressing, don't hesitate to email me, and I should be back in touch within 4 hours (unless I'm asleep) or often much more quickly than that.
A Note About Measurements
This is the kitchen scale that I recommend for home cooks and bakers. Using a scale will help you be more accurate and consistent in your measurements.
It is lightweight, easy to store, accurate, and very easy to use.
Best for Home Use
Escali Primo Digital Food Scale
Don't let its small price and small size fool you. The Escali Primo is an accurate and easy-to-use food scale that I have used for years. It's easy to store, easy to use, has a tare function, and easily switches between grams and ounces/pounds for accurate measurements.
This is an affiliate link which means I earn from qualifying purchases. Your price is unaffected.
I hope you've learned something from this post or that you've decided to make the recipe.

It would really help me and other readers out if you'd rate the recipe using the star ratings in the recipe card.

It's also very helpful to me and to other readers if you leave a comment and/or a recipe review.

Thank you so much for being here and for helping others find my recipes by sharing on your social platforms!
Loaded Jalapeno Cheddar Cornbread
This skillet cornbread is loaded with pickled jalapenos, cheddar cheese, smoky hot minced chipotles and more. The batter is made with 100% fine cornmeal, so it's gluten-free as well as being tender and delicious. Make this fancy cornbread when you want the cornbread to be the star of the show and not just an "also ran."
Ingredients
Wet Ingredients
170 grams (6 oz or a scant 3/4 cup) Greek yogurt at room temperature
2 large eggs at room temperature
114 grams (4 oz or 1 stick) butter, melted
1 Tablespoon (more or less to taste) diced chipotle in adobo
Dry Ingredients
180 grams (6.4 oz or about 1 1/3 cup) fine cornmeal
42 grams (1.5 oz or 3 well-packed Tablespoons) dark brown sugar
2 teaspoons baking powder
1/2 teaspoon kosher salt (I use Morton's)
1 1/2 teaspoons cumin
Mix-ins
114 grams (4 oz or about a cup) diced sharp cheddar cheese
57 grams (2 oz or about 1/3 cup packed) minced pickled jalapeno peppers
Toppings
114 grams (4 oz or about 1 cup) corn kernels
10-12 rings pickled jalapeno peppers
To Bake
28 grams (1 oz or 2 Tablespoons) bacon fat or butter
42 grams (1.5 oz or about 3 Tablespoons) hot honey
1 Tablespoon jalapeno lime chili crisp
Instructions
Preheat your oven to 425F/220C/Gas Mark 7. Place a well-seasoned 10" cast iron skillet on the center rack and let heat along with the oven. If you don't have a cast iron skillet, see NOTES for alternate instructions.
In a large bowl, whisk all the dry ingredients together thoroughly.
In a medium bowl, whisk all the wet ingredients together until evenly combined.
Make a well in the center of the dry ingredients, and add the diced cheese and minced jalapenos.
Scrape the wet ingredients on top and then fold everything together until the batter is thick and evenly wet. You don't have to worry about gluten formation, but still be kind of gentle with the mixing.
Add the butter or bacon fat (I use bacon fat) to the hot skillet and let melt in the oven. Swirl the pan to distribute it evenly--wear an oven mitt or use a hot pad or two. It's hot!
With hot pads or a mitt, carefully remove the pan from the oven. Scrape the batter into the pan--the fat will bubble and sputter. Very exciting.
Spread it out more-or-less evenly with an offset spatula. Then distribute the corn over the top. Carefully press it into the batter a little so it sticks, and then top with rounds of jalapeno.
Do all this carefully but pretty quickly so you can get that guy into the oven.
Bake for about 30 minutes, then drizzle on the mixture of hot honey and chili crisp, if using, and continue to bake another 8-10 minutes or until the internal temperature of the cornbread reaches 200F, give or take a couple of degrees.
Let the bread cool for a good 30-45 minutes before slicing.
It's good cold, but for the best flavor, reheat to serve any leftover cornbread.
Notes
No Cast Iron Skillet?
Line the bottom of a 9" round cake pan or springform pan with parchment. Lightly spray the sides of the pan.
No need to preheat the pan or add extra fat. Just scrape the batter into the pan, add the toppings, and then bake for 20 minutes before adding the honey/chili crisp.
Continue baking until deeply golden brown and the internal temperature is 200F.
Tasting Notes
Texture: Tight, tender crumb. Slightly crumbly. Moist inside with crispy crust. The top is chewy with corn kernels and slightly sticky from the hot honey drizzle
Flavor: The batter itself is tangy with Greek yogurt, and that comes through after baking. There are pockets of sharp cheddar, tangy-hot bits of pickled jalapeno, and smoky-hot bits of chipotle peppers. The top is a bit sweet from both the corn and the honey and there's a lovely lime-y pop from the chili crisp
Storing
Once the bread cools completely, cut it into slices and put it on a plate. Wrap well with foil or plastic wrap and keep at room temperature for 3 days. Refrigerate for up to 6 days. Reheat to serve. Freeze for longer storage.
Nutrition Information
Yield

8
Serving Size

1
Amount Per Serving
Calories

474
Total Fat

29g
Saturated Fat

14g
Trans Fat

1g
Unsaturated Fat

12g
Cholesterol

112mg
Sodium

1380mg
Carbohydrates

41g
Fiber

4g
Sugar

13g
Protein

15g
The stated nutritional information is provided as a courtesy. It is calculated through third party software and is intended as a guideline only.
I hope this skillet cornbread makes you as happy as it makes us.
Loading it up with fresh corn, cheddar, jalapenos and whatever your heart desires makes this hearty cornbread a showstopper and not an after thought!
Thanks for reading. Take care, and have a lovely day.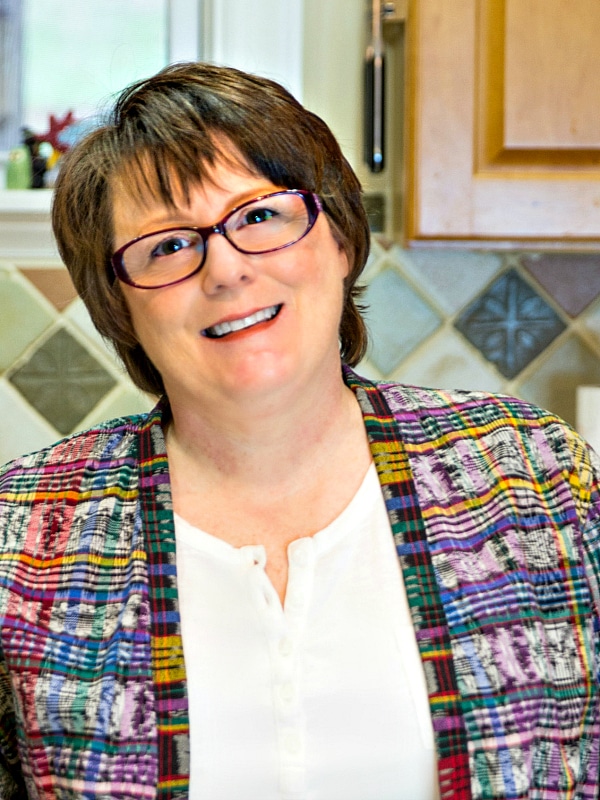 Hi, everyone!
If you haven't already, I'd love to have you sign up for my newsletter.
I generally send one or two a week with recipes, tips, and some behind-the-scenes action.
Just click the button below to sign up. Thank you!
The post Loaded Jalapeno Cheddar Cornbread appeared first on Pastry Chef Online.