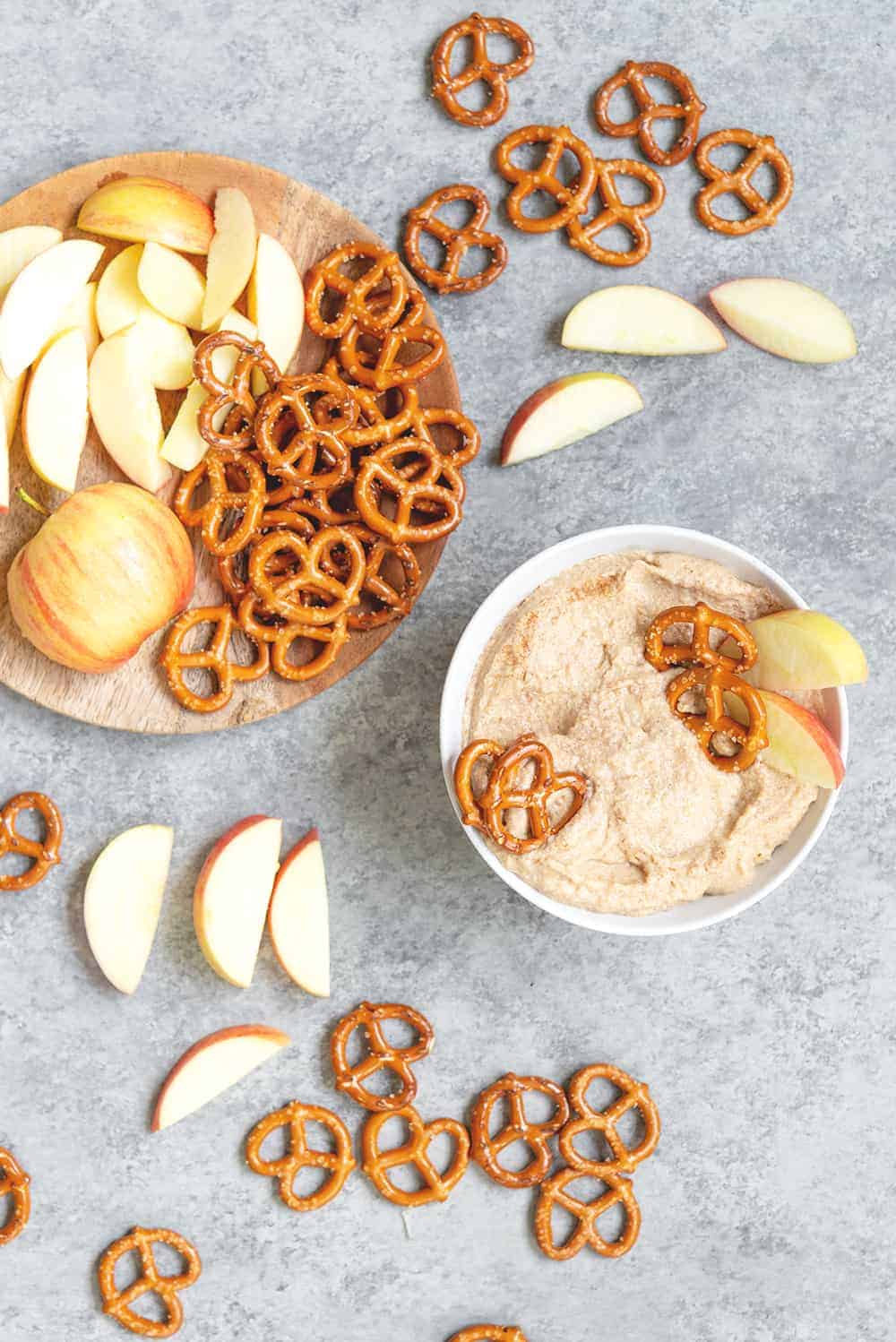 Snickerdoodle Dessert Hummus! This sweet hummus is SO delicious and healthy. Packed with plant-based protein, fiber and iron. This dessert hummus recipe is perfect for snacking, especially for kids! 
Coming to you today with this Snickerdoodle dessert hummus! If you love hummus and that delicious combination of cinnamon and sugar, then this dessert hummus recipe is for you.
As I've mentioned countless times over the past year, my recipe collection is slowly growing into more 'kid-friendly' categories. Namely because I have the most adorable 2-year-old who loves eating and loves being in the kitchen with his mama. My goal is to get as many plants on his plate as possible, while also cultivating a healthy relationship with food. Um, easy, peasy- right?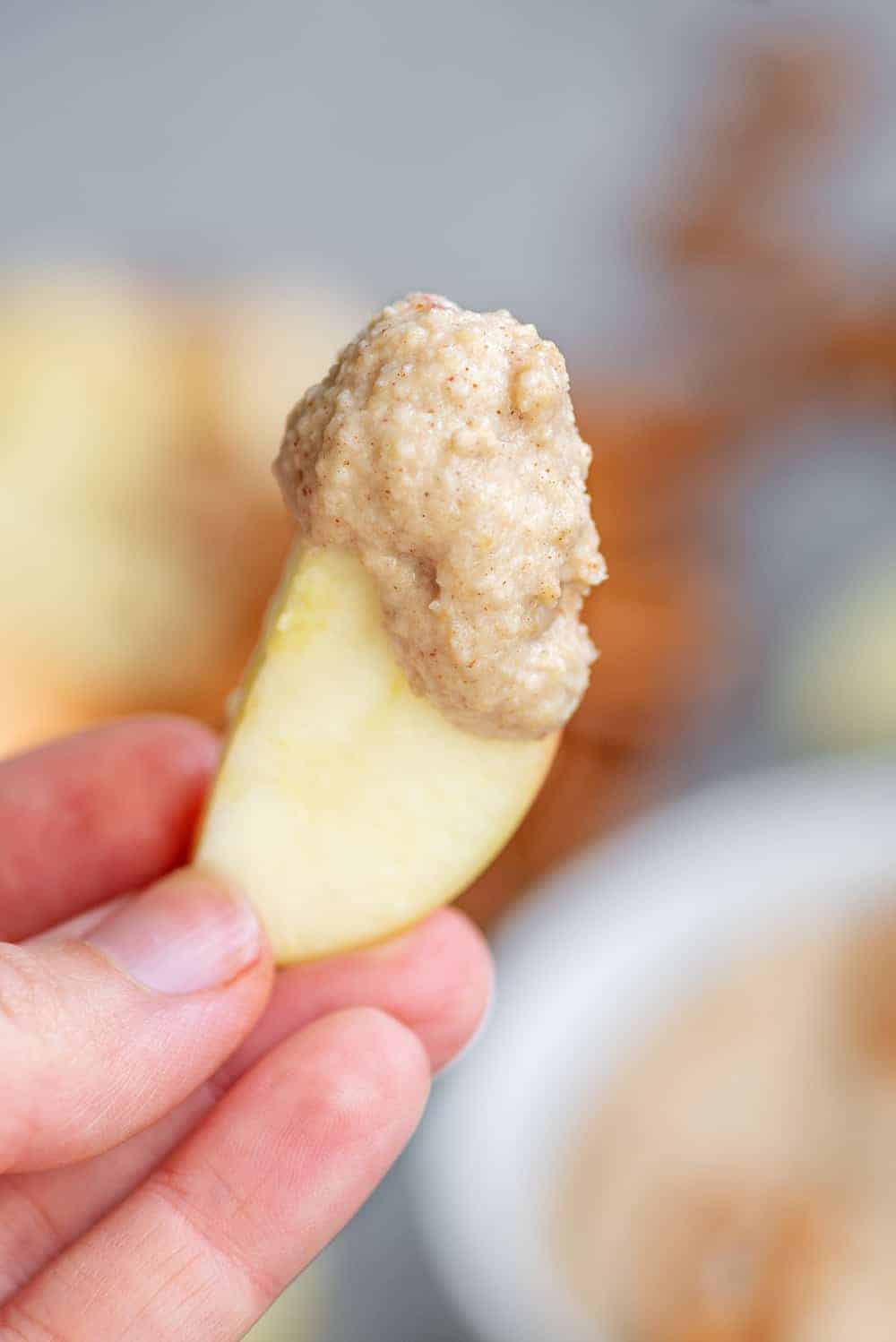 He's slowly been getting the idea of dipping foods. Since my husband is a chips and salsa monster, Van is now fairly comfortable with the idea that when BL is watching a football game, there's a good bet that tortilla chips and my vegan chili cheese dip will be somewhere close by.
After watching V become overly giddy with excitement about dipping chips, I knew I wanted to create more dip-able snacks that also packed in the nutrition. This Snickerdoodle dessert hummus is the best of both worlds; it's perfectly sweet for both kids and adults and is packed with plant-based protein, fiber and iron.
That's right; this dessert hummus recipe contains 6 grams of filling fiber and 7 grams of hunger-fighting protein per serving. Paired with sliced apples, pears or your favorite dippers, it's a delicious and satiating snack.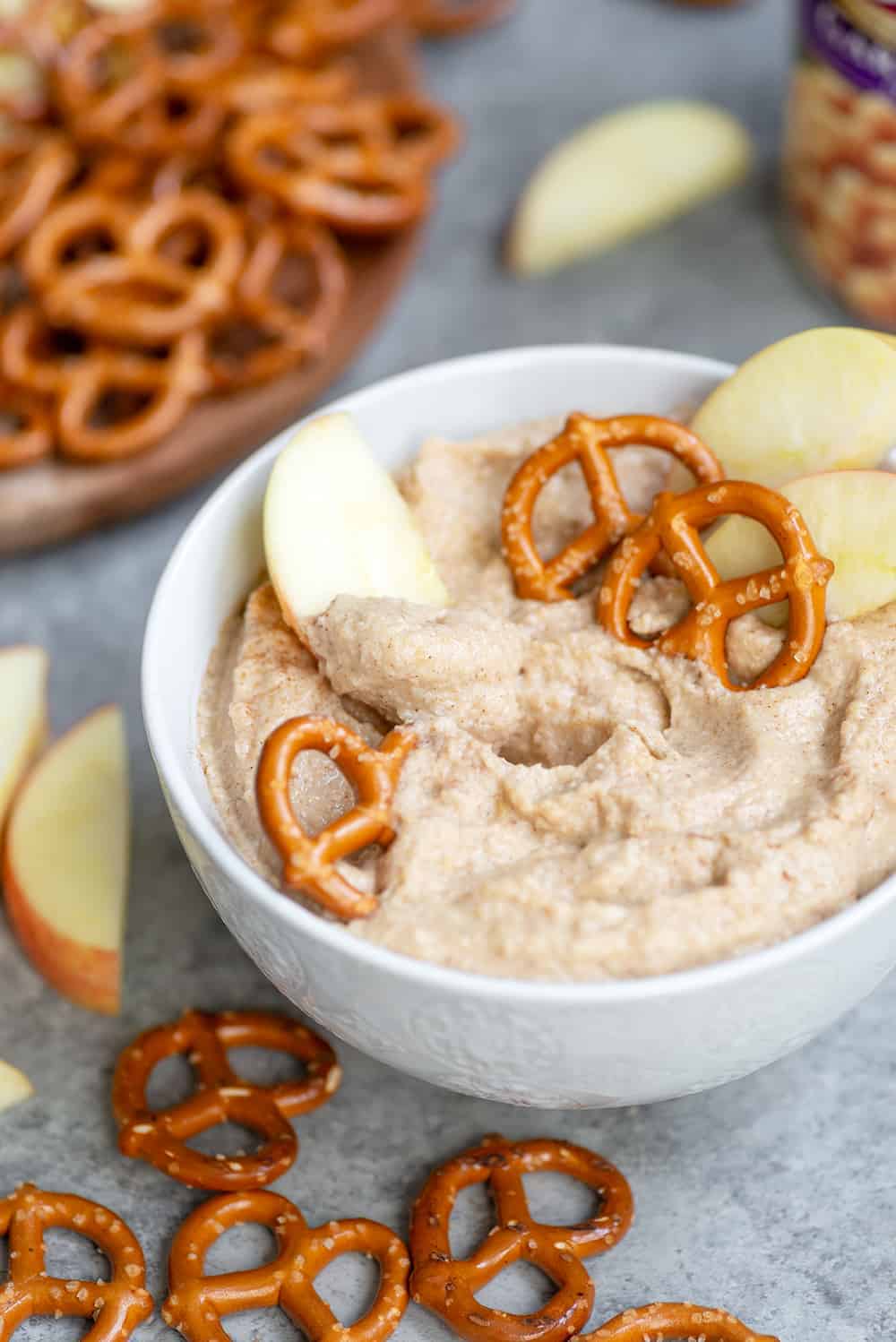 Are Canned Beans Healthy?
If you haven't had dessert hummus yet, you are in for a treat. You know how much I love beans and try to eat them almost daily. All pulses and soy are a great source of the amino acid lysine, which can be limiting in a plant-based diet. Therefore, it's my goal is enjoy at least one serving a day to ensure that I am meeting all of my protein needs.
In addition, beans contain disease fighting antioxidants. We often think of antioxidants in vibrant-colored produce like berries and spinach, but all plant foods, including beans, contain antioxidants. It's one of the many reasons my message continues to be more plants, more often. Beans also contain plant sterols, which can help lower your LDL-C or "bad" cholesterol. I always smile a little when I see plate sterol supplements for sale in the grocery store. No need to drop $40+ on this ingredient, when they are found in inexpensive canned beans.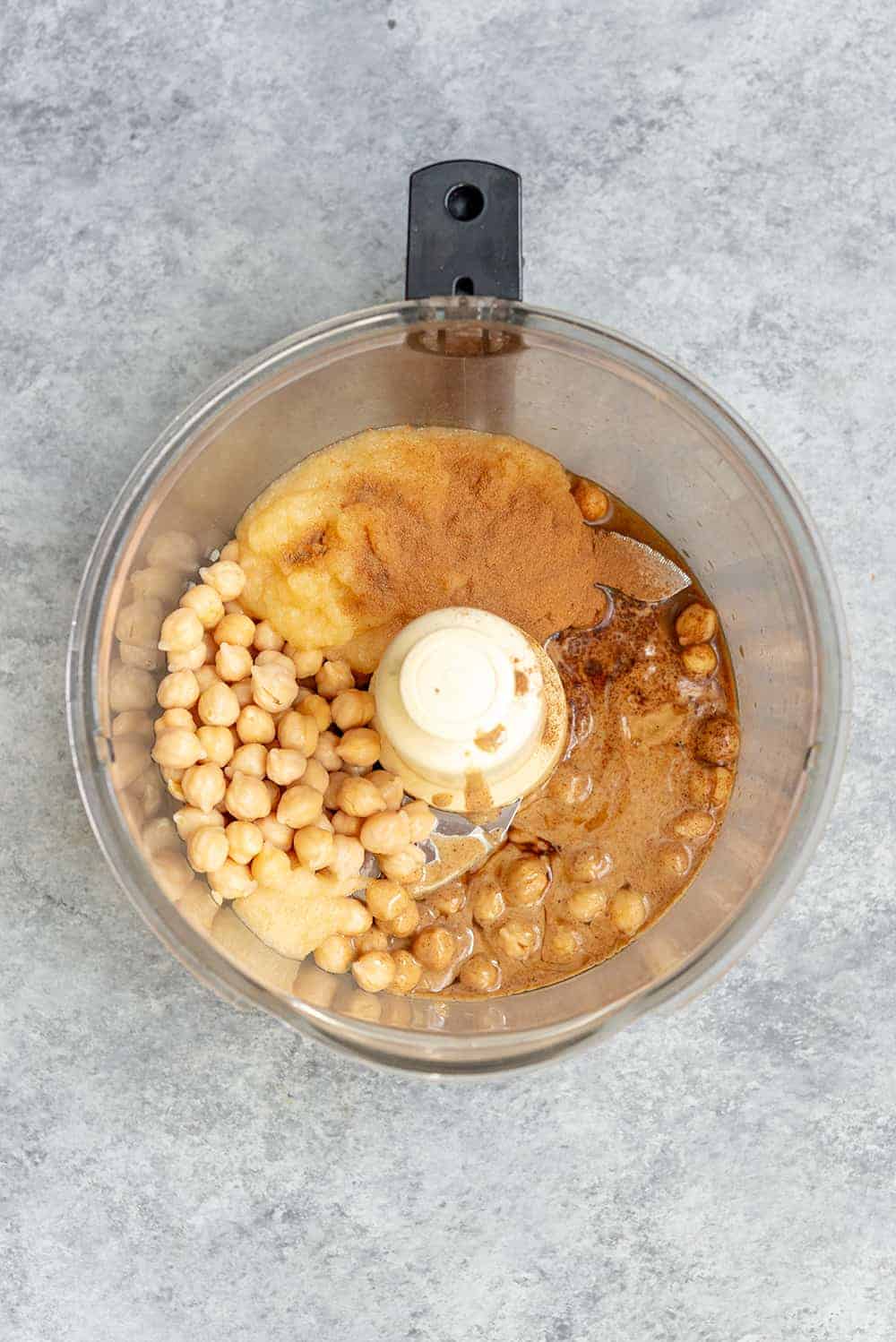 Doesn't that look amazing? I prefer using canned beans in my recipes as they are inexpensive source of plant-based protein, are convenient and ready-to-use in quick snacks like this hummus. Their high-quality, slow digesting carbohydrates provide an energy boost which means this snack will keep you focused without slowing you down. I can't tell you how much we love this one! 
This snickerdoodle hummus is a unique way to enjoy beans and a great introduction to their versatility. We have a cookie dough bite recipe in our Predominantly Plant-Based Pregnancy Guide using garbanzo beans and it's one of the most popular recipes. Hope you enjoy this one as much as we do in our house!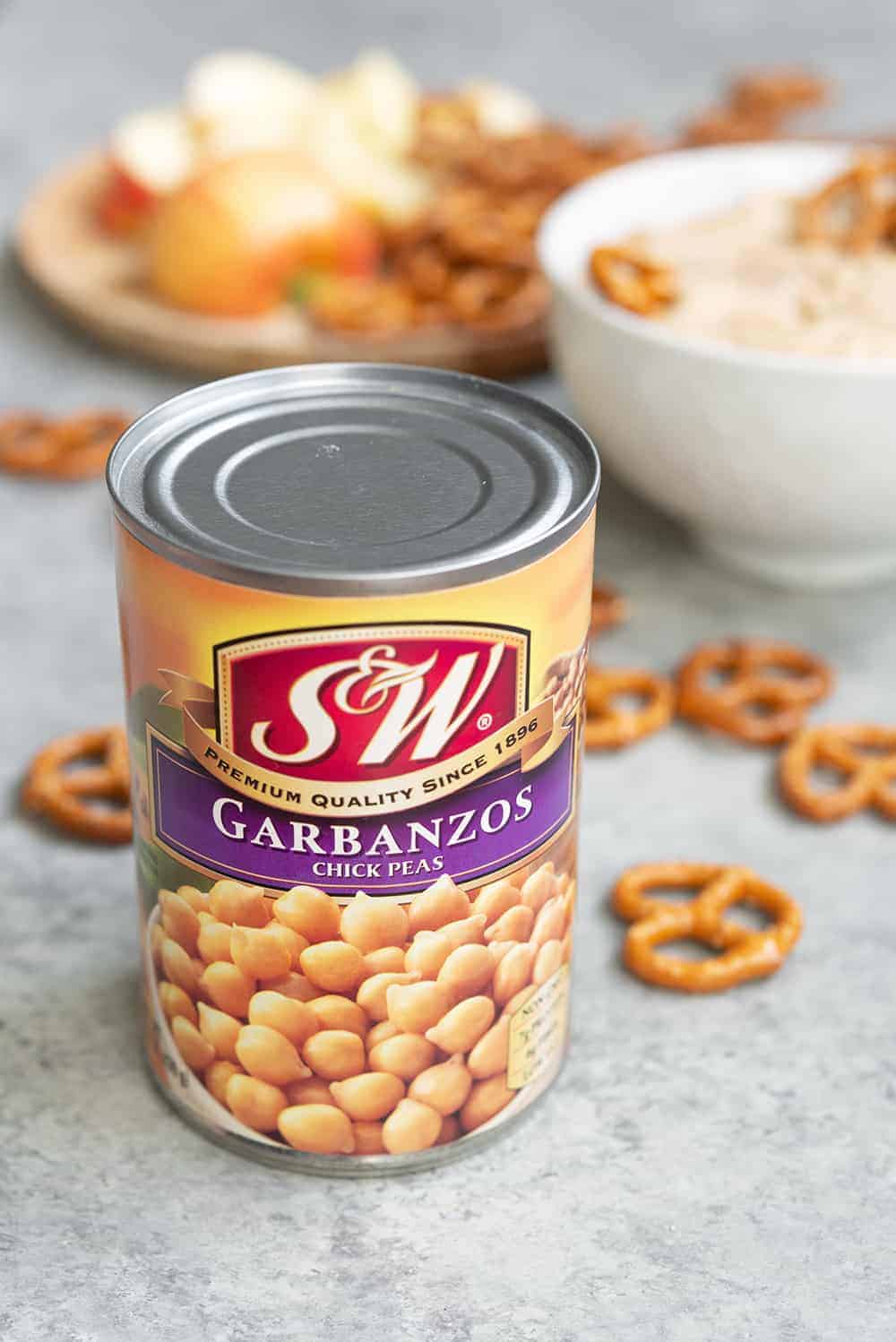 What to eat with dessert hummus
I like this Snickerdoodle hummus recipe best with sweet apple or pear slices, but it also tastes fantastic with pretzels. I think the slight sweet and salty pairing is delicious, especially if you're the try of person who likes a robust flavor pairing. 
I've seen dessert hummus also paired with vanilla wafers or cookies, but I decided to keep things relatively healthy with fruit and maybe some pretzels. You could also get crazy and do chocolate covered pretzels with this or homemade cookies as a holiday dessert platter. You do you! 
It's also fantastic in a whole grain tortilla with thinly sliced pear and finely chopped walnuts. I was starving the other day and quickly put that together for a yummy, sweet alternative to a traditional hummus wrap.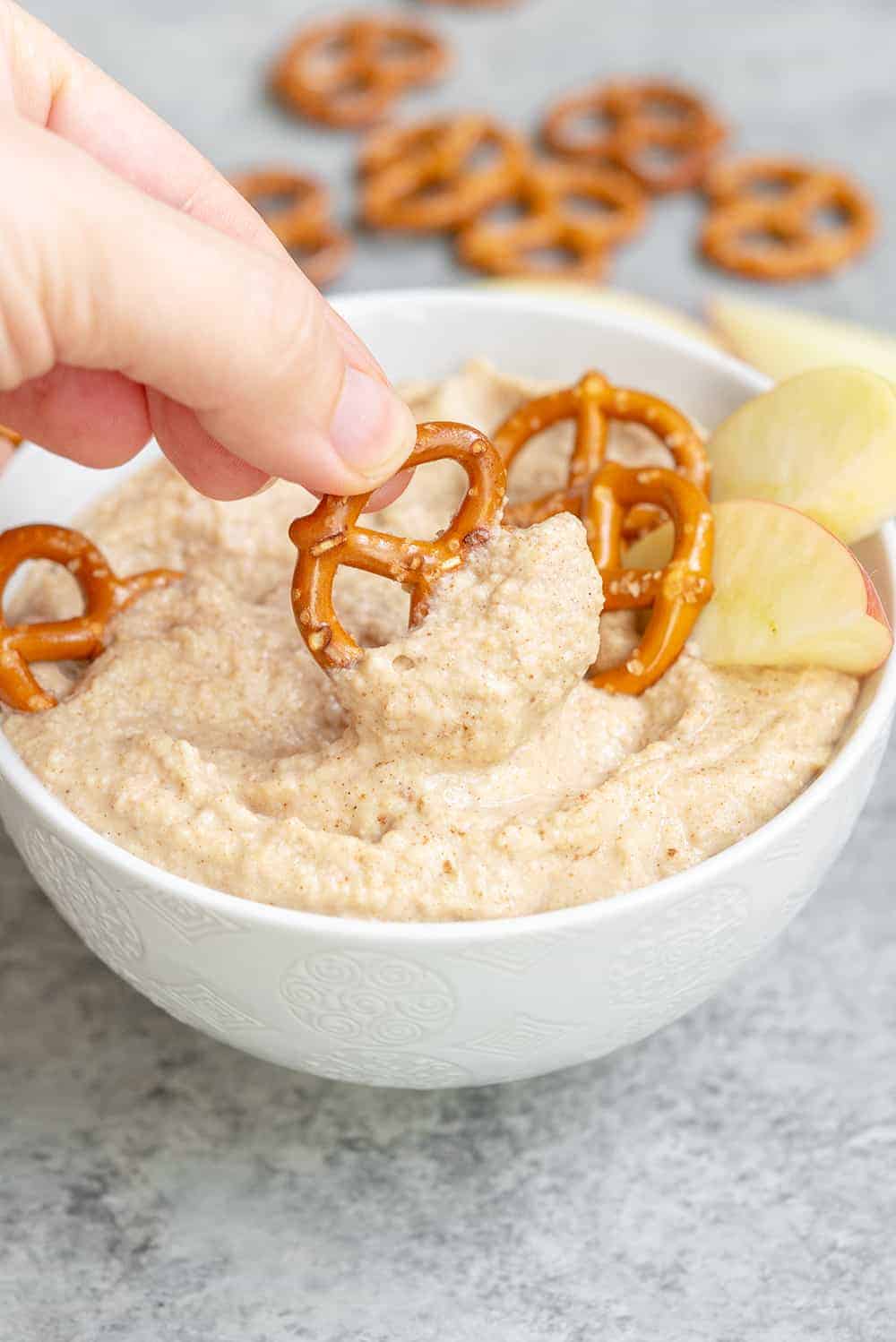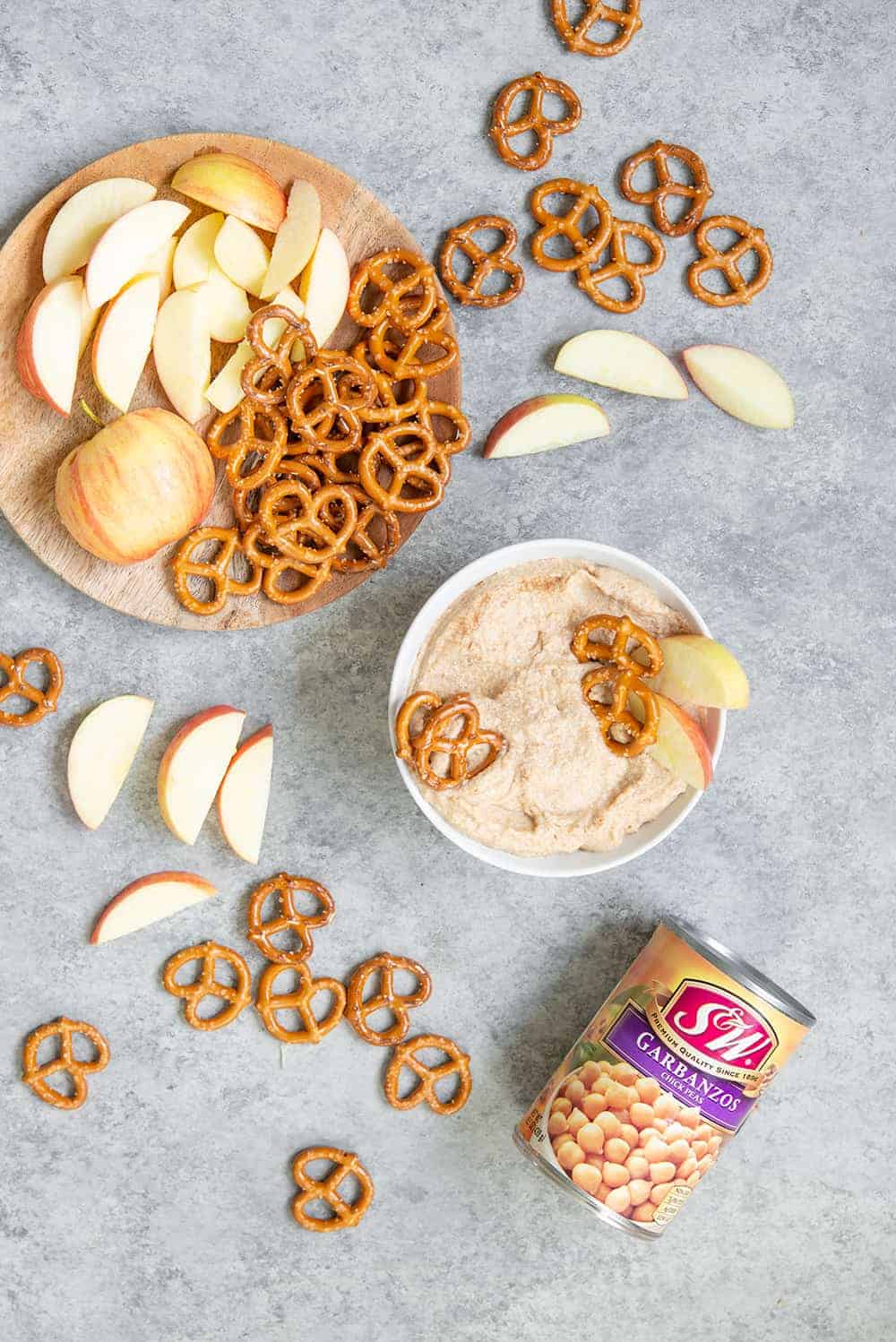 If you try this Snickerdoodle Dessert Hummus recipe, then make sure to come back and leave a comment and a rating! I love hearing your feedback on my recipes, especially as I dive into more family-friendly treats.  
Other healthy hummus recipes: Instant Pot Hummus, White Bean Basil Hummus, Sweet Potato Hummus with homemade Cinnamon Flatbreads, Spinach Hummus 
Print
---
Description
Snickerdoodle Dessert Hummus! This sweet hummus is SO delicious and healthy. Packed with plant-based protein, fiber and iron. Perfect for snacking, especially for kids!
---
Ingredients
1

(15.5oz) can S&W® Garbanzos, drained and rinsed

1/4 cup

almond butter

1/2 cup

unsweetened applesauce

1

–

2

tablespoons 100% maple syrup

1/2 teaspoon

vanilla

2 teaspoon

s ground cinnamon, divided
---
Instructions
In food processor, combine beans, almond butter, applesauce, maple syrup, vanilla and 1 teaspoon ground cinnamon. Cover; process 30 to 60 seconds or until smooth.
Spread in shallow dish or pie plate. Sprinkle top with remaining cinnamon, then serve with pretzels, apple slices, crackers or vanilla wafers.
---
Equipment
---