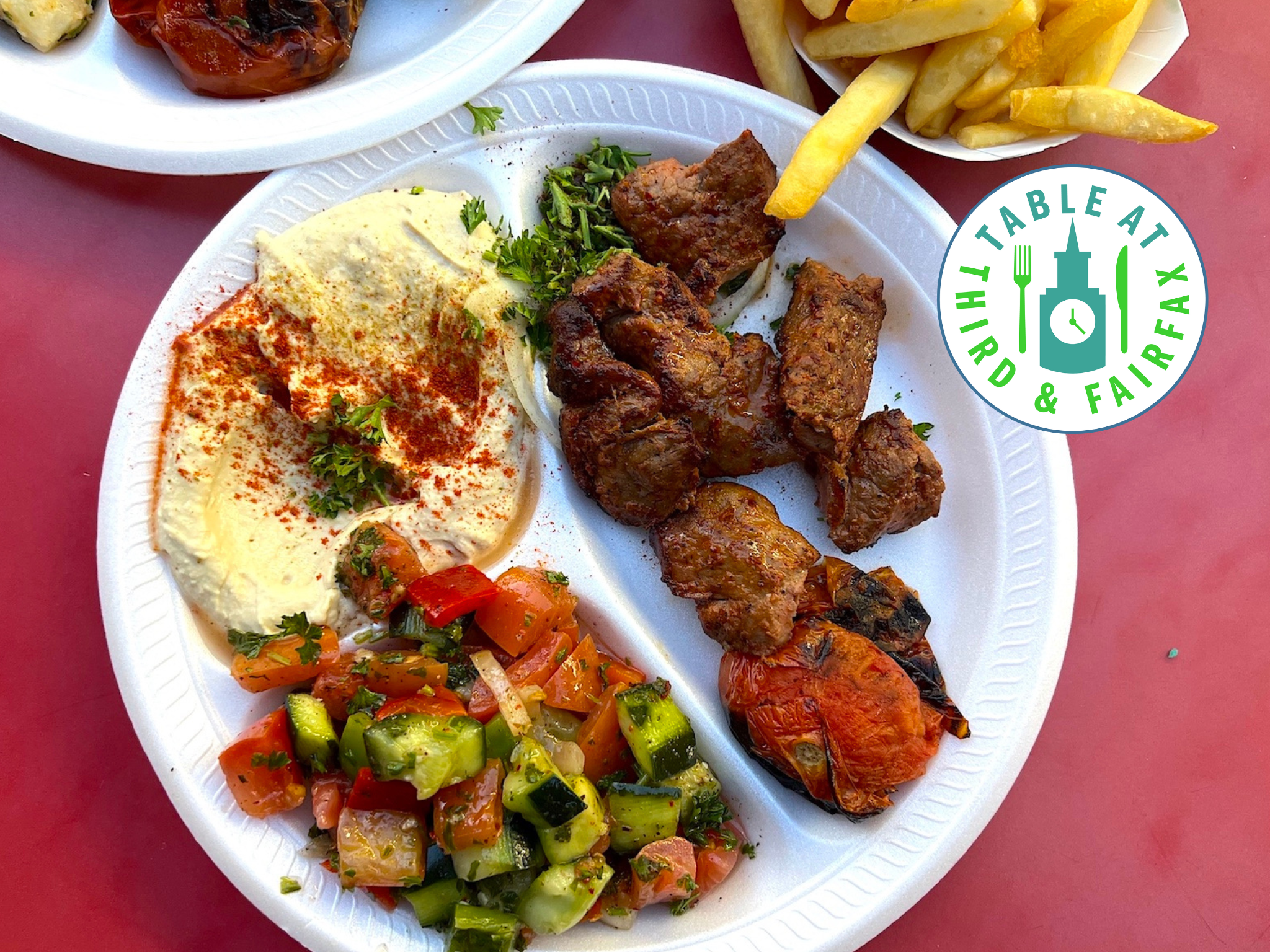 Table at Third & Fairfax is a weekly dining column in 2023 where Food and Drink editor Patricia Kelly Yeo will eat her way through the Original Farmers Market. Each column will drop on Thursday for a week-by-week recap of her journey through the classic L.A. tourist attraction. Last week, Kelly tried the market's newest vendor, BHC Chicken.
After fighting our way through rush hour traffic, my partner and I walk into the market early on a Wednesday evening ready to reap our reward: the oyster happy hour at Roxy and Jo's, the seafood stall run by the same team as nearby Monsieur Marcel. Unfortunately, the deal has been discontinued. With a superb press meal from Sushi Note in my recent memory and even more seafood-heavy dinners planned for the near future, I balk at the prospect of buttery lobster and deep-fried pieces of fish, no matter how delicious. 
Instead, we consider the various entrées at Moishe's (est. 1992), the Armenian-owned Middle Eastern food stall steps away from Roxy and Jo's. Founded by Movses Aroyan, the cafeteria-style array of vegetarian dishes form the basis of wraps and plates, and can also be ordered á la carte. Over a decade ago, Moishe's also served an excellent rotisserie plate, but these days you'll only find it from nearby neighbor Market Chicken. Older photos on Yelp also show tantalizing Armenian-style khachapuri labeled as bourekas, though these too are long gone. Today, the restaurant has narrowed the menu down to a few types of kebab, chicken wings and shawarma, plus crispy balls of falafel.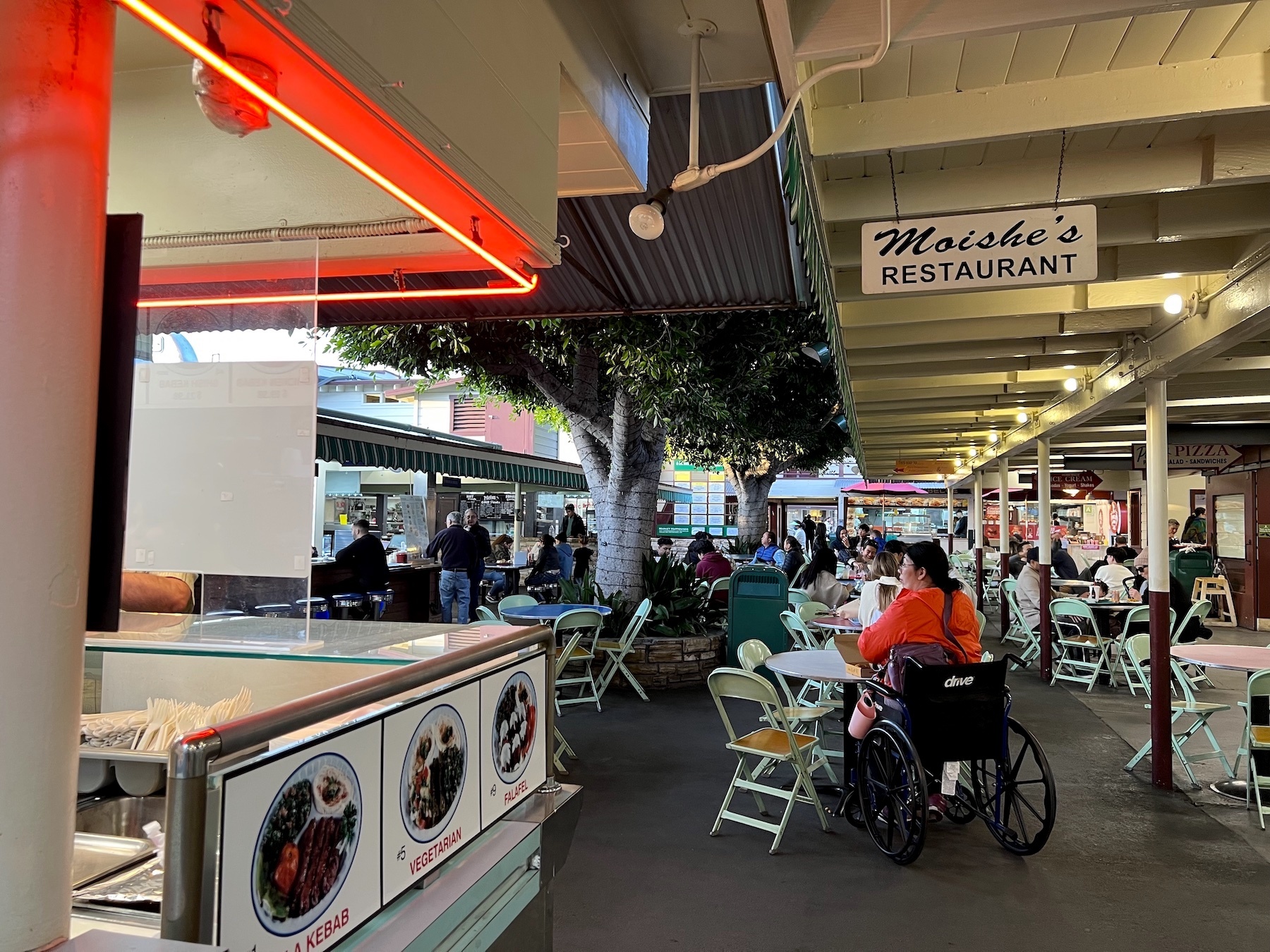 In the end, we order two kebab plates: the beef lula ($19.95) and the lamb shish ($21.95), plus a side of French fries ($3.50). Each plate comes with your choice of two different sides, so we try four of the available offerings: hummus, fattoush salad, muhammara and a lightly dressed potato salad. Some important context here: After reviewing Saffy's in East Hollywood, I've begun surveying L.A.'s current kebab scene in various fits and starts. Since the dish traditionally runs on the heavier side, especially with bread and rice served on the side, it's been hard to find the gastronomic real estate in between trying new restaurants and other editorially relevant meals.
Though my lifetime standards for kebab were set in childhood by family get-togethers spent dining on barg and koobideh (I have a Persian uncle by marriage), they've only gotten higher in recent months, especially after trying the Armenian-style variety at Mini Kabob in Glendale for the very first time last summer. Run by the Martirosyan family, it's long been one of Time Out's best restaurants, and has redefined the entire class of skewered, well-marinated meat in my book.
I'm dreaming of Mini's ultra-flavorful kebabs when the woman behind the counter calls my name and presents us with two colorful plates, the kebabs themselves hidden by halves of pita bread, and a tiny boat of thick-cut fries. Once unearthed back at the table, the portions themselves are modestly sized and seem a little dry at first glance. Still, I remain hopeful as I use plastic cutlery to cut myself as piece of beef lula and pair it with a sliver of raw onion, a dab of pale hummus and a smidge of brilliant deep red muhammara. 
While it wouldn't necessarily win a citywide award, the lula's mix of herbs, alliums and ground meat is still quite tasty, especially when paired with the creamy mix of chickpeas and tahini in the hummus. Unfortunately, the lamb shish leaves much to be desired in terms of flavor and moisture content. Despite our cashier's warning about the spiciness of the muhammara, I honestly can't detect the slightest bit of heat in the walnut and pepper dip, even after multiple bites. The fattoush delivers a welcome dose of levity with crisp textures and a bit of citrus, which cut through the inherent richness of the meat. Of all the things I try, I most come to regret ordering the fairly bland potato salad, especially when there are fries available.
Unlike other meals I've had for Table at Third & Fairfax, we actually finish most of the meal from Moishe's right on the spot. Satisfied, but not completely full, I lead us towards the Gumbo Pot for chocolate beignets ($7.25), since they were out when I last visited two weeks ago during Mardi Gras. Unlike most dishes I'm eating at the Original Farmers Market this year, I've actually eaten the Cajun spot's chocolate beignets before—albeit a little over a decade ago. In my memory, they're delightful little pillows of powdered sugar and chocolate sauce.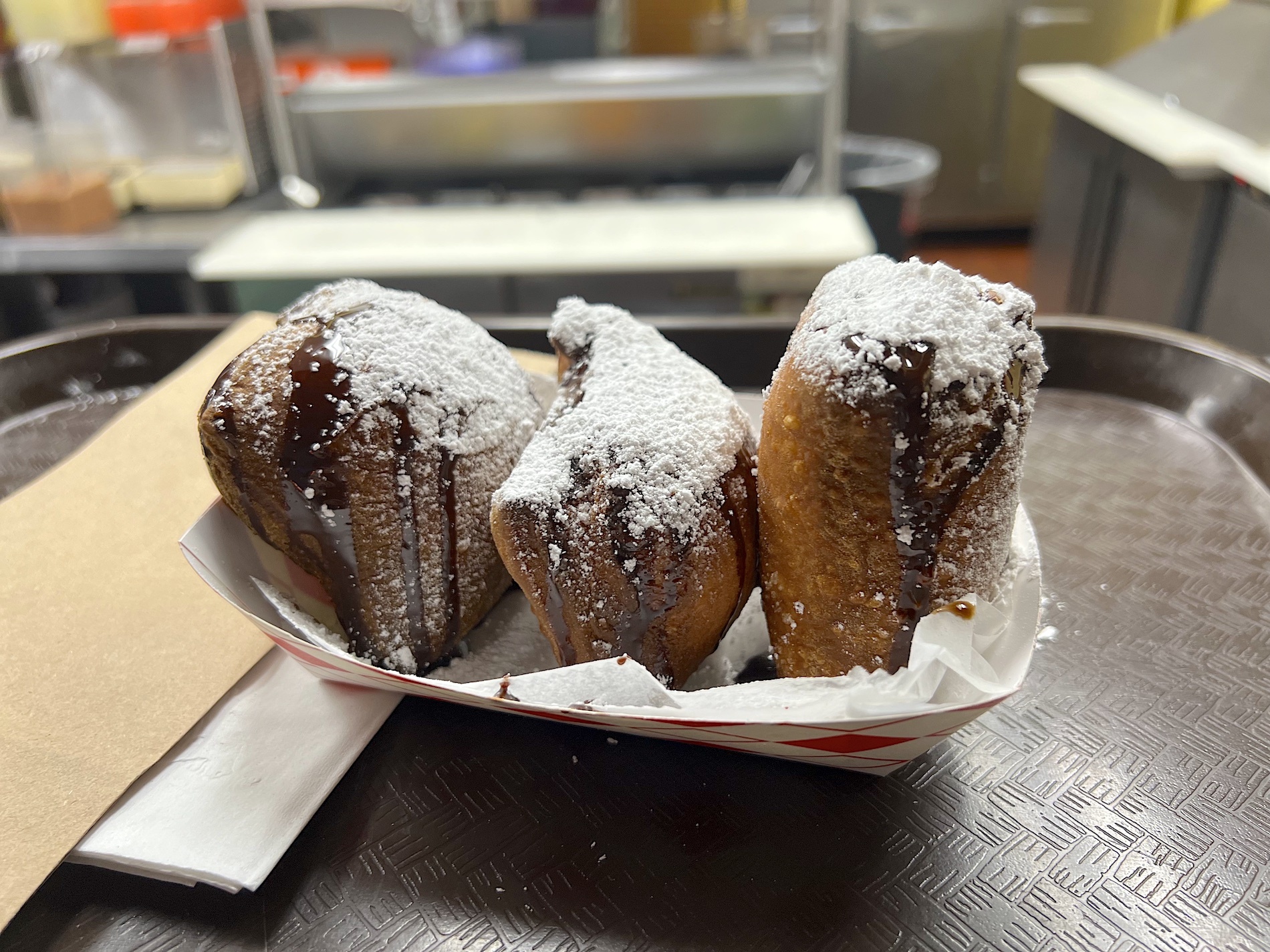 The trio of oblong-shaped doughnuts I receive are a shadow of the beignets I had long ago, and bear little resemblance to the iconic sweet treat from New Orleans. The exterior of the beignet is almost baguette-like in hardness, and the interior lacks the airy, puffy quality associated with most beignets. Once I've made headway into the molten core, the filling inside lacks the deep chocolatey flavor you'd expect. After a few bites, we both decide it's not worth finishing dessert.
Meals from Table at Third & Fairfax fall into three categories: Skip It, Worth Trying and Must Have. 
Vendor: Moishe's Restaurant
Order: Beef lula with potato salad and muhammara, lamb shish with hummus and fattoush, plus a side of French fries 
Verdict: Worth Trying. Though we didn't get the cheap oysters I came in for this week, the Middle Eastern eatery was a delicious alternative—and I want to come back and try the Greek-style gyro and falafel.
Vendor: The Gumbo Pot
Order: Chocolate beignets
Verdict: Skip It. For one reason or another, the quality has dipped at the market's longtime Cajun spot.