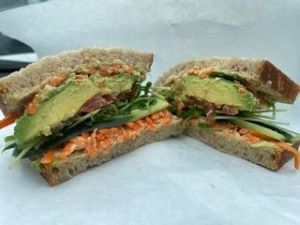 By Anna Markulis, VRG Intern
MOM's Organic Market is the perfect stop for anyone looking for a quick and delicious vegan lunch made from sustainably sourced fresh ingredients. MOM's is an organic grocery store located all along northeastern states including Maryland, Virginia, D.C., Pennsylvania, New York, New Jersey, and Massachusetts. The majority of MOM's locations offer vegetarian and vegan meals at their in-store restaurants, "Naked Lunch" and the "Bake Shop." While "Naked Lunch" is served at many locations among these states, the "Bake Shop" is unique to Timonium, Maryland and Jessup, Maryland. The inclusion of these restaurants will vary by store, so check your local location!
I visited the MOM's in Timonium, Maryland, and stopped by their vegetarian food joint, "MOM's Bake Shop." The vast selection of made-to-order organic vegan or vegetarian sandwiches served on their homemade bread in addition to their nutritious fresh raw pressed juices certainly impressed me as a first-time customer. I chose to order the "Classic Veggie" – a whole wheat sandwich with hummus, avocado, tomatoes, cucumber, and pea shoots. The staff was so friendly and quick, even with so many people in line! The sandwich was bursting with flavor and had the perfect veggie "crunch" amount. I could immediately tell that they used the freshest ingredients. The hummus offered a contrasting yet delightful tanginess that complemented the bread and vegetables perfectly. My 14-year-old sister had a bite as well. She told me it was one of the best sandwiches she's ever had, and that it was enough for her to "consider going vegan." Overall, I was thoroughly impressed by the selection, quality, and flavor of the vegetarian and vegan sandwiches and juices. I will definitely be going back again soon!
Check out the Bake Shop at Mom's in Timonium, Maryland: https://momsorganicmarket.com/maryland/timonium/
For information on Naked Lunch Kitchen: https://momsorganicmarket.com/nakedlunch/
To find out about other restaurants that serve vegetarian food in the USA and Canada, visit the Vegetarian Resource Group's restaurant guide: https://www.vrg.org/restaurant/