Home to some of Perth's coolest cafes, restaurants, bars and shops, Leedy may be small but she's really carved a space in our hearts over the years. The hip little Oxford and Newcastle Street strip is dotted with record stores, fashion boutiques and bright coffee shops manned by hipster baristas that'll draw you in any day of the week. But by night, it's the quality restaurants that have us hooked—the strip is brimming with everything from bite-size tapas and Asian eats to iconic pub meals and contemporary share plates.
We're also chuffed to see that after suffering some closures over the last few years, there are plenty of new joints in the works to get your mouth watering again, including a whole new laneway to explore.
So without further ado, here's our pick of Leederville's best restaurants to hit right now.
Will St
It feels like forever since we've been able to hop on a cheap flight and live out our ultimate foodie dreams in Bali. And god do we miss it! Thankfully, though, Will Meyrick, the chef-owner behind super popular Balinese establishments Sarong and Mama San (to name just a couple), is here to fill those cravings—opening his very own place right here in Leederville. You'll find seriously incredible flavour-packed Asian share plates here, inspired by Meyrick's extensive travels. And honestly, it's up there as one of our favourite eating experiences of last year. Check out more of what to expect here and rest easy knowing it's every bit as good as his iconic Bali restaurants.
Servo
Nestled in the newly created Electric Lane, Servo is the beautiful all-day restaurant and courtyard bar that has just opened as part of the Leederville redevelopment by FJM (the same people behind the State Buildings) and it's quite possibly our new favourite. Bold, bright and flavour-packed share plates are the name of the game, with the menu not following any particular theme beyond each dish being drop-dead delicious. And believe us, you will definitely be wiping each and every plate clean here. Our current fave is the eggplant with garlic yoghurt and some warm flatbread for dipping, coupled with a spicy marg for good measure.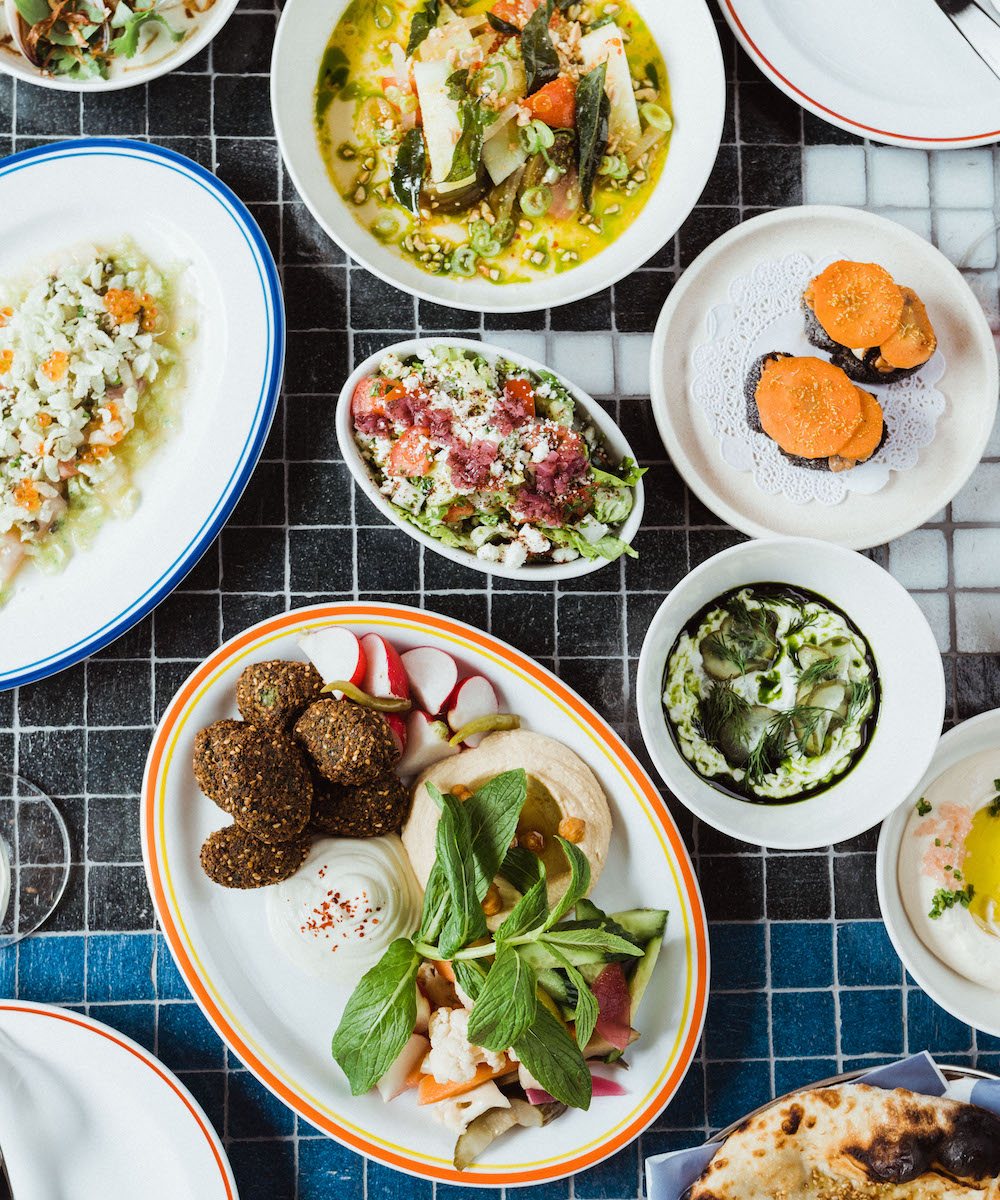 Naber and ||||
Meet your new neighbours, Naber and |||| (pronounced nay bur and four). Taking over the old Varga Girl site, this new space is split into two distinctly unique venues.
Naber is the more intimate and refined of the two, with a rotating chef's menu showcasing some incredible produce from their "neighbours" and a seriously epic booze offering that'll leave any cocktail fiend wanting more—just order their cappuccino martini and you'll see what we mean, made with Chicho gelato, custom-made Stomp cold brew, cacao and macadamia liqueur and topped off with a mini dark chocolate and wattleseed trumpet. Drool.
Meanwhile, |||| the breezy back-alley courtyard bar slinging fun and affordable cocktails, punchy snacks and untapped disco vibes that will keep you there all day and night. Go for the yuzu highball if you want to grab a gram-worthy snap of the cute rubber ducky in your drink.
Vikka
Pizza, hummus, yummy nibbles—eating at Vikka feels much like heading round for family dinner at someones who actually knows how to cook. No surprise considering it's all family-run by a bunch that have longstanding roots in Oxford St. Backed by an inclusive ethos, it's the kind of place everyone feels welcome, especially considering the awesome vegan and vegetarian options on offer. A liquor licence is coming soon, but for now, you can make the most of it being BYO.
Mon Japanese Bistro
You might struggle to get a seat at this bustling little Japanese bistro, but trust us it's worth holding out for a table. Take your pick from classic bentos, donburis and Japanese curries, as well as slurp-worthy udon noodles, and super fresh sashimi and sushi rolls. Pair your feast with some sake or a glass of umeshu (plum wine) and tell us you're not already dreaming of travelling to Japan for real.
Jus Burgers
There are so many specialised burger joints in Perth now, but Jus Burgers was one of the first to really make a name for itself, and the popular eatery is still going strong today. Known for its yummy gourmet burgers served on Turkish bread buns and backed by an unwavering dedication to fresh, local ingredients, the menu has every base covered—whether you're chasing chicken, beef, lamb, pork or something completely meat and dairy-free. Throw on a serve of their steak-cut chips with farmyard salt and house-made garlic aioli and thank us later.
Pinchos
The perfect spot for a quick and light dinner (and let's be honest, some epic people watching), Leederville restaurant Pinchos dishes out big on flavour tapas that won't break the bank. The delicious morsels (like chorizo with honey and cheese, smoked almonds and marinated olives) start at just one buck, which leaves you plenty of dough to grab a carafe of sangria to wash it down with and a Portuguese tart to finish.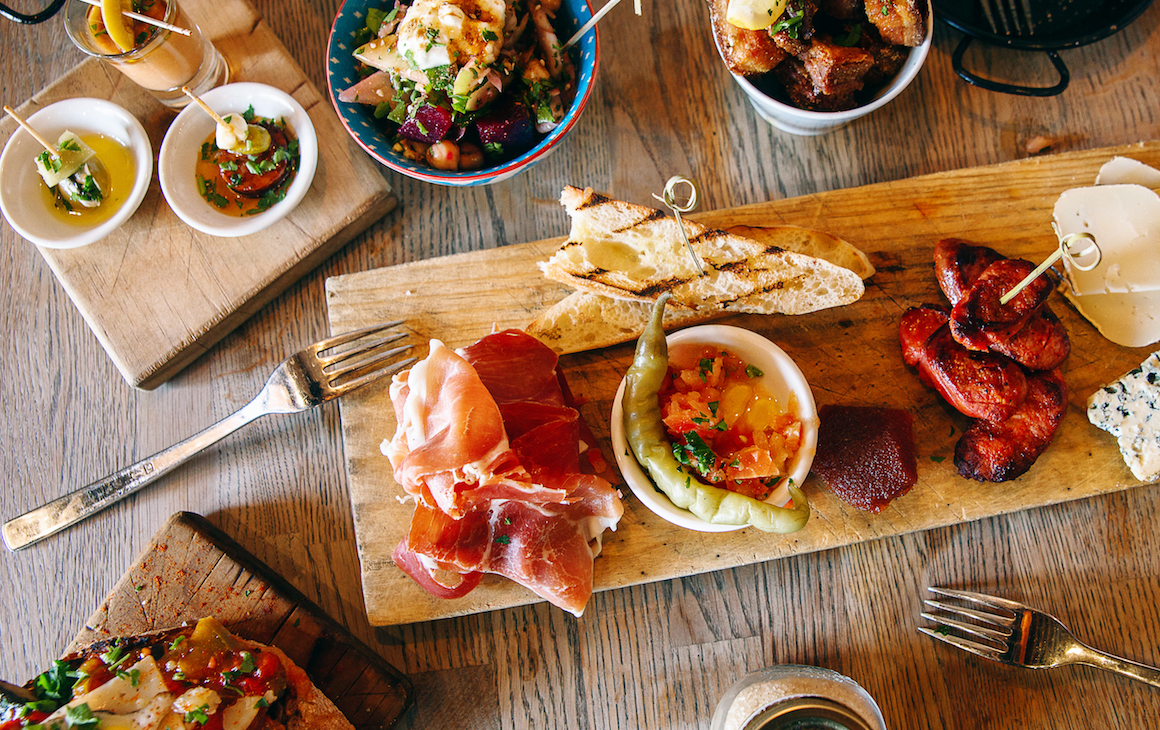 Kitsch
Cosy, mysterious and oozing Leederville cool, Kitsch is the perfect spot if you're looking for something a little off the beaten track. Sit under the huge frangipani tree adorned with lanterns and chow down on flavoursome, Asian-style eats while slamming back a few cocktails.
The Garden
A Leedy institution, Perth pub The Garden's open-plan space (and really good shoe-string fries) lends itself to laidback Sundays with mates. With plenty of classic pub grub and an extensive drinks list, it's the perfect spot to soak up Perth's summer vibes or cosy up in winter. They do pretty bangin' pizzas here too and the jugs of Pimm's are the bomb come summer.
Pappagallo
With ingredients imported straight from Italy, the menu at Pappagallo in Leederville is jam-packed with authentic Italian goodness but you can never go past one of their drool-worthy pizzas. Make sure you prepare your 'dessert stomach'—you'll definitely want to hang around for the sweet stuff too.
Duende
If you're on the hunt for the best restaurants in Leederville, get yourself to Duende. Romantic, sexy and dishing out some of the best tapas in Perth, Leederville restaurant Duende is a Spanish hot spot that also boasts a pretty serious wine list. It's practically screaming date night.
Fibbers McGee
Opened in 1998, Fibber McGees Irish Pub and Steakhouse has become a Leederville mainstay for good reason. Yes, the craic is always on point at this humble pub, but it's the food that sets it apart. Not only is 90% of their produce made in house—we're talking cultured butter, sauces, glazes, pickles, bread, sausages, and more—but they also own and operate their own certified organic farm in the Perth Hills where they raise their own cattle, and also dry age, butcher and cure their own meat inhouse. No wonder their steaks are the best in Perth.
Thugs Fried Chicken
Owned by local DJ Karl Blue and sitting pretty in the heart of Leederville, this hip-hop-themed fried chicken joint is hard to pass up. The menu is layered with hearty comfort food and we are digging the names of each dish just as much as the food. Take the GusFace Killah for example; a beastly burger or waffle stack made with not one but three Angus beef patties topped with American cheddar, two slabs of crispy bacon, pickles, jalapenos and barbecue sriracha. Drool.
Bunn Mee
Okay okay, considering Bunn Mee is only open for lunch this place is probably more cafe/lunch bar than restaurant but we had to slip in a mention. Head here for some insanely delish banh mi and other Vietnamese nom noms, all cooked up by the supremely talented Jenny Lam (of Masterchef fame) and the fam. Plus, keep an eye out, because she's soon to open her brand new Vietnamese tapas bar, Phat Lon, in Leedy too. 
Once you've made your way through Leedy, check out the best restaurants on Beaufort Street.
Image credit: Shot By Thom, Nancy Hanna