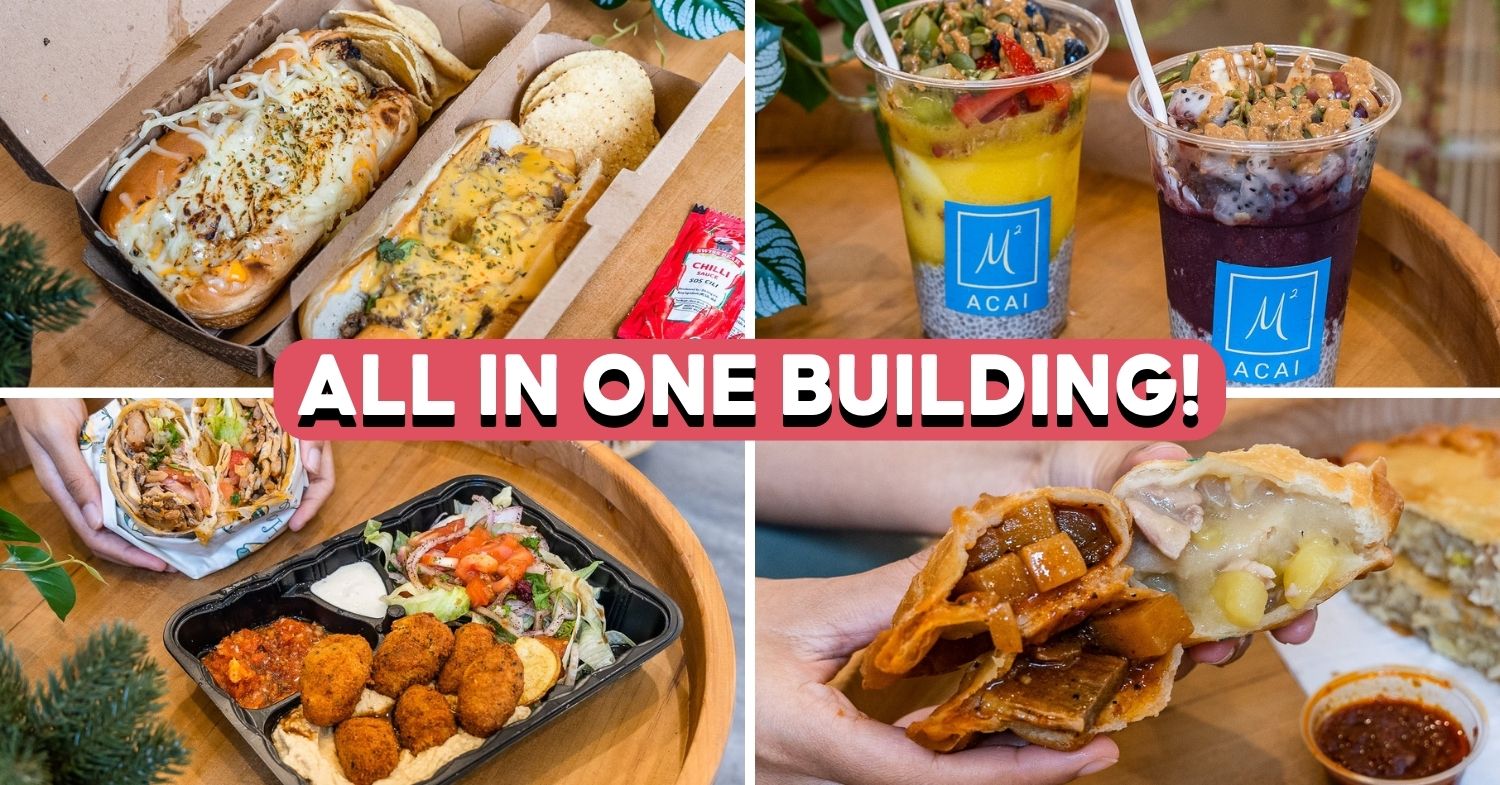 ---
What to eat at The Pink House in Bugis
---
When it comes to halal-friendly food, a place that my Muslim friends and I frequently visit is Arab Street, which is home to many halal-certified and Muslim-owned cafes and eateries. Located at the heart of this area is The Pink House, an eye-catching building sporting a bright pink exterior. 
What you might not know is that it houses a few hidden food gems, from refreshing acai bowls to juicy Philly cheesesteaks, all of which are halal-friendly. Here's a list of the five best eateries at The Pink House to check out if you're ever in the area! 
---
1. A-Mor Turkish Kebab
---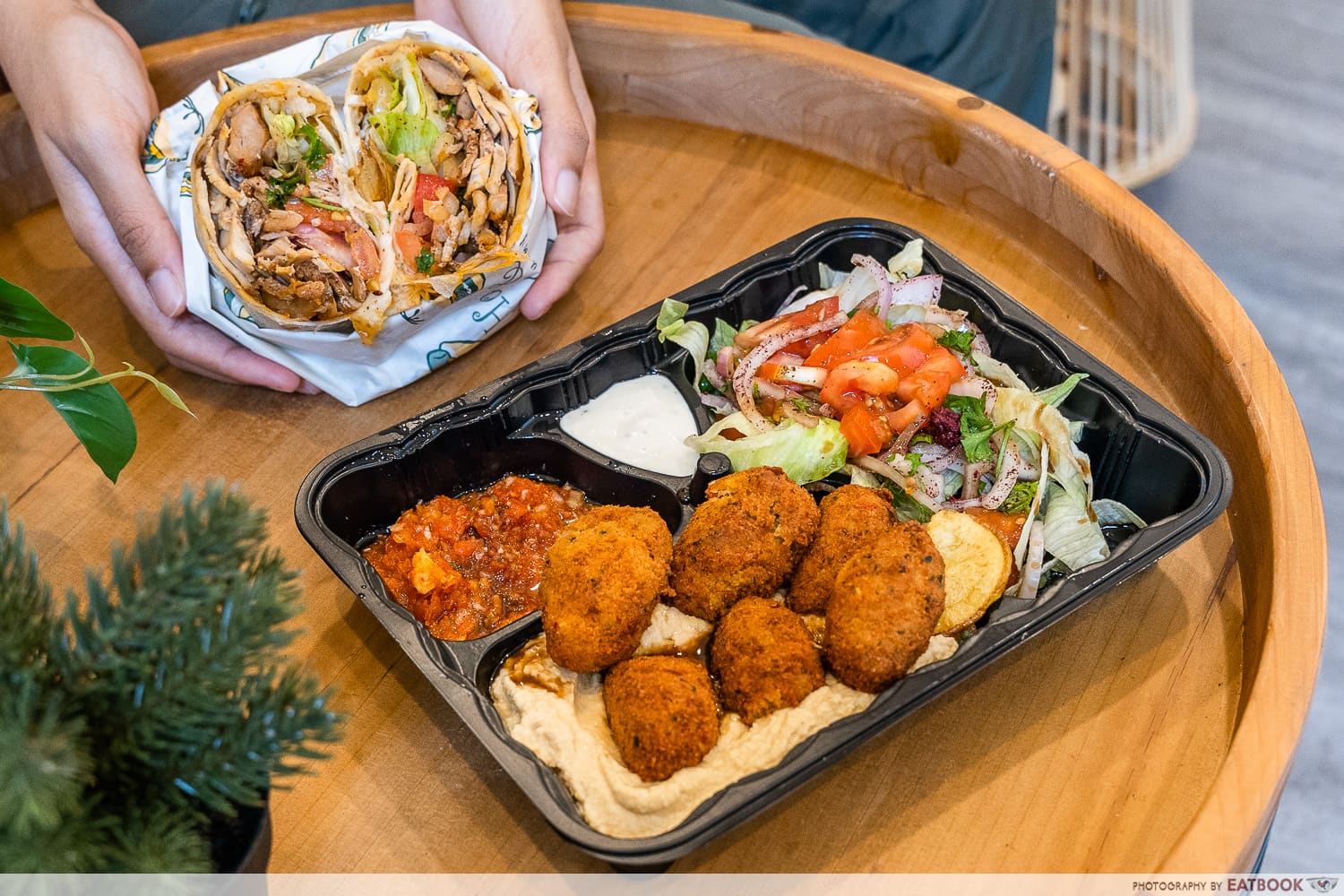 Although there are several eateries on Arab Street serving Turkish and Mediterranean food, A-Mor Turkish Kebab is one that many regulars swear by for legit kebabs, falafel and more. What's best is that they're also open till 3am! 
If there's one thing you have to try, it's the Falafel Plate ($15), a large platter comprising crispy falafel AKA deep-fried chickpea balls, hummus, fresh salad, and potatoes. For an extra burst of flavour, pair the falafel with a side of spicy salsa and sour cream. 
Kebab lovers will enjoy the Chicken Kebab ($11), as it stars a hefty amount of well-marinated grilled chicken and vegetables stuffed in a tortilla wrap. You'll also find other Mediterranean dishes such as Babaganoush ($12), an appetiser made from roasted eggplants, and Kunefe ($15), a sweet cheese pastry doused in sugar syrup. 
Address: 695 North Bridge Road, #01-01, Singapore 198674
Opening hours: Sun-Fri 10am to 3am, Sat 10am to 12am
Tel: 818 6491
A-Mor Turkish Kebab is a Muslim-owned eatery.
---
2. Meat My Meat
---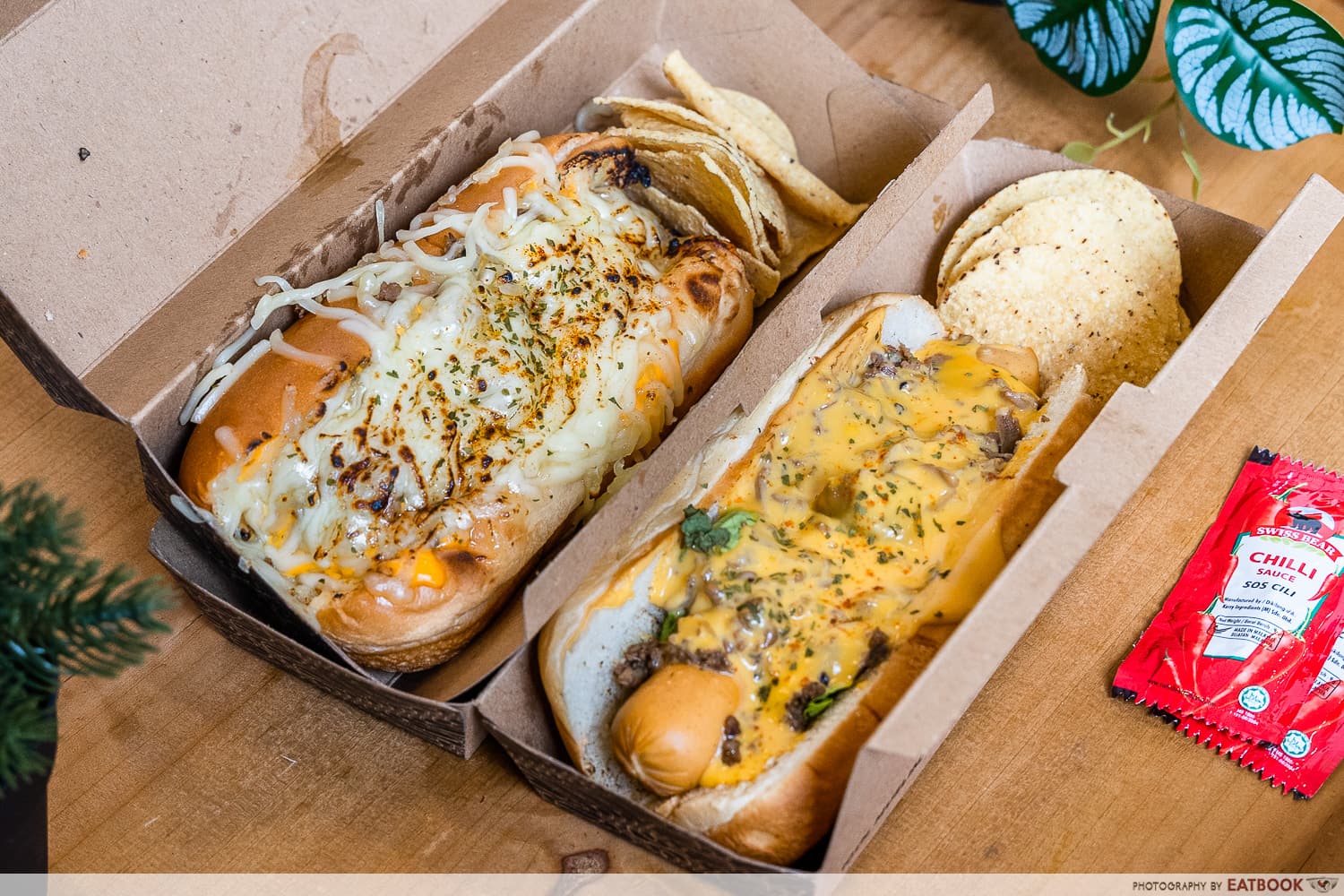 Meat My Meat is an eatery that might be familiar to you if you're a frequent visitor of the yearly Geylang Ramadan Bazaar. If you've not heard of them, they offer a delicious range of Philly cheesesteaks and hotdogs!
If you're spoiled for choice with their extensive menu, we recommend diving straight for the Mozza Philly Cheesesteak ($10.90), a sandwich that features tender, peppery beef, lettuce, and grilled onions beneath a mozzarella cheese blanket. 
The Buffalo Cheesesteak Hotdog ($11.90) is another sinfully delicious dish that features a combination of cheesy hotdog, peppery beef, and lettuce laden with smoky buffalo sauce. Each Philly cheesesteak and hotdog comes with a side of tortilla chips, too. 
Address: 114 Arab Street, Singapore 199809
Opening hours: Daily 3:40pm to 10pm
Tel: 9652 1342
Website
Meat My Meat is a Muslim-owned eatery
---
3. MsquareAcai
---
Acai lovers may be familiar with MsquareAcai, an acai place that's popular on TikTok for its generous portions and yummy toppings. Depending on the flavour you choose, a regular-sized cup of acai here will set you back $9.90 or $10.90, while a large cup goes for $14.90 or $15.90. Each acai cup comprises a chia seed pudding base, granola, three types of toppings, and one drizzle. 
The signature Acai Bliss ($9.90) is a no-frills acai parfait that's refreshing, fruity, and perfect for a hot day. The Mango Lover ($10.90) on the other hand, features sweet mango sorbet atop the chia seed pudding base instead of the usual acai. We topped our acai with the almond butter drizzle, but those with a sweet tooth can choose the Biscoff drizzle instead. 
Address: 118 Arab Street, Singapore 199813
Opening hours: Daily 11:30am to 9:30pm
Tel: 8849 2452
Website
MsquareAcai is a Muslim-owned eatery
---
4. Teamur
---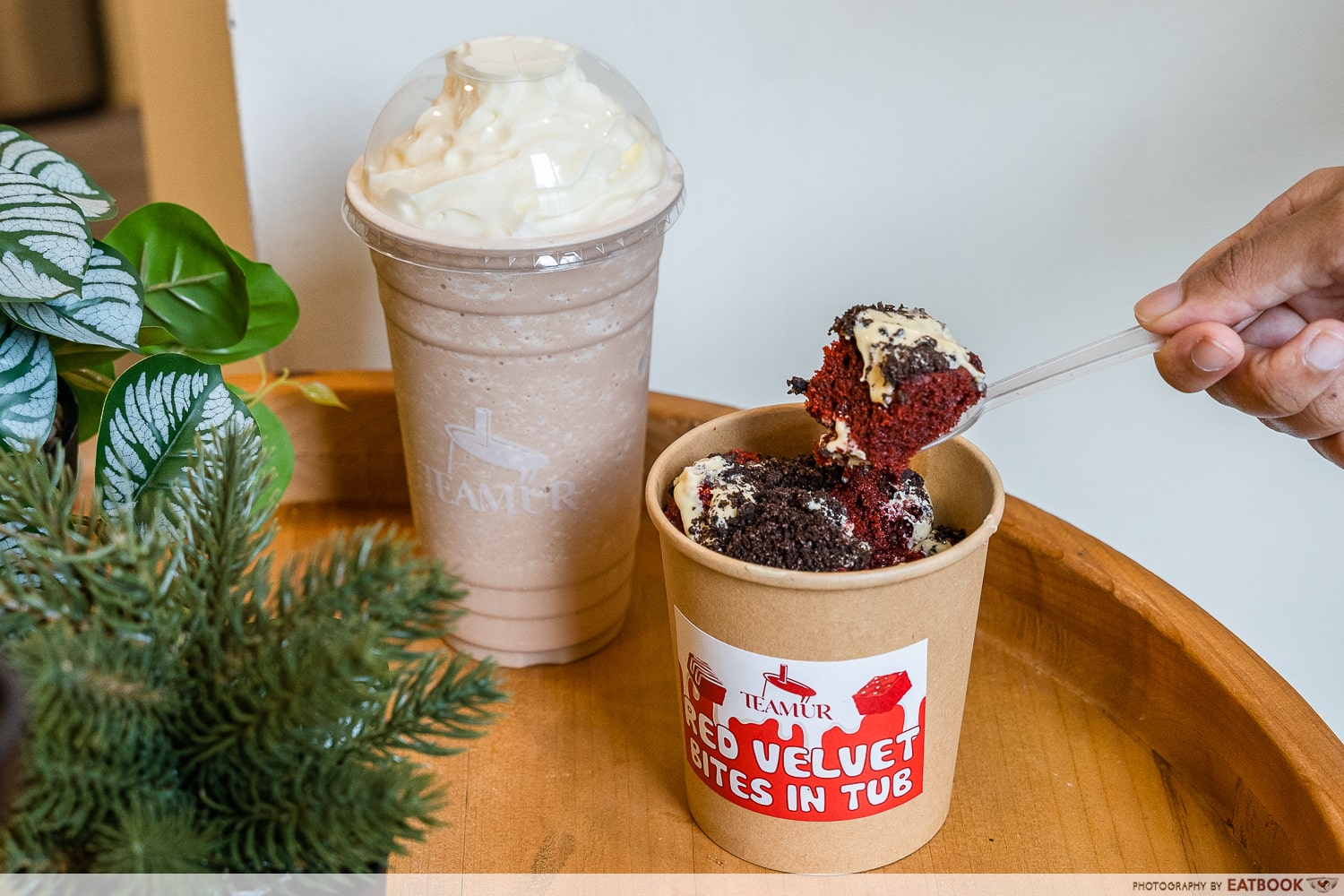 Teamur is where you should go for indulgent desserts. They are best known for their Brownies in Tub ($8.50), which come with various toppings and sauces to choose from. Their newest addition to the menu, the Red Velvet Bites in Tub ($9), contains 12 pieces of decadent red velvet brownies covered in a sauce and topping of your choice. They've got plenty of toppings to choose from, namely Oreo crumbs, chocolate chips, almonds, M&Ms and more! 
The sauces here include caramel, chocolate, Biscoff, white chocolate, and cream cheese, which will cost an additional $0.50. If those aren't enough, treat yourself to a cup of Tiramisu Frappe ($7.50), a rich and creamy drink with a hint of coffee. Alternatively, quench your thirst with Teamur's Refreshing Series, which features fun and colourful soda drinks priced at $5.90 each!
Address: 116 Arab Street, #01-01, Singapore 199811
Opening hours: Sun-Thurs 12pm to 8pm, Fri-Sat 12pm to 10pm
Tel: 8931 5773
Website
Teamur is a Muslim-owned eatery
---
5. Epok Epok Nye
---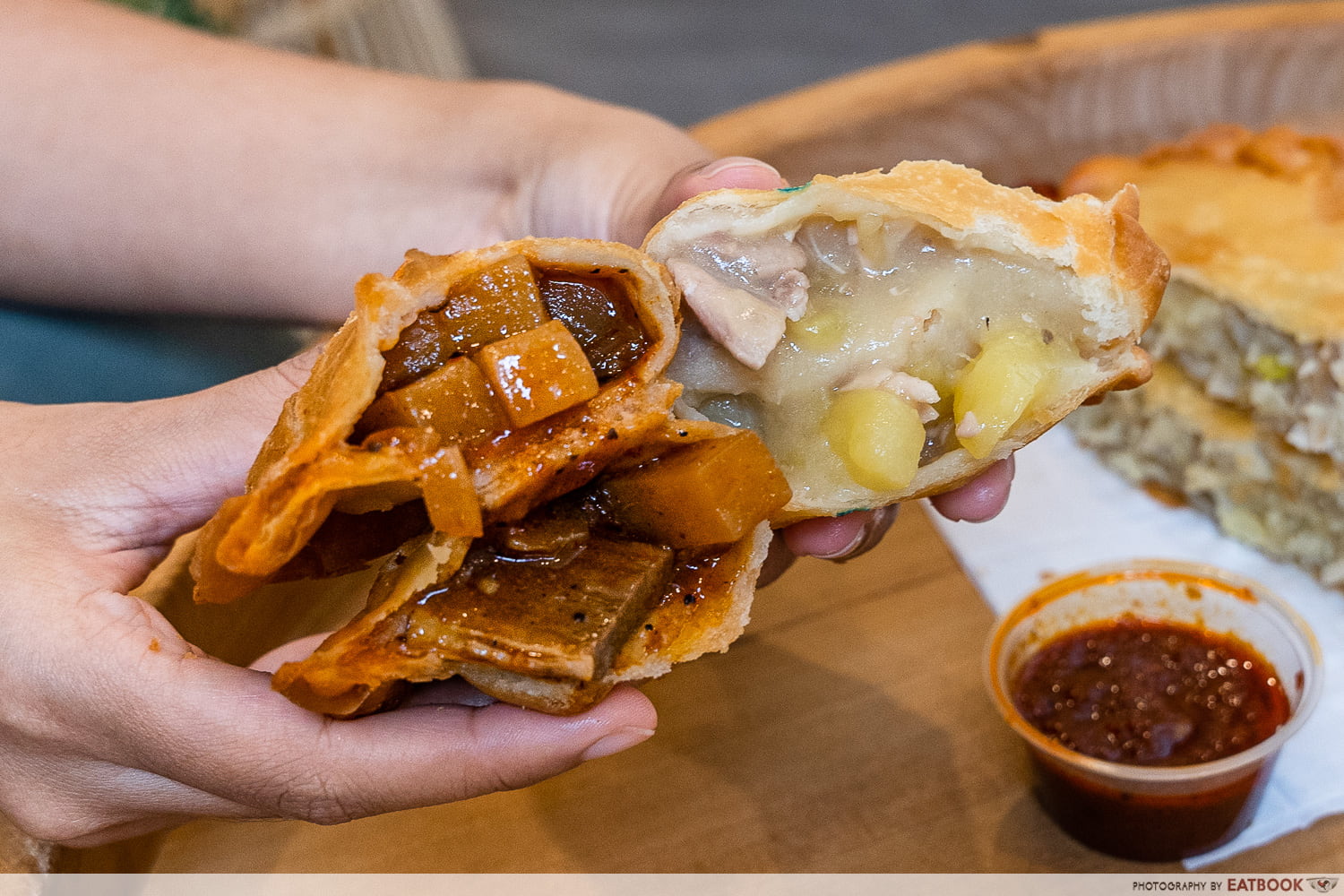 If you're in a rush for time, fret not, as Epok Epok Nye has got you covered with some delicious curry puffs to snack on while on the go. What makes them unique, though, is that they've got curry puffs with special fillings such as Carbonara, Salted Egg, and Black Pepper! 
The Carbonara ($4) puff features thick chunks of chicken and potatoes in a sweet and creamy carbonara sauce enveloped in a buttery pastry. We recommend going for the Black Pepper ($3.50), a savoury puff with tender chunks of beef and potatoes cooked in a black pepper sauce.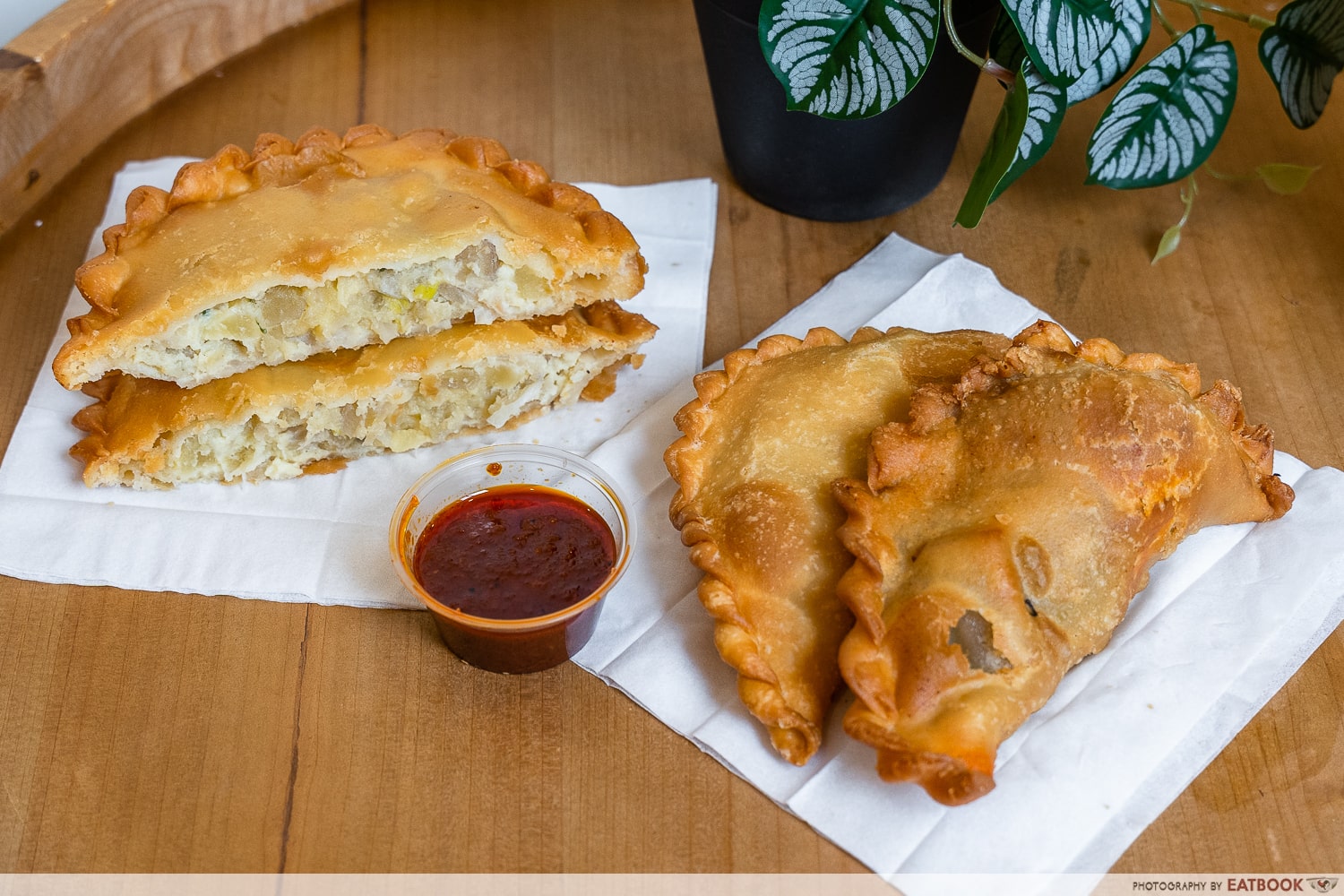 You can also try the Roti Boyan ($4), a popular pancake bread snack that's stuffed with mashed potatoes and best enjoyed with sambal. 
Address: 120 Arab Street, Singapore 199815
Opening hours: Tue-Sun 10am to 7pm
Website
Epok Epok Nye is a Muslim-owned eatery
---
Halal food at The Pink House on Arab Street
---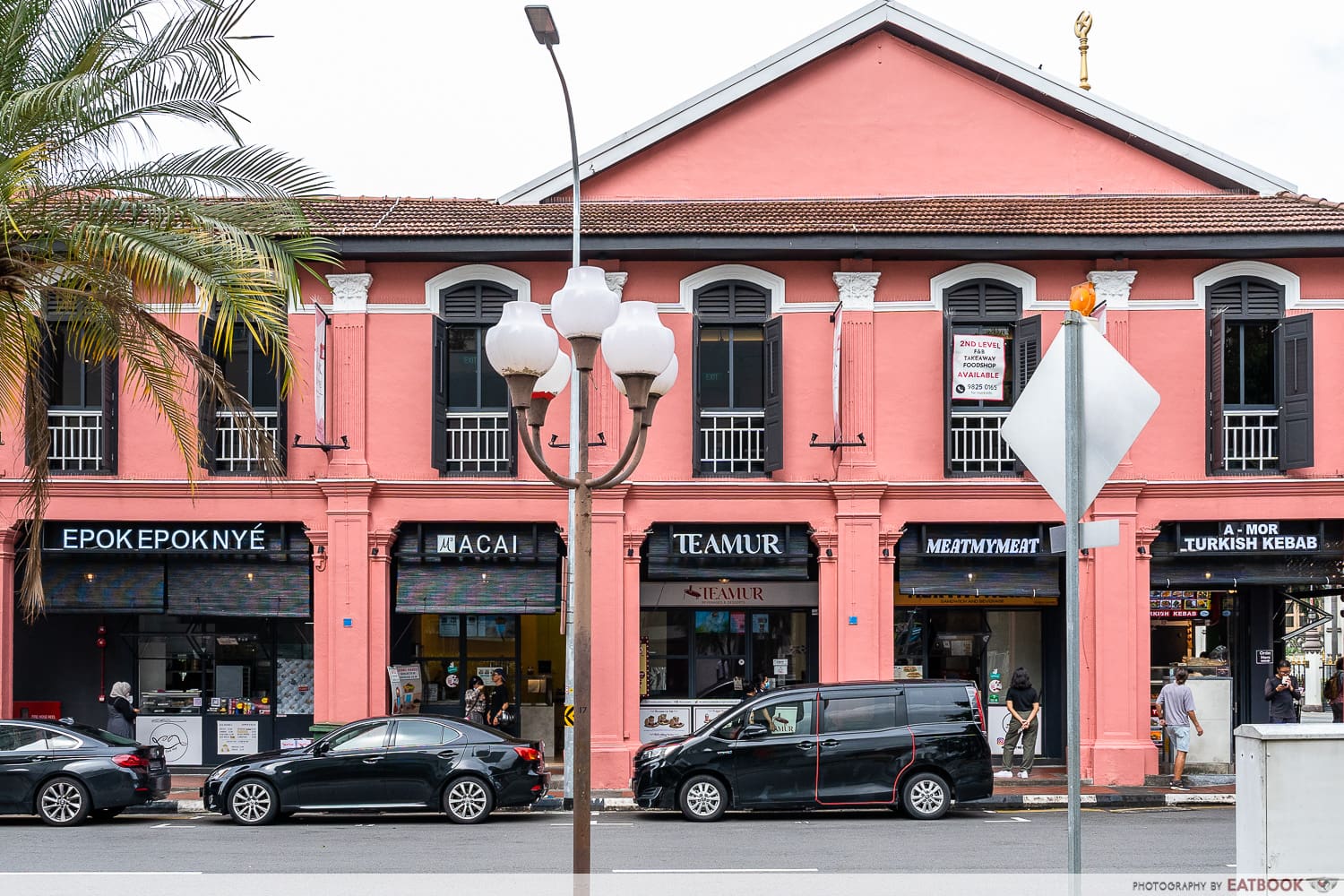 Although the eateries at The Pink House only offer takeaway options, be sure to check out Level Two for a hidden seating area where you can enjoy your food on the spot.
If you'd like to check out more halal-friendly food spots, read our guide on the 10 best halal cafes for brunch, coffee, and more. Alternatively, our Our Tampines Hub food guide will introduce you to halal beef noodles, ayam penyet and more!
Photos taken by Casandra Nicholas and edited by Tan Zi Hui.
This was an independent visit by Eatbook.sg
The post The Pink House: Bugis' New Muslim-Friendly Enclave Has Philly Cheesesteak, Carbonara Curry Puffs And More appeared first on EatBook.sg - Local Singapore Food Guide And Review Site.