United Airlines is officially back in Dubai, ending a nearly seven-year-long streak of not serving the Gulf metropolis.
The carrier commenced its brand-new 6,861-mile route from Newark Liberty International Airport (EWR) to Dubai International Airport (DXB) on Saturday night, sending a planeload of more than 250 passengers on an 11-hour and 59-minute journey to the United Arab Emirates.
While excitement beamed from takeoff to touchdown, the new flight is being heralded as a game-changer for United, as it looks to open new markets throughout the Middle East, Asia, Africa and beyond.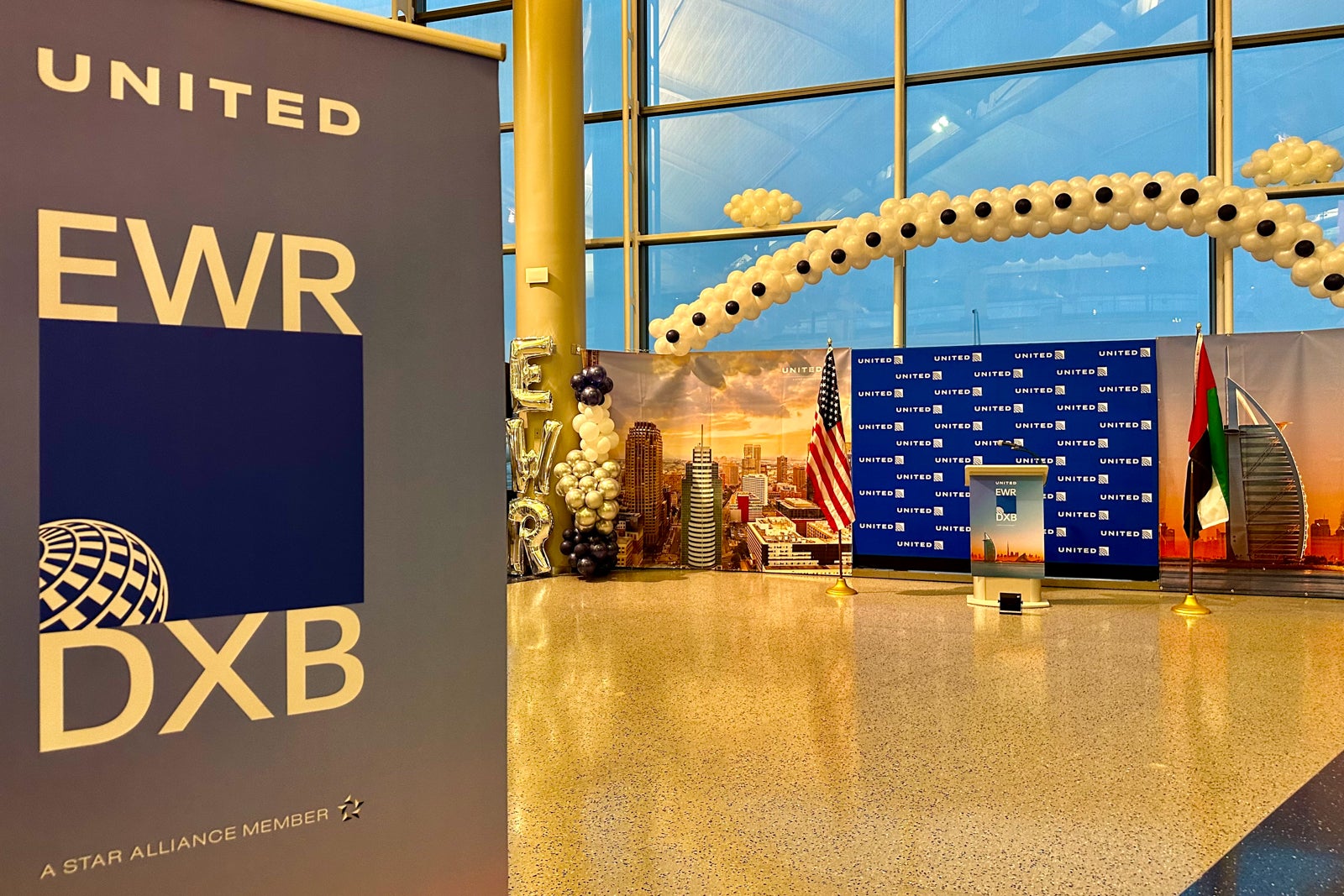 That's thanks to an all-new — and once-unthinkable partnership — with Emirates Airline, which will carry United passengers on flights beyond Dubai. (United will do the same in select U.S. markets served by Emirates.)
United, along with Big 3 U.S. rivals Delta and American, spent much of the mid-to-late 2010s unified in protests against the so-called ME3 carriers: Emirates, Qatar Airways and Etihad Airways.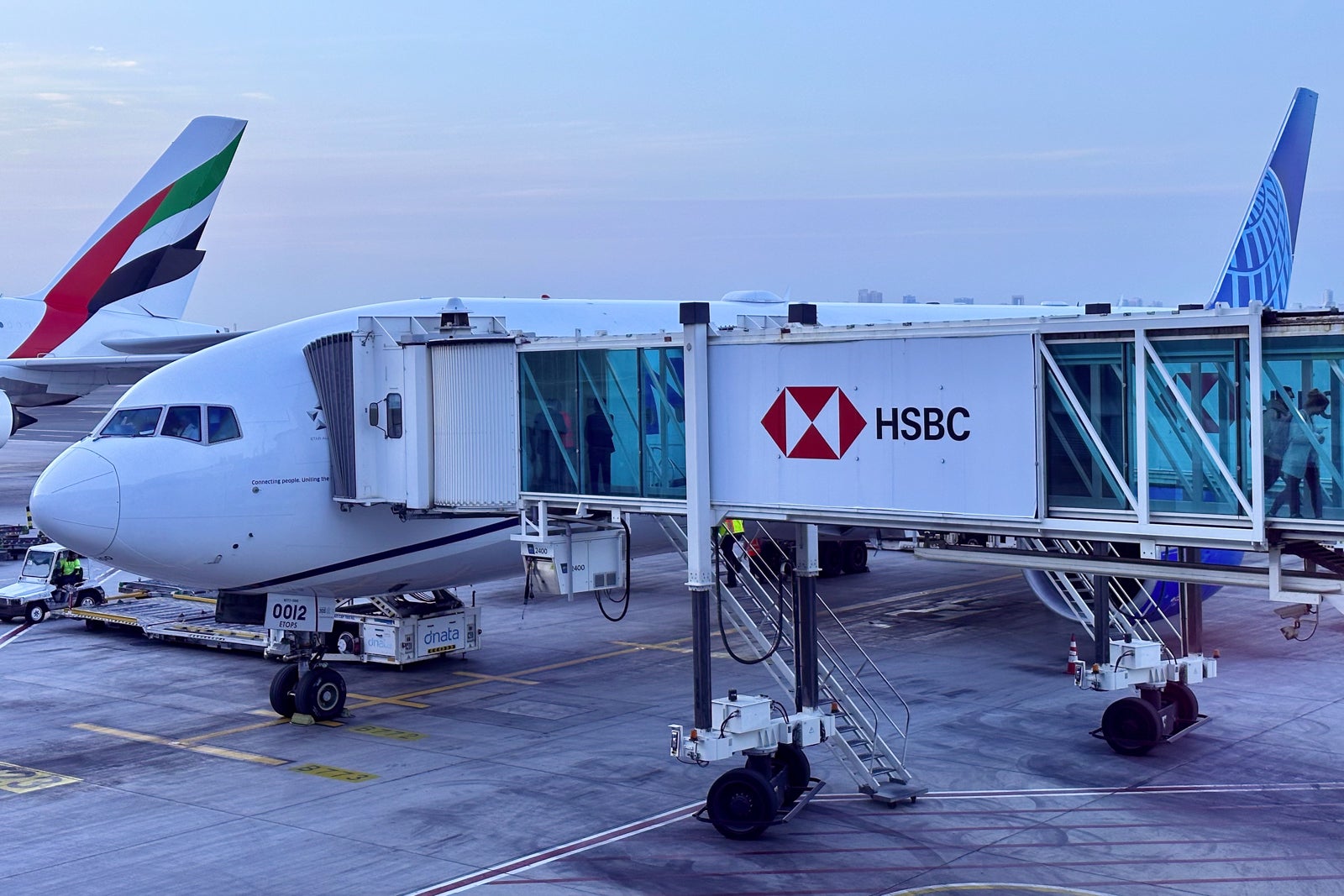 American Airlines, Delta Air Lines and United alleged that these fast-growing Middle Eastern airlines took subsidies from their respective governments, which enabled the airlines to provide superior service at a competitive price on long-haul routes to the U.S. Furthermore, United stopped serving Dubai from its Washington, D.C., hub in 2016, citing an oversupply from Emirates.
Nowadays, that campaign is most certainly history — even the former dedicated webpage for a trade group set up by the Big 3, openandfairskies.com, now displays ads for an Indonesian online casino.
And as of Saturday, United is once again serving the biggest aviation hub of the Middle East.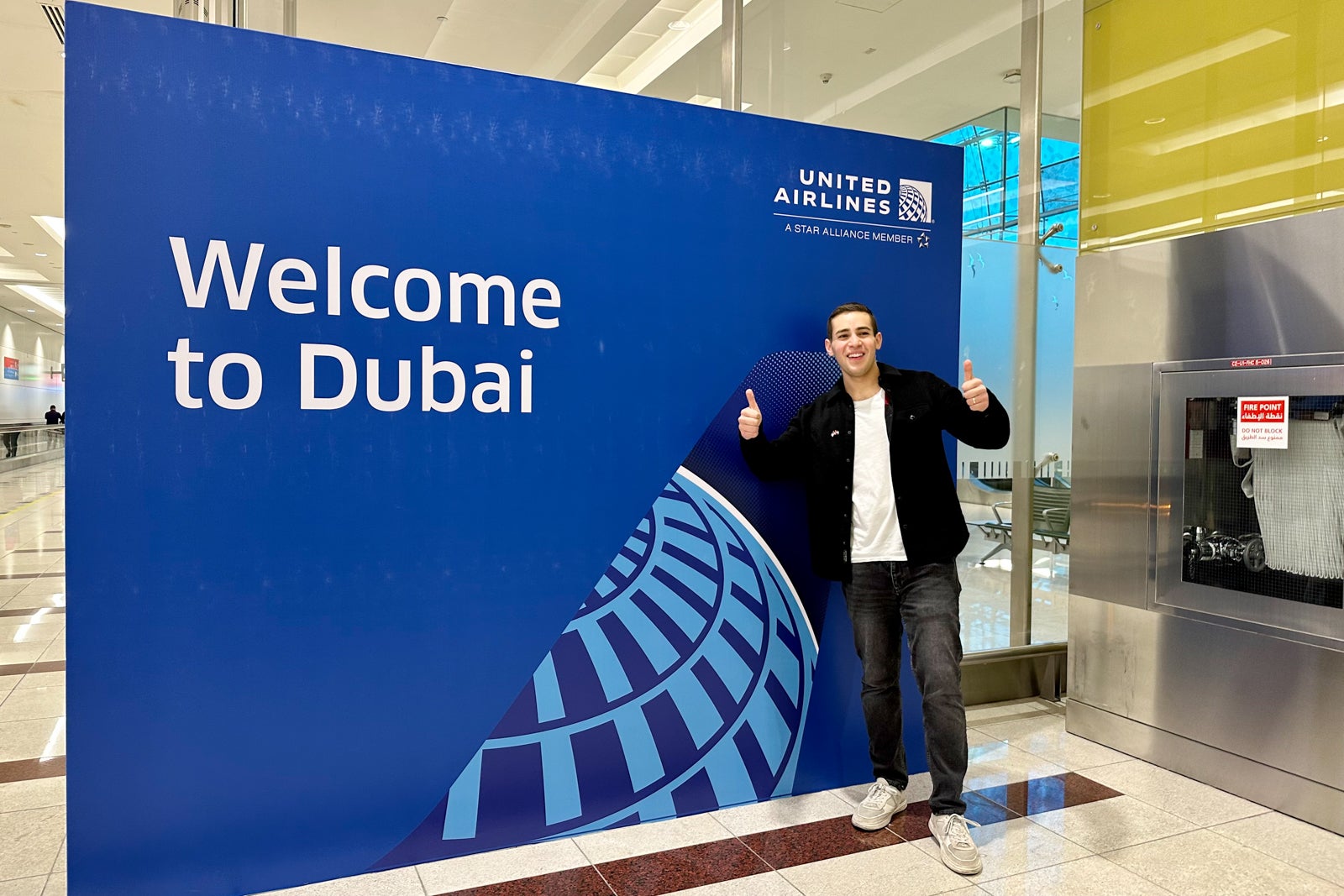 The new route and Emirates tie-up bring big opportunity for United, so it's likely no surprise that the airline turned its inaugural Newark-to-Dubai flight on March 25 into a big party — one that I was pleased to be able to witness first hand.
When the airline first put the new Dubai route on sale, I bought a refundable one-way ticket in economy class for $1154.60. I also applied 40 PlusPoints (United's upgrade currency doled out to top-tier Premier elites) to my ticket, and once my Polaris business-class upgrade cleared, I decided to take the flight.
I'm glad I did. Here's what the experience was like flying United's inaugural flight from Newark to Dubai.
Pre-departure festivities
Though Saturday was a cold, wet and dreary day in Newark, United didn't let the weather rain on its party (or get in the way of an on-time departure and arrival).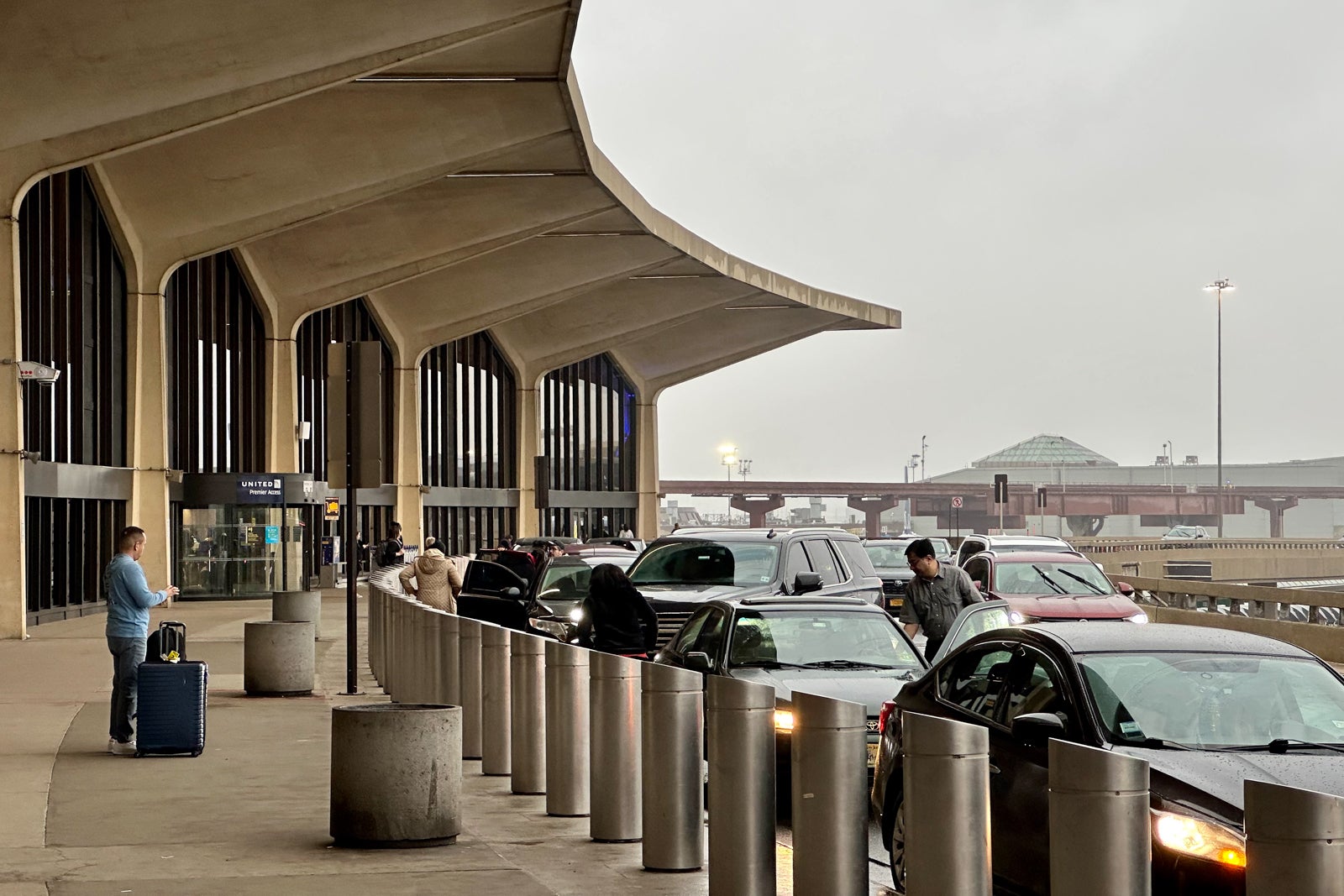 For me, the fun began from the moment I stepped inside the Terminal C check-in hall, which was significantly more peaceful than I would've expected for an airport that was operating with a weather-related ground stop that temporarily halted all flights.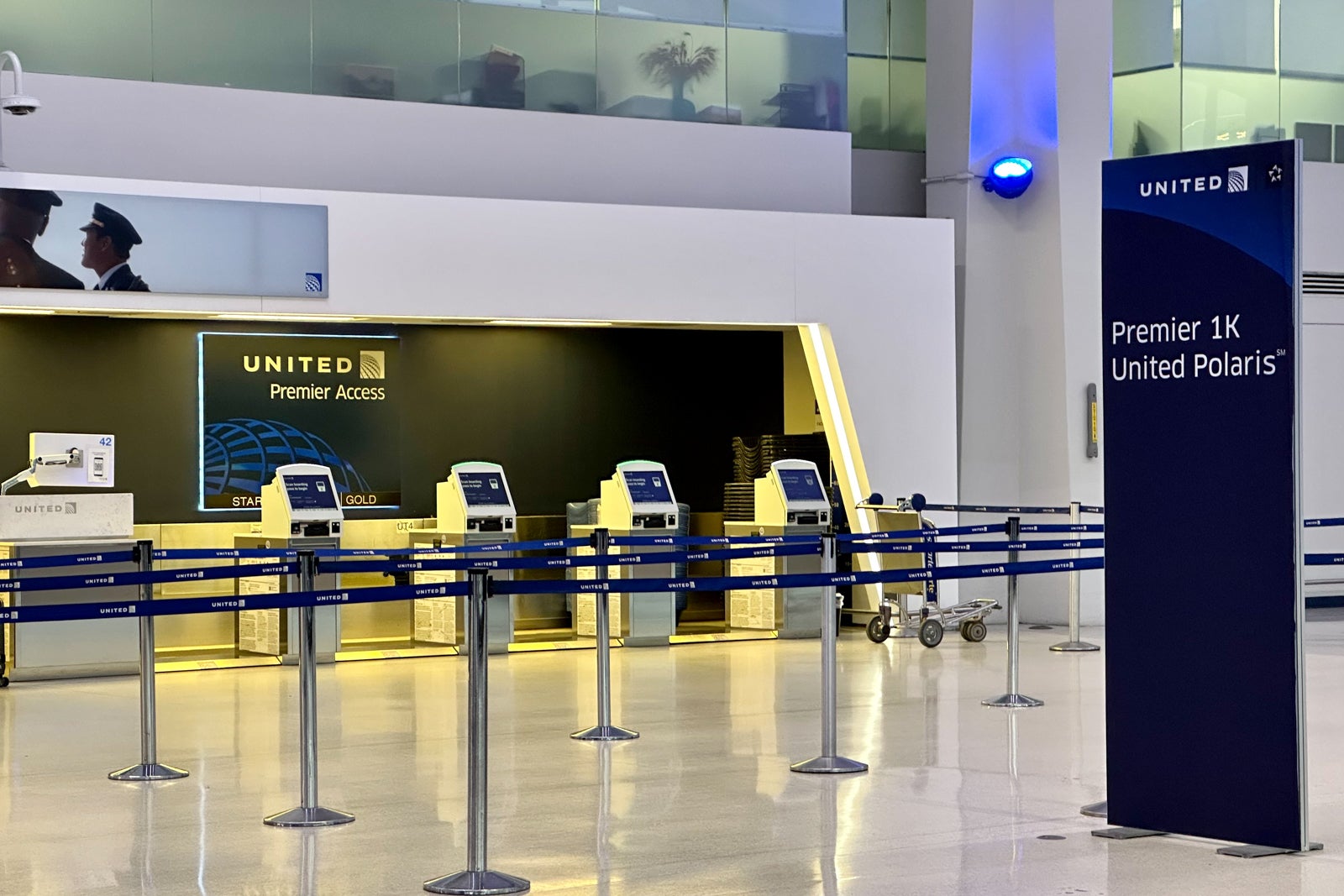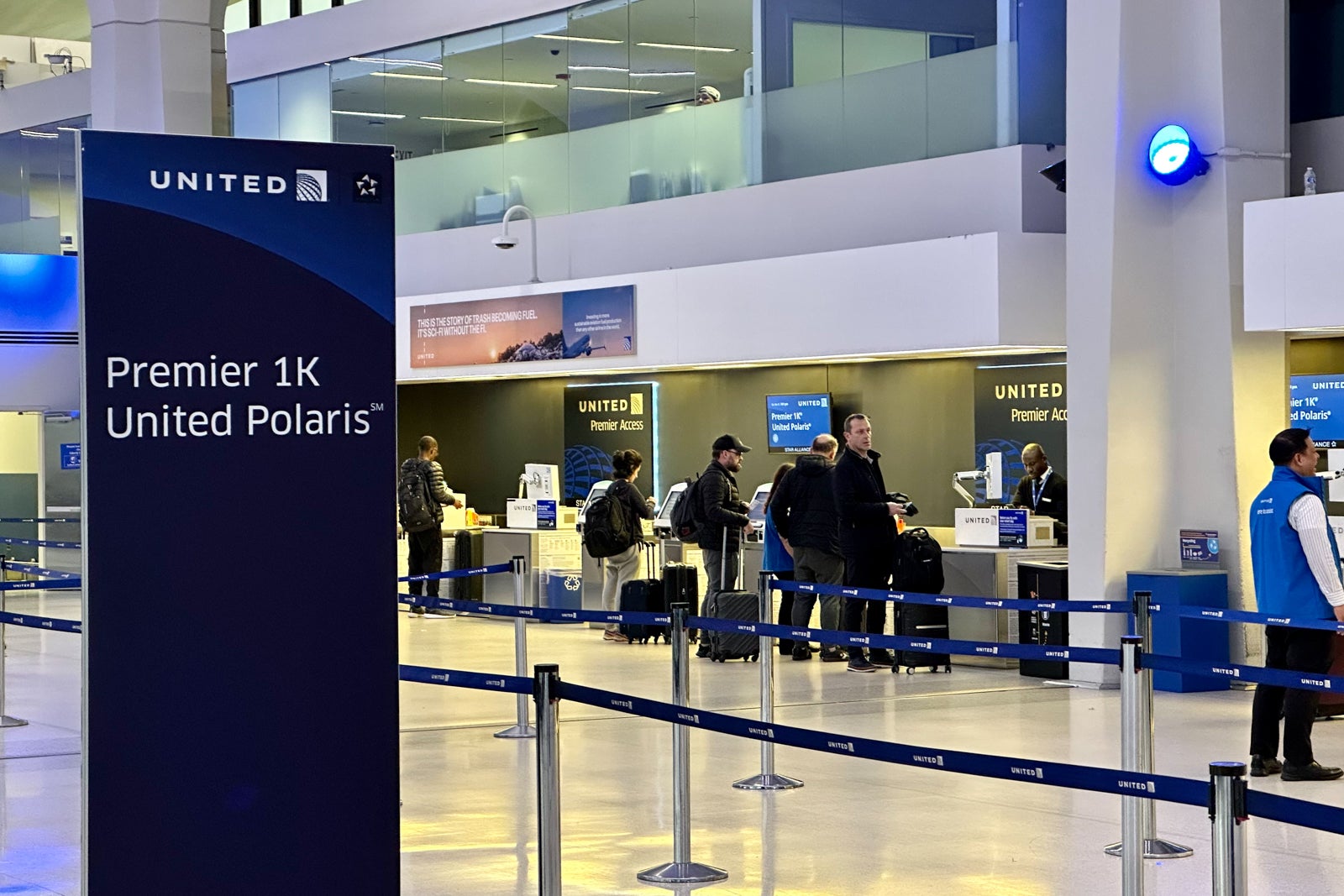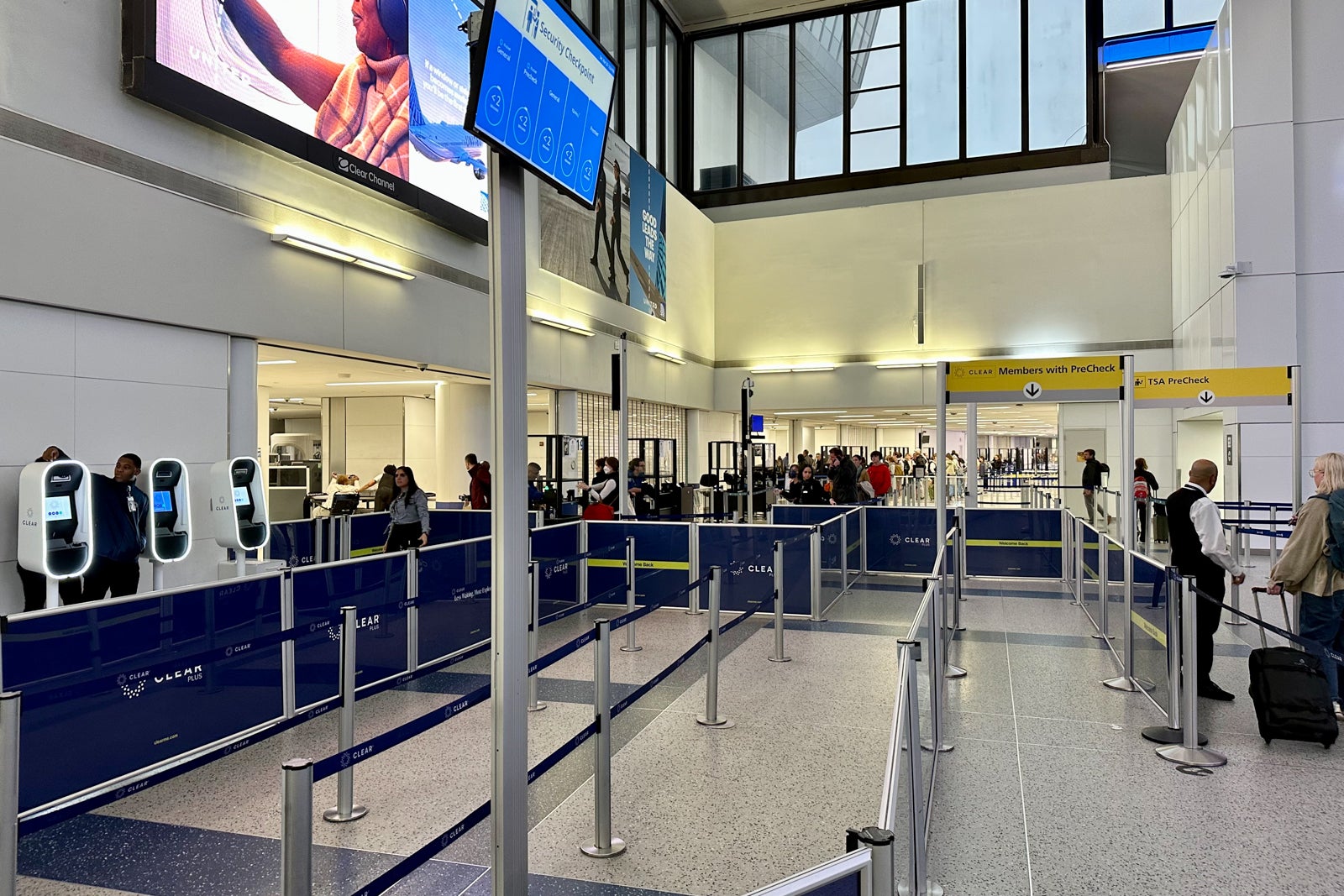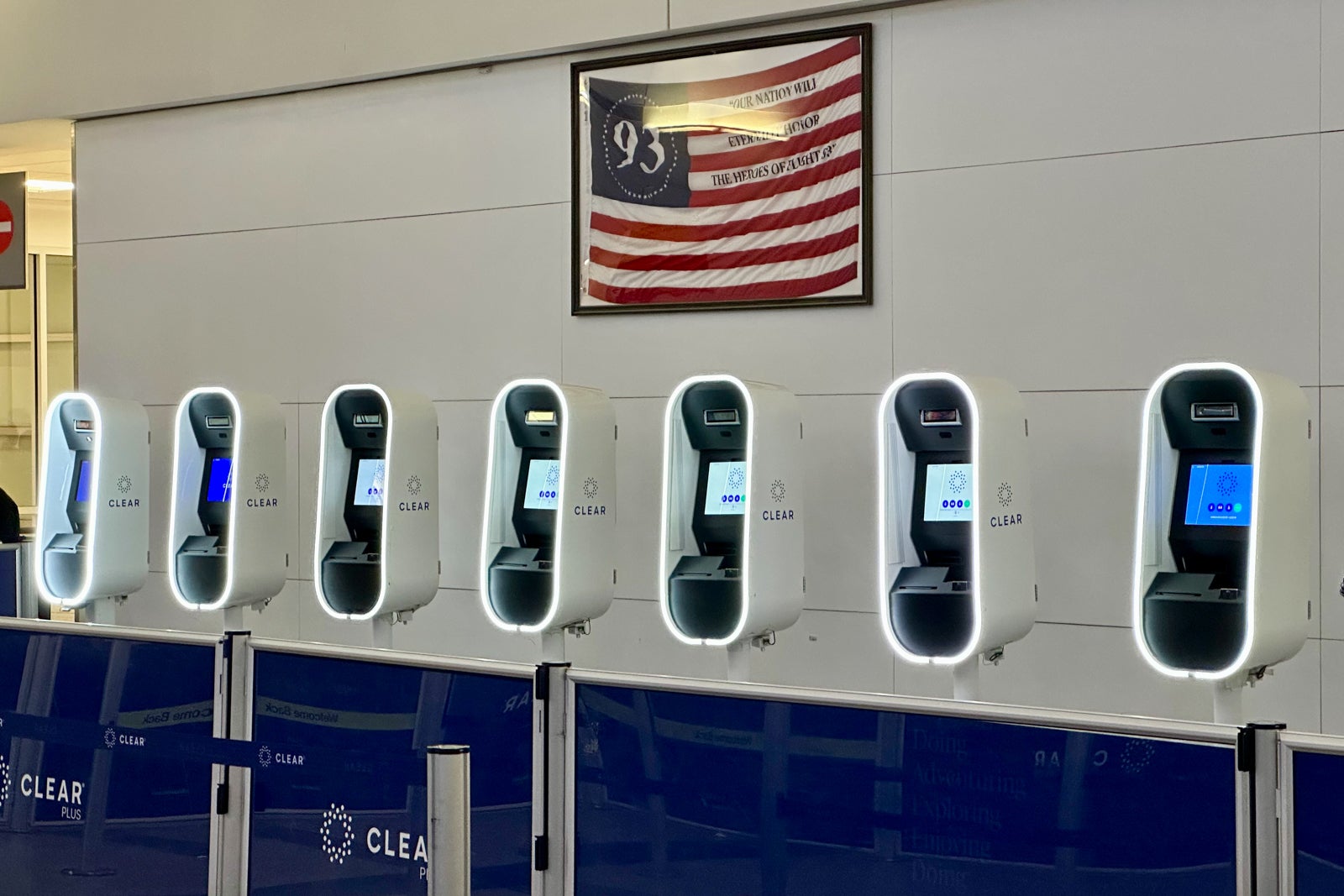 I already had a mobile boarding pass, so I bypassed the dedicated Premier 1K and United Polaris check-in counters and headed straight for security, where I found no line at the Clear and TSA Precheck lanes.
The airside area was definitely a bit busier, and I quickly made my way to the Polaris Lounge, located between Gates C102 and C120.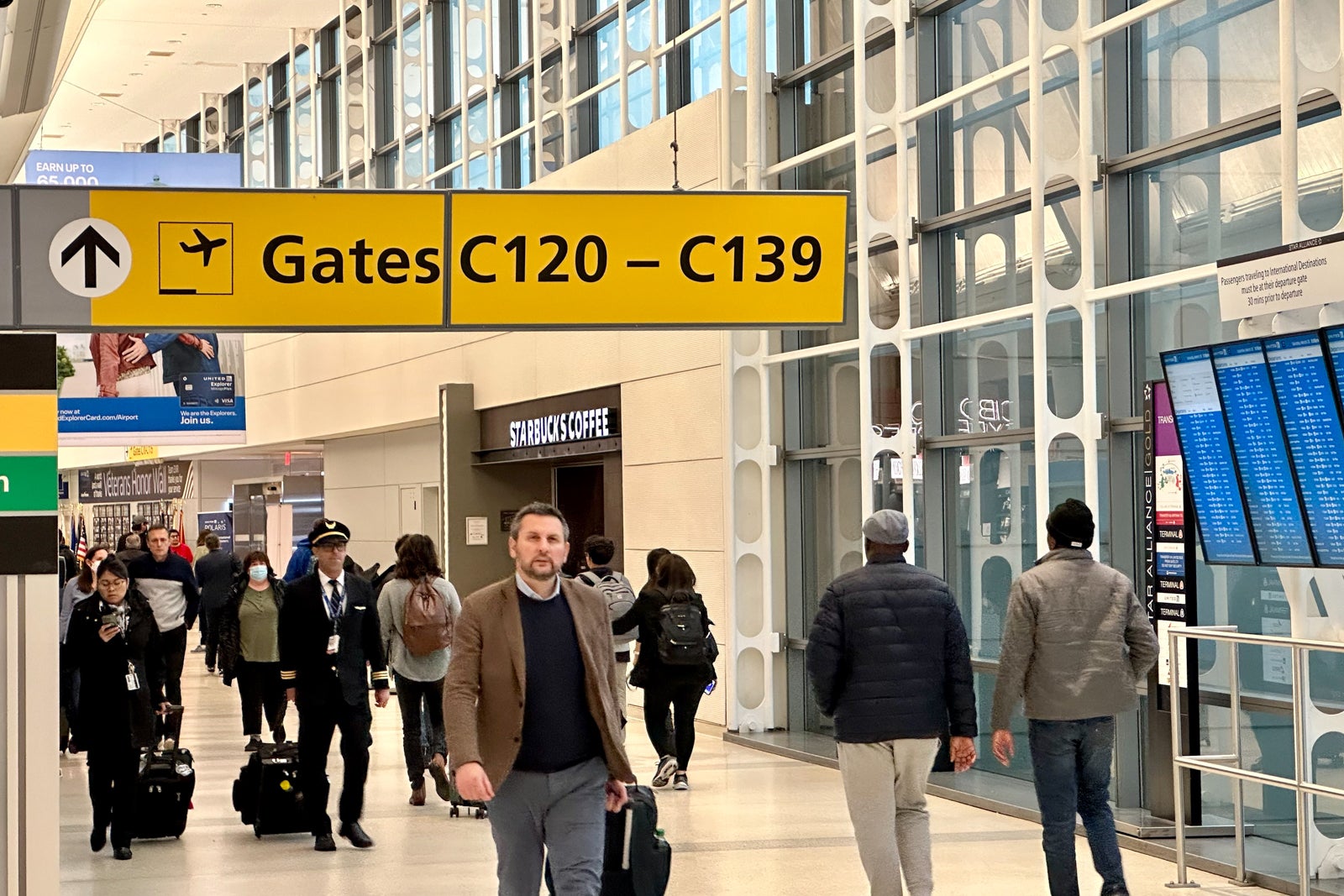 There was a noticeable buzz in the air once I entered this business-class-only lounge. Maybe it was the large commemorative inaugural flight poster or the Champagne welcome drinks, but the Polaris Lounge definitely felt like the place to be on this Saturday night.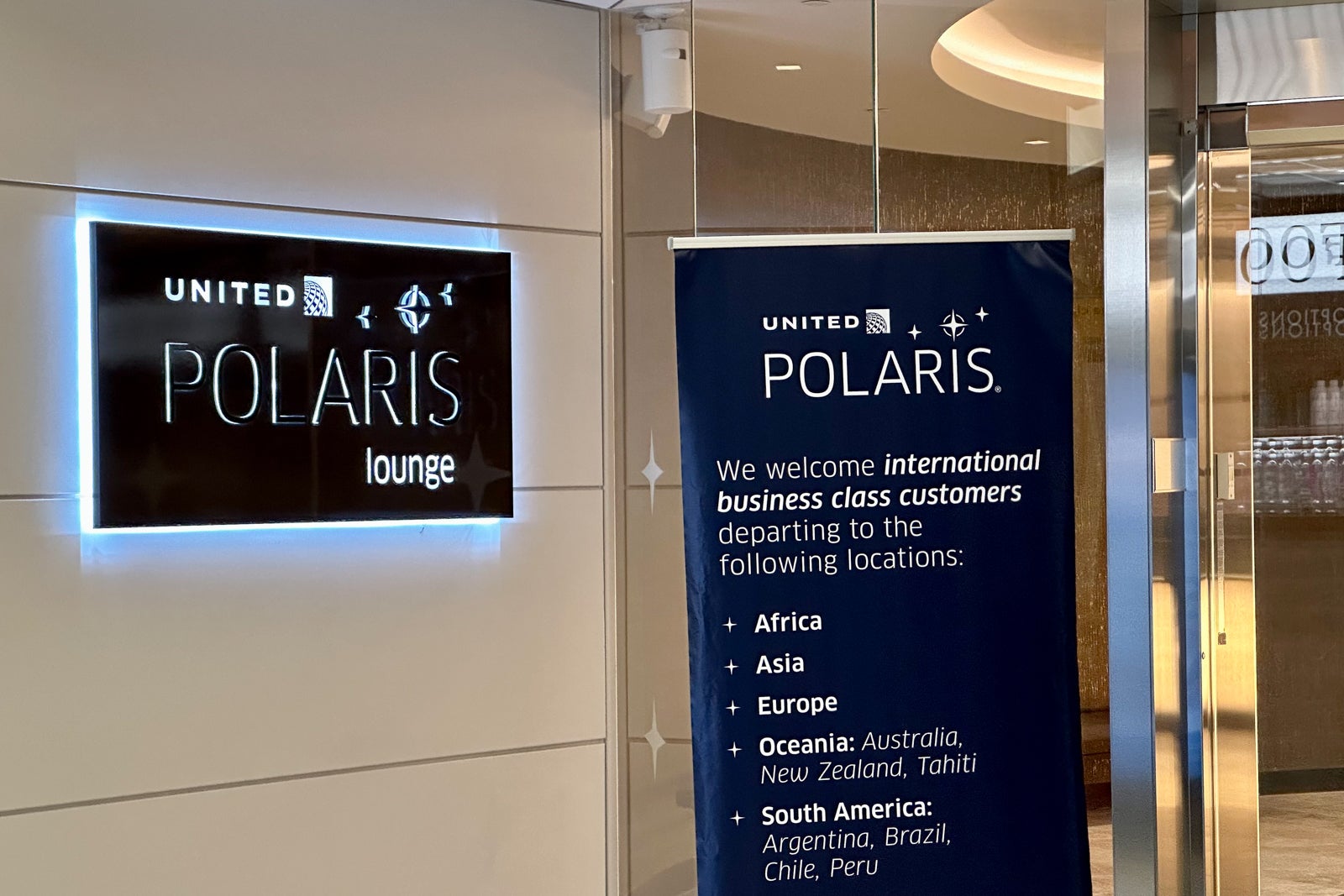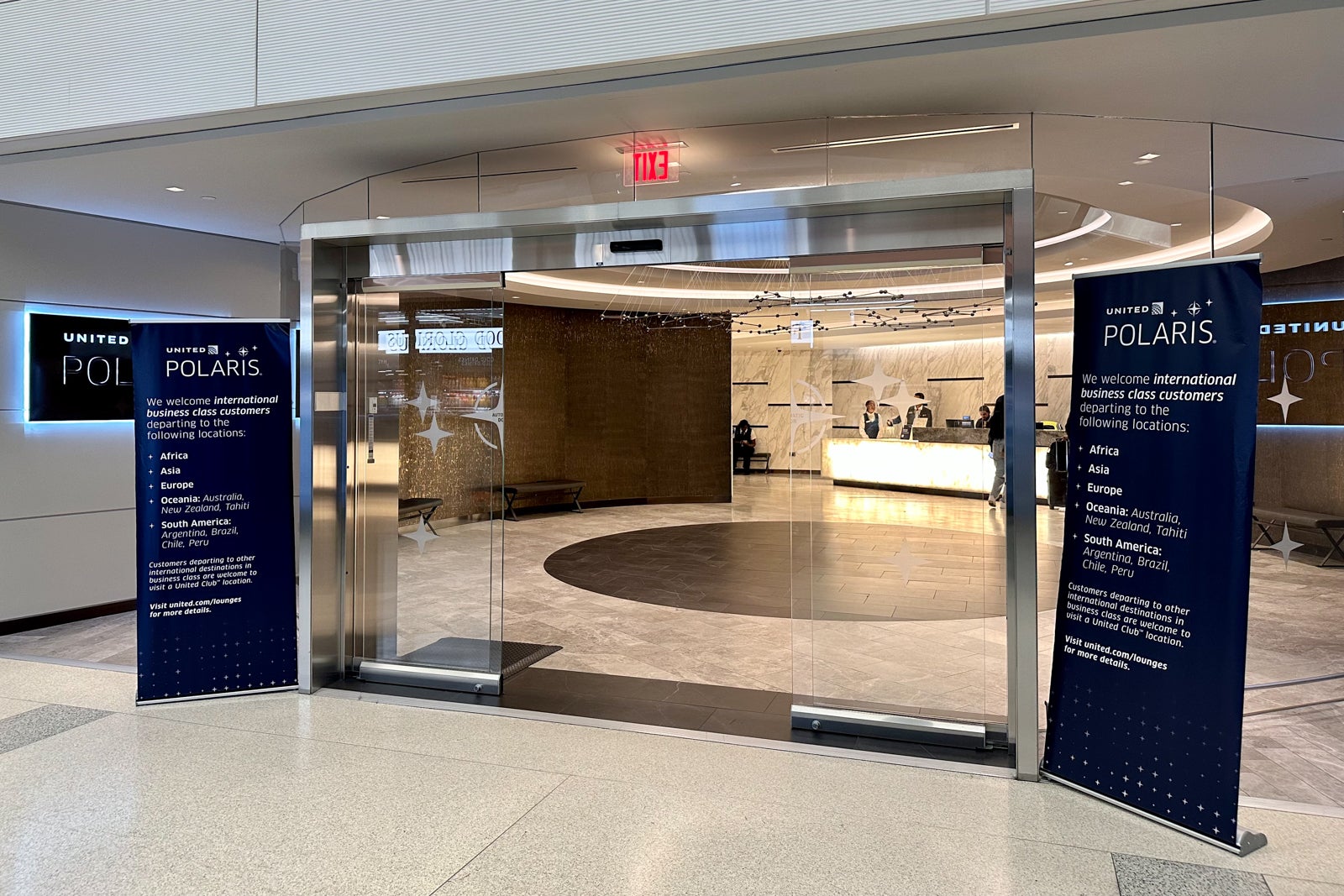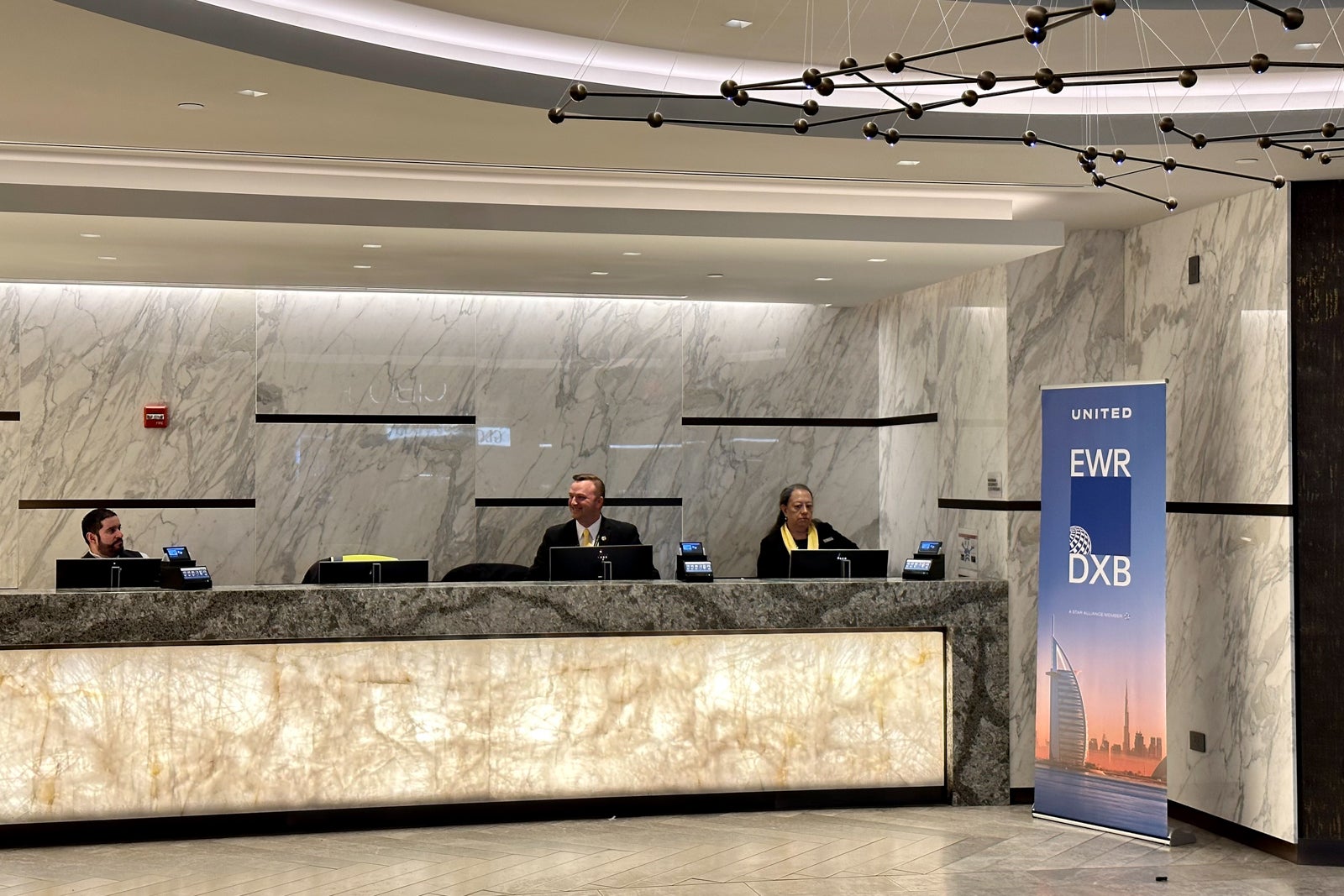 Being based in New York, I've been fortunate to spend plenty of time in the Newark Polaris Lounge, so I didn't linger around for too long.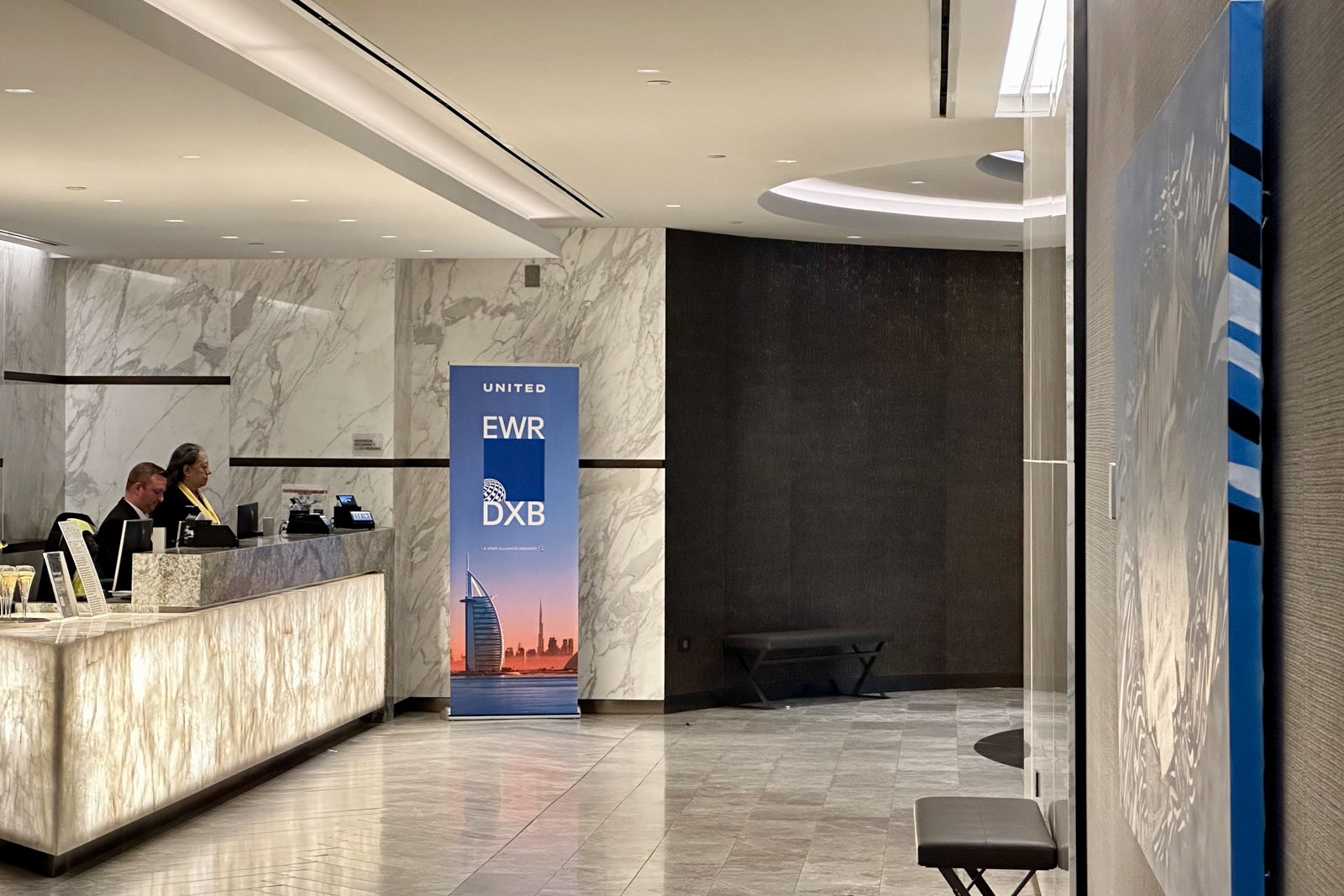 There was a 15-minute wait for the a la carte dining area, and the rest of the lounge — the bar, buffet and relaxation areas — were pretty busy. The one seating area that had space was the phone rooms, as flyers were busy enjoying their weekends.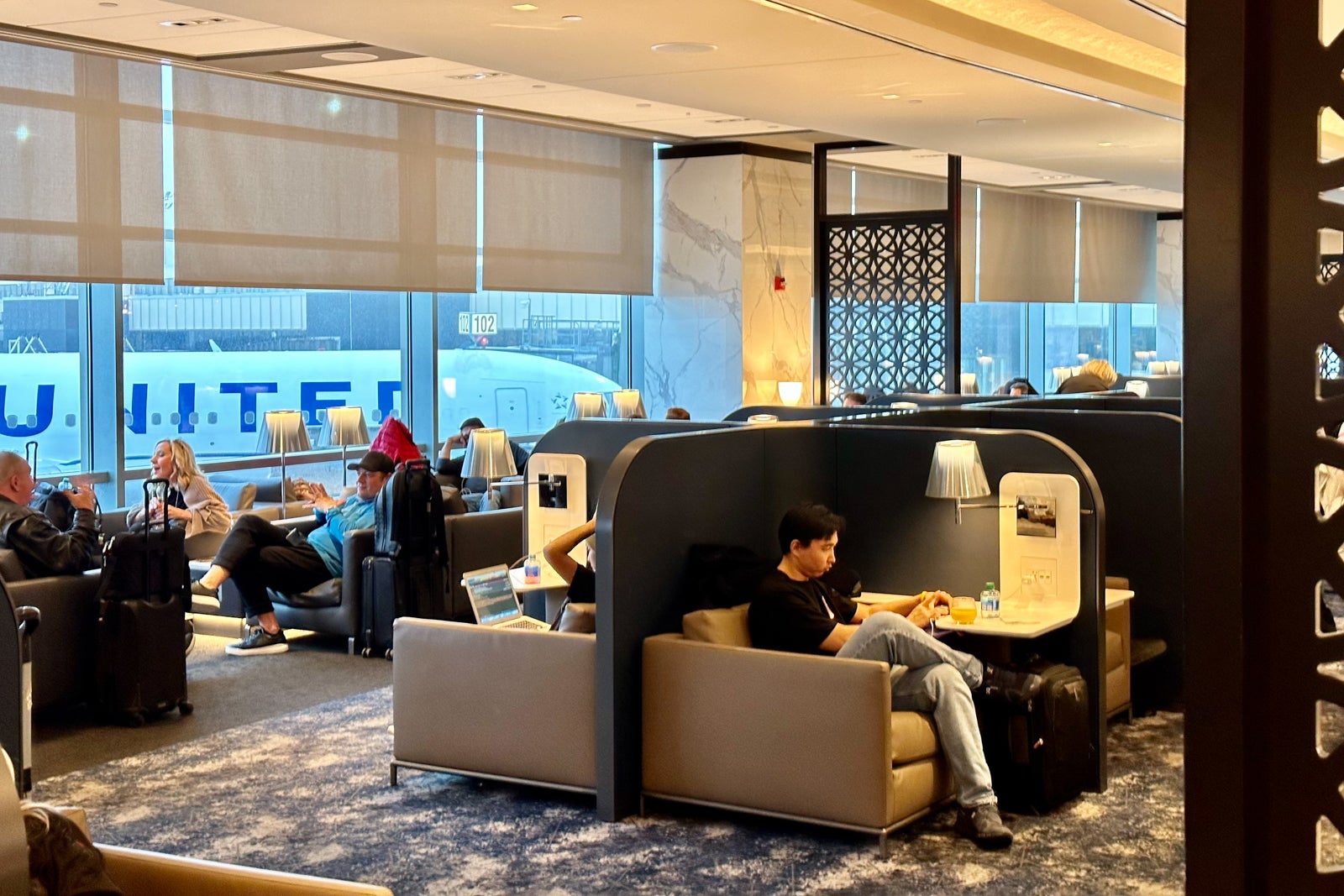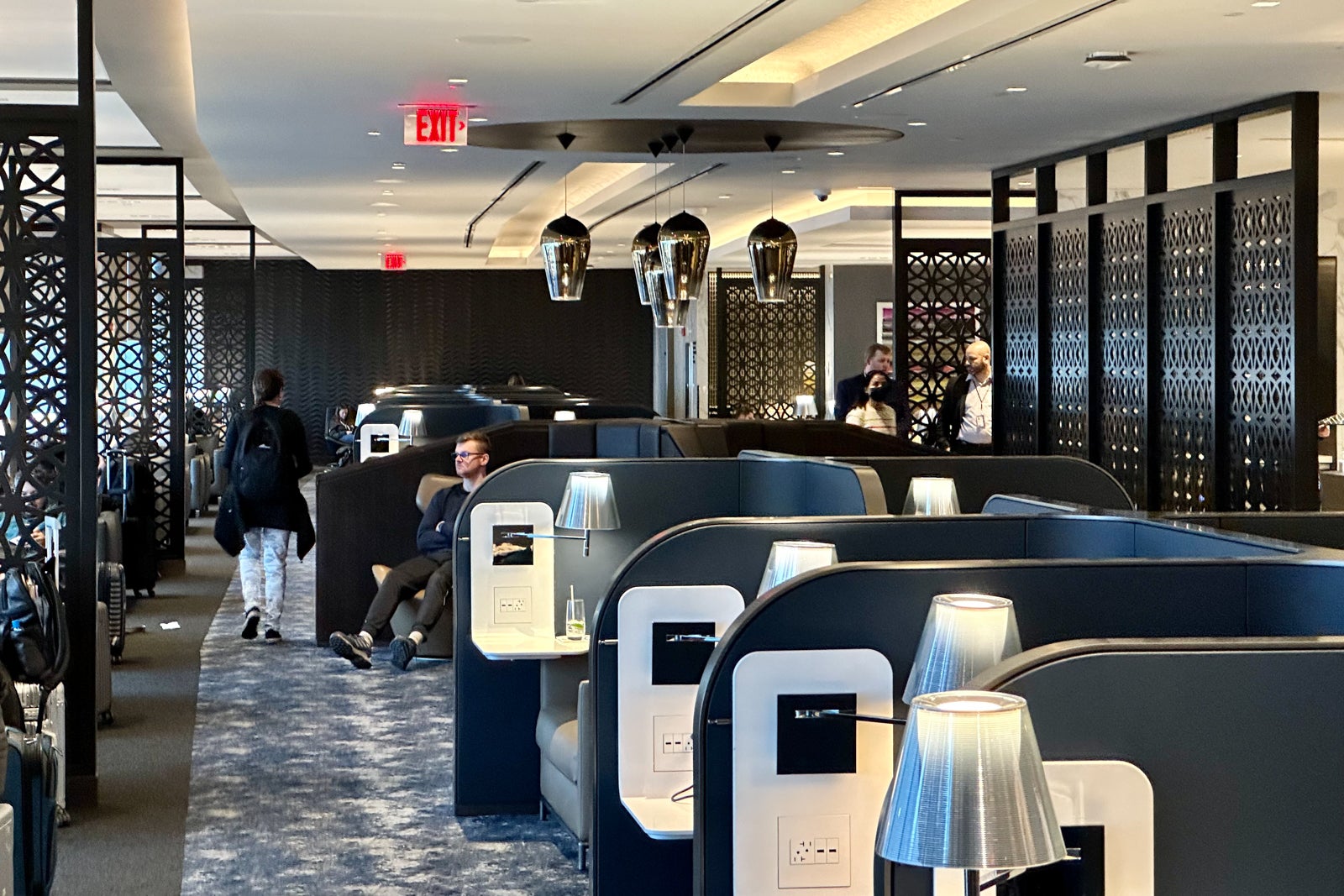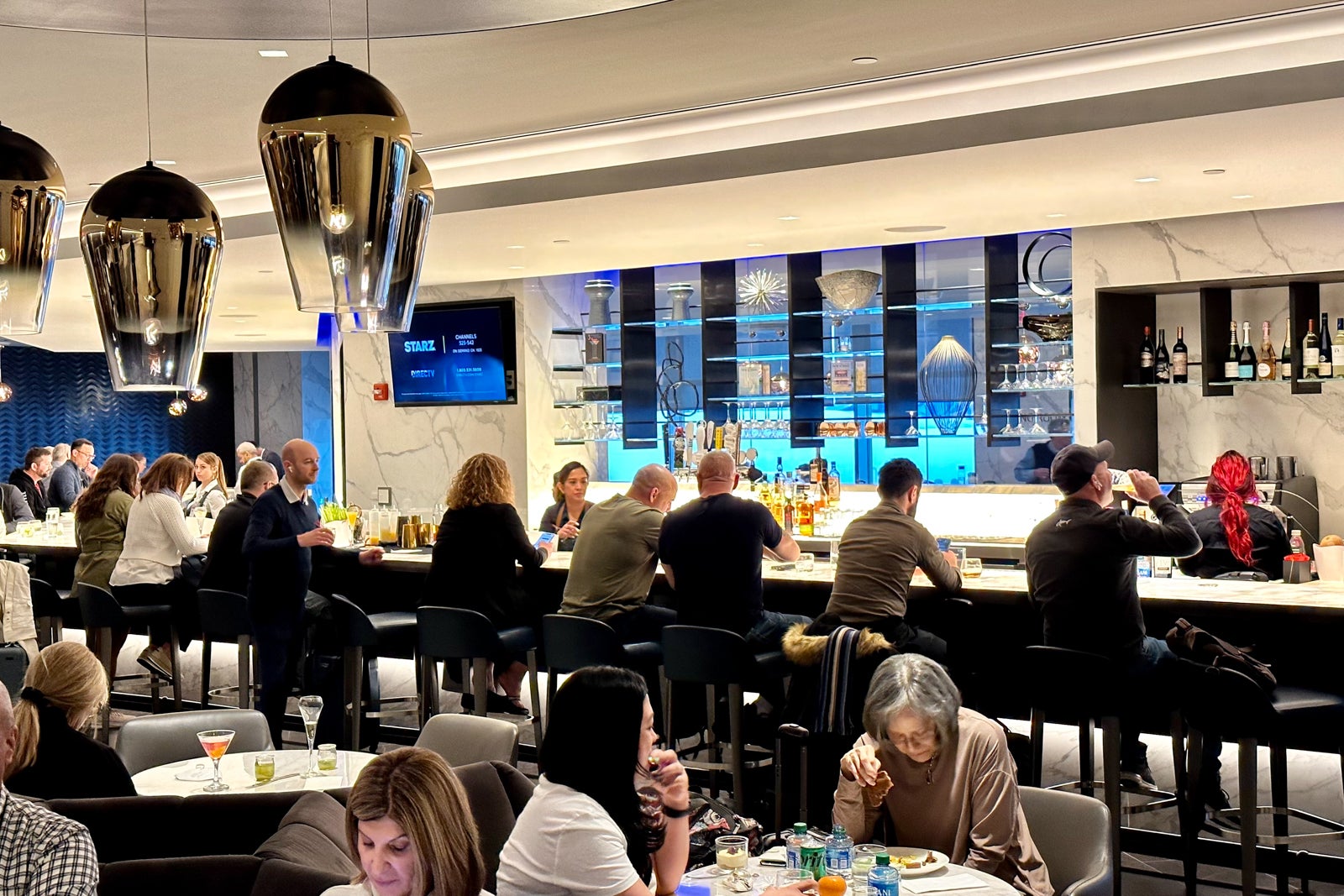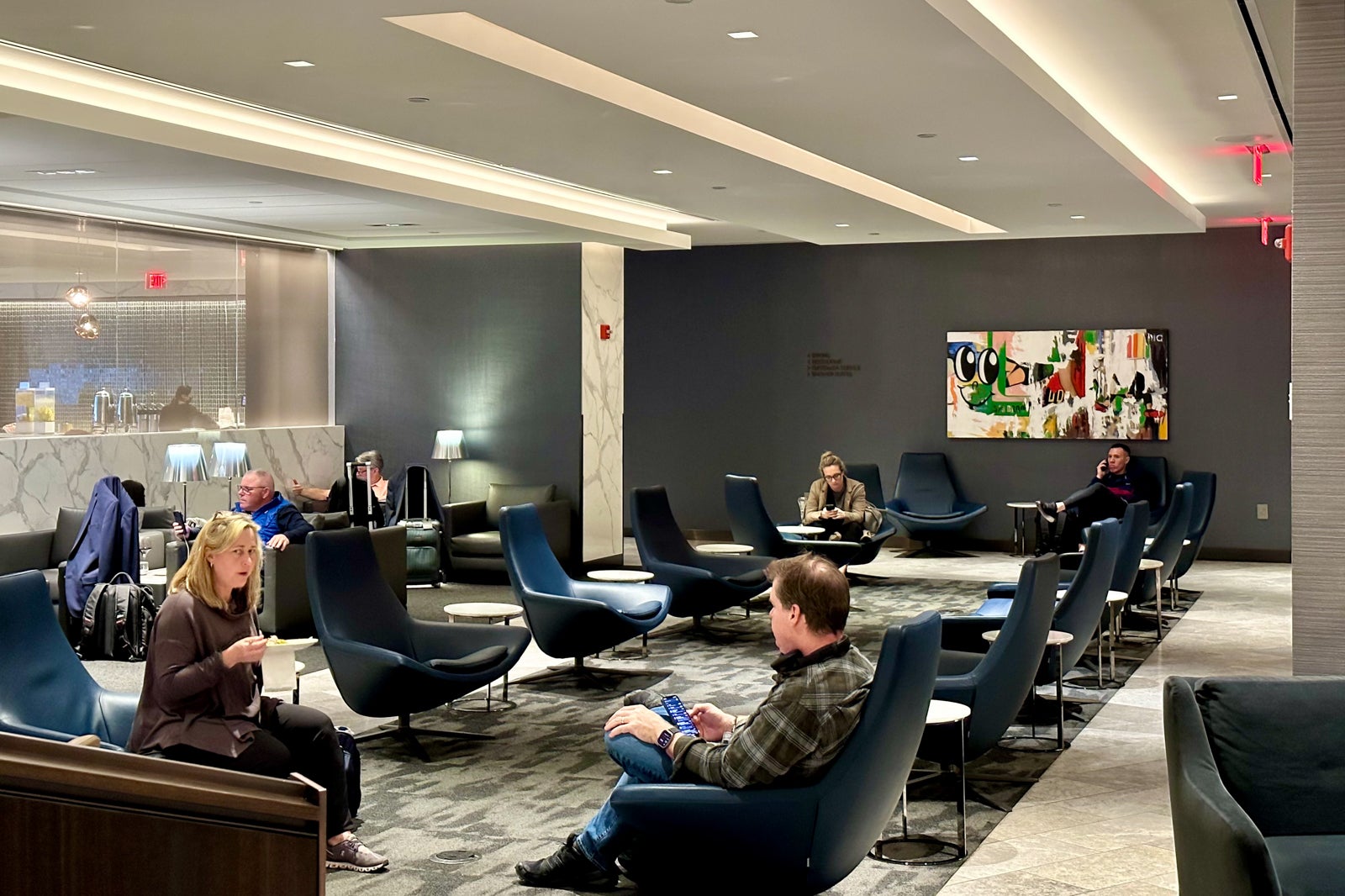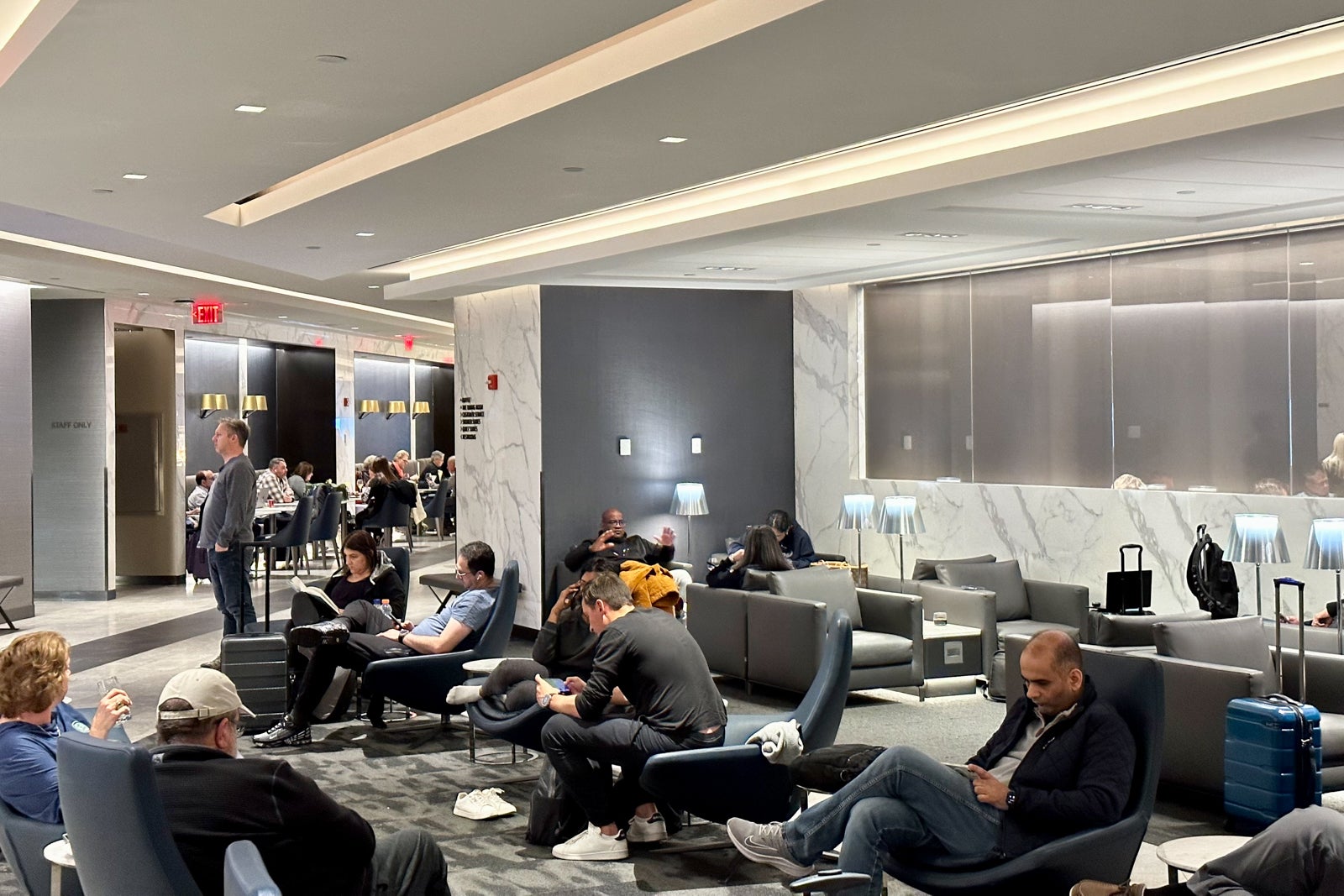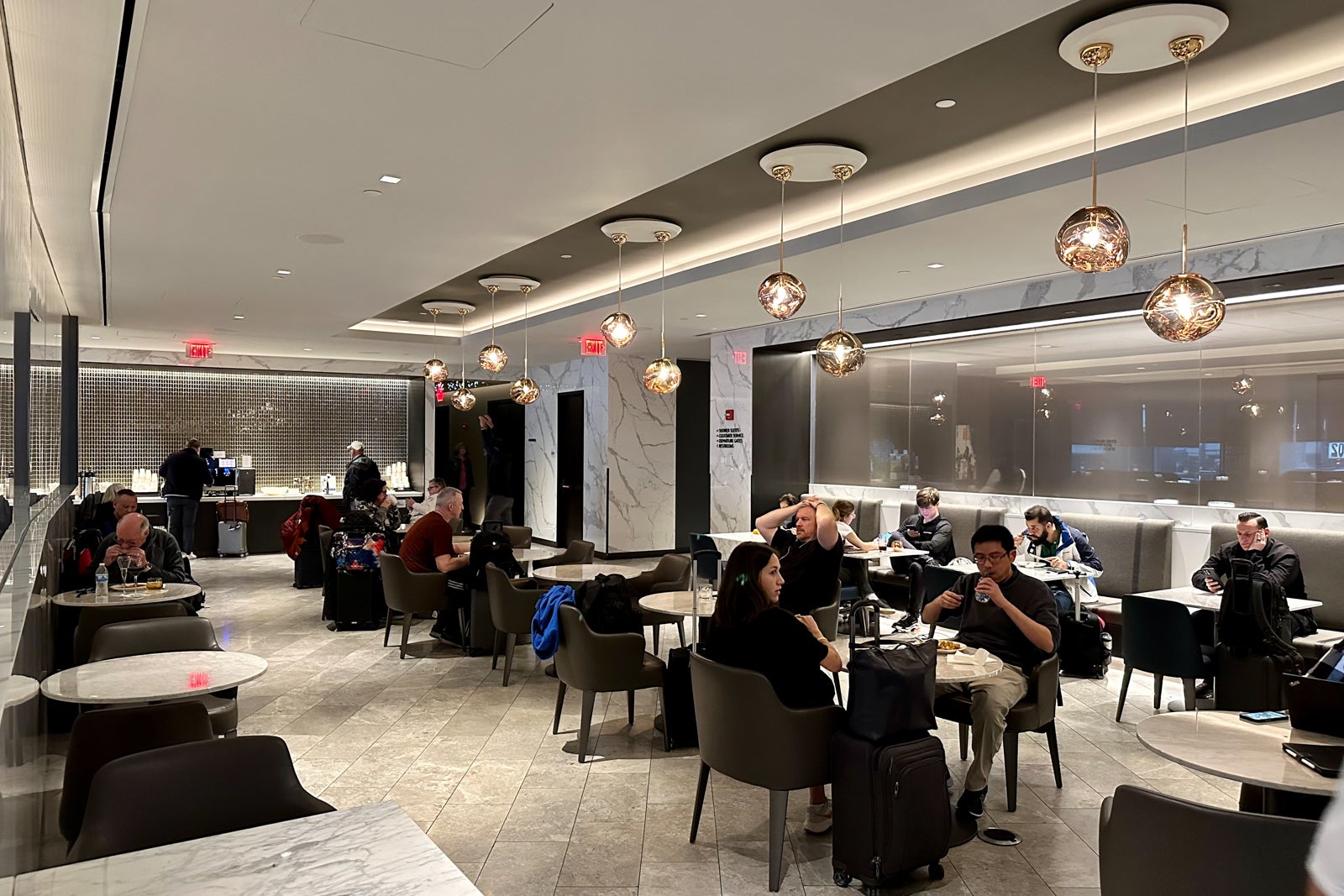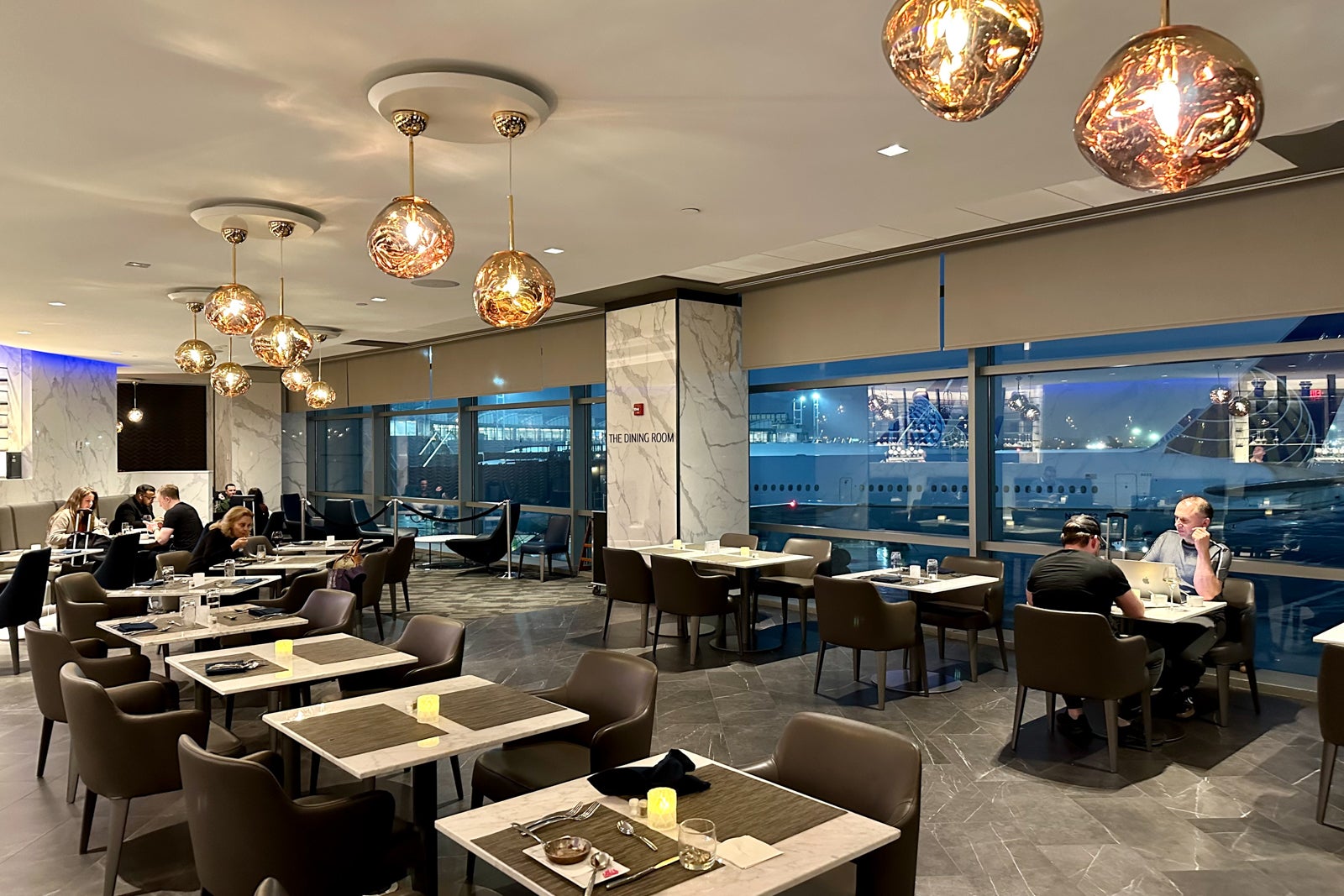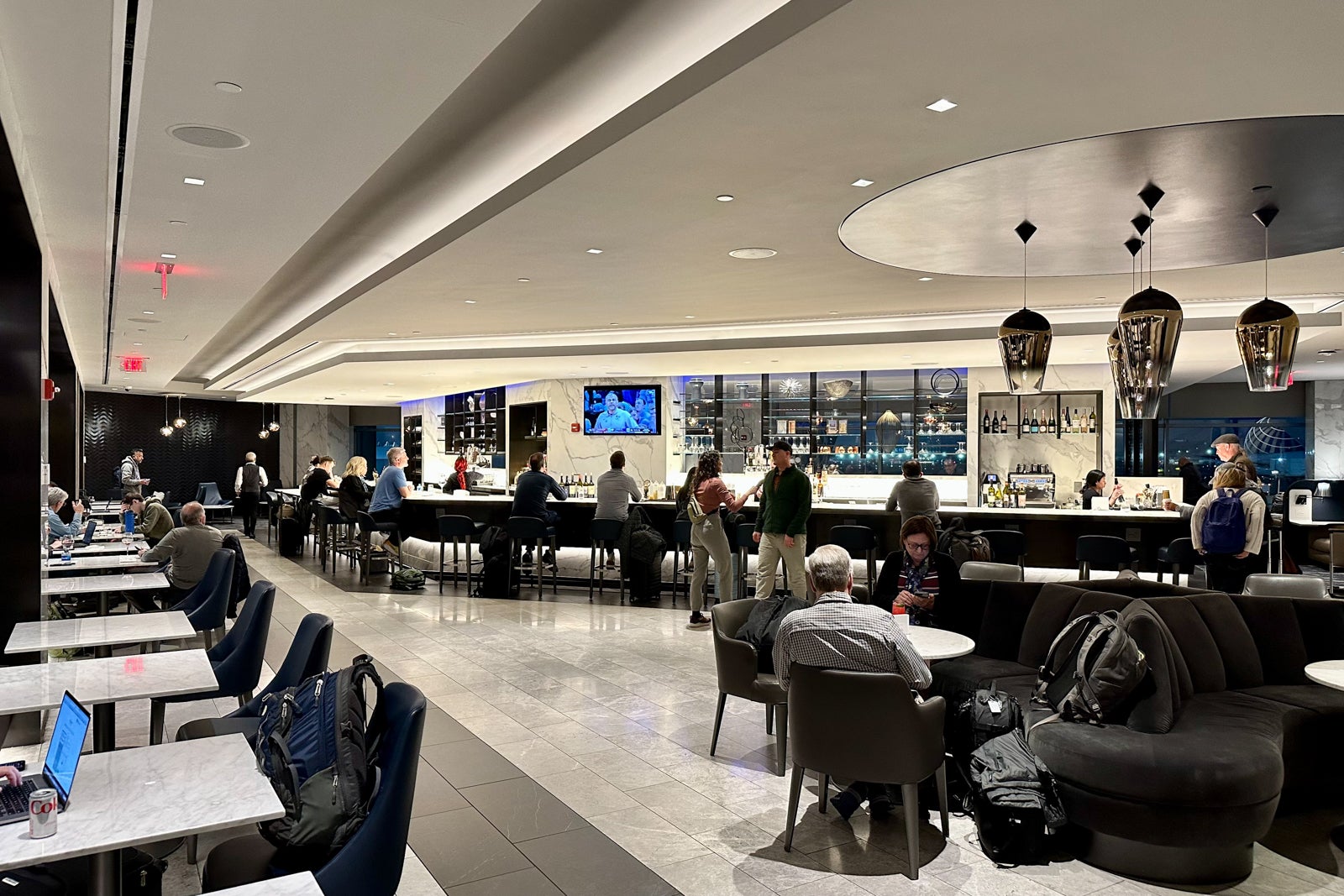 That said, I scarfed down a plate of food from the buffet, which offers much better fare than what you'd find at the nearby United Club. (Even so, Delta's Sky Clubs still beat the Polaris Lounge when it comes to buffet catering.)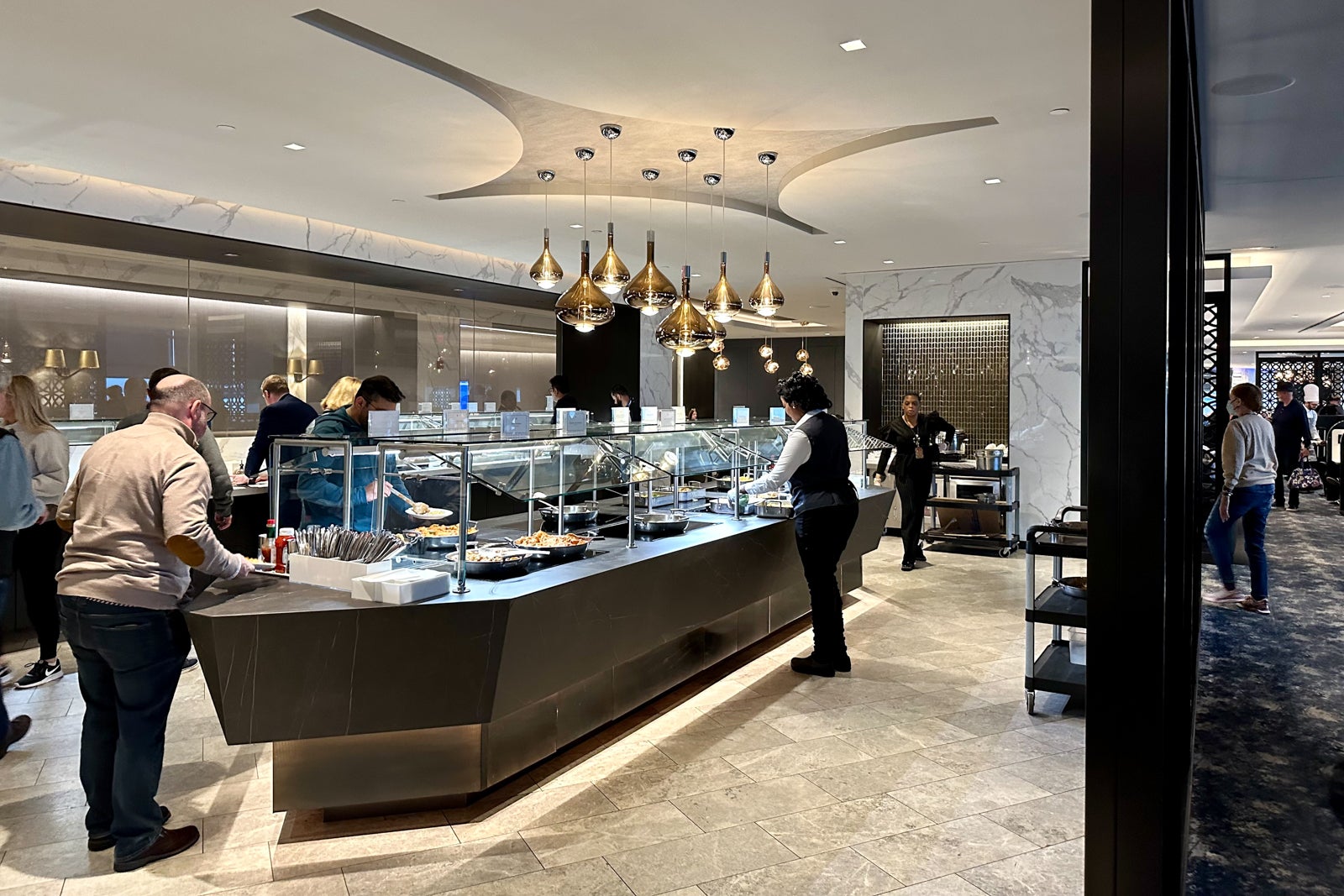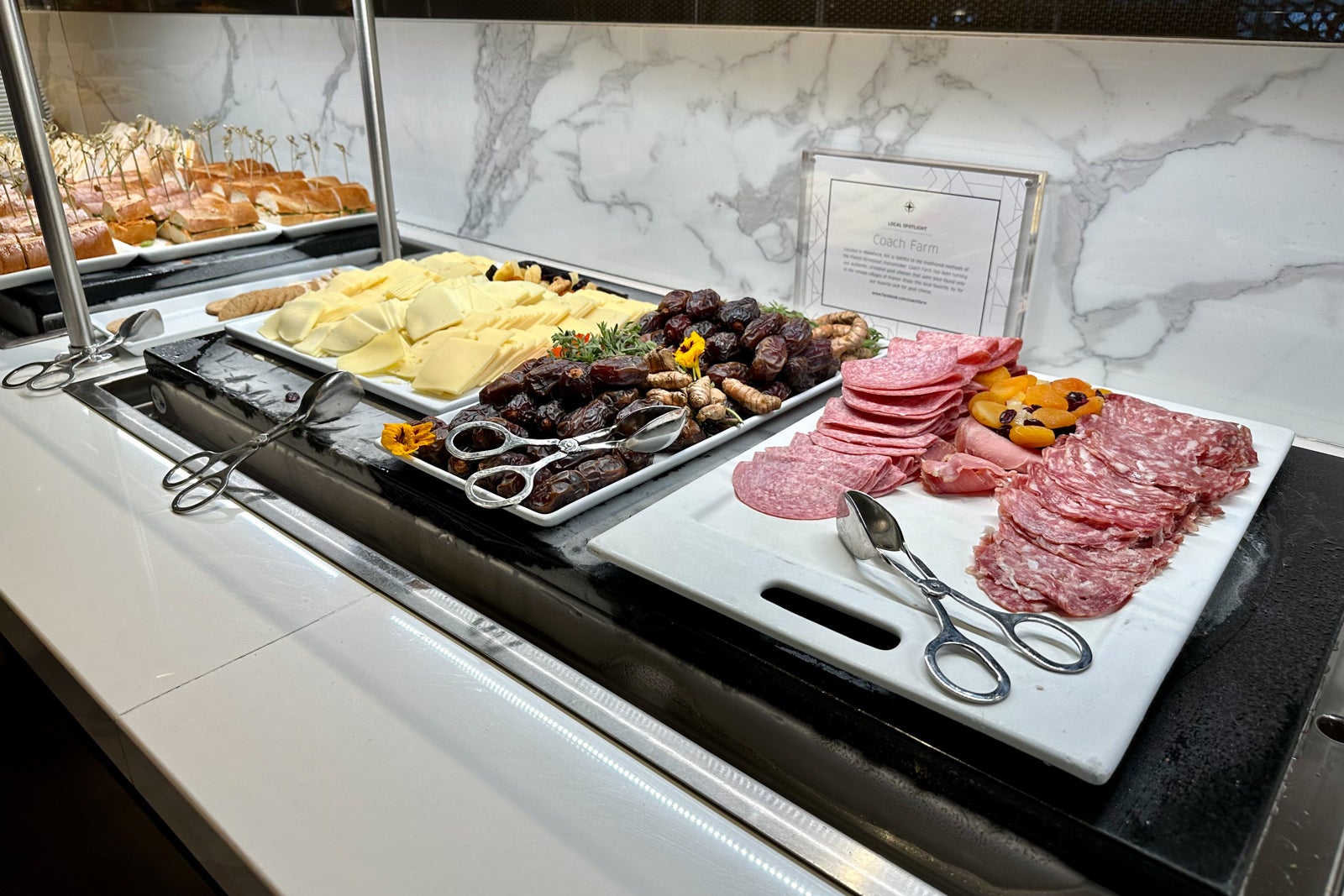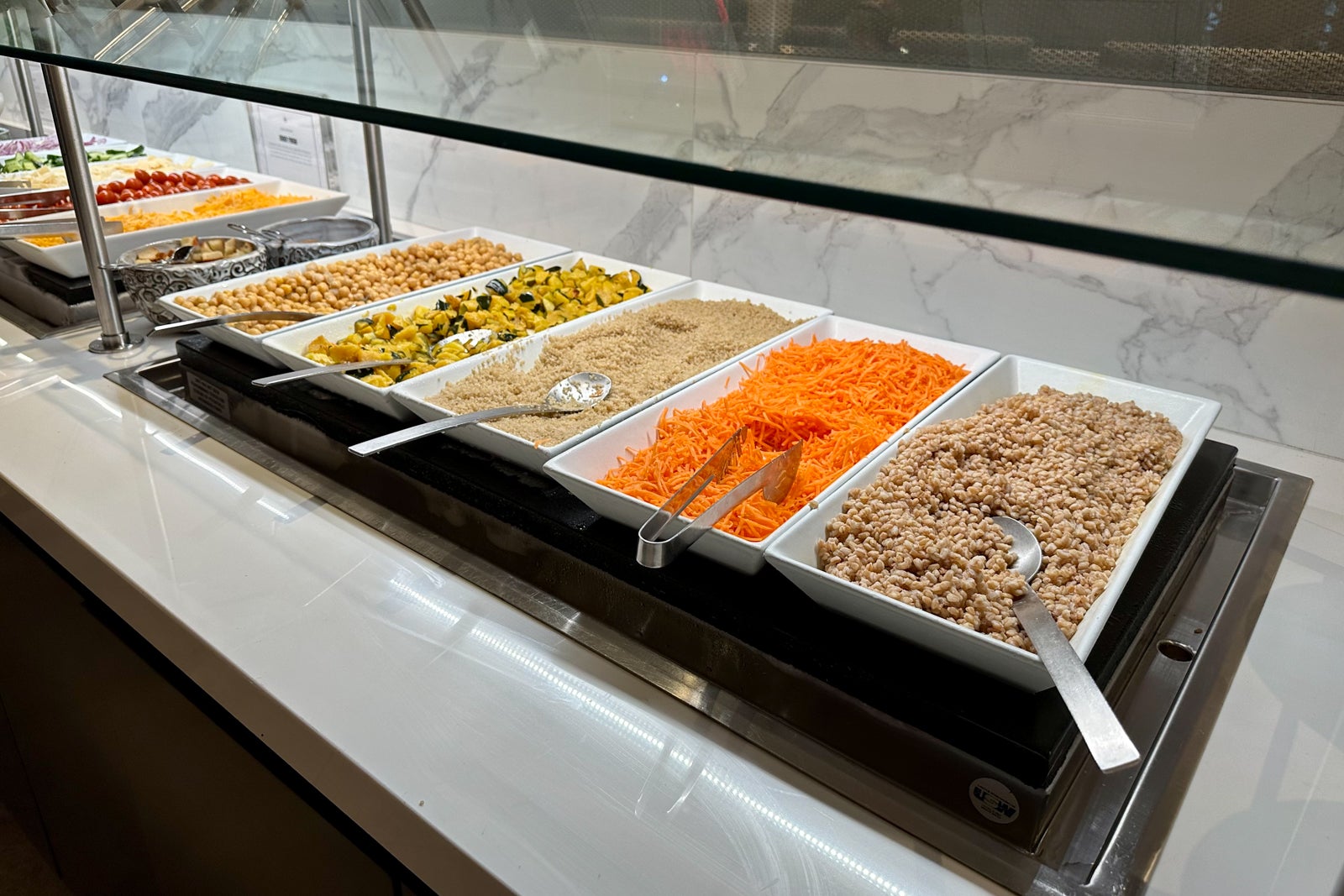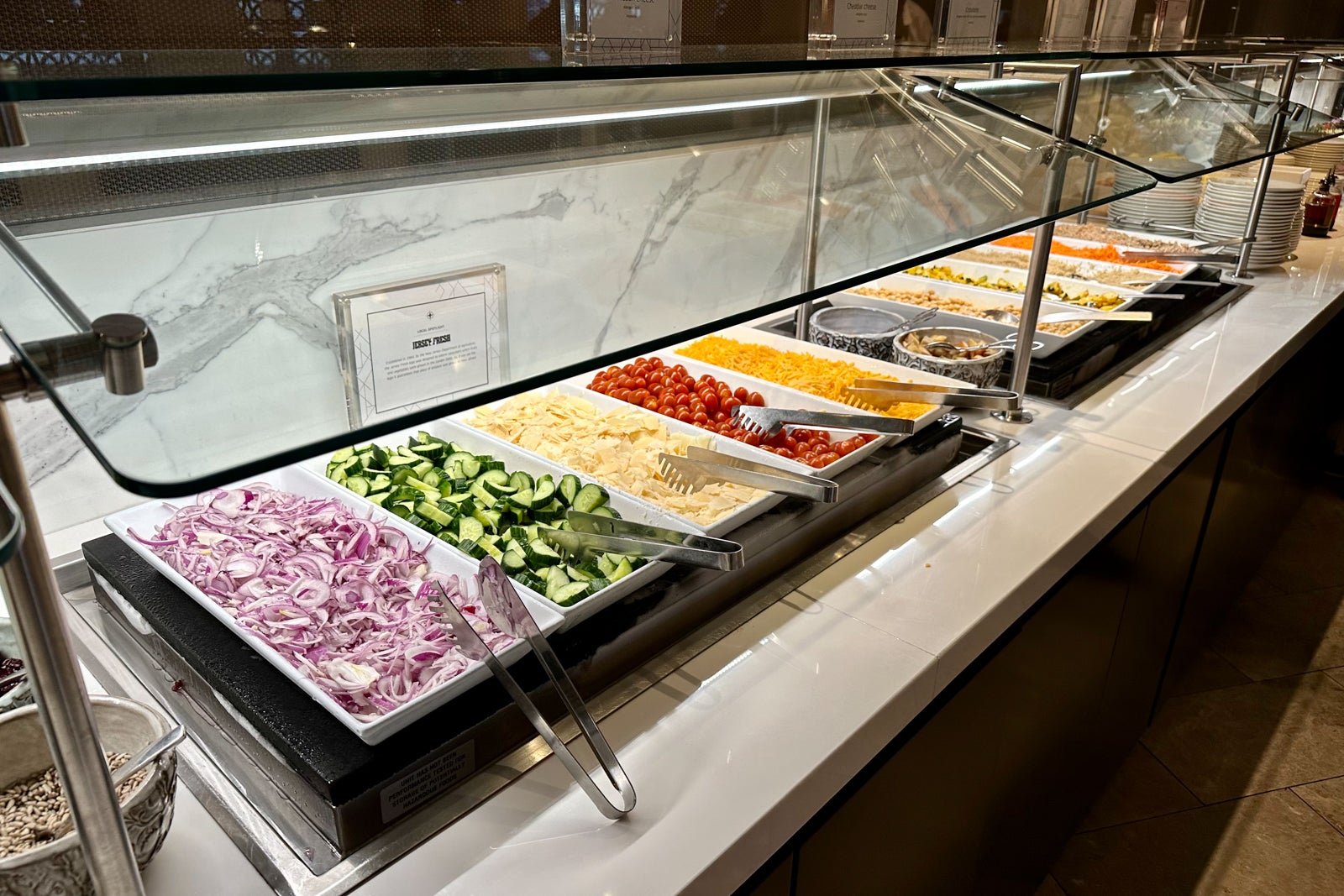 While I could've spent all evening in the lounge, I made my way to the gate at 7 p.m., well before the posted 8:50 p.m. boarding time. After all, I was most excited about the inaugural flight party.
When I arrived at Gate C121, I found it decked out for a celebration. From balloons to accent lights to a lavish spread of Middle Eastern eats (including a charcuterie board, falafel, hummus and pita), United pulled out all the stops in setting the scene for its return to Dubai.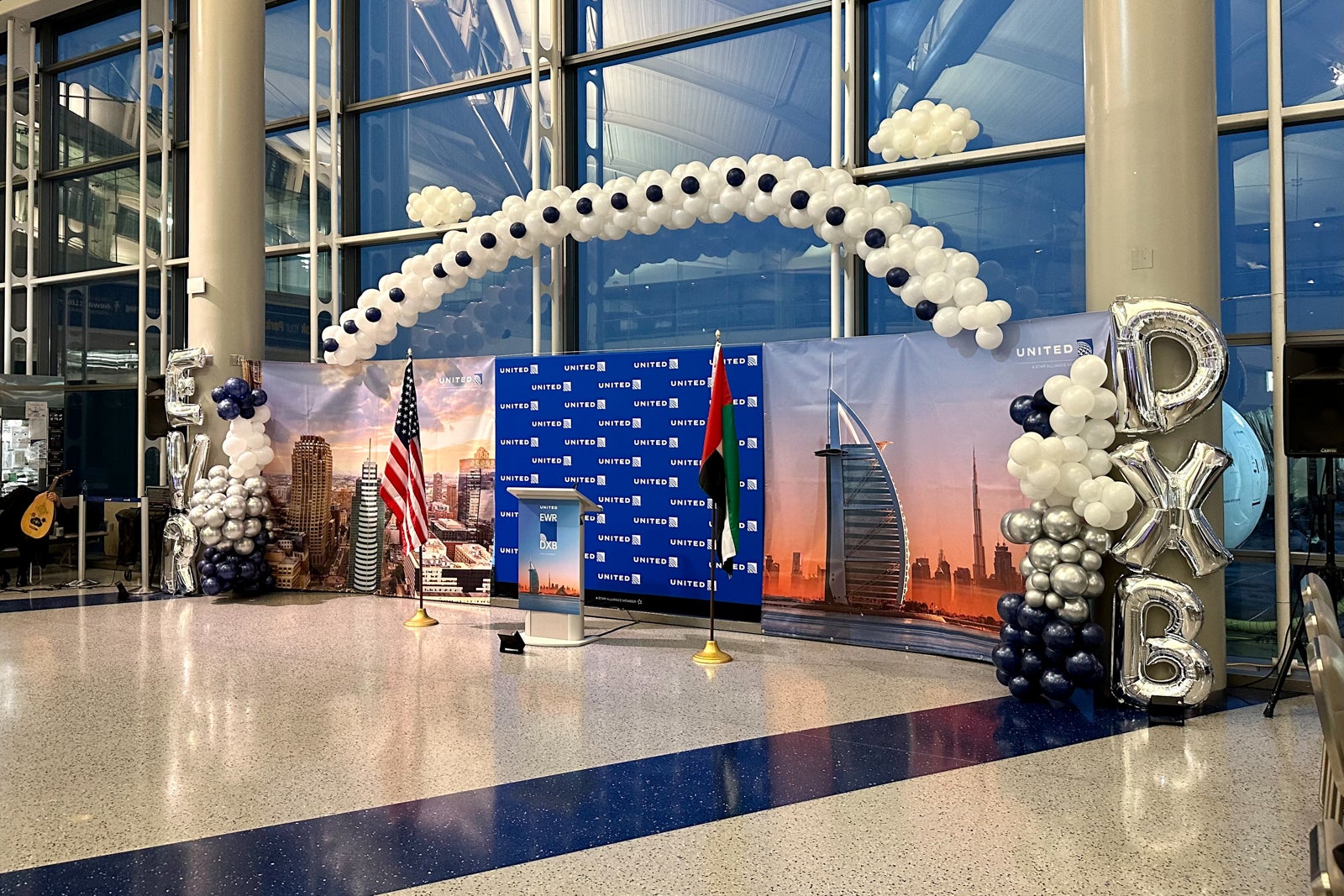 The airline opened the gate at 7:30 p.m., and excited flyers started pouring in. Many travelers, especially those sitting in Polaris and Premium Plus, already knew each other from Facebook groups and past inaugurals, so it felt like a reunion of sorts.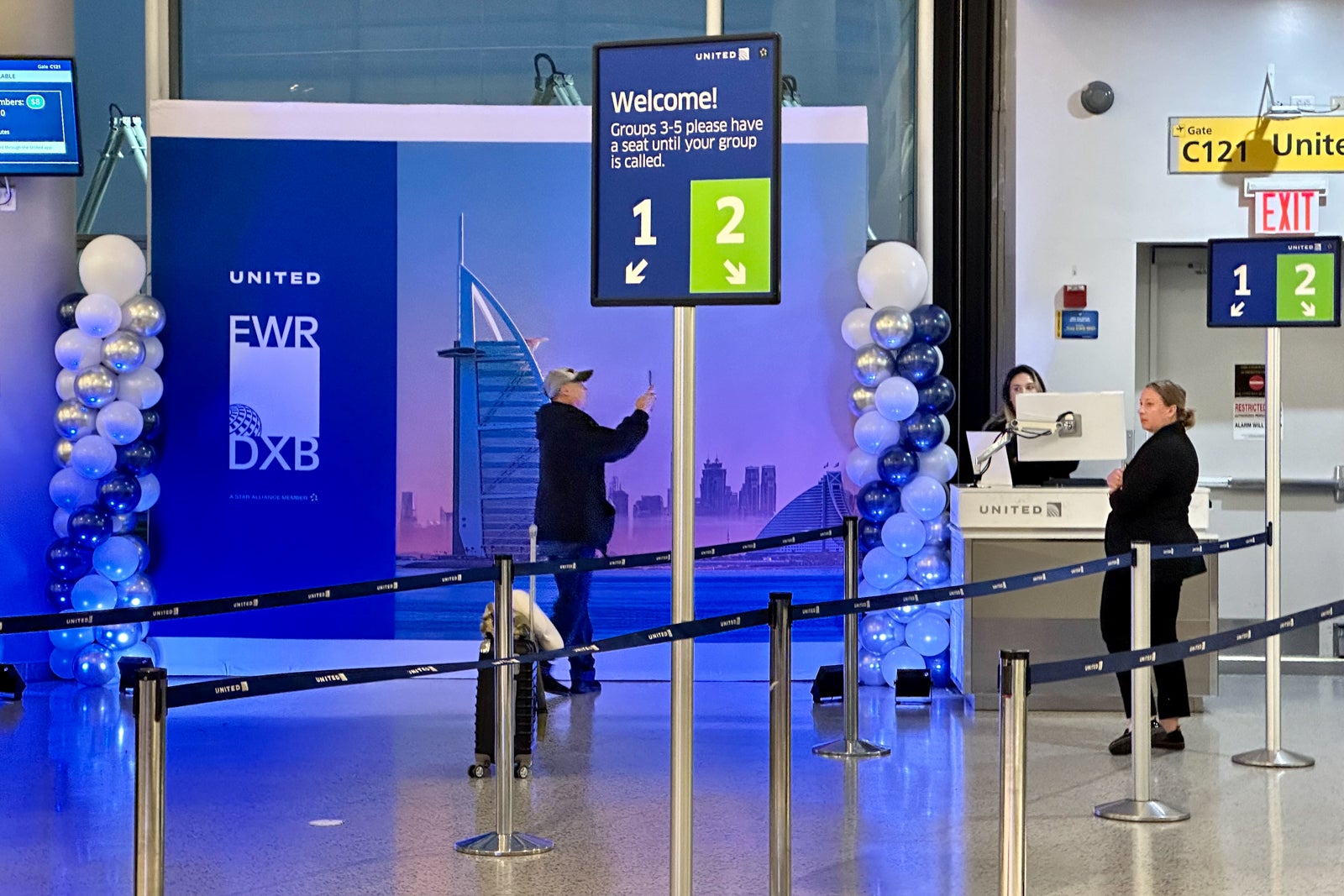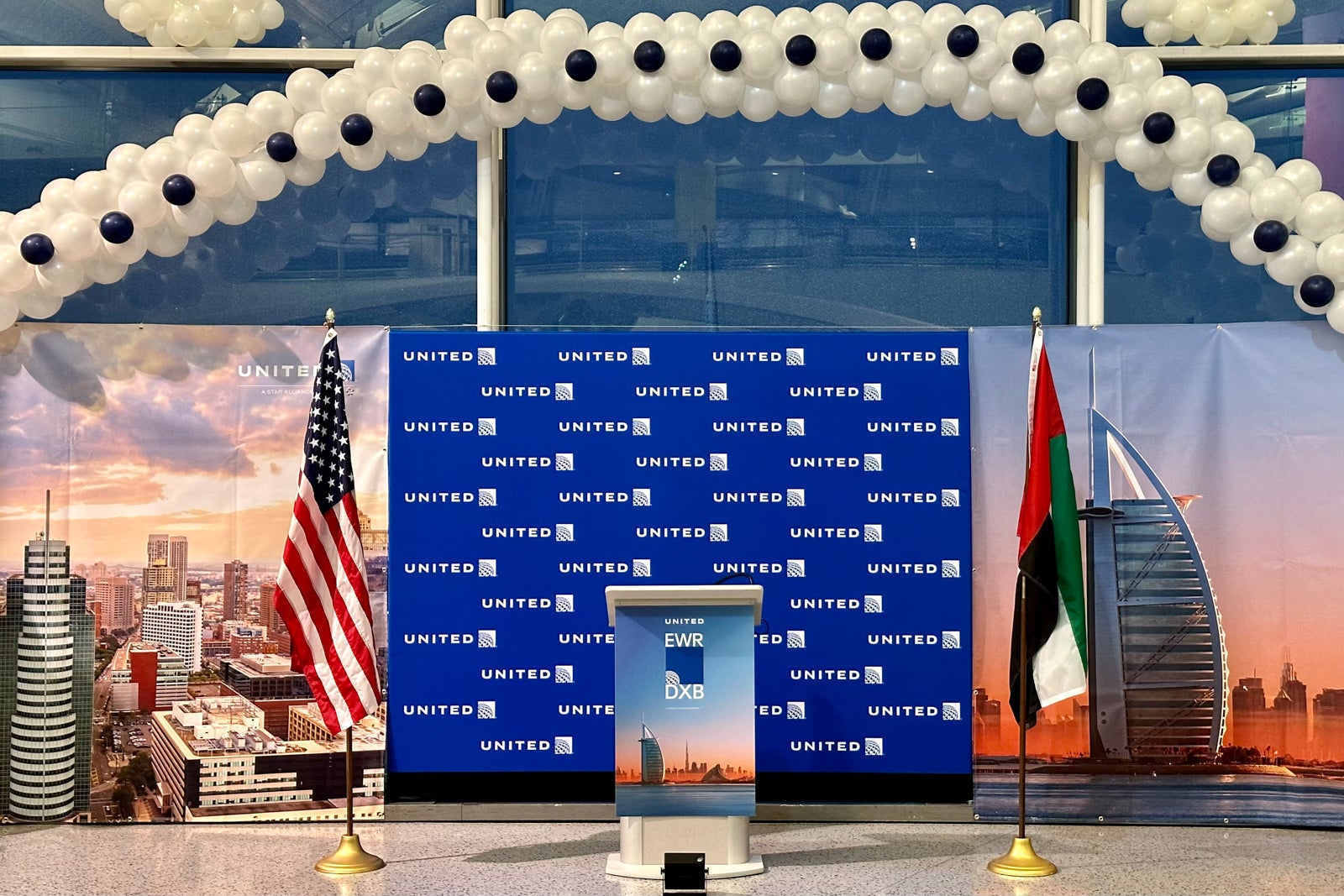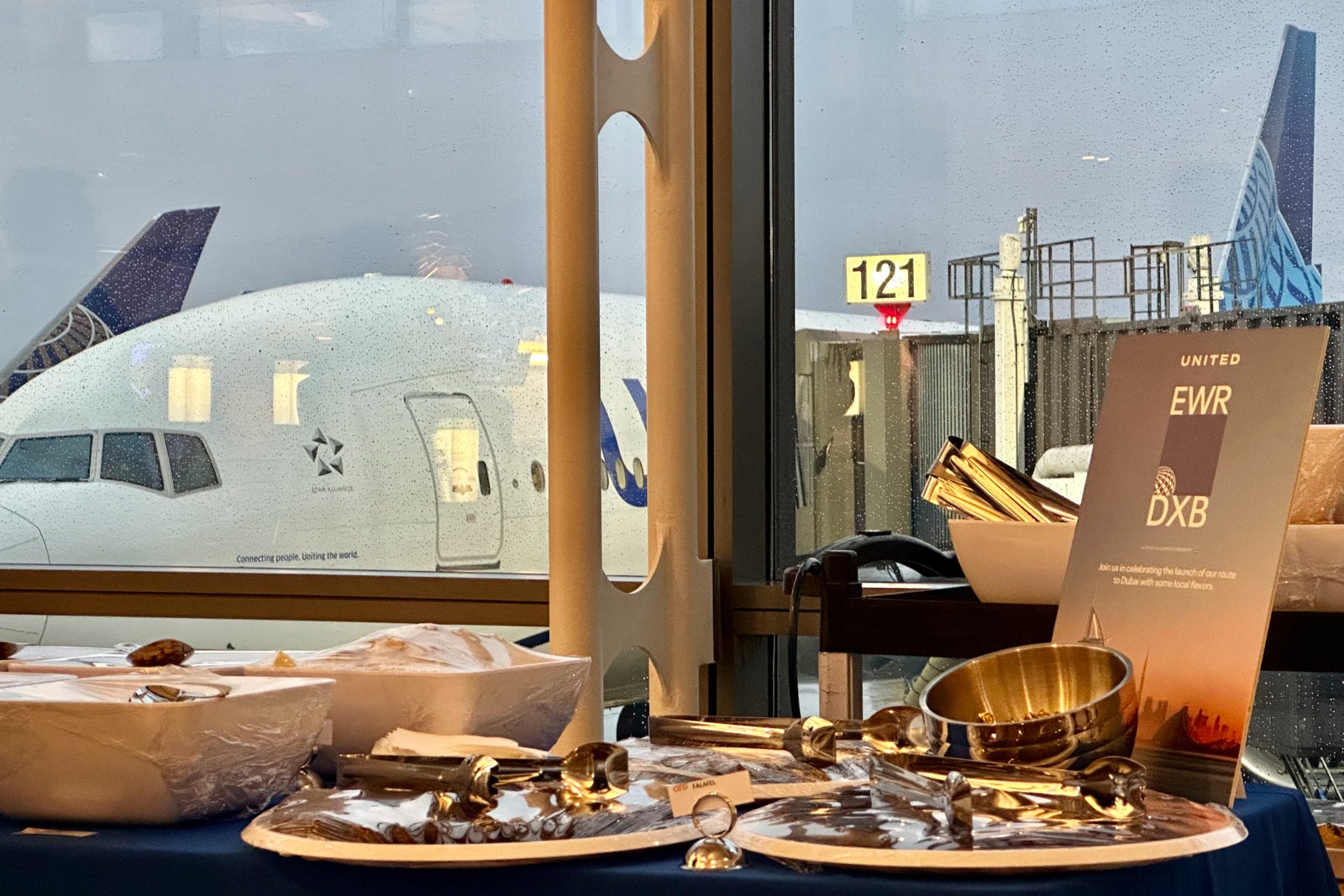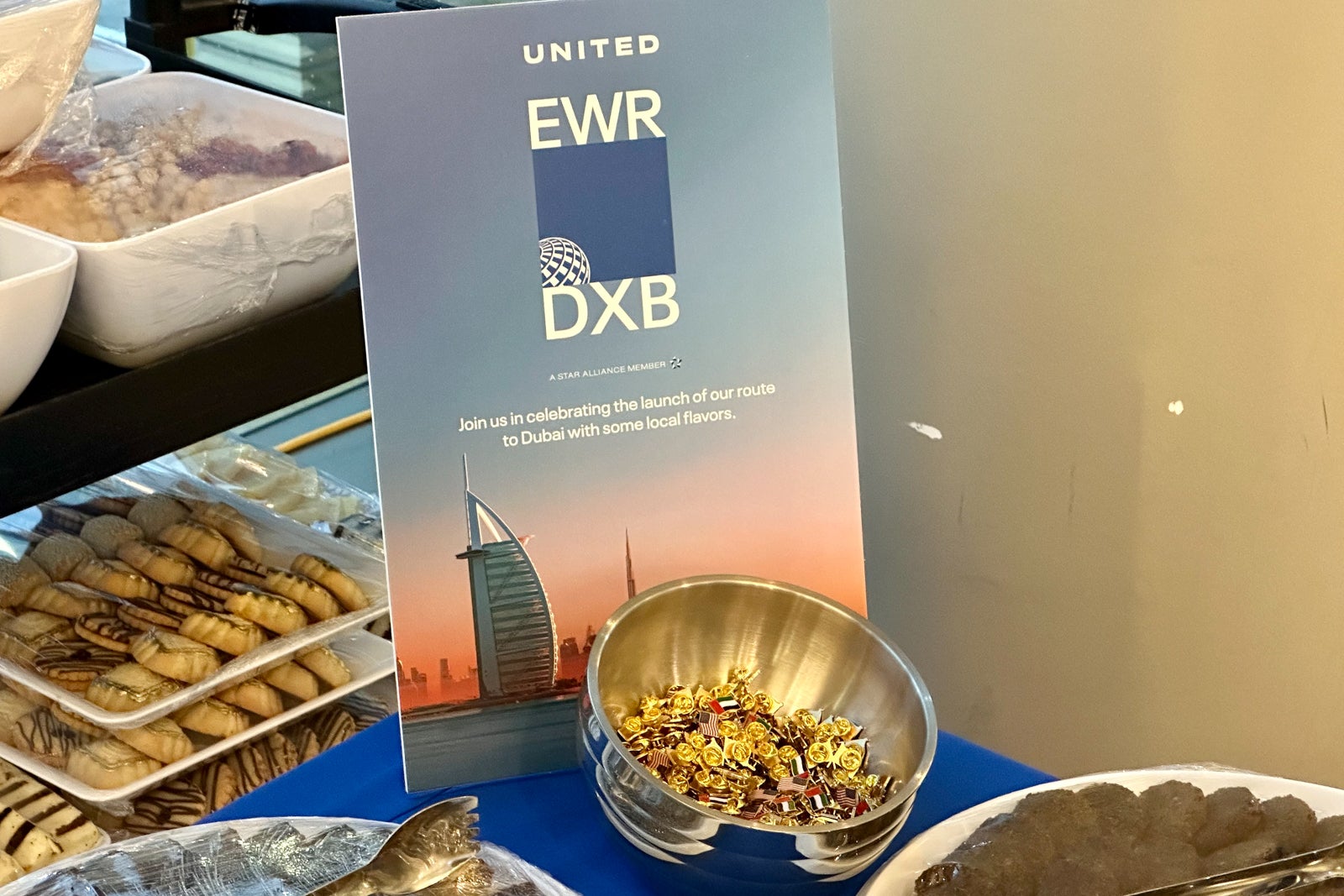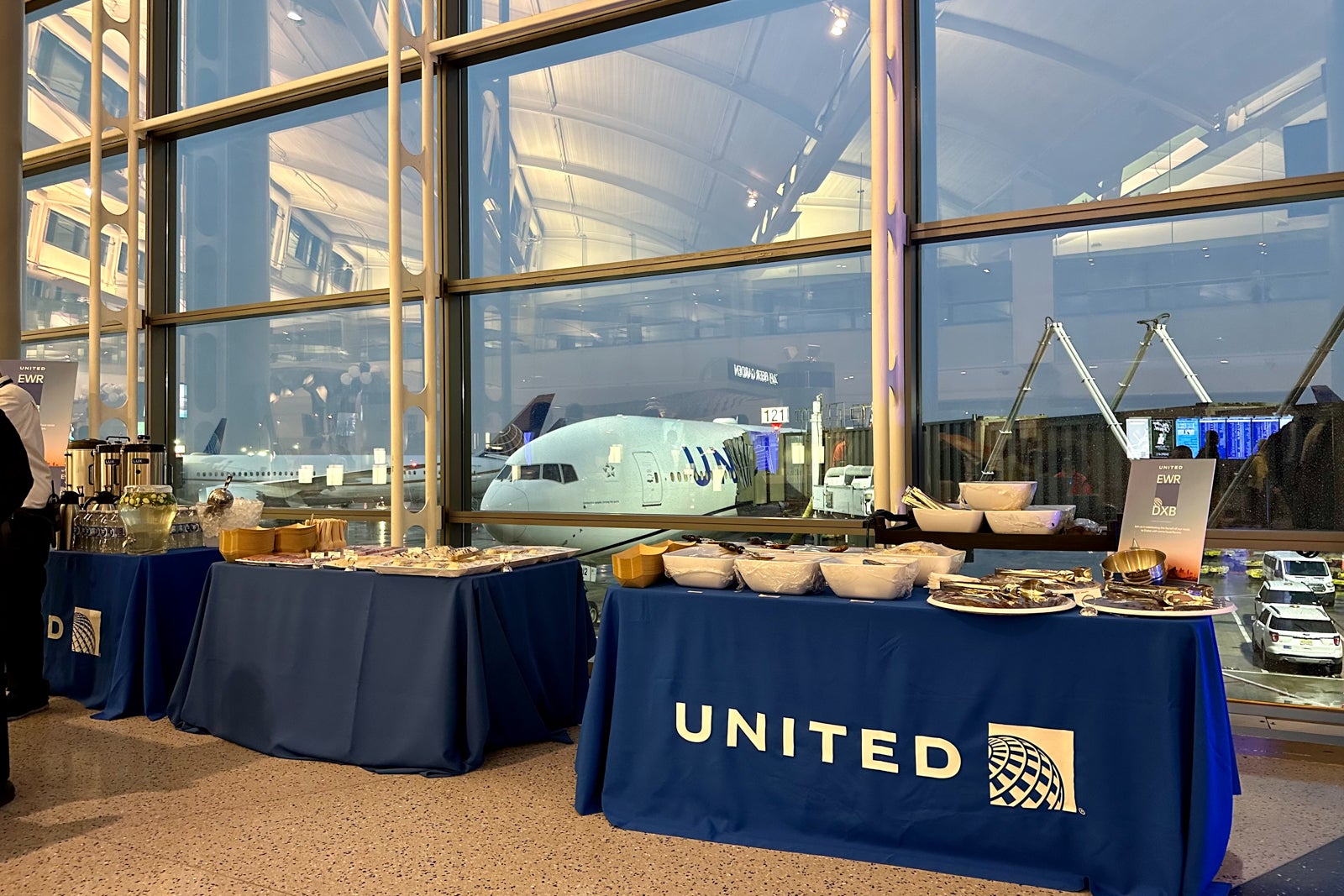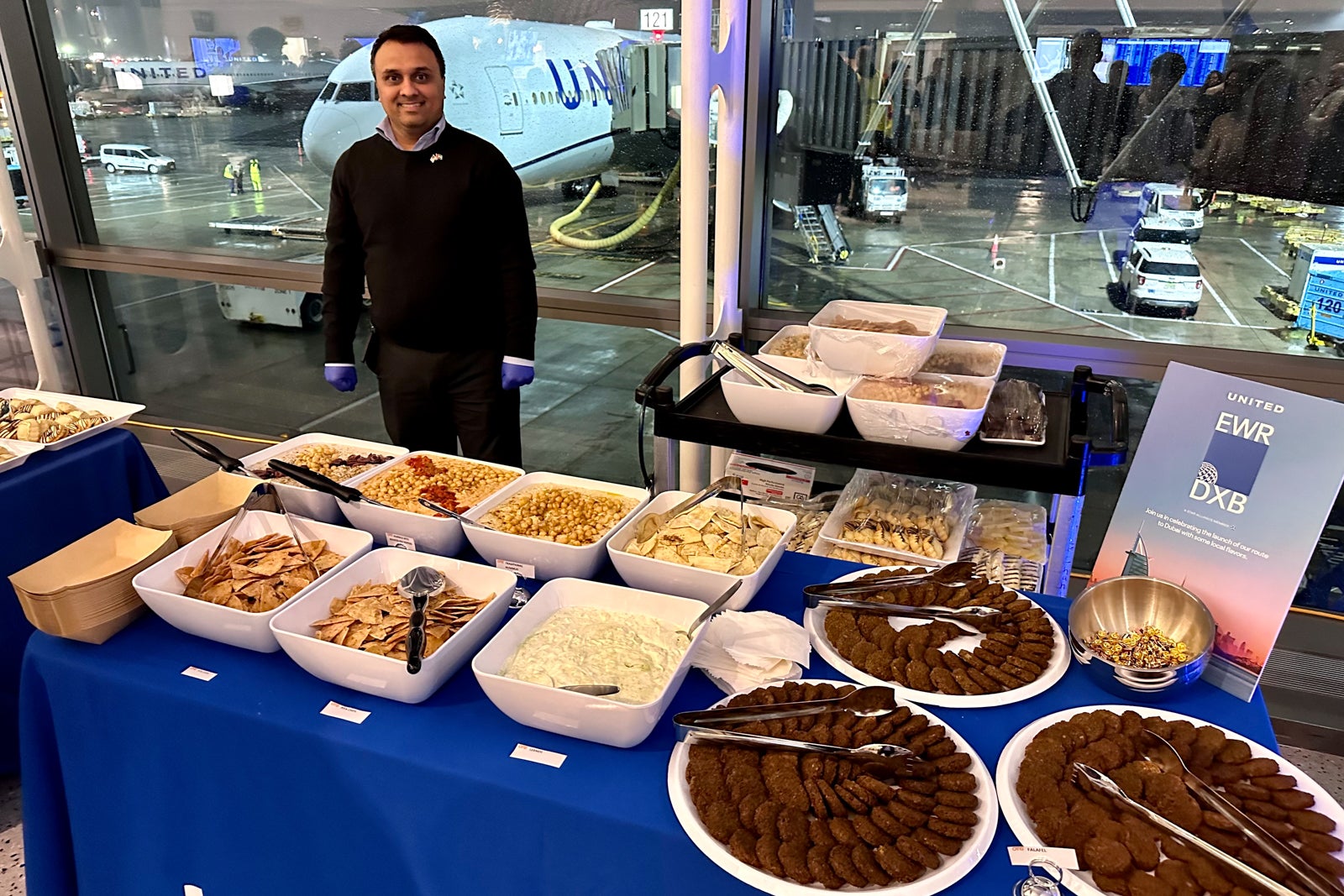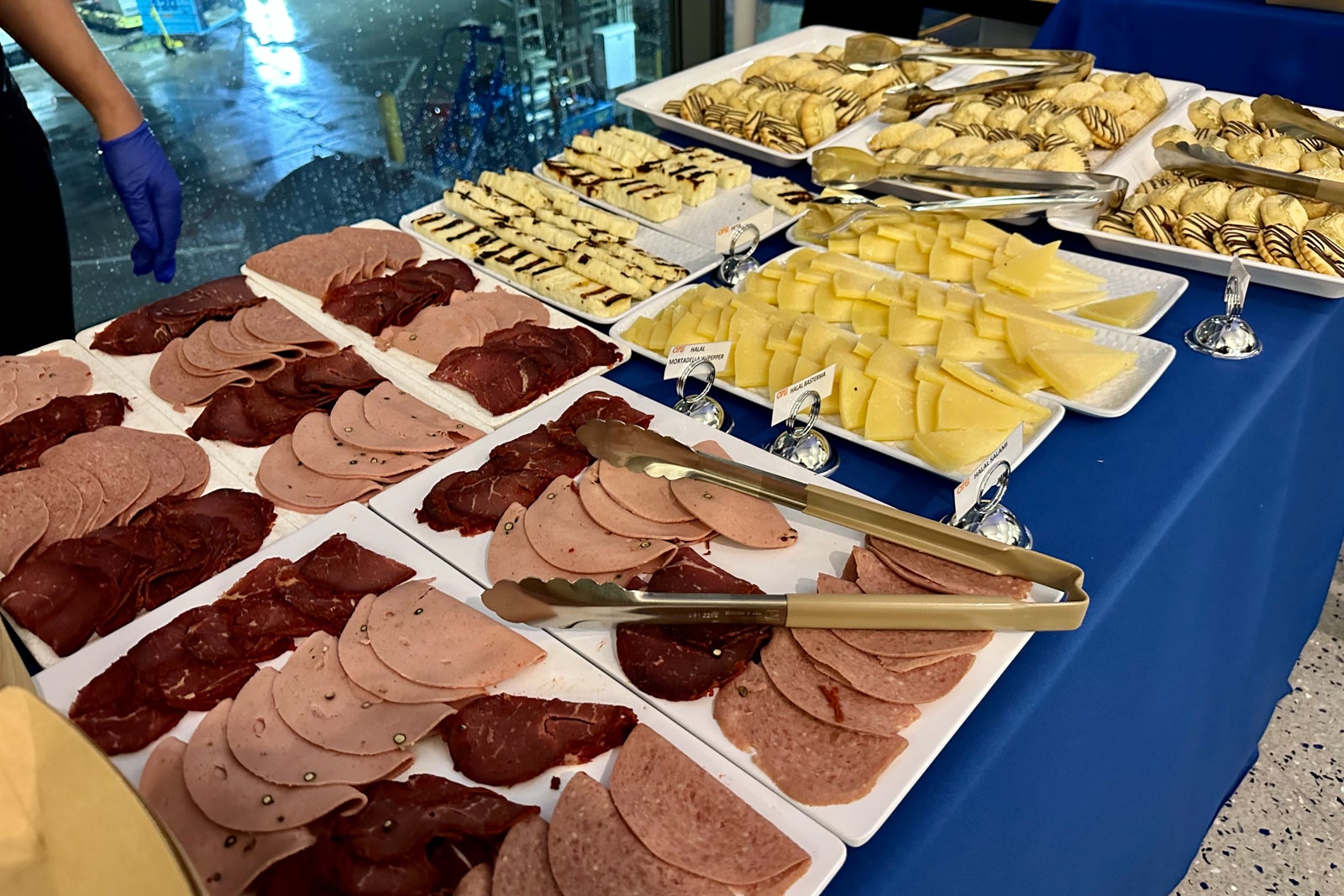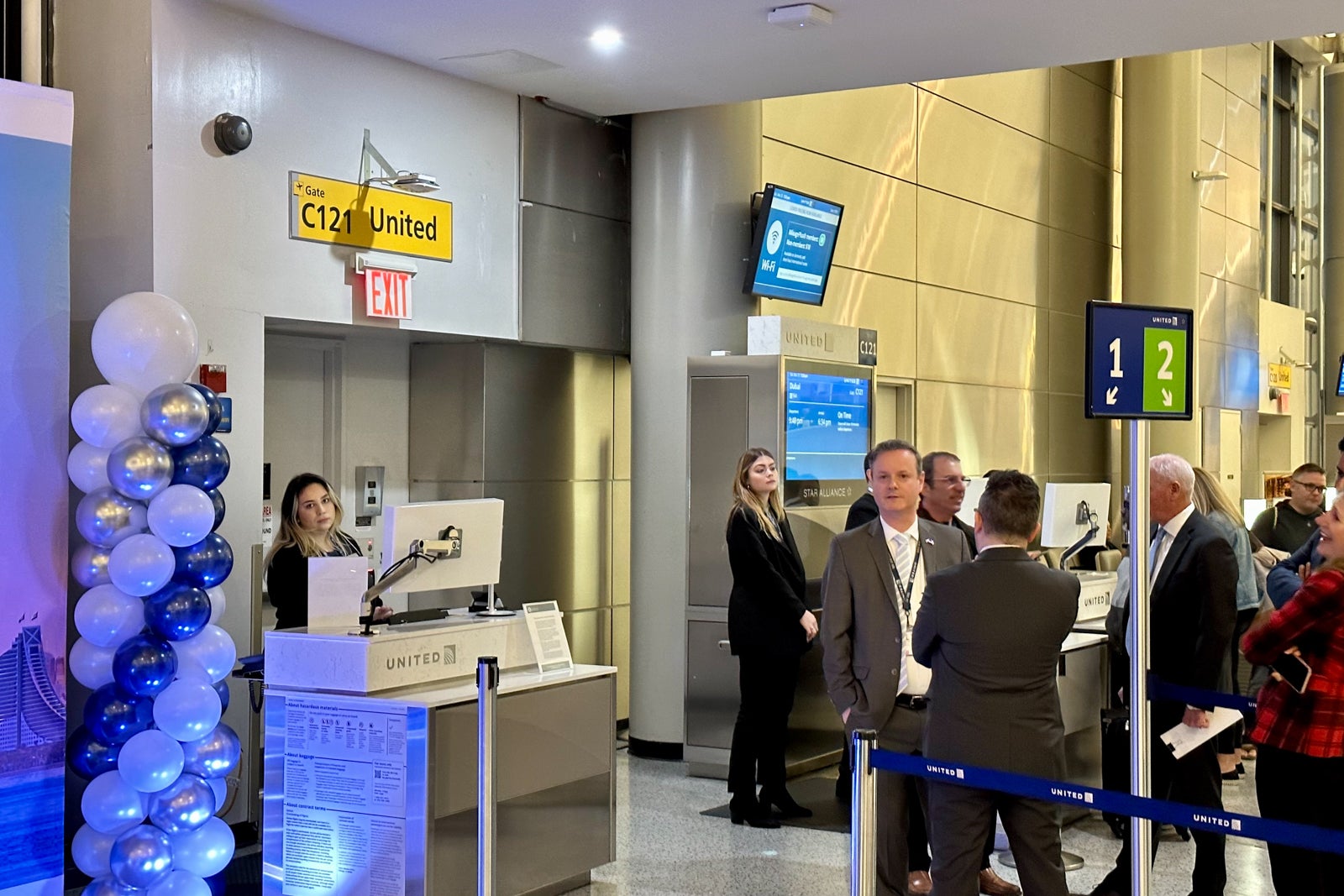 Kisses and hugs were exchanged, and everyone quickly started trading tips and tricks to maximizing United's Premier elite and MileagePlus loyalty program.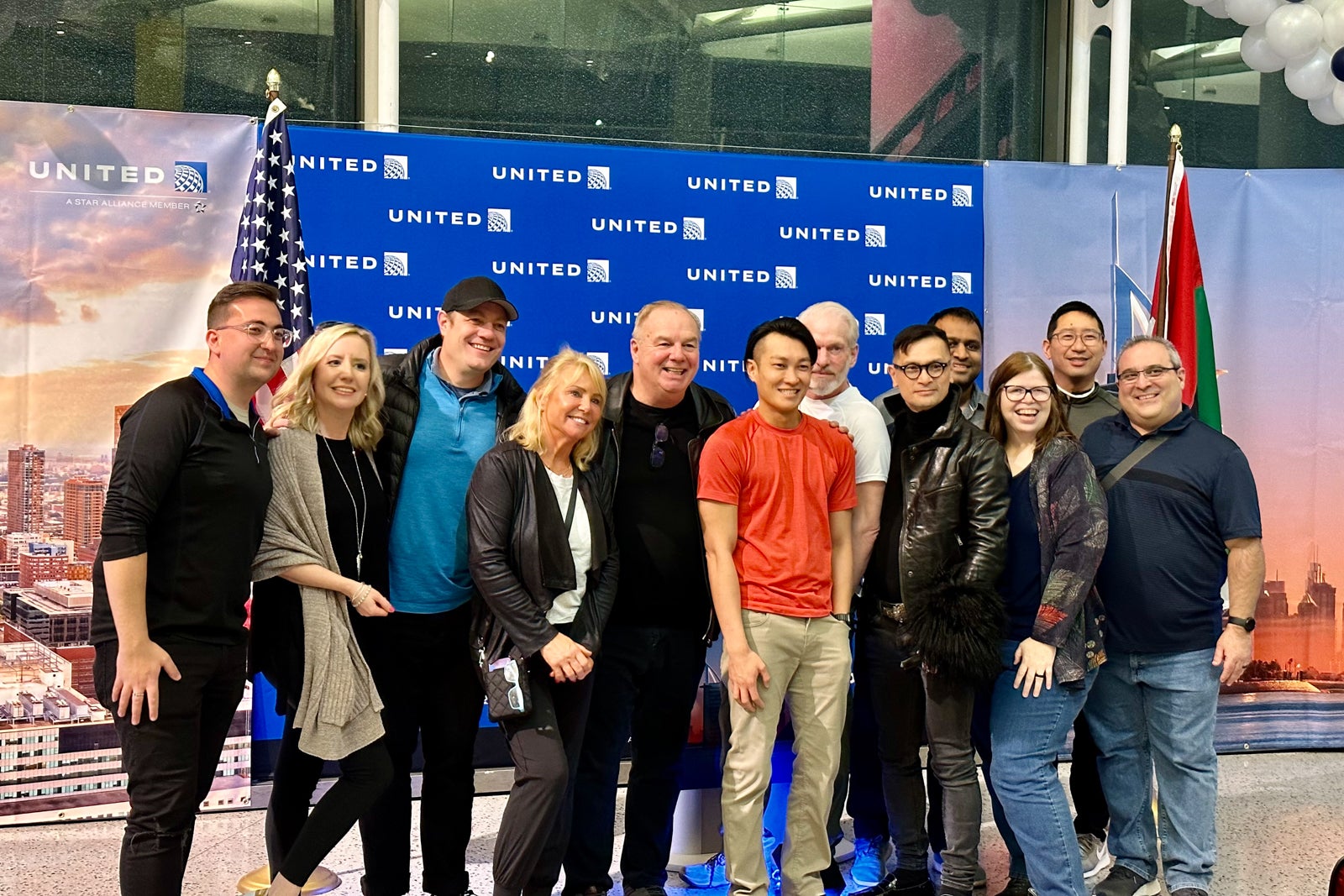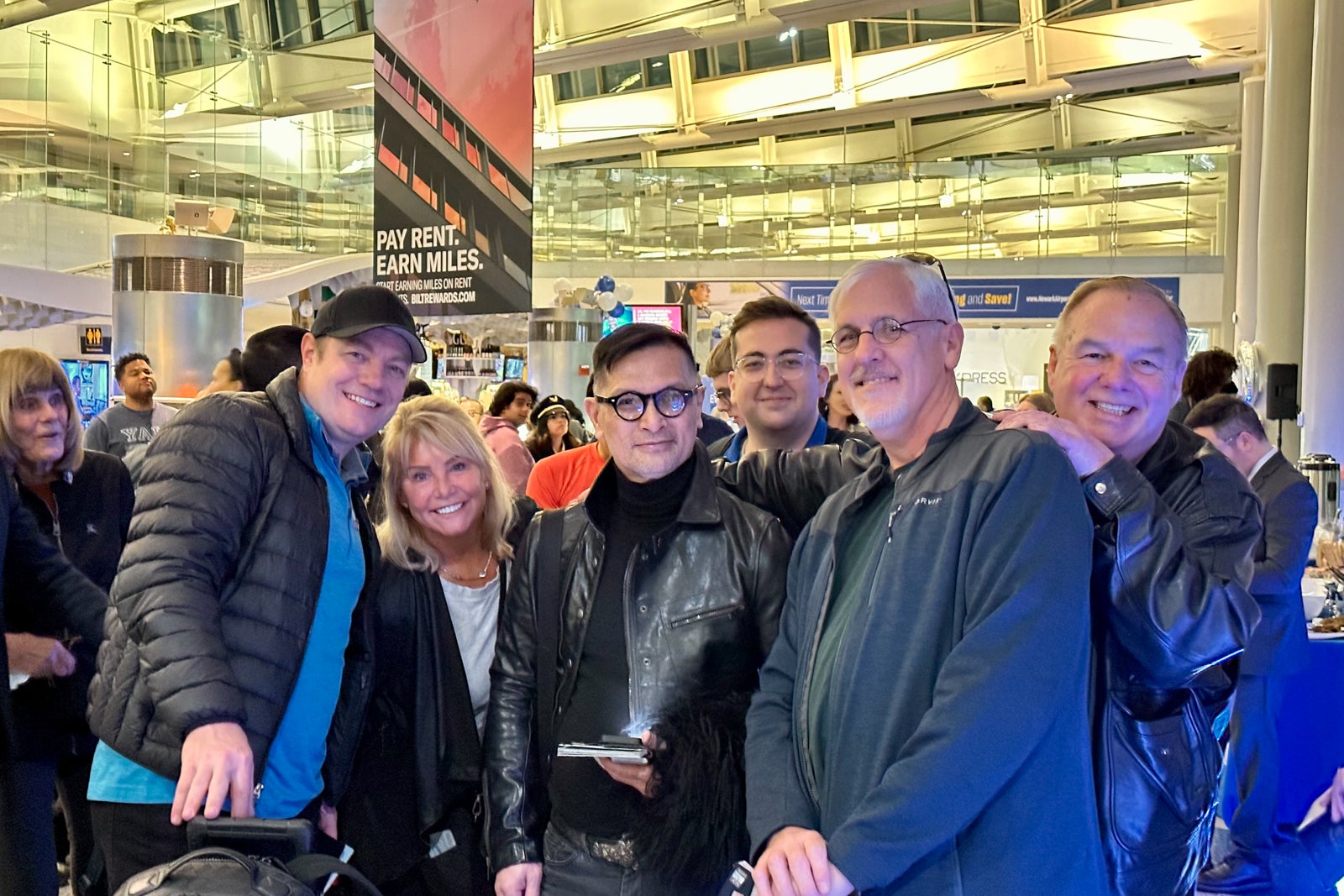 I even saw Lays Laraya, who goes by her social media handle @skywardsfreak, and claims to be "Emirates' most loyalty customer."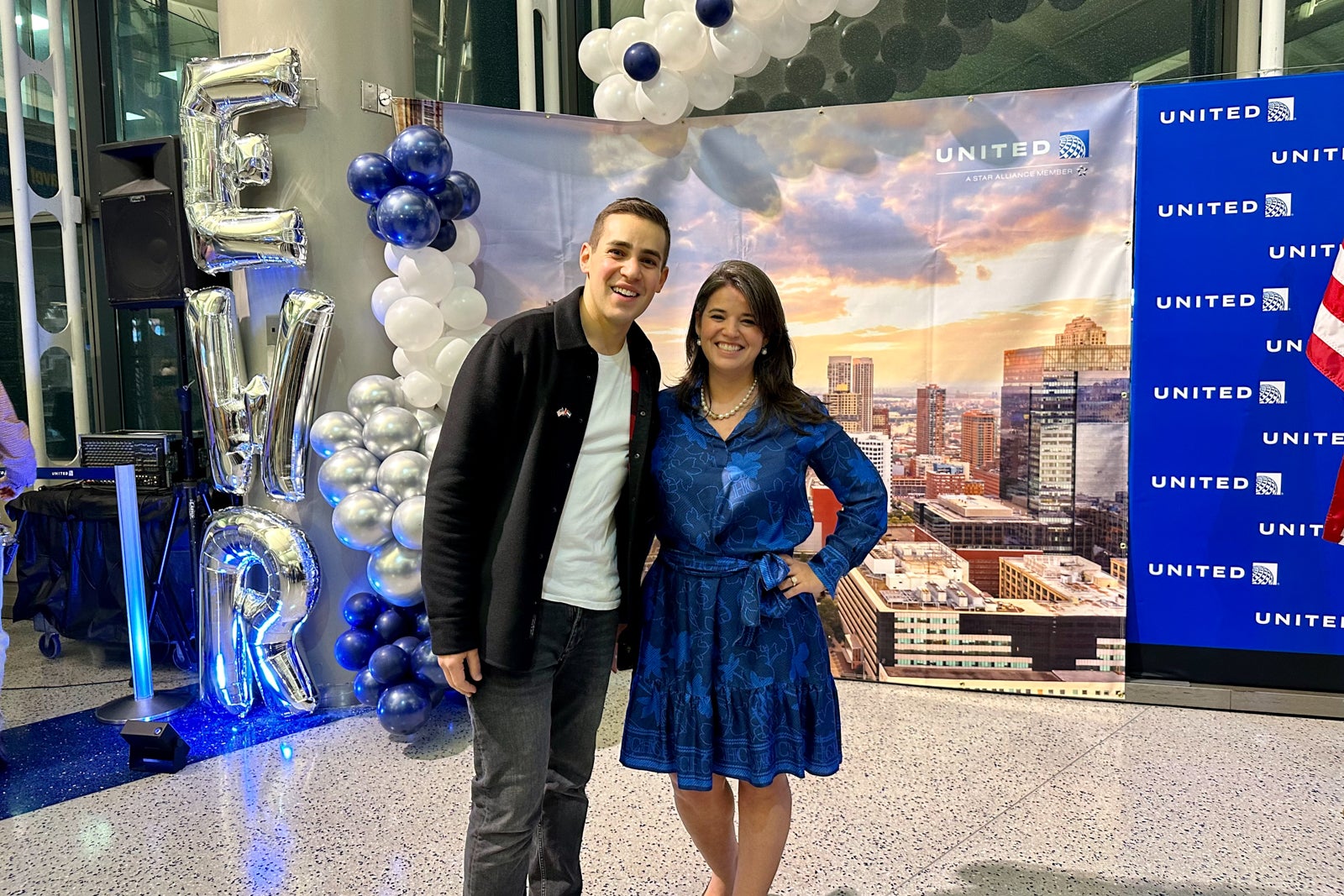 While many flyers on the inaugural were super frequent flyers — after all, there were a whopping 78 people on the upgrade list — one person, in particular, had everyone beat. Tom Stuker, the world's number one frequent flyer, was in attendance, and he and his sister joined in on the fun (and later sat in the center seats in row 3).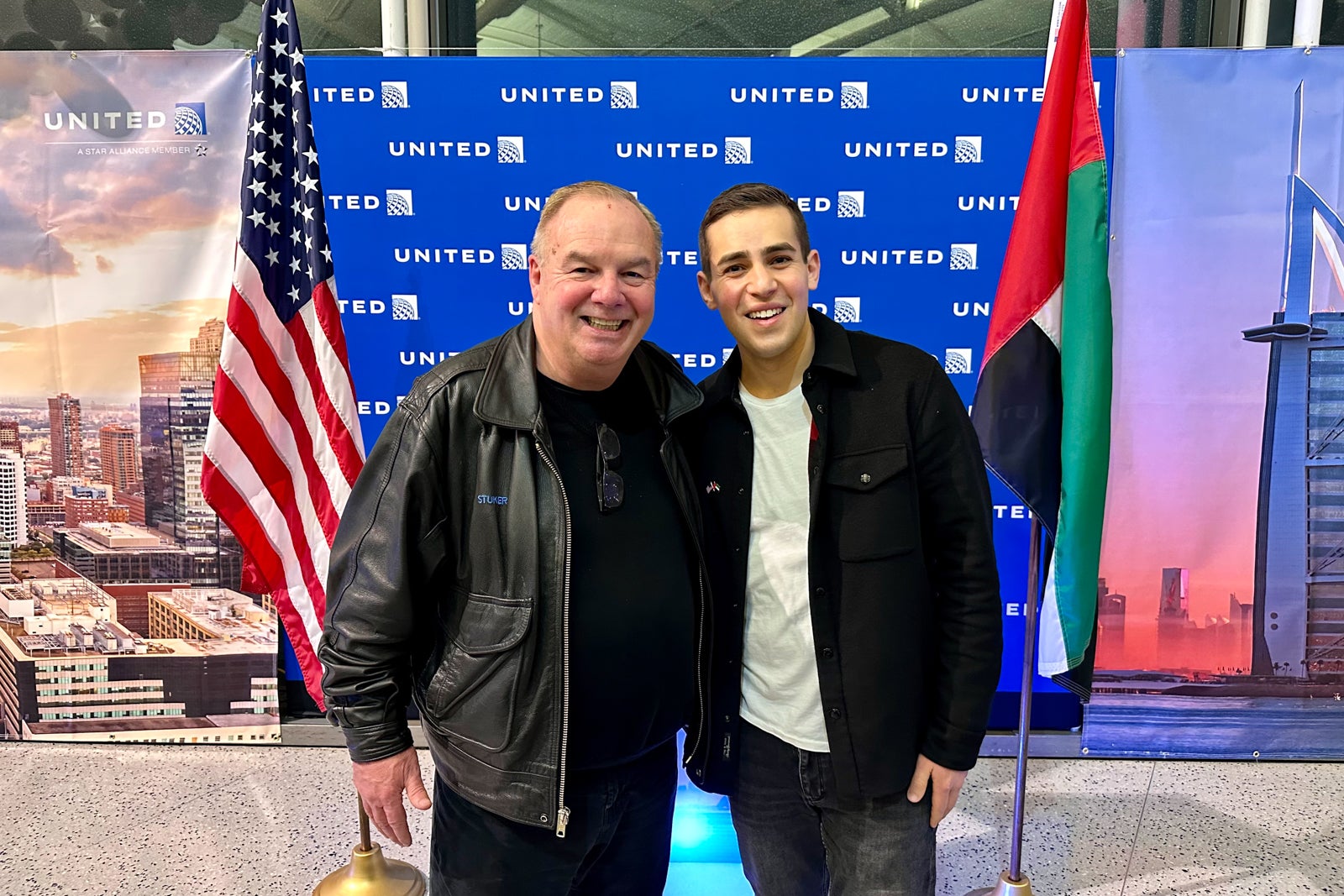 In fact, this was Stuker's second United inaugural to Dubai — he was there for United's first from Washington, D.C., to Dubai in 2008.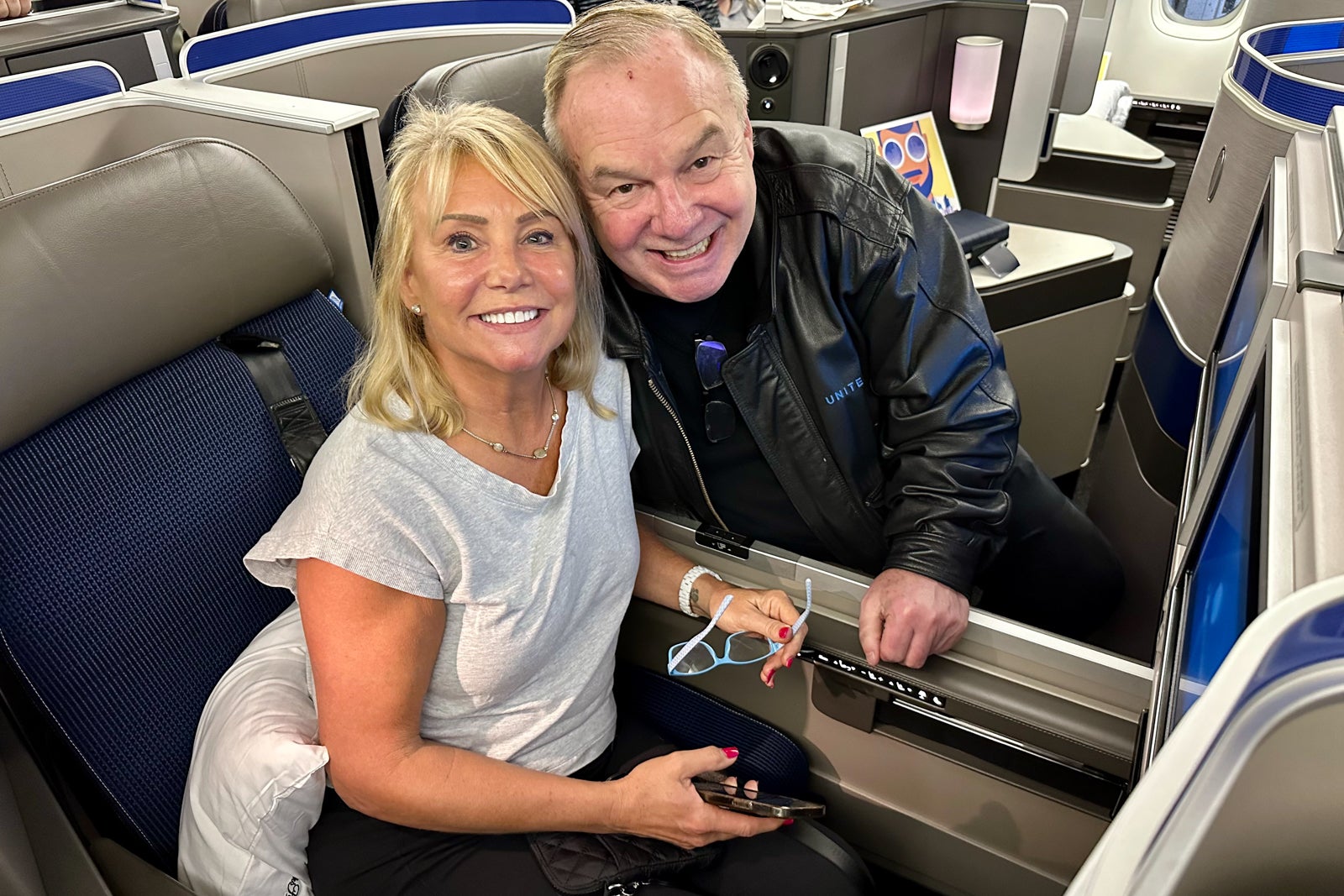 There were some travelers who were new to inaugural flights. One couple was traveling to India and had no idea they booked United's first flight until they arrived at the gate. Another passenger needed a last-minute ticket to Dubai and stumbled upon United's $750 walk-up economy fare for Saturday's flight.
But Andrew Nocella, United's chief commercial officer, was also new to inaugurals. After remarks from Rodney Cox, United's vice president of Newark, Nocella took the podium and shared that Saturday would be his first time flying a United inaugural.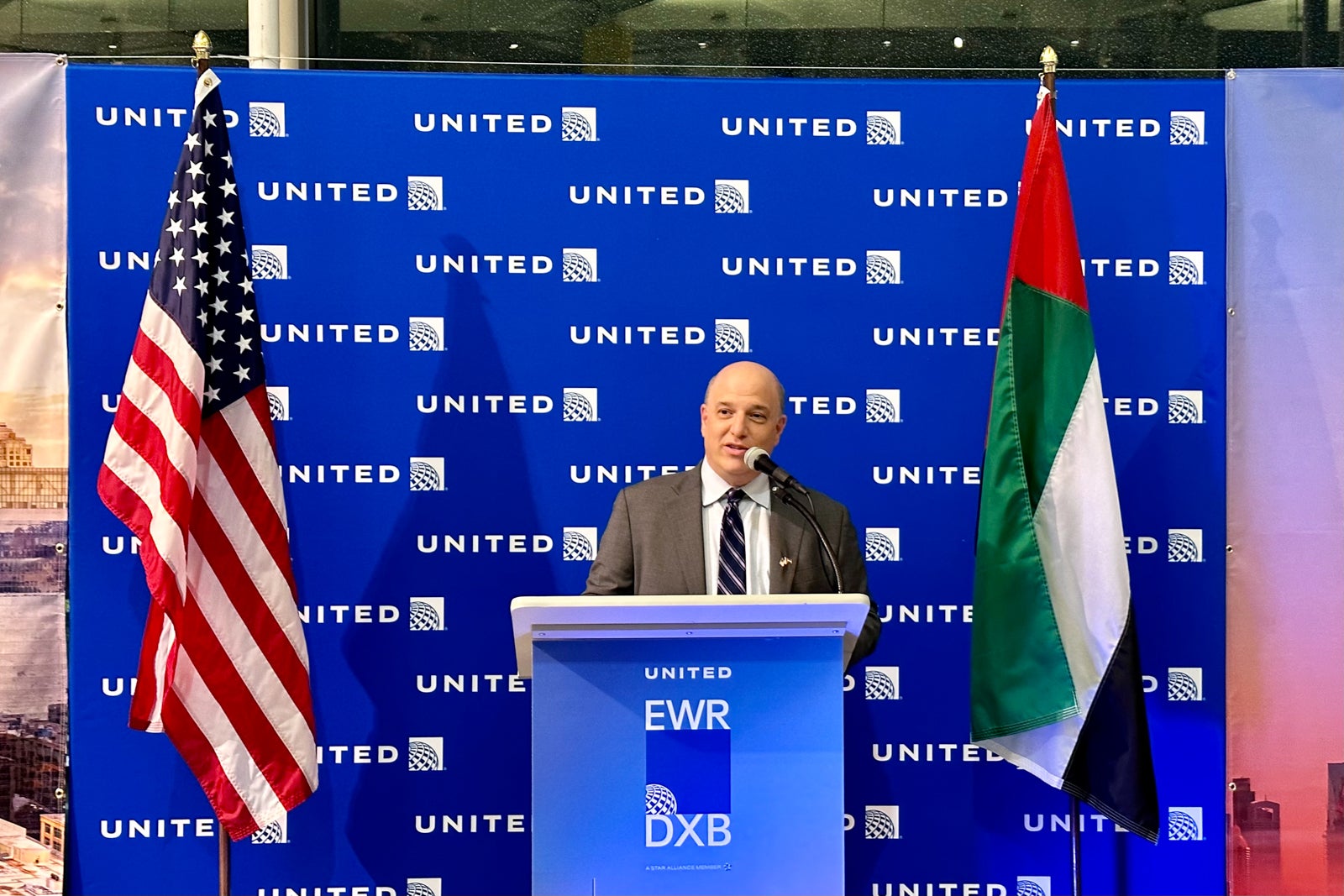 Nocella was followed by Patrick Quayle, United's senior vice president of global network planning and alliances, who is no stranger to inaugurals — I've been on a handful with him, and Saturday's was another to add to the list.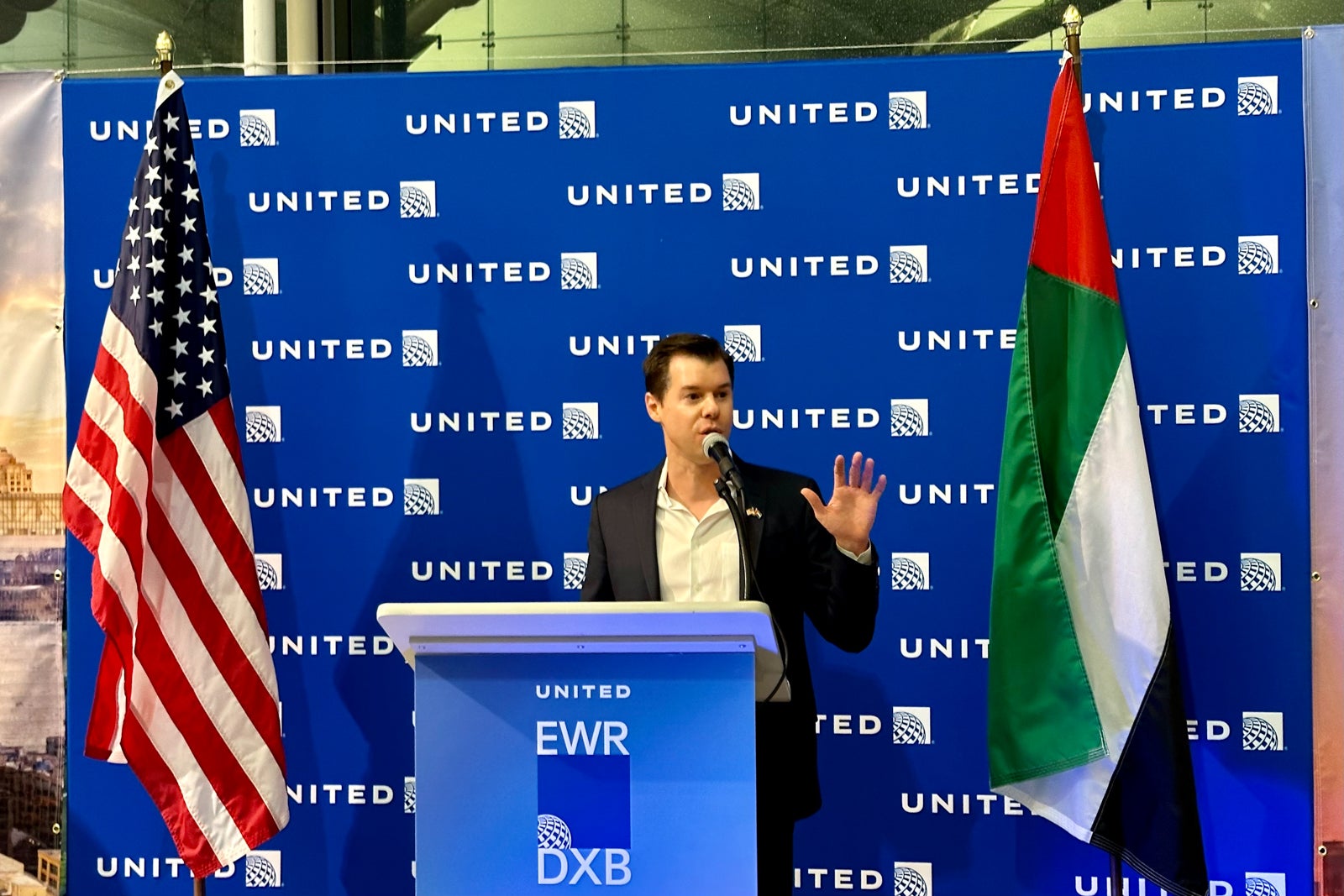 "It was so obvious the whole time. United and the United Arab Emirates," Quayle said, as the group of passengers, media and employees all let out a collective chuckle.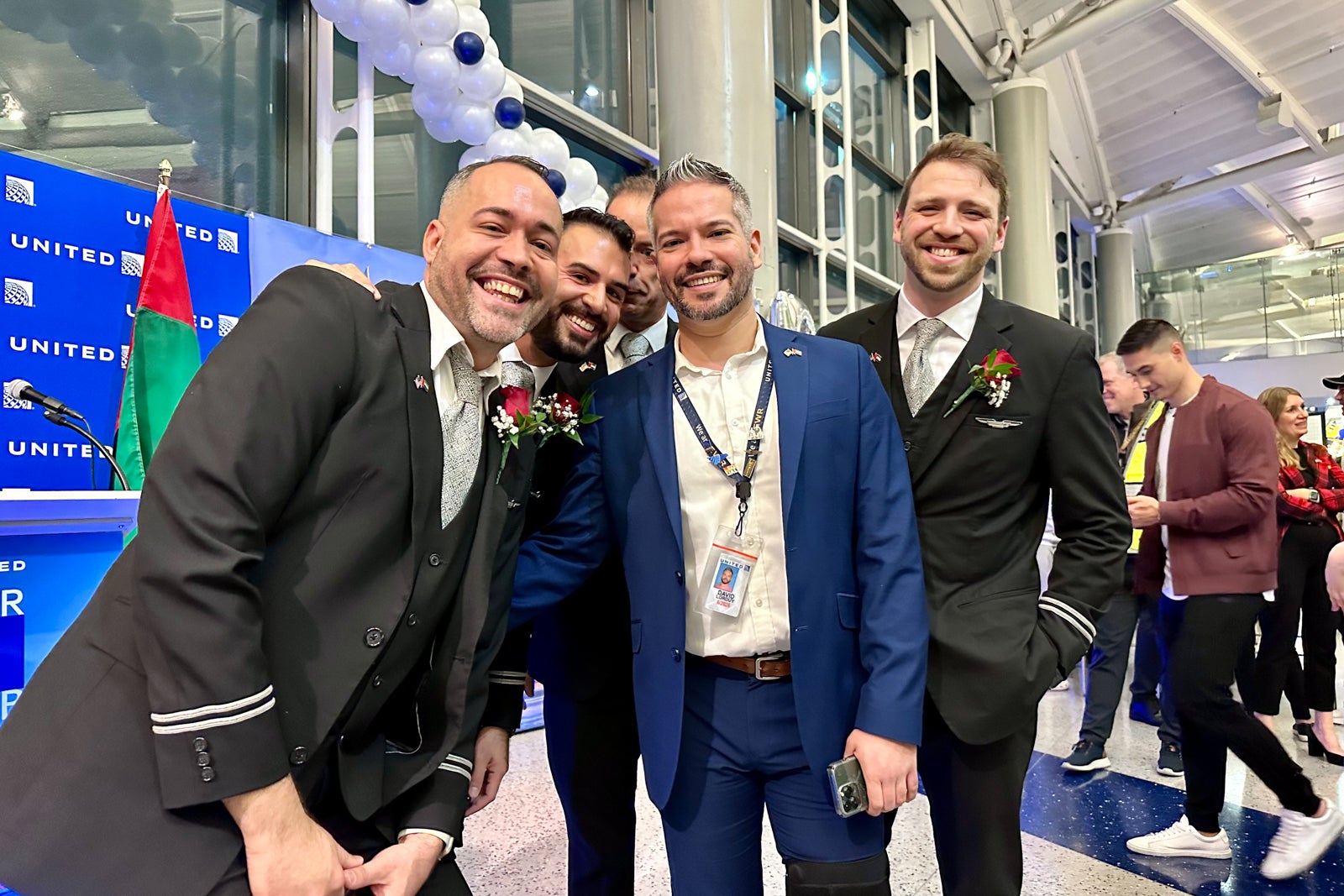 After the speeches, the flight crew assembled to cut the ceremonial ribbon. Some of the die-hard aviation enthusiasts in attendance ran to grab the pieces of the chopped ribbon, while everyone else got ready to board.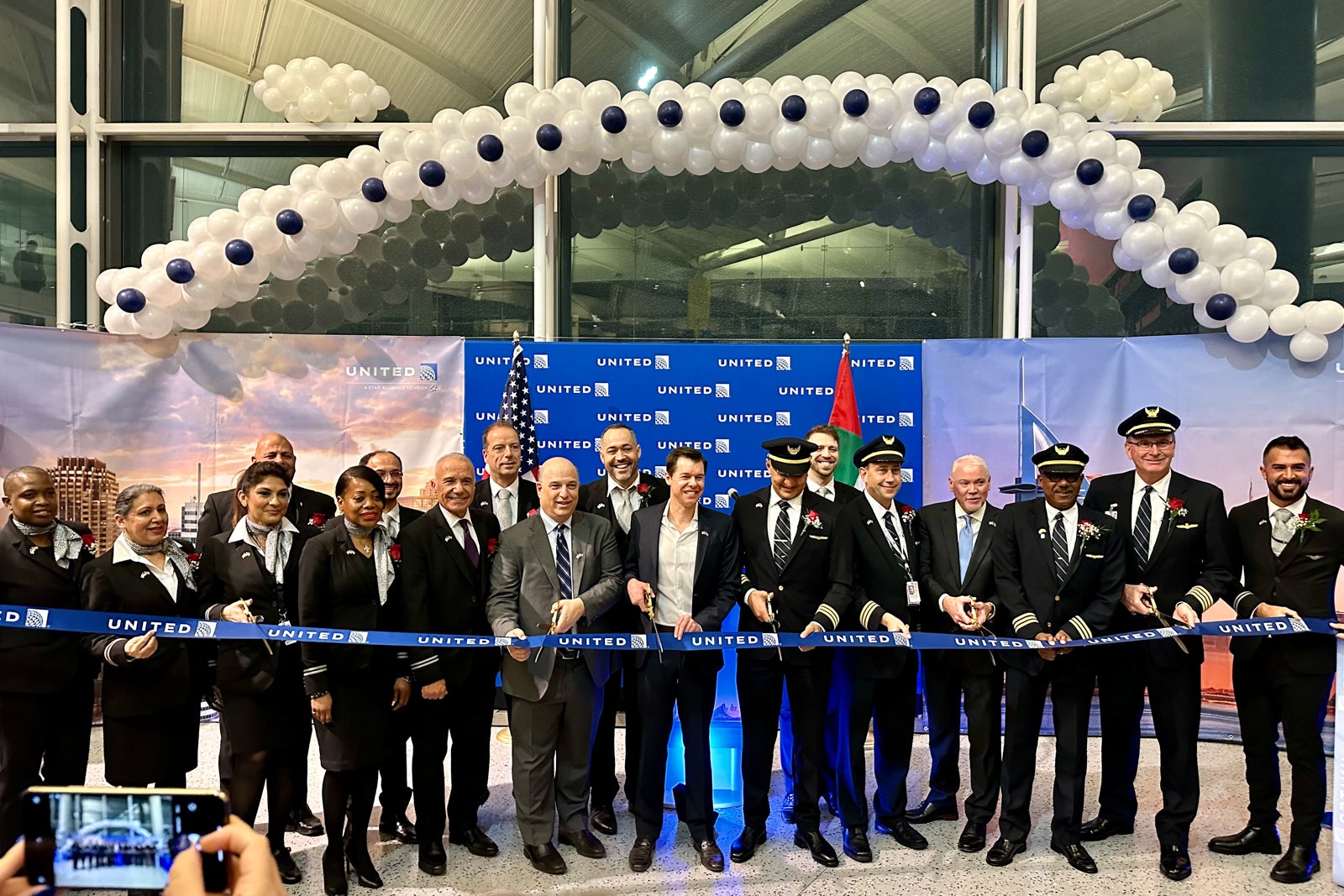 Boarding commenced about 55 minutes before departure, and this was my first time using United's biometric boarding process, which matches your face to your passport picture for identity verification.
It took just a few seconds longer than if I had scanned my boarding pass manually, but at least it was a completely touchless experience.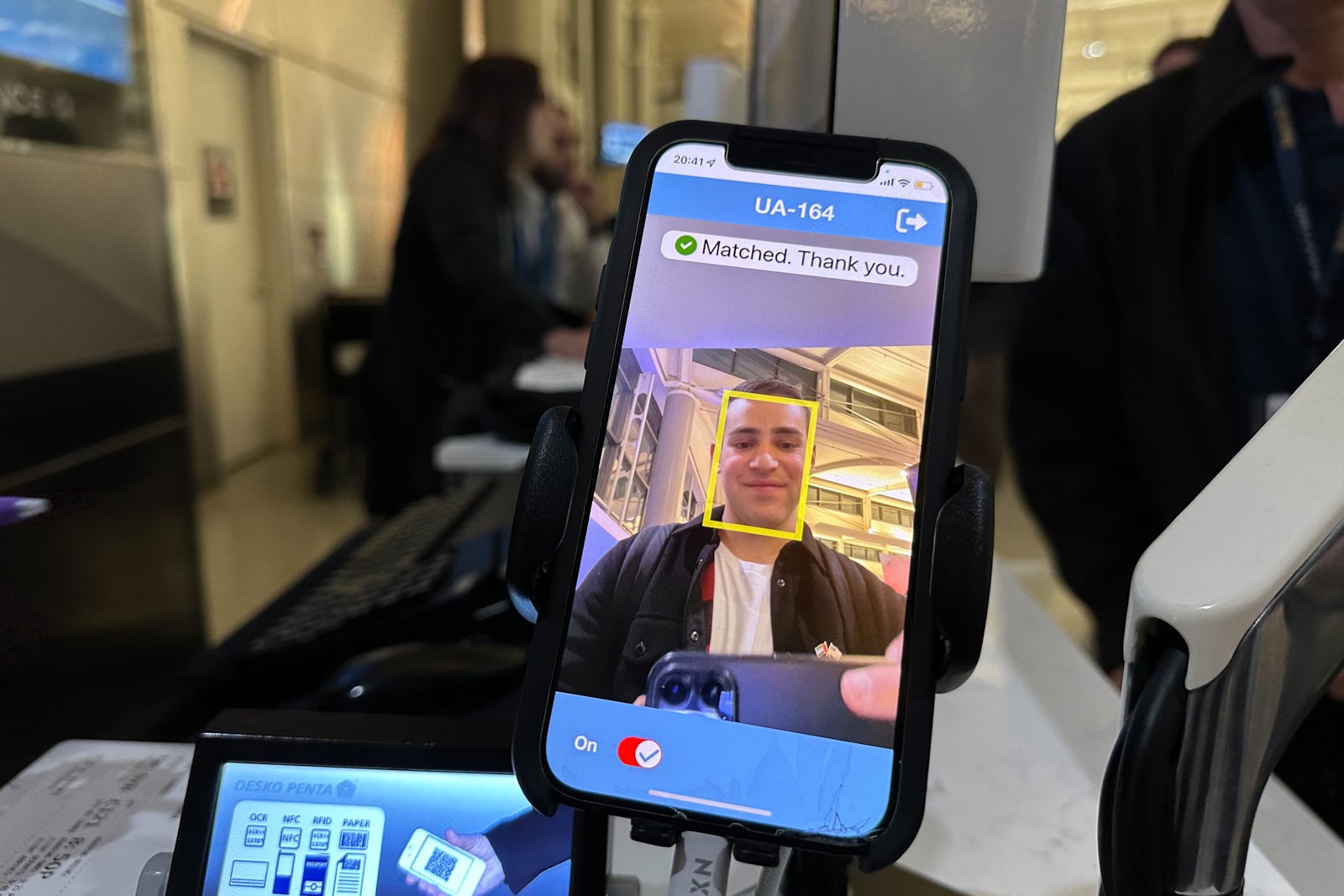 Moments later, I was walking down the jetbridge to the Boeing 777-200, registered N77012, that was waiting to take us to Dubai.
An onboard party
The celebration continued once I stepped onboard and found a heap of party favors waiting for me at my seat.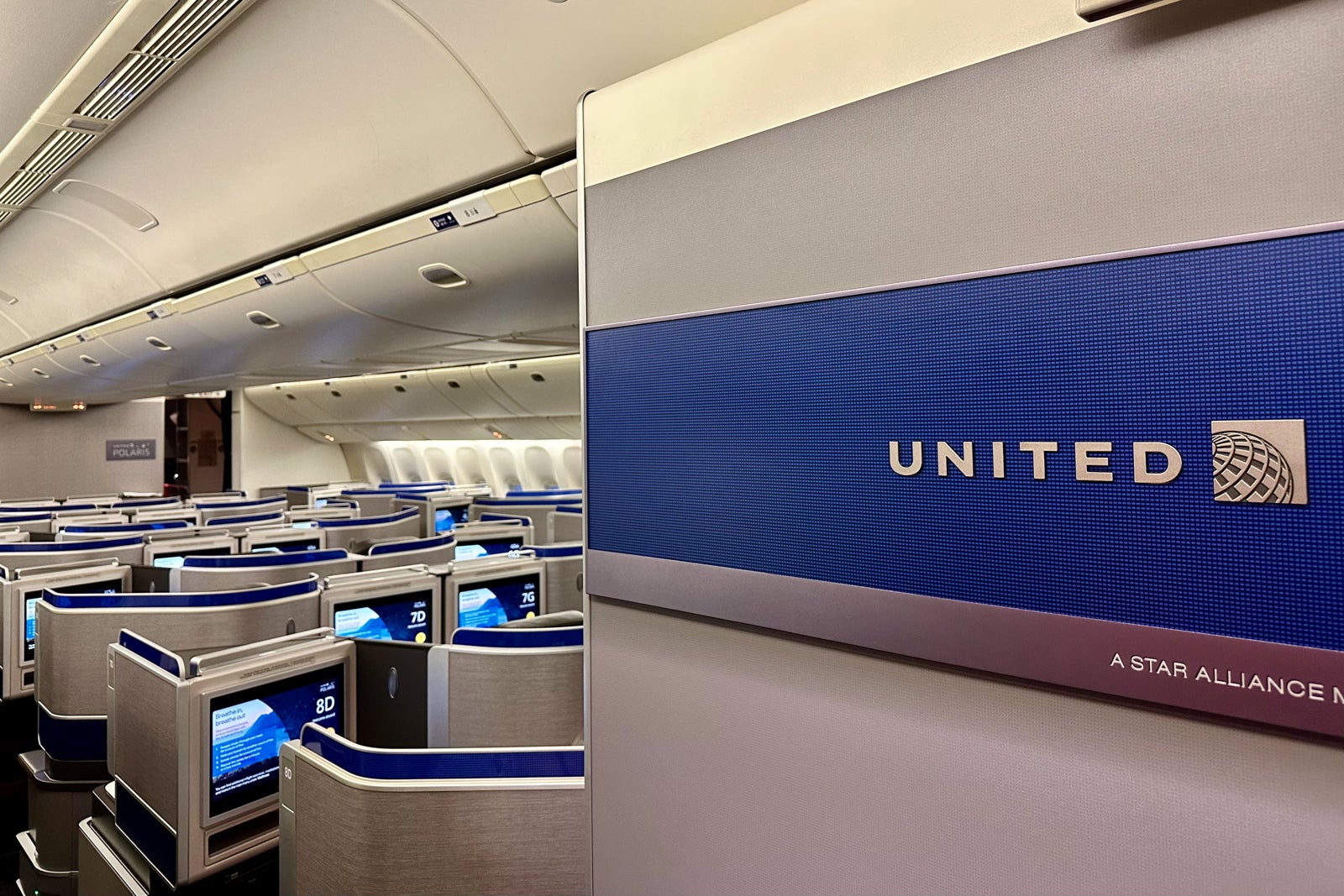 While Polaris business class always includes top-notch amenities, this assortment of goodies felt more like Christmas.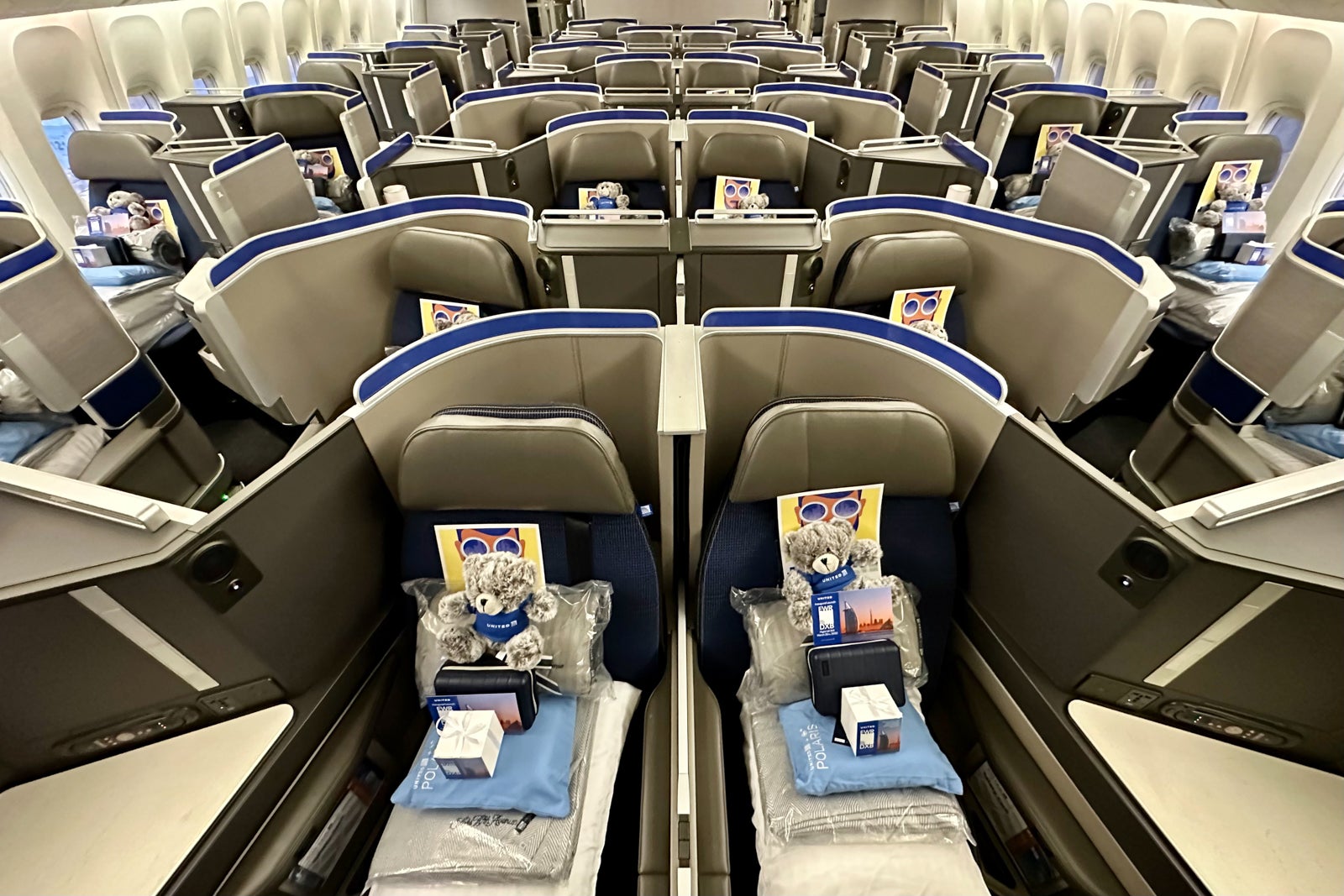 In addition to the standard-issue (and supremely comfortable) Saks Fifth Avenue-branded items, such as two pillows, two blankets and a mattress pad, the inaugural also featured some limited-edition items, including a commemorative poster, a custom-designed postcard, a piece of (tasty) baklava in a specially decorated box and even a United-branded teddy bear — something I haven't seen since Polaris was first introduced in 2016.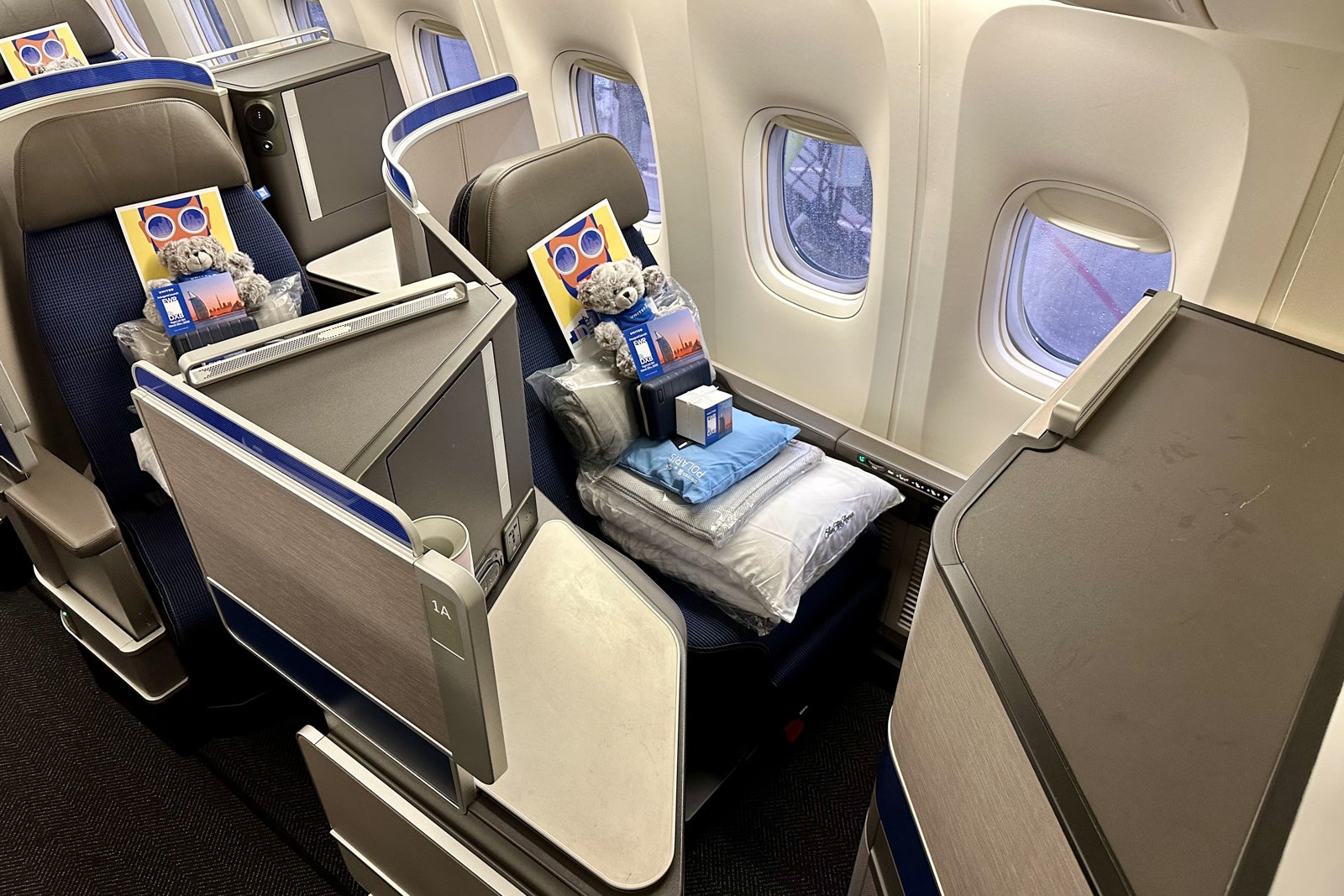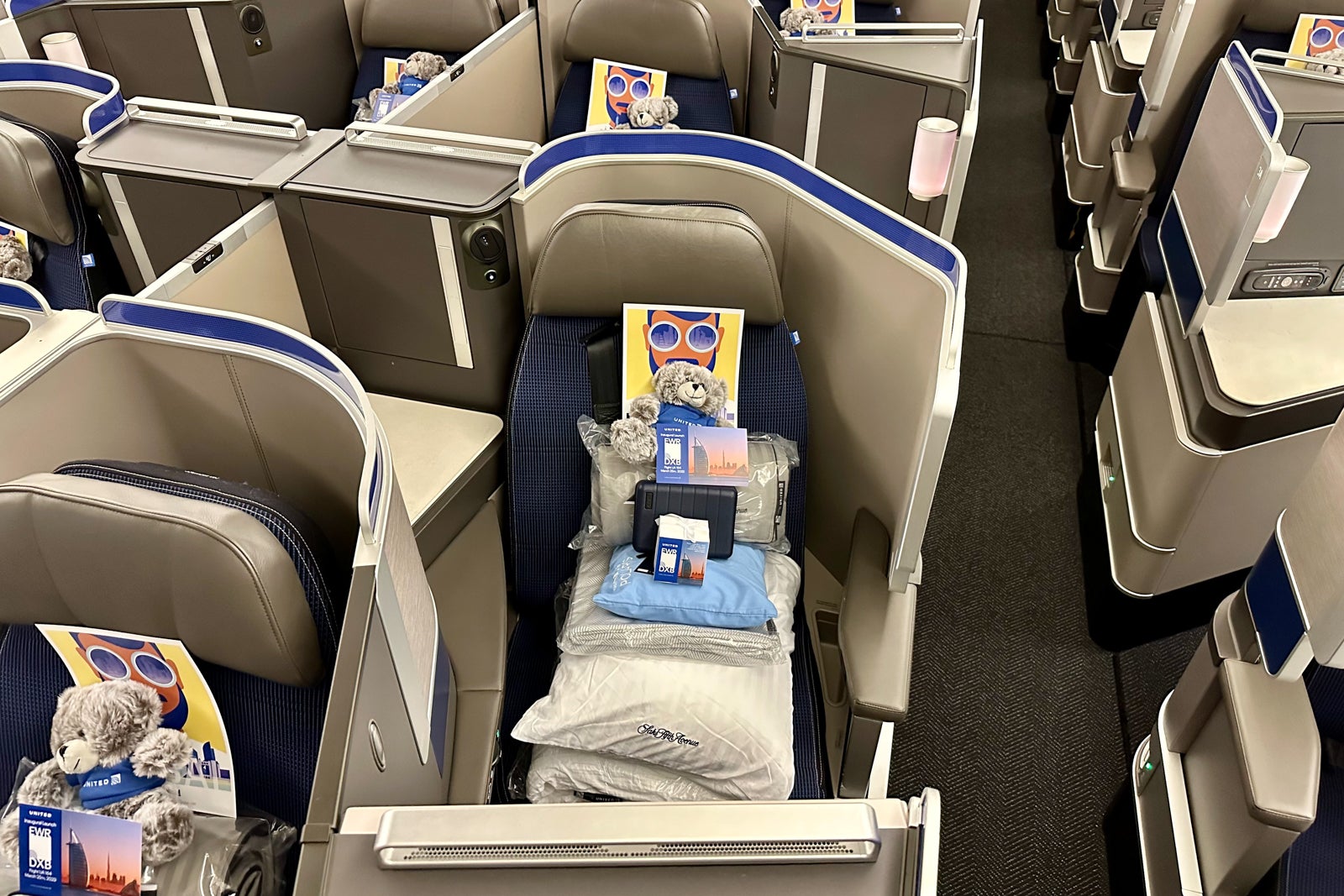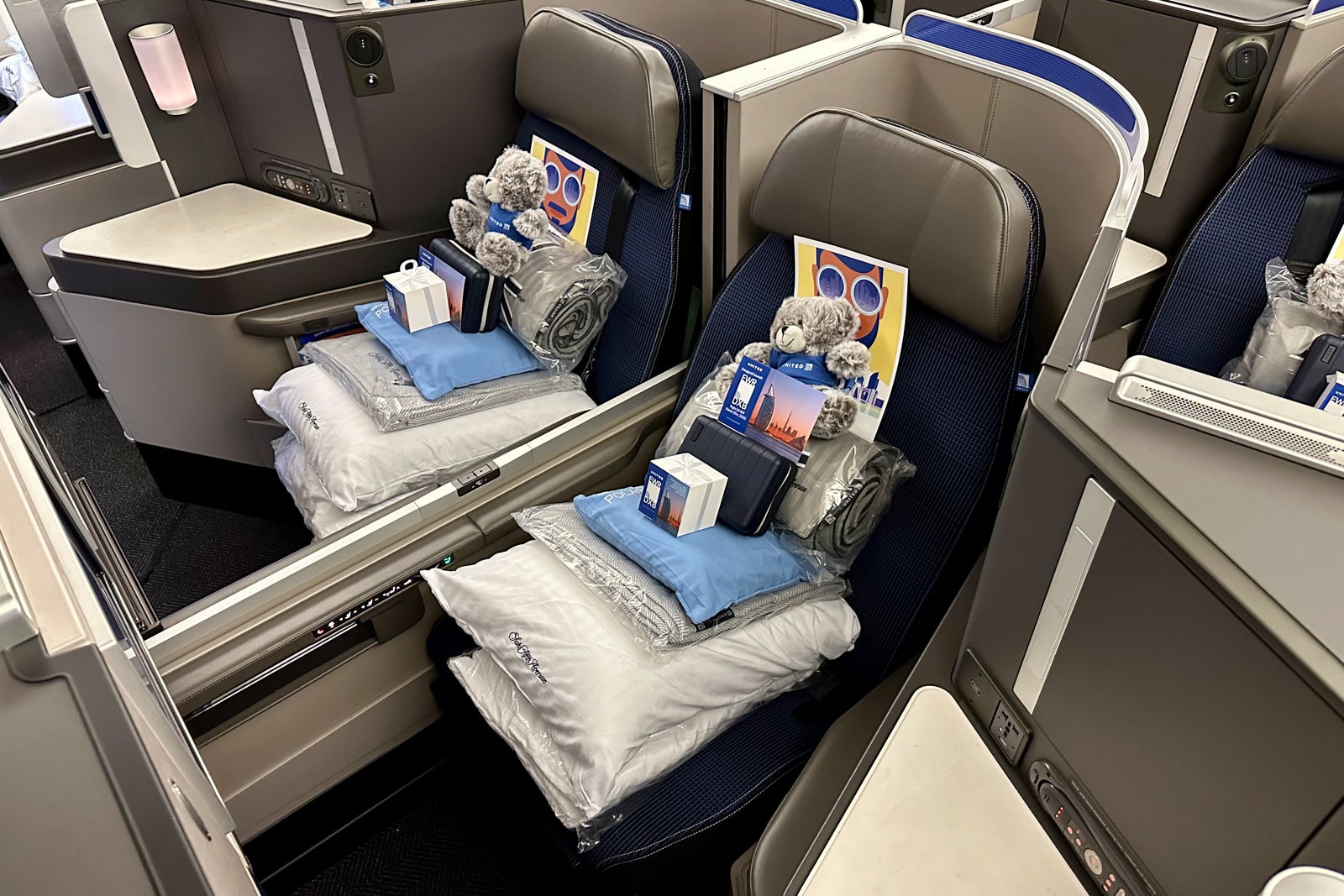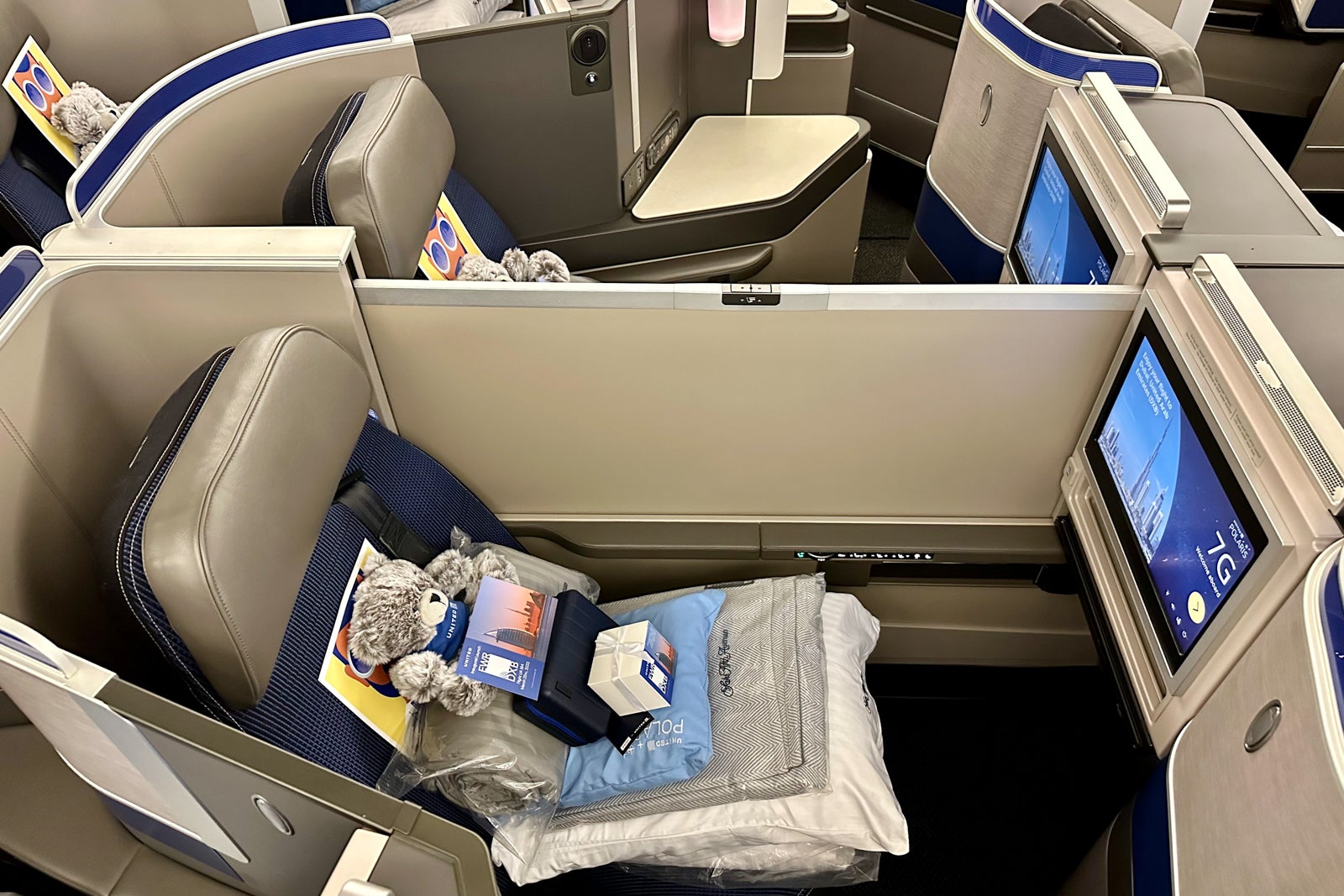 Suffice it to say, I heard lots of oohing and aahing from my fellow Polaris passengers as they made their way to their seats.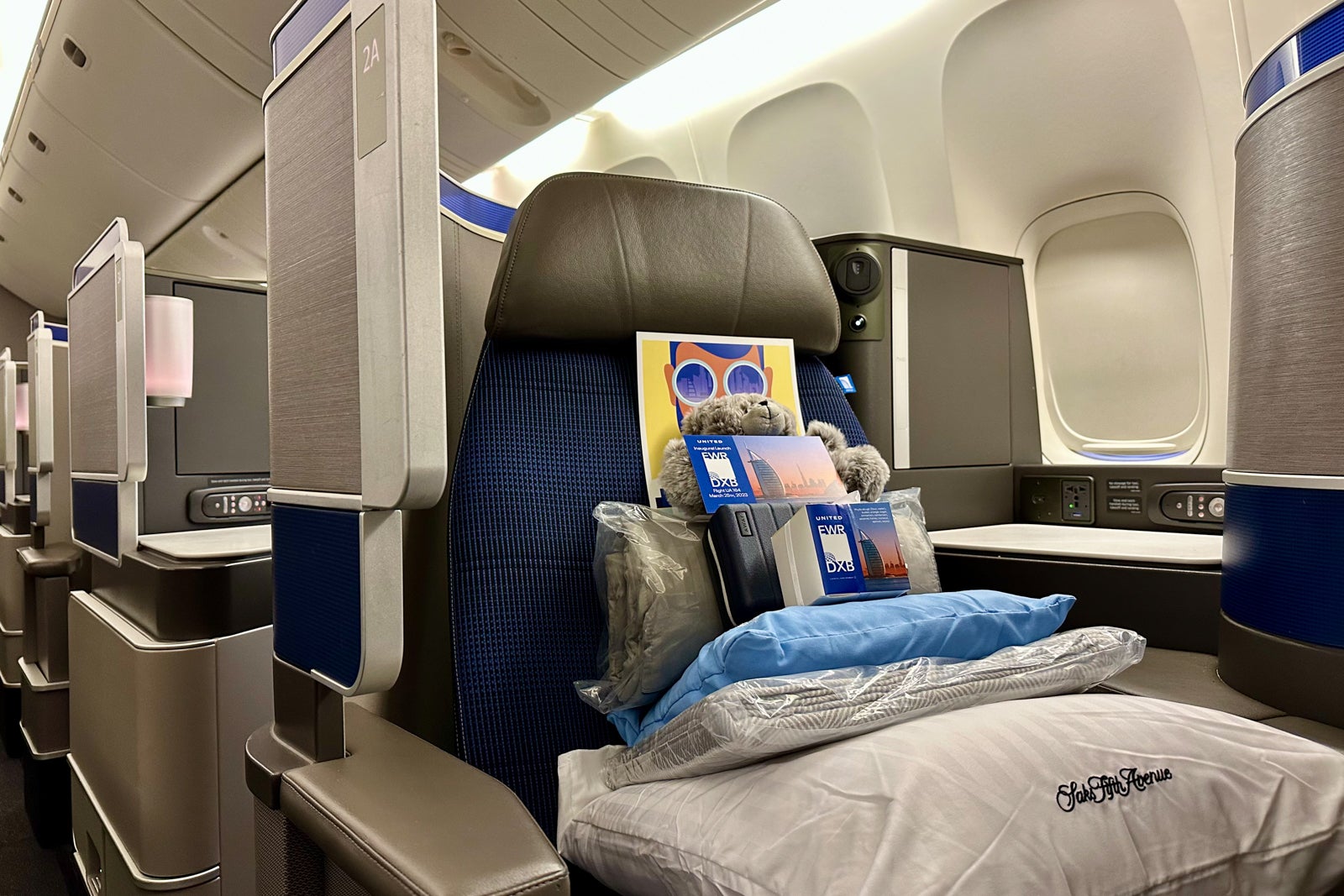 Even those sitting in Premium Plus and economy got to take home all of the same inaugural-specific amenities.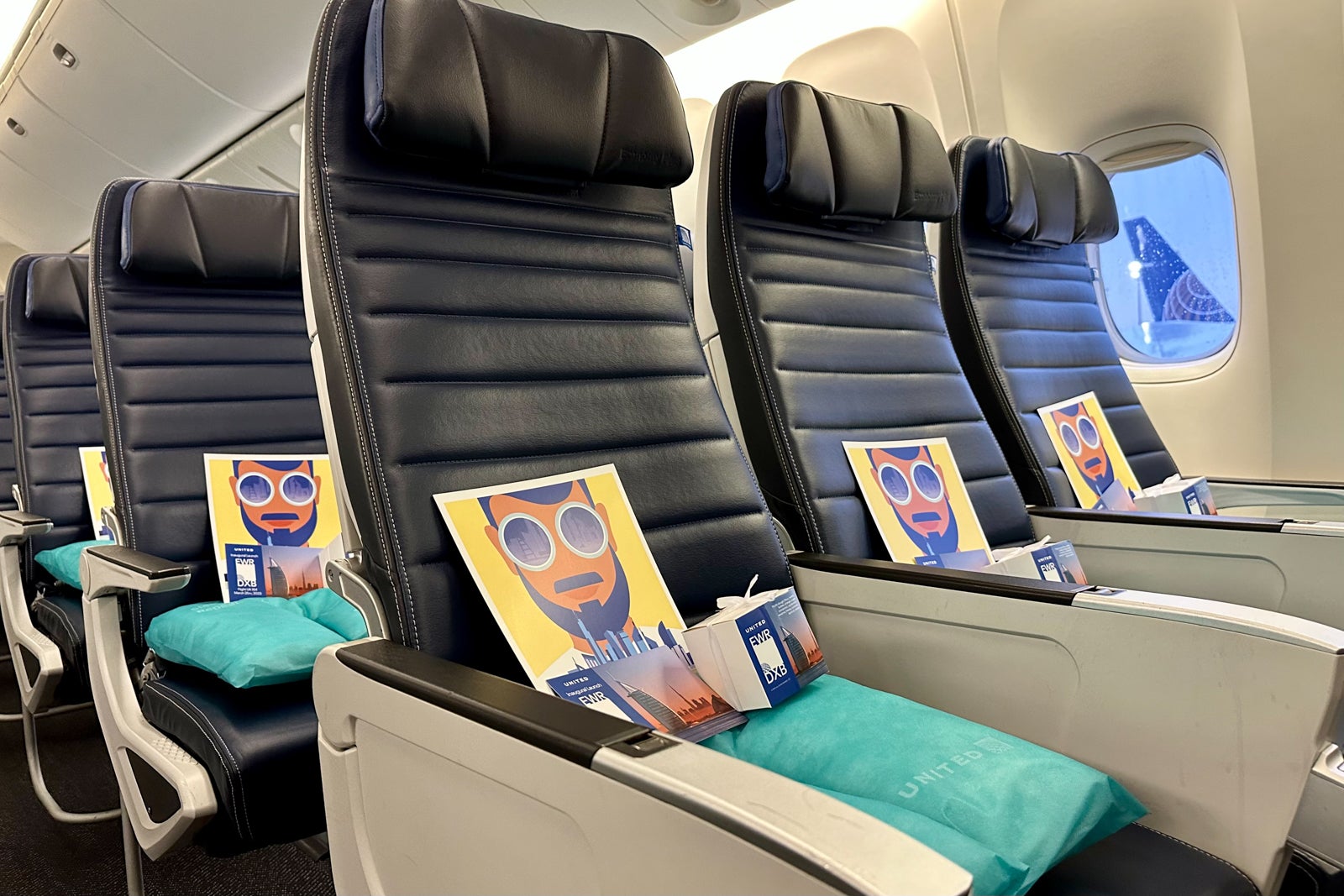 The teddy bear, however, was limited to Polaris and Premium Plus passengers.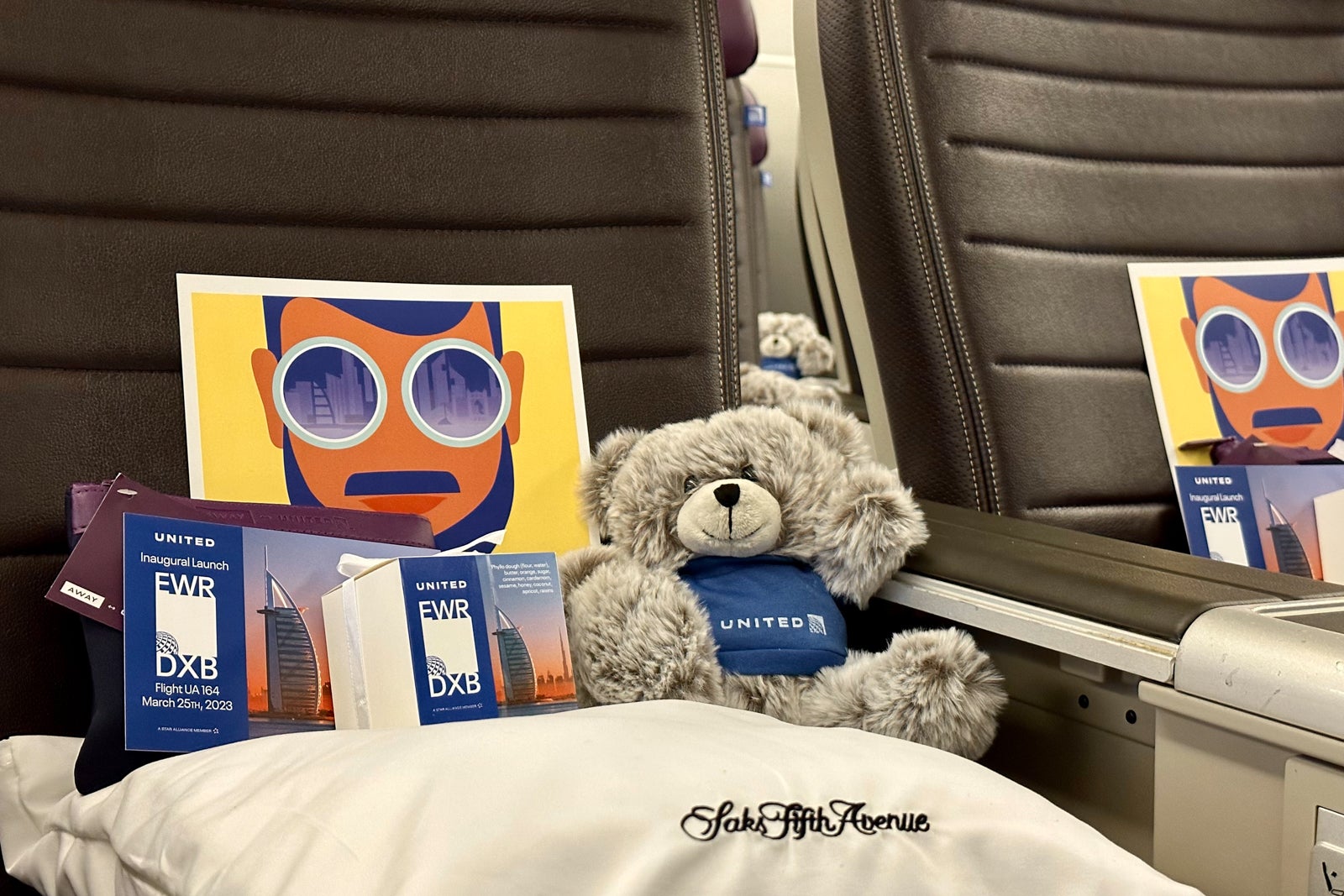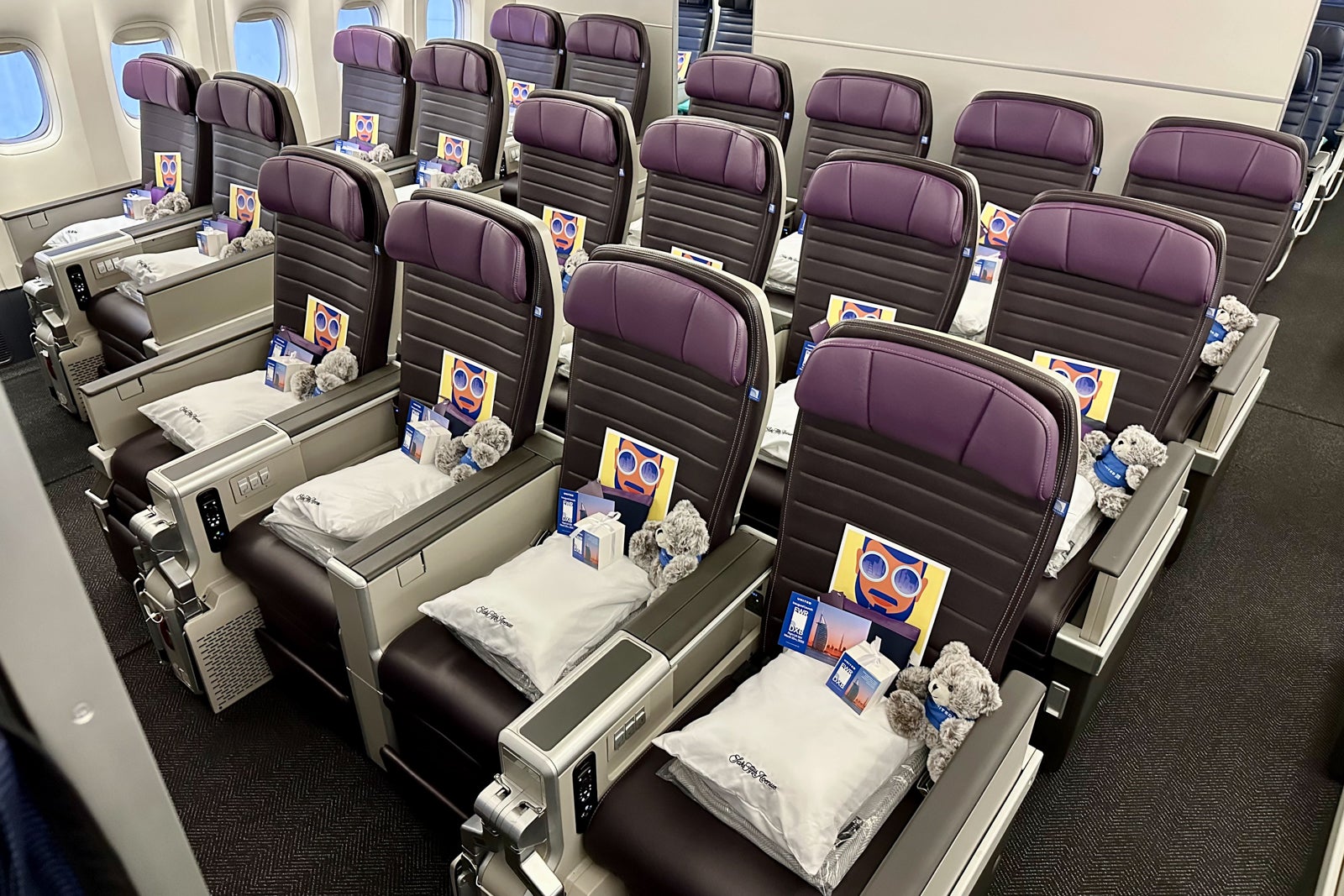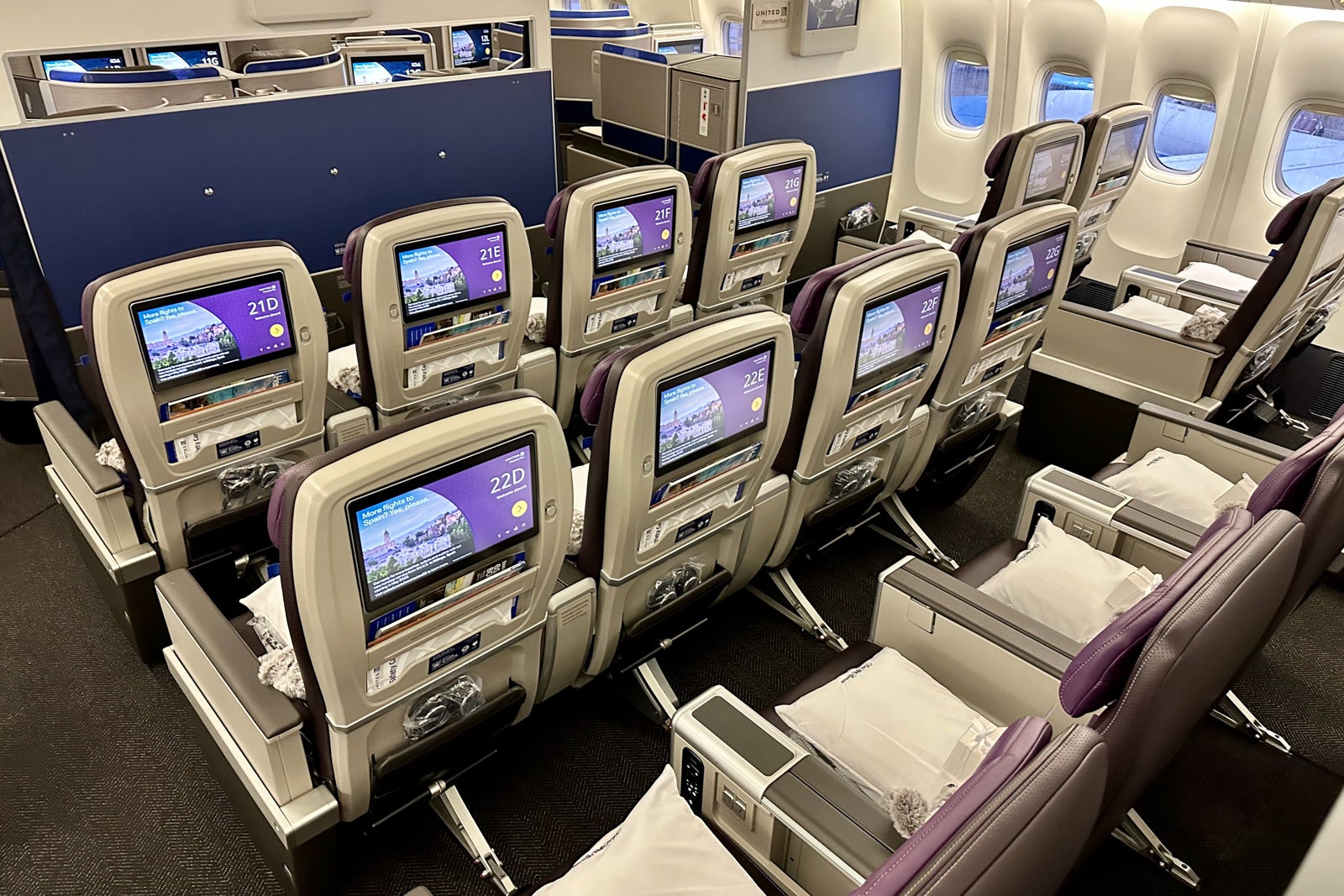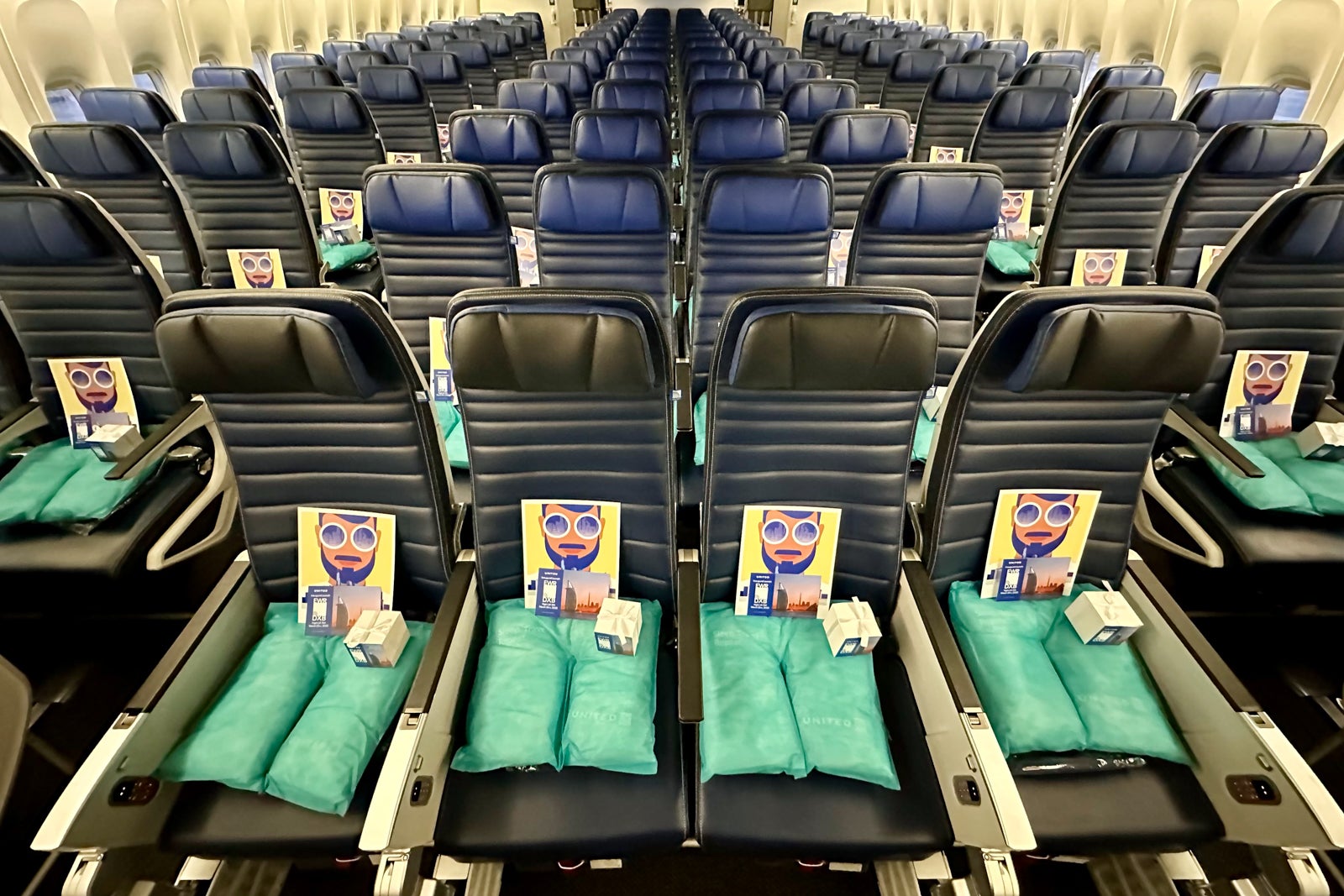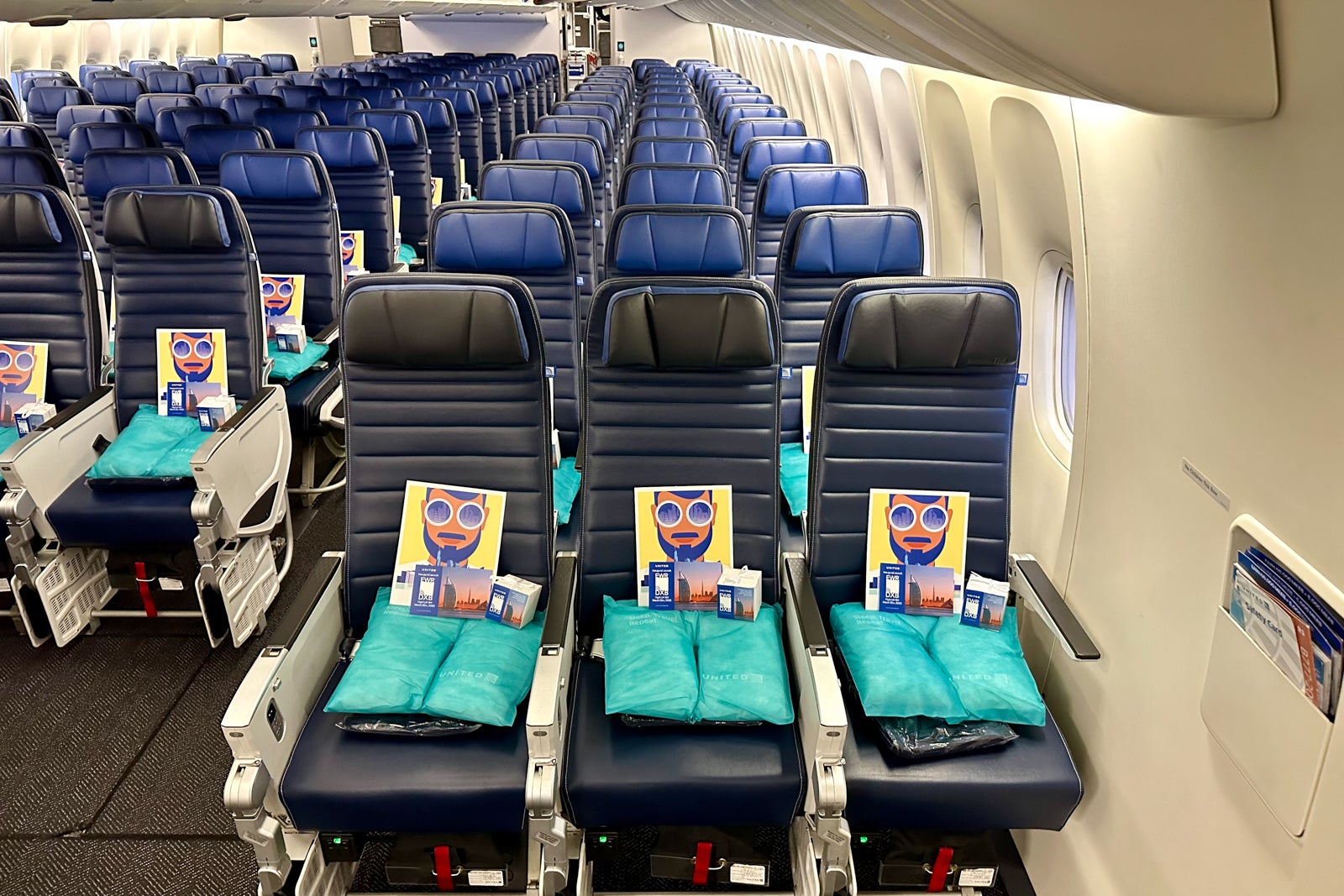 Additionally, each Polaris passenger received United's new Away-branded hard-shell amenity kit, which can double as a cable organizer or small dopp kit after you use the provided Sunday Riley lotions, dental kit, snooze set and tissues.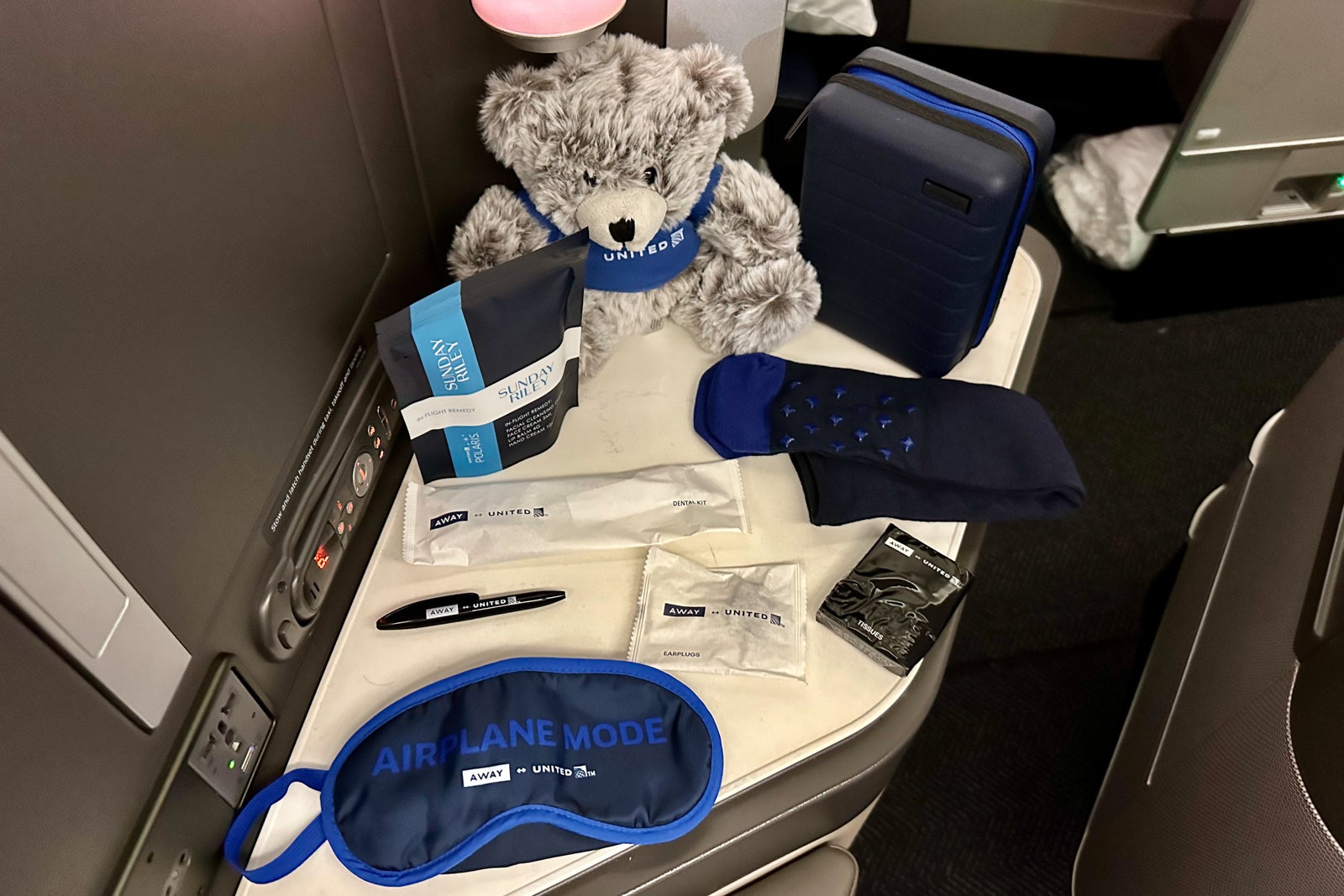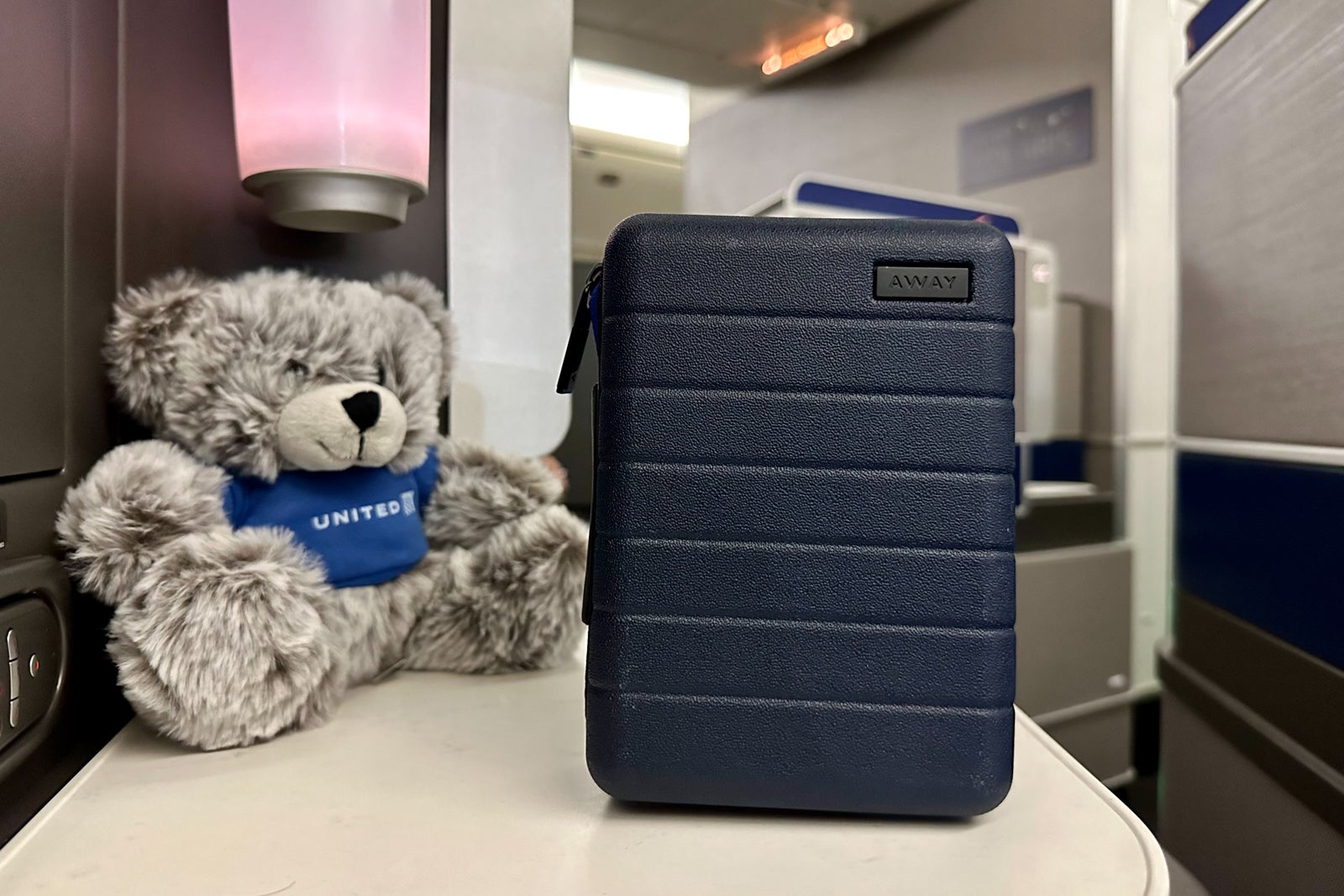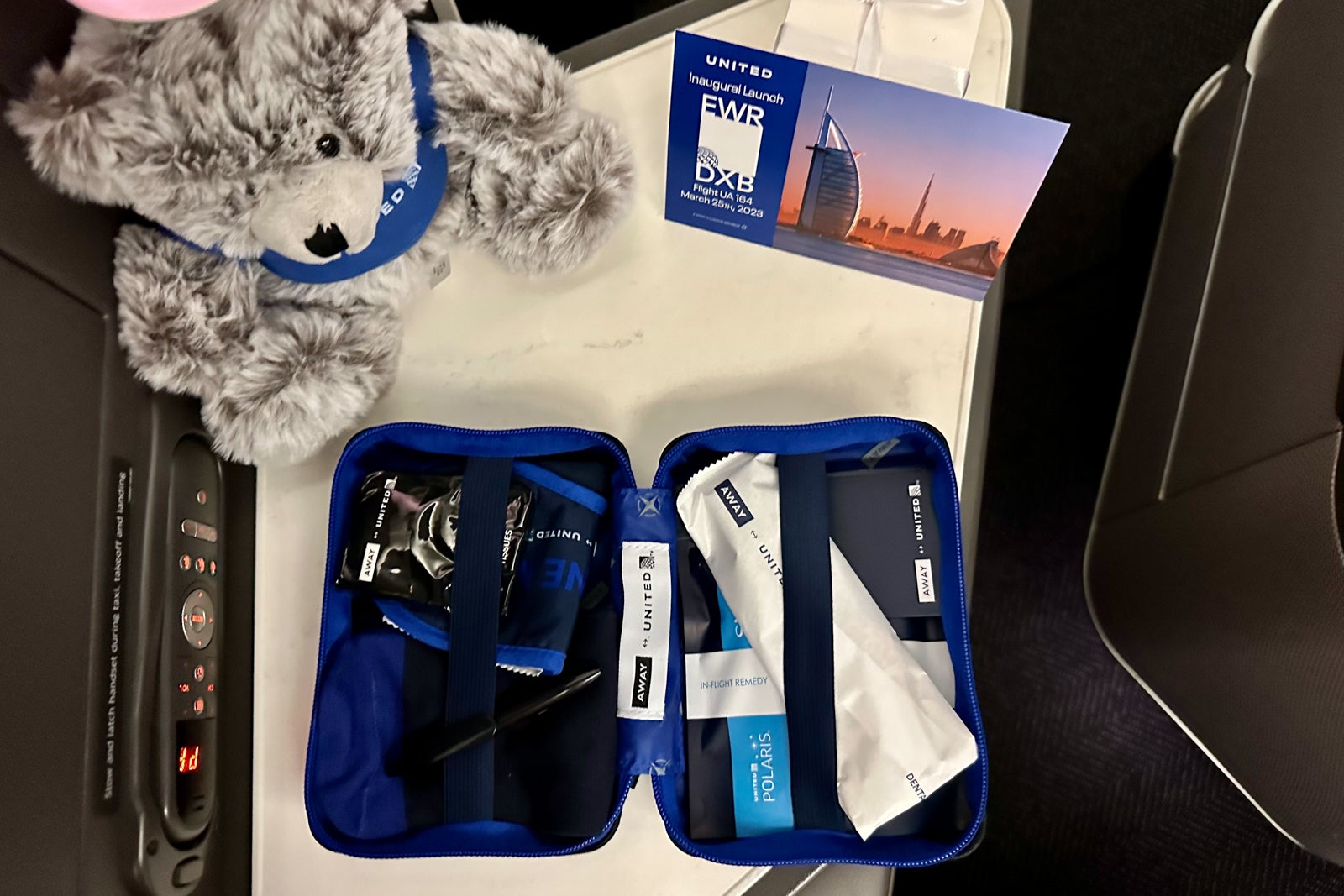 After finding my physical seat (it took a while to stow all the swag in my bag), I quickly familiarized myself with seat 11L — my favorite style of Polaris pod, an odd-number window seat, which offers additional privacy as it's flush against the window with a side table separating the pod from the aisle.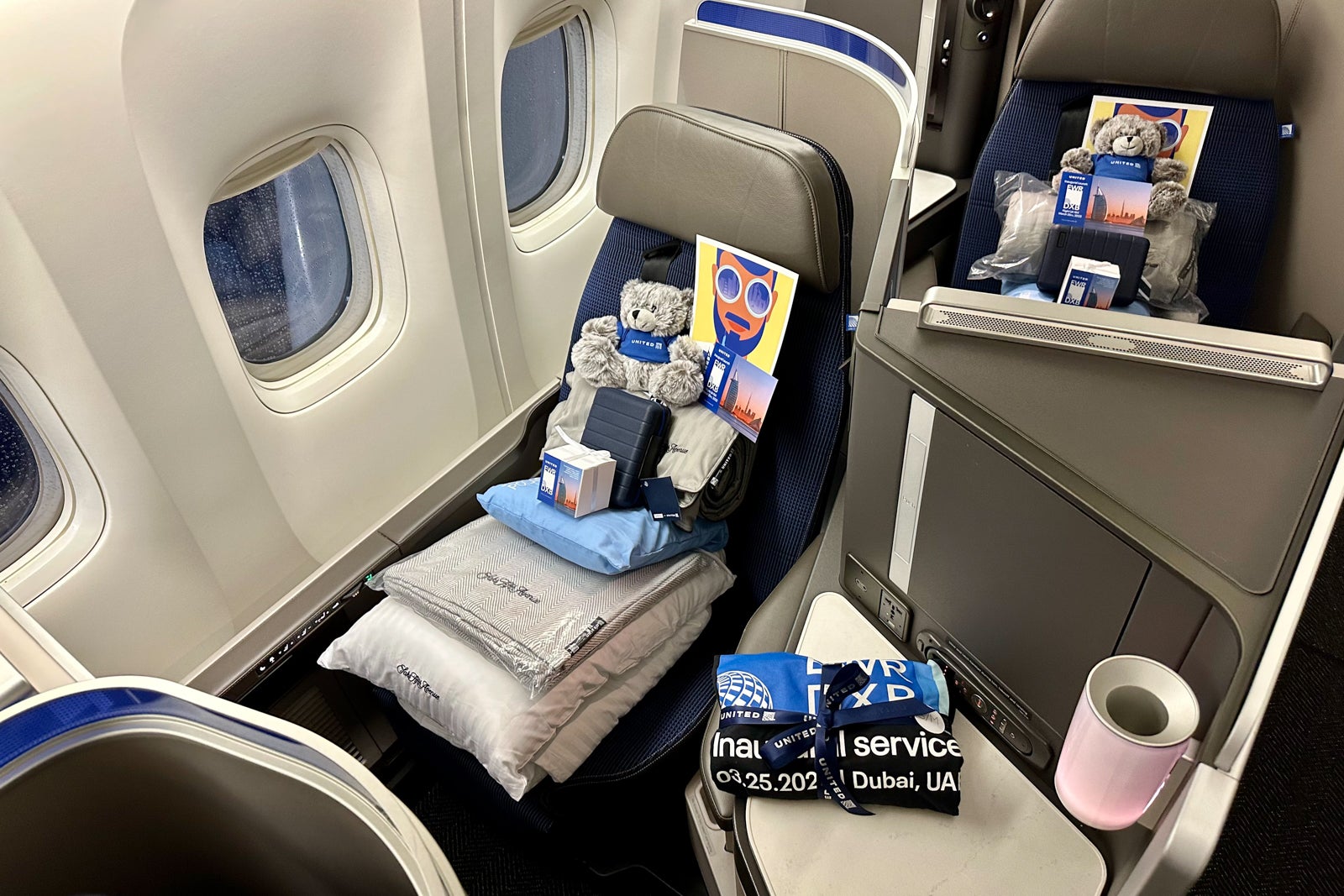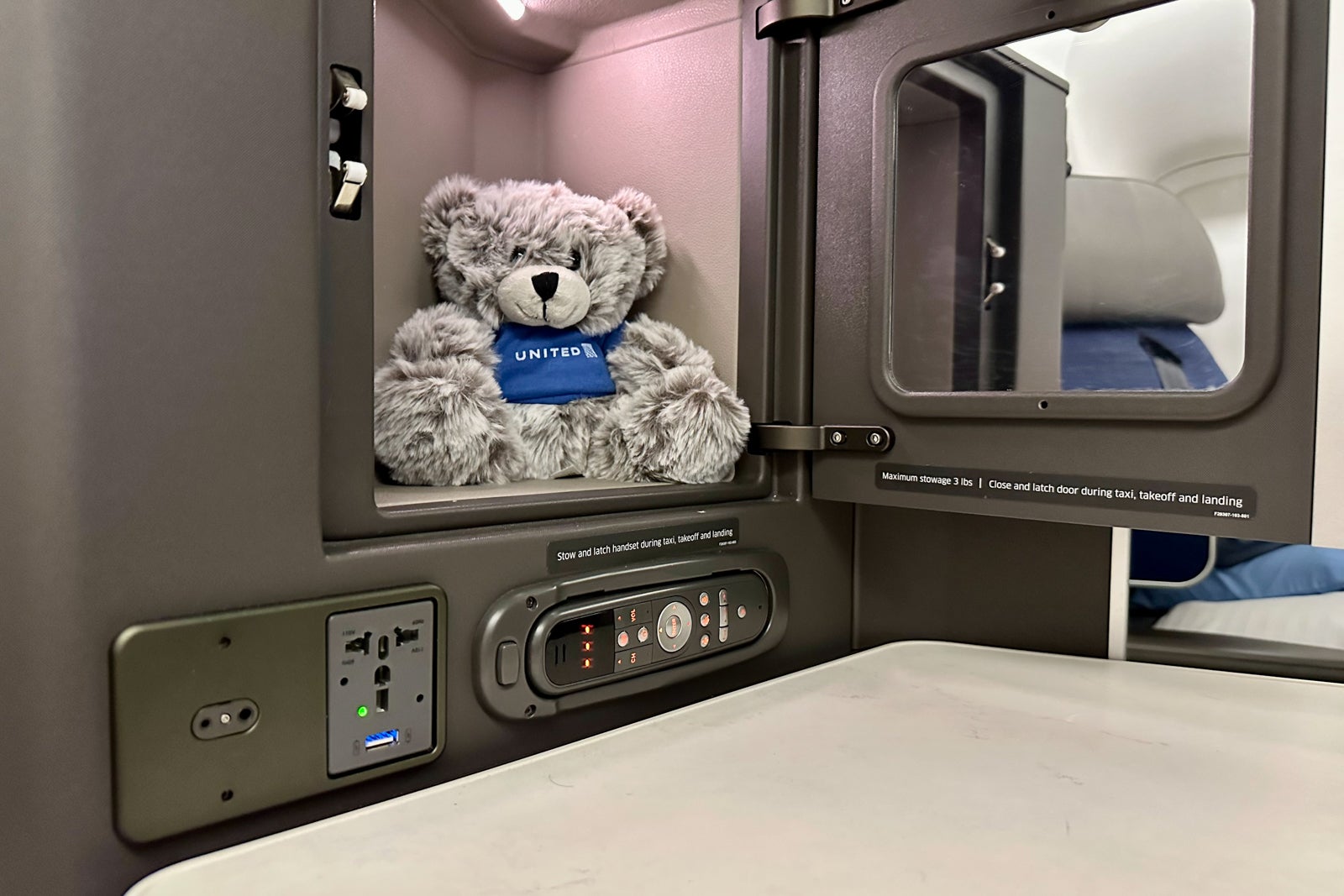 I had selected a bulkhead in the middle section, but a last-minute no-show meant that I could swap seats and enjoy some incredible sunrise views as we approached the United Kingdom on our transatlantic crossing.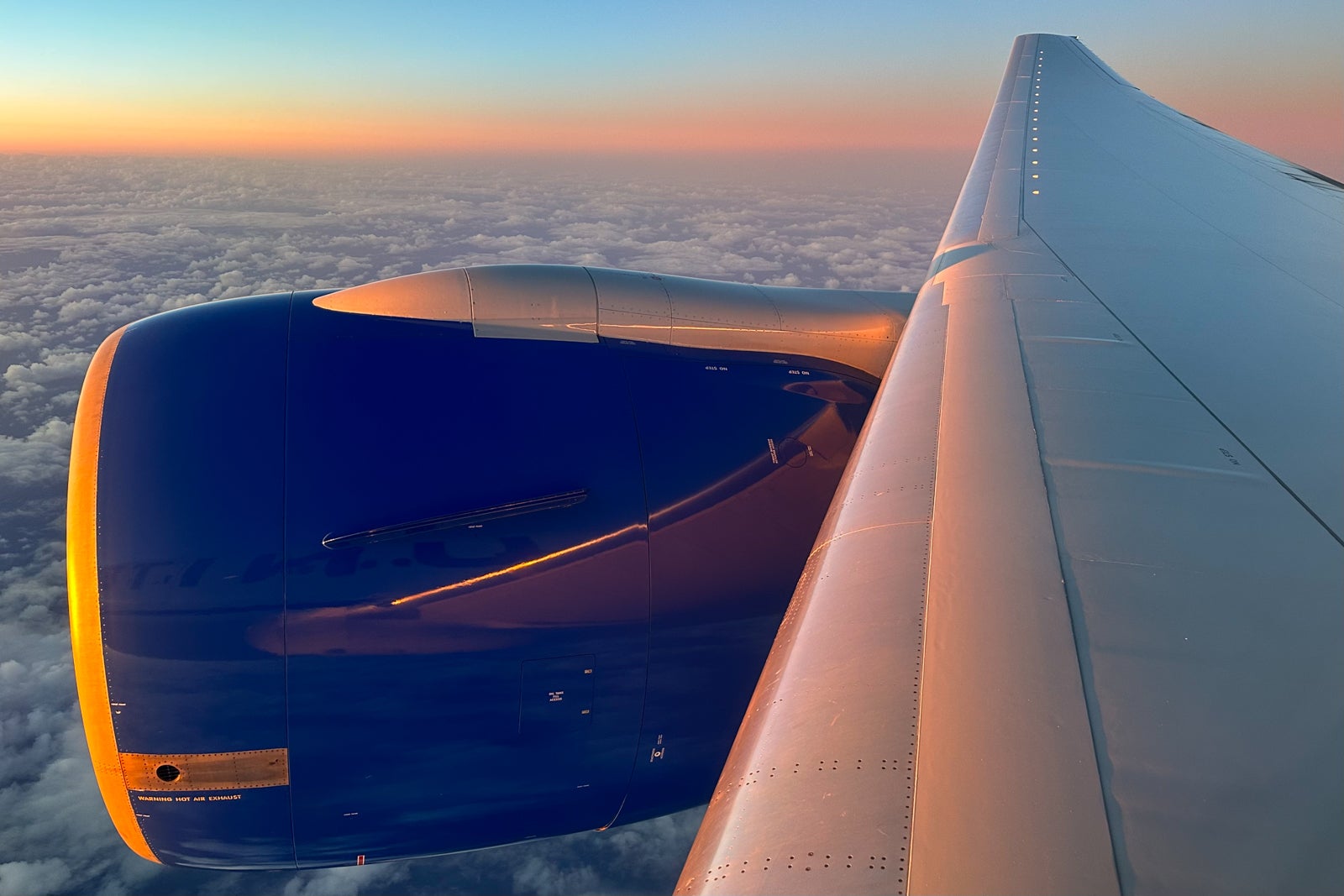 I've covered United's Polaris product in detail in prior reviews, so I won't delve into the specifics, but it's one of my favorite business-class pods offered by the U.S. carriers.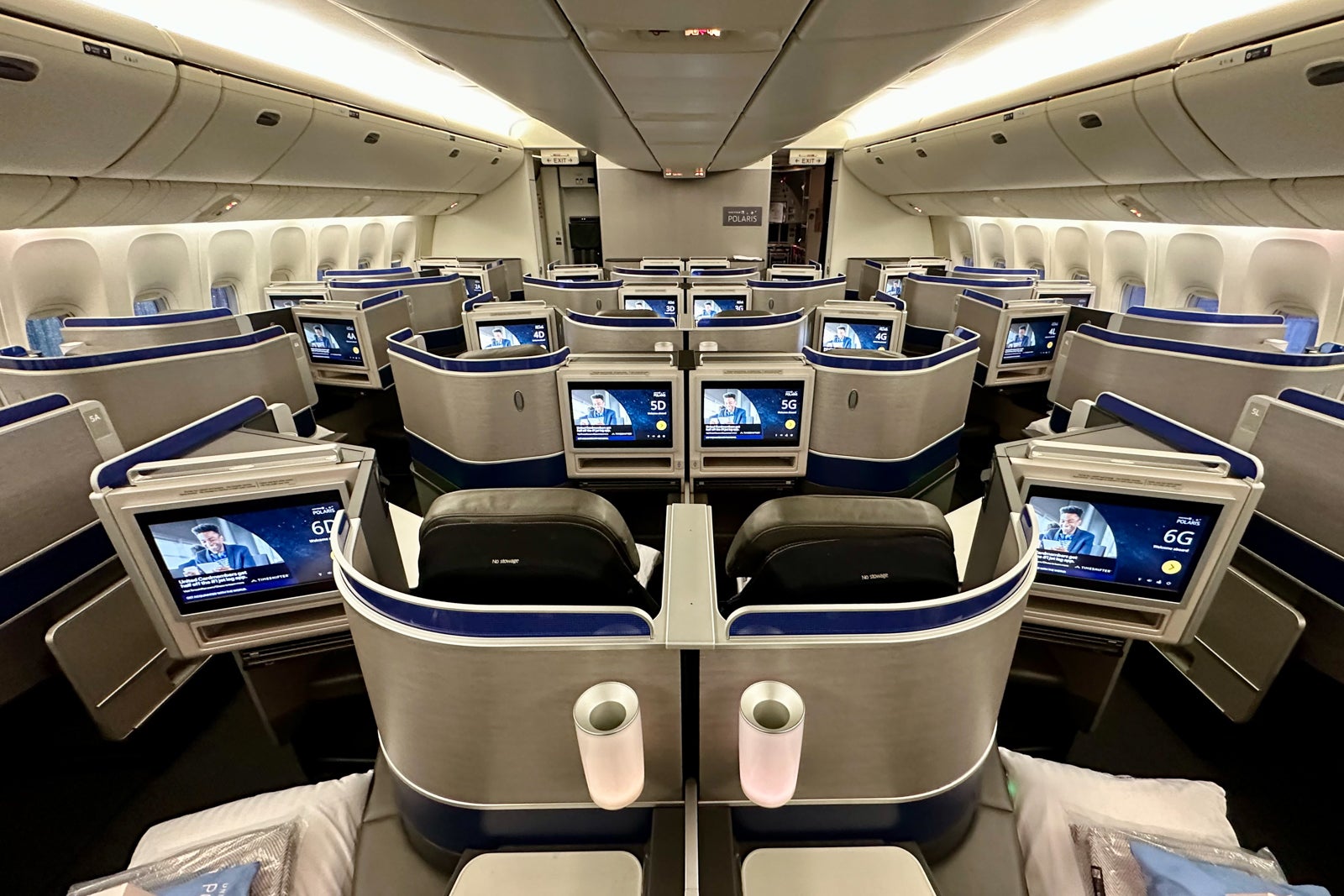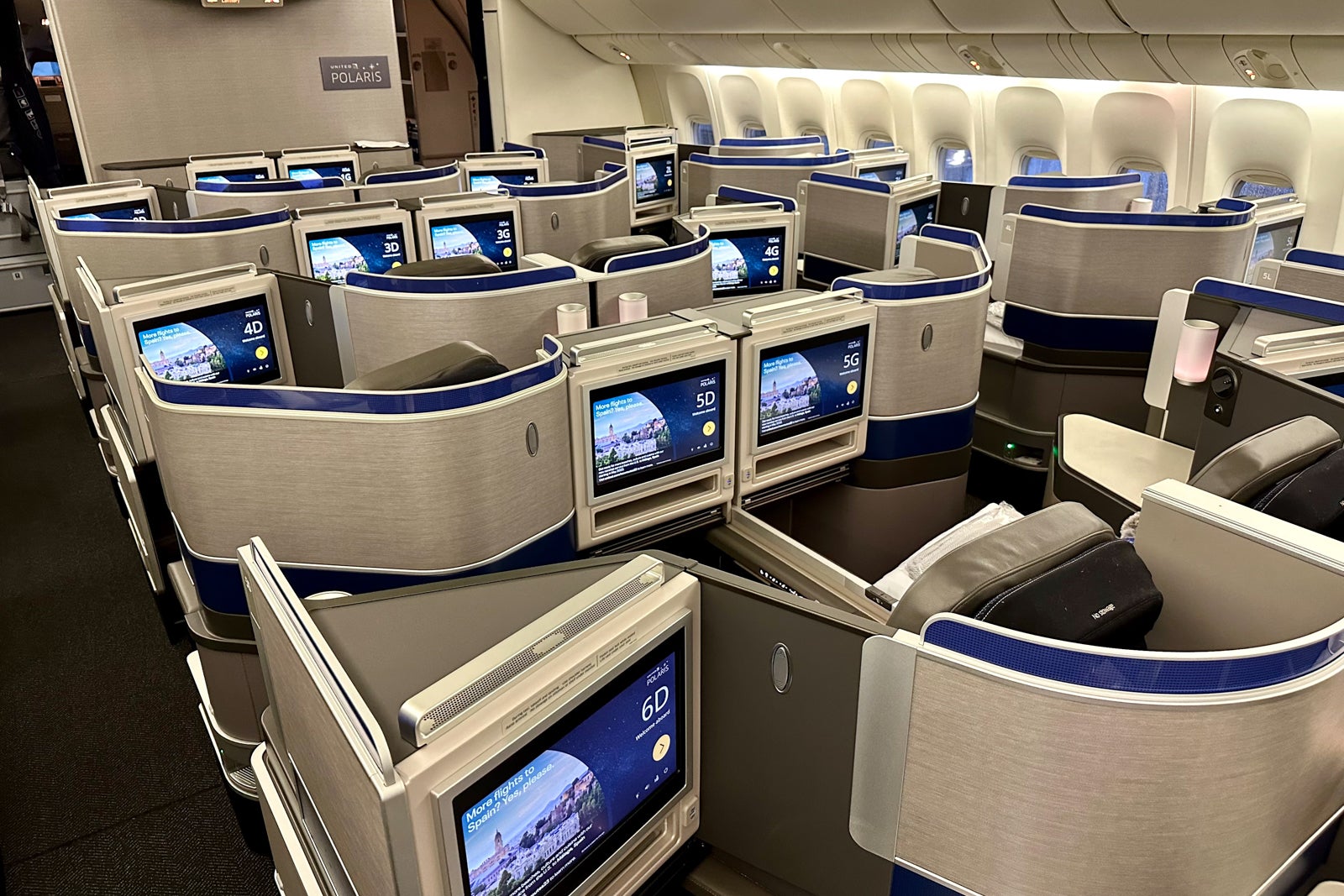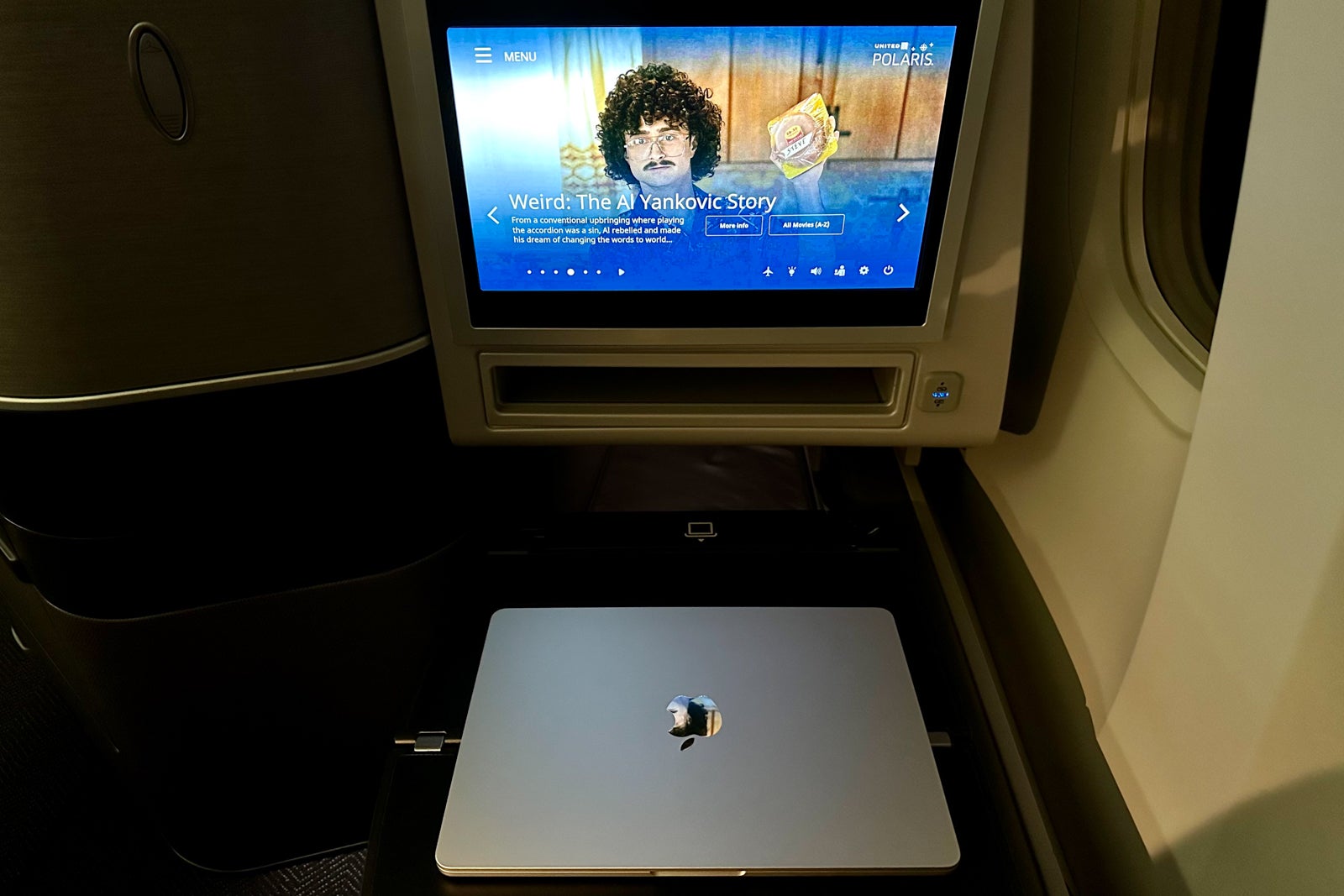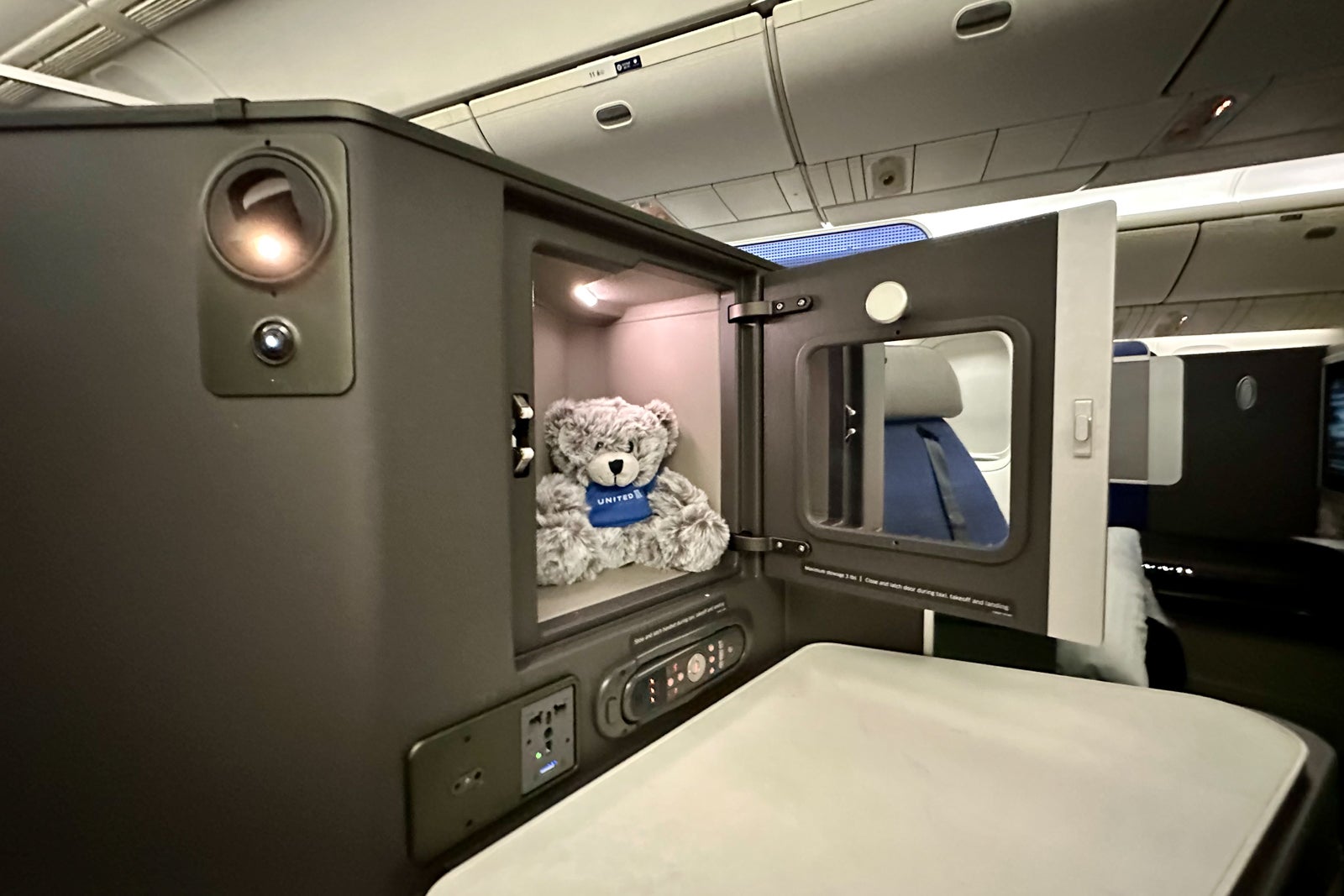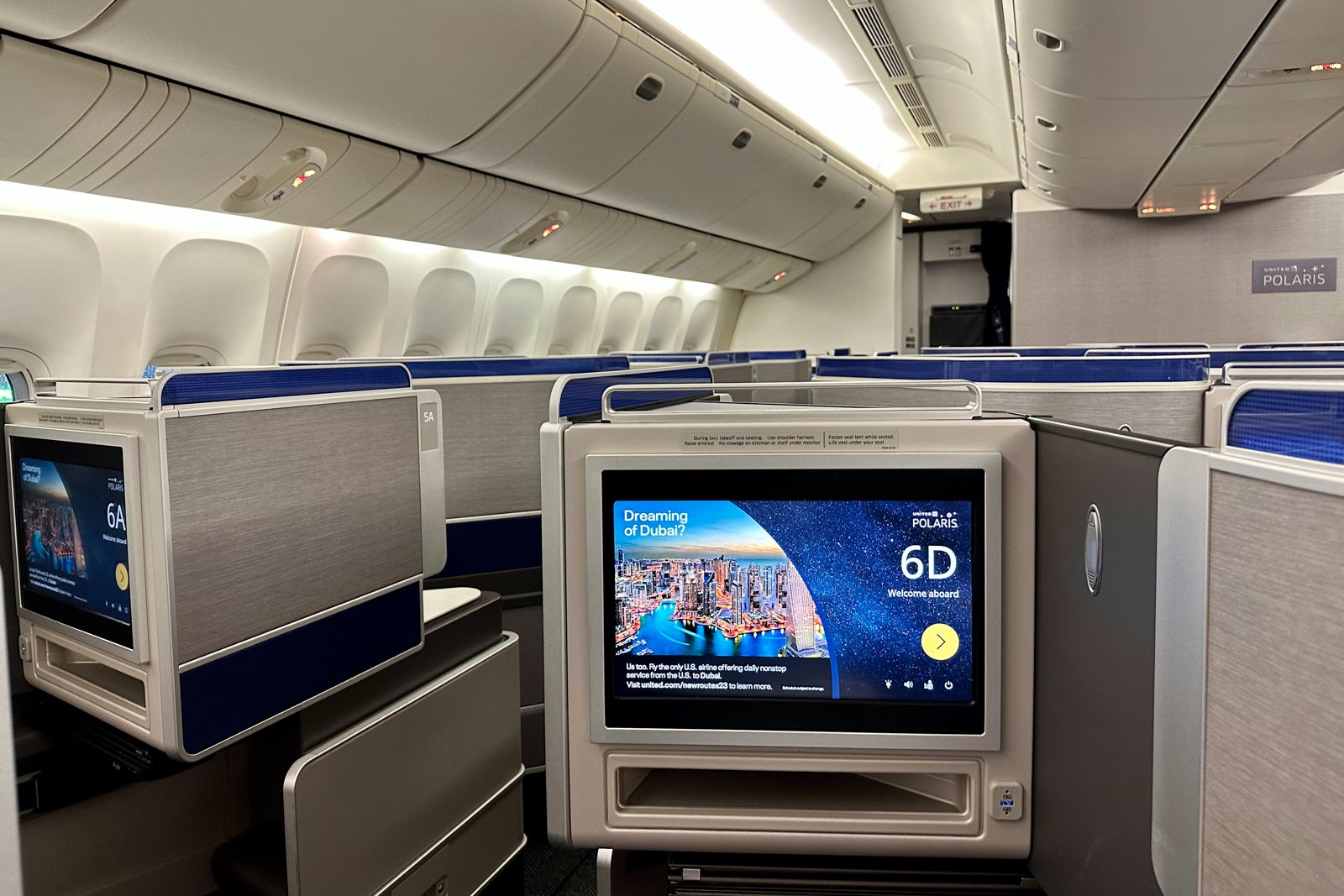 The seats offer plenty of storage, including an enclosed compartment, a large side table and a small shelf underneath the television. You'll find a universal AC outlet and USB-A port at the side of each seat, and a second USB-A port underneath the 15.4-inch seat-back screen.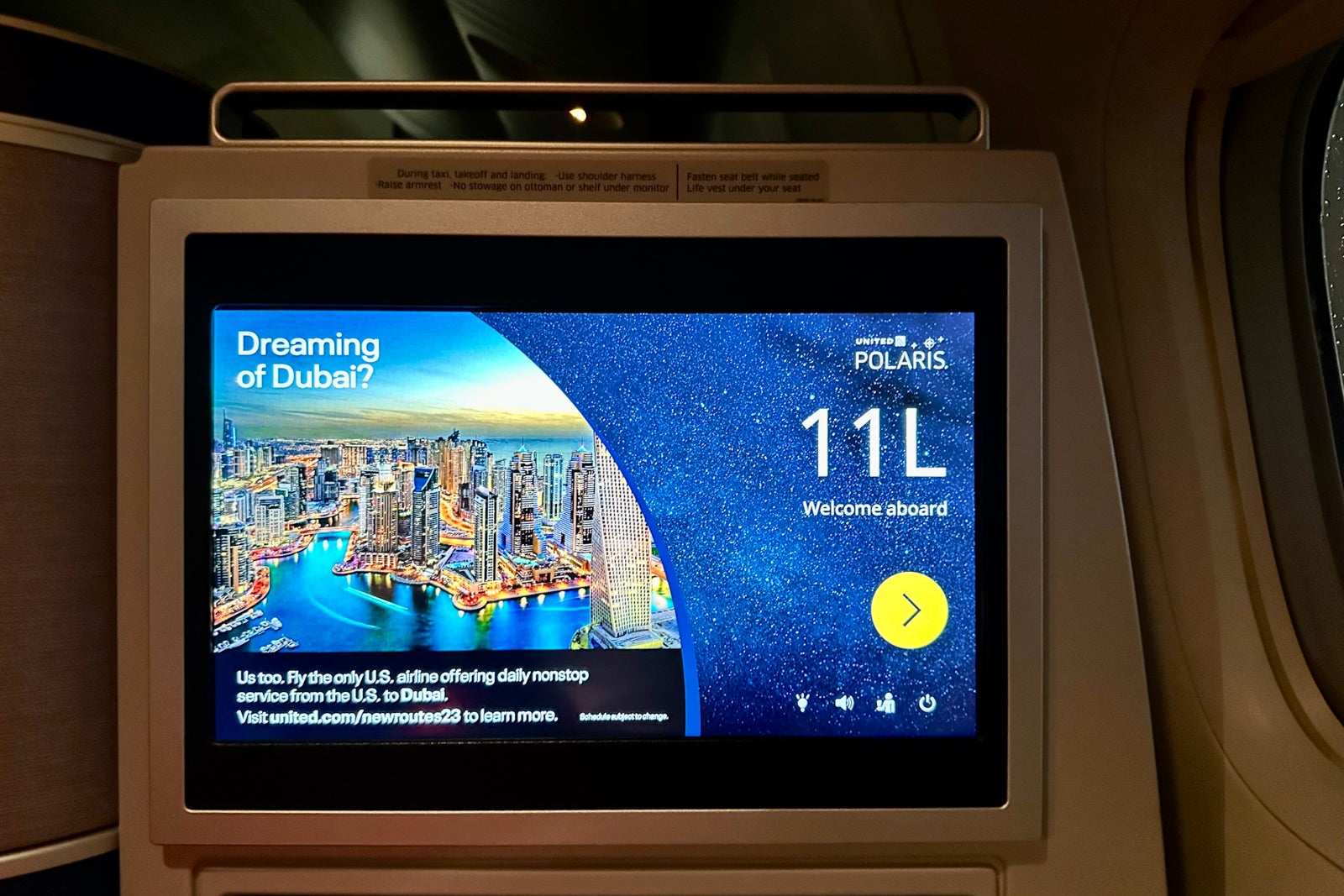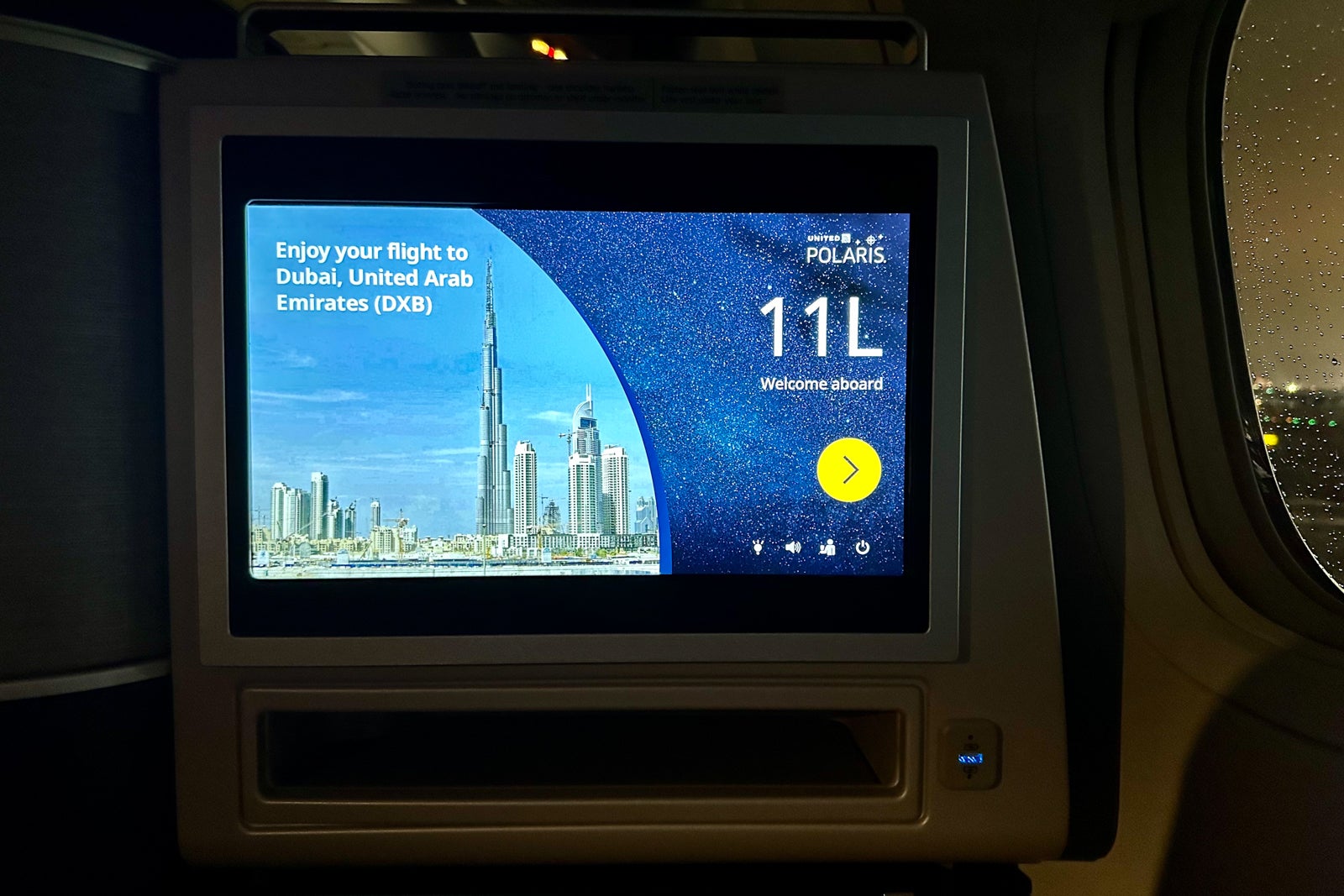 The inflight entertainment system is loaded with plenty of movies and TV shows, including new releases, such as "Aftersun" and "The Independent." These screens don't yet feature Bluetooth connectivity, so you'll need to use the provided (mediocre) headphones or pack an Airfly dongle to pair your AirPods to the system.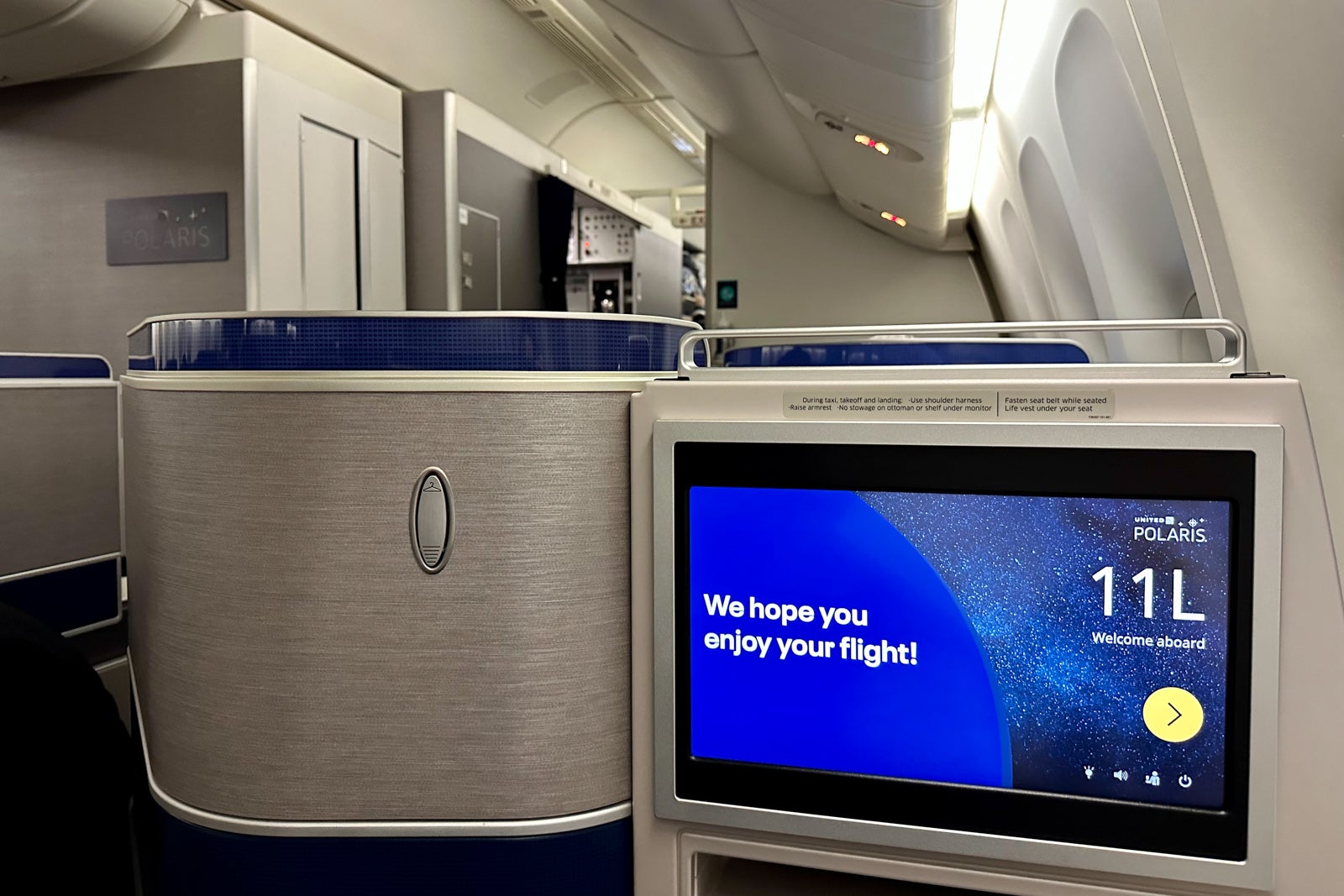 While the Polaris pods are essentially the same across the entire United wide-body fleet, the ones on the Boeing 777-200 are some of the best. They're a bit wider than those on the Boeing 767 or 787 Dreamliner, and the footwells are more spacious, too.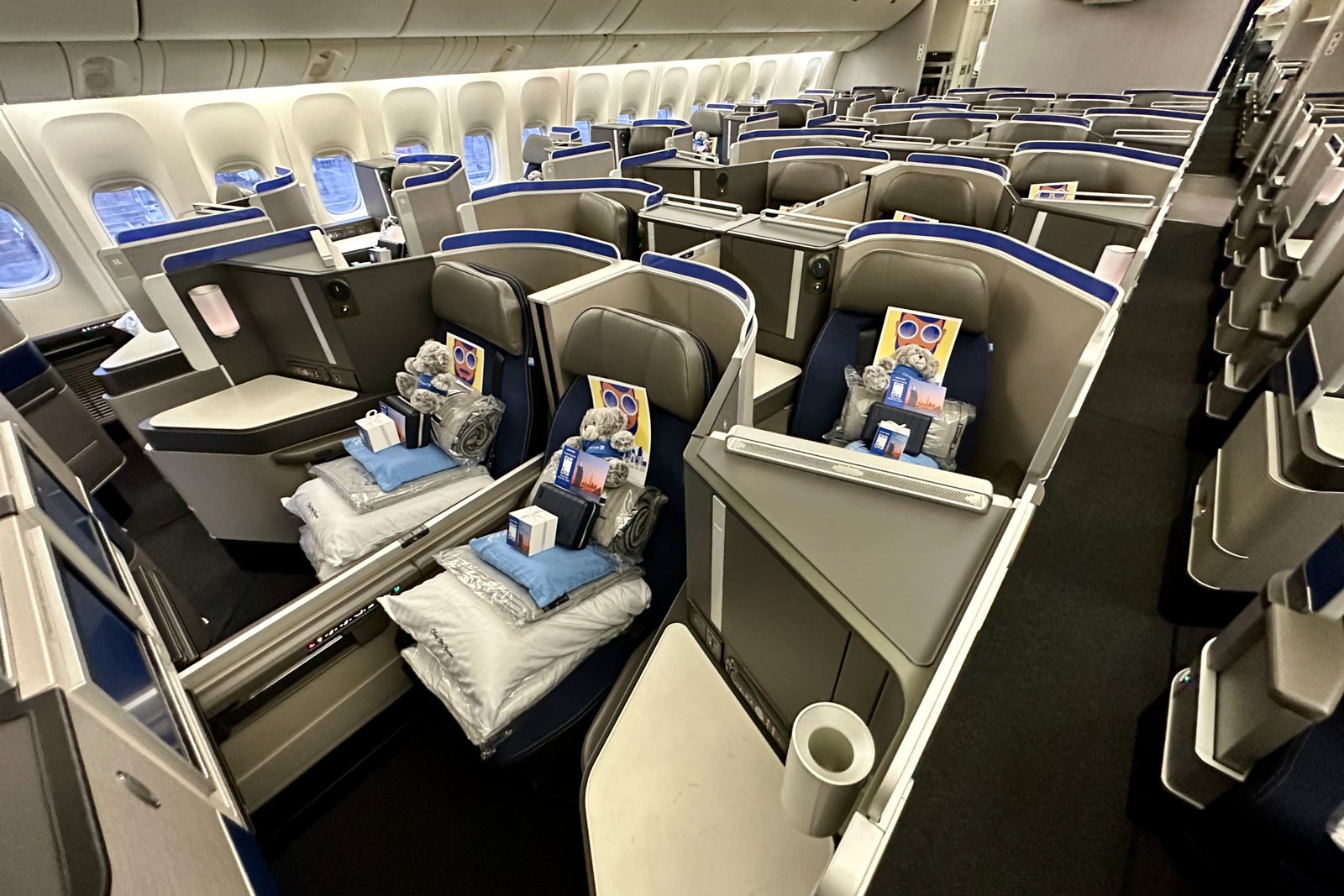 Just note that only a subset of United 777-200s feature personal air nozzles. Those that used to belong to Continental Airlines do not, and unfortunately, the GE-powered 777 that I flew to Dubai, was an old Continental bird. (Pre-merger United 777s do feature personal air nozzles.)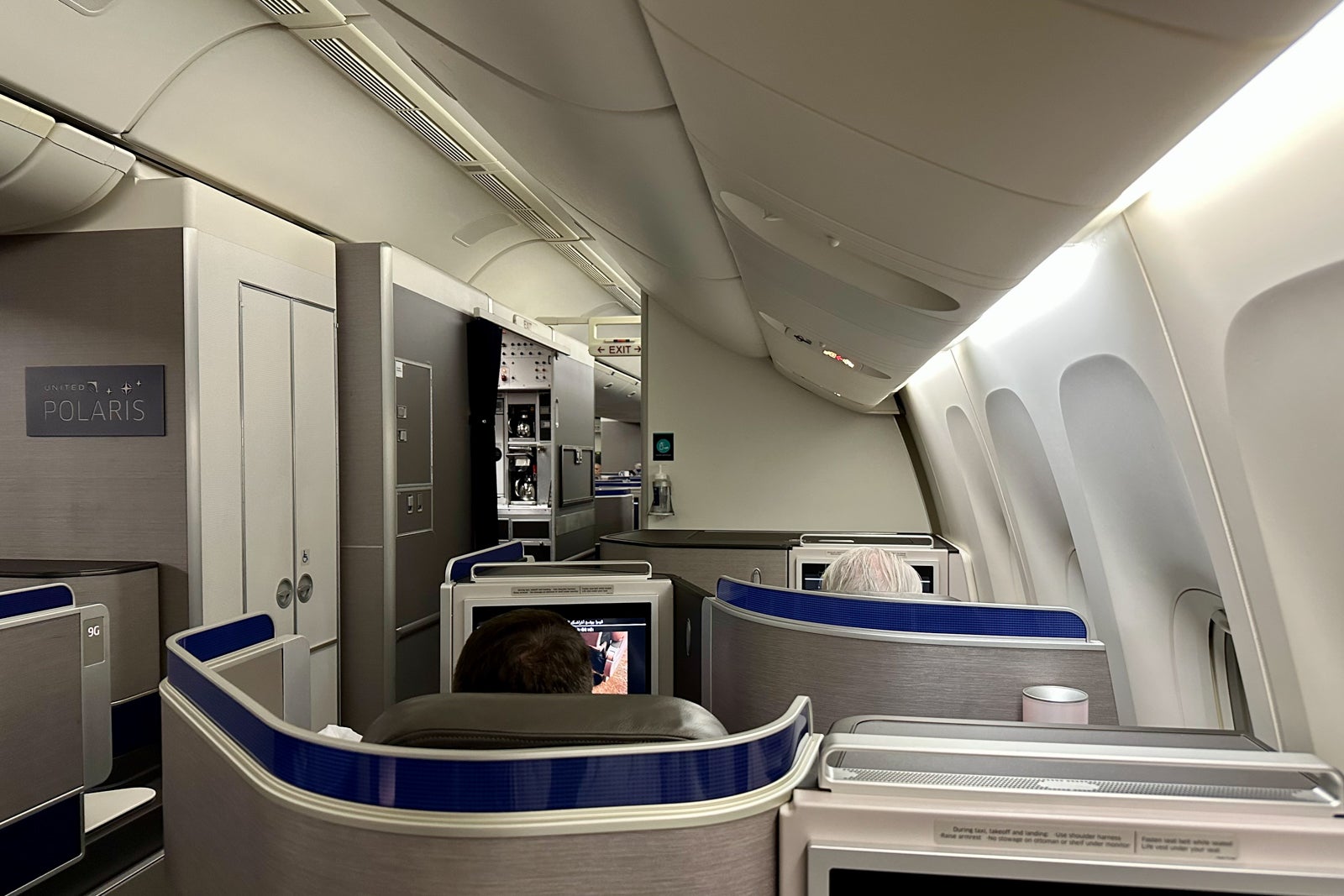 The boarding process was quite hectic, as passengers scurried through the aisles to say hi to friends and United employees caught up with colleagues in different departments.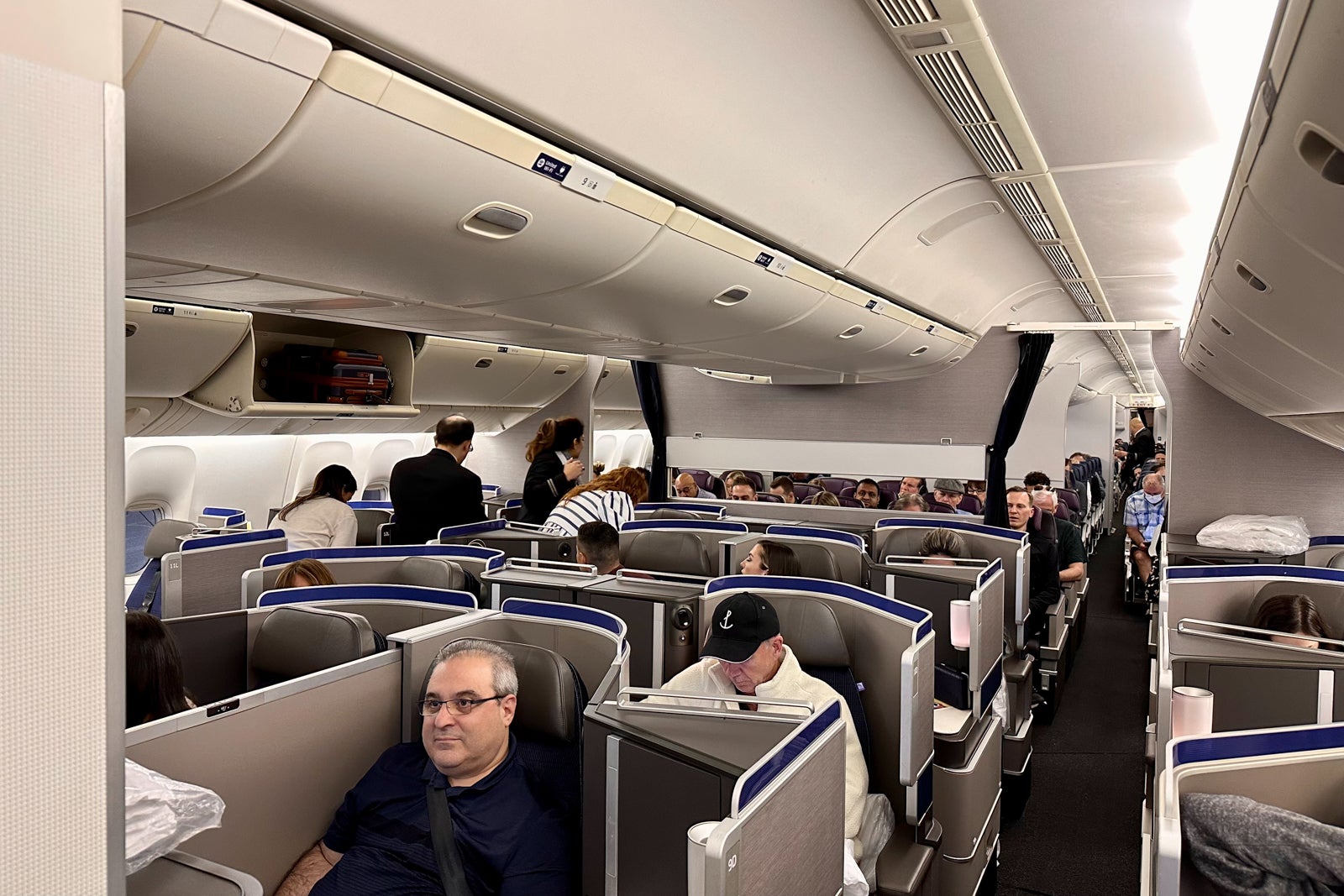 Although it was a festive environment, the crew handled it with grace. After all, the flight attendants were hand-picked by United management, so while the service was among the best I've seen on United, I wouldn't necessarily expect that to always be the case. In fact, one of the flight attendants, Luke, was even cast in United's safety video.
As the 9:40 p.m. departure time rolled around, the boarding door was closed and United Flight 164 was on its way to Dubai.
It was just a short, 10-minute taxi to Runway 4L, and within minutes, the Boeing 777 was airborne.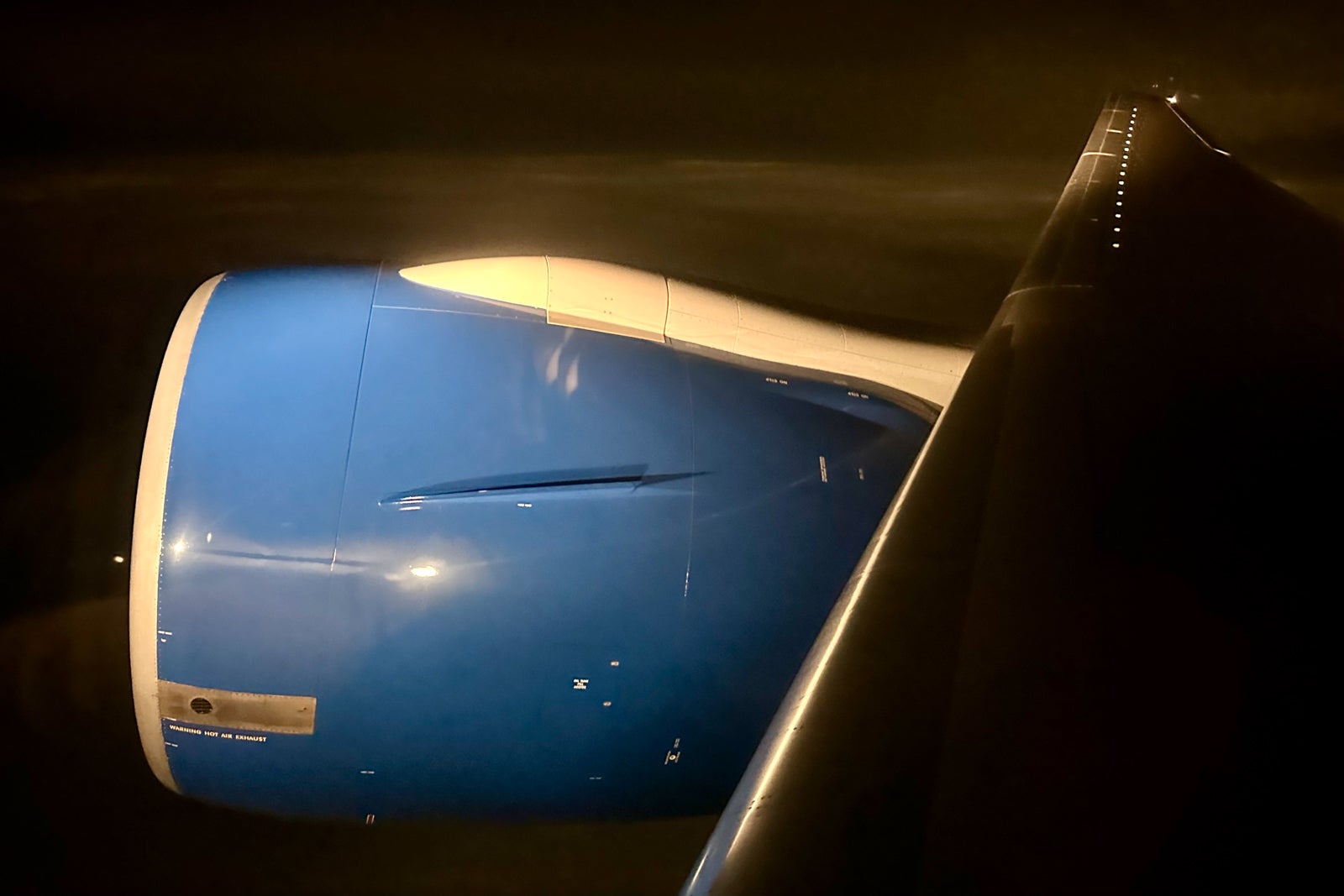 My first order of business during the climb was connecting to Wi-Fi, which is provided by Panasonic on United's long-haul fleet. I was happily surprised to see United's domestic internet pricing available on this jaunt — just $8 (or 800 miles) for a full-flight package for MileagePlus members.
Though I've seen more and more United long-haul flights offer $8 Wi-Fi, I've also seen some pretty steep prices recently, such as $34.99 for London to San Francisco.
At this point, the only way to guarantee free Wi-Fi with United is to log in via T-Mobile, which offers unlimited inflight internet with select plans.
Once connected, I was impressed with the 5 Mbps download and 2 Mbps upload speed. It's not Starlink, but it'll do.
After crossing through 10,000 feet, the flight attendants sprung into action. David and Luke serving my aisle couldn't have been friendly or more polished, and I really enjoyed getting to interact with them throughout the meal service.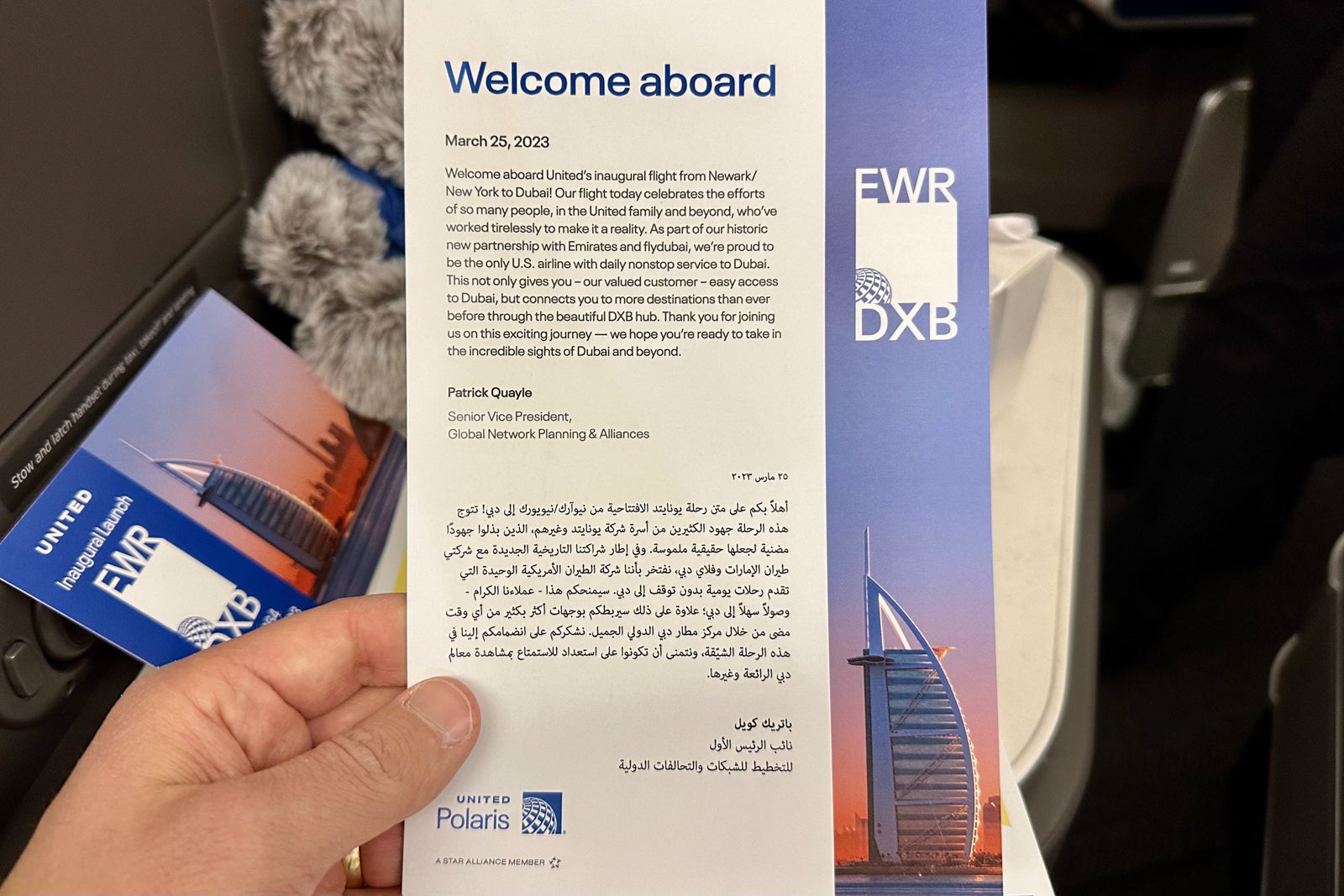 Service began with the distribution of menus, which were printed on commemorative card stock. Not only was Saturday an inaugural for the route, but it was also an inaugural for this menu rotation.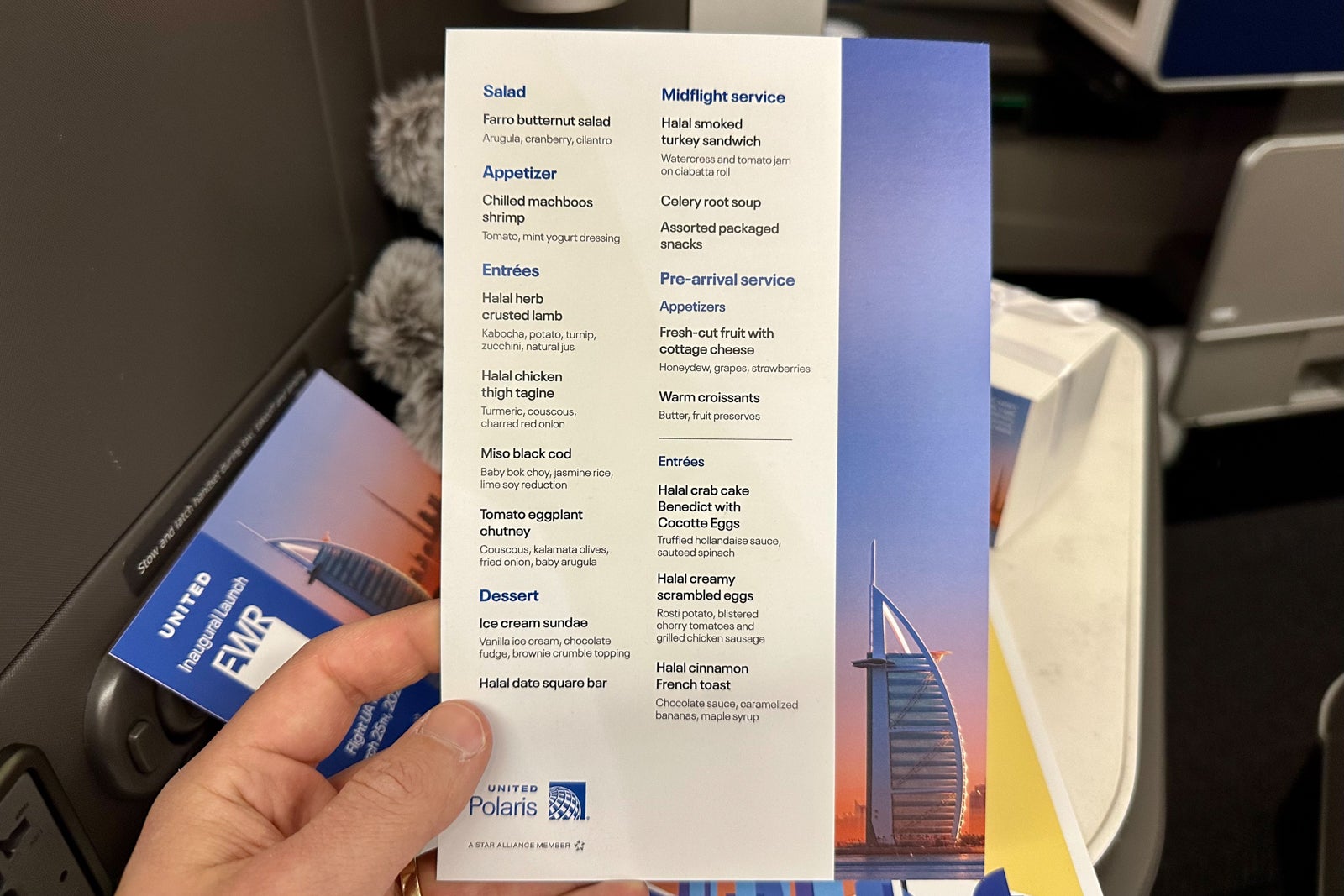 United spent the last few weeks devising a new-and-improved menu for the Dubai route, according to the airline's executives, and given my recent track record with Polaris catering, I wasn't buying it.  
But United delivered. Though it doesn't take much, this was no doubt the best food I've had on United since the pandemic began.
After hot towel service, the drink cart rolled down the aisle, and without batting an eye, I ordered a glass of the new-to-United Whispering Angel rose, which was served by none other than Quayle himself — a tradition he likes to maintain on inaugural flights.
Quayle's heavy hand gave me a generous pour, but I knew it wouldn't go to waste, especially since I'm a big fan of this varietal.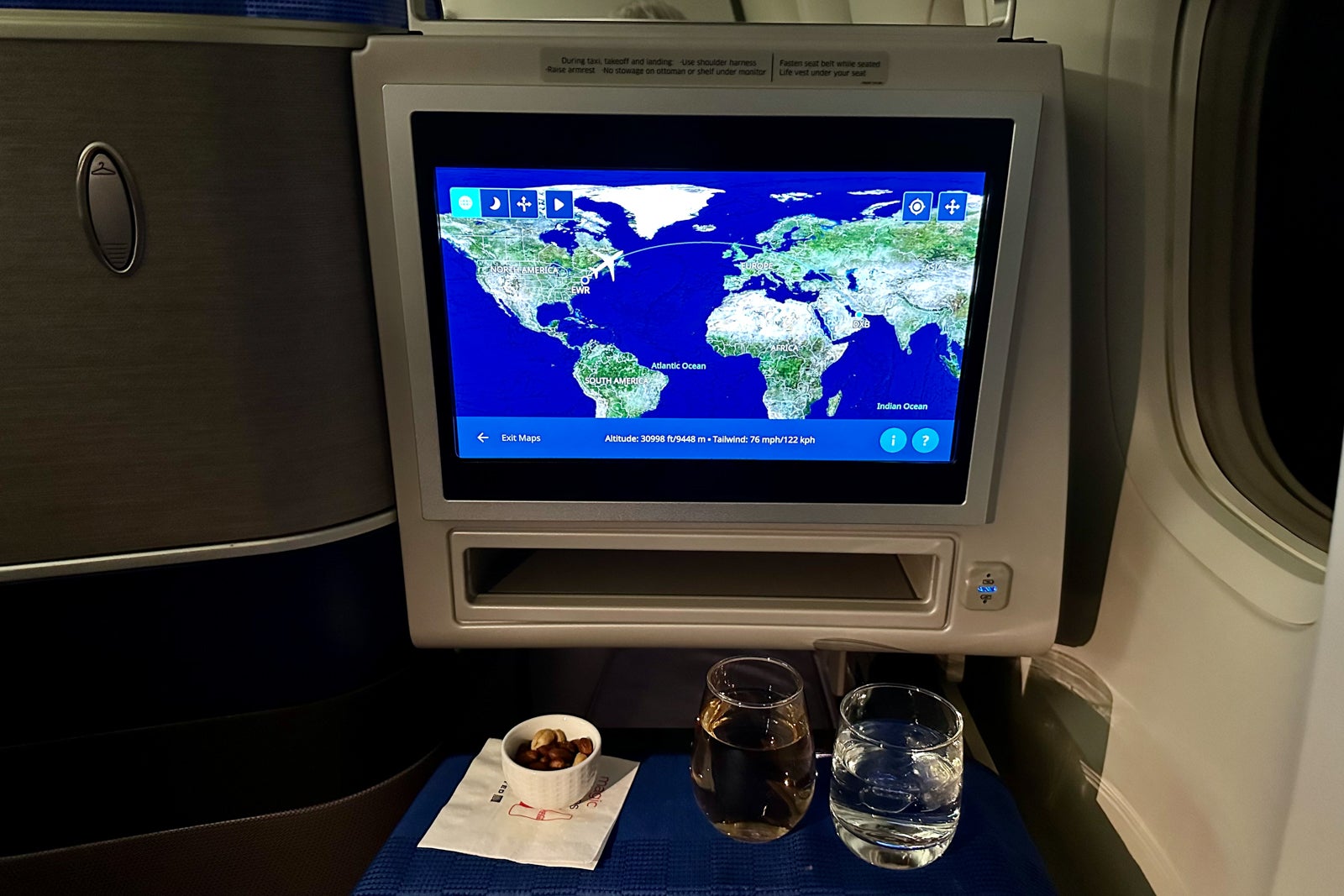 Drinks were served alongside a small ramekin of mixed nuts, which was followed by the appetizer tray. This consisted of a farro butternut salad, chilled machboos shrimp, a pretzel roll and a piece of garlic bread (with no choice from a bread basket).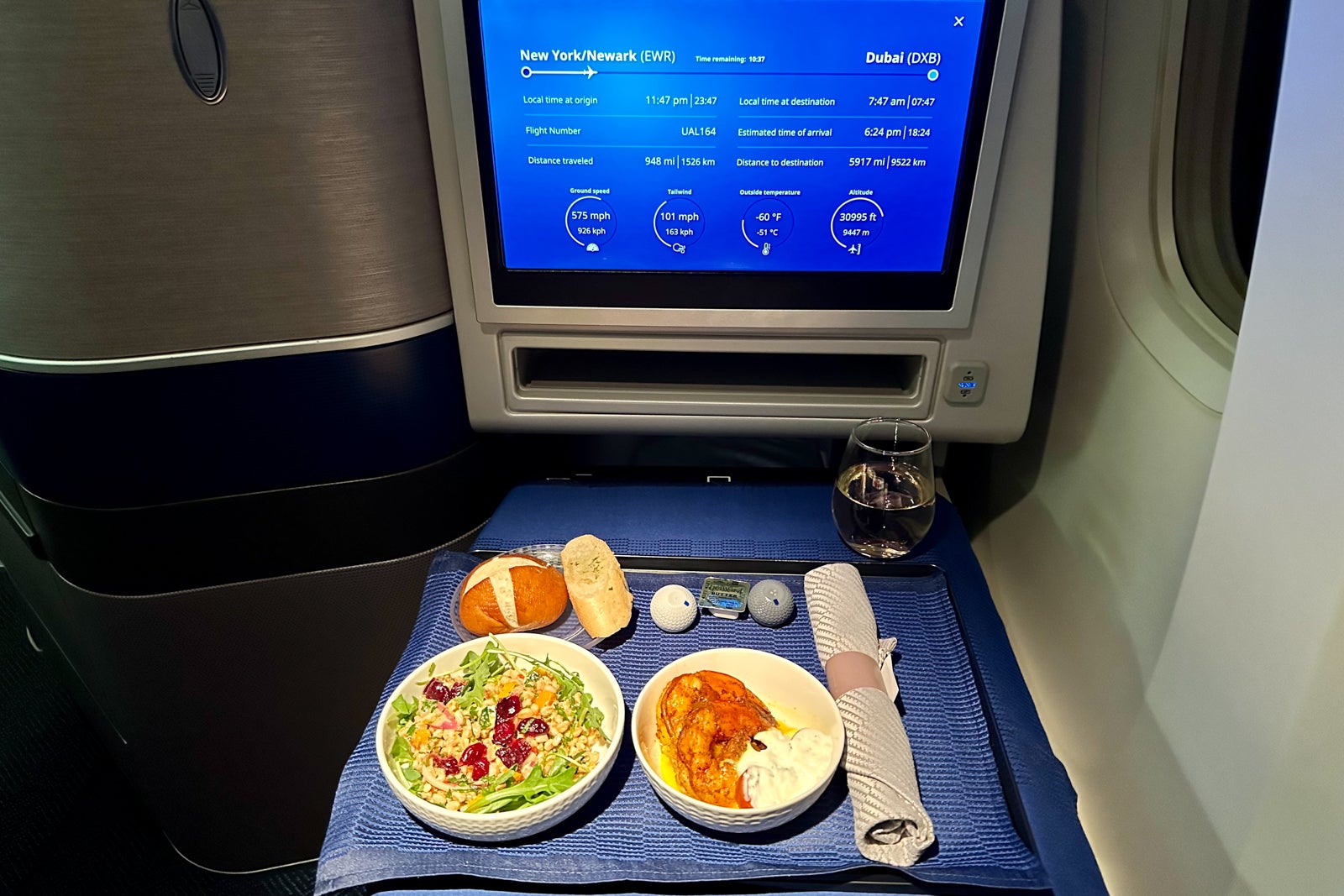 I don't eat shellfish, but the salad and the two breads were delicious. After finishing my salad, David brought around my entree, the miso black cod.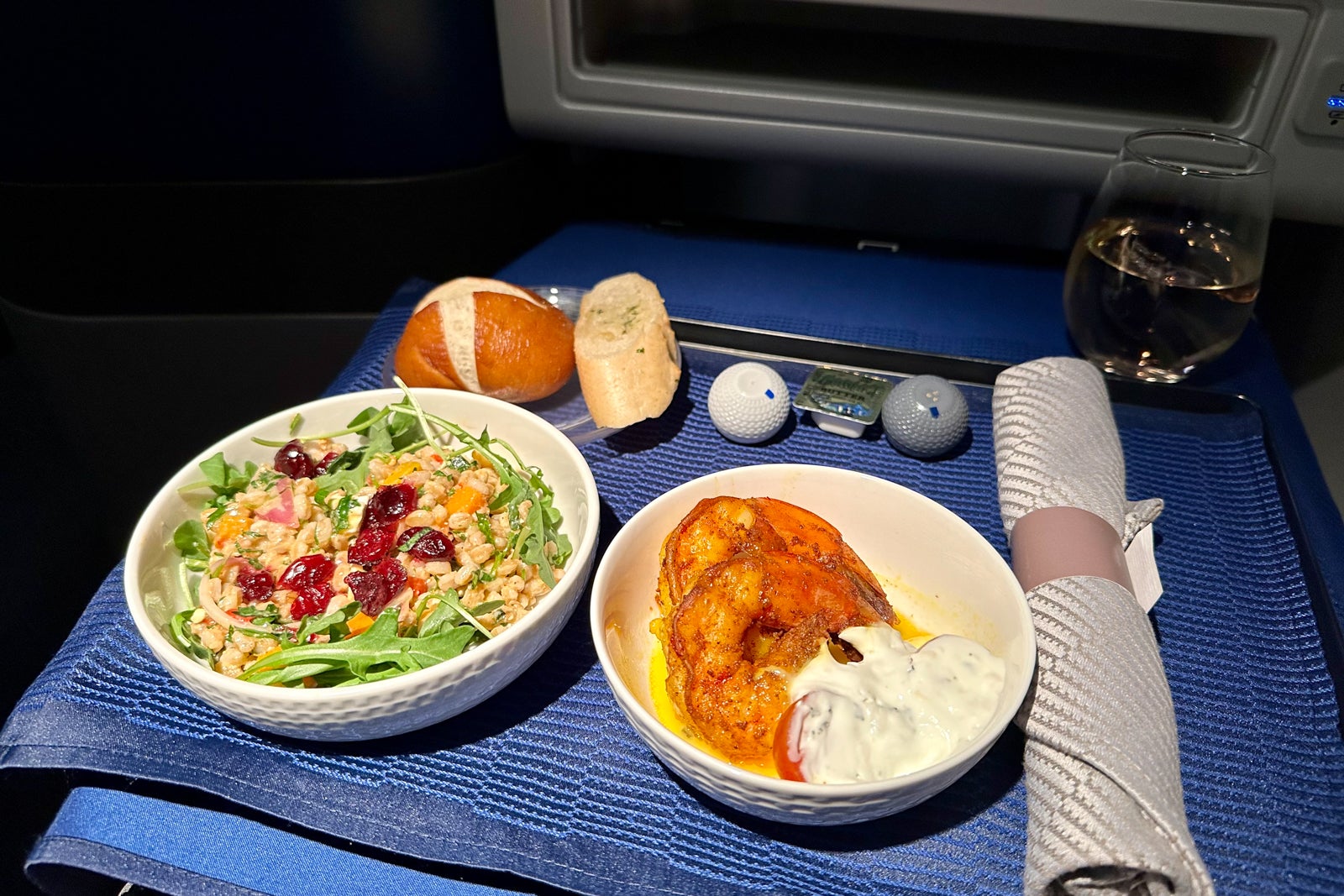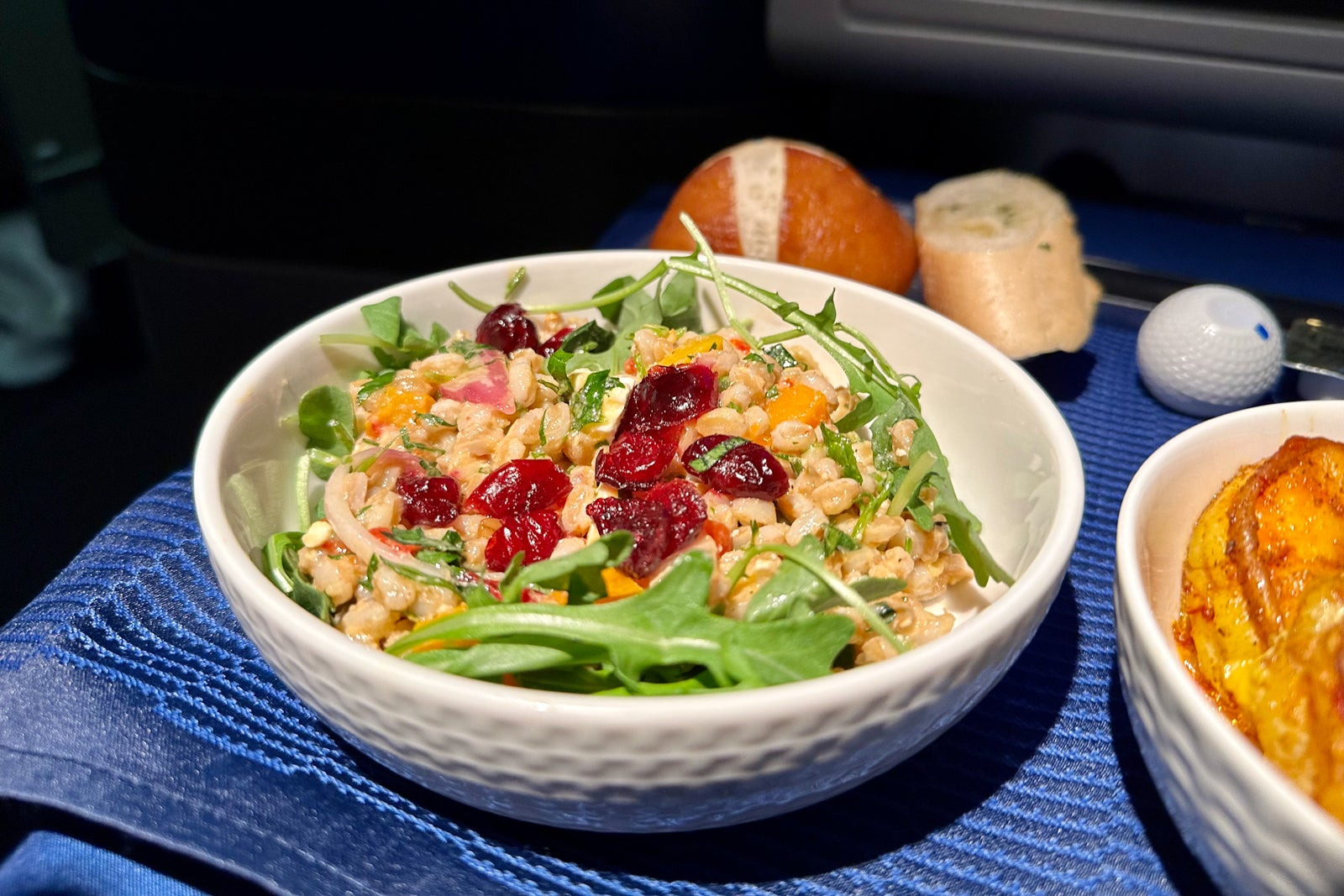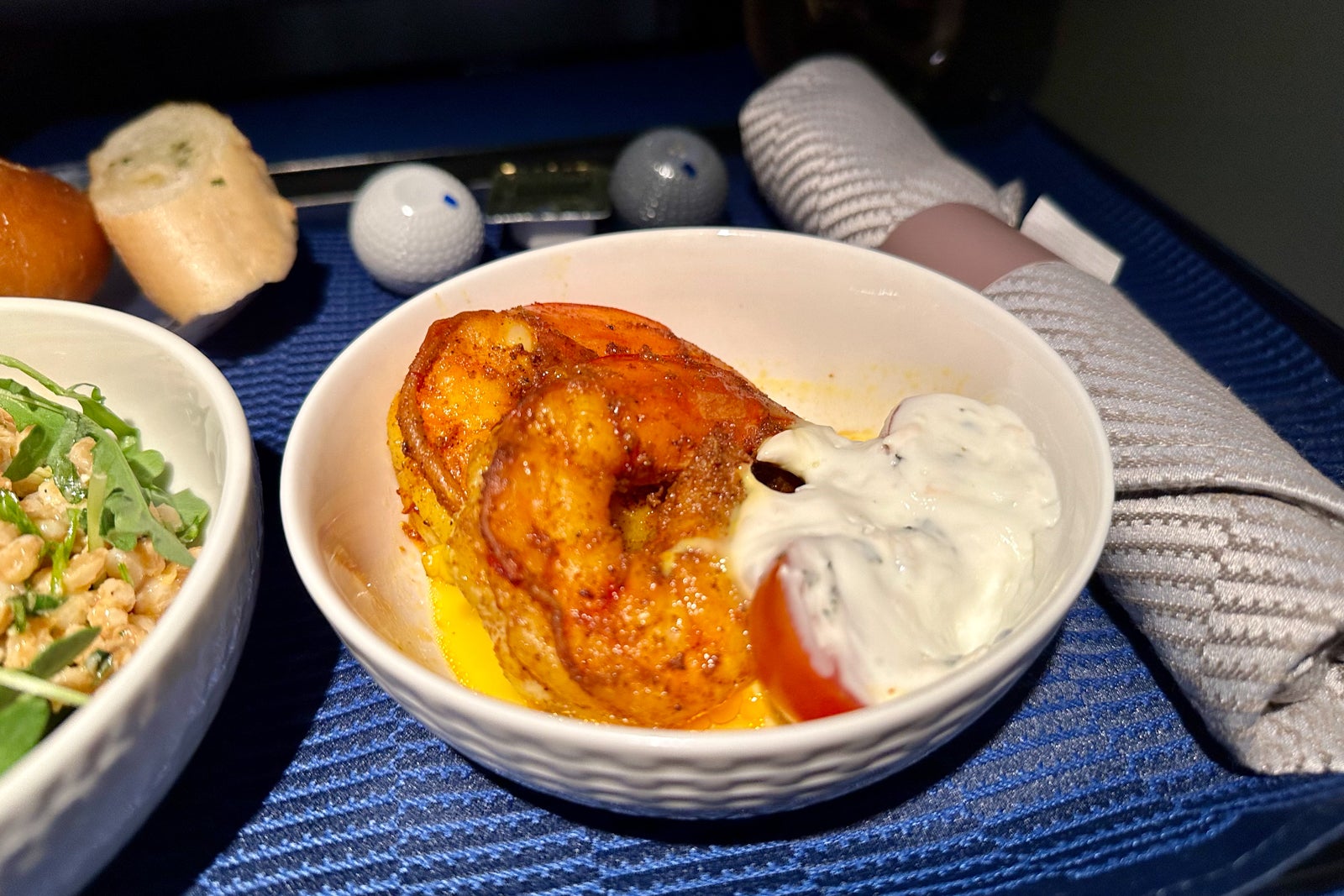 My first impression was how big of a portion it was — this was no doubt the largest serving dish I've seen in Polaris since the pandemic began. But the fish wasn't just filling. It was flakey, had the perfect amount of miso sauce and was garnished with some colorful carrots, peppers and bok choy.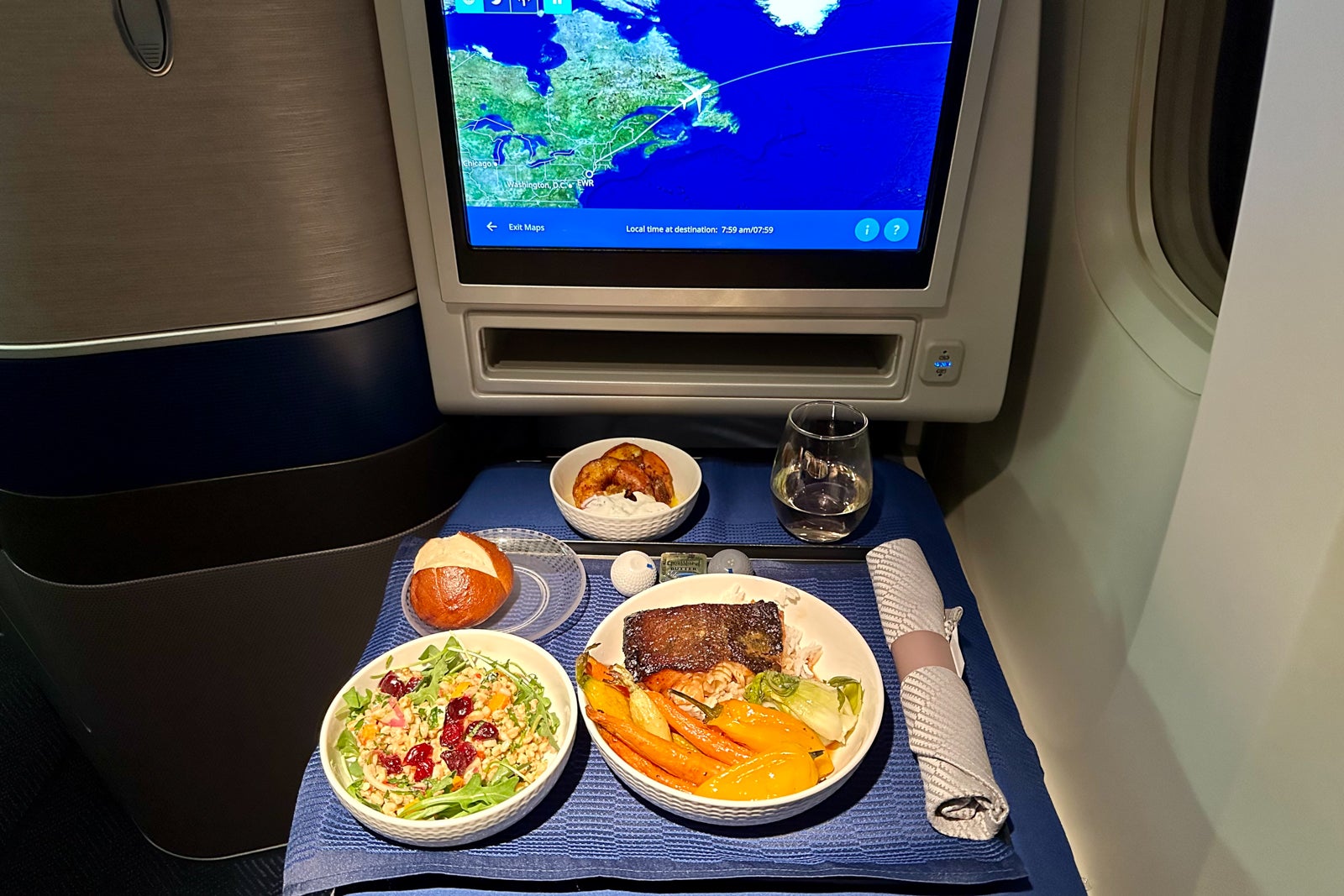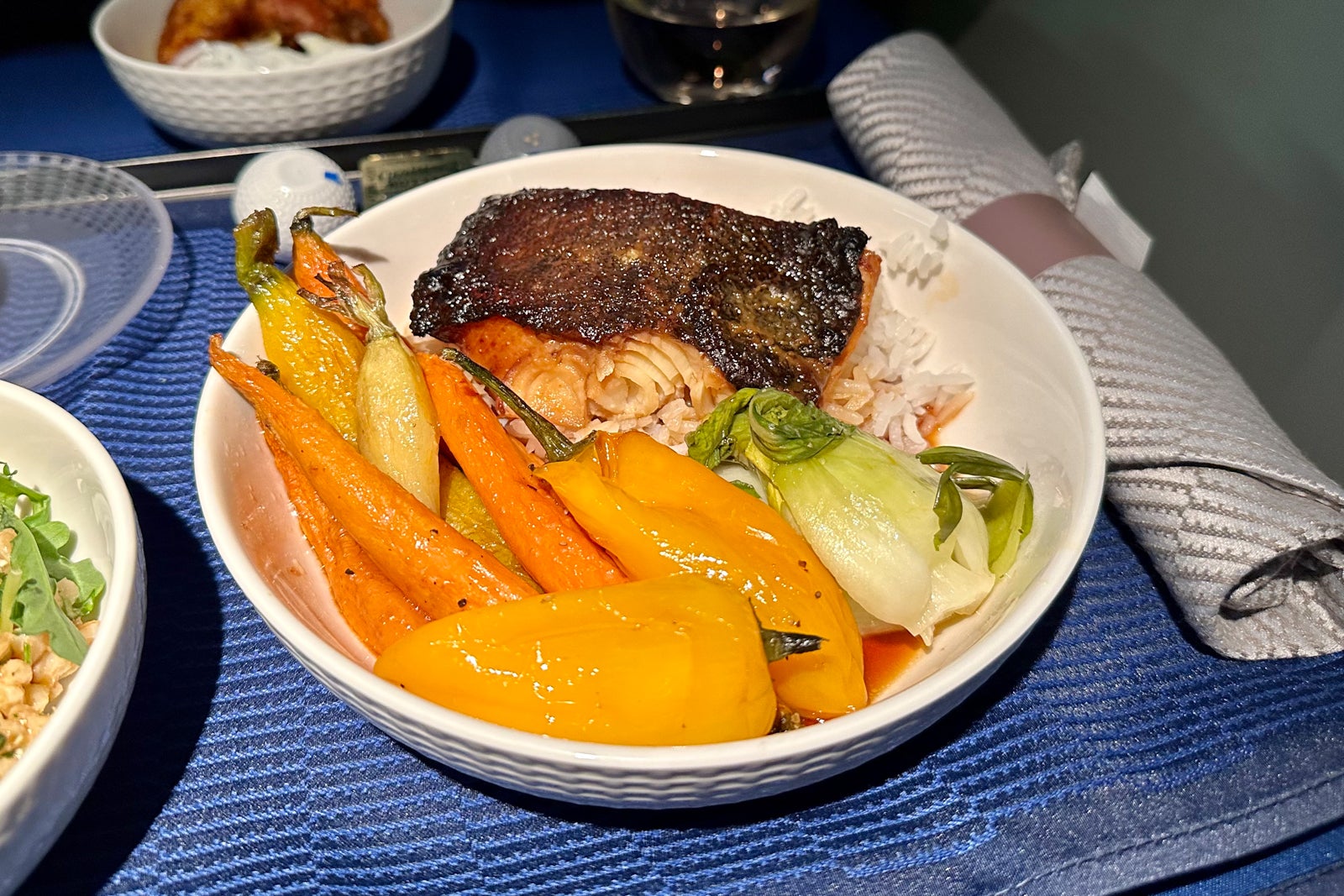 Finally, the dessert cart rolled through the aisle about two hours after departure. United's full pre-pandemic dessert service is back, and it consists of create-your-own sundaes with six topping options, cheese plates and, in the case of the Dubai flight, a date square bar.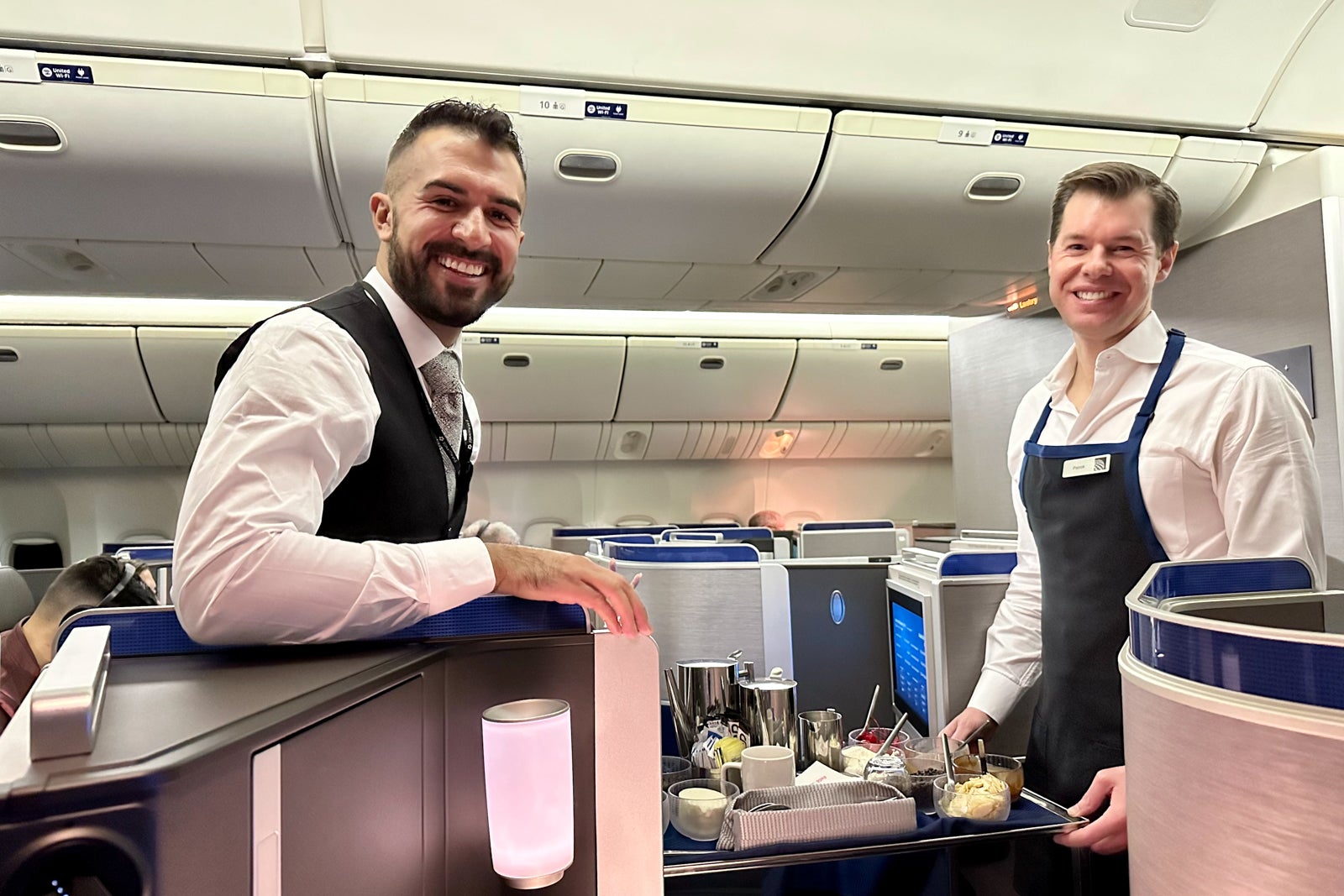 Quayle was also doling out the desserts, and I was a big fan of his "the works" sundae.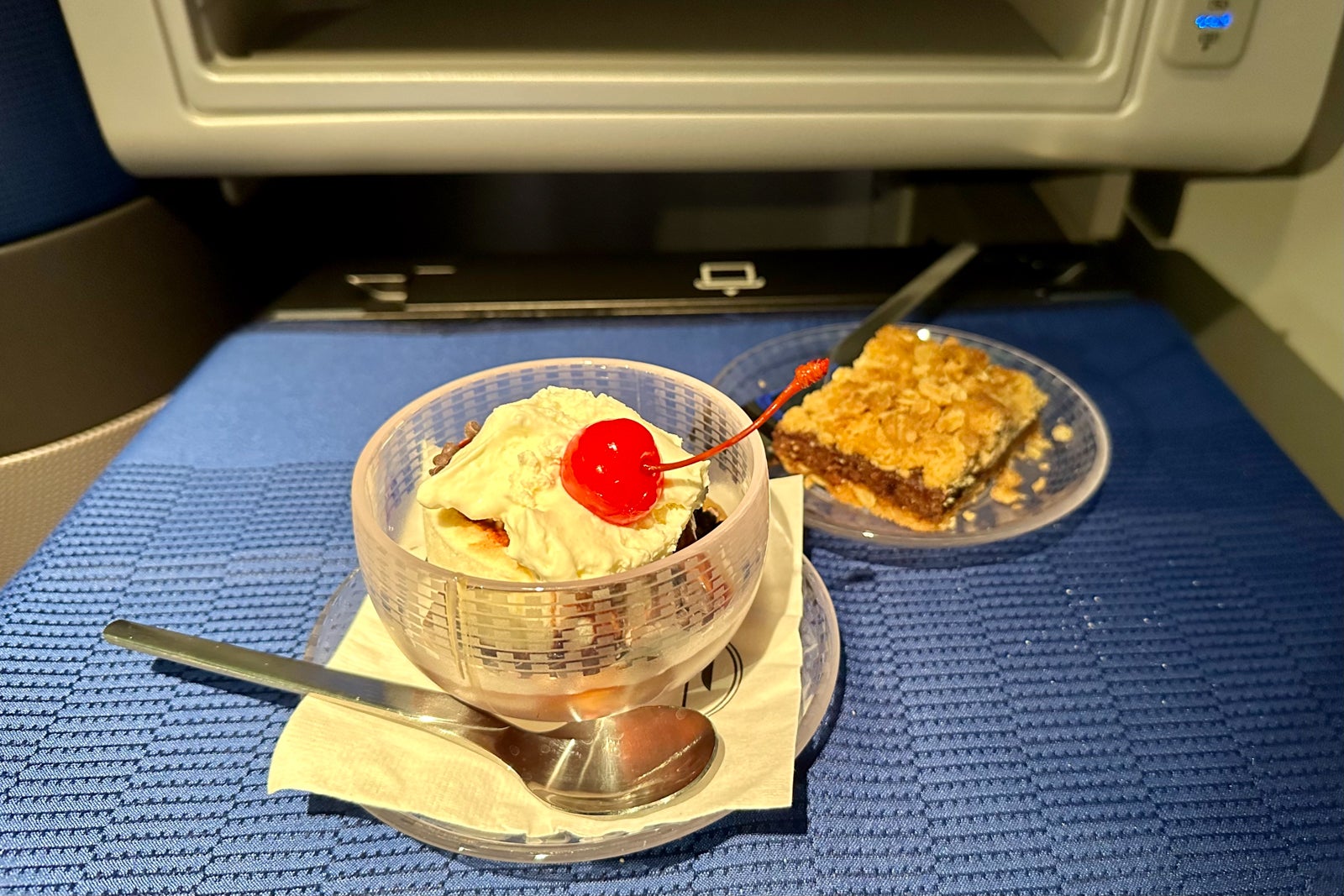 While there's no doubt that United paid extra attention to the meal service on the inaugural, I'm hopeful that this is a harbinger of good things to come to the airline's catering program. After all, upgrades are pretty sorely needed.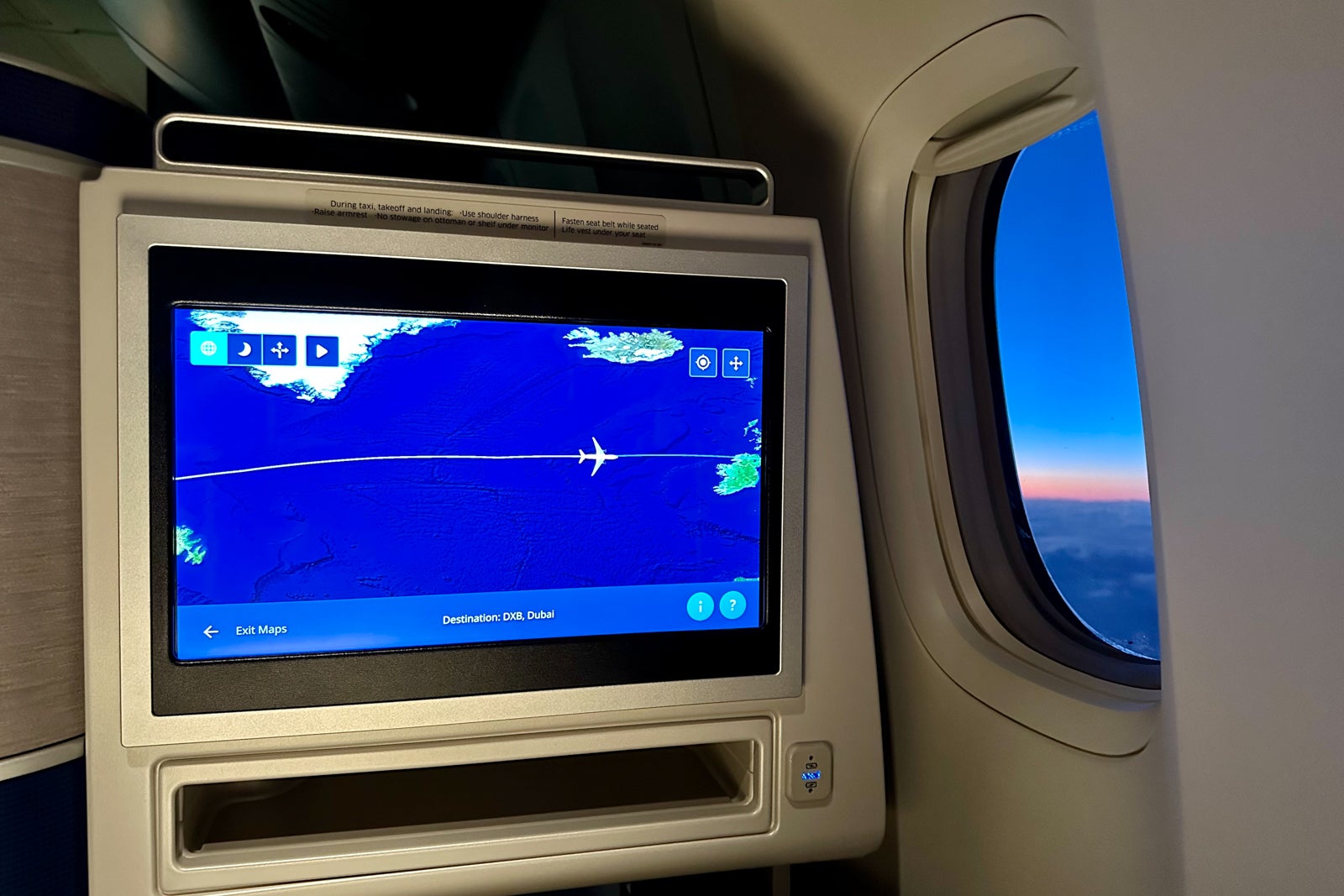 At this point, there were about eight hours left until Dubai, and the excitement was dying down as it turned around 3 a.m. back in Newark. The lights were turned off, and most Polaris passengers settled into a deep slumber.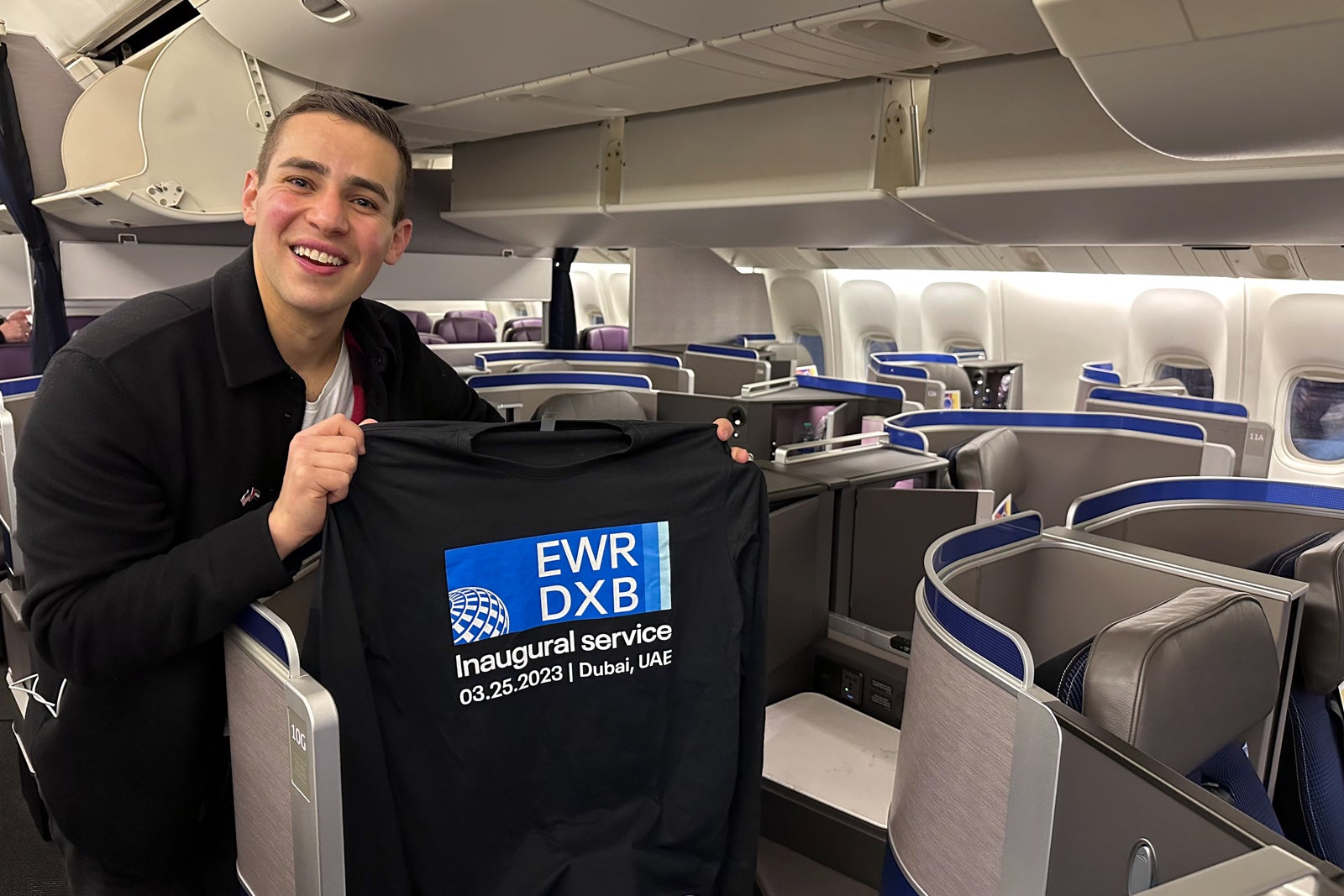 Before going to bed, however, flight attendants distributed United's celebratory commemorative Polaris pajamas, along with a pair of comfortable fleece-lined slippers.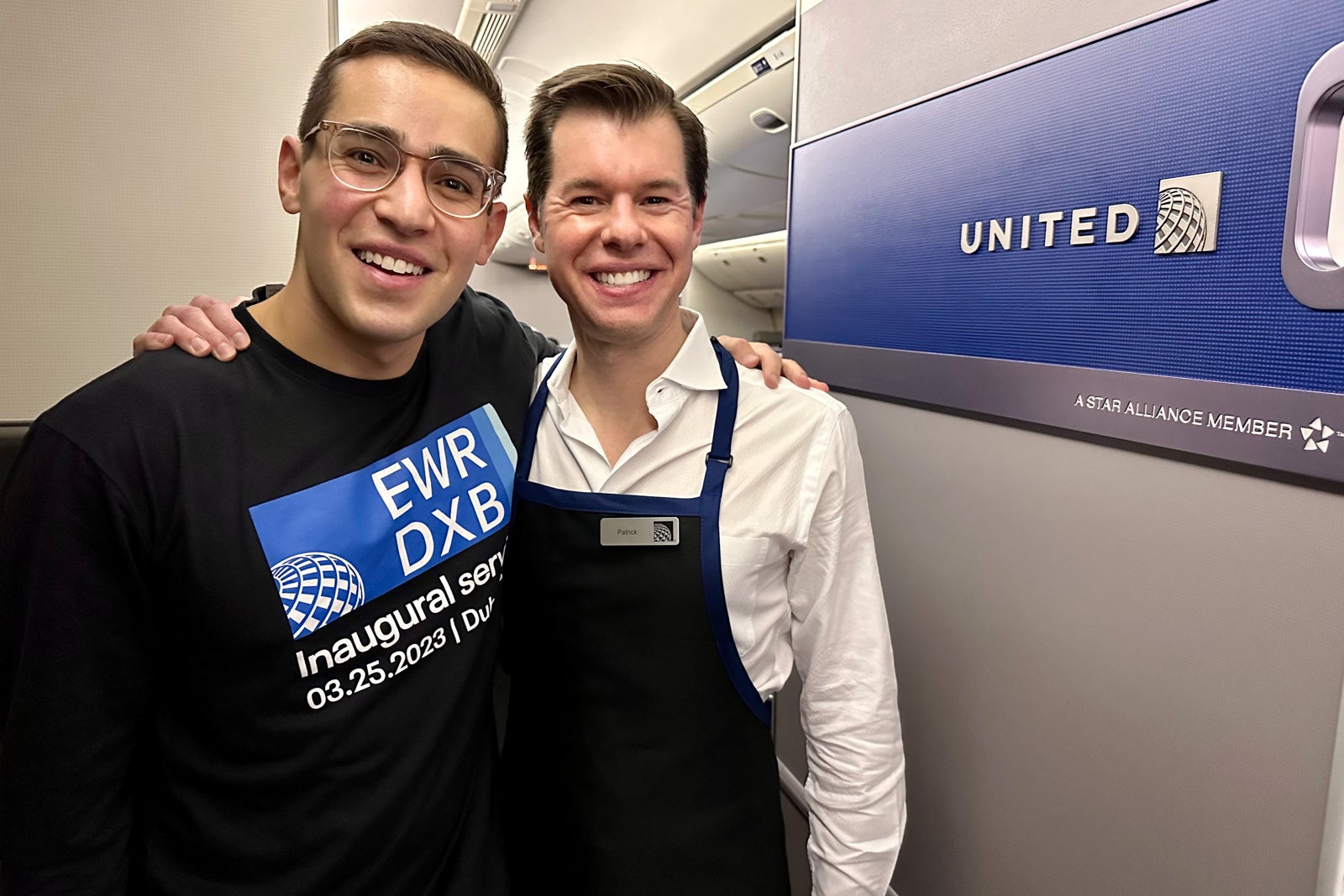 United's special inaugural flight pajamas used to be inspired by vintage luggage tags, but they've since been modernized with the airline's new font and design motif — I do miss the retro vibe of the previous style.
Regardless of how they looked, the pajamas were very comfortable and helped me doze off for about three hours after dinner.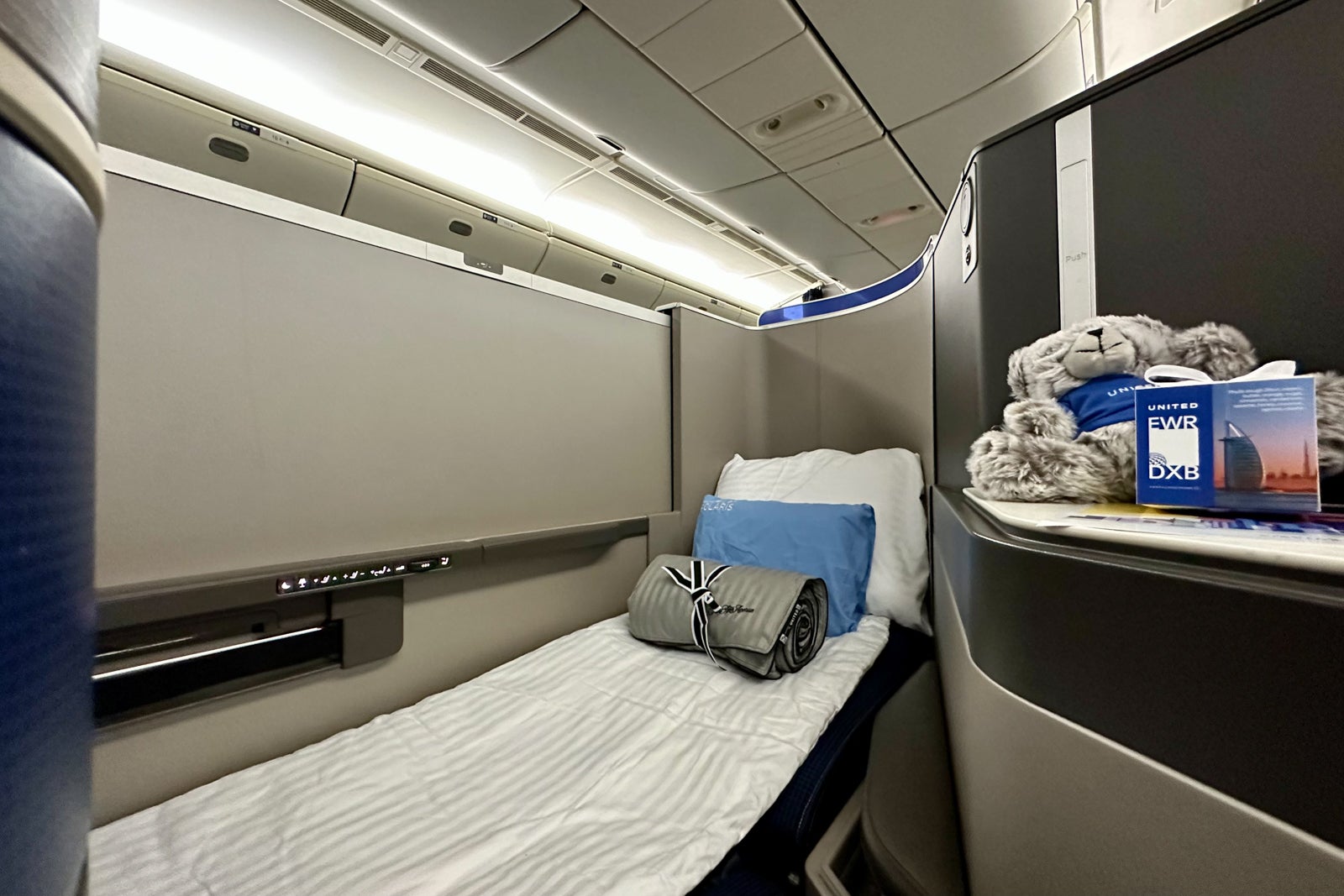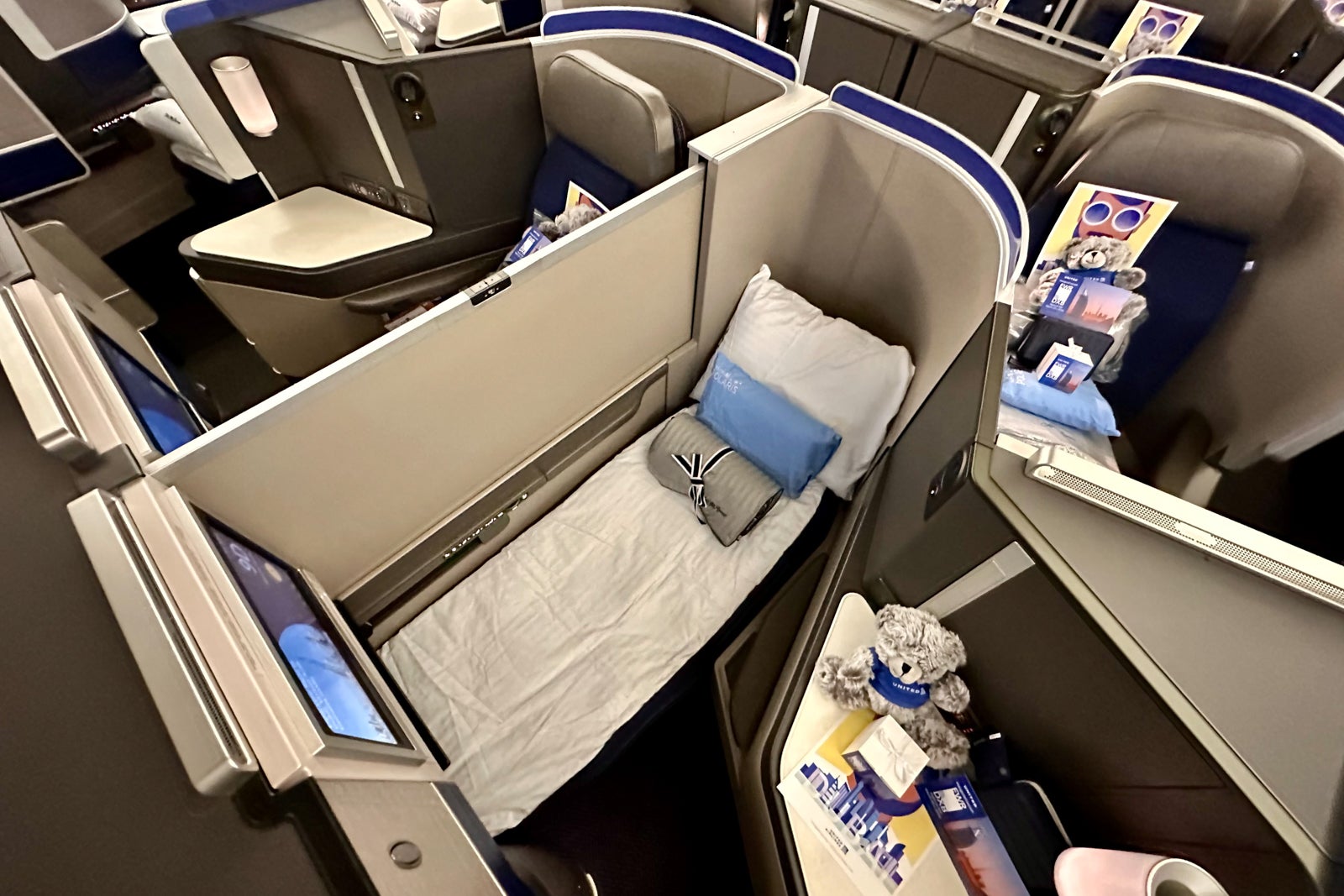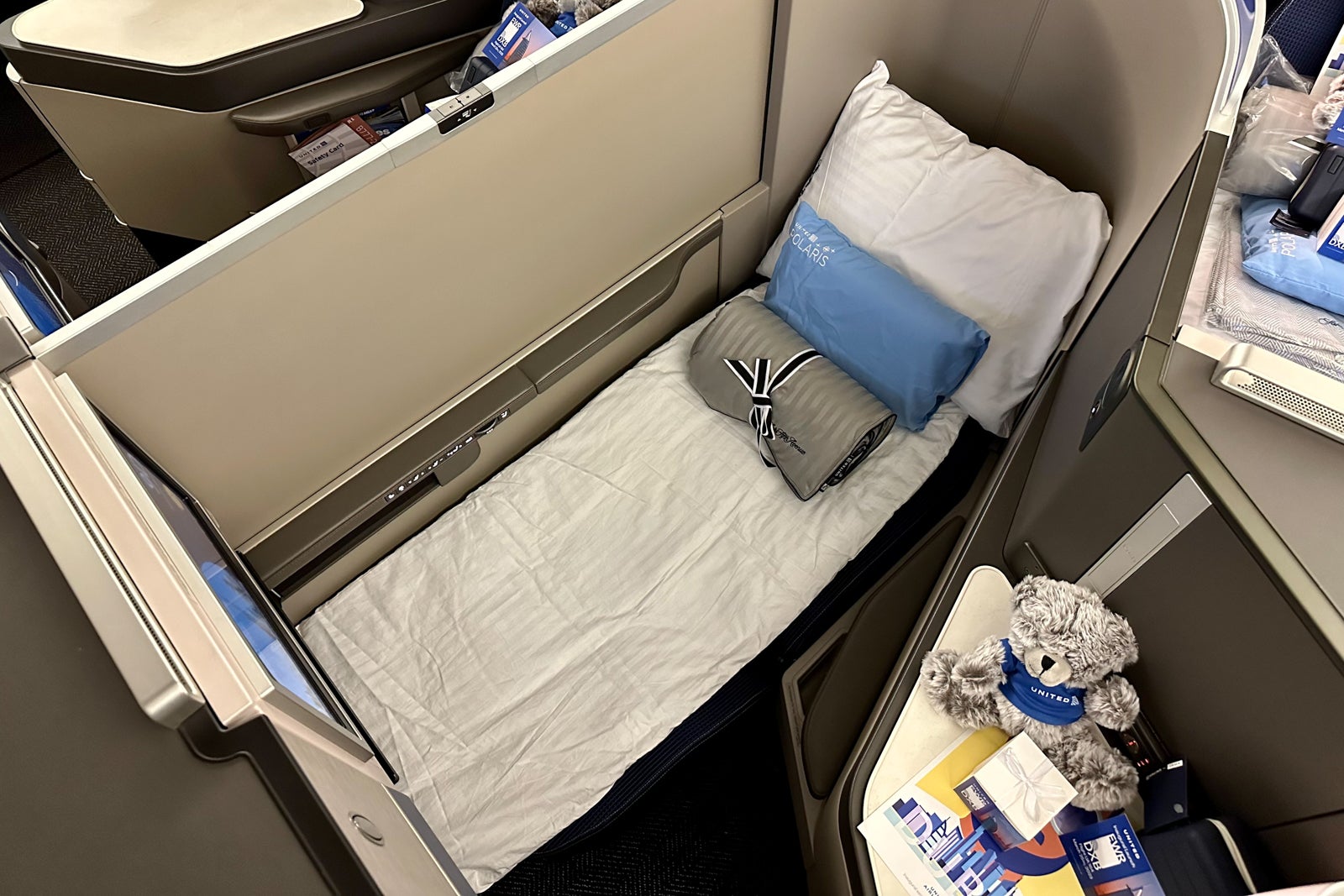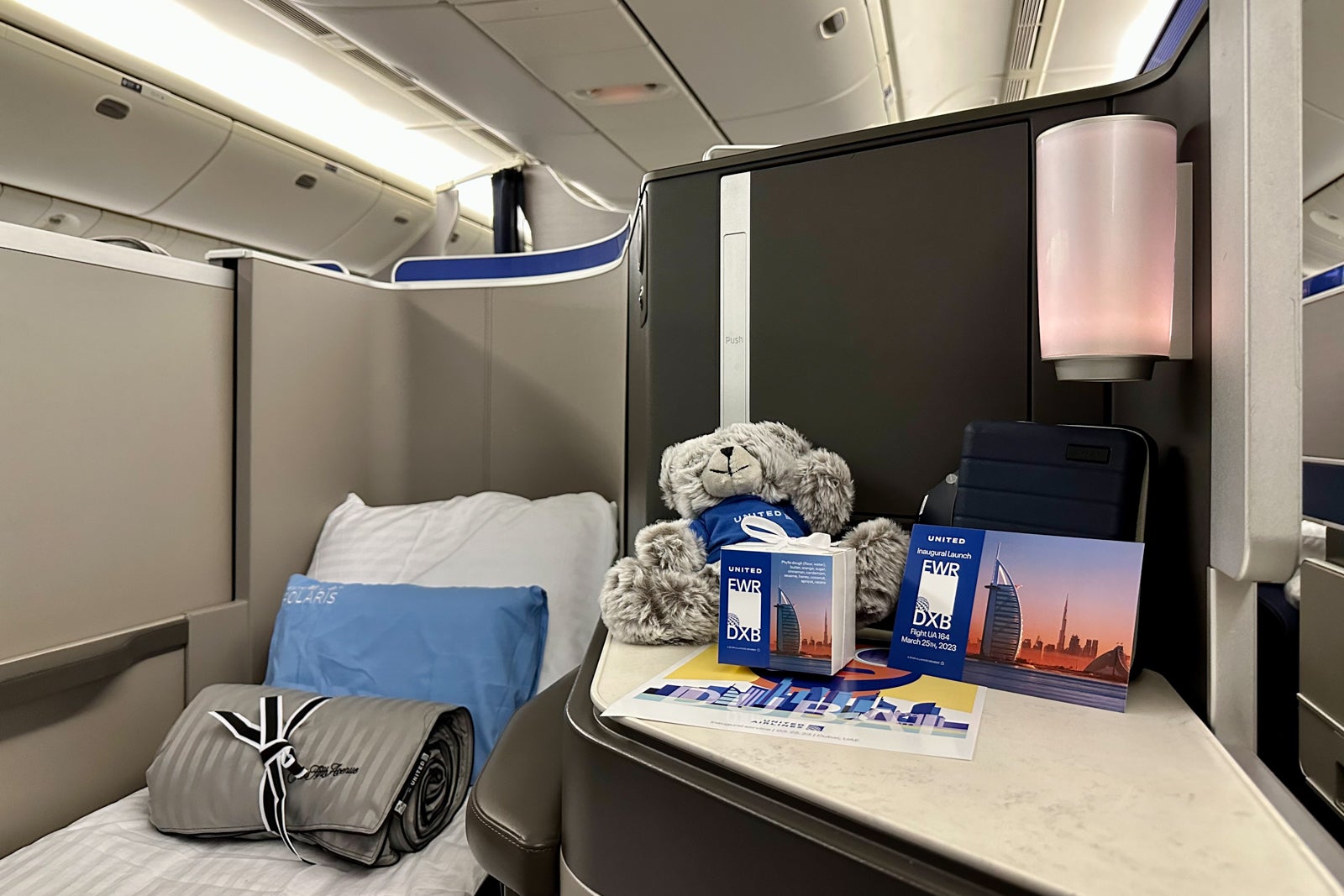 I woke up as we were passing over Egypt with just about three hours left until Dubai. The cabin was dark and quiet, but I kept myself occupied by editing my pictures and videos. A few of my followers stopped to chat, and before I knew it, we were approaching the Arabian peninsula.
David stopped by to offer a single-tray breakfast service, and I selected French toast, which was swimming in a delicious maple syrup.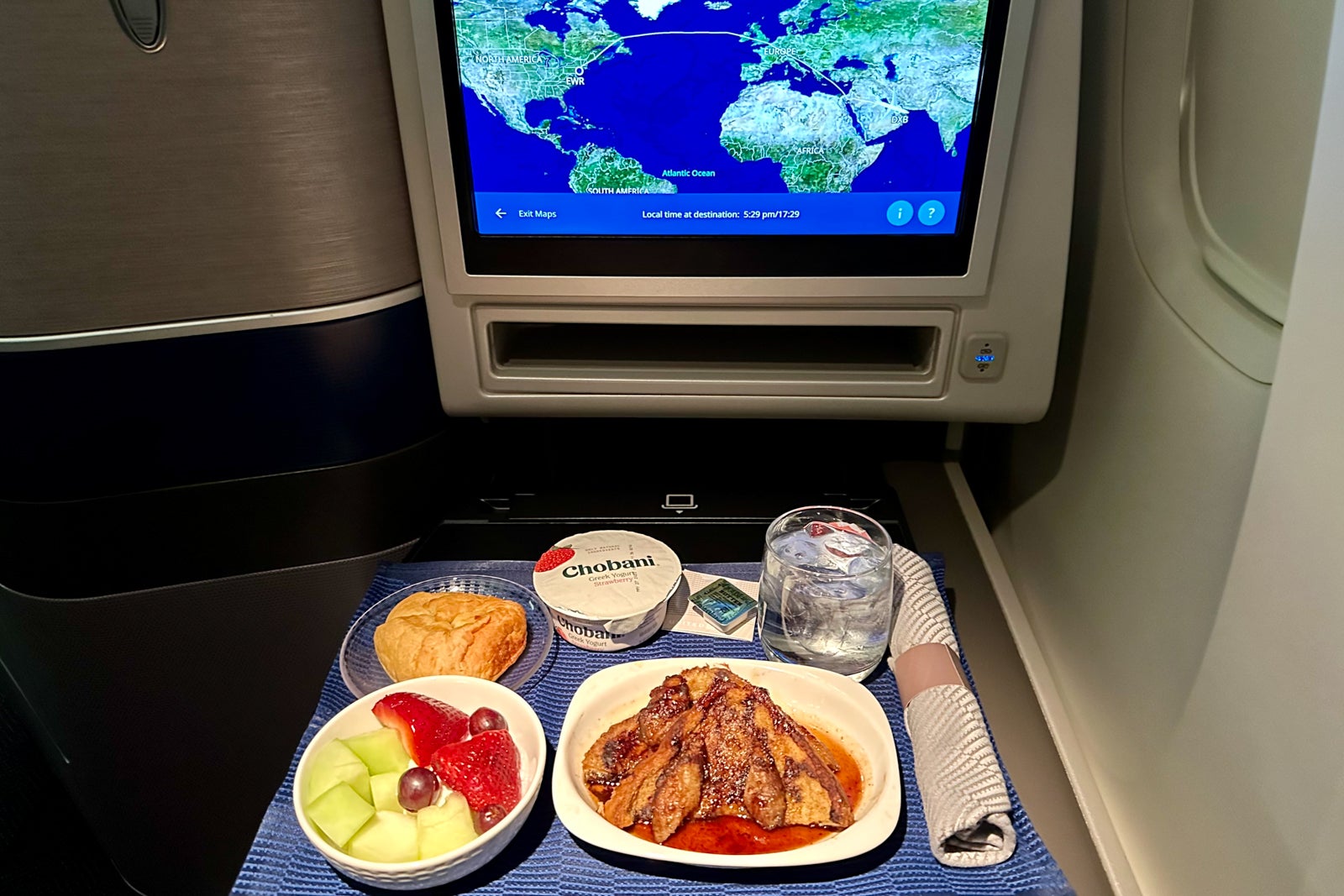 I don't usually care for airplane breakfast, but this was one of the tastier ones I've had recently, and I was once again impressed by how the large portion size, too. This flight showed me that United can indeed improve its catering, so hopefully, these upgrades roll out globally in the coming weeks.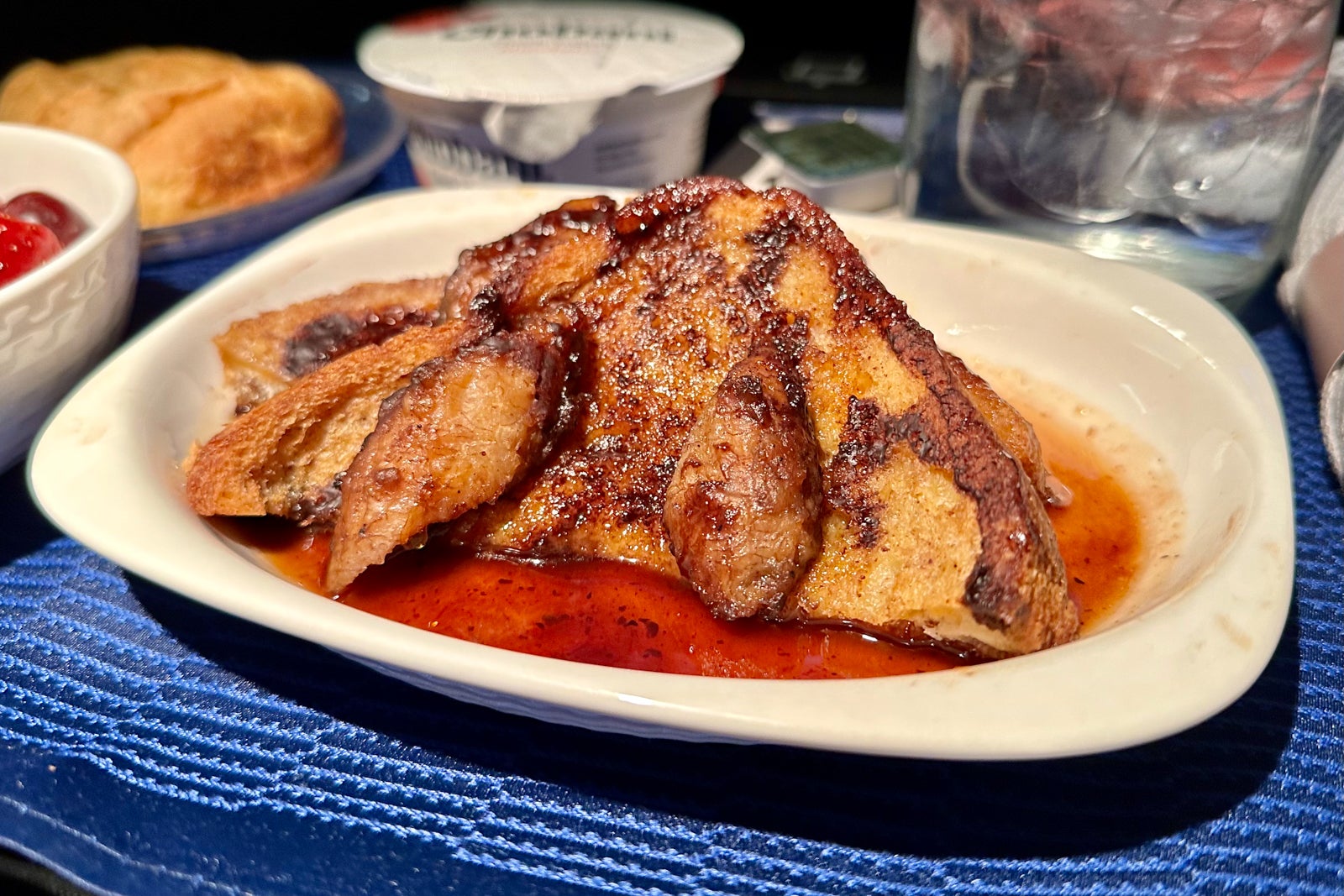 The final hour in the air passed by way too quickly — before I knew it, I was back in my "street clothes" and buckled up for the final approach to Dubai.
Welcome to Dubai!
My first glimpse of the United Arab Emirates came as we descended through 10,000 feet, just as the pilot announced that we'd be getting a great view of the Burj Khalifa.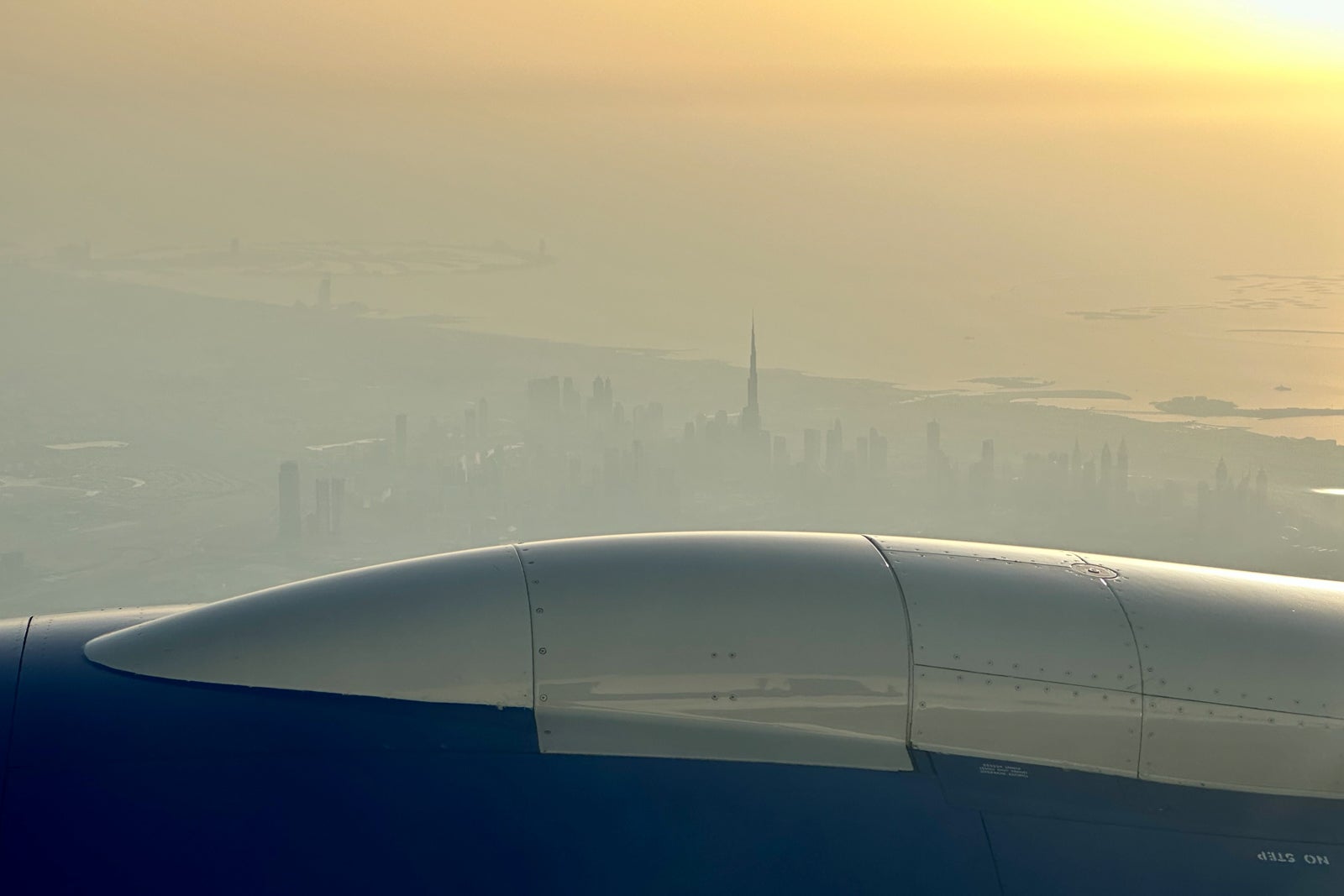 Though it was a bit hazy, the metropolis quickly came into view. We eventually flew out over the desert, before turning around to land at 6:08 p.m. on Dubai's runway 30L — and yes, the entire plane clapped when we touched down.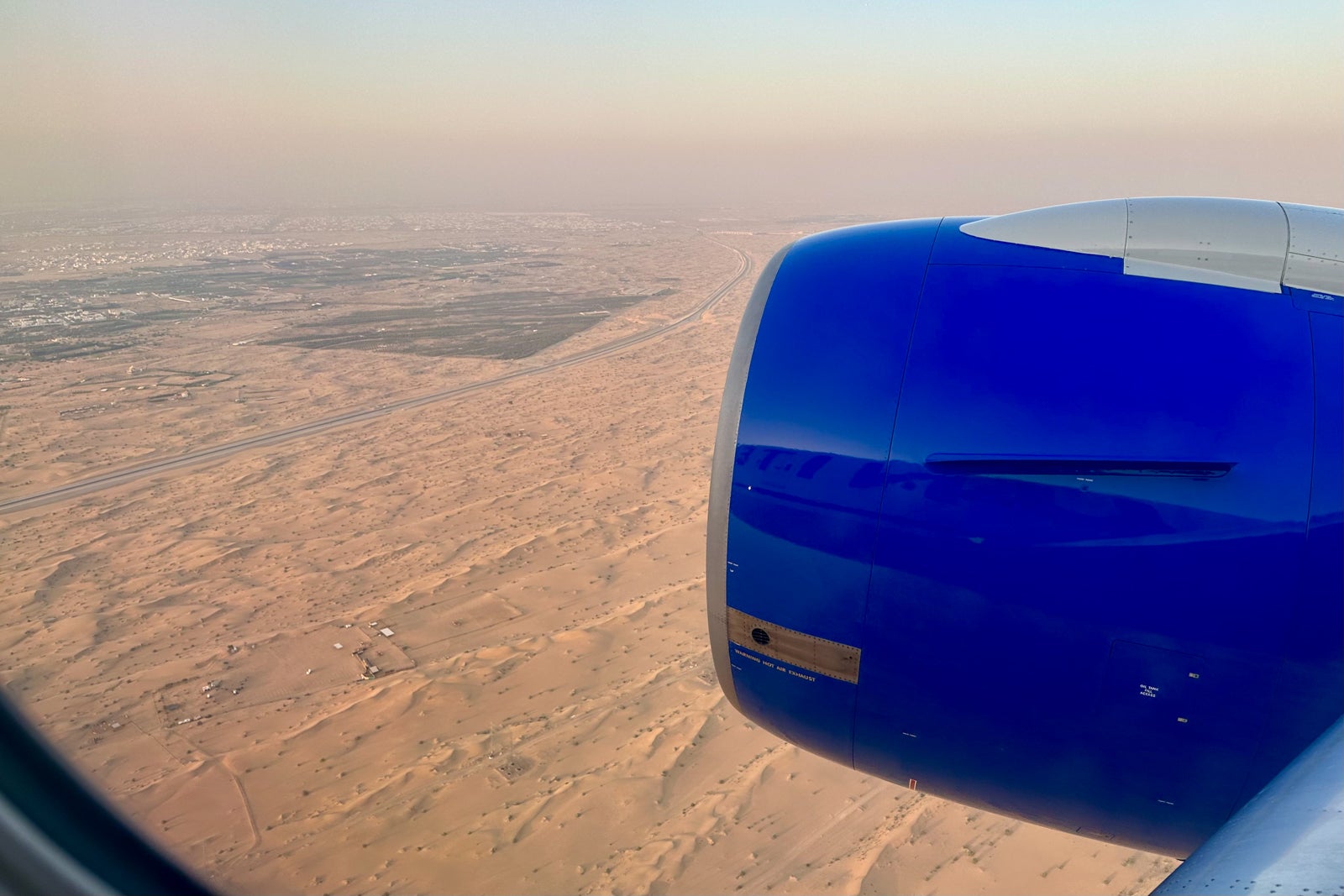 From there, we had just a short, five-minute taxi to the gate, where we pulled up next to an Emirates Airbus A380.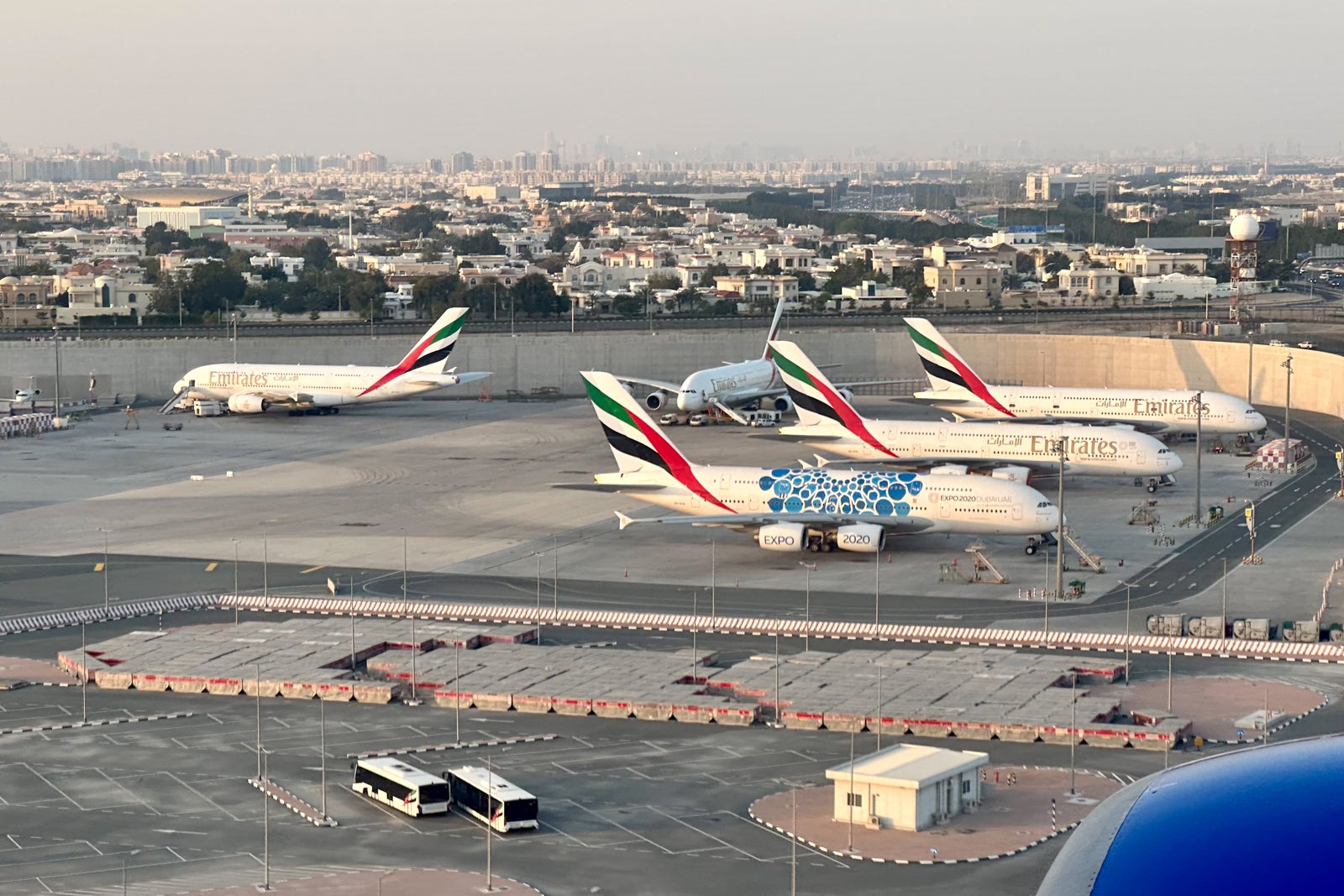 The celebrations weren't over just yet. After a quick pitstop in the flight deck, I was welcomed to Dubai by a large group of local officials and airport employees.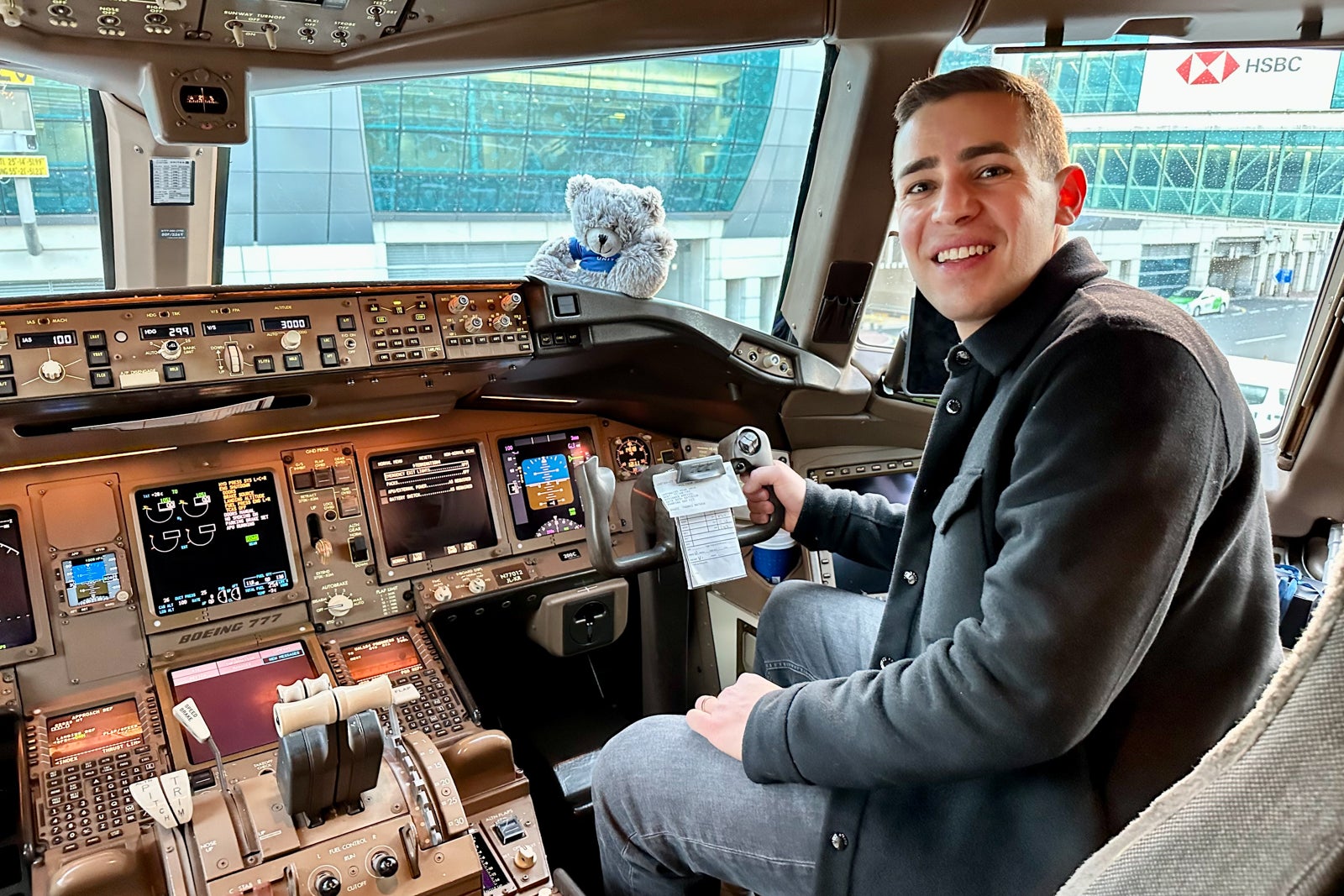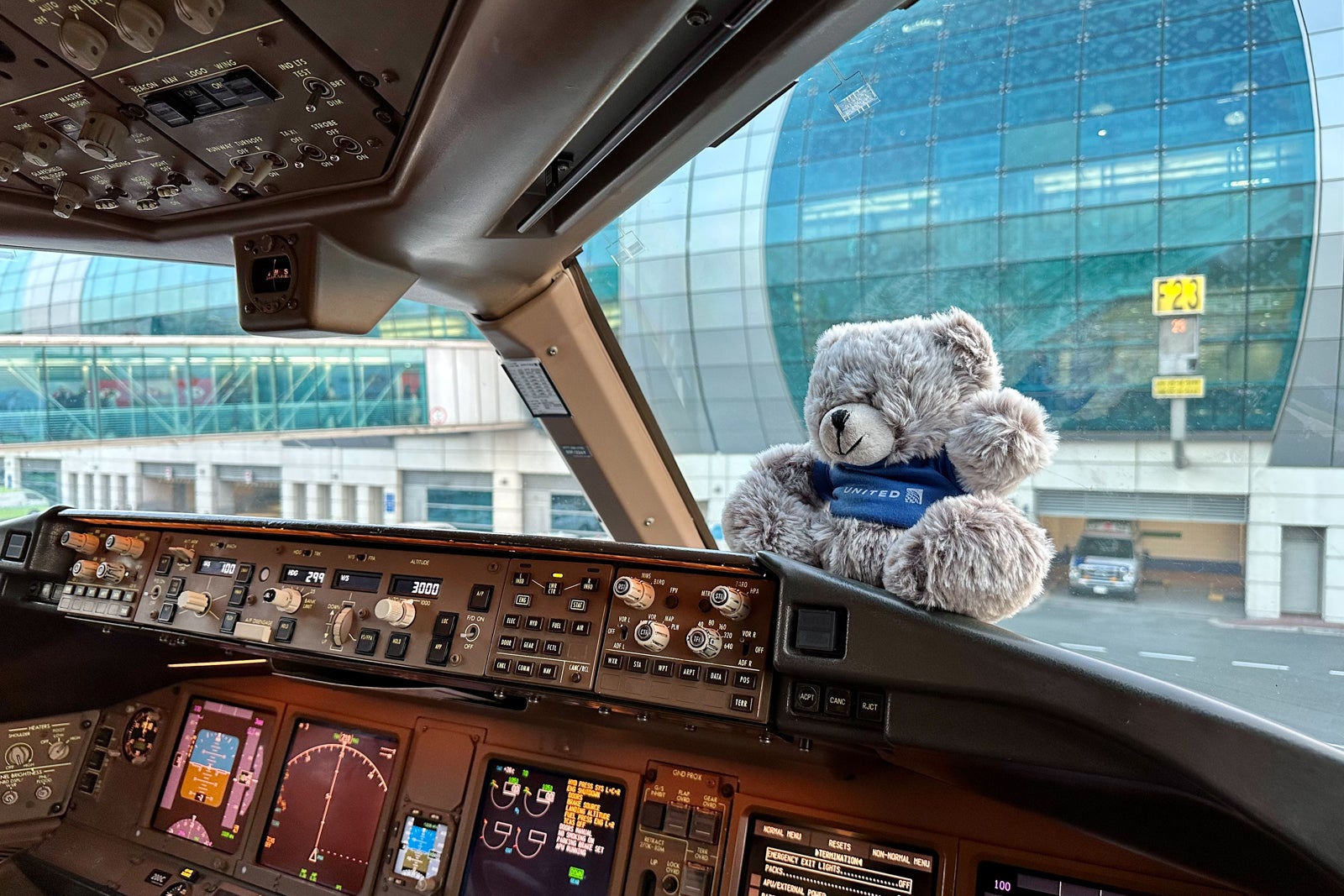 Some were filming, and others were handing out dates, but everyone was happy and excited.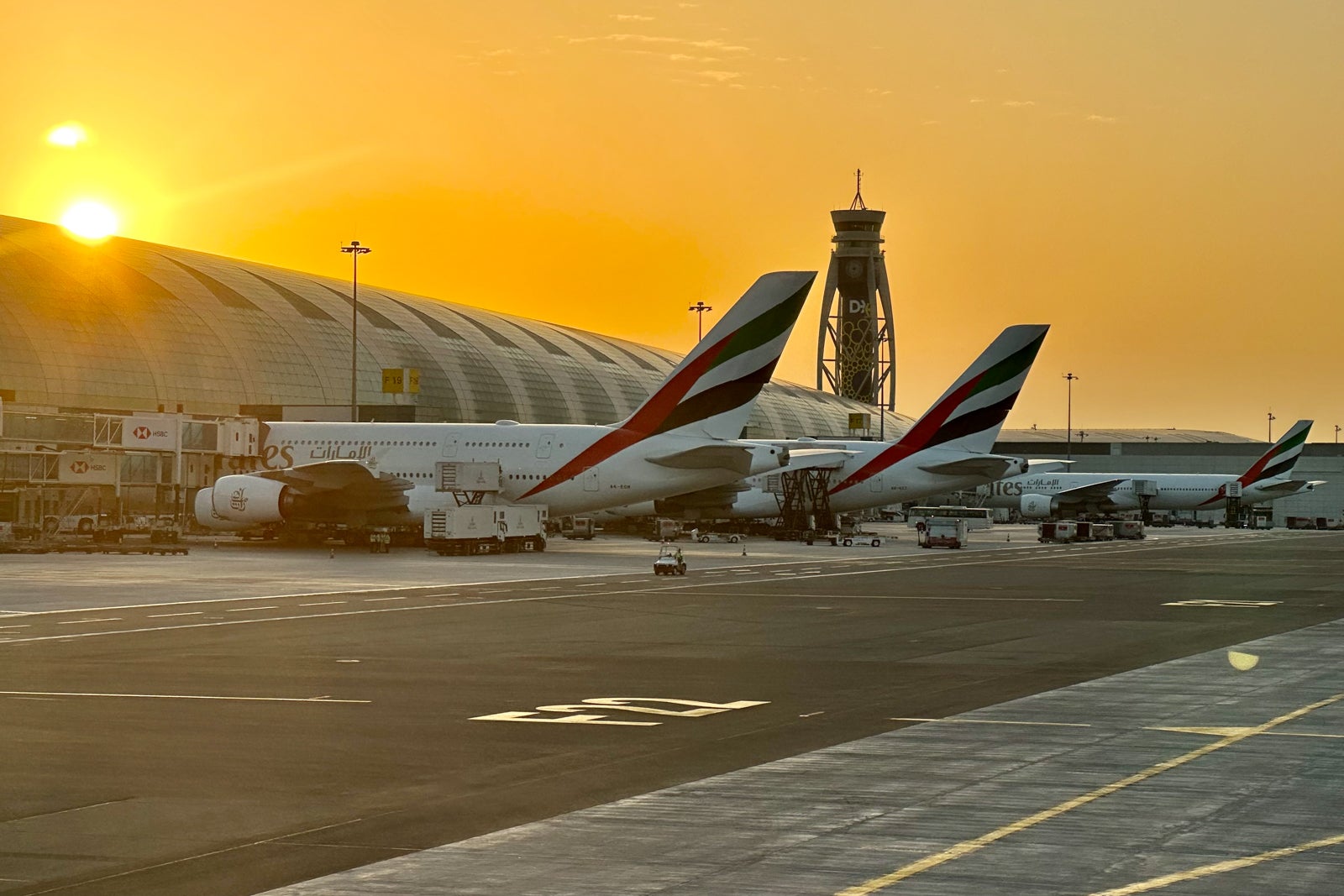 I waited a few minutes just outside the plane to capture some shots of the United and Emirates jets next to each other, and I even found a special United-branded "Welcome to Dubai" sign waiting at the top of the jetbridge.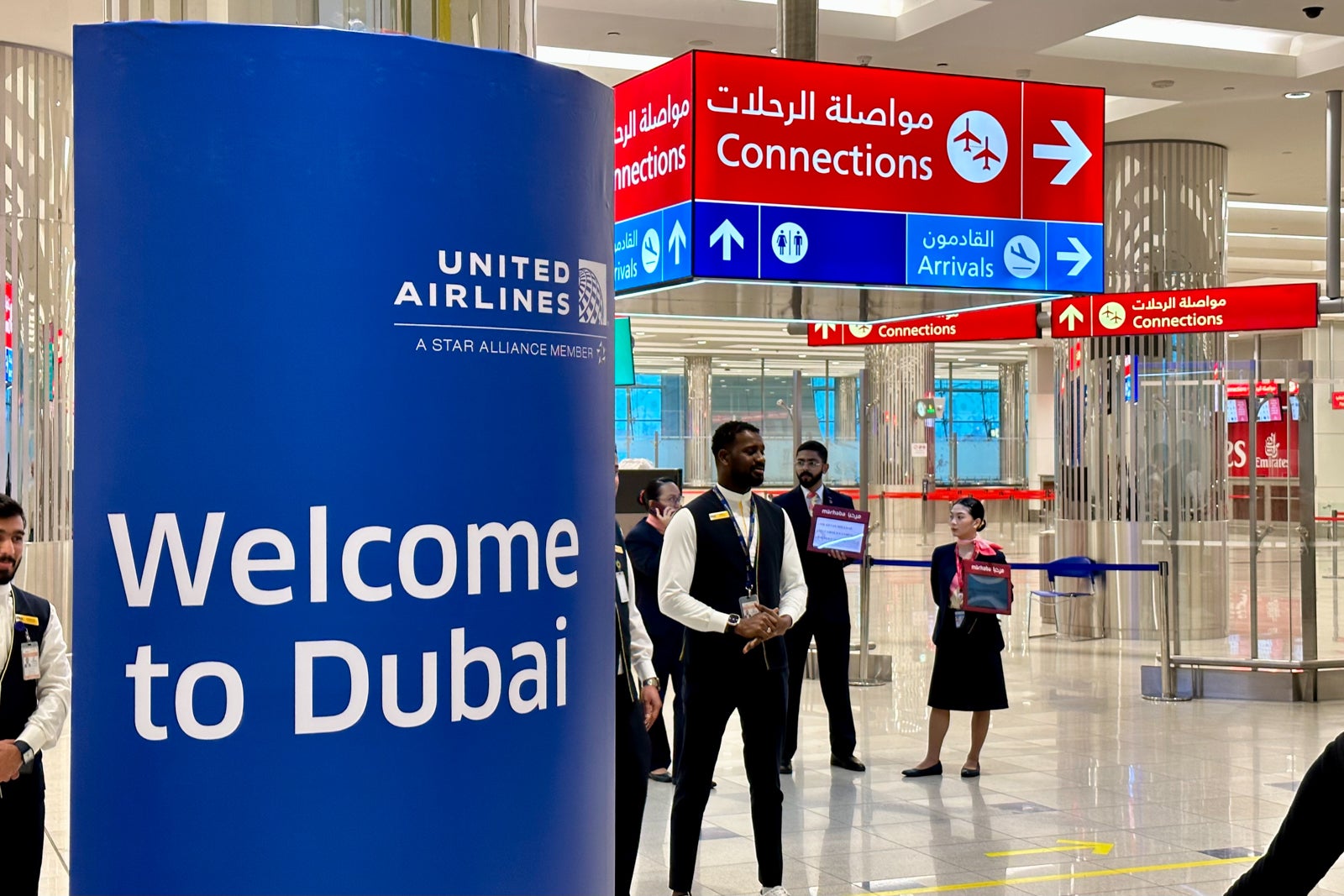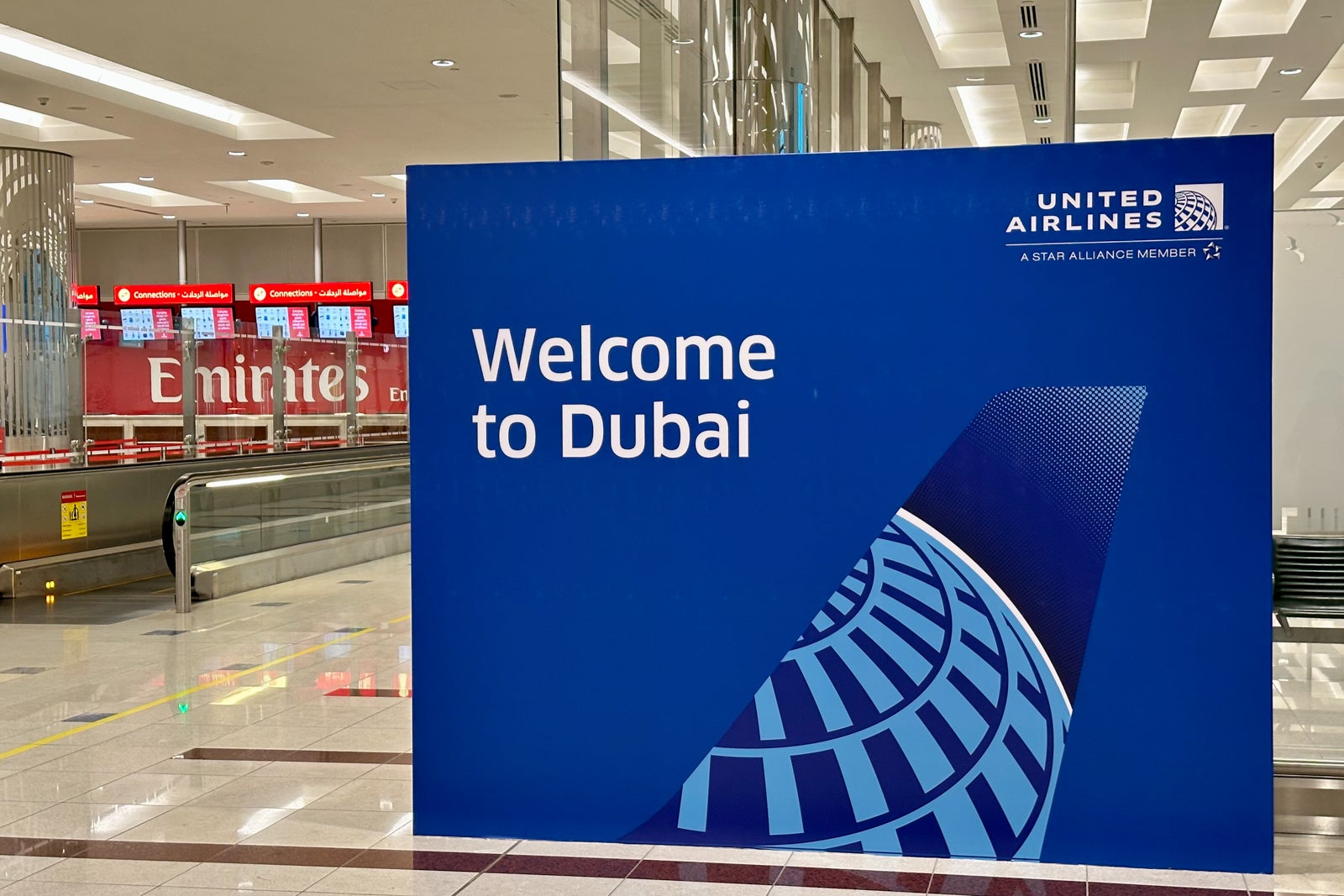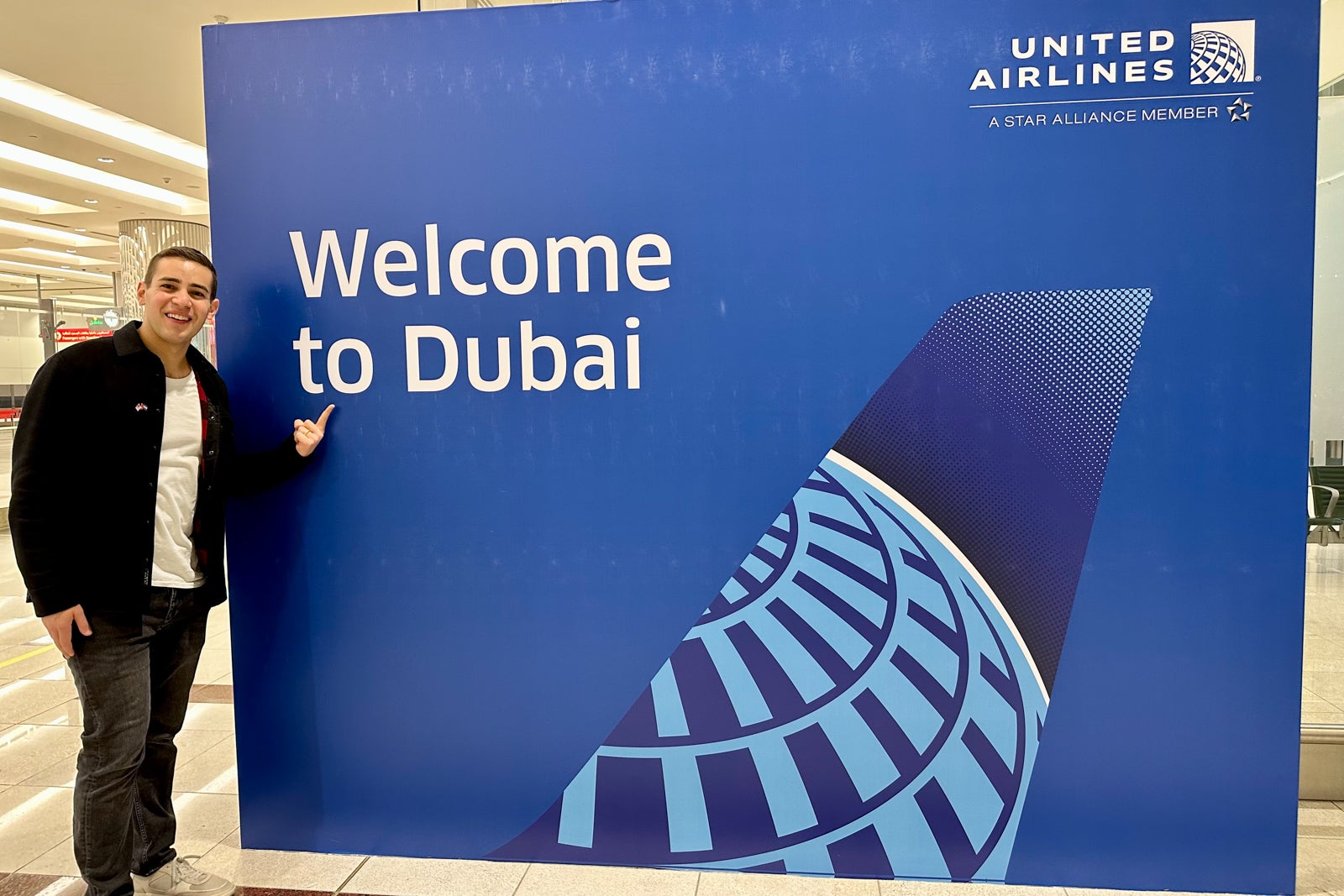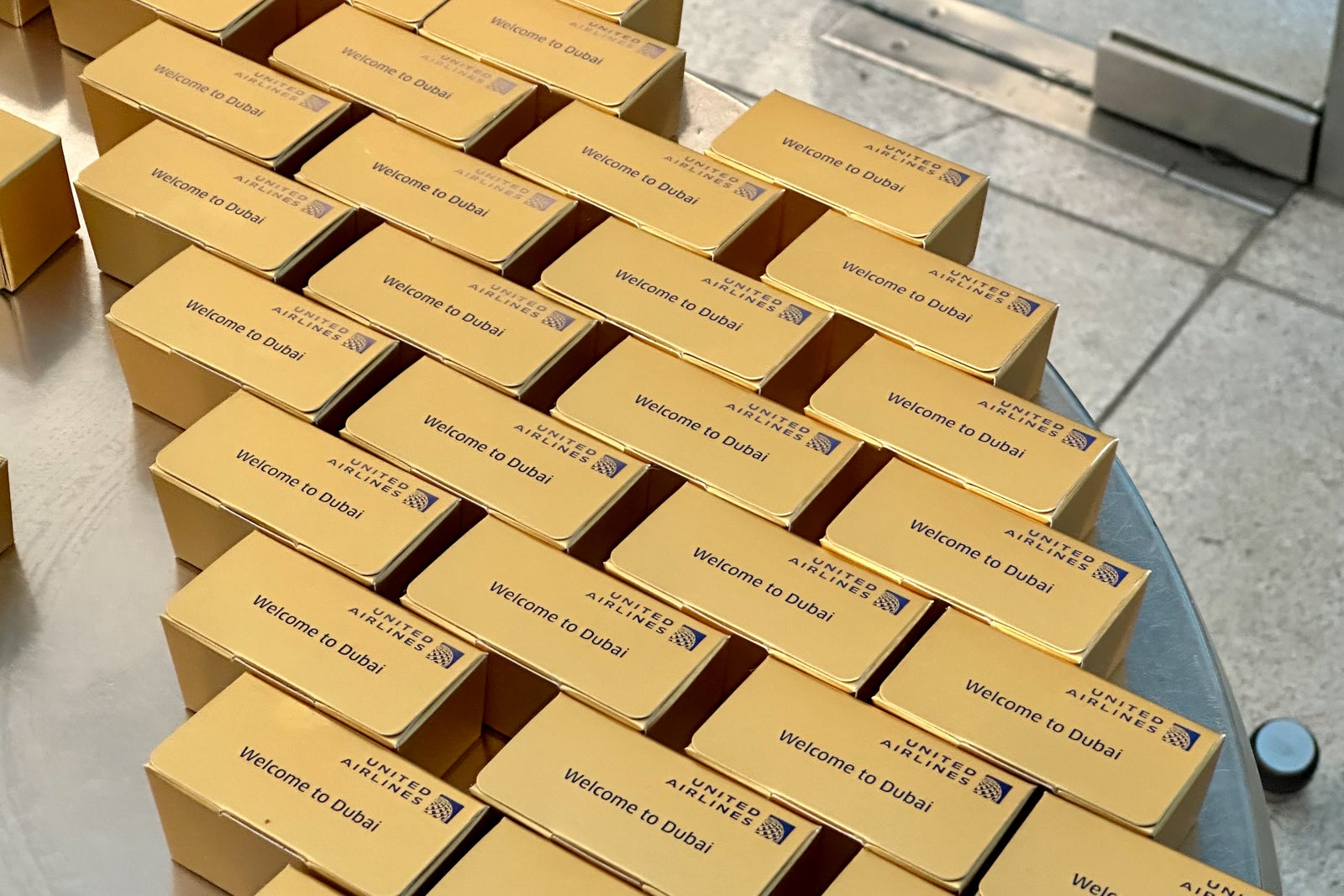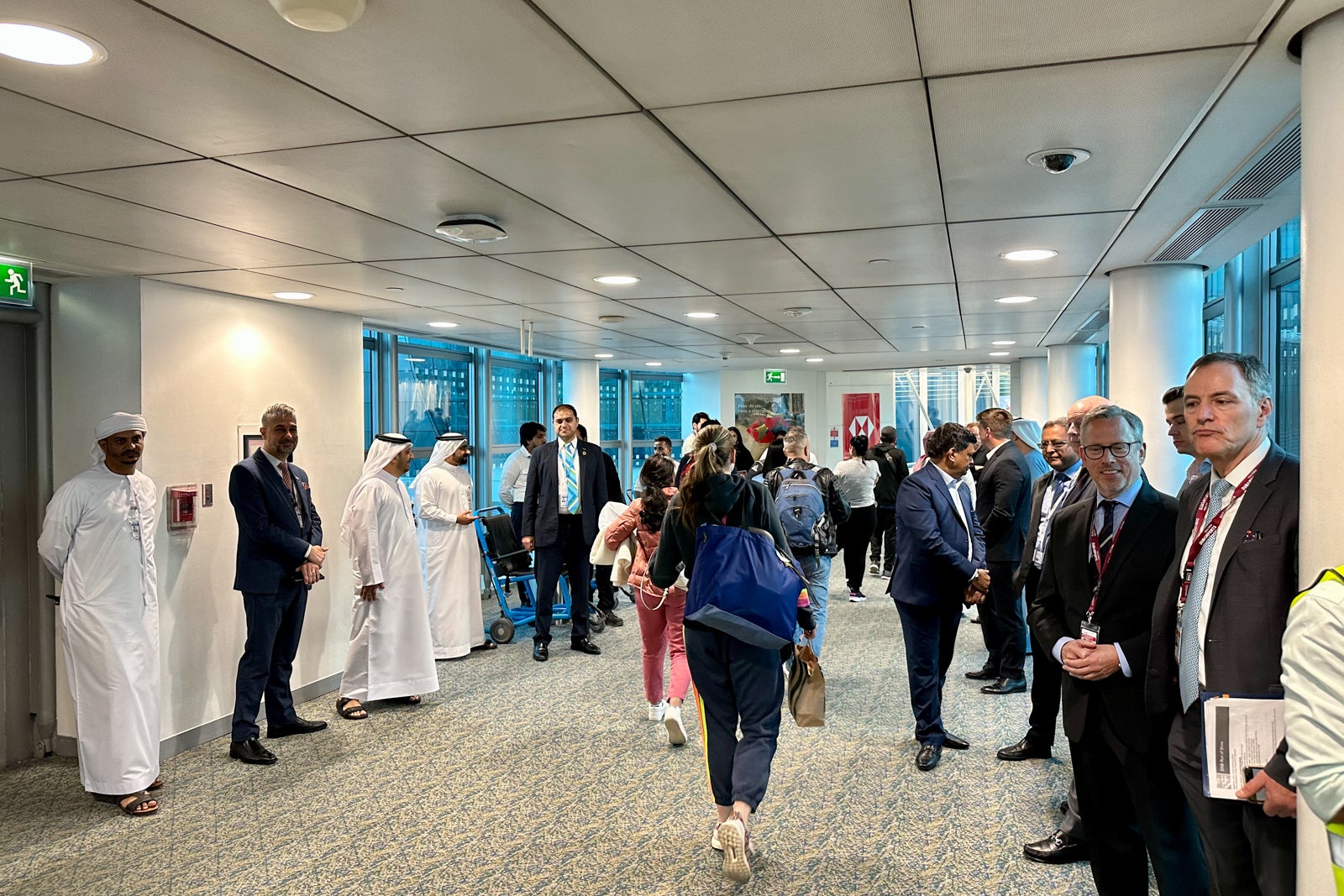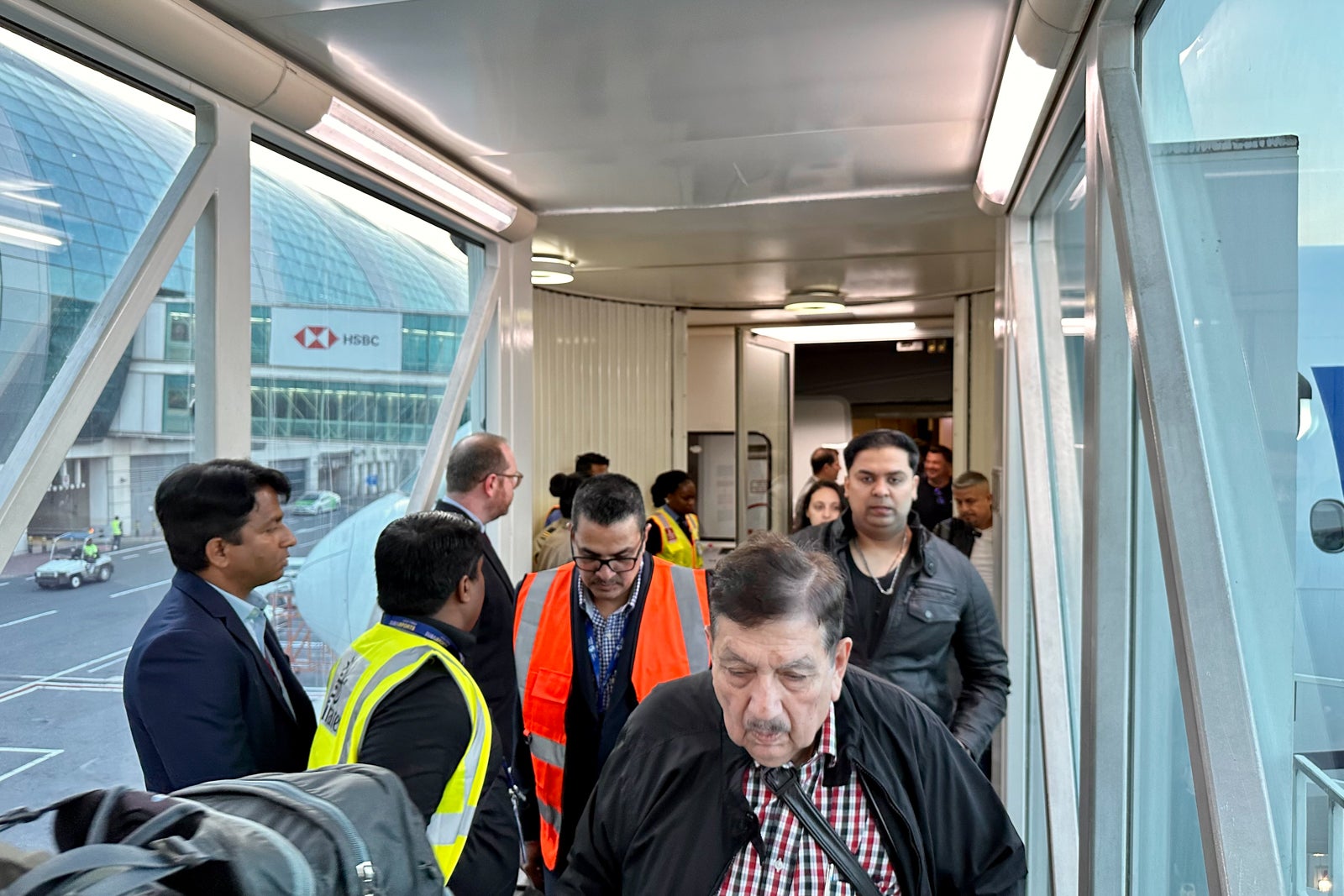 After each group of passengers took some pictures, everyone bid their farewells and went on their way.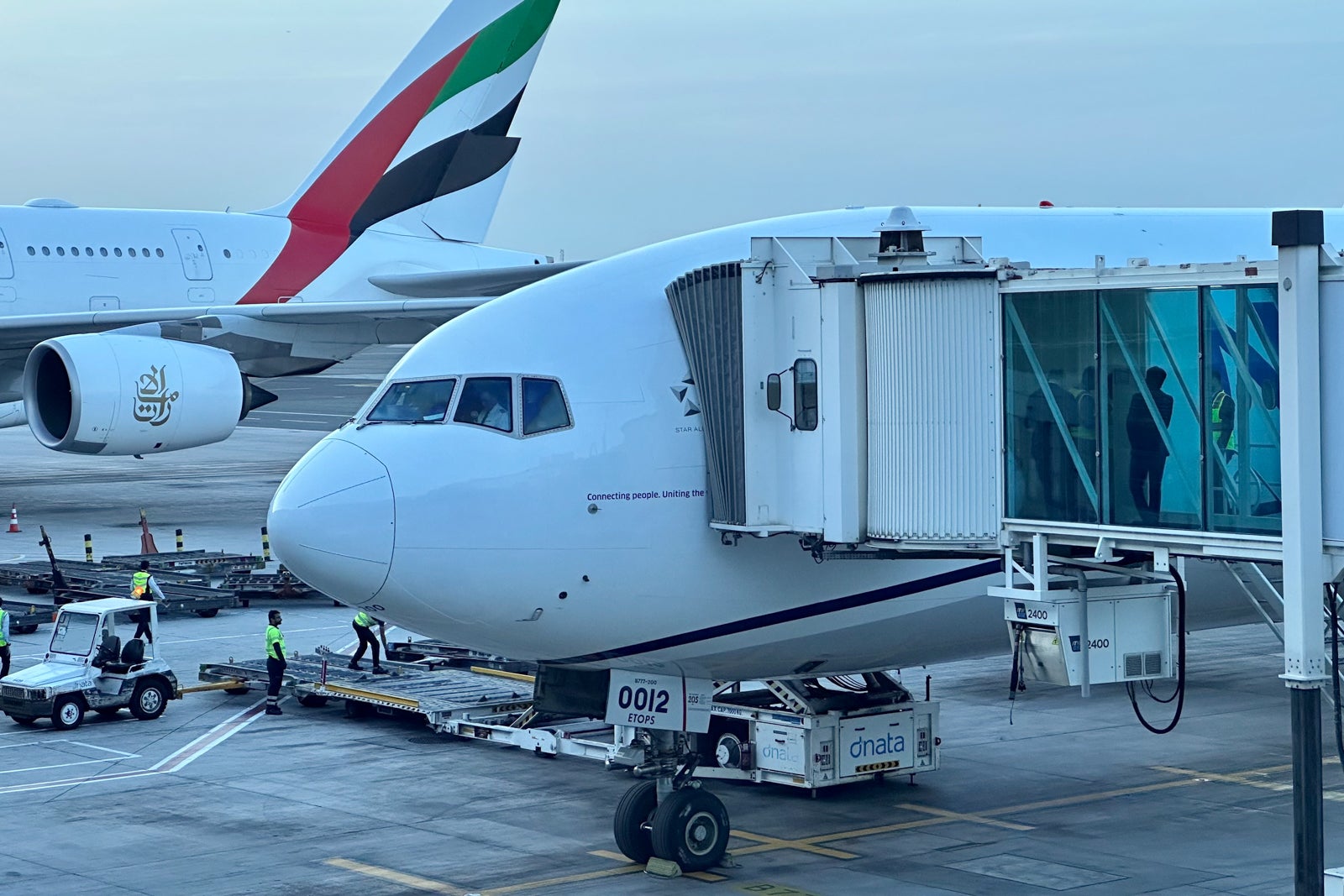 As for me, I turned back and looked again at the United 777 parked next to the Emirates A380 and told myself, "we've officially entered a new era in aviation."
Related reading: