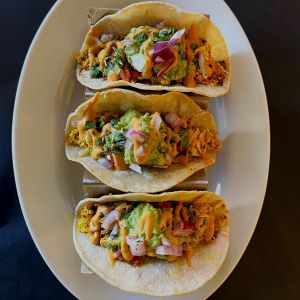 The next time you're in St. Louis, Missouri, you might want to enjoy lunch, dinner, and/or dessert at one of these vegan establishments:
Vegan/soul food. Located in the Carter Commons food hall, right across the street from the movie theater on the corner of Ferguson Avenue, this Black mother-and-daughter-owned spot offers a constantly updating, rotating all-vegan menu. Depending on the day offerings could be based around tacos, nachos, sandwiches, jackfruit sliders, plant-based grilled "salmon" etc. with sides like lemon-lime kale salad and mac and cheese. They also have a grab-and-go section with salads, sandwiches etc., and cold-pressed additive-free juices.
CC's Vegan Spot 4993 Loughborough Ave., St. Louis, MO 63109
Vegan/American. Enjoy a wide variety of dishes including Loaded Supreme Nachos, Chickn Caesar Wrap, Falafel Sandwich, and much more. They also serve frozen Ices.
Vegan/café. Start your meal off with Buffalo Cauliflower Bites or Thai Crunch Kale Salad. Then enjoy a wrap or sandwich or a main dish bowl such as Chipotle Black Bean, Banh Mi, or Buddah. Enjoy daily specials as well as a wide variety of beer along with your meal.
Plant Craft Kitchen 3860 South Lindbergh Blvd., Ste. 105, St. Louis, MO 63127
Vegan. This cheerful, casual café in a strip mall in Sunset Hills serves a rotating menu of vibrant, healthy vegan food. The menu always includes several beautifully presented salads; hummus; pizzas with house-made crusts and many customization options; sandwiches; and varying options like tacos, mushroom lasagna, and curry. Made fresh with quality vegetables, their colorful meals make eating healthy affordable and appealing.
Terror Tacos 3191 S. Grand Blvd., St. Louis, MO 63118
Vegan/Mexican. Are you a passionate heavy metal fan and constantly crave Mexican cuisine? If so, Terror Tacos may just be a paradise for you! With hard-core rock filling every corner of the restaurant as you walk through the doors and a line of plant-based tacos, burritos, quesadillas, nachos, and more waiting for you to try, this restaurant is perfect for anyone willing to try an experience like no other. Feeling adventurous? Try the extra spicy Deathwish Taco, double-layered and stuffed with house-made spicy chorizo, a fried jalapeno filled with chipotle cheese, and topped with Arbol chili-infused sour cream as well as diced and pickled jalapeño. Have a more tender mouth? Stick with something like the Tofu Terror Quesadilla, topped with cilantro lime tofu, green chili sauce, black beans, grilled fajita veggies, red cabbage, cheese, sour cream, and cilantro. Kids menu is available too! No matter who you are and what you need, Terror Tacos has something for you.
Traveling somewhere else in the USA or Canada? Be sure to visit VRG's online guide to veggie restaurants: https://www.vrg.org/restaurant/index.php