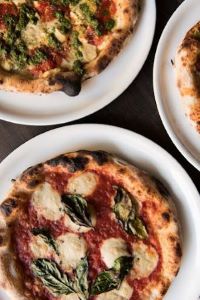 Photo from Donna Jean
The Vegetarian Resource Group maintains an online Guide to Vegan/Vegetarian Restaurants in the USA and Canada. Here are some recent vegan restaurant additions. The entire guide can be found here: http://www.vrg.org/restaurant/index.php
To support the updating of this online restaurant guide, please donate at: www.vrg.org/donate
Here are some new additions to VRG's guide:
Donna Jean, 4720 Woodman Ave., Sherman Oaks, CA 91423
Donna Jean is a restaurant concept created to show patrons how creative and delicious plant based cuisine can be. Their iron skillet mac n' cheese has been named one of the best vegan macs around. They have handcrafted pizzas, decadent pastas, and plenty of gluten-free options. Donna Jean does brunch the right way with pumpkin chai pancakes, biscuits and gravy, and espresso French toast. Reservations are not required, but recommended for this popular vegan spot!
Dope Vegan, 175 N. Military Trail, West Palm Beach, FL 33415
Located just off 98 (Southern Blvd) and 809 (N Military Trail), right opposite the corner of Palm Beach International Airport, this food truck offers handcrafted plant-based burgers which pack a punch. Options include Complete Melt Down with extra cheese, Seems Fishy with plant-based fish filets, and We're Beefing with BBQ and Chill sauce, all of which can be supplemented with additional toppings like caramelized onions, vegan cheese, vegan bacon, jalapenos, sautéed mushrooms, and vegan mayo, and sides including sweet potato fries and corn on the cob, you can be sure to get a hearty meal bursting with flavor. They have some seating by the food truck, or you can take your food to go.
Good Intentions, 1900 1st Ave. S., St. Petersburg, FL 33712
Good Intentions has an upscale ambiance and sophisticated menu. The mutual creation of a half-dozen seasoned restaurateurs in the Tampa Bay area, the location is meant to appeal to vegans and non-vegans alike. Housed in a unique half-round structure built in the 1940's, Good Intentions features soaring, curved ceilings, lively acoustics, and cozy mid-century modern decor. An array of distinctive appetizers, entrees, and desserts await your taste buds. Get started with the Big Can Nachos, Devilish Crab Balls, or Whipped Ricotta. Move onward to the Skyway Melt Burger, Seasonal Gnocchi, Kimchi Fried Rice, or Blackened Tempeh and Grits. As a finishing touch, don't miss the Tiramisu, Crème Brûlée, or Caramel Pannacotta; all of these are products of an in-house pastry chef.  There is wheelchair access available through the back door, but no access in the front.
Shoofly Vegan Bakery, Ford Building, 2505 SE 11th Ave., Ste. 101, Portland, OR 97202
Beautiful and tasty looking vegan bakery items including pastries, breakfast trays, cookies, cakes, and pies. Focuses on available organic local fruits, herbs, and vegetables.
Squatchos, 17 E. Main St., Rochester, NY 14614
Offers not only a variety of pizza pies, but also salads, burgers, wings, hot subs, soups, mac salad, fries, and sweets. Try the chicken parmesan hot sub with spinach artichoke soup and a homemade cookie.
The Boocha Bar and Taproom, 308 S. Texas Blvd., Weslaco, TX 78596
The Boocha Bar and Taproom offers plant-based pizzas, hoagies, and home-brewed kombucha. Pizzas and hoagies come with cashew-based cheese and red sauce as well as the soup-of-the-day. Favorite pizzas and hoagies include the street taco pizza made with seasoned ground walnuts, red onion, and cilantro sauce; the beetza with beets, brussels sprouts, and handmade balsamic glaze; and back to cauli with grilled cauliflower, roasted garlic, and handmade balsamic glaze. Smoothies and smoothie bowls are also available and can be made with kombucha.
Vegan Cave, 415 Abbott St., Vancouver, BC V6B 1R3 Canada
In the mood for pizza? You might get your Zen on with Pesto Prana made with sautéed Broccoli, Artichokes, Cashew ricotta cheese and Tapioca Mozzarella on a pesto sauce base, topped with Vegan Ranch. Or go wild with Freaky Greeky—a pesto based pizza topped with Cashew Feta, crushed walnuts, olives, oregano, and more, finished with olive oil and fresh basil. Whichever pizza you select, choose from Homemade Roots Crust, Nutty Almond Crust, or Real Deal Organic crust. Then, if you like, you can build on your foundation, with a plethora of sauce choices including: Blue Cheese, Avocado, Balsamic and BBQ to name a few. All pizzas are 12". If you want to go the extra mile, vegetable toppings include: the usual options plus walnuts, artichoke, beans, greens, broccoli, mushrooms, olives, pineapple and more. "Meat" toppings are Bacon, Chicken or Sausage. You could also get a little cheesy with extra Cashew cheese. There are a few salad choices including Spicy Chorizo with salsa, cilantro and avocado sauce. There's also a vegan chicken Tandoori Bowl and a Chili Cave Bowl that includes beets. Both are served on brown rice or quinoa and available with extra options similar to some of the pizza toppings. Both also come in Wrap versions and include Hummus. For dessert, you might taste travel to the Big Apple with Vegan New York Cheesecake. If you prefer house-made options, there's rice pudding with cinnamon and raisins, or dates with walnuts and tahini on top. Vegan Cave is located very close to Gastown.