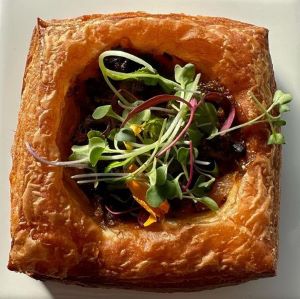 The Vegetarian Resource Group maintains an online Guide to Vegan/Vegetarian Restaurants in the USA and Canada. Here are some recent vegan restaurant additions. The entire guide can be found here: http://www.vrg.org/restaurant/index.php
To support the updating of this online restaurant guide, please donate at: www.vrg.org/donate
Here are some new additions to VRG's guide:
Aovara, 2009 Cll España, San Juan, PR 00911
Located in the Dream Catcher Hotel, they offer a changing menu using locally source ingredients. Sample dishes have included salads, soups, pizza, brunch items, and more. They also offer a special 4-course dinner.
Despacito, 294 Winooski Ave. #112C, Burlington, VT 05401
The Despacito menu has Puerto Rican roots and includes empanadas, mofongo, picadillo made with Impossible Burger, and coconut flan.
Fortune Bar, 614 SW 11th Ave., Portland, OR 97205
Fortune is a 100% plant-based cocktail bar and lounge. Their vegan charcuterie board serves 3 people and includes artisan cheeses, bread, fruit, nuts, and pickled veggies. Appetizers such as bakon-wrapped dates, mozzarella stix, and rosemary garlic fries are also available. Main dishes on the menu include a cashew ricotta panini with roasted veggies on a ciabatta bun and a winter salad with roasted beets and lemon vinaigrette.
Houldens Rise Above Bakery, 5029 East 5th St., Tucson, AZ 85711
Does the idea of cakes, cookies, brownies, and treats get your mouth watering with excitement? Are you plant-based? In a pleasant blend of two worlds, Houldens Rise Above Bakery offers a delicious rotation of vegan goodies daily! Daily menus can be found on their Instagram story, and all treats will be available till sold-out each day. Some goodies you can expect are vegan croissants, bear claws, Poptarts, turnovers, bread, custard tarts, cakes by the slice, cheesecakes, doughnuts, cronuts, and more! Houldens is also available at several other locations listed on their website.
Lucky Goose, 3503 Central Ave. NE, Ste. B, Albuquerque, NM 87106
Enjoy Burgers, Chick'n, fries, hot dawgs, milkshakes, and specialty dipping sauces. Try the Wild Style Dawg, topped with tomatoes, pickles, grilled onions, melty cheese, and lucky sauce.
Nefista, 91 E Main St, East Islip, NY 11730; 106 MacDougal St., New York, NY 10012; 3371 Shore Pkwy., Brooklyn, NY 11235; and 656 Anderson Ave., Cliffside Park, NJ 07010
Enjoy vegan Turkish dishes including Kofte, lavash bread, herbed chickpeas, hummus, and baklava. They also serve sushi, tacos, and bowls.
The Boujee Southerner, 706 Grayson Hwy., Ste. 300B, Lawrenceville, GA 30046
The Boujee Southerner prides itself on giving diners Southern hospitality and love, as well as delicious comfort food, and invites everyone, including "undecided vegans" to explore their menu. The menu, offering starters, lunch, dinner, and brunch, definitely offers the full array of Southern comfort, from deep-fried vegan dumplings to the "unmeatloaf" with creamy onion and chives mashed potatoes to vegan gumbo. Pair your meal with a mocktail such as sangria or guava rose, and even the undecided vegans will be convinced that plant-based eating can bring plenty of comfort.