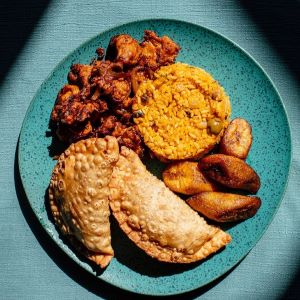 The Vegetarian Resource Group maintains an online Guide to Vegan/Vegetarian Restaurants in the USA and Canada. Here are some recent vegan restaurant additions. The entire guide can be found here: http://www.vrg.org/restaurant/index.php
To support the updating of this online restaurant guide, please donate at: www.vrg.org/donate
Here are some new additions to VRG's guide:
Algorithm Queen Village, 705 E. Passyunk Ave., Philadelphia, PA 19147
Select from signature plates, burgers, sandwiches, grain bowls, tacos, soup, and fries. Hot and cold brew coffee, milkshakes, non-alcoholic beer, milkshakes, and desserts also available. Many gluten-free options as well.
Casa Borinqueña, 6211 Shattuck Ave., Oakland, CA 94609
Enjoy vegan Puerto Rican food! Try the Chicken sampler plate and bori fries (deep fried plantain topped with onions, Impossible meat, mojo, and mama spread).
Karyn's Kitchen, Flossmoor Commons, 3331 Vollmer Rd., Flossmoor, IL 60422
Karyn's Kitchen is a plant-based restaurant that serves pizzas, sandwiches, and soups. Pizzas include the meat lover's made with plant-based meat and the veggie pizza made with hummus, mushrooms, and artichoke hearts. Potato wedges and soup are included with the meatball sub, falafel sandwich, and other sandwiches. The black bean soup is served with shredded jackfruit and coleslaw. Chef's specials such as vegan mac & cheese are also available.
Ice Queen, 2012 SE 11th Ave., Portland, OR 97214
Enjoy vegan popsicles and Thiccflurries with toppings based on classic paletas flavor. This is 100% plant-based Mexican inspired street food.
Likkle Patty Shop, 80 Poquonock Ave., Windsor, CT 06095
If you're the type of person who loves new things and always down for an adventure, you'll be overjoyed to try the goodies at the Likkle Patty Shop! A women-owned vegan Jamaican bakery, Likkle Patty Shop serves a delicious array of patties, coco bread, soups, pasta, pizza, and more! Some favorites include the Jerk Spiced Eggplant Patty: A blend of eggplant, onions, garlic, soy sauce, herbs, spices, and sea salt wrapped in a signature flaky coconut oil crust, and the Baby Got Broc! Patty: A spinach-infused crust filled with broccoli, potato, vegan cream, garlic, red pepper flakes, and nutritional yeast. For those with a sweet tooth, cookies and scones are also available! Packaged meals like "RastaPasta" and "Yumus Hummus" are also included on the menu to purchase.
Tandem Bakery and Café, 1221 Helen Ave., Missoula, MT 59801
Treating yourself to delicious vegan desserts and hot foods is a piece of cake with your local Tandem Bakery and Cafe! From soups and sandwiches to baked goods, a wide selection of vegan and gluten-free options are available to meet your needs. Some popular choices at the café include the Grilled Chz, soft and melty vegan cheese on Multigrain bread buttered and grilled to perfection; Tomato Bisque, a warm and comforting tomato soup with fresh herbs and cashew cream; and the House Salad, a blend of apple sage quinoa, roasted root veggies, and pickled red onions on a bed of mixed greens topped with roasted pecans and served with your choice of house-made dressing. For those with a sweet tooth, donuts, cupcakes, and cakes are also available in-house! Some options include the Hazelnut Espresso Cupcakes, a fluffy vanilla cake infused with espresso and coffee liqueur finished with hazelnut buttercream and garnished with toasted hazelnuts, and the Lavender Lemon Cake, a vanilla cake filled with house-made lemon curd, topped with lavender buttercream, and garnished with dried lavender flowers. All flavors and options are listed on the website or refreshed in-store. For custom treats, please visit the website for more information on lead times, limits, and more.
Willowbeez SoulVeg, 59 Spruce St., Columbus, OH, 43215
Operating as a pop-up in Columbus' North Market, Willowbeez SoulVeg offers a menu the mere reading of which starts to feed your soul. From the BBJerk Bella with its authentic Jamaican jerk and side of cornbread to the No*Fish Fry made with a breaded Banana Blossom to the Rich Boi comprised of Oyster mushroom drizzled with house-made Remoulade, you may find yourself making multiple trips to North Market in order to try it all. Make sure you visit one Wednesday, as that's when they serve up their So'Lasagna, which includes eggplant, kale, mushrooms, vegan cheese—and, of course, Love—all rolled in a lasagna shell.