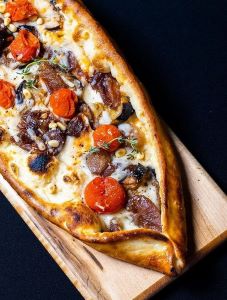 The Vegetarian Resource Group maintains an online Guide to Vegan/Vegetarian Restaurants in the USA and Canada. Here are some recent vegan restaurant additions. The entire guide can be found here: http://www.vrg.org/restaurant/index.php
To support the updating of this online restaurant guide, please donate at: www.vrg.org/donate
Here are some new additions to VRG's guide:
Anixi, 290 8th Ave., New York, NY 10001
If there has ever been a restaurant made to fit the needs of every possible dining party, it must be Anixi. Meaning "Spring" in Greek, Anixi offers a menu of fresh, beautiful dishes that are not only vegan but also kosher and in many cases gluten-free as well. Even non-vegans will be impressed with dishes like the Arak Cured "Salmon" with sumac, labneh, harissa, and caper berries, or the "Beef" Dolmas served with basmati rice, labneh, apricots, and saffron. The pizza-lover in the group can nosh on one of the Turkish flatbread pizzas—such as the Fire Roasted Eggplant whose toppings include tomato marmalade and pomegranate molasses. The bar menu is 4 pages long, and includes kosher wines as well as exotic cocktails such as the Smoky Sumac (tequila, mezcal, and Campari with grapefruit juice, lime, sumac simple syrup, and mint). And no one will be able to pass on dessert—not with offerings like the Medjool Date Cake or the selection of ice cream flavors, which include Tahini, Pistachio, and Rose Water.
Just Veggiez, 2817 E. Washington Ave., Madison, WI 53704
A modern and soulful kitchen with an entirely plant-based lineup of contemporary menu choices. Enjoy a healthier version of your favorite comfort foods without sacrificing flavor. Popular menu choices include the Parmesan Chix Sandwich, the Southwest Burger, the Korean BBQ Sandwich, the Reuben Sandwich, and the Shrimp Po Boy Sandwich. All of these items were reported as being perfectly seasoned, crispy, and juicy, in addition to being served with appropriate sides and sauces. Some hearty and delicious side dishes include Plant-Based Cheese Curds and Greens. There is also a gluten-free menu, as well as a kids' menu. Just Veggiez is a Black family-owned enterprise, and Chef James has a compelling backstory and passion for healthy, delicious eating. Please note that their storefront is in a shared ghost kitchen setting, and there is no dining area. If you are opting for pickup, then be sure to keep an eye out for the door near Dollar Tree. When you get to the door, you will have to call and someone will come out with your food.
Live Bistro, 2036 Sylvan Rd. SW, Atlanta, GA 30310
Life Bistro provides vegan versions of classic American comfort foods. Whether you're looking for weekend brunch with friends or a Friday night dinner with live music, Life Bistro truly is worth all the hype. Dinner entrees include the vegan Southwest Steak Burger which features a charbroiled beyond patty, vegan cheese, portobello steak, grilled onions, lettuce, tomato, pickle and chimichurri, and their weekend brunch specials feature their Chick'n N Waffles made with a spelt waffle and fried portobello strips.
Penelope's Vegan Taqueria, 5204 North Clark St., Chicago, IL 60640 and 230 West Chicago Ave., Chicago, IL 60654
Every part of these taquerias has been chosen with love by the family who owns them (and named them for their daughter), from the bright bird murals by artist Senkoe and lively Mexican playlist, to the constantly evolving, innovative menu that aims to recreate the flavors from their childhood. Featuring vegan versions of classics like burritos, enchiladas, elote, nachos, dips, chilaquiles, fries, etc., and with tacos such as mushroom chimichurri, soy al pastor with pineapple, baja with fried beer batter avocado and habanero mango pico de gallo, alongside a broad range of drinks both non-alcoholic (such as several colorful horchata options, kombucha and Jarrito sodas) and alcoholic (including margaritas, beers, and cocktails), there is something for everyone to enjoy.
Plant Craft Kitchen, 3860 South Lindbergh Blvd., Ste. 105, St. Louis, MO 63127
This cheerful, casual café in a strip mall in Sunset Hills serves a rotating menu of vibrant, healthy vegan food. The menu always includes several beautifully presented salads; hummus; pizzas with house-made crusts and many customization options; sandwiches; and varying options like tacos, mushroom lasagna, and curry. Made fresh with quality vegetables, their colorful meals make eating healthy affordable and appealing. They also have a weekly meal program, where if you place your order by Thursday, on Sunday you can pick up a seasonal wholefood plant-based meal designed to be reheated.
Ro's Diner, 197 Meserole St., Brooklyn, NY 11206
Enjoy a vegan twist on an all American idea. The diner serves an impressive variety of foods from breakfast items, salads, burgers, sandwiches, to desserts, and more.
The Soulful Vegan, 1720 Merriman Rd., Ste. M, Akron, OH 44308
The Soulful Vegan offers a variety of food. Vegan wing dings are served with celery sticks and a choice of bleu cheese or ranch dressing. Sandwiches on the menu include the Big McVegan with 2 plant-based patties and a house special sauce, a crunchy vegan fish patty with homemade tartar sauce, and a crispy missin' chicken with a deep-fried panko crusted plant-based chicken patty with a zesty sauce. Dinner items come with a choice of 2 sides and include a jumbo shrimp dinner, BBQ ribs made with jackfruit, and a vegan salmon dinner.