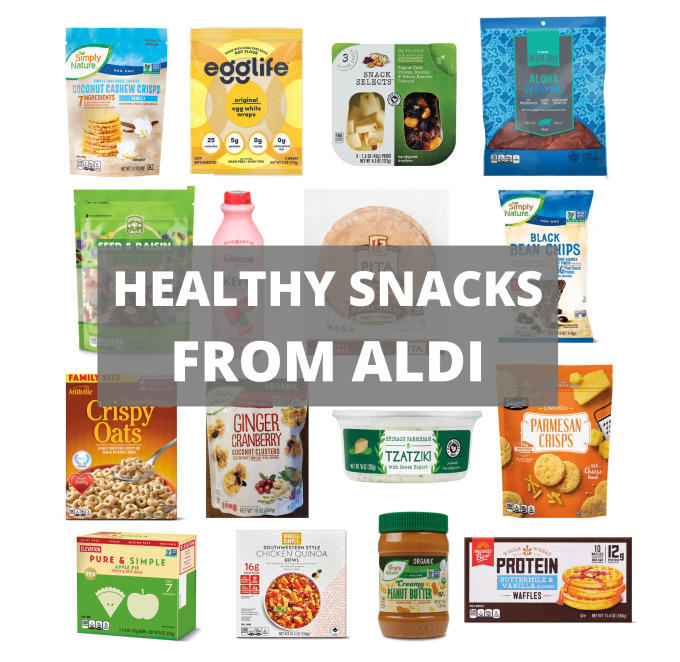 Looking for some of the best ALDI healthy snacks? Here are some top picks from a Registered Dietitian that both kids and adults will love.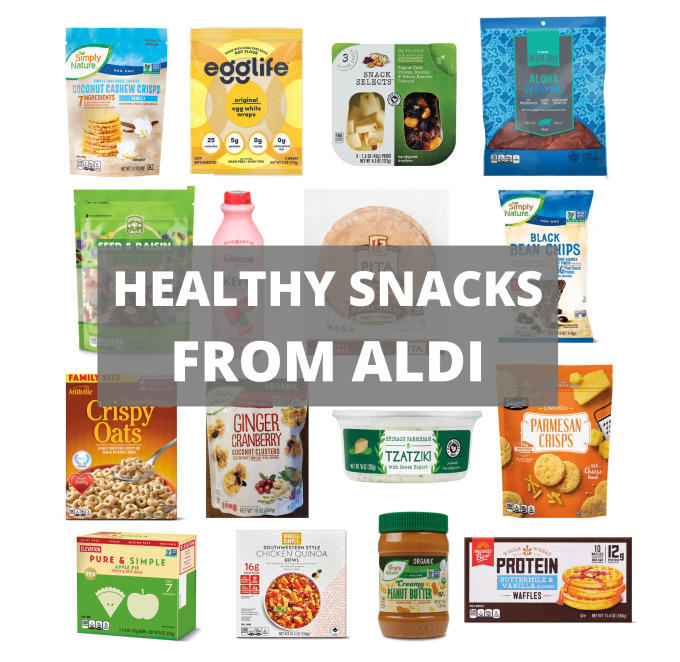 Hi friends!
Welcome to the next post in our best of store-bought series! Here's a look at some of the posts we've tackled previously.
If you're looking for store-specific snacks check out:
For more item-specific options check out:
Today we're sharing some of the best healthy snacks at ALDI. If you havea an ALDI near you, definitely take advantage! It is a hidden gem for some healthy and affordable options! Here are a few of our favorites.
As always, this is not an all-inclusive list and not everyone will agree with all the snacks on the list. When I'm looking for snacks for my family, I try to focus on options that have at least 2g of both protein and fiber, as well as ones that are lower in added sugar. I typically aim for 6g of added sugar or less per serving but do make exceptions, especially if they have some protein and fiber.
Best Healthy ALDI Snacks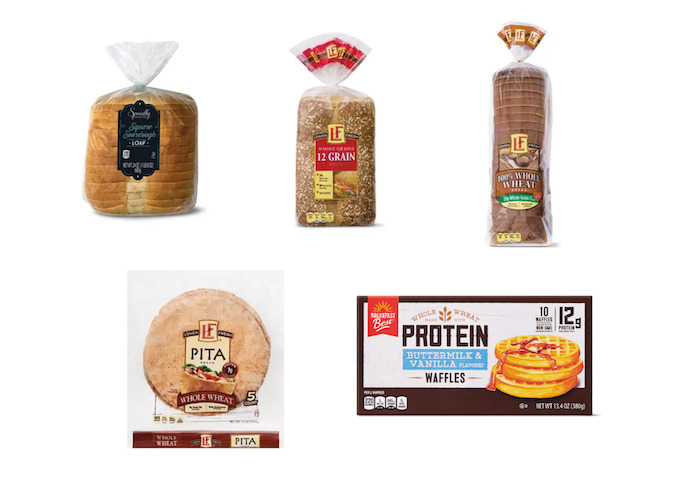 Healthy Whole Grains at ALDI
These whole-grain options are packed with fiber and some protein! Add your favorite cheese, deli meat, or nut butter to make a quick and easy sandwich, wrap, or waffle.
---
Best Healthy Chips & Crackers at ALDI
These crunchy snacks are a great way to add some fiber (and protein!) to a healthy snack. Dip your chips in some hummus or add some cheese to your crackers. Pair popcorn with nuts and seeds for a simple and satisfying snack. The coconut crips pair great with some fruit and nut butter too!
---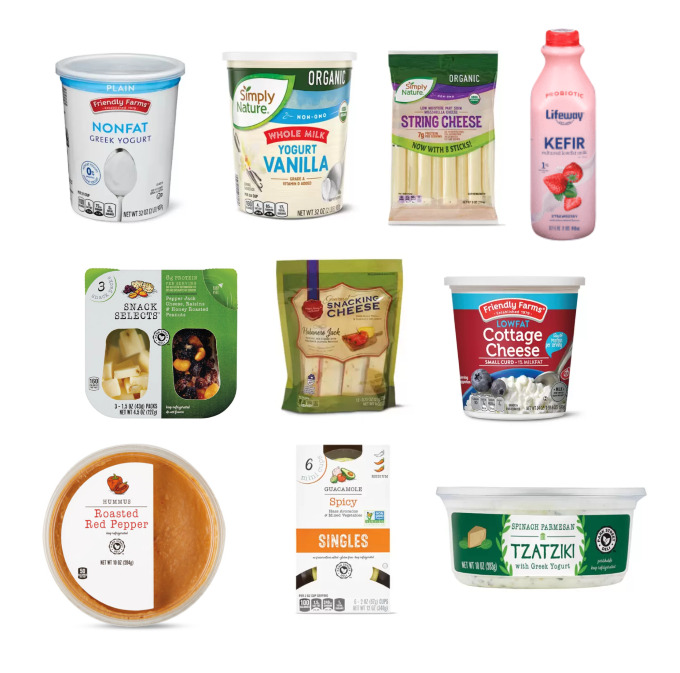 Healthy Dairy and Dips at ALDI
These dairy and dip choices are a great way to spice up your snacks and add some protein! Add some granola to your yogurt or some fruit on top of cottage cheese for a fiber boost. Or dip veggies in some tzatziki sauce or hummus! Guacamole and Hummus are great vegan options if you want to give your snack time a twist. If you are in a pinch, Aldi's snack packs are a great on-the-go choice packed with protein, fat, and fiber for a satisfying snack that will keep you full!
---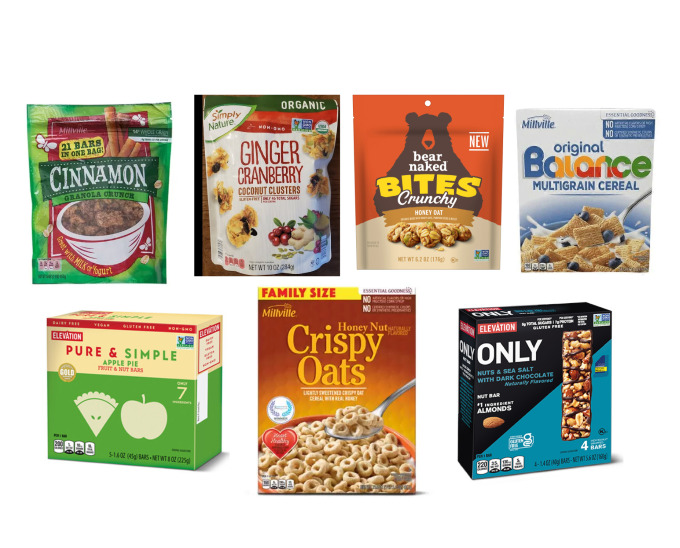 Best ALDI Healthy Granolas & Cereals
These scrumptious granolas and cereals can be great for breakfast or a snack! Both granola and cereal go great with yogurt or even homemade trail mix. If you're in a pinch a granola bar is an easy option, just be sure to watch out for added sugars!
---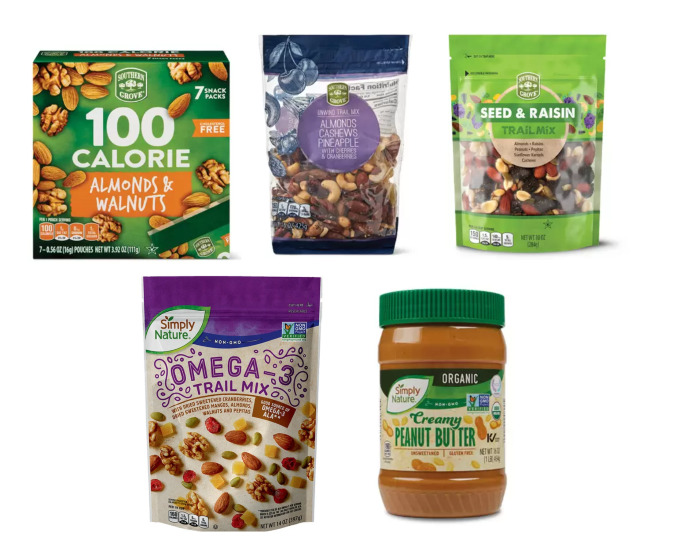 Nuts & Seeds
Nuts and seeds are a great and easy snack. You can add some dried fruit to make your own trail mix or sprinkle some on top of yogurt. Simple peanut butter and jelly is always a great choice too! If you're on the go, the 100 calories snack packs are a great choice, just be sure to pair them with some fruit or veggies to make a satisfying snack that will keep you full!
---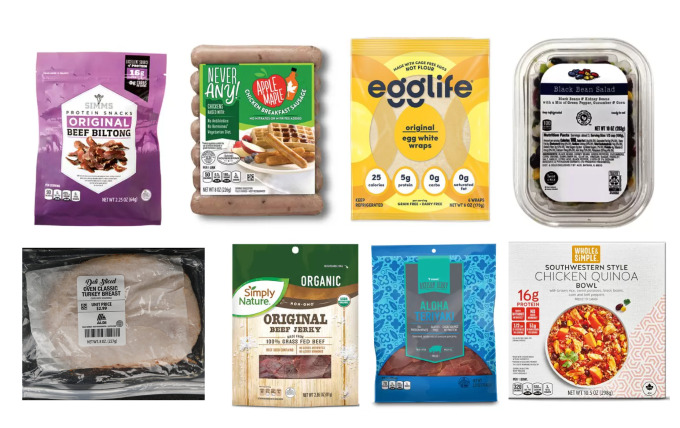 Healthy Protein Snacks Aldi
Every well-rounded snack needs protein. It helps keep you full and provides your body energy. These high-protein snacks are great to add to a fiber-rich snack like crackers or veggies. You can even make a quick sandwich too. If you need a snack that is a little larger, Aldi has some great frozen meals too!
---
Hopefully this post has given you a few new ideas!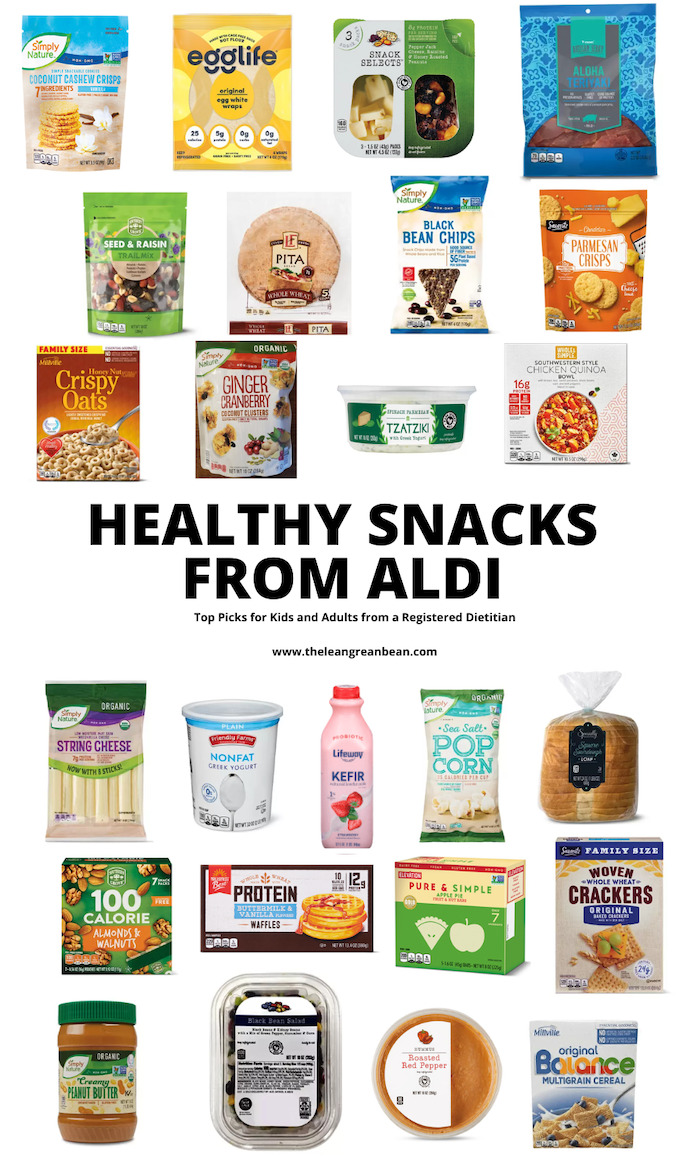 Enjoy!
–Lindsay–