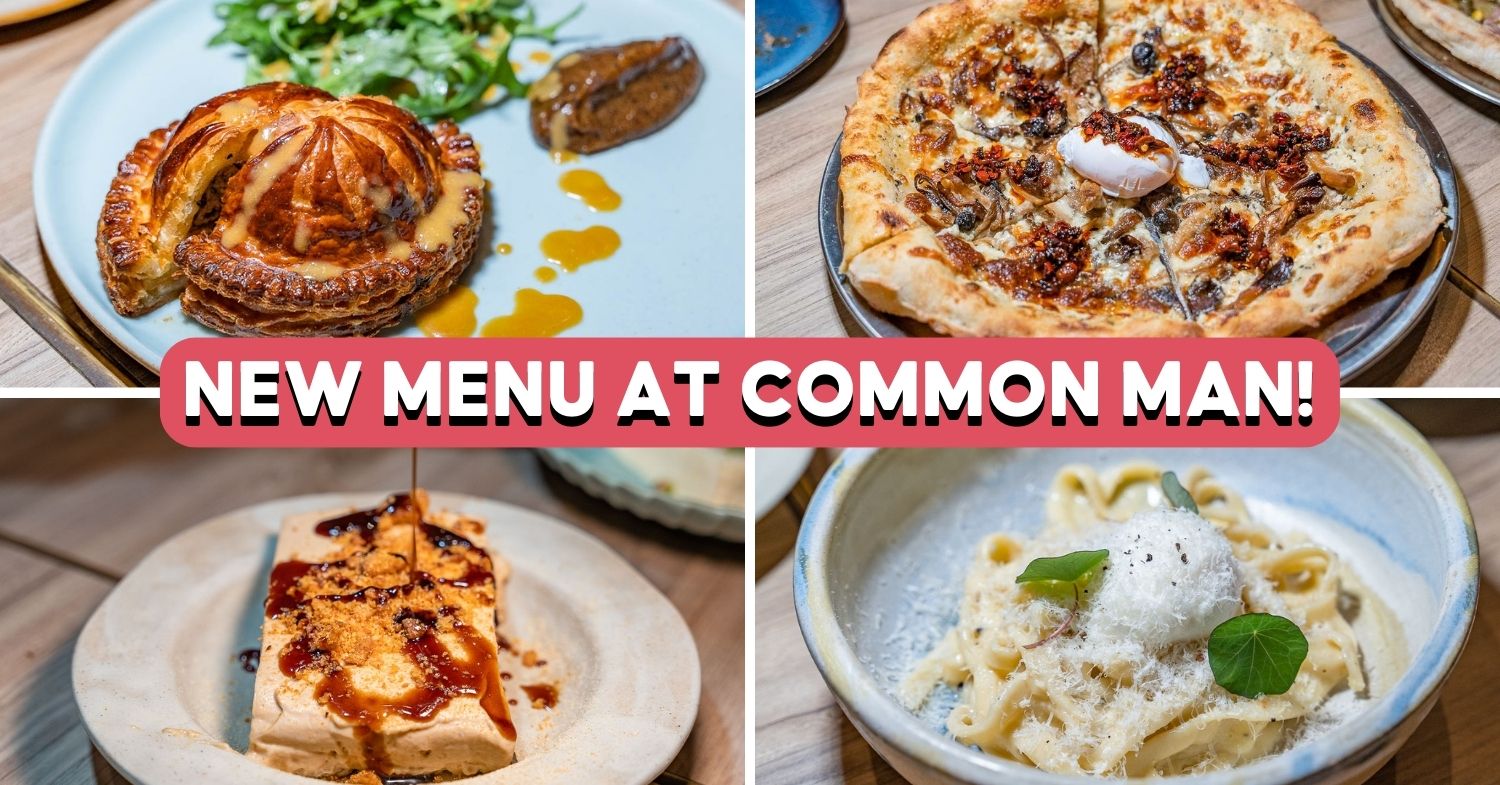 Common Man Night Shift has sourdough pizzas and natural wines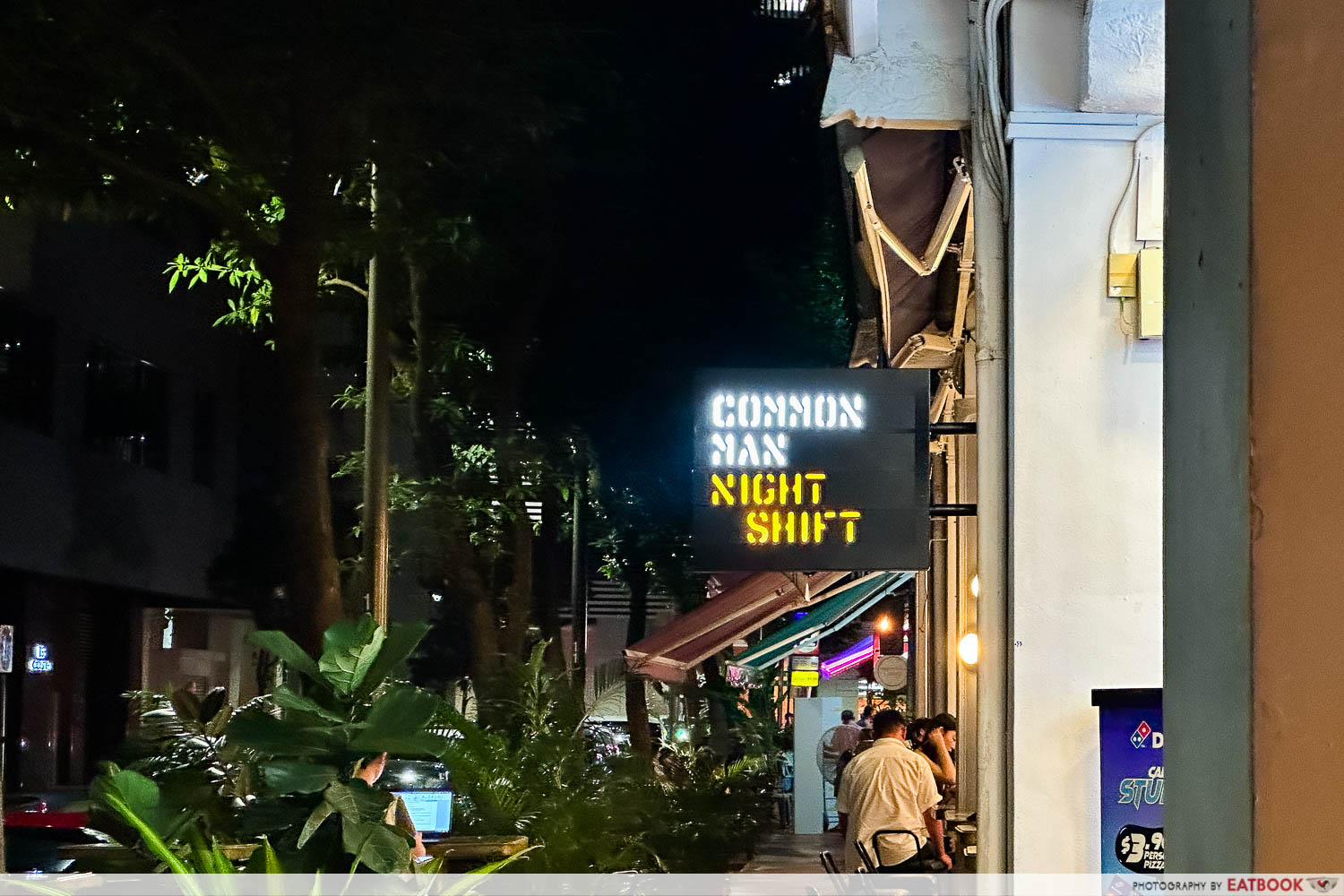 Having been around for 10 years and counting, Common Man Coffee Roasters is a stalwart in Singapore's thriving cafe scene. Recently, they've unveiled their new night-time concept, Common Man Night Shift, previously known as Drunken Farmer. The goal is to transform the space into a vibey, buzzy drinking spot with a fab food menu that far exceeds regular bar grub—here's what we thought about the rebrand.
20 Best Chinatown Food Places For Cheap Hotpot Buffet, Michelin-Approved Curry Mee And More
Food at Common Man Night Shift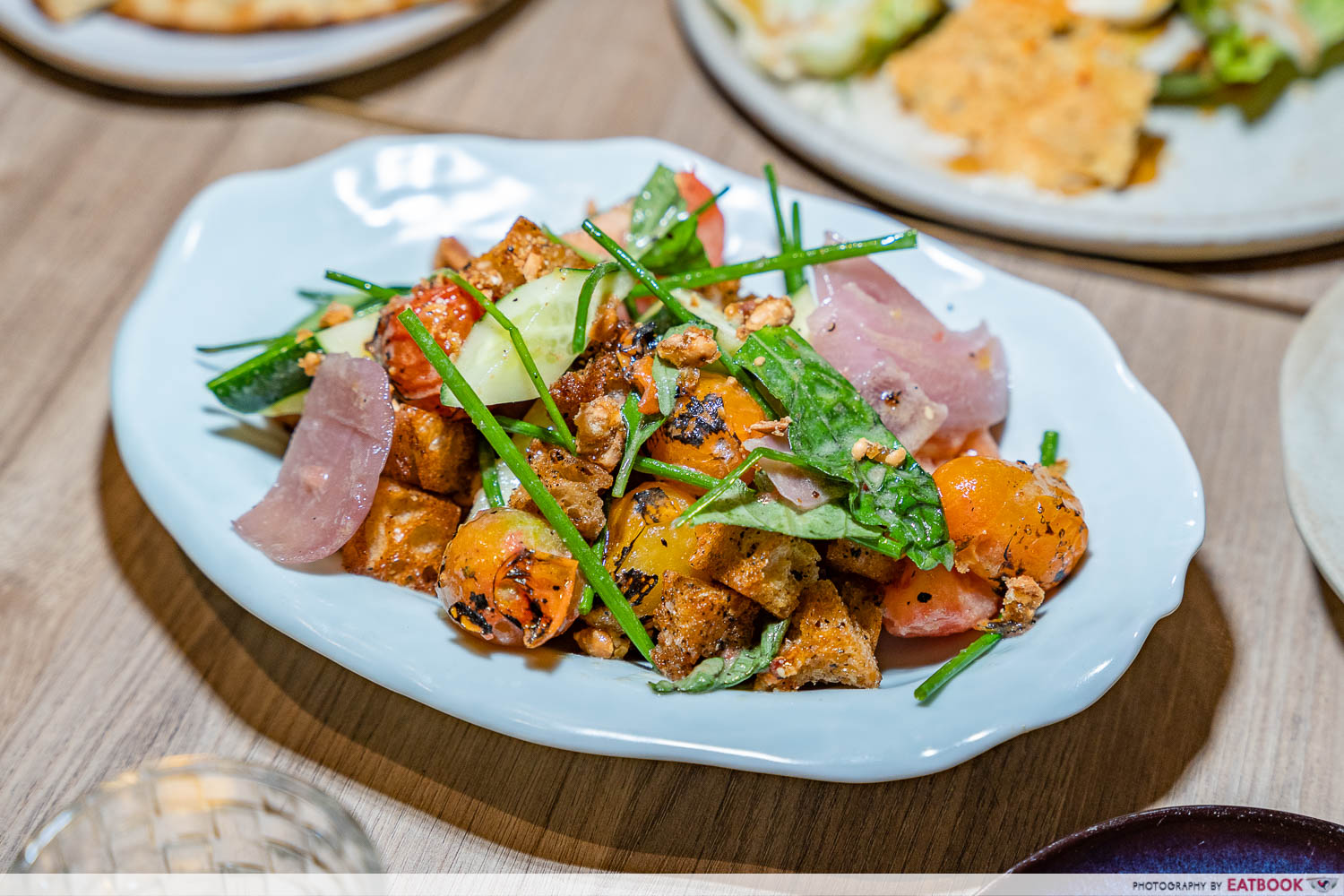 The revamped menu sees elegantly plated starters such as the Panzanella ($18++), an Italian tomato salad with fresh herbs, tossed in a light mustard dressing and topped with sourdough croutons. The star of the dish here, and also my personal highlight, was the candied peanut and sesame brittle, which added a lovely crunch and sweetness to the tangy, charred tomatoes.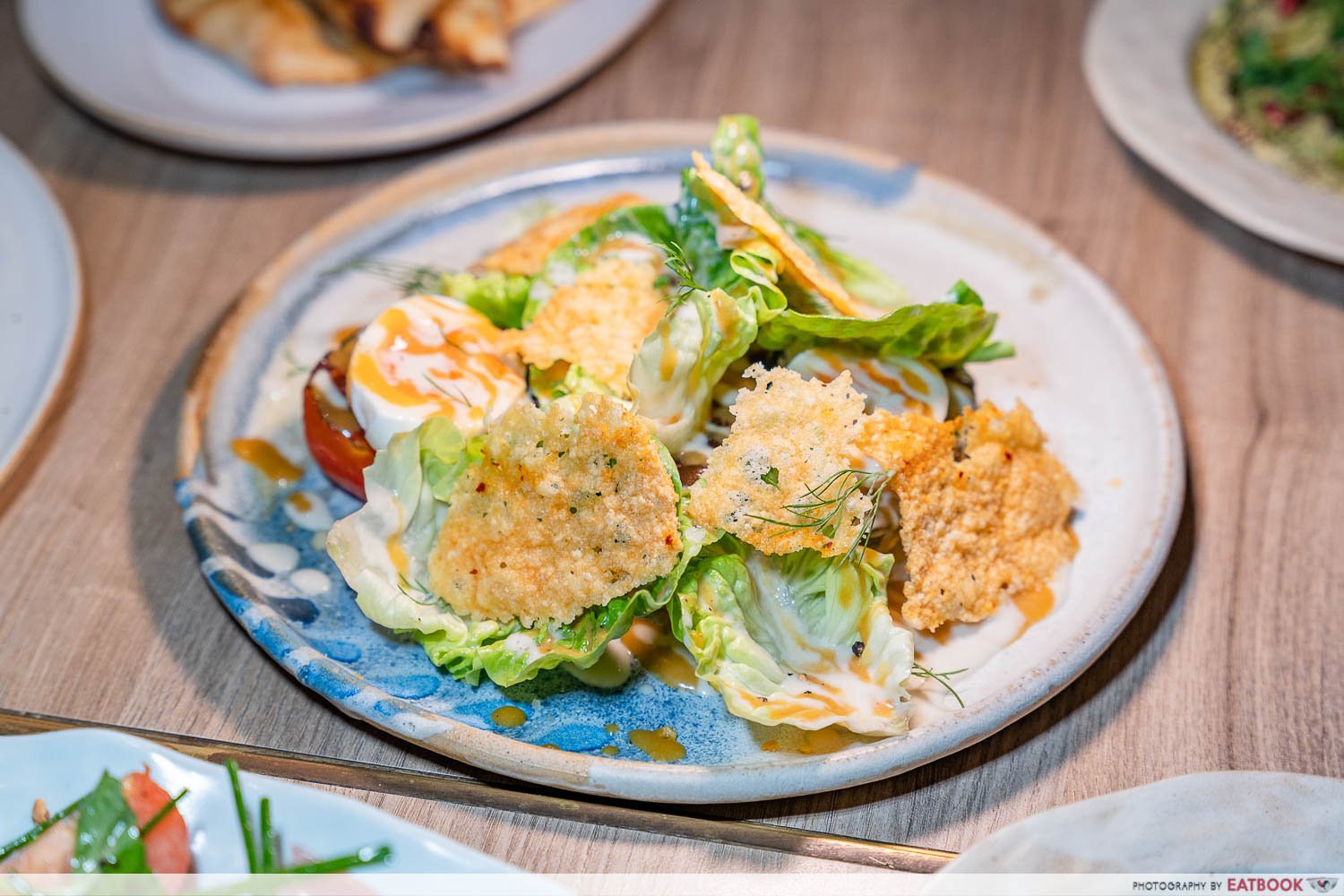 We also shared their Grilled Vegetable Salad ($20++). This was well-balanced in terms of its components; you get the freshness of the baby romaine, complemented with creamy avocado and umami parmesan crisps. There's also a half-cooked courgette hidden in the middle of the salad, charred on the outside, with a good bite in the middle.
I just wished they swapped out the hard-boiled egg for some burrata for creaminess, as they were fairly light-handed with the dressing.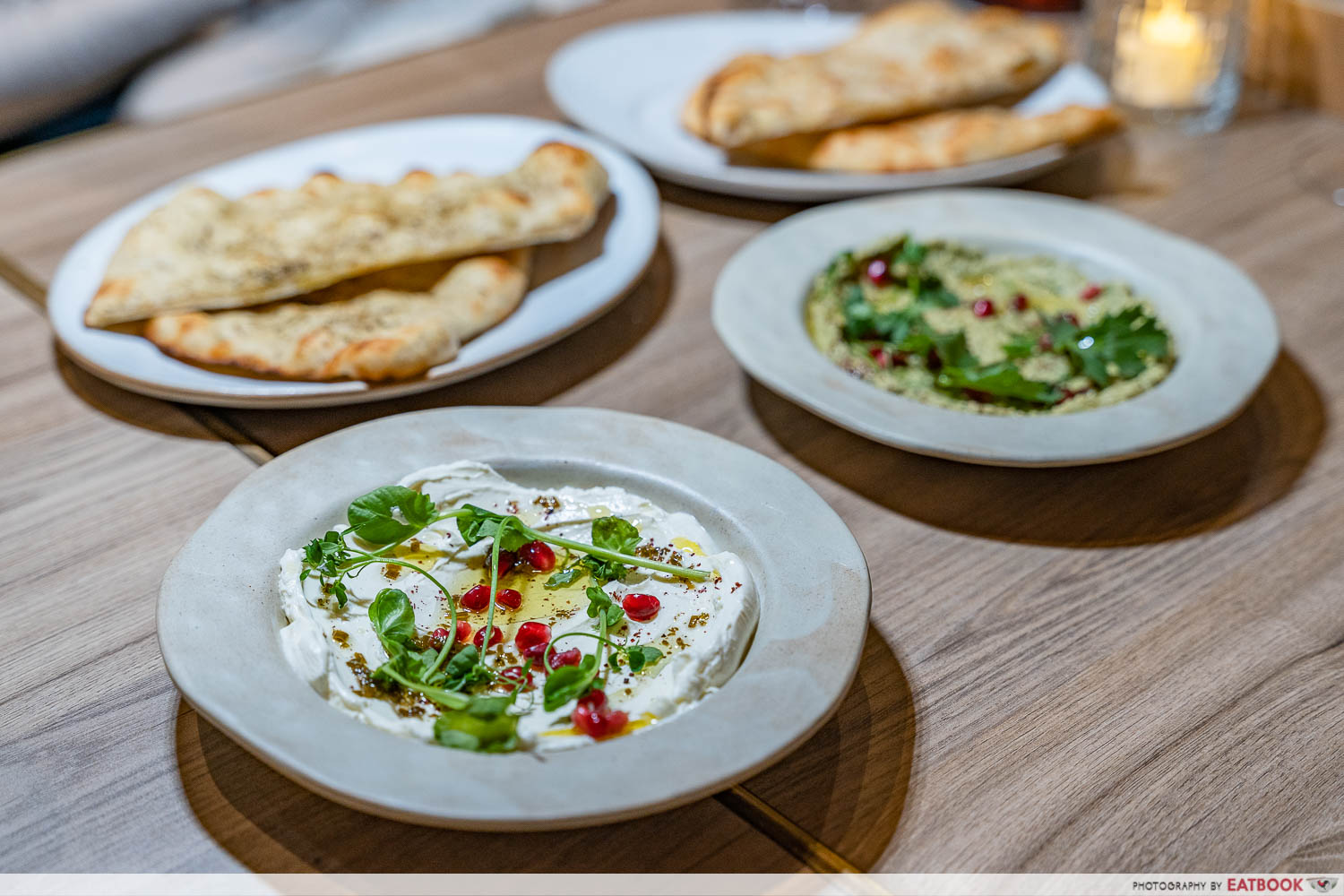 If you're looking for something more indulgent to start, get both the Labneh ($12++) and Green Hummus ($12++). These were served with two slabs of sourdough Oregano Flatbread each, which you can also get on the side for $6++.
Both dips were rich and creamy on their own, but I felt they were best when paired together.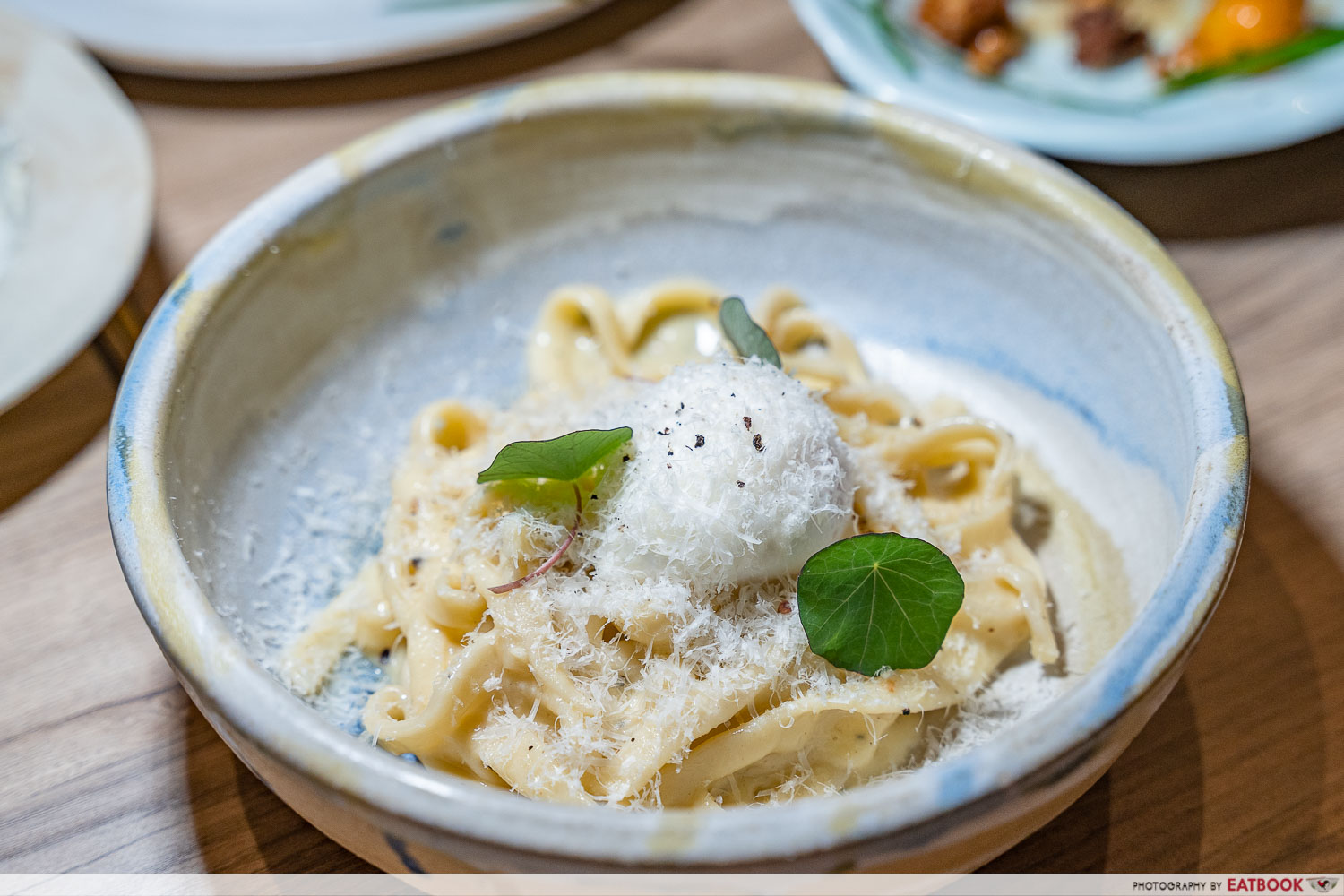 Another new item that caught our eye was the Cacio E Pepe Udon Pasta ($24++), featuring handmade udon pasta in a rich Cacio e Pepe cream that's made with two simple ingredients: Pecorino cheese and black pepper. This pasta dish was finished with a soft and runny egg that burst without much effort for the ultimate yolk porn shot.
As a fan of thick and chunky noods, I was pleased with the house-made udon pasta here. Each strand had a good bite and thankfully, was cooked to al dente perfection. The sauce, while flavourful and well-seasoned, became a tad jelak after a few spoonfuls, so I'd recommend you share this dish if you're not into heavy flavours.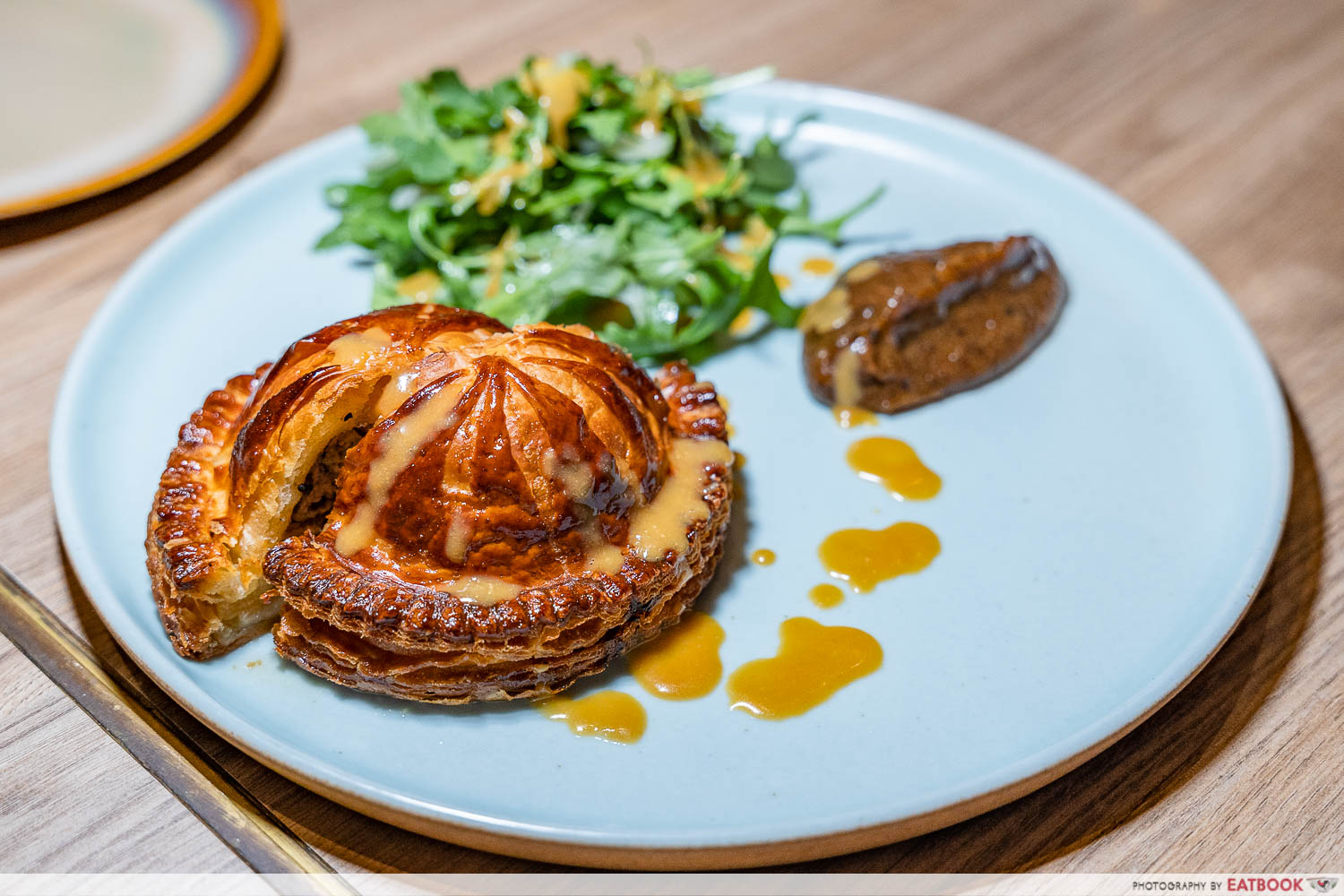 If you, however, love your flavours big and bold, you have to try their Duck & Foie Gras Pie ($38++). This indulgent pie features sister cafe Tiong Bahru Bakery's signature puff pastry, which was delightfully flaky and buttery.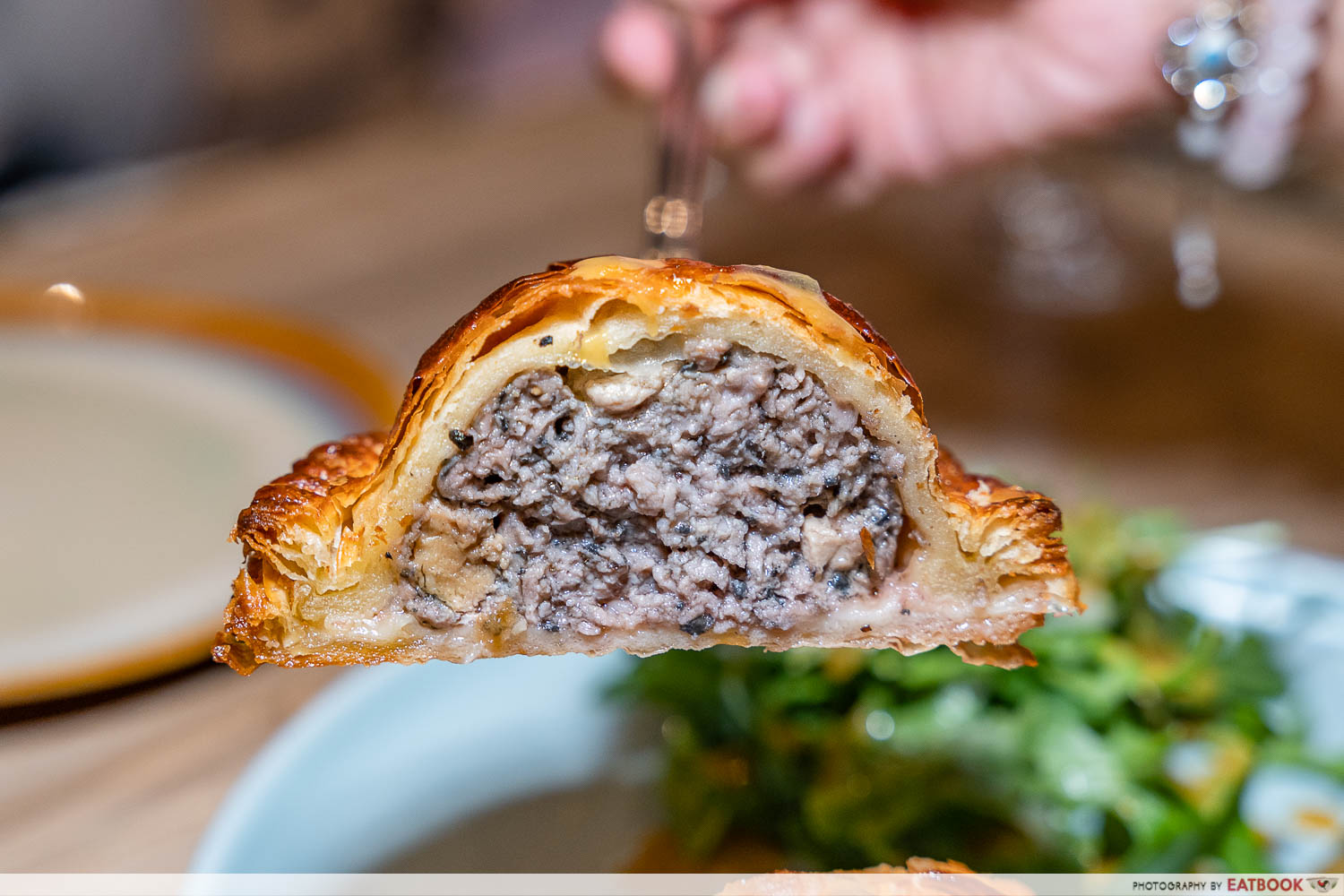 Tucked within those layers was a mix of duck mince, foie gras, and black truffle. While I couldn't discern the truffle taste, I appreciated how the mince helped to counteract some of that gaminess from the foie gras, which I'm usually not a fan of.
Pair each bite of the pie with the burnt apple compote served on the side for a touch of sweetness and acidity to further offset the buttery foie gras flavour.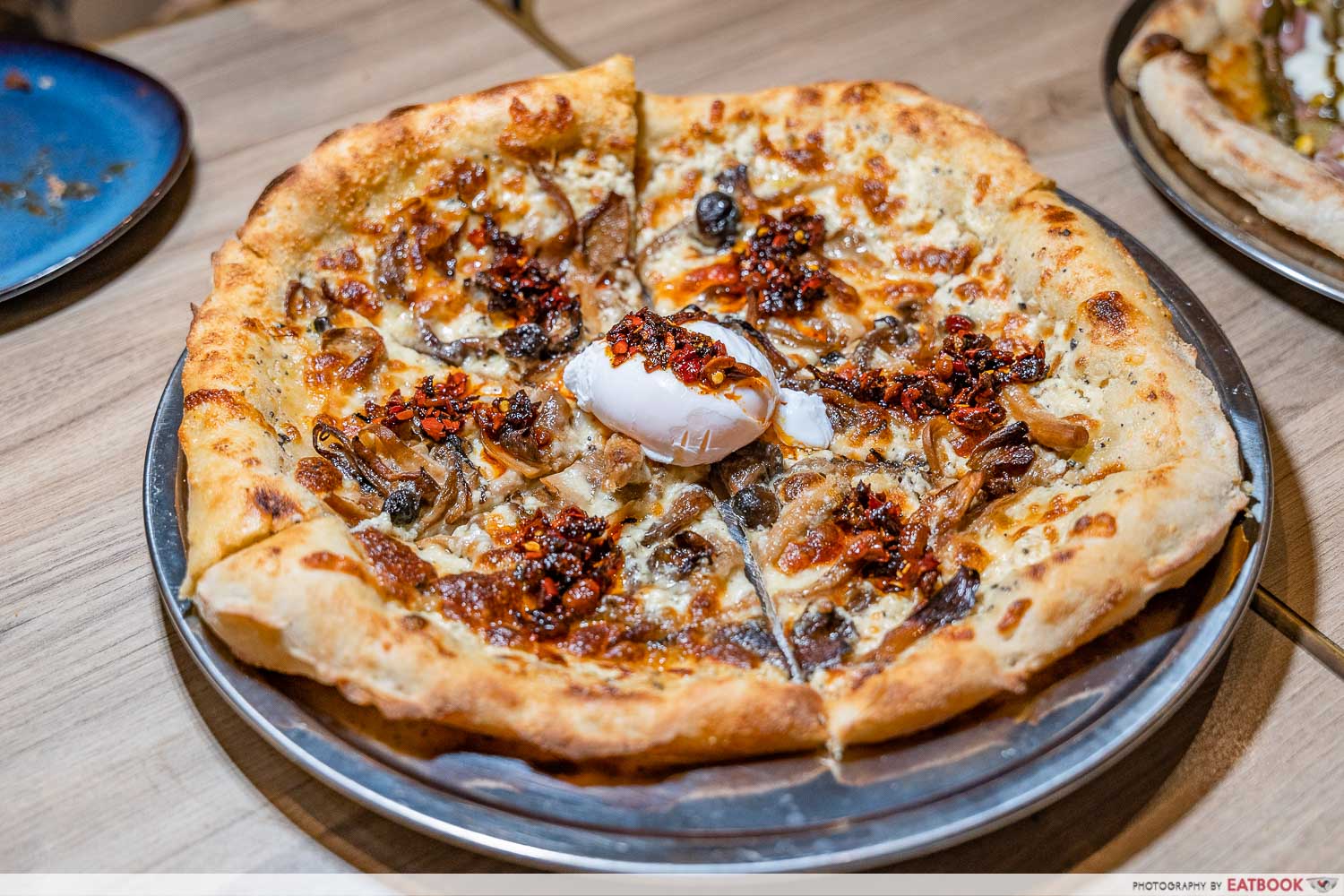 Drunken Farmer was known for their sourdough pizzas, so it's only natural they'd serve them here as well. The meat-free Umami Magic ($22++) is a must-try; this unique iteration features the restaurant's signature 12-inch sourdough pizza base, topped with a mix of cheeses, mushrooms, and a poached egg. It's then drizzled with some chilli crisp, AKA lao gan ma, before it gets to you.
I loved the different flavours and textures in this pizza but felt that I could use more chilli crisp in each bite—I would have preferred an even dose of lao gan ma on each slice as some had a meagre amount of it.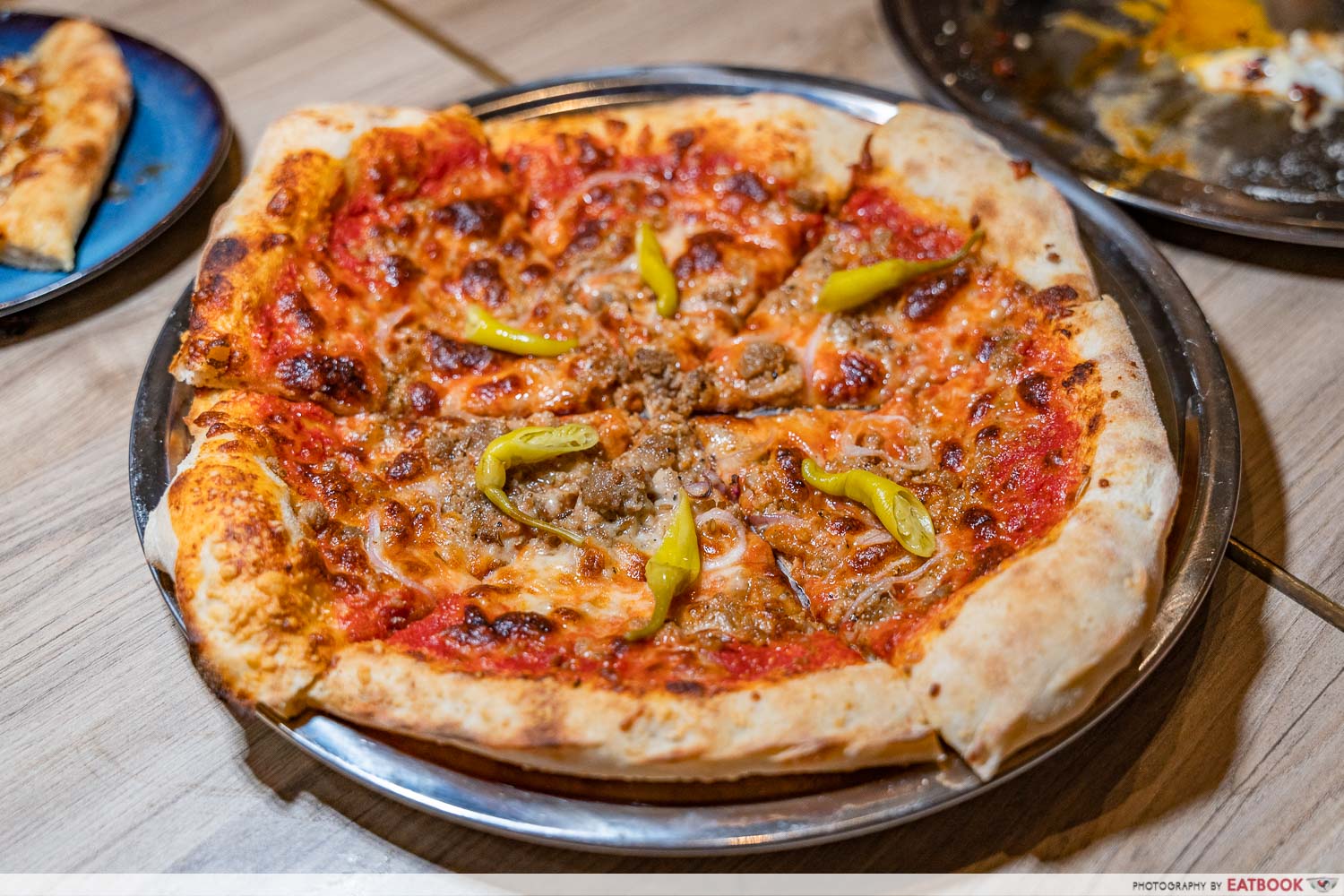 Those who want something less adventurous, but no less yummy, can try The Lazy Brunch ($24++) instead. This pie came with house-made fennel sausage, which was meaty and well-seasoned, and guindilla chillies for a subtle kick of spice and tang.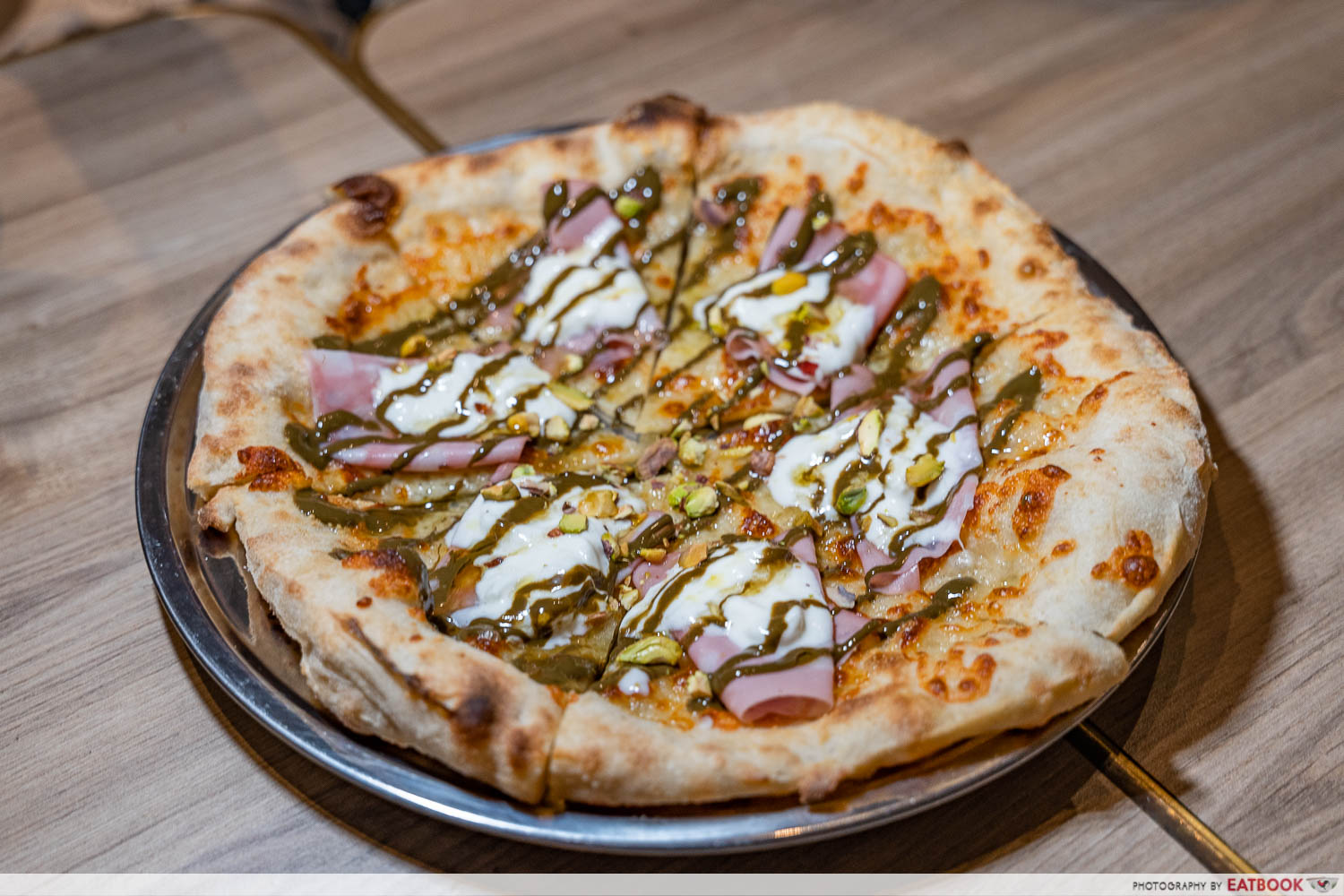 We were also impressed with the Sweet Dreams of Stracciatella ($26++), a unique pizza that meshes creamy and nutty pistachio paste, savoury mortadella, rich mozzarella, and sweet honey.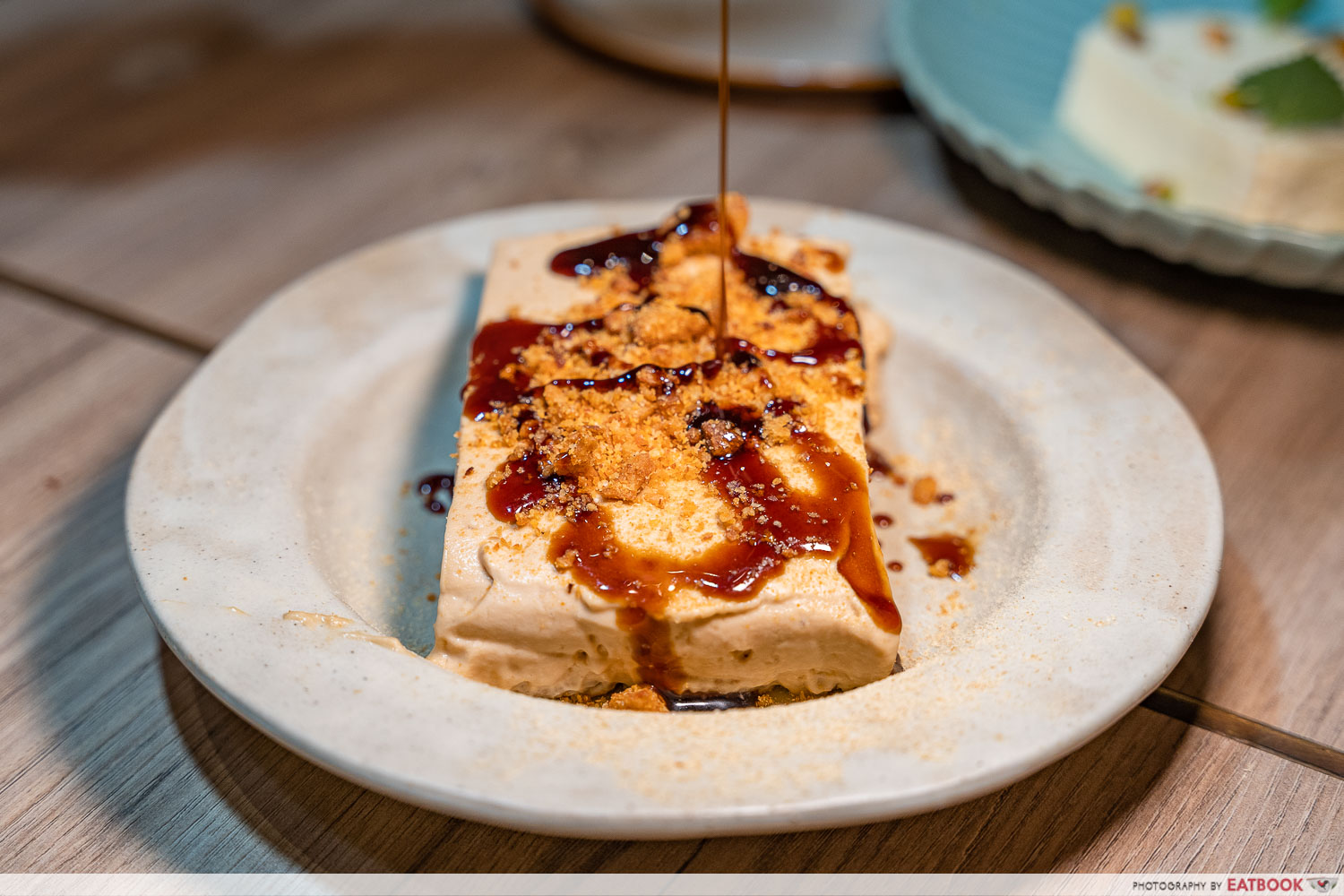 Although we were stuffed at this point, we still had room for their Okinawa Black Sugar Tiramisu ($16++): a Japanese take on the classic Italian dessert. The mascarpone and ladyfinger biscuits were the only tiramisu elements in this sweet treat; it's also made with hojicha, kinako powder, and sourdough crumbs for added complexity. Drizzle over the soy caramel syrup that features Okinawa black sugar for the perfect contrast of sweet and umami.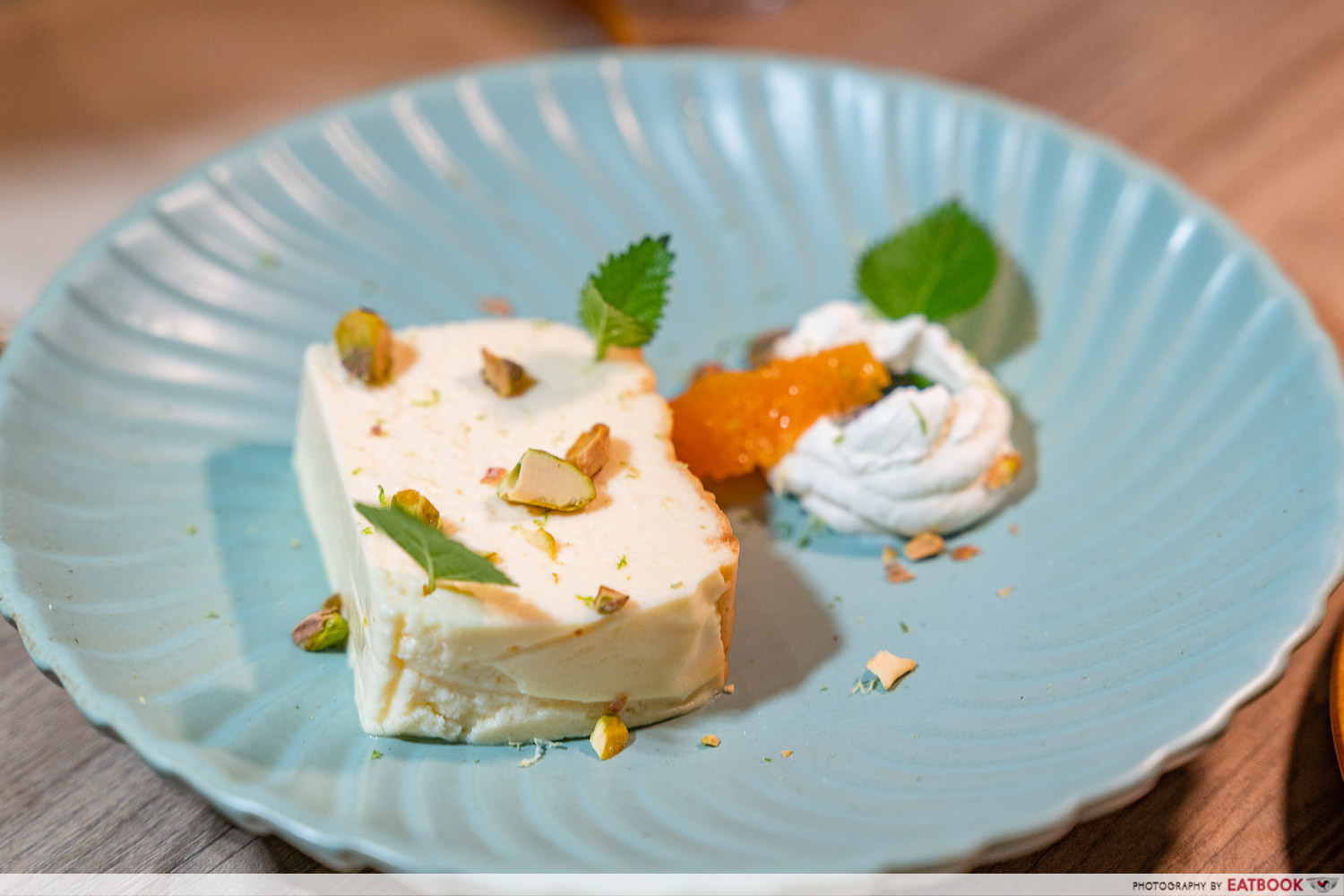 If you're not big on tea flavours, order the Yuzu Cheesecake($14++) instead, which turned out to be surprisingly light. The creamy cheesecake came with citrusy yuzu notes, pairing well with a tinge of the herby green oil served on the side.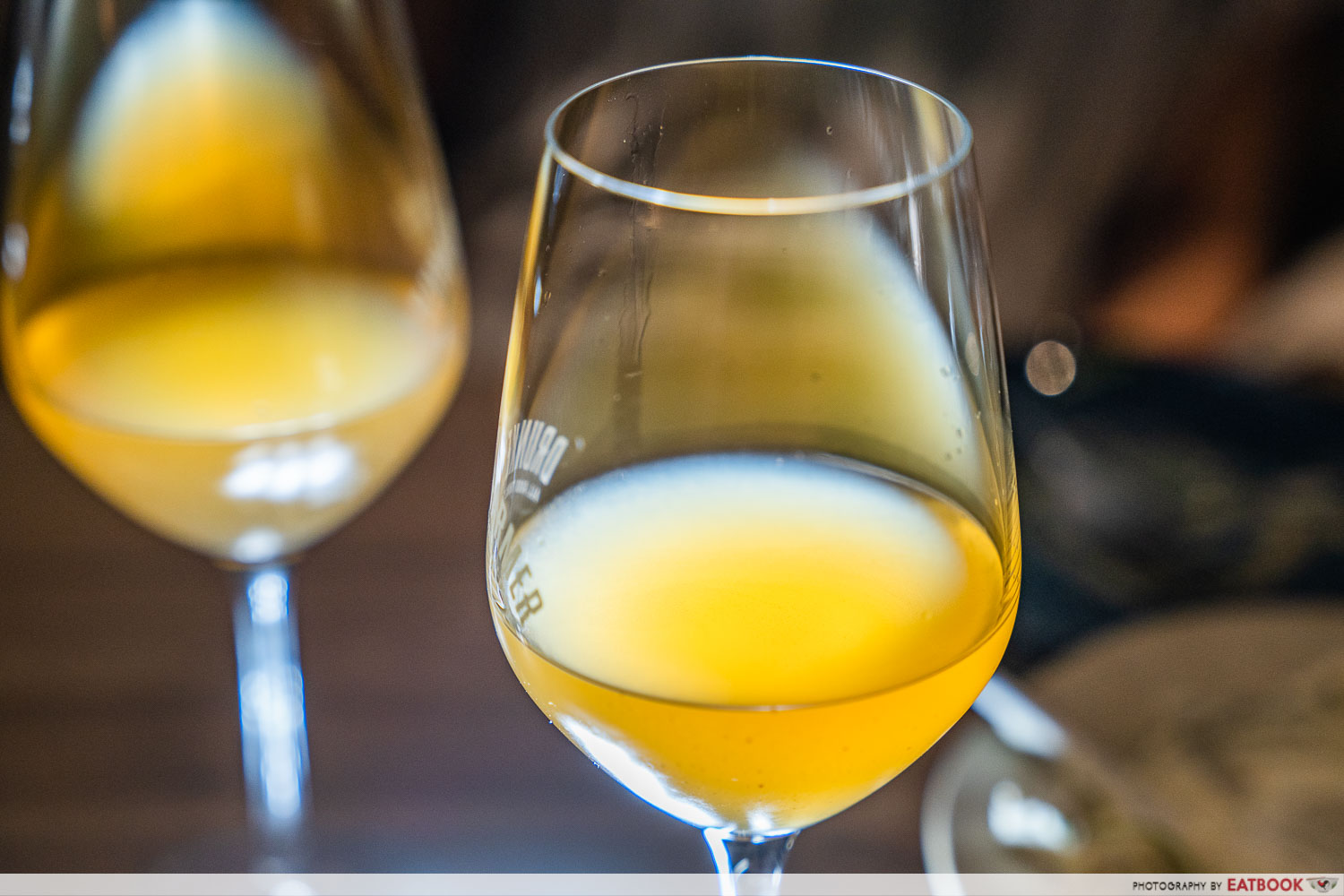 Common Man Night Shift is unofficially touted to have the largest range of natural wines served by the glass, so you'd be remissed if you leave without trying a glass or two. On top of that, the list is pretty affordable too—you can get a glass of vino priced between $13++ and $19++.
Common Man Coffee Roasters Opens In Joo Chiat With Exclusive Sourdough Pancakes
Ambience at Common Man Night Shift
Common Man Night Shift is located in the CBD, along the bustling Stanley Street. The restaurant is a four-minute walk from Telok Ayer MRT Station. They have other outlets in Joo Chiat, Martin Road, and Quayside Isle too.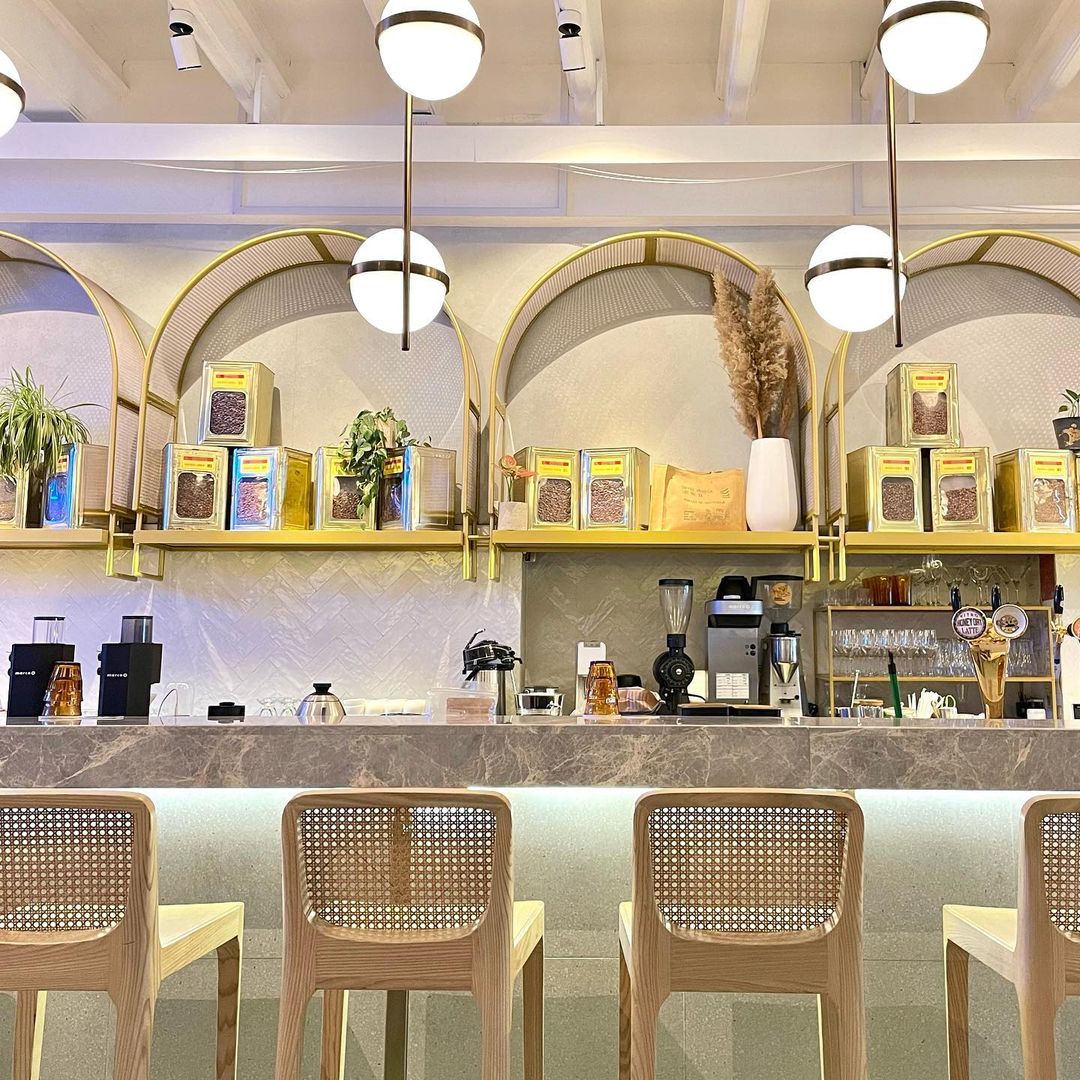 Image credit: @nicheatss
There are counter seats for solo diners or for those who'd like to see the bartenders in action. Otherwise, walk in further and you'll find cosier nooks that can accommodate groups of different sizes.
Come evening, the cafe transforms into a chic wine bar and restaurant, with dimmed lighting and nostalgic 2000s pop hits playing in the background.
The verdict
If you're looking for a chill place to wind down after a hard day at work, you'll find it here at Common Man Night Shift. While some of their food items were on the pricier end, I found the sourdough pizzas well-priced for the portions we got. You don't always chance upon a restaurant bar that's this strategically located, and with such an extensive range of natural wines at wallet-friendly prices, too!
For another noteworthy restaurant that serves great sourdough pizzas, check out our Yeast Side review. Otherwise, if you're craving pastas instead, read our guide to the best pasta restaurants in Singapore.
Address: 11-12 Stanley Street, Singapore 068730
Opening hours: Tue-Thurs 6pm to 10pm, Fri-Sat 6pm to 11pm
Tel: 6877 4855
Website
Common Man Night Shift is not a halal-certified eatery.
Yeast Side Review: Fresh Sourdough Pizzas, Circle Croissants And More Near Farrer Park
The post Common Man Night Shift Review: Handmade Cacio E Pepe Udon And Lao Gan Ma Pizza In Chinatown appeared first on EatBook.sg - Local Singapore Food Guide And Review Site.