A hand blender is a magic wand for your kitchen, useful for puréeing soups, emulsifying sauces, and whipping up smoothies An immersion blender's compact size and versatility make it a handy tool to have in your kitchen.
By Keith Flamer
Crushing ice for a frozen cocktail? Reach for a full-sized blender. Need a quick smoothie for your morning commute? Break out your personal-sized blender, then hit the road with its on-the-go jar. But if soup or mashed potatoes are on the menu, an immersion blender is what you need. It does the trick whether you're serving scrambled eggs, a peach smoothie, or butternut squash soup.
What Is an Immersion Blender?
An immersion blender is a handheld, electric mixing appliance with a sleek handle-grip top, baton-like shaft and a spinning blade covered by a protective guard at the bottom. Due to its long cylindrical shape, it's often called a stick blender or hand blender. Plug-in or cordless, it's designed to complement your countertop blender, not replace it.
"An immersion blender combines the attributes of an automatic blender or mixer with the manual stirring motion of a spoon," says Larry Ciufo, who oversees CR's blender testing.
What Is an Immersion Blender Used For?
This small appliance is used for emulsifying hard-to-blend liquids (think oil and water), whipping concoctions in a bowl, or mixing soups, stews, or sauces in a stovetop stock pot. They're also ideal for whipping eggs, blending pancake batter, and puréeing thick soups like lobster bisque, clam chowder, and lentils.
Some come with attachments like whisks, beaters, milk frothers, choppers, and jars, so you can use it to create a variety of foods and drinks, including salad dressings, milkshakes, cappuccinos, baby foods, salsas, and even peanut butter.
At CR, we test immersion blenders by how well they blend frozen peaches, strawberries, and yogurt for smoothies, and how well they purée soup vegetables in water. We also test each blender's power in revolutions per minute.
How to Use an Immersion Blender
Using an immersion blender is simple. Submerge the blender's blade completely into the food or drink you want to mix before turning the appliance on. Move the blender around the container to mix all the contents. Keep the blade submerged to avoid splatters.
"It's simple," says Ciufo. "Just switch the device on and swirl the stick around to blend. It's more manual work than a full-sized blender, but it's also less clean-up."
Tips for Using an Immersion Blender
Avoid pot scratches: Even though it has a blade guard, avoid scraping the bottom or sides of the pot, especially if it has a non-stick finish. One method that helps is slightly angling the hand blender or tilting the pot. Be careful if food you are mixing is hot, however.
Beware of pot suction. Sometimes a hand blender can stick to food at the bottom of a pot, causing suction. If this happens, don't yank it free. Instead, to avoid splashes, tilt the blender at an angle before lifting . Ideally you want to blend ingredients a few inches from the bottom so this doesn't occur.
Mind the cord. Place your pot near an outlet and position the blender where the cord won't tangle while cooking.
Spin it clean. After using, hold the blender just above the soup level and run for a few seconds to remove excess food and liquid.
Wash carefully. Never wash the blender while it's plugged in. Unplug and detach the blender's motorized top from the blade, and only wash the blade half. For best results, wash right after use with dish soap and water.
Why Should You Use an Immersion Blender?
Convenience: Immersion blenders fit in the palm of your hand, with simple controls operated by the press of a button. Jar-less, they're also easy to clean compared with other blender types.
Portability: Handheld blenders travel well. If you hit the road for Thanksgiving, you can pack an immersion blender to help whip up the gravy at dinnertime.
Easy storage: Their small size makes immersion blenders easy to stash in a kitchen cabinet or drawer.
Stovetop use: Blending directly in a stock pot eliminates the need to transfer hot liquids, like soup, to a countertop blender.
"An immersion blender is efficient for big batches of sauces, hummus, vinaigrettes, and some soups," says Jose Luis Falcon, executive chef at Elia Mediterranean Restaurant in East Rutherford, N.J., where he makes up to 20 liters of sauce at a time. "For example, we use the stick blender for aioli, a garlic mayonnaise emulsion that we infuse with roasted pepper and herbs for more flavor."
But Falcon says immersion blenders aren't the best choice for superfine purées, so he uses a full-size Vitamix blender for soup bases and a mixer for mashed potatoes. "For mashed and sweet potatoes, you want to whip them up so they're not mushy," he says. "We also use a Vitamix blender for smooth and creamy soups. But if you want it chunky, you can use an immersion blender."
Which Brand Makes the Best Immersion Blender?
Currently there are 13 immersion blenders in CR's ratings, including models from All-Clad, Braun, Breville, Cuisinart, KitchenAid, Ninja and Vitamix.
Below, in alphabetical order, you'll find the three top-rated immersion blenders according to our tests. For more blenders, review our comprehensive ratings. And for shopping advice, check out our blender buying guide.
All-Clad KZ750D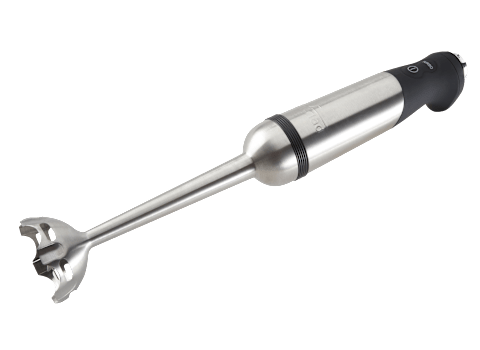 The All-Clad KZ750D aced our soup purée tests (rating Excellent) and rated Very Good for blending frozen fruit and yogurt for smoothies. It operates at variable speeds, including a turbo speed. It comes with a 1-year warranty.
Breville Control Grip BSB510XL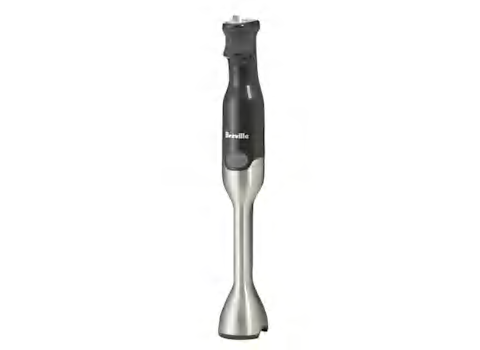 The Breville Control Grip BSB510XL is the top hand blender in our ratings. It rates Excellent for blending and puréeing so it can grind through yogurt, soups, batters, and sauces—aided by its 13,500 RPMs and 15 claimed speeds. It comes with a whisk, beaker, and a chopper. It also offers a 1-year warranty.
Ninja CI101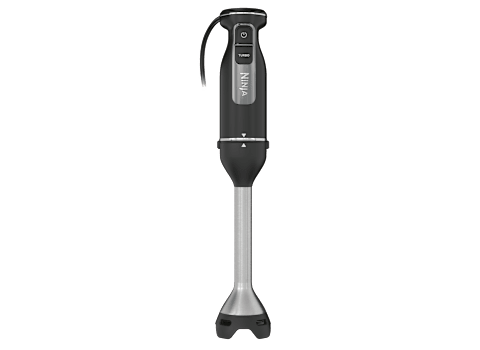 CR's take: The Ninja CI101 Blender is one of two stick blenders to rate Excellent in our yogurt blend and soup purée tests. It's also the most powerful handheld blender in our ratings, operating at maximum 15,500 RPM with a turbo speed. It has five variable speeds and two mixing speeds. It comes with a separate hand mixer with beaters, a whisk and a 3-cup blending jar—so you can mix cake batter, omelets or smoothies, respectfully. It carries a 1-year warranty.
Consumer Reports is an independent, nonprofit organization that works side by side with consumers to create a fairer, safer, and healthier world. CR does not endorse products or services, and does not accept advertising. Copyright © 2022, Consumer Reports, Inc.