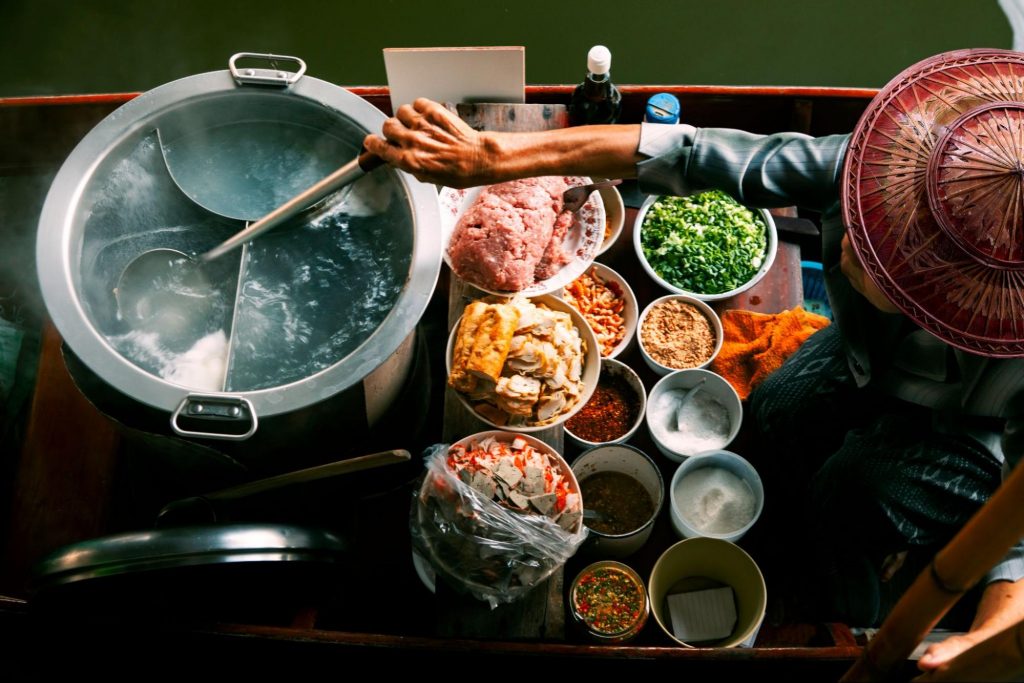 Immigrant communities have long contributed to the culinary landscape of America through mom-and-pop restaurants and specialty grocery stores. Now, a new generation of immigrants is creating innovative opportunities to cement their mark on their communities through the universal language of food.
This edition of Weekly Bites covers three stories of immigrant initiatives that are shaping the culinary industry in America. From a redefinition of Middle Eastern food to immigrant-owned farmers and grassroots organizing, these stories offer shining examples of what it's like to come to a new place and thrive.
In Atlanta (and other mid-sized cities in the U.S.), immigrant communities are redefining how others perceive and define their cuisines.
Many cities in the U.S. have "Middle Eastern" eateries. Whether the owners are Iranian or Moroccan, these vaguely Middle Eastern menus feature falafel, hummus, babaganoush, and kibbe — foods that aren't specific to either region, but that Americans come to expect from "Middle Eastern" cuisine.
To talk about MENA (Middle Eastern and North African) cooking is as vague as saying European food. While some of the ingredients used may be similar, the dishes that these cuisines boast are vastly different. What we tend to expect in "Middle Eastern" restaurants are mostly Levantian (Lebanese, Jordanian, Palestinian) delicacies, and only a fraction of those cuisines. Not only does each region have its own cuisine, each country and even every ethnic population within that country has its own unique cuisine.
While immigrant communities may have felt pressured to collapse some of these culinary distinctions in an effort to appeal to the American palate, things are starting to change. Immigrant-led restaurants are now celebrating their unique cuisines by offering specialties that are specific to their country. So what does that mean for the future of "Middle Eastern" food in America? Perhaps the better question would be where can you find the best Tunisian restaurant, or Syrian restaurant in your city?
Hmong Americans are Minnesota's newest farmers. A fundamental part of the American dream is land ownership, but that dream is often inaccessible to new immigrants. Farmland is especially difficult for people of color and immigrants to acquire.
The Hmong people originate in China, where military oppression in the 1700s and 1800s led them to flee to different parts of Asia. During the Vietnam war, many Hmong people fought with the U.S., leading to their persecution that found the community once again having to flee.
Now, Minnesota is home to one of the largest Hmong communities in America. Hundreds of years of fleeing from place to place have left many Hmong people craving a way to put roots down. The Hmong American Farmers Association was founded to give the Hmong their very own piece of home. The community recently acquired 155 acres of farmland — a legacy that can be passed down from generation to generation.
Immigrant communities, like the Hmong, enrich our culinary landscape not only by opening restaurants, but also by contributing to the local food supply.
MAMA is an LA-based nonprofit that has been working — quietly, and from the ground up — to help immigrant-run kitchens stay afloat.
The immigrant-led organization started their support as a response to COVID restrictions, helping immigrant-run restaurants create drive-by kitchens through which they could continue to serve their food. They have since expanded to helping immigrant businesses participate in LA's famous Nightmarket. MAMA has expanded to Respect Your Elders, a non-profit that provides meals and support to elders in immigrant communities.
What's the secret to their success? A big part of it is their social media literacy. They create highly stylized and wildly successful TikTok videos that feature a restaurant's story, told often in their home language with English subtitles. The videos are created at no cost to the restaurant, and help boost the restaurants' visibility.
Another reason why MAMA is so successful is that they walk around their own community and go in-person to have real conversations with business owners. They listen to their pain points and work together to come up with solutions. MAMA is a great example of how grassroots organizing and marketing can help lift up and enrich communities.