Juli Norris opens Kasa Taphouse, the first of her two new … – Inlander

click to enlarge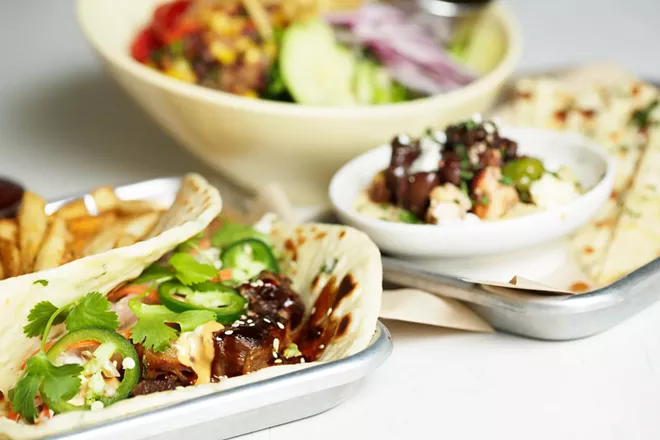 Young Kwak photo
Kasa Taphouse brings home the flavor with fusion dishes.
The new Kasa Restaurant and Taphouse is a reflection of what's important to chef-owner Juli Norris, from the eatery's name and graphics to its menu and unique customer service interface.
Kasa, for example, is a play on casa, the Spanish word for home, but with a "k" that also figures into the restaurant's logo.
"If you look closely," says Norris, who opened Kasa on the ground floor of Spokane's Papillon Building in December, the logo is "a little house with a 'K' that goes up over the top" of it.
The signage for Kasa includes the word "Spo" in it, short for Spokane, and is meant to read "Spokasa," Norris says, "because Spokane is home."
And the letters KASA are the first initials of her four children's names, says Norris, "so that was another tie-in, like home doesn't just mean Spokane to me," she adds. "It also means family."
Kasa's menu is a blend of family and personal favorites. Norris' family's favorite meal is the braised short rib in the Bomb Me sandwich ($17), a play on Vietnamese bánh mì. Kasa's version includes pickled carrot, and a radish and cabbage slaw.
The menu also reflects Spokane's diverse community, says Norris, who describes the menu as "flavor fusion."
For example, like all of Kasa's sandwiches, the Bomb Me is served on homemade bread, which is somewhere between an Italian-style flatbread and Indian naan bread. Kasa's Double Dirty Fries ($14) feature Latin American-inspired adobo pulled pork, a roasted corn and bean salsa and cotija cheese, but also a cheese sauce using beer from local Paramour Brewing. Basmati rice, typically associated with Indian and Pakistani cuisine, is the foundation for all the rice bowls ($13-$17). The pork belly curry bowl ($15) has an Indian-style tomato and citrus chutney, while the red Thai curry bowl ($15) includes grilled chicken and a spicy peanut sauce.
"It's kind of like saying, you know, all of us are in this together, all of us can call this place ­— Spokane — that we have 'home,'" Norris explains. "And [at Kasa] we're going to highlight the best flavor combinations, combining all of those wonderful flavor profiles to create something that's kind of new, but that celebrates everybody."
Also look for hummus ($13) and Mo Rockin' Veggie ($13), a Moroccan-style carrot and chickpea stew over basmati rice (add $2 to substitute white cheddar fries).
The familiar combination of crunchy chicken and orange glaze you'd find in Chinese restaurants appears in both the Sticky Orange Crispy Chicken bowl ($16) and chicken tenders Norris calls Not Chicken Wings ($15).
The wings can also be ordered with Kasa's proprietary spice blend, which initially resembled Indian tikka masala, Norris says. She kept tinkering with it, finally incorporating Jamaican jerk seasoning and other Caribbean spices.
"I think people don't realize how well all of those flavors go together when they're balanced correctly," Norris says.
Kasa's front-of-house format is another kind of blend: fast casual dining and upscale pub.
"You can order at the counter, but then you can also order straight at your table," says Norris, adding that it "doesn't mean we're not going to pay attention to our tables."
The dual-format ordering system is more customer-driven, she says, minimizing wait times, for example, for the folks who want to grab a quick drink before an event at nearby Spokane Arena.
That beverage list has a little something for everyone, with a rotating selection of mostly Spokane-area beers on 16 taps, like YaYa Brewing Company's blueberry peach sour ($7) and Lumberbeard Brewing's Märzen ($7). Kasa also carries two wines on tap ($8), currently Townshend Cellar's chardonnay and malbec.
"We're going to be handpicking the barrel of wine that we use on our red wine tap," explains Norris. "And so basically, we're gonna go taste the barrel, and then that'll be the one that we'll have on tap until it runs out."
Kasa also offers cocktails, like their take on the classic old fashioned, called the Wrecking Ball Ol' Fashion ($10).
"Not to be cliché, but it's the bomb," quips Norris, who co-owned Downriver Grill in Spokane's Audubon neighborhood until 2019. Before that, she ran her own catering company, Simply Gourmet, started when she was fresh from culinary school in 2006.
Simply Gourmet is where Norris met Robert Estrada, one of two chefs getting Kasa off the ground and geared up for an additional business in the same building as Kasa, but on its lower level.
When Lorèn, a French-inspired speakeasy opens in late spring, Tyler Gardner will transition from Kasa, leaving Estrada to run the upstairs spot, Norris says.
In addition to working on Lorèn, Norris and the kitchen team are fine-tuning menu items they expect will be ideal for warmer weather, taking advantage of Kasa's location adjacent to Riverfront Park's northwest entrance.
"We're doing a fun play on an ice cream sandwich where we have a browned butter coconut cookie at the bottom and then vanilla ice cream in the middle and then a double chocolate brownie on the other side," says Norris of the Brookie ($10), one of several rotating desserts.
"And we're gonna serve them now so we can get really good at it," she says. ♦
Kasa Restaurant and Taphouse • 908 N. Howard St. • Open Mon-Sat 11 am-9 pm • kasataphouse.com
Foodrecipes
via "restaurants" – Google News https://ift.tt/yIeOdjA
January 5, 2023 at 05:19AM