You guys are going to love this easy and refreshing lemon ice cream recipe, I can almost guarantee it.

You will turn to this recipe over and over again, I hope, because lemons are so readily available, and it's difficult if not impossible to find lemon ice cream in the stores, at least here in the US.

I'll show you how to make this no-cook, egg-free base and how to churn it without the need of an electric churn. If you have one, that's great and of course you can use it, but if you don't, I'll show you how to end up with ice cream every bit as creamy, no fancy machine needed.

If lemon is your thing, stick with me. You may enjoy my indulgent lemon pudding recipe or maybe my sunshiny lemon bars. And for another sweet-tart ice cream, try my passion fruit ice cream.

For ease of browsing, you can find all my ice cream recipes in one place. Thanks for being here. Let's get to it.
Watch my best lemon ice cream recipe web story here.
Why You Need to Make This Recipe
This lemon ice cream is a winner, friends. Here's why you'll love it:
In a Nutshell:
✅Nice balance of tart to sweet to creamy
✅Scoopable straight from the freezer
✅No mixer or ice cream maker necessary
✅Customizable
I really do hope you give this recipe a try, my friends.
One of the nicest things about it, apart from the flavor and texture, is that it's very easy to make.
No cooked base.
No high-speed whipping in a stand mixer like a traditional no-churn ice cream.
No need to use an ice cream maker.
So How Does It Freeze and Get Creamy?
Fair question.
To make this ice cream, once you make the base, put it in a bowl and put it in the freezer.
Every 45 minutes or so, whisk it really well, making sure to scrape the more frozen bits from the sides of the bowl into the center and whisking until the mixture is smooth.
Over time, the mixture will get thicker and more frozen until it is the same texture it would be if you used an ice cream maker.
At that point, just press plastic wrap on the surface of the ice cream and allow it to finish freezing.
With an ice cream maker, the dasher (the mixer blade for the machine) keeps scraping the colder bits along the sides of the metal container into the center. Since it happens continuously, the mixture gets to the soft-serve stage in about 20-25 minutes.
For this ice cream, your whisk performs the same job, but it takes longer since you can't sit in the freezer and whisk continuously!
How to Make It
This will go pretty quickly because this is a very easy process. If you'd like to skip straight to the recipe, though, you can here.
Ingredients and Substitutions
Here's what you'll need to make this ice cream. I will provide substitutions where applicable.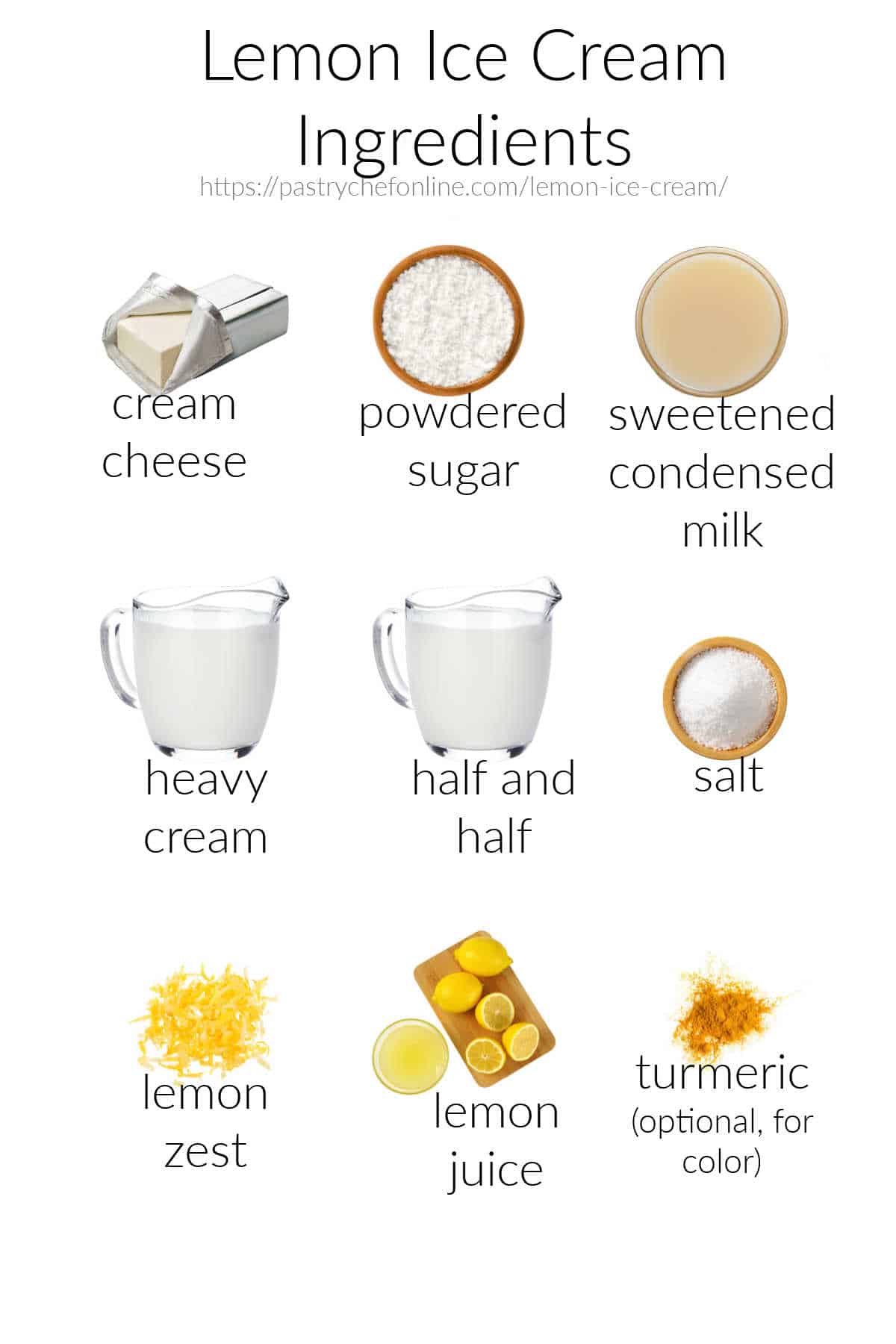 cream cheese: Cream cheese adds a little tang and body, and it contributes to the "scoopability" of straight out of the freezer
powdered sugar: You can also use granulated sugar. In that case, I'd stir it into the lemon juice until it is completely dissolved. If you want a slightly less-sweet dessert that is much firmer straight out of the freezer, you may omit this.
sweetened condensed milk: Adds the bulk of the sweetness and some volume without adding a lot of extra water, so it also contributes to the creamy mouthfeel
heavy cream: Adds enough butterfat to make the texture nice and creamy
half and half: Adds a little more fat, but since half and half is half cream and half whole milk, you also get more water which ultimately contributes to how firmly the ice cream sets. If you want an even firmer texture, you may substitute whole milk for the half and half
salt: Brings all the flavors into focus and counteracts any bitterness you may get from the lemons
lemon zest: Adds the floral and sweet lemon notes and rounds out the lemon flavor profile
lemon juice: Adds more volume, more water, and the sour tanginess you expect from lemons. Using either zest or juice will not result in a well-rounded lemon flavor. You need both
turmeric: This is optional to add a slightly creamy yellow color. You only need a very little bit, so add judiciously unless you want to taste the astringent, earthy flavor of the turmeric. You can also use a drop of yellow food coloring or just leave the coloring out entirely
Procedure
This is a very easy ice cream base to put together. No stand mixer. No stove. No straining.
Here's the order of operations:
Soften cream cheese in the microwave for 30-40 seconds until very soft. Whisk it well until there are no lumps at all.
Add the sugar and salt and whisk well to combine.
Pour in the sweetened condensed milk, whisking well to combine.
Follow by adding the cream and half and half.
Once all of that is mixed until it's very smooth, add the lemon zest and lemon juice and whisk.
Jenni Says: Your ice cream base will begin to thicken once you add the lemon juice. Worry not–just whisk it really well.
Only add turmeric or yellow food coloring if you want your ice cream to be a little lemony in color. Neither adds anything to the flavor or the creaminess of the base.
Freezing Instructions
Once you have the base made, it's time to freeze it. The trick is to be able to freeze it and keep the creamy texture.
If you just pour it into a bowl and allow it to freeze, it would taste good, but it would be a bit too icy and not as creamy.
So, be your own ice cream maker and put the bowl of base in your freezer, whisking the mixture very well every 45 minutes or so, until it is about the texture of soft-serve.
The collage below is from my post on making butterscotch ice cream. But it's the same procedure.
I'm sharing it here so you can get an idea of what the texture should be after whisking.
Note that the butterscotch base uses a cornstarch-thickened milk mixture and is thicker than the lemon base will be. Because it's thinner, it will take more than 3 rounds of whisking to get the lemon ice cream to the proper texture.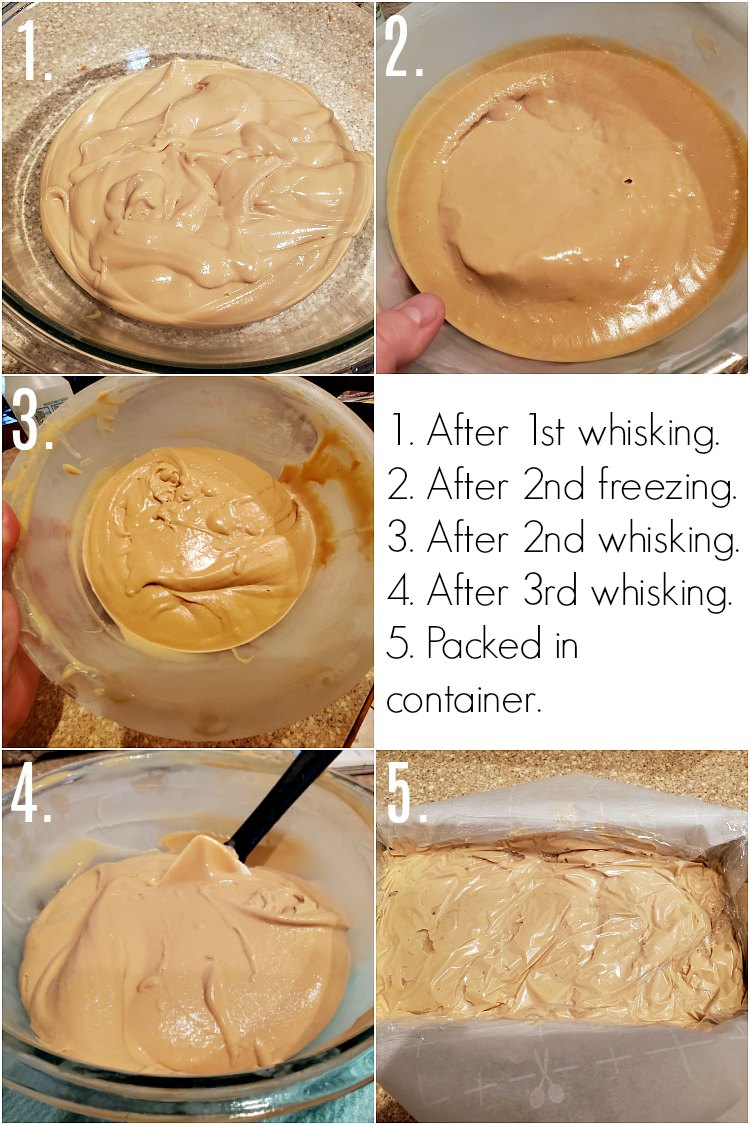 Use the tines of the whisk to scrape the more frozen parts of the mixture into the center to evenly distribute the ice crystals and control their size (by busting them up with the whisk) as they freeze.
You'll know you're done when it takes a fair bit of effort to whisk the base.
Just like an ice cream maker slows down once it's is ready, you'll slow down too!
Tips and Tricks for Success
My favorite way of juicing lemons is by using a spoon. Just insert the spoon into the center of a cut half of a lemon and squeeze around it, wiggling the spoon back and forth to get to all the pulp.
Jenni Says: After squeezing your lemons, strain the juice through a fine mesh strainer to catch any seeds or pulp. Weigh your juice after straining to get a full 5 oz of juice.
For the smoothest base, mix the thickest ingredients together first and finish with the thinner ingredients. Adding cream cheese to a very liquid base almost guarantees your base will be lumpy.
Variations
Lemon Swirl Ice Cream: After freezing and whisking until your base is at soft-serve stage, layer spoonfuls of lemon curd in with your lemon ice cream base. Use a knife to swirl the two together a bit before freezing completely.
Lemon Raspberry Swirl Ice Cream: Once your ice cream is at soft serve stage, remove about 1/3 of it to another bowl and whisk in 1 1/2-2 Tablespoons of freeze-dried raspberry powder. Then layer the two together, using a knife to swirl them together. You can also so this with strawberry powder, mango powder, blueberry powder.
Lemon Blueberry Swirl ice Cream: Rather than using freeze-dried fruit powder whisked into the base, you can also dollop spoonfuls of jam into your base and swirl to combine. Use blueberry jam, cherry jam, raspberry jam, etc.
Equipment You May Need
As I've said before, you don't need any special equipment other than a fine mesh strainer, whisk and a large bowl to make this recipe.
If you don't have a Microplane for zesting your lemons (and so many more uses), I highly recommend you pick up one or two. Very useful!
Jenni's Pick
Microplane Classic Zester Grater, Black
What started out as a woodworking tool has come into its own in the kitchen. I have two Microplanes, and I love them.
If you've never used one before, here's what you can do with them:
zest citrus fruit like a dream
grate hard spices like nutmeg and cinnamon
mince garlic and ginger into a fine paste
shower hard grating cheese over your pasta or pizza
grate cocoa butter into your smoothies
make baby-fine shavings of chocolate
and more
This is an affiliate link which means I earn from qualifying purchases. Your price is unaffected.
Should you want to churn this in a conventional churn, you certainly may.
This is the ice cream churn I own and use:
Jenni's Pick
This is an affiliate link which means I earn from qualifying purchases. Your price is unaffected.
Lemon Ice Cream Q & A
How long with this ice cream last in the freezer?
Tightly covered, it will stay fresh and lovely for about 10 days to 2 weeks.
Can I use an ice cream maker to make it?
If you have an ice cream maker, absolutely. Just know that if you don't have one, you can still make this ice cream successfully.
Is this ice cream gluten-free?
As written, all the ingredients are gluten-free. Check your packaging to make sure and to avoid any ingredients manufactured on shared equipment.
Serving Suggestions
Make a fruity, summertime sundae by topping your lemon ice cream with some mixed berry Chambord sauce and some hand-whipped cream.
Serve a scoop with lemon pound cake or whipping cream pound cake.
Make some delicious ice cream sandwiches by sandwiching two oatmeal cookies or ginger cookies together with some tangy goodness.
Or just enjoy it straight from the container. Although you may want to use a bowl. Portion control can be a problem!
Other Lemon Recipes to Enjoy
I could share other ice cream recipes with you, but I figure if you're here for lemon ice cream, you may be more interested in lemon recipes than ice cream recipes.
I think you may really enjoy my crunchy and very delicious lemon cooler cookies. If you were a fan of the originals and have been sad they no longer manufacture them, this recipe is about as close to the original as you can get.
If you like to add a punch of lemon to savory dishes, you may want to try my friend Beth's recipe for preserved lemons. It's great in everything from vinaigrettes to hummus to poultry dishes.
For a bright, punchy lemon dessert that also is a show stopper, try my lemon meringue tart made with homemade Graham crackers and topped with poofy swirls of browned meringue.
Questions?
If you have any questions about this or any other recipe or post on the site, there are a few ways to get in touch.
You can leave a comment on the post, and I'll be back in touch within 24 hours.
If your question is more pressing, don't hesitate to email me, and I should be back in touch within 4 hours (unless I'm asleep) or often much more quickly than that.
A Note About Measurements
This is the kitchen scale that I recommend for home cooks and bakers. Using a scale will help you be more accurate and consistent in your measurements.
It is lightweight, easy to store, accurate, and very easy to use.
Best for Home Use
Escali Primo Digital Food Scale
Don't let its small price and small size fool you. The Escali Primo is an accurate and easy-to-use food scale that I have used for years. It's easy to store, easy to use, has a tare function, and easily switches between grams and ounces/pounds for accurate measurements.
This is an affiliate link which means I earn from qualifying purchases. Your price is unaffected.
Love This? Please Share It and Review It!
I hope you've learned something from this post or that you've decided to make the recipe.

It would really help me and other readers out if you'd rate the recipe using the star ratings in the recipe card.

It's also very helpful to me and to other readers if you leave a comment and/or a recipe review.

Thank you so much for being here and for helping others find my recipes by sharing on your social platforms!
Lemon Ice Cream Recipe
Total Time:
4 hours
15 minutes
You will love this lemon ice cream recipe. Made without an ice cream churn or a stand mixer, it has a no-cook base which makes it perfect to make any day. Flavored with fresh lemon juice and lemon zest, the sweet-tart lemon flavor is tempered by the creaminess you'd expect from a premium ice cream.
Ingredients
113 grams (4 oz or 1/2 8 oz block) cream cheese
57 grams (2 oz or about 1/2 cup) powdered sugar
1 14 oz can sweetened condensed milk
3/8 teaspoon kosher salt (I use Morton's)
226 grams ( 8 oz 1 cup) heavy cream
226 grams (8 oz or 1 cup) half and half
zest of 2 large lemons
142 grams (5 oz or 1/2 cup plus 2 Tablespoons) freshly squeezed lemon juice, measured after straining
Instructions
In a large, microwave-safe bowl, microwave the cream cheese until very soft, about 30-40 seconds. Whisk well to make sure it is completely smooth.
Whisk in the powdered sugar and the sweetened condensed milk and salt, whisking well to make sure the mixture is completely combined.
Whisk in the cream followed by the half and half and the lemon zest.
Add the lemon juice and whisk thoroughly. Mixture will thicken somewhat when you add the lemon juice.
Place the bowl of ice cream mix in your freezer. Leave the whisk in the bowl.
Every 45 minutes, swing by the kitchen and give the ice cream base a thorough whisk, making sure to scrape any frozen base off the sides of the bowl and incorporate them fully into the mixture.
Once the mixture gets to the consistency of soft-serve ice cream, pack into a container, press plastic wrap onto the surface of the ice cream, and freeze for at least 4 more hours or, ideally, overnight.
Notes
Variations
Make a fruit swirl by whisking 1 1/2 Tablespoons (4 teaspoons), give or take, of your favorite freeze-dried fruit powder. Possibilities include raspberry, strawberry, mango, blueberry, pineapple, etc. Layer in spoonfuls of the fruit flavor with the lemon base.
Make a lemon swirl ice cream by layering spoonfuls of lemon curd in with your lemon ice cream base and then swirling the two together with a knife.
You can also layer in spoonfuls of jam. Try cherry, blueberry, strawberry, or blackberry.
Storage
Tightly covered, your ice cream will keep for 10 days to 2 weeks. For best keeping, put it back in the freezer as soon as you've scooped some to keep the remainder nice and frozen.
Nutrition Information
Yield

8
Serving Size

1
Amount Per Serving
Calories

440
Total Fat

25g
Saturated Fat

16g
Trans Fat

1g
Unsaturated Fat

8g
Cholesterol

81mg
Sodium

221mg
Carbohydrates

50g
Fiber

1g
Sugar

47g
Protein

8g
The stated nutritional information is provided as a courtesy. It is calculated through third party software and is intended as a guideline only.
Thanks so much for spending some time with me today.
I hope you enjoy this lemon ice cream recipe. I think you'll find it really refreshing.
Take care, and have a lovely day.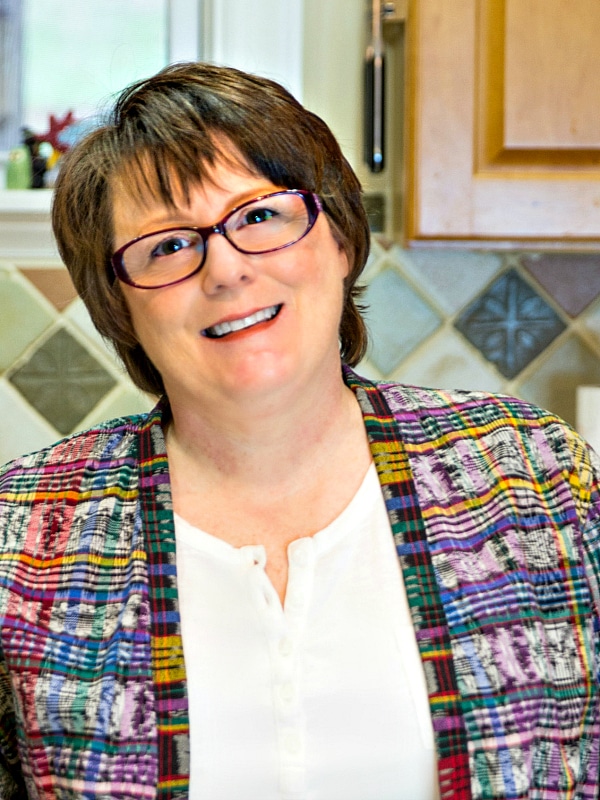 Hi, everyone!
If you haven't already, I'd love to have you sign up for my newsletter.
I generally send one or two a week with recipes, tips, and some behind-the-scenes action.
Just click the button below to sign up. Thank you!
The post Lemon Ice Cream (No Special Equipment) appeared first on Pastry Chef Online.