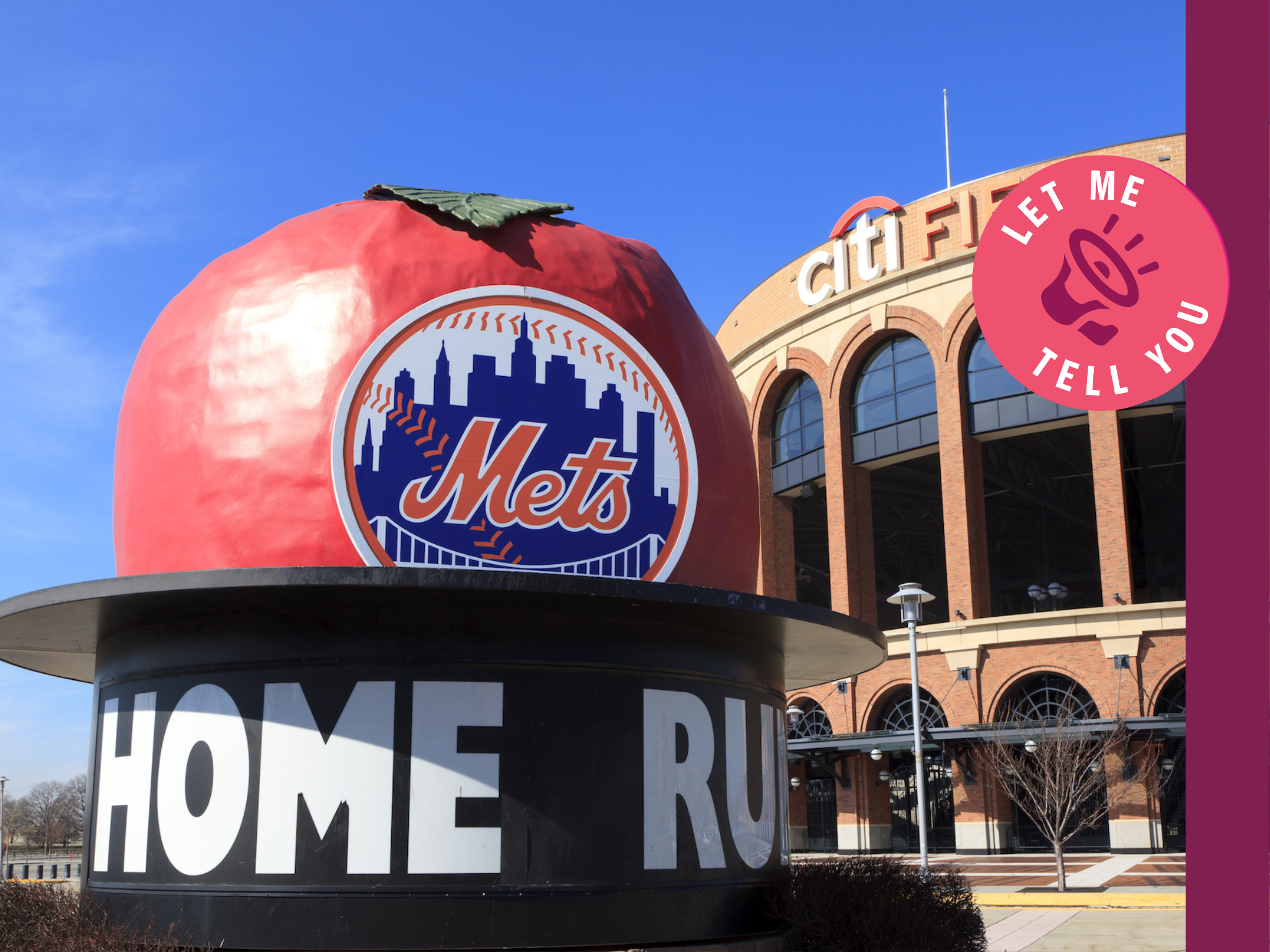 "Let Me Tell You" is a series of columns from our expert editors about NYC living, including the best things to do, where to eat and drink, and what to see at the theater. They publish each Wednesday so you're hearing from us each week. Last month, Things To Do Editor Rossilynne Skena Culgan explored what it means to be a New Yorker.
When I stepped off the subway at the Mets - Willets Point Station for the Mets home opener earlier this month, I heard a woman's voice cut through the excited chatter of orange-and-blue-clad revelers: "The home opener should be, like, a religious holiday." 
As someone who'd never attended a home opener (or any Mets game altogether), I laughed but didn't quite get her point. Four hours later, amply filled with French fries and hot pretzels, I was on board. An NYC baseball game—any baseball game, even if it's not the home opener—offers a transcendent American experience. 
If you haven't been to a Mets game (or a Yankees game, for that matter), make a point of it this summer. Yes, even if you're someone who, like me, is more often found in the plush stadium seats of a Broadway theater than on the cold metal of a stadium's bleachers. 
I've rounded up some nontraditional tips to make the most of the Mets gameday atmosphere based on my experience at Citi Field.  
View this post on Instagram
1. Eat deliciously 
Sure, you can go for the classic combos: peanuts and Cracker Jacks or a hot dog and fries. But you can also get a bit more adventurous with new dining options at Citi Field this year. 
The stadium's featuring local favorites like Empanada Mama, Takumi Taco, Jacob's Pickles, and even desserts from famed chocolatier Jacques Torres. We're especially excited to see refugee-run restaurant Emma's Torch making an appearance with sliders, hummus wraps, wings and more.
If you're a fan of celebrity chefs and Food Network personalities, check out Sunny Anderson's All American Kitchen and Marc Murphy's Porchetta Sandwich Shop, where you'll find Sunny's mac and cheese and Murphy's chicken burger.
2. Keep an eye out for the Home Run Apple
As the name says, when a Mets player hits a home run, a massive red apple rises from just beyond the center field for a very New York celebration. The apple has a long tradition with the Mets (the MLB pulled together a full history here), and you can even see the original apple near the stadium's main entrance.  
3. Tap your toes to the players' walkout music 
My favorite game to play while hanging out in the stands with friends: Rating the players' walkout songs, then choosing what your own walkup song would be. 
4. Hope for some fireworks
There are several official fireworks nights throughout the season (all listed here) with displays worthy of oohs and aahs. But if the team's playing well, you might see a few mini firework bursts pop up near the apple during any game.
5. Learn how to keep score by hand
Then there's the whole actually watching the game thing. While Citi Field boasts the biggest scoreboard in baseball, a gargantuan 4K-equipped contraption from Samsung, there's something special about keeping score by hand with a pencil and paper.
If you don't know how to do it, here's a quick primer from the MLB. Or you're likely to see someone in the stands keeping score this way and they're likely very excited to tell you how to do it. 
6. Try to make it on the Jumbotron
The secret to getting on the Jumbotron: Bring along a tiny kid in a gigantic Mets chain necklace (like this). 
7. Look for Mr. Met and Mrs. Met
As far as baseball teams go, there are some pretty wacky mascots out there. There's the Pirate Parrot, my hometown team's mascot, a lime green bird known for shaking its tailfeather. Then there's the adorably fuzzy moose who roots for the Seattle Mariners and even the Milwaukee Brewers' Barrelman, an anthropomorphic barrel. But when it comes to truly zany mascots with a lot of heart, Mr. Met and Mrs. Met with their oversized baseball bobbleheads and jaunty Mets caps truly take the cake. 
As the team puts it: "Mr. Met's head is the only earthbound orb with its own gravitational pull, explaining why fans are so drawn to him." Makes sense! 
Extra fun fact: You can even invite the mascots to come to your wedding, bar/bat mitzvah or even a christening. Baseball is a religious experience, after all.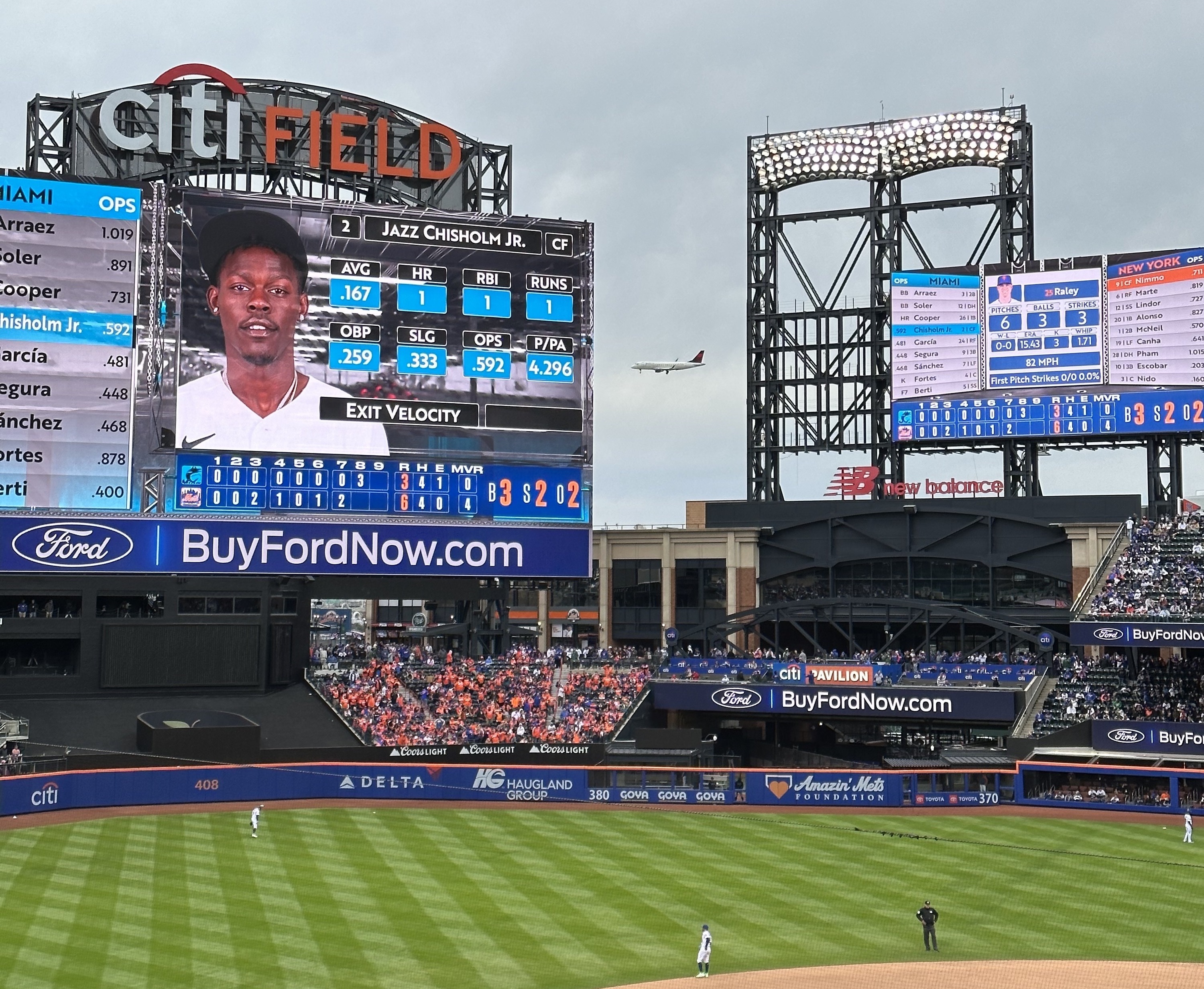 8. Plane spot
It's easy to see on a map how close is to LaGuardia Airport, but it's hard to actually visualize how close the two are until you see plane after plane coming in for landings. I've even heard that some of the nosebleed seats in the upper bleachers offer a chance to actually see the planes land. Just in case you get a little bored during the game, it's fun to gaze off at the takeoffs and landings. 
9. Revel in the all-American fun of it all
No matter the score, there's a palpable sense of glee at Citi Field—a day away from work, a few hours to marvel at athletic feats, a chance to hope you get onto the Jumbotron and a good excuse to eat ice cream no matter the temperature. Revel in this classic New York experience this summer.