Hey friends! Happy Monday! I hope you all had a good weekend and aren't feeling too frazzled this holiday season. I'm checking in today with a peek into last week's dinners as part of the
Week of Weeknight Meals
series I share every month.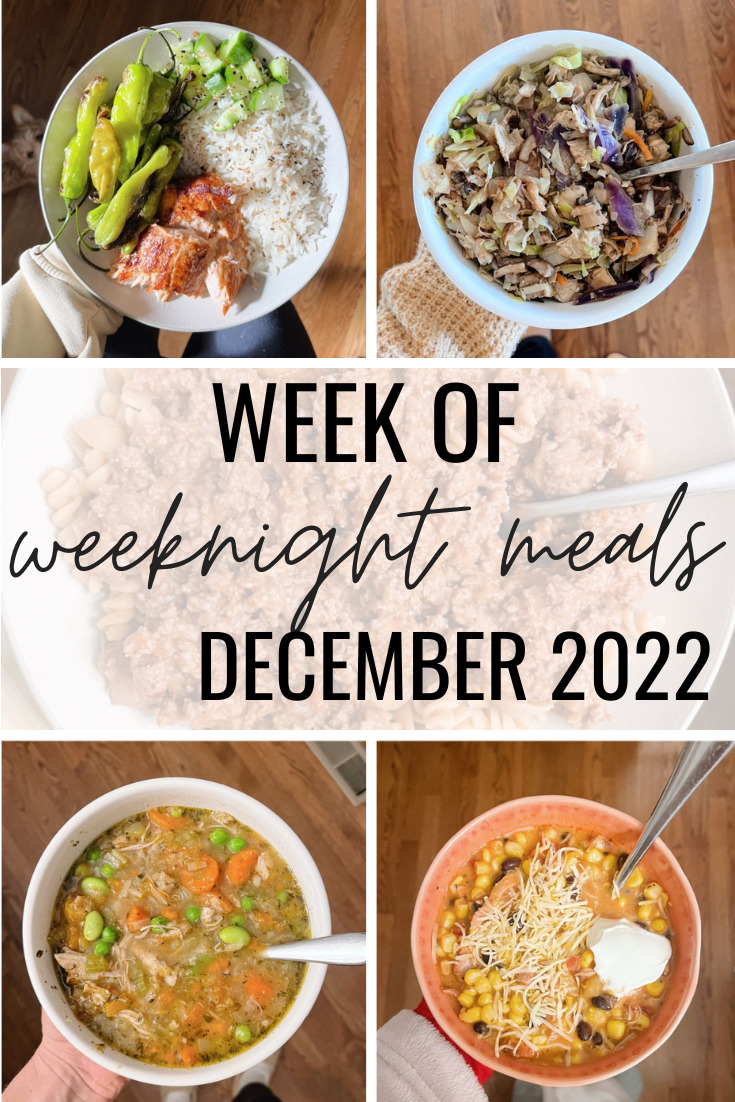 I began this series a while back to provide a peek into what a week of weeknight dinners looks like in our house for one week of every month. Pictures are snapped in real time with no fancy lighting or food styling allowed. As requested, I brought back a note about what our boys ate each night as well.
Last week our meals looked like a lot of meals in bowls. 'Tis the season, I suppose, since meals in bowls often look like warm, comforting, nourishing dishes like soups, stews and chilis this time of year!
Week of Weeknight Meals: December 2022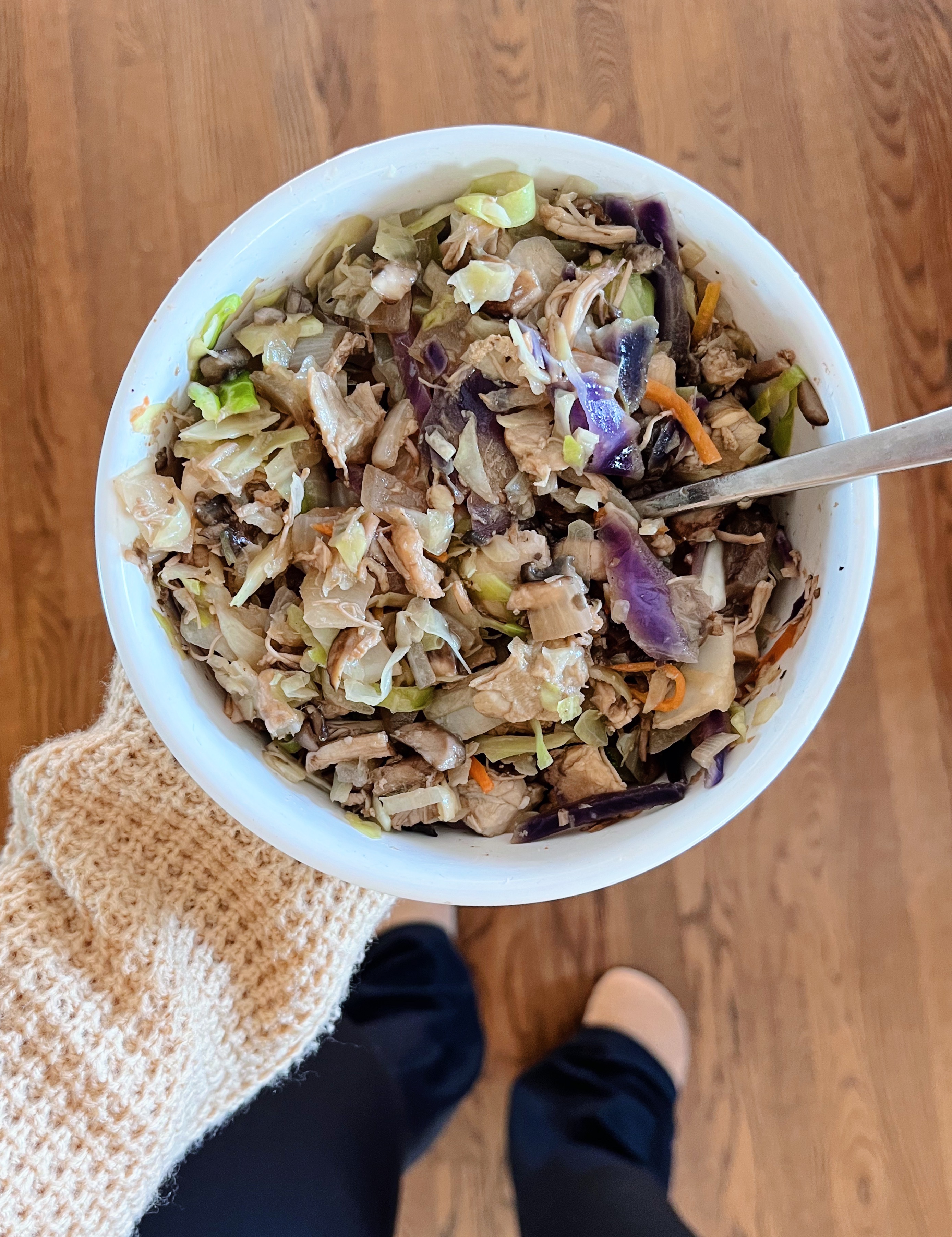 I've long said my one pot chicken cabbage bowl with sesame ginger broth is one of the most underrated recipes I've shared on my blog. I only has four reviews but all of them are 5-star reviews so it's small but mighty! When I shared it on Instagram, some DMs asked it it's similar to the egg roll in a bowl recipes out there and flavor-wise there are similar flavors (ginger, coconut aminos/soy sauce) but it is much more brothy and uses pulled chicken or leftover rotisserie chicken so it doesn't feel overly similar to me. We enjoyed ours over a bed of brown rice but I also had someone send me a message saying she loves it over egg noodles!
On the boys' plates: Applegate farms organic chicken nuggets with ketchup, spinach leaves + ranch for dipping and a clementine
Tuesday: Chickpea Pasta with Easy Bolognese Sauce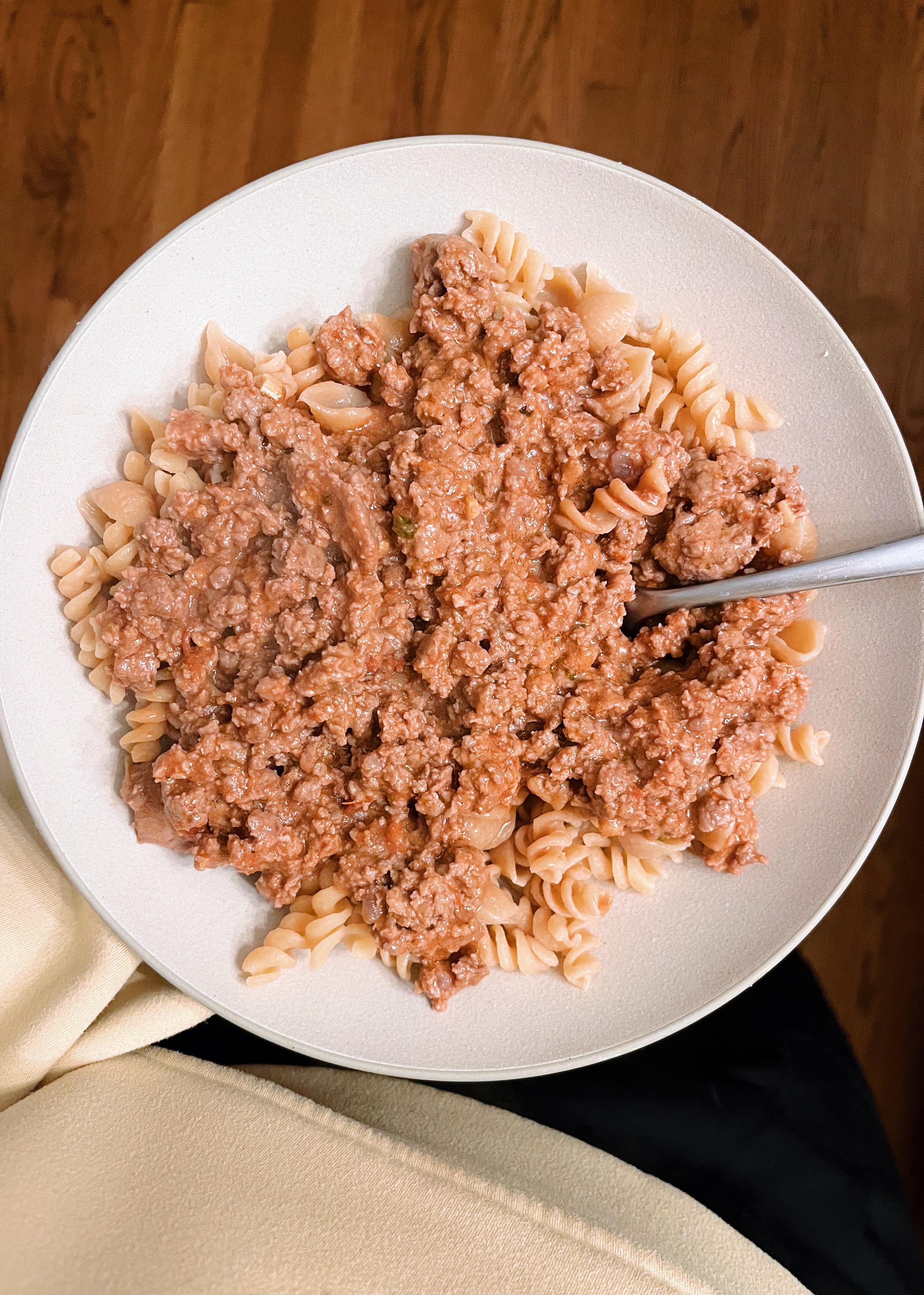 Ryan had a work dinner on Tuesday night and to make things feel a little fun for the boys without Dad at home, we did a mid-week frozen pizza night. Chase, Ryder and Rhett eat a whole frozen pizza themselves so I made myself chickpea pasta topped with an easy Bolognese sauce (aka ground beef mixed with jarred marinara sauce and a small dash of cream). Simple and satisfying!
On the boys' plates: Pizza, green beans and mango slices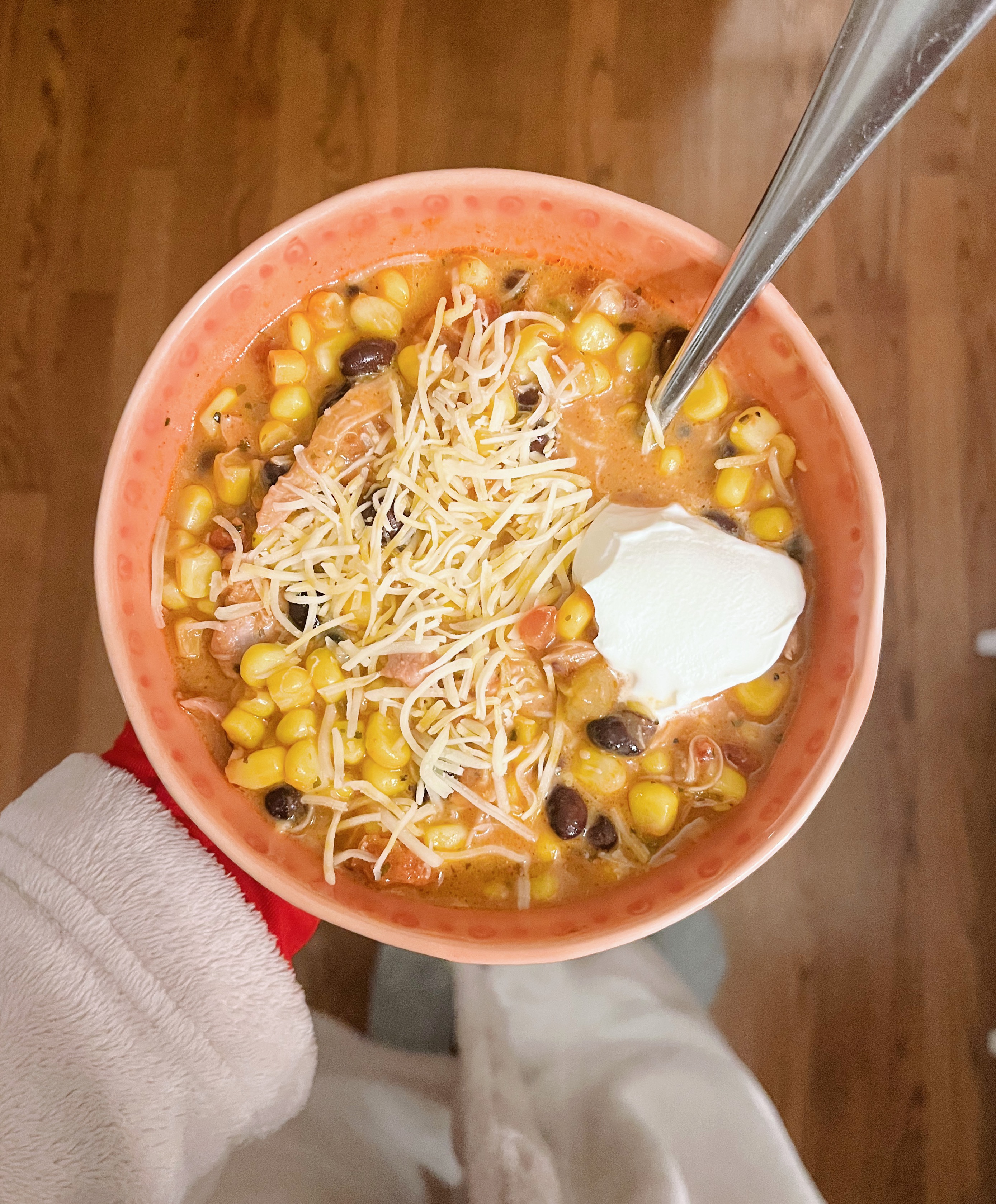 Ryan had another work dinner on Wednesday night ('tis the season) but I wanted to make a larger meal so I'd have some easy reheat-and-eat leftovers on hand for lunch for the rest of the week. I opted to make my Easy Cheesy Crockpot Chicken Corn Chili for the one millionth time. It's a favorite in our house not only because it tastes fantastic but also because there's no chopping involve and it's such a simple recipe. You just dump a bunch of stuff in the crockpot and call it a day! I actually made this recipe in the Instant Pot this time and cooked the chicken, salsa, water and spices in the pressure cooker on high for 10 minutes before shredding the chicken and following the remaining steps of the recipe.
On the boys' plates: Quesadillas with a small serving of the chili + extra shredded cheese, carrots with ranch or hummus (depending on the kid) for dipping and blueberries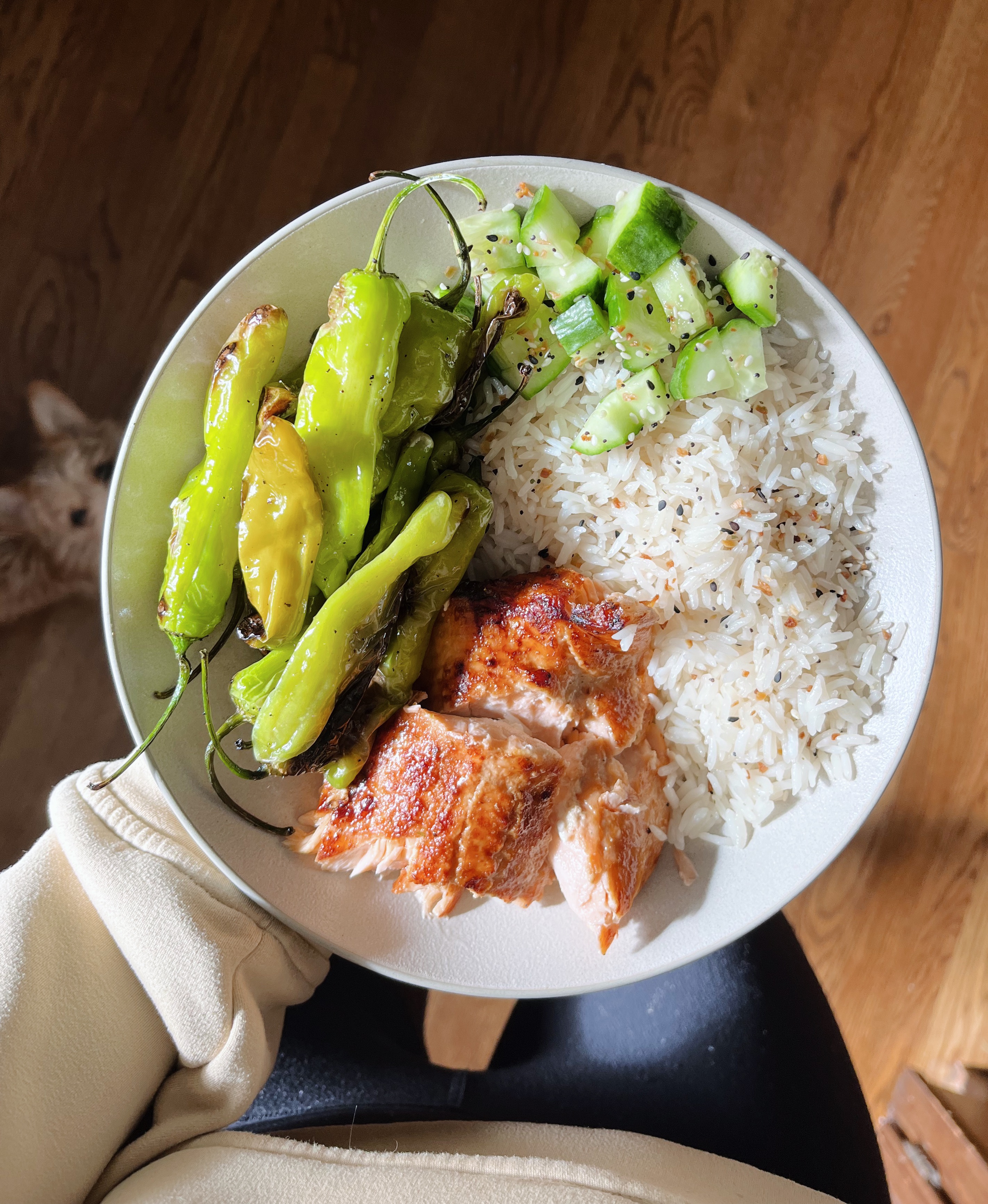 On Thursday evening, I made a modified version of my teriyaki salmon bowls, swapping out some of the veggies in favor of shishito peppers! In our bowls: Teriyaki salmon, jasmine rice and cucumbers topped with Everything Bagel seasoning and blistered shishito peppers. Can you tell Pepper wanted in on this one?
On the boys' plates: Grilled cheese, cucumber slices with salt for dipping and pear slices
Friday: Instant Pot Chicken Soup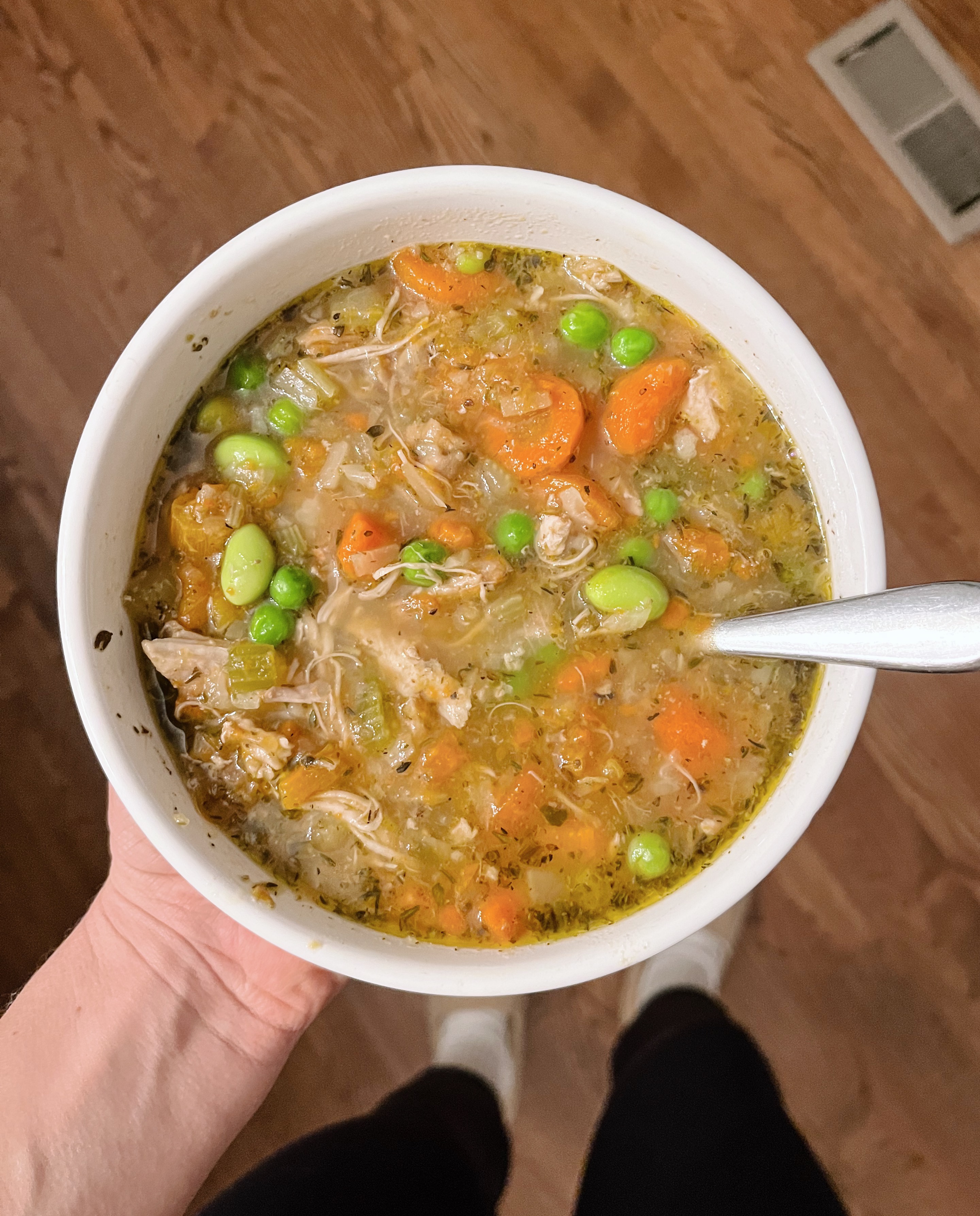 We've been on a huge chicken soup kick in our house for the past few months. I've been making a big batch of chicken soup several times a month and I don't see that changing anytime soon. It's just so delightfully comforting and I love getting as many nutrient-dense veggies as I can into the soup so it feels extra nourishing. To make Friday night's soup, I sautéed carrots, garlic, celery and onion in avocado oil in the Instant Pot and then added thyme, oregano, rosemary, sage, salt and pepper. After stirring everything up, I added chicken thighs, and chicken bone broth to the mix and cooked it on high pressure for 12 minutes before shredded the chicken and stirring in frozen peas, frozen edamame and frozen riced cauliflower.
On the boys' plates: Chicken soup, crackers and cheese, carrot slices and apple slices
Question of the Day
What was the best thing you ate for dinner last week? 
The post Week of Weeknight Meals: December 2022 appeared first on Peanut Butter Fingers.