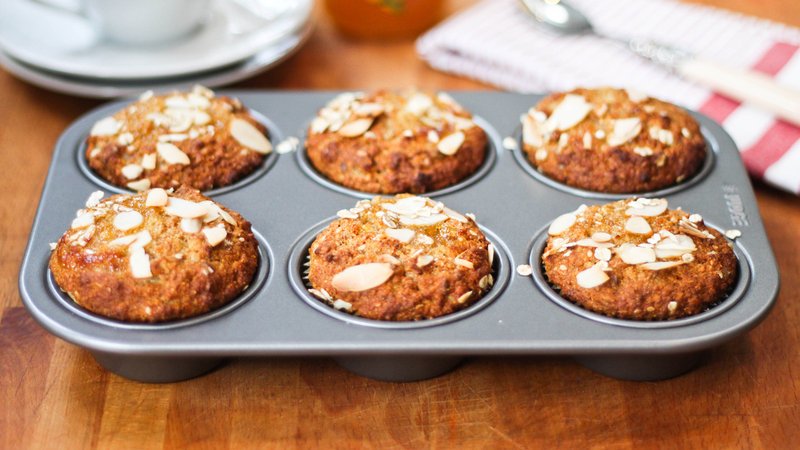 Food on RTVerified account@RTEfood 15m15 minutes ago
These Apricot Jam Breakfast Muffins can be prepared the night before and cooked to perfection in the morning http://ow.ly/8e6w30fDtZV
These delicious treats can be prepared the night before and cooked to perfection in the morning.
Ingredients
2 large free-range eggs
150ml pot of natural low-fat yoghurt
50ml rapeseed oil
2 tblsp no added sugar apricot jam
1 ripe banana, mashed
4 tblsp clear honey
1 tsp almond extract
200g of wholemeal flour
50g of porridge oats, plus extra for sprinkling
1 teaspoons of baking powder
1 teaspoons of bicarbonate of soda
2 tblsp mixed seeds
extra apricot jam
a handful of flaked almonds, for sprinkling
Method
Pre-heat the oven to 180C/160C fan/Gas Mark 4. Line a 12-hole muffin tin with 12 large muffin cases.
In a mixing jug, combine the eggs, yoghurt, rapeseed oil, Apricot Jam, banana, honey and almond extract.
In a large bowl, combine the wholemeal flour, oats, baking powder, bicarbonate of soda and mixed seeds.
Pour the wet ingredients into the dry and combine until you have a smooth batter. Dont over mix as this will make your muffins tough.
Divide the mix between the muffin cases and place about half a teaspoon of Apricot Jam on the top of each of the muffins. Sprinkle with the extra porridge oats and the flaked almonds.
Bake for 25 to 30 minutes until risen and golden. Check that theyre cooked by inserting a skewer into the middle of one of the muffins. Theyre done if it comes away clean.
Remove from the oven and transfer to a wire rack to cool. These will keep for 3 days in a sealed container but they taste best on the day of baking.
Notes
Recipe courtesy ofFollin